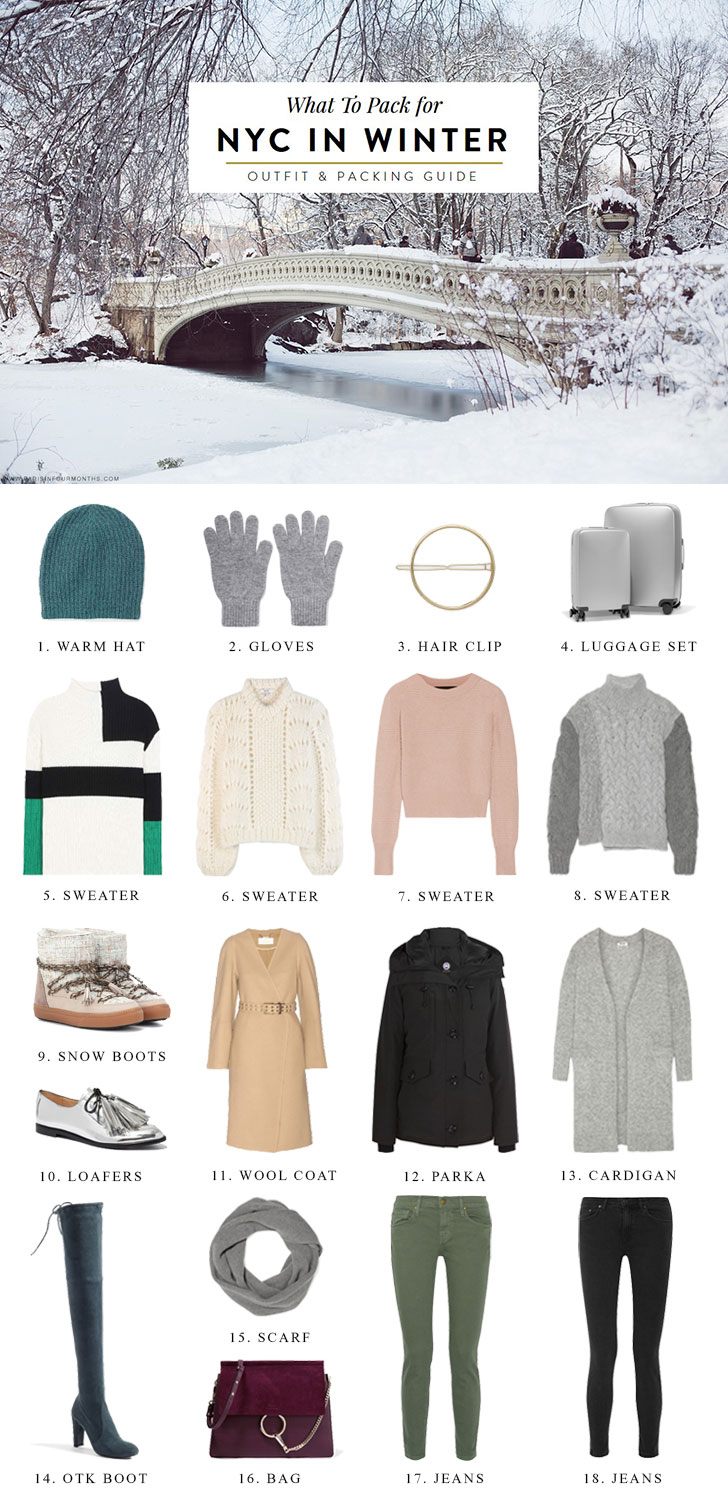 What to Wear in New York in Winter
---
Click the icon next to each image to shop directly on the retailer page or browse via the links below. I've also linked more affordable options throughout the post.
1. Beanie (on sale plus extra 30% off) |  2. Cashmere Gloves | 3. Gold Hair Barrette | 4. Raden Smart Luggage Set | 5. Colorblock Sweater | 6. White Mohair Sweater | 7. Cropped Cashmere Sweater | 8. Cableknit Sweater | 9. Snow Boots | 10. Silver Loafers | 11. Camel Wool Coat | 12. Warm Goose Down Parka | 13. Cozy Grey Cardigan | 14. Over the Knee Boots | 15. Infinity Scarf | 16. Chloe Faye Bag | 17. Green Jeans | 18. Black Jeans
What to Pack for New York in Winter
If you're visiting New York City over the holidays or anytime in winter, you'll want to bundle up! New York gets pretty cold in the winter time, especially around January and February and certain large streets like Broadway are wind tunnels where the wind seems to blow you away with each step.
New Yorkers are famous for wearing black, black and more black so if you're puzzled on what to wear in Manhattan… think dark neutrals in variations of grey, black and navy. I've included all the essentials for what to pack for New York in the winter below!
NYC Winter Packing List: The Essentials
Clothes | You'll want to wear comfy sweaters, jeans and lots of layers for a a winter time visit to New York City. Over that, you'll definitely want to layer a cozy scarf and an extra thick winter jacket filled with down. I recommend bringing a "nicer" wool jacket for any night time events like going to a Broadway show or a nice dinner out but for sightseeing, you'll be so much more comfortable in a puffy down jacket. I swear by my Canada Goose Expedition – it's an investment but one that's been paid many times over in New York's coldest months.
Shoes | For sightseeing, casual sneakers are handy but if you really want to blend in and dress like a New Yorker, you'll opt for ankle boots or chic man loafers. I also love a good over the knee boot with a heel for a night out. They're sleek, slimming and warm! You can find affordable over the knee boots here.
If it's snowing, snow boots by Sorel are a good option. White snow turns quickly to black mush on NYC streets so you'll definitely want to keep your toes warm and dry. It doesn't snow too often here so I still get by with regular Hunter boots and thick socks.
Sunglasses and Hats | Yes, lots of New Yorkers wear sunglasses in the winter. More necessary? A cozy beanie or earmuffs to protect your ears. It gets cold in the city!
Gloves and Scarfs | Scarfs are also a must have, the thicker and longer, the better. I absolutely love Club Monaco's cashmere scarfs for something luxurious and classic that you'll wear forever. For more everyday, affordable options Nordstrom has a huge range of colorful options as well. It's also a great idea to bring gloves for a winter trip to New York. Leather options are sleek but even better are gloves that work with phones. I recently picked up a North Face etip pair and all the glove fingers are touch screen compatible while the glove itself is super sleek. That way, you can still talk, text and google map on the go without red, raw and chapped hands.
Bag | If you're visiting New York to sight see or shop, I recommend wearing a large, roomy zippered tote bag or cross body bag instead of a backpack. Most museums do not allow backpacks and will require you to check them in and especially on the subway, you don't want to be keeping valuables behind your back!
If you absolutely must carry a backpack, I recommend taking your backpack off when getting in the subway and holding it in front of you. This creates more room for other passengers and also wards off quick fingered pickpockets.
Lip Balm with SPF | My lips are always chapped in the winter so these are an absolute must have! My favorite day balm is Lanolips (its an ultra moisturizing ointment balm); my night version is from Vaseline and my heavy duty must have is by French brand Aquaphor.
Travel Bags, Necessities and Electronics
Suitcase | I love this super sleek hard case set from Raden luggage which comes with a phone charger and handy app that lets you know where your luggage is via GPS at any moment. It's also quite shock proof, you can jump on it and the hard case actually absorbs impact and still stays sleek and sturdy.
Read more: The Best Carry-on Suitcases, Reviewed
Packing Cubes | I like to group clothing by color or function and pack each group of items snugly in their own packing cube. These are a lifesaver for keeping your suitcase organized in your hotel room and are my number 1 secret to maximize space and function in just a carry on suitcase. I typically reserve one packing cube for all my worn clothes to separate the dirty stuff from my fresh clothes!
Amazon has their own inexpensive 4 piece packing cube set and several travel blogger friends swear by this set from eBags. Personally I use a set from CalPak which I love. They're machine washable for easy cleaning and if you have CalPak luggage – they're perfectly sized for their carry on luggage pieces!
Toiletry Bottles | Optional. I currently like these for shampoo and conditioner.
Portable Charger | Definitely a must! Some NYC subways have free wifi but still the majority of the city is not yet internet friendly. I currently use an iPhone 6S and this Anker portable charger to keep my phone fully charged at all times even though I technically live in the city and am not sight seeing. This charger is small and sleek with enough life to fully charge an iPhone 2x. Also I really love Anker's products since they have great customer service. I once bought a product that ended up dying and they quickly sent me a replacement free of charge, so I highly recommend them!
Electric Converter | If you are international, you'll need a US converter. Also pick up a travel sized power strip so you can charge multiple devices in one go.
Medications | Obviously pack whatever medication you need but don't panic if you forget something. NYC has Duane Reade pharmacies practically on every other block that carry not only medication but basic toiletries like toothpaste and shampoo, fancier skincare products and even snacks and small grocery foods.
The Best Camera & Photography Equipment for NYC
The best lenses for capturing New York, in my opinion are something wide like a 35mm and a standard 50mm lens. A 50mm will be great for all your food shots while the wide angle can best capture Central Park in all its glory!
Canon 5D Mark III | This is my go-to travel camera and I typically shoot with my trusty 24-70mm when out and about. For portraits, I'll take along my 50mm lens.
Camera Accessories | Along with the camera, I recommend a spare battery, battery charger and extra SD and CF cards. The cold can make your device batteries drain faster so it's helpful to bring along a spare battery on your person.
I shoot primarily with SD cards since you can insert them in your laptop to easily offload, but I keep all my cards in this wallet to keep them organized and easily reachable. This memory card case that I use fits both SD and CF cards and was under $7.
If you're looking to pick up camera equipment or accessories in New York, your best option is Adorama. I buy most of my equipment online from Amazon and do all my equipment rentals from Adorama.
The Best Souvenirs from New York City
New York City has lots of typical souvenir stands and tons of visitors like to visit Fifth Avenue, SoHo and Chelsea for great shopping. For unique finds, you can check out Brooklyn's flea markets and during holiday time, Union Square, Bryant Park and Columbus Circle have fun Holiday Markets. There's also a unique vintage NYC holiday train that you can ride! It's a special subway route and fun for kids.
My top NYC hotel picks:
1 | The NoMo Soho if you want a chic, downtown location.
Check current rates here or read reviews on Tripadvisor
2 | The Boro Hotel if you don't mind being slightly farther in Long Island City and getting excellent city views.
Check current rates here or read reviews on Tripadvisor
3 | The Mandarin Oriental for understated luxury. I also really love Asiate restaurant inside!
Check current rates here or read reviews on Tripadvisor
4 | The Wythe Hotel in Brooklyn for hipster chic
Check current rates here or read reviews on Tripadvisor
You can check current NYC hotel deals via Booking.com – I book with them since they have a great cancellation policy and guarantee the lowest rates. For more advice on where to stay in New York City, I've previously written a neighborhood guide for the first time visitors and included Manhattan hotels under $200 per night.
Read more: An Insider's Guide to New York City Museums and the Best Coffee in NYC
Save this post by pinning it for later or read the full series: 
---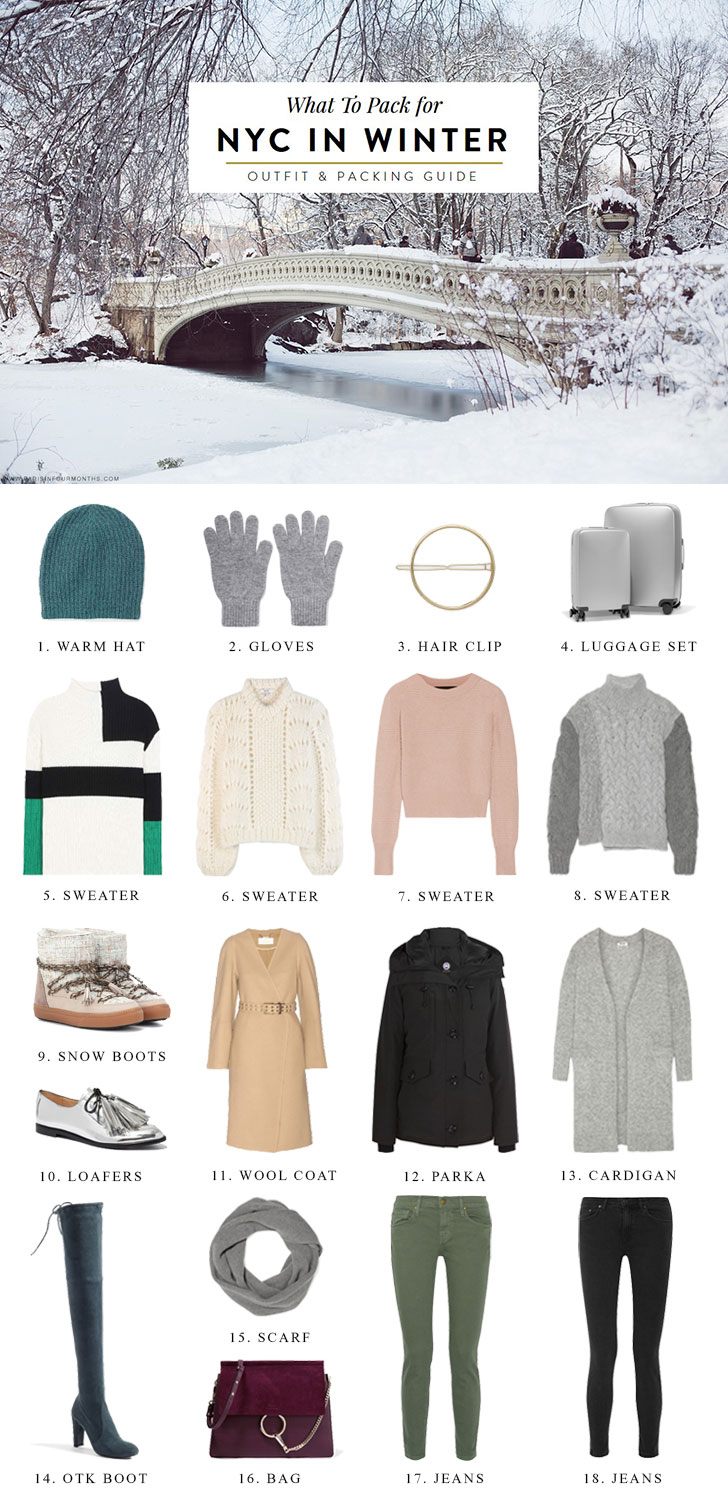 New York City Travel Guides
---
An Insider's Guide to New York City Museums
Guide to the Best Coffee Shops and Acai Bowls in NYC
The Best NYC Furniture Stores for Every Budget
NYC Neighborhood Guide & Hotels Under $150 per night
New York City Things To Do & Events
---
Cherry Blossoms on New York's Roosevelt Island
NY Botanical Garden: Orchid Evenings
Art After Dark at the Guggenheim Museum
Trick or Treating on a New York Halloween
Christmas & New York City's Holiday Train
Institute of Culinary Education Class Review (+ Promo Code)
New York City Eats & Restaurant Reviews
---
Asian: Cha-An, Hatushana Sushi, Mihoko's 21 Grams, Jinya Ramen
Brunch: The Wren, The Meatball Shop, Brooklyn's Smorgasburg
Dinner: The Wayfarer, L'Artusi, Racines, Tamarind,
Fine Dining: Musket Room, River Café, The Modern, Annisa
Packing List Series
---
African Safari | Morocco | Indonesia
Follow Sher She Goes on
Bloglovin | Facebook | Twitter | Pinterest | Snapchat | Instagram
---