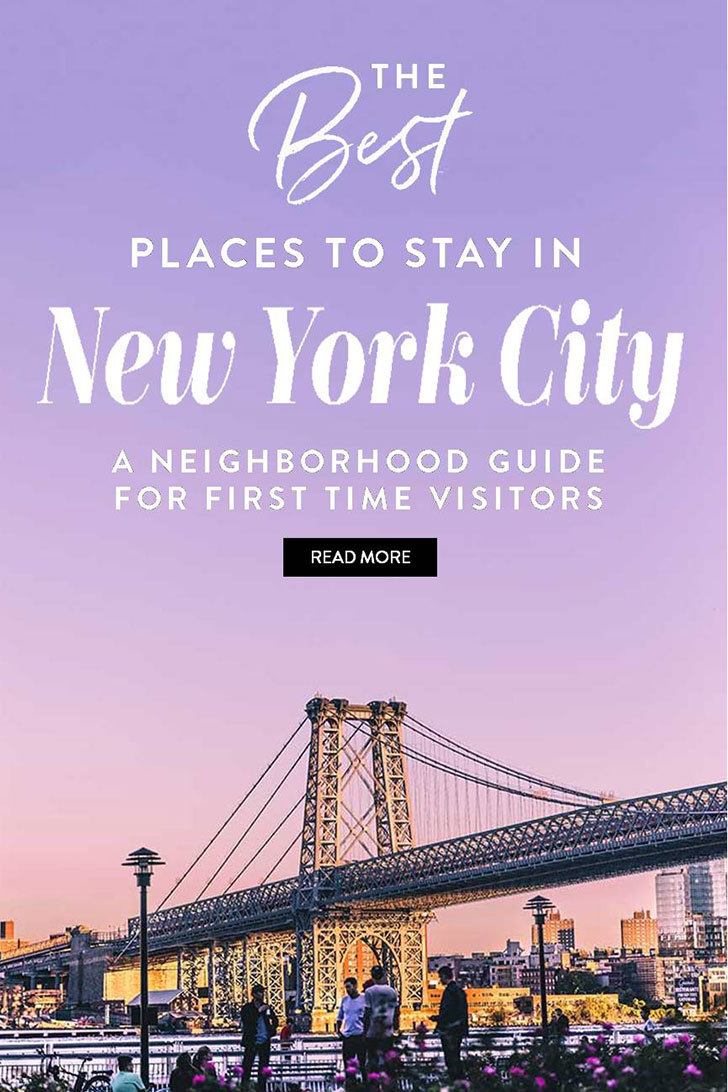 Where to Stay in New York City
You really can't go wrong no matter where you stay in New York – after all this is the city that never sleeps!
That being said, first time visitors to New York most likely are here to experience NYC's museums, restaurants and shopping so here are some suggestions for the best neighborhoods to position yourself.
ADVERTISEMENT
Visiting New York City
If this is your first time visiting New York and you're not sure where to orient yourself, don't worry! Manhattan is really a small island compared to some of the world's largest cities (London, Tokyo, etc) and luckily the majority of New York is organized in an easy grid system.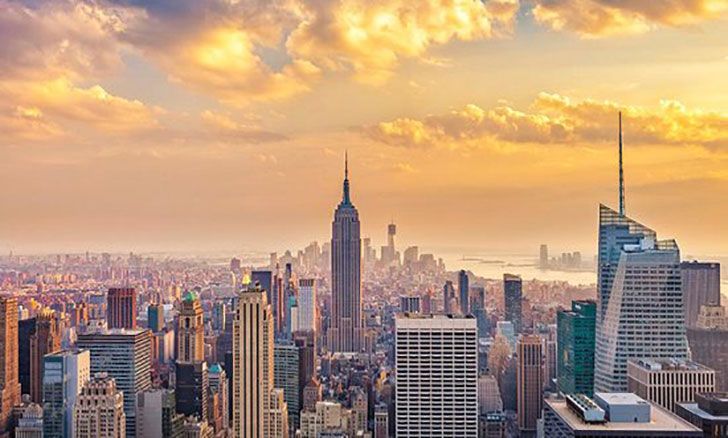 Getting Around NYC
Avenues run parallel from north to south and start at 1st Avenue on the East Side, to 12th Avenue on the west side. If you're looking to go across town, or "crosstown", buses are your best bet!
Meanwhile, streets run east to west and are numbered from 1st street in southern Manhattan to 220th Street in the north. To go "uptown" or "downtown", take the subway and make sure you enter on the platform for the direction you're headed.
Fun Tours in New York
ADVERTISEMENT
---
---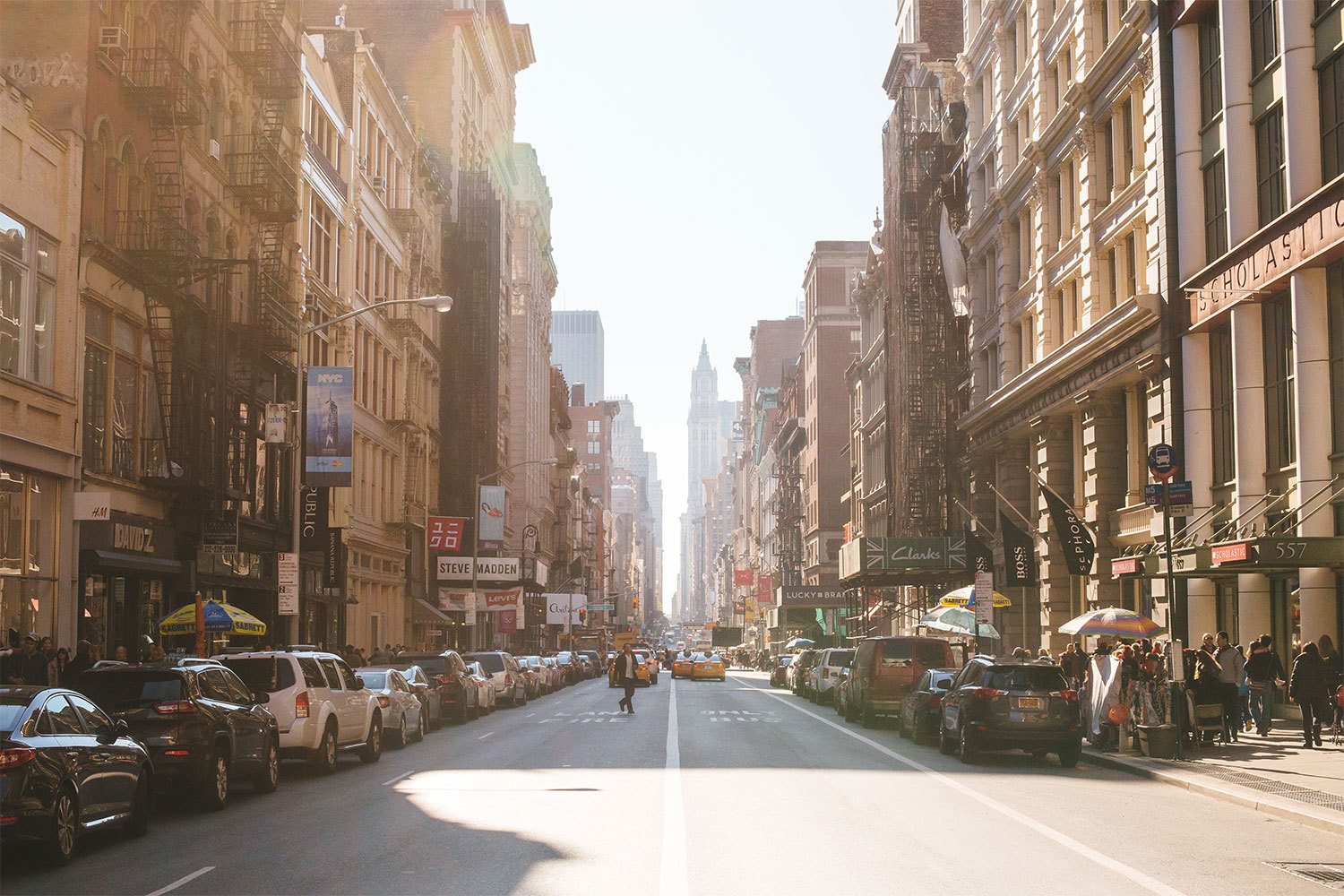 Best Neighborhoods in NYC
Most of the tourist sights are concentrated in midtown and downtown so I would recommend starting your New York City hotel search in these general areas. If you aren't sold on the bustle and noise of city life, you might prefer to choose a hotel uptown, close to Central Park.
In any case, here's a neighborhood guide and quick overview of some of the best places to stay in new york city:
New York City Neighborhoods
Here's a quick overview of the best hotels in each neighborhood of New York.
Read more:
Where to Stay in New York for Under $150/night
ADVERTISEMENT
---
---
Best Neighborhood for Sightseeing: Midtown
Midtown is the section just south of Central Park and primarily a business and tourist district. Here you'll find towering skyscrapers, each jockeying for a view of the park; luxury shopping on 5th Avenue and tons of classic New York City cabs and hot dog stands on the streets.
While no one in their right mind wants to live in Midtown, given how hectic it is, many visitors to NYC will like how centrally located this neighborhood is!
You can walk straight into Central Park for a picnic, zip up the 4, 5 and 6 trains north to the classic museums on the Upper East Side or walk downtown to Rockefeller Center and Times Square.
Midtown just south of Central Park is the a fantastically swanky spot and the best place to stay in New York if you like luxury hotels, have business meetings or want epic views of the park.
Best Hotels in Midtown:
Best Neighborhood for First Time Vistors: Times Square
Find Great Hotels in Times Square
While locals avoid Times Square like the plague… first time visitors will love the nonstop lights and action of Times Square!
From comedy shoes to Broadway performances, flashing billboards, endless restaurant options… you can find it all in Times Square! This is one of the most iconic neighborhoods in NYC to stay in.
Best Hotels in Times Square:
ADVERTISEMENT
---
---
Most Charming NYC Neighborhoods:
Greenwich Village & West Village
Find Great Hotels in Greenwich Village | Find Great Hotels in the West Village
This wide section is what most people think of when they envision "Classic New York" – the beautiful chestnut brownstone buildings, the leafy sidewalks and the hip cafes and small boutiques.
This is after all, where Sarah Jessica Parker's Carrie Bradshaw character had her apartment in Sex and the City! If you plan to go out at night, stay in the Village for easy access to some great bars and jazz clubs as well as trendy nightclubs in Meatpacking.
The Village is one of the best places to stay in New York if you want classic Manhattan facades and a small town charm in the big apple.
Best Hotels in the Village:
Best for Shopping & Walking:
Soho and the Lower East Side
Soho is particularly great for shopping while the Lower East Side is the spot for great food, drinks and bars. If you've seen all the touristy sights and just want to live like a local for a weekend in New York, this is the hip section of Manhattan to stay!
You can grab authentic Chinese food in Chinatown, grab a cannoli in Little Italy or shop till you drop on any of the endless chain stores and boutiques all throughout Soho. For my fashionistas and nightlife lovers, Downtown Manhattan is the place to stay in New York.
Best Hotels in SoHo:
ADVERTISEMENT
---
---
Best for Restaurants & Celebrity Sightings:
Tribeca
Tribeca is one of the trendiest, most coveted neighborhoods to live in for New Yorkers. So naturally, lots of young families, high powered executives live here. It's also where celebrities like Taylor Swift, Beyonce and Jay-Z have bought apartments!
Stay in Tribeca if you like being in a hip, understated neighborhood, with tons of great restaurants (both casual and Michelin starred)… and hope to spot a celebrity or two!
Best Hotels in Tribeca:
Best for Nightlife:
Meatpacking
Find Great Hotels in Meatpacking
If you're visiting New York for a girls trip, bachelor/bachelorette or just want to party all night, stay near Meatpacking! The biggest, most popular dance clubs are all here… and late night favorites like Artichoke Pizza.
In the day time, there's excellent shopping, the High Line and more to keep you occupied.
Best Hotels in Meatpacking:
ADVERTISEMENT
---
---
If you're a budget traveler or a family with kids, you're likely looking for more affordable accommodation in New York City. Keep reading!
Best for Families:
Upper East Side and Upper West Side
Find Great Hotels in the Upper West Side
90% of New York's most famous museums are uptown. If you're visiting New York with kids, you'll love green Central Park in uptown Manhattan. Whether you pick the East or West side, you'll have great museum options: the American Museum of Natural History, Metropolitan Museum of Art, Guggenheim and more!
Hotels here typically have family friendly accommodation and there's also easy subway and bus lines to get around.
Best Hotels Uptown:
Best Budget Neighborhood:
Williamsburg Brooklyn
Find Great Hotels in Williamsburg
Trendy Williamsburg is one of the hottest areas for visitors on a budget and families to stay in. With beautiful boutique hotels offering views of the New York skyline, who can resist?
Williamsburg also has tons of great restaurants, coffee shops and shopping to offer!
Best Hotels in Williamsburg:
ADVERTISEMENT
---
---
Will this be your first time visiting Manhattan?
Visiting NYC – Travel Checklist
New York City has 3 airports: John F Kennedy (JFK), the bustling international hub; LaGuardia (LGA), the run down smaller airport near Astoria Queens; and Newark Airport (EWR) which is actually in New Jersey. You can check for flight deals here for your upcoming trip – for better rates, make sure you include all 3 airports.
Be sure to visit New York with travel insurance. Whether you get injured and need to be hospitalized, or your phone gets stolen, or a delayed flight leaves you with nothing but the clothes on your back, travel insurance will help when you need it most. Get a quote for your trip here.
Everything about the city is expensive (sorry). From food to accommodation to sights, try to save up a healthy vacation fund and then enjoy the entire visit. I do recommend booking hotels in NYC – Airbnb is illegal in the city, so only book an Airbnb for nearby New Jersey. You can check here for last minute accommodation deals.
Getting around, on the other hand, is easy! The subway system is extensive and follows a North South grid (for the most part). If you want to avoid the grime, use Uber and Lyft on your phone or hail a cab by sticking out an arm. Cabs with lights on the roofs mean they're open and available!
You Might Also Enjoy:
Planning a Trip to New York City
A Neighborhood Guide to New York
Affordable NYC Hotels Under $200 / Night
The Best NYC Furniture Stores for Every Budget
Cultural Things to Do in NYC
An Insider's Guide to New York City Museums
The Most Photogenic Locations in Central Park
Cherry Blossoms on New York's Roosevelt Island
NY Botanical Garden: Orchid Evenings
Art After Dark at the Guggenheim Museum
Boating in Central Park for Kids
Fun Activities & Events
Institute of Culinary Education Class Review (+ Promo Code)
Seasonal Things to Do in NYC
The Best Fall Activities to Try in NYC
Holiday & Christmas Things to Do
Riding New York City's Holiday Train
New York City Eats & Restaurant Reviews
Guide to the Best Coffee Shops and Acai Bowls in NYC
Asian: Cha-An, Hatushana Sushi, Mihoko's 21 Grams, Jinya Ramen
Brunch: The Wren, The Meatball Shop, Brooklyn's Smorgasburg
Dinner: The Wayfarer, L'Artusi, Racines, Tamarind, Sociale
Fine Dining: Musket Room, River Café, The Modern, Annisa, Benoit
Getaways from New York City
Follow me @Sher She Goes on