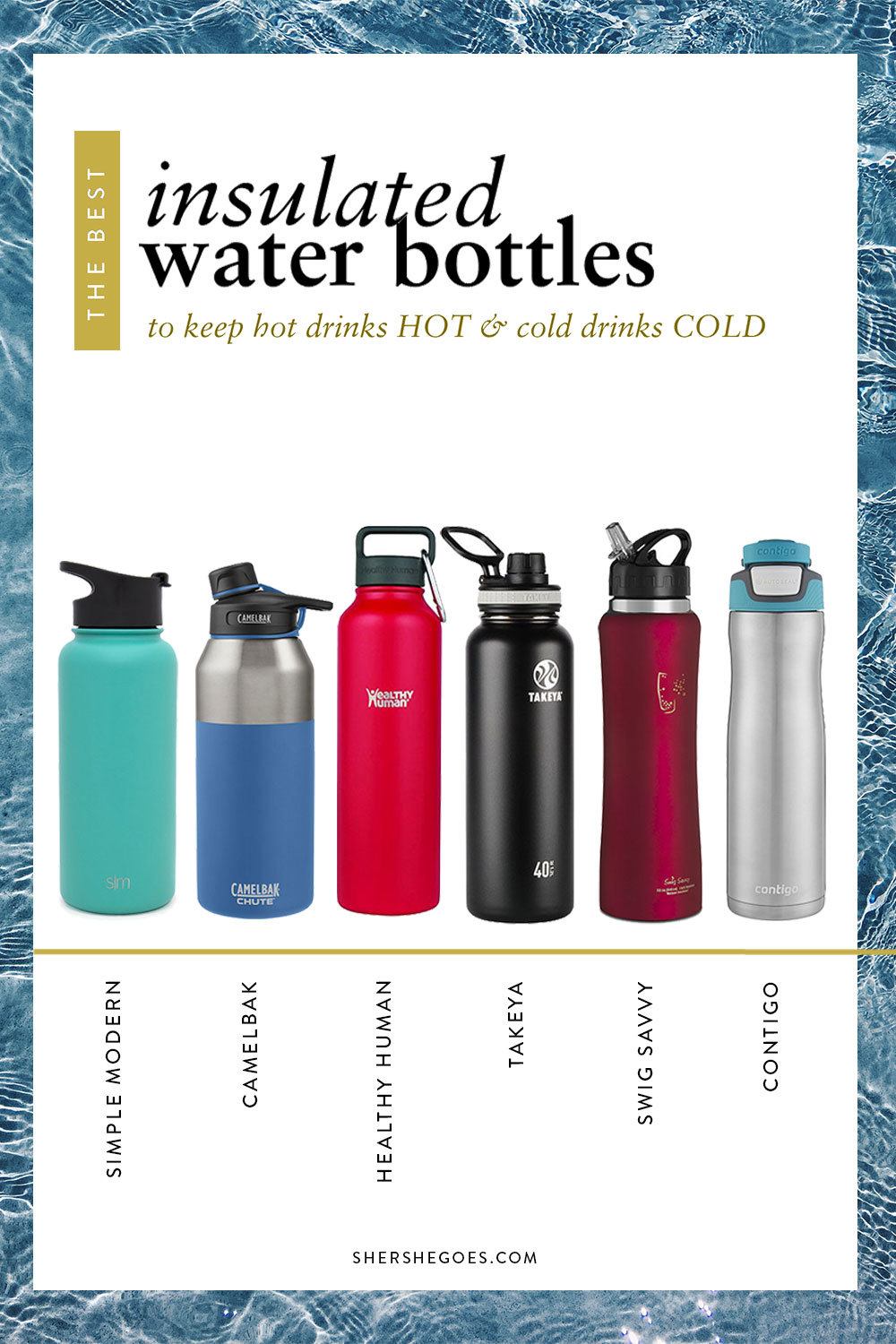 Best Water Bottles
Even as I saw technology disrupt how we booked hotels (or, rather, random apartment rooms), received car service, and paid our bills, I never thought I'd witness modern technology and innovative engineering disrupt, of all things, water bottles.
As recently as high school, the water bottles I used during workouts were effective but cheap ones that I either picked up from the school store or got for free at a charity 5K race.
The decals would chip easily and you needed lots of ice to have cold water post-workout, but they got the job done.
Today, any candidate for the best water bottle seems guaranteed to feature vacuum insulation, durable and modern materials, and a convenient design.
While these traits are common to most water bottles, variations in size, weight, and engineering make some bottles preferable to others depending on your intended use.
Keep reading for my top picks for the best water bottle!
---
---
1. Polar Insulated Water Bottle
Thinking the proliferation of vacuum-insulated water bottles was a recent phenomenon, I was impressed and surprised to learn that Polar Bottle, having manufactured vacuum-insulated water bottles for over 20 years, lays claim as the original manufacturer of the best insulated water bottle.
Aside from insulation, the Polar Bottle also features a collapsible plastic polymer vessel that's both lightweight and friendly to the environment! Best of all, it's one of the most affordable water bottles at under $13!
Shop on Amazon in 38 colors
---
2. CamelBak Vacuum-Insulated Bottle
Given they reinvented the best hiking water bottle with their famous hydration packs, it's no surprise that CamelBak has delivered yet another premium product with its Chute Vacuum Insulated Stainless Steel Water Bottle.
The Chute spout features an innovative technical design that is conducive for both one-handed use and rapid hydration. The interior features a stainless steel double-walled vacuum insulator that keeps liquid cold and hot for 24 and 6 hours, respectively.
Shop on Amazon in 9 colors
---
3. Simple Modern Double Walled Bottle
The Summit from Simple Modern combines two key technologies to create a leading candidate for the best water bottle currently available.
The first is a double-walled vacuum insulator, which creates void space between the liquid and bottle exterior through which heat can't transfer. The second involves lining the inner wall with copper, which further reduces heat transfer.
Depending on the bottle size, the Summit can keep liquids hot for up to 12 hours and cold for up to an incredible 48 hours.
Shop on Amazon in 10 sizes, 37 colors
---
---
4. Contigo Stainless Steel Water Bottle
For the best metal water bottle that's both sleek enough for the office yet durable enough for the gym, check out this Autoseal Chill Stainless Steel Water Bottle from Contigo.
Featuring double-walled vacuum insulation (keeping drinks cold for 28 hours)., a seal that can be operated effortlessly with a flick of the finger, and a nifty spout cover that protects against germs and grime, the Contigo Autoseal bottle is perfect for any environment.
Shop on Amazon in 7 colors
---
5. Swig Savvy Insulated Water Bottle
Solid essentials plus a few nifty treats are what make the Swig Savvy a great choice for the market's best insulated water bottle.
Starting with the basics, the Swig Savvy offers a condensation-proof stainless steel exterior along with double-walled vacuum insulation that can keep liquids cold for 24 hours.
Finishing with the treats, the Swig Savvy bottle features an ultra-wide mouth that can easily fit ice cubes (a surprisingly rare feature in even the best sports water bottle) as well as padded pouch that protects both your drink and other belongings while you're on the go!
Shop on Amazon in 8 colors
---
6. Healthy Human Vacuum Insulated Thermos
For Healthy Human, producing the best stainless steel water bottle is all about performance – and let's take a moment to give thanks for that, because the designs – aside from the harmless solid-color versions – can become ghastly in a hurry!
The Healthy Human uses a stainless steel coating to keep the bottle dry and an interior copper coating to keep liquids cold for 24 hours and hot for 12 hours!
Shop on Amazon in 10 colors
---
---
7. Takeya Insulated Water Bottle
In its flagship vacuum-insulated water bottle, stainless steel specialists Takeya offer what may be the market's best running water bottle.
Its narrow body features double-walled insulation that keeps liquids hot and cold for, respectively, 12 and 24 hours, food-grade stainless steel that won't absorb or transfer flavors (perfect for post-run shakes!), and a leak-proof twist cap that won't cause any headaches while you're moving quickly!
Shop on Amazon in 5 sizes and 8 colors
---
---
The Best Water Bottles 2021
To summarize, here's a handy chart to compare each of the different water bottles. They all get the job done, so it just comes down to looks and price!
---
---
Which is your favorite water bottle for travel? Let us know in the comments!
Read More   in my travel packing checklist series:
Best Travel Luggage
The Best Carry on Luggage for 2021
The Best Packing Cubes for a Perfectly Organized Bag
The Best Lightweight Luggage for Overpackers
The Best Hard Luggage Sets for Stylish Travelers
The Best Underseat Luggage for Minimalists
The Best Carry On Bags for Men - Rugged + Durable!
Business Travel
The Essential Business Packing List
The Best Business Travel Luggage
The Best Laptop Cases for Working Women
The Best Laptop Bags for Men
Packing Hacks
The Best Travel Wallets for All Your Vacation Essentials
The Best Jewelry Cases Never Untangle a Necklace Again!
The Best Toiletry Bags to Clean Up Quick
Travel Packing Lists
The Best Travel Jackets for All Types of Weather
The Best Duffel Bags for Your Next Weekend Trip
The Best Travel Backpacks to Hold Everything You Need
Follow Sher She Goes on
Youtube | Instagram | Facebook | Twitter | Pinterest | Bloglovin