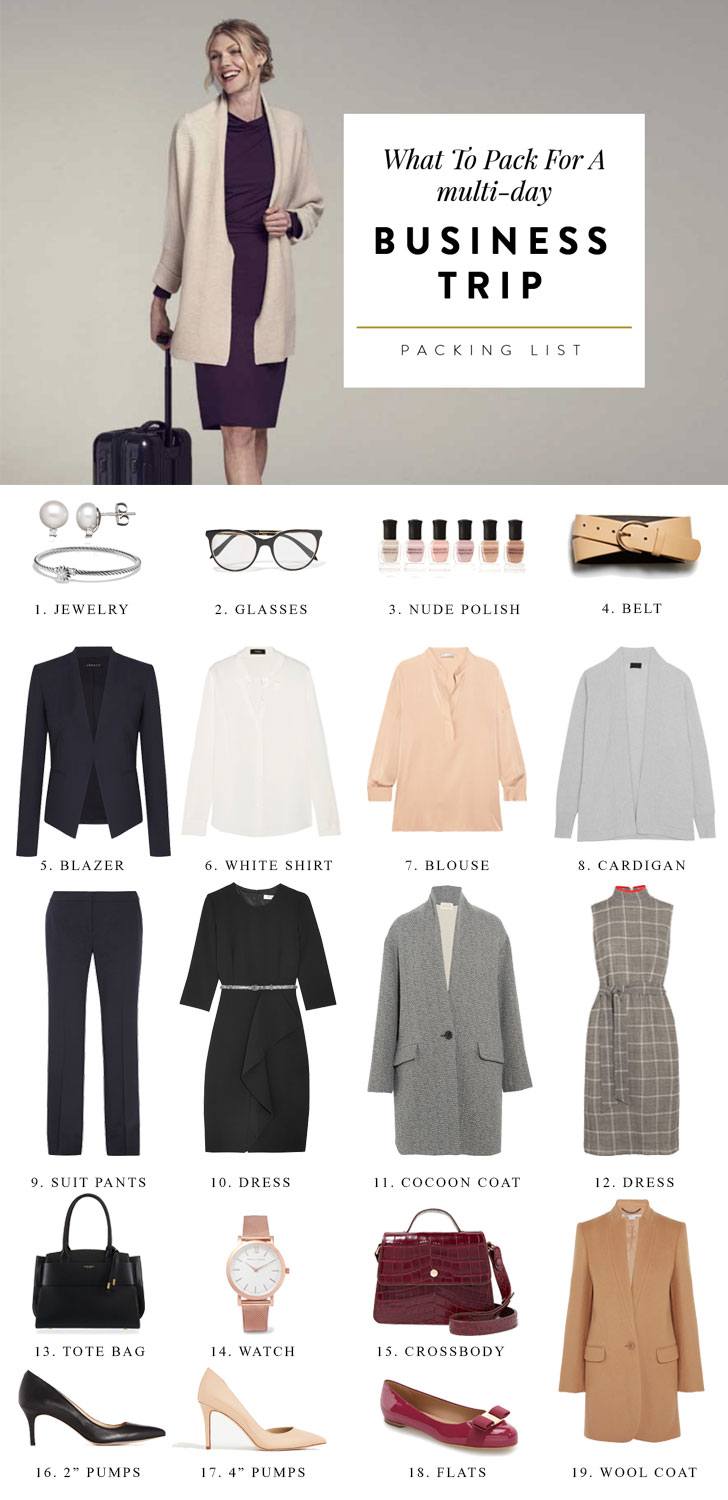 1. Pearl Earrings and Bangle Bracelet | 2. Reading Glasses | 3. Undressed Polish | 4. Neutral Belt | 5. Suit Blazer | 6. White Blouse | 7. Pink Blouse | 8. Cardigan | 9. Suit Pants | 10. Machine Washable Wool Dress | 11. Grey Cocoon Coat | 12. Checkered Dress (similar) | 13. Black Tote Bag | 14. Rose Gold Watch | 15. Crocodile Crossbody Bag | 16. Low Heeled Black Pumps (suede version here, patent version here) | 17. Nude Pumps | 18. Ferragamo Varina Flats | 19. Beige Wool Coat (affordable versions here, here, here and here)
Business Trip Packing List
A business trip packing list doesn't have to be complicated.
I stick to conservative classics and sharp suiting for any kind of work related travel, conference or client meeting. I always remember to pack a good blazer, a comfortable flat shoe, a pair of comfortable heels and some casual basics.
And of course, these all go in a carry on suitcase!
What to Pack For a Business Trip for Women
Suits
I prefer a pantsuit and swear by Theory's blazer and pant sets.
The quality is fantastic and they typically make the same suit cuts available in a variety of fabrics so you can mix and match bottoms and jackets.
I usually bring along 2 blazers, one buttoned and one opened and 2 bottoms, one slight boot cut pants and one straight leg so I can get more wear out of one suit.
I have both the Theory Gabe Suit and the Theory Lanai suit and love both of them. The Lanai blazer is "open cut" without any buttons but the blazer never flaps about and looks sharp yet distinctive. Every time I wear it, I get a nice comment from a stranger so it is definitely worth the money!
Fabric wise, they usually come in lots of different colors and textures. I prefer my dark grey one the most.
For those on a tighter budget, check out Ann Taylor, Banana Republic and J.Crew for solid suit options. For a business trip, I'll pack one blazer and multiple bottoms and dresses that all match.
---
---
Clothes
Personally, I think blouses are much more flattering than button down shirts for women.
The worst is when a button accidentally pops open, or if there are gaps in between the buttons. Avoid all that with a feminine, clean blouse – I stick to neutral shades like white, beige, light blue, light pink, etc.
I also recommend bringing a thicker cardigan for the plane or air conditioned conference rooms. A thinner cardigan can fit under a blazer or a thicker, structured cardigan can replace a suit jacket.
Dresses are my favorite thing to wear for work since I think they're quite conservative while still being expertly flattering.
If you're on a tighter budget, Ann Taylor, Club Monaco and Banana Republic sales are a must. If you want high quality and don't mind paying for a great dress that will last you years, I love MM La Fleur and Theory. Both make the most incredible fitted, slimming dresses that are conservative and comfortable.
Other good quality work wear brands to check out: Tory Burch, Vince, Max Mara and Nordstrom. I usually pay more my suits and coats since they last for years. Instead, I'll buy more inexpensive blouses, skirts and trousers which get worn more often and break down faster.
---
---
Shoes
I recommend packing comfortable flats for the plane and heels.
If you can fit it, I would bring a low heel that can last you all day (something around 2-3 inches) and a taller heel for that 'power look' when you have a client meeting.
My go to flats for work are by Ferragamo – classic, comfortable and a staple for conservative office environments. I like the Varina flat for everyday wear and the Vara pump for a modest, walkable heel. Both styles come in every color under the rainbow so you can opt for a neutral black, navy or nude.. or get a seasonal color like blush pink velvet.
I love the options and durability. They're slightly pricier than basic flats but each pair I've bought has lasted for years. For other comfortable heels, check out J. Crew, Ann Taylor, Banana Republic and Sam Edelman.
---
---
Makeup
I have a separate toiletry pouch to hold my travel makeup and for business trips, will usually include a light foundation, a lipstick and basic eye makeup.
I also make sure to bring spare contacts and glasses for potential late night meetings when your eyes may dry out.
For perfume, I fill a small travel atomizer with my favorite scent so that I have something travel friendly. Stick to clean, light scents that won't potentially offend anyone.
My favorite crisp, fresh scents are Tiffany, Guess 1981 and Odin. I love YSL's Parsienne and Chloe Love Story but I avoid these for business trips because they're stronger and muskier!
---
---
Handbags
A great tote bag that can hold a manila folder for papers is essential. Also pack a small notebook, extra pens and business cards. I usually also pack a small cross body or clutch bag for dinners.
Mansur Gavriel makes gorgeous, affordable large shoulder totes. For higher end designers, I swear by the Prada saffiano tote and Fendi 2Jours bags for statement work bags.
Jewelry
I like to bring simple, high quality pearl earrings for business trips. If you don't mind things on your wrists, a watch and bracelet are great jewelry options – I love David Yurman's bangles.
I also try to clean up my nails before a multi-day business trip and swear by neutral tones. Deborah Lippmann has the best undressed nail polish set to cover a wide range of barely there shades.
---
---
Travel Bags, Organizers & Electronics
Suitcase
For work trips, especially as a junior member of the team, you absolutely want to go carry-on only.
The first time you fly with a boss can be a little nerve wracking as you'll likely be spending significant extended time together and you don't yet know their travel likes and dislikes.
Most senior people in the corporate world don't want to wait for their bags and will not like having to wait to get to the hotel room for you to wait for your bag at the carousel.
If you can easily fit your items in a portable leather duffel bag, that's a great thing to bring. Otherwise, bring a sleek and nondescript rolling carry-on.
I particularly recommend Tumi or Samsonite for work carry-on luggage since they have very sleek and understated black options. Calpak luggage is especially light weight, has a glossy shine and comes with built-in GPS and charging ports.
Read this review post for all my favorite carry on luggage.
---
---
Packing Cubes
I like to group clothing by color or function and pack each group of items snugly in their own packing cube.
These are a lifesaver for keeping your suitcase organized in your hotel room and are my number 1 secret to maximize space and function in just a carry on suitcase. I typically reserve one packing cube for all my worn clothes to separate the dirty stuff from my fresh clothes!
Amazon has their own inexpensive 4 piece packing cube set and several travel blogger friends swear by this set from eBags.
Personally I use a set from CalPak which I love. They're machine washable for easy cleaning and if you have CalPak luggage – they're perfectly sized for their carry on luggage pieces!
Toiletries
If I know I'm going somewhere tropical, I prefer to pack my own hair products since my hair tends to dry out from the sun and chlorine. I currently like these for shampoo and conditioner.
Laptop
This is something I usually leave at home, especially if I'm going to a conference or meeting clients since it adds lots of weight and doesn't typically get used. I use a 15″ ASUS laptop and protect it with a laptop case.
Portable Charger
I currently use an iPhone XS and this Anker portable charger to keep it fully charged at all times. This charger is small and sleek with enough life to fully charge an iPhone 2x.
Also I really love Anker's products since they have great customer service. I once bought a product that ended up dying and they quickly sent me a replacement free of charge, so I highly recommend them!
Shop Work Wear
---

---
---
Read More   in my travel packing checklist series:
Best Travel Luggage
The Best Carry on Luggage for 2020
The Best Packing Cubes for a Perfectly Organized Bag
The Best Lightweight Luggage for Overpackers
The Best Hard Luggage Sets for Stylish Travelers
The Best Underseat Luggage for Minimalists
Business Travel
The Essential Business Packing List
The Best Business Travel Luggage
The Best Laptop Cases for Working Women
The Best Laptop Bags for Men
Packing Hacks
The Best Travel Wallets for All Your Vacation Essentials
The Best Jewelry Cases Never Untangle a Necklace Again!
The Best Toiletry Bags to Clean Up Quick
Favorite Shoes for Travel
Best Travel Shoes for Women (Don't Sacrifice Comfort or Style!)
The Most Comfortable Flats EVER
The Best White Sneakers that Go with EVERYTHING
OluKai Shoes: Sneaker & Sandal Review
Travel Packing Lists
The Best Travel Jackets for All Types of Weather
The Best Duffel Bags for Your Next Weekend Trip
NYC in Winter: What You Need
Follow Sher She Goes on
Youtube | Instagram | Facebook | Twitter | Pinterest | Bloglovin