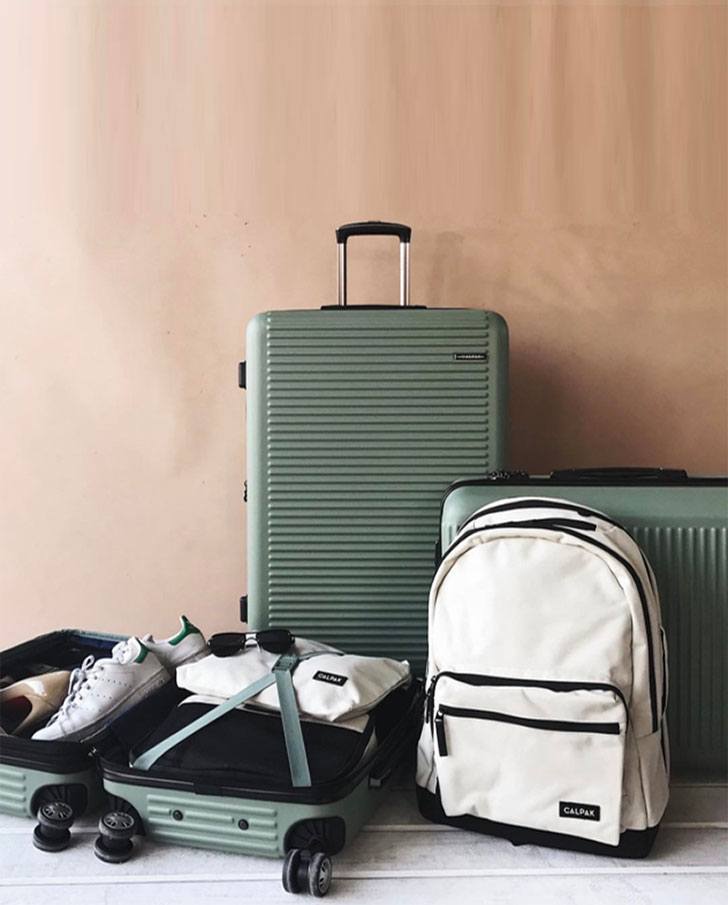 Carry-On Luggage
I'm fortunate enough to travel for work constantly.
And throughout the 10 years that I've been travel blogging, I've tried a lot of luggage brands! Today's carry on suitcases have become quite advanced, almost as if to make up for the increasingly torturous in-flight experience.
From classic luggage staples, to air hostess carry on brands.. to stylish start up luggage brands, I've tried so many out for a spin!
Today's post is a comprehensive buying guide to the best carry on luggage – whatever your needs!
Keep reading, or pin this article to save it for later ⇟
ADVERTISEMENT
---
---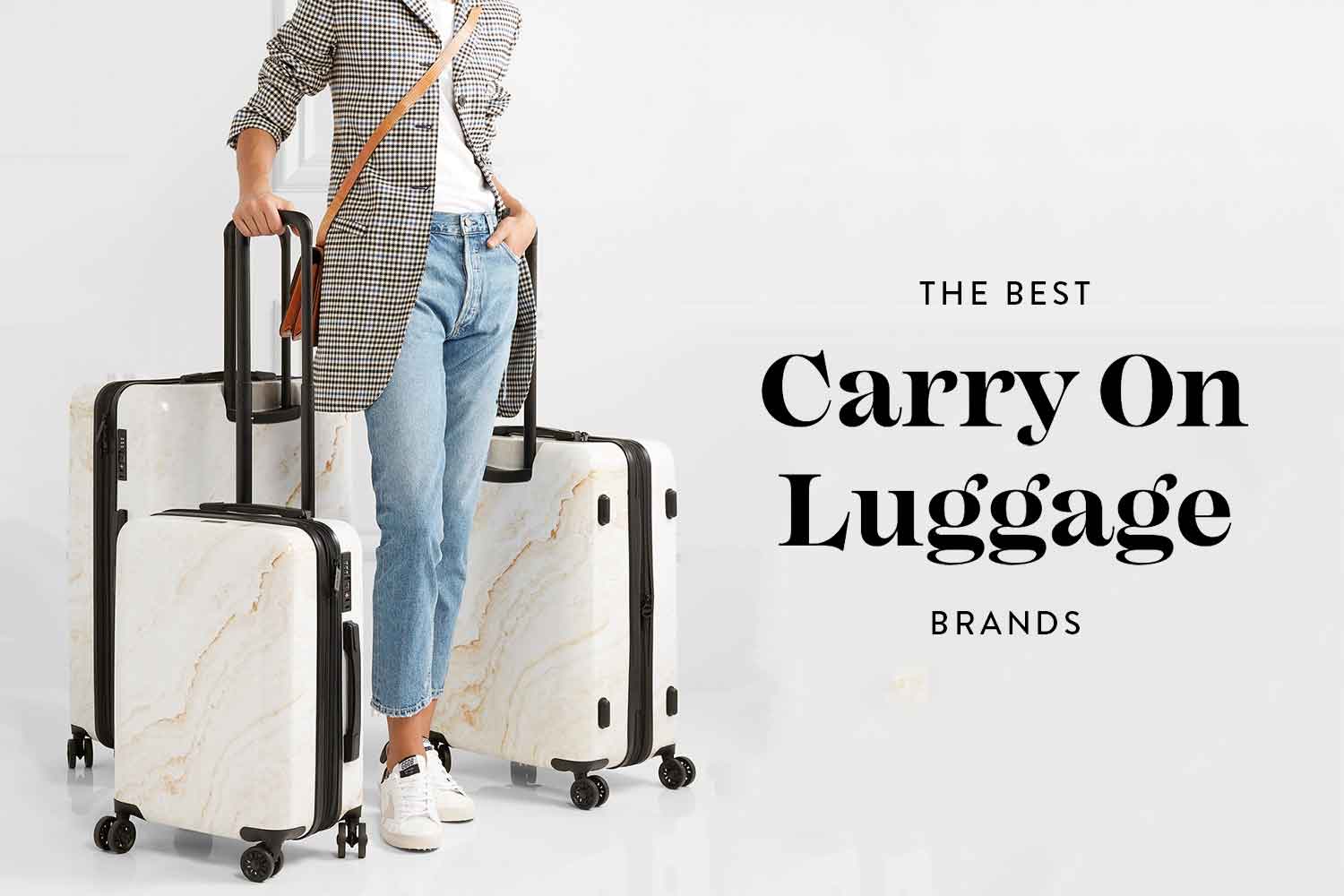 Carry-On Suitcases
Here are the top carry-on luggage brands in every category. Click on each product for an in-depth review!
Best Carry-On Luggage Brands
ADVERTISEMENT
---
---
Best Carry-On Luggage (2023)
Best Softside Carry-on
Travelpro Expandable Spinner 21
Dimensions: 21 inches x 14 inches x 9 inches
Weight: 5.9 pounds
---
ADVERTISEMENT
---
---
Best Hard-shell Carry-on
Samsonite Hardside Spinner 20
Dimensions: 20 inches x 13.5 inches x 9.5 inches
Weight: 6.7 pounds
---
ADVERTISEMENT
---
---
Best Lightweight Carry-on
Delsey Carry-On Spinner
Dimensions: 21.75 inches x 13.75 inches x 9.75 inches
Weight: 4.8 pounds
---
ADVERTISEMENT
---
---
Best International Carry-on
Briggs & Riley International Carry-On
Dimensions: 22 inches x 14 inches x 9 inches
Weight: 9.3 pounds
---
ADVERTISEMENT
---
---
Best Affordable Carry-on
Amazon Basics Carry On 20″

Dimensions: 21.6 inches x 14.4 inches x 9.2 inches
---
ADVERTISEMENT
---
---
Most Stylish Carry-on
Calpak Carry On 20″
Dimensions: 20 inches x 14 inches x 9 inches
Weight: 7.0 pounds
---
ADVERTISEMENT
---
---
Most Unique Carry-on Luggage
Roam Luggage The Jaunt
Dimensions: 22 inches x 14 inches x 9 inches
Weight: 6.6 pounds
---
Best of all, Roam Luggage offers a 60 day trial, free shipping, free returns and a generous 5 year warranty.
ADVERTISEMENT
---
---
Most Durable Carry-on
Tumi Alpha 3 Carry-On
Dimensions: 22 inches x 16 inches x 9 inches
Weight: 11.1 pounds
---
ADVERTISEMENT
---
---
Best Underseat Carry-on
Samsonite Underseat Carry-On Luggage
Dimensions: 13 inches x 13 inches x 6.5 inches
Weight: 5.0 pounds
---
ADVERTISEMENT
---
---
Best Wheeled Duffel Carry-on
eBags Mother Lode Wheeled Duffel Bag 21
Dimensions: 21.5 inches x 15 inches x 9 inches
Weight: 8 pounds
---
ADVERTISEMENT
---
---
Best Carry-on Backpack
Osprey Packs Travel Backpack
Dimensions: 20 inches x 13 inches x 12 inches
Weight: 1 pound
---
ADVERTISEMENT
---
---
Best Luxury Carry-on Luggage
Steve Madden Softside Carry-On
Dimensions: 21.5 inches x 14 inches x 9 inches
Weight: 7.8 pounds
---
ADVERTISEMENT
---
---
Best Spinner Carry-on Luggage
Coolife Spinner Carry-On Luggage
Dimensions: 21 inches x 15 inches x 8 inches
Weight: 8.1 pounds
---
ADVERTISEMENT
---
---
Best Carry-on for Frequent Travelers
Travelers Club Chicago Spinner Carry-on Luggage
Dimensions: 20 inches x 13 inches x 11 inches
Weight: 5.6 pounds
---
ADVERTISEMENT
---
---
Best Two-Wheeler Carry-on
Rockland Softside Upright Luggage Set
Dimensions: 19 inches x 13 inches x 7.5 inches
Weight: 6 pounds
---
ADVERTISEMENT
---
---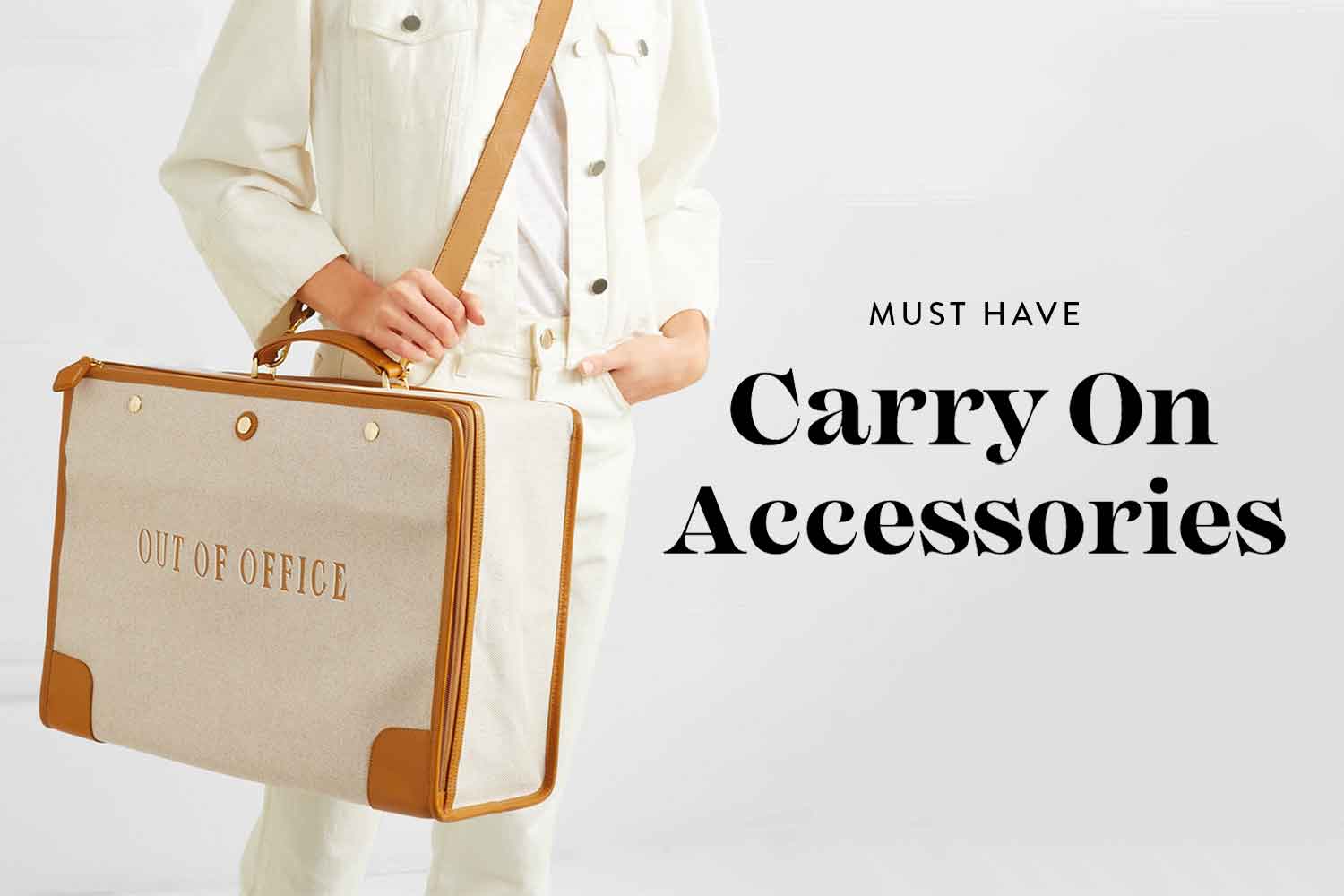 Must Have Accessories for Carry On Luggage
The sleek black exterior resists stains and looks sharp while the interior can comfortably fit a 15″ laptop, DSLR camera, notebooks, a change of clothes and other basic necessities.
I've had mine for over 5 years at this point and the heavy duty nylon resists dirt and grime, so it still looks sleek!
My favorite feature is the large zippered pocket on the exterior which slides right over your carry on luggage handle so that you can wheel both together with ease!
ADVERTISEMENT
---
---
Packing Cubes
Once you get a packing cube set, you'll never go back to free range luggage.
Packing cubes help maximize space inside your luggage by neatly organizing clothing and separating your dirty worn clothes from freshly laundered ones.
Amazon carries a wide range of packing cube sets and brands at different price points.
Personally I use Calpak's set which are made to perfectly fit their luggage. They're durable, even after I've thrown them in the wash over and over!
ADVERTISEMENT
---
---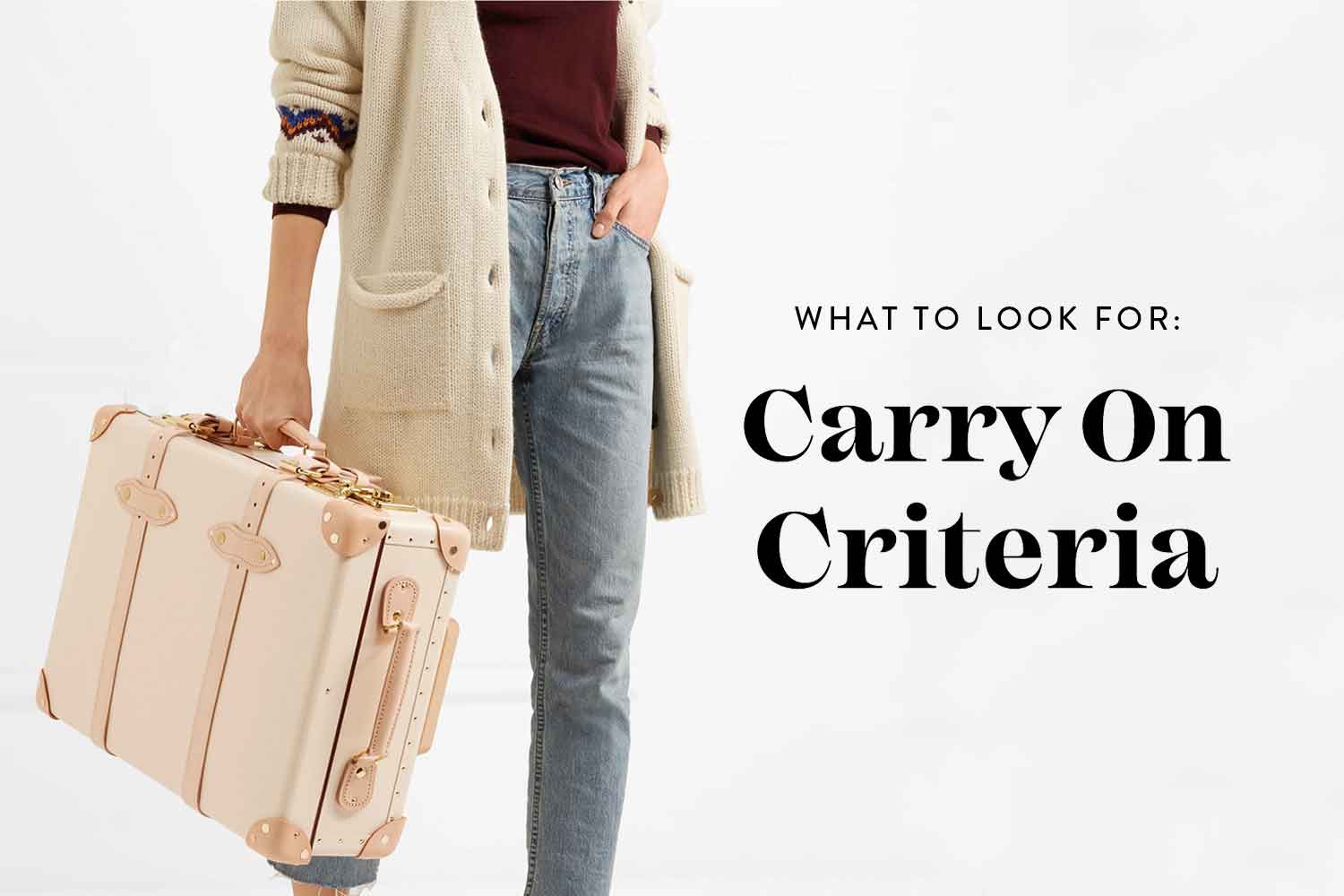 What to Look For in Carry On Luggage
Luggage can be a pricey investment so you want to do some research to make sure you're getting the best carry on for your needs. Here are some things to consider:
ADVERTISEMENT
---
---
Size
Every airline is different, but in general, passengers are typically allowed 1 personal bag (say, a laptop bag, backpack or purse) and 1 cabin bag. For U.S. airlines, carry-on bags can measure no more than 22″ x 14″ x 9″.
If you're flying internationally, you may want to opt for a bag no more than 21″ inches, as some international airlines (in particular budget airlines) can be more strict. Double check on the airline website for the latest info.
Tip: Always make sure you can depart with your suitcase in its tightest form, fully zipped up. I have found that flight attendants will often do a visual check when it's time to board the plane. If your carry-on is unzipped, they'll often deny it and say it is over sized
ADVERTISEMENT
---
---
Weight
If you're like me, you want the lightest carry-on bag possible.
Pushing, heaving and forcing an overweight bag into the overhead bins is painful and a safety risk. I try to look for carry on suitcases that weigh no more than 10 pounds when empty, and ideally, weigh between 6 to 8 pounds.
Most airlines have a maximum weight of 40 pounds for a carry-on bag.
It depends on the airline, but many international carriers will weigh both your checked bag and your carry-on so it's important to stay within the limit.
Not sure how much your luggage weighs?
Grab this inexpensive luggage scale so you know before you show up at the airline!
ADVERTISEMENT
---
---
4 Wheels vs. 2 Wheels
The standard 2 wheel suitcase is for those who don't mind pulling a suitcase behind them.
This type of carry-on bag tends to be cheaper and often has more internal space.
Personally, we think 4 wheeled suitcases are the new standard.
Four wheel bags, sometimes called "spinner" suitcases, have the flexibility to push the luggage upright as the wheels are multi-directional and give you full control to turn in any direction.
Handles
Ideally, the best carry-on will have a short top handle, a side handle for lifting, as well as an extra sturdy telescopic handle that can both push and pull the luggage with ease.
The best telescopic handles are tall enough to allow you to pull your luggage at a comfortable arm length while also contracting mid-way.
ADVERTISEMENT
---
---
Interior Construction
Nowadays, you have 2 choices for carry on luggage interiors.
One type has a deep compartment with an outer flap.
The second type is called a 'sandwich' or 'clamshell' construction where the suitcase is split into 2 equal halves.
It's a personal choice as far as which you prefer.
While I like about sandwich construction luggage is that it allows me to stay better organized (for example, clothes on one half, shoes + toiletries on the other).
However, most hotel room luggage racks are built for the original, 1 compartment suitcase. The racks are generally not wide enough to support both halves, so it can lead to a messier travel experience. Of course, you can always fully unpack!
Hard Luggage vs. Soft Luggage
This is more a matter of personal preference.
Soft carry-on luggage allows you to really maximize storage and squeeze in that extra inch of room. Typically there's an outer pocket where I store papers and odds and ends. Soft suitcases tend to be heavier but hold up better to wear and tear.
Hard carry on luggage is sleeker and has a more distinctive, luxurious look. Thin polycarbonate hardcases can often be lighter, but in my experience, scratch easily.
Whichever you choose, make sure there are plenty of internal pockets for organization!
ADVERTISEMENT
---
---
Carry-on Backpack vs. Duffel vs. Carry-on Suitcase
Personally, I tend to over-pack, so I prefer a carry-on suitcase, which is larger and has more room for all my camera gear, clothes and extra shoes.
But, as US airlines have started to introduce Basic Economy fares, where the chance of grabbing overhead bin space is becoming scarce, carry-on backpacks have become an attractive option!
Travel backpacks will always fit under the seat and typically have tons of compartments and pockets for all your travel accessories.
Smart Luggage
Almost every gadget nowadays, from lights to kitchen appliances, comes in a 'smart' option.
Smart luggage typically has fancy extras like, power banks to charge your phone, GPS tracking, TSA approved locks and electronic baggage tags.
Typically, you'll pay a bit more for these features but it can give you peace of mind to locate lost luggage and keep your belongings safe.
ADVERTISEMENT
---
---
What is the standard carry-on luggage size?
Always check with your flight company first as every airline lists their maximum allowed carry on size limits.
In the US, the universally accepted dimensions for American airlines are 22″ x 14″ x 9″. This is supposed to include the handles and wheels.
International carriers, especially international low cost carriers, can be even stricter. So often you'll see a manufacturer makes a "carry on" size for the US market that's 22″ and an "international carry on" that's 21″.
In reality, I've traveled all over the world with my 21″ carry on and never had an issue, but your mileage may vary.
What seems most important is the weight of the bag (most international airlines will weigh carry ons whereas they don't really do that in the US) and the 'look' of the bag.
Gate attendants will look at an expanded bag and mark it as oversized, so make sure everything fits with the suitcase fully zipped at its smallest state.
What to pack in a carry-on bag?
Think of your carry-on as your most important luggage piece and store everything that you need in your hand luggage!
I'm happy to check clothes, but important items go in my cabin bag – medication, electronics, jewelry and toiletries.
I usually also bring a change of clothes, just in case my checked luggage gets delayed (which happens often on long haul flights with layovers).
ADVERTISEMENT
---
---
What NOT to pack in your carry-on bag?
There's a long list of items that you're not allowed to pack in your carry-on suitcase.
Most of these are obvious, and include: sharp objects, guns, firearms, flammable items, explosive materials, and large sporting equipment.
Liquids are subject to the 3-1-1 rule. All liquids must be less than 3.4 ounces (100 ml), must be placed inside one clear quarter-sized bag and only one liquids bag is allowed per passenger.
Are smart carry-on bags allowed on flights?
Starting in 2019, many airlines (including Delta, American, Alaska and Hawaiian Airlines) issued a ban on the lithium-ion batteries found in smart luggage.
Smart suitcases are no longer allowed to be checked at all, and can only be carried in the cabin if the battery is removable.
We recommend avoiding smart luggage and getting an external battery charger for your phone instead.
ADVERTISEMENT
---
---
Best Carry On Luggage 2022 – Summary Comparison Chart
---
To summarize, here's a handy chart to compare each of the different luggage brands so you can easily identify which carry on luggage option is best for you!
I've grouped my luggage picks by hard shell and then soft shell.
What's your favorite luggage brand?
ADVERTISEMENT
---
---
Read More   in my travel packing checklist series:
Best Travel Luggage
The Best Carry on Luggage for 2021
The Best Packing Cubes for a Perfectly Organized Bag
The Best Lightweight Luggage for Overpackers
The Best Hard Luggage Sets for Stylish Travelers
The Best Underseat Luggage for Minimalists
The Best Carry On Bags for Men - Rugged + Durable!
Business Travel
The Essential Business Packing List
The Best Business Travel Luggage
The Best Laptop Cases for Working Women
The Best Laptop Bags for Men
Packing Hacks
The Best Travel Wallets for All Your Vacation Essentials
The Best Jewelry Cases Never Untangle a Necklace Again!
The Best Toiletry Bags to Clean Up Quick
Travel Packing Lists
The Best Travel Jackets for All Types of Weather
The Best Duffel Bags for Your Next Weekend Trip
The Best Travel Backpacks to Hold Everything You Need
Follow me @Sher She Goes on