Last night, we went to the Musket Room for an amazing dinner. I had been wanting to try Matt Lambert's New Zealand inspired cuisine ever since the restaurant opened in May 2013. Granted its 2016 now but I guess that's just the way of the NYC dining scene – there's always so many restaurants to try, so little time, and well, a limited bank account!
Now that the city feels spring like, we headed off to an early sitting as I was hoping to get as much light for the photos as possible. Check out Signe Birck's professional food shots of the Musket Room – someday I hope to be able to shoot food and at that quality! I also don't quite understand why some restaurants are so dark.. I like to be able to see what I'm eating! The Musket Room is located on Elizabeth Street in soho and has a gorgeous backyard garden. It's still a little too brisk but I believe in the summer they open the restaurant to allow you to dine outdoors. The restaurant itself is a little dim – the photos on the website and during the day really transform the space. The real draw though, is the food.
I was worried the portions would be too small as yelpers frequently complained about, but we had three courses a la carte and were stuffed by the end. I also had 3 helping of their cheese brioche bread so that helped. It was served with a really interesting whipped butter. For appetizers, we tried the scallops and quail – both were amazing. I don't think I've ever had scallops in a curry sauce before so that was a fun thing to try. The quail was extremely succulent and had a sweet roasted sauce coating it. I like how the menu is just a list of ingredients.
For mains, I tried the crispy duck with huckleberry, turnip and carrot. The carrot actually came in the form of a puree and was amazing. All of the purees on all of the dishes were just fantastic, light and full of flavor. I really hate when "fine dining" restaurants think that adding a ton of cream and heaviness makes food great. I have been making a point to eat healthier and cook more and anytime something is too heavy my stomach just revolts. Anyway isn't the point of fine dining to expose your tastebuds to a riot of different flavors and textures? Along with the curry cauliflower puree in my scallop dish, the carrot puree just had a great texture (not too whipped so as to taste like baby mush) and a robust veggie flavor. C had the New Zealand red deer which he really enjoyed. He joked that he wanted to find out who their meat supplier was!
We were slightly less impressed with dessert, trying the manuka honey and lemon bavarian. Nothing really jumped out on the dessert menu and I foolishly picked the manuka honey. I actually bought a jar of manuka honey (it comes from New Zealand) back when I was in a health food craze. It has a very distinctive taste – I'm no food critic and can't really describe it, but it's muskier and not as sweet as traditional honey… I also think I'm allergic to it. So why did I pick that dessert? Who knows. It came in almost a milk-y cheese-y flan-y consistency. I also hate flan haha! Still the flavor was good and the pear sorbet was refreshing and cooling. C's bavarian was like a small dome and also undescribable. I thought it would ooze and crack but it ended up being like a hard semi sweet shell. Anyway, I think the stars are really the apps and main dishes! We also got two mini macarons when the bill came, which unfortunately were beyond stale. Speaking of macarons, we have a march madness pool going with the winner receiving a box of laduree macarons so I will get my fill then!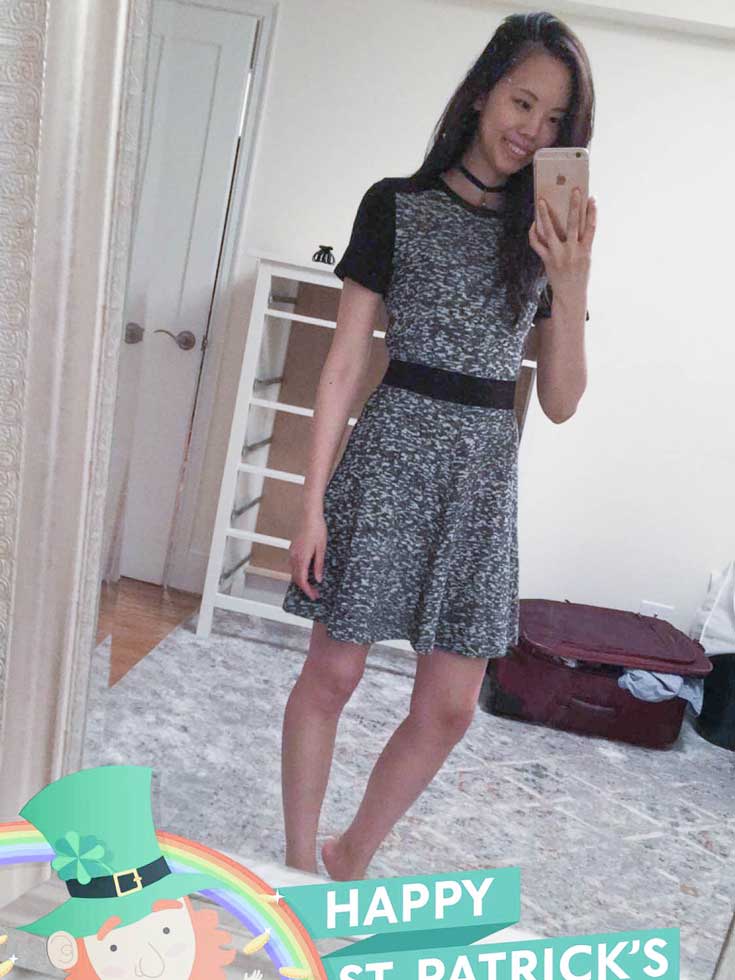 All in all, dinner at the Musket Room left us quite satisfied! I would recommend it for a dinner date or special occasion! It's got a cozy atmosphere and the prices weren't too bad for a 1 star michelin restaurant. Maybe that's just because we didn't drink for once ha. I have been really cutting back on alcohol and I think my body thanks me… I actually managed to squeeze back into this dress I bought from Club Monaco years ago! See the rest of the night on my snapchat – up for the next 24 hours (@shershegoes)!
Have you been to the Musket Room? Let me know your NYC dining recommendation in the comments!