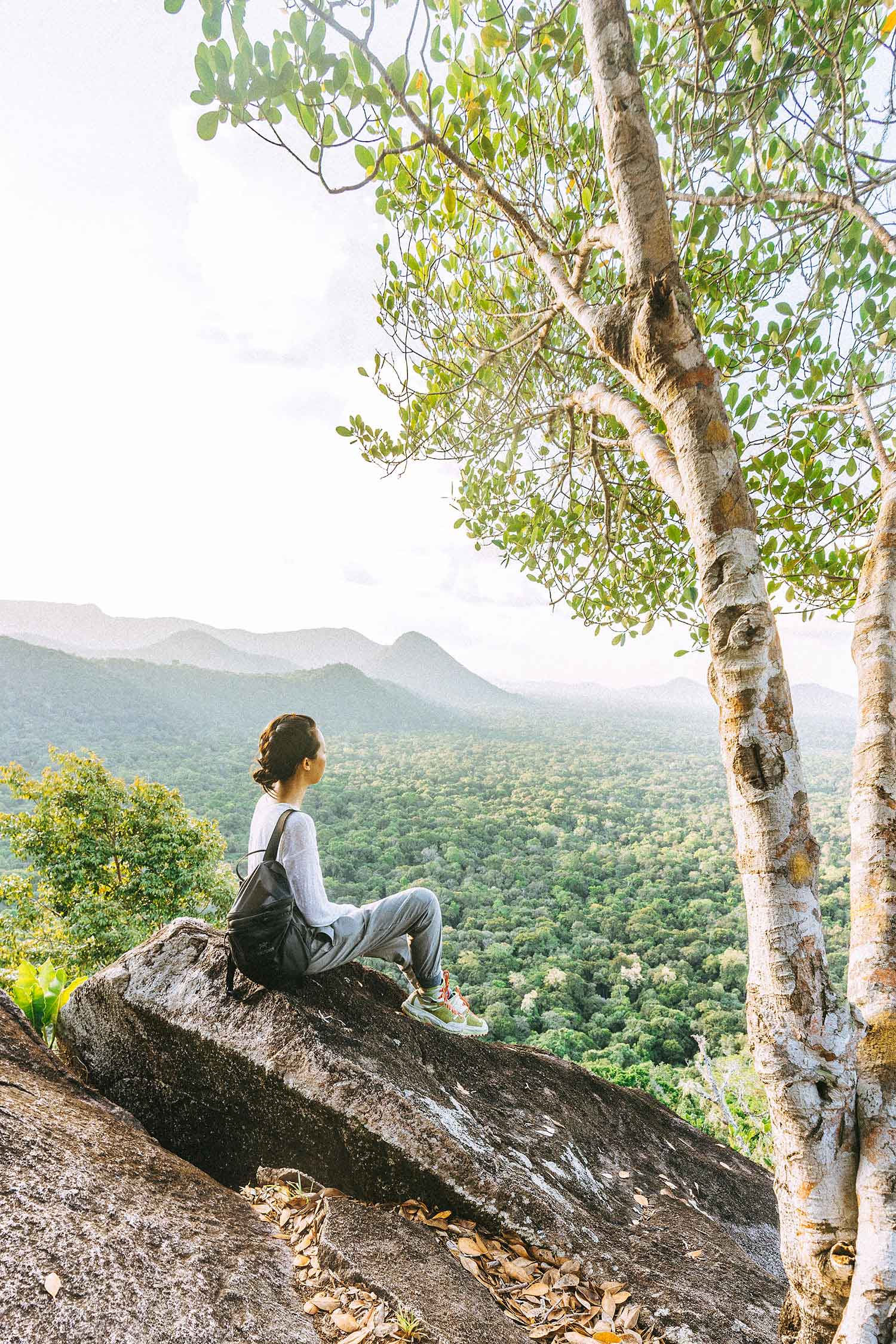 Guyana Travel Guide
Guyana is a small country filled with epic adventures.
Located on the northern coast of South America, Guyana is part of the '3 Guianas', next to Suriname (Dutch Guyana) and French Guiana. The three countries share a similar variations of a tangled colonial history and form the edge of the Amazon Biome.
From dense rainforests to deep rivers, golden savannah plains and towering mountains, Guyana is one of the most wild places we've ever been. If you like hard adventure, exotic wildlife, colorful birding or all the above, you'll want to visit before word gets out about this undiscovered gem.
Keep reading or save this article for later ⇟ 
ADVERTISEMENT
---
---
History
Guyana has a unique background, especially in comparison to the rest of South America.
In the 16th century, colonial powers vied for control of the South American coastline, drawn by a desire to plant lucrative sugar plantations along the riverbanks. While neighboring Suriname was occupied by the Dutch, Guyana was settled by the British. An unexpected consequence is that today, Guyana is the only country in South America where English is the official language.
The sugar and plantation trade brought about socioeconomic upheaval. Local indigenous people were used first, to work the land. Then African slaves were imported and eventually, East Asian and Indians were brought in as demand for workers increased. The plantation trade in coffee, sugar, cotton and tobacco continued far later than one might think – all the way until the 20th century.
Guyana finally gained independence in 1970, making it a relatively new country. Today, you'll find a wonderful melting pot of people, cuisine and culture. In fact, when we explored Georgetown, the capital almost felt very similar to the Caribbean – more so than stereotypically 'South American'.
ADVERTISEMENT
---
---
Best Places to Visit in Guyana
Georgetown
The capital of the country, Georgetown is also its political and commercial heart. Chances are, you'll be flying in to Georgetown so spend at least a day or two exploring its bustling open air markets, flavorful cuisine and colonial heritage.
Here's everything we saw and did in Georgetown.
North Rupununi
Looking for the start of the Amazon Basin? Head to the pristine rainforests and river communities of the North Rupununi. Stay in community owned and operated eco-lodges, try your hand at living off the land or piranha fishing and spot some of the most unique wildlife in the world.
Here's a tour that takes you through the Rupununi Savanna and Kaieteur Falls.
South and Central Rupununi
The South and Central Rupununi is characterized by vast wilderness and influenced by its neighbor Brazil. Head to Lethem, the local capital, and give ranch life a go. From bull rodeos to horseback riding, you'll find active adventure and breathtaking scenery. There are also plenty of challenging hikes, rustic eco lodges and unique birdlife to explore while you're here!
Here's a Wild Ranch Tour through Lethem.
Protected Areas
One of the big draws to visiting Guyana is for its untamed wildlife. There are a number of beautiful nature reserves throughout the country, including Kaieteur National Park, Iwokrama Forest, Kanuku Mountains and Konashen.
Guyana boasts over 900 bird species, 225 mammal species, 800 reptile species and over 6500 plants!
ADVERTISEMENT
---
---
Guyana is home to 3 legendary rivers: the Demerara, Berbice and Esequibo. Here's a bit about what to expect at each!
Demerara
The Demerara River is one of the most famous in Guyana. Beginning in the dense central rainforests and passing through Georgetown, the 340 km long river empties into the Atlantic Ocean and along the way, creates hundreds of tributaries, creeks and islands. Bird lovers will want to explore the river's rich biodiversity and relax in its riverside resorts.
Berbice
For an exploration into Guyana's colonial past, head to the banks of the Berbice River. Here, sugar plantations once thrived and a trip here offers a look at both country life and historical architecture dating back to the Dutch powers. Base yourself in New Amsterdam to explore the ocean side villages, nearby forests and endless flora and fauna in the region.
Essequibo
The longest river in Guyana, the Essequibo covers over 1,000 miles from the Akarai Mountains (near the Brazilian border) to the Atlantic Ocean. Visit its countless waterfalls and bird diversity while also exploring historical remnants dating back to the Dutch colonial period: Fort Zeelandia, Fort Kyk-Over-Al.
Here's a fun wildlife eco-tour along the Essequibo.
ADVERTISEMENT
---
---
Transportation in Guyana
Getting to Guyana was much easier than we anticipated! It was getting around that proved slightly more difficult.
In such a remote part of the world, transportation can be difficult. Some flights will only operate if the seats are fully booked, other times dry spots can prevent boats from cruising down the river. At one point our jeeps malfunctioned and we had to jump start it with all the staff pushing it from behind!
Be patient and expect some delays :)
Flying In to Guyana
Carriers like Caribbean Airlines, American Airlines, COPA, Fly Jamaica, LIAT and Surinam Airways all operate frequent flights to the country. You can grab direct flights from New York City or Miami in the U.S. and from Toronto in Canada. There are also many connections to other Caribbean countries. Set a fare alert for flight deals here.
Georgetown has two international airports. Most likely, you'll fly into Cheddi Jagan International, which is the larger airport just south of the capital. Our NYC to Georgetown airport landed and took off from this airport.
For internal flights getting around Guyana, we used Eugene F. Correia International Airport, which is east of Georgetown in Ogle. Internal flights are often operated on smaller planes and need to be chartered ahead of time, via a local travel agency.
Our trip to Kaieteur Falls was operated by a 13 seater cessna. If you dislike flying and small prop planes, this might not be for you! There was definitely some turbulence on the ride…!
ADVERTISEMENT
---
---
Getting Around
Once in Georgetown, we hired a mini van to take us around town, which was most convenient for our group.
There are also lots of taxis services available, which you can either call through your hotel, or pick up at the most bustling tourist spots like Stabroek Market and Avenue of the Republic. Taxi fares are usually fixed according to distance, but always check before you get in!
In the remote interior, we often used small boats and traveled by the river! Not only was it fun to travel by boat, it also put us up close and personal with snakes, giant river otters and black caimans – crocodile like amphibians!
We also used jeeps and range rovers for the inland safaris. The roads are often non-asphalted gravel roads and quite dusty, so you'll want to book adequate transportation and an experienced driver ahead of time. Road signs and internet signal are also a bit patchy, so it's not somewhere that we would recommend self driving! Get a great guide who can point out the wildlife along the way and you'll have a much better experience.
ADVERTISEMENT
---
---
What to Pack
The moment we stepped off the plane, we could taste the humidity. Guyana experiences summer temperatures (around 86 F / 30 C) year round, so pack lightweight and breathable fabrics for your trip.
As with most hot climates, the local people dress a bit more conservatively than we might. Ditch the short shorts and skimpy tank tops and stay a bit more covered up than you would at home.
In the interior, the mountains and forests buffer the temperatures… slightly. We still felt uncomfortably humid, all the time. Don't expect air conditioning either! If you're headed to the rainforest, make sure to pack all long sleeves and long pants – you can find our Amazon packing list here.
Like other tropical destinations, Guyana experiences two main seasons: wet and dry. Visit from October to April to avoid the downpours. Visit during the wet season from May to September if you wish to go birding.
ADVERTISEMENT
---
---
Health & Medical Care
Guyana was the first country we visited where we needed a vaccination for yellow fever. Make sure to get this before you visit, as some airlines require proof on boarding.
Other immunizations you should get include hepatitis A and B, rabies, typhoid, yellow fever, tetanus and diptheria. We also packed anti-malaria medication and TONS of mosquito repellent – a must if you're headed to the interior!
And definitely don't visit Guyana (or anywhere really) without travel insurance. While private hospitals are available in Georgetown, it's better to be safe than sorry.
ADVERTISEMENT
---
---
Currency
The local currency is the Guyana Dollar. It's pegged to the U.S. dollar and was roughly 210 GYD to 1 USD at the time of our visit.
Major credit cards are accepted at hotels and tour operators in Georgetown. Should you need to exchange cash, the local bank all over the capital seemed to be Socitabank. When we went into the interior, we brought cash.
VAT tax of 14% was added to all our meals and any purchases.
ADVERTISEMENT
---
---
Visiting Guyana – Trip Planning Checklist
Flight Deals | Caribbean Airlines offers nonstop flights from New York and Miami to Georgetown. You can set a fare alert here to be notified of discounts.
Getting Around | Book a driver for Georgetown or a tour to handle transportation in the Amazon basin. Most arrangements must be set up in advance, for minimum parties of 4, due to the high cost of gas and overland vehicles as well as the limited internet communication in the jungle.
Accommodation | In Guyana's interior, accommodation is remote and consists of comfortable but simple eco-lodges run by local communities. Many do not have internet access, so it's best to book a tour package that will handle transportation, activities and accommodation for you. Or, you can call to make reservations online. In Georgetown, there are plenty of boutique and international hotels to choose from. 
Insurance | Lastly, be sure to visit Guyana with travel insurance. Hospitals and medical assistance are scarce in the jungle interior and yellow fever vaccinations are strongly recommended. Whether you get injured and need to be hospitalized, or your phone gets stolen, travel insurance will help when you need it most. Get a quote for your trip here.
You Might Also Enjoy:
Guyana Vacation Planning Articles
Quick Guide to Guyana
What to Pack for the Amazon Jungle Clothes + Recommended Gear
2 Weeks in the Guiana Shield: Our Guyana Itinerary
Explore All the Best Things to Do in Guyana
Visiting Georgetown: What to See & Do in Guyana's Capital!
Guyana's Interior: The Amazon Basin
Day Trip to Kaieteur, the World's Longest Free Falling Waterfall
Day Tour: Learning How to Fish for Piranha in the Amazon
Guyanese Food: What to Expect, Where to Eat & More!
Guyanese Culture & It's Amerindians
Photos of Guyana from our trip!
Follow me @Sher She Goes on