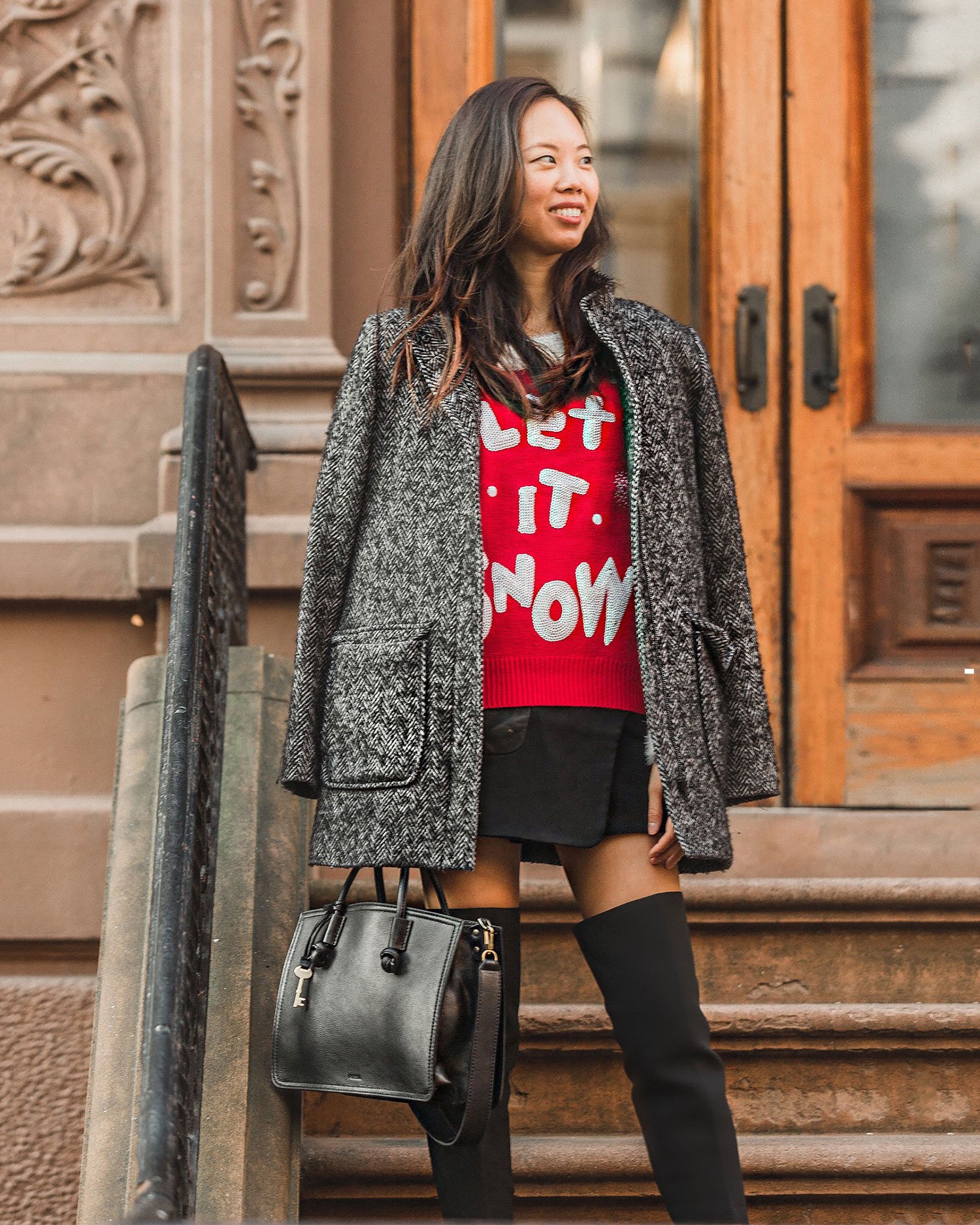 wearing: Let It Snow Sweater, OTK boots, Wool Coat
Ugly Christmas Sweater Ideas
I love the countdown to the holidays.
There's something about jolly Christmas carols on repeat, getting dressed up for party after party and epic holiday feasts that I just can't get enough of!
This year, Amazon Fashion asked me to do an Instagram story series on my account (@shershegoes) featuring 12 days of Ugly Christmas Sweaters!
Each day, I wore a different holiday sweater.
At first I thought man, "how many ugly sweaters can I possibly wear?" but it was actually quite hard limiting to just 12 once I got down to it, ha!
Keep reading for everything you need to know about Ugly Christmas Sweaters!
ADVERTISEMENT
---
---
Where to Buy Ugly Christmas Sweaters
Ugly Christmas Sweaters are sold everywhere but I think the best place to buy them is on Amazon. They have a huge selection and I find the customer reviews to be quite helpful to gauge fit and sizing.
If you have Amazon prime, they ship in just 2 days, which is perfect for last minute shoppers. Actually, about half of these sweaters shipped in 1 day!
Many of the sellers on Amazon also offer free returns if you don't like the fit or quality.
You can also try out Amazon Prime Wardrobe, to try up to 6 festive styles before you buy. That way you can ensure you like the sweater fit and quality before purchasing.
ADVERTISEMENT
---
---
Wearing: White Cozy Sweater, Red Pants (similar here)
Best Ugly Christmas Sweaters on Amazon
Here are some sellers that I've ordered from:
Or you can browse all holiday sweaters available on Amazon here!
ADVERTISEMENT
---
---
Ugly Christmas Sweater Outfit Ideas
I tried to select a mix of Christmas sweaters, from the very traditional knit pattern Christmas sweaters to festive sweaters with elves, Santa, reindeer and snowmen, to some popular 'pop-culture-y' sweaters.. and some truly ugly ugly Christmas sweaters.
I think it's nice to be able to wear clothing long after just a Ugly Christmas Sweater party so for most of these looks, I styled them in classic everyday outfits so you can get the most wear out of a seasonal item!
1. 8 Bit Santa Sweater
Outfit details: Santa Sweater, White Button Down Shirt Dress, Thigh High Boots, White Stingray Bag
This was hands down my favorite Christmas sweater of the bunch… and it's actually a men's sweater! Grab it to wear oversized as a sweater dress or snag a set for the men in your life.
The pattern has little 8 bit Santas all over.
From far away it looks relatively normal and then up close, it gets super festive!
It's also available in matching 8 bit Santa jogger pants which I think is just adorable to wear as a pajama set.
I'm wearing a size small, but it is still a little short so I layered a white shirt dress underneath.
Now if only they'd make these in Womens…
ADVERTISEMENT
---
---
2. Snowmen Christmas Cardigan
My other favorite sweater is this adorable Christmas cardigan with snowmen on interchanging red and green panels.
It's made so well you could even wear it inside out, and has holiday plaid elbow patches and panels of velvet. I kept feeling myself while wearing it!
It would work for special festive events like ice skating in Bryant park to everyday wear throughout November to January.
Don't forget the ultimate Cozy Slippers!
ADVERTISEMENT
---
---
3. Traditional Christmas Knit
If you're looking for that knit sweater with traditional patterns, this Blue Knit fits the bill.
It comes in 5 colors as well as different prints – snowmen, reindeer, even "Merry Christmas Ya Filthy Animal" options!
Best of all, it fits slightly over-sized and is really comfortable to wear.
ADVERTISEMENT
---
---
4. Reindeer with a Bow
For a cute Ugly Christmas sweater, I picked up this Red Reindeer option.
It's a thinner knit and more of a flowy tunic look, so its great for tucking into skirts or layering with other thermals!
ADVERTISEMENT
---
---
5. Let It Snow
For all the girls wanting cute ugly Christmas sweaters, this is the sweater to buy now.
I love the fuzzy white sleeves, wide open neck collar and cute 'Let It Snow' lettering.
It has a slightly boxier fit but pair it with a skirt and some over the knee boots, and you're good to go!
I've been obsessed with these Marc Fisher boots all winter and while we were shooting these photos, people on the street asked me where I got them!
ADVERTISEMENT
---
---
6. Elves Decorating the Tree
Size up for this sweater – it's designed for Juniors and has a unique high-low hemline where its belly-grazing in front and longer in the back.
I'm wearing a size Medium for reference. I paired it with high-waisted button-up black jeans, my well worn brown suede boots and a brown crossbody bag.
This white Christmas sweater has a cute argyle pattern and I love the little elves on a ladder decorating the christmas tree.
With 60% cotton and 40% acrylic, its quite comfortable to wear all day and I think it would be one of those ugly christmas sweaters you can wear all season long because it's a bit more "normal" looking!
I also appreciate the green bands on the sleeves and hem. Note, the back is entirely white.
ADVERTISEMENT
---
---
7. Chillin with My Snowmies
This bright blue holiday sweater fits true to size and has a cute slogan on the front "chillin with my snowmies".
The best part is each of the three snowmen heads have clear plastic slots so you can even add in pictures and bring the sweater to life!
If you're looking for a funny ugly Christmas sweater, this one is it.
Perfect for friends and couples!
ADVERTISEMENT
---
---
8. Candy Cane Dress
I thought this Striped Hearts Dress was too cute, with the soft red color, striped sleeves and candy cane hearts!
ADVERTISEMENT
---
---
9. Disney Ugly Christmas Sweater
This was a men's sweater but I liked the all over miniature Mickey Mouse print.
Because it fits slightly over-sized, I paired it with a skirt and thigh high boots for a more casual sweater dress look.
It's super comfy and I love the festive green color!
ADVERTISEMENT
---
---
10. Star Wars Ugly Christmas Sweater
For all the Star Wars fans out there, this Christmas sweater is for you!
I opted for the R2D2 holiday character but there are lots of Star Wars Christmas sweaters from Hybrid Apparel to choose from.
The navy sweater is slim fitting, made from a thin cotton/polyester knit and plays music!
Yup, this is one of those extra festive ugly holiday sweaters that plays music.
I wore it while shopping and accidentally pressed against the counter while the check out girl was scanning my items. She thought the R2D2 noise was her scanner ha!
ADVERTISEMENT
---
---
11. Darth Vader Holiday Sweater
Clearly we can't wait for the new movie so I picked up not one, but TWO ugly Christmas sweaters with Star Wars characters!
This thick knit has a cute fair isle type print with little Darth Vader heads all over.
I love how it looks traditionally Christmas-y from far away. It's a mens ugly christmas sweater so even the small fits slightly oversized, but if you like plush, cozy sweaters as much as I do, this holiday knit is one to pick up!
ADVERTISEMENT
---
---
12. Minions Holiday Sweater
This ultra festive Despicable Me sweater is super cheesy but also quite cute!
I love the zig zag holiday pattern and red & green color scheme.
It's a thinner knit with a minion front and center and makes for a colorful, cheery addition to any ugly Christmas sweater party.
ADVERTISEMENT
---
---
13. Penguins Sweater Shirt
Are you entering an ugly sweater party contest?
If so and you want to win, then pick up this truly ugly, ugly Christmas sweater!
It's a faux, "sweater shirt" aka a printed sweater on a long sleeve polyester shirt.
The printed fair isle pattern does look quite real and even has a fun v-neck with a faux white tee peeking through.
ADVERTISEMENT
---
---
14. Light Up Ugly Christmas Sweater
This tic tac toe sweater reminds me of those vintage ugly christmas sweaters my aunts would wear. It's a touch oversized, and made from a comfy knit that feels perfectly worn in.
If you're set on finding the perfect light up ugly christmas sweater, you have to pick this one up!
The wiring for the lights are separated from the sweater with a fabric lining, so you won't get scratched. Tuck the light switch in your pocket and light up wherever!
I blended in to Times Square well enough :)
ADVERTISEMENT
---
---
15. Velcro Snowmen Sweater
This Snowmen winter sweater is pretty similar to the Snowmies one!
Same beautiful blue color but this holiday knit is slightly more low key. The key feature is a soft, velvet textured snow scene and would look great on all winter long!
ADVERTISEMENT
---
---
16. Minnie Mouse Christmas Sweater
This is a really cute ugly Christmas sweater with Minnie Mouse on the front and a snowflake print all over – even on the back!
I love when sweaters look as good on the back as the front so this black holiday sweater is a cut above the rest.
It's made from a sweatshirt like material so quite comfortable to wear without any itch. As a bonus? It lights up!
ADVERTISEMENT
---
---
17. Sequin Elf Sweater
I thought this striped sleeve sweater looked so elf like and glittery sequins added such a fun touch.
The front reads "Me, My Elf and I" and is guaranteed to make all your friends laugh.
A little glam, a tad ugly and a lot of cozy – this is a unique ugly Christmas sweater for women!
ADVERTISEMENT
---
---
18.
Hanes Ugly Christmas Sweater
This cute Christmas sweater is cheeky, cozy and super cute!
Made from a plush cotton fleece, it's so warm without being heavy or weighty. I love the relaxed fit and think it would be perfect with some plaid pjs on Christmas morning!
ADVERTISEMENT
---
---
19. Dale of Norway Christiania Cardigan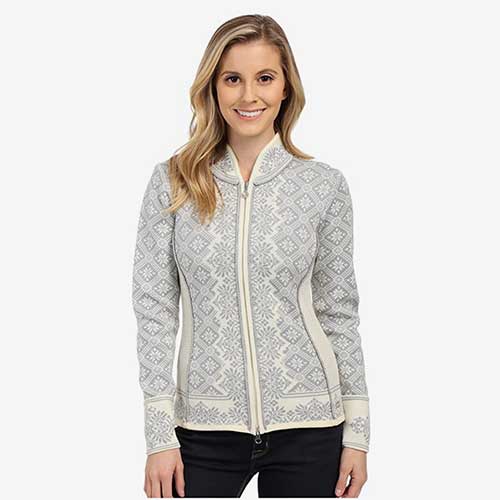 Looking for an ugly Christmas sweater that's not truly ugly?
Then layer up in this cozy Christiania zip up. It's made from 100% merino wool, so it's super soft and lightweight to wear.
There's a mock collar, a full zip up front and long sleeves that are cuffed.
I think the Norwegian design, with its contrasting side panels, is really slimming, and pretty enough to wear for multiple holiday seasons to come!
ADVERTISEMENT
---
---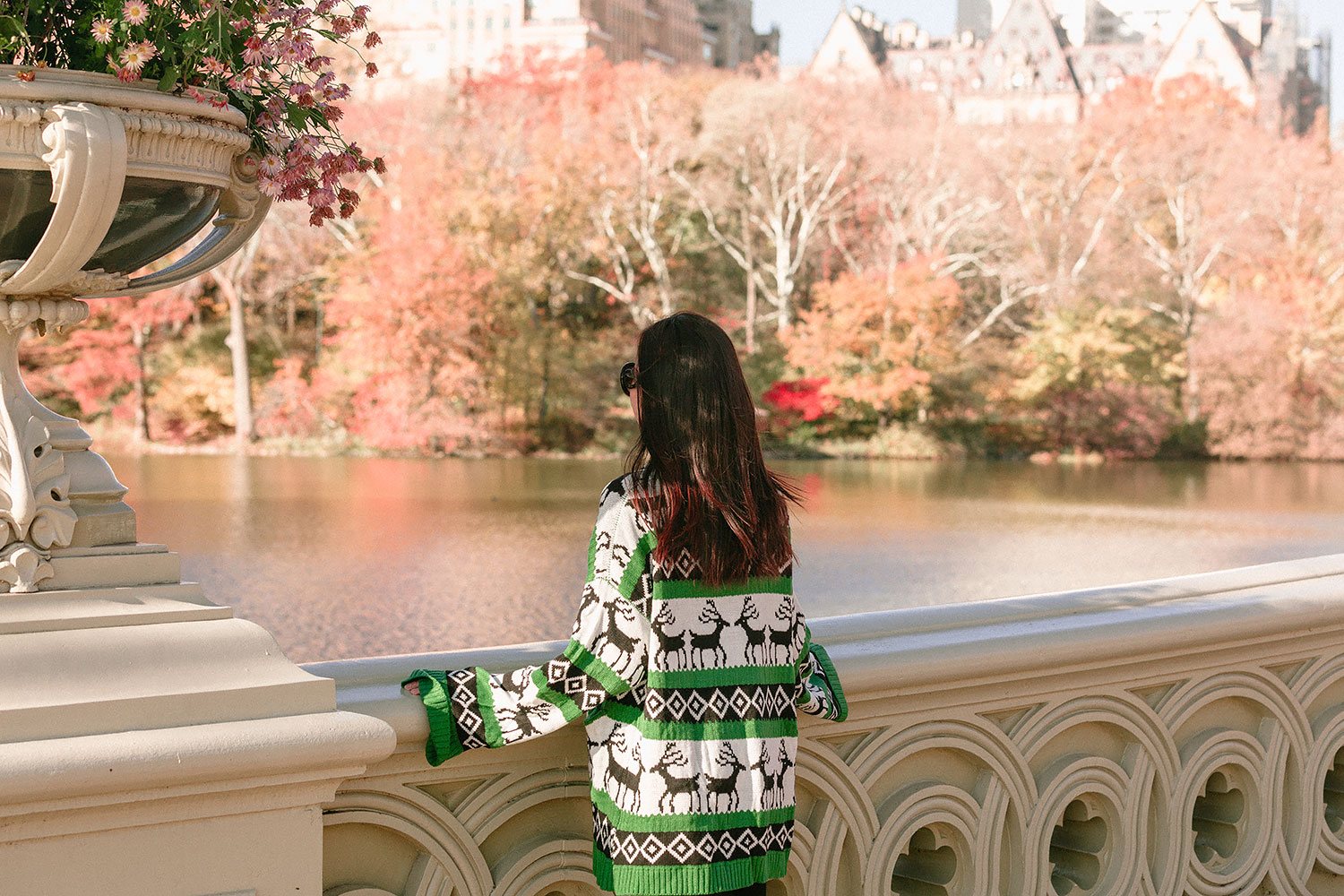 And that's it! Hope you enjoyed the Ugly Holiday sweater series as much as I did.
We know how difficult finding the perfect present can be! Browse gift guides for everyone on your list:
Affordable Gift Guides
Secret Santa Gift Ideas for Guys Under $25
The Best White Elephant Gift Ideas - Useful, Funny & Quirky
Gift Guides for Her
Monogram Gift Ideas - Personalized Gifts for Everyone on your List
The Best Beauty Advent Calendars to Count Down Christmas
Gift Guides for Him
The Best Christmas Gifts for Dad
Useful Gifts for The Guy that Has Everything
Gift Guides for Parents
Gift Ideas for Parents (who have everything)
Insanely Good Gift Ideas for your Boyfriend's Mom
The Best Gifts for your Boyfriend's Parents
Black Friday
Black Friday Shopping Tips - retailers DON'T want you to know!
Holiday Parties
The Best Matching Christmas Pajamas - for the whole family!
The Best Christmas Socks - cozy & festive!
The Best Holiday Dresses You Won't Believe are on Amazon
The Best Cute Christmas Sweaters for Classic Winter Style
The Best UGLY Christmas Sweaters for a Holiday Party
Ugly Christmas Sweater Party Invitations
The Best Winter Cocktail for Holiday Parties - Looks Fancy, but Easy to Make!
Decorating for the Home
The Best Amazon Christmas Decorations (Stylish + Affordable!)
Rustic Christmas Tree Decor Ideas
Cozy Chic Christmas Gifts for the Home
Follow me @Sher She Goes on