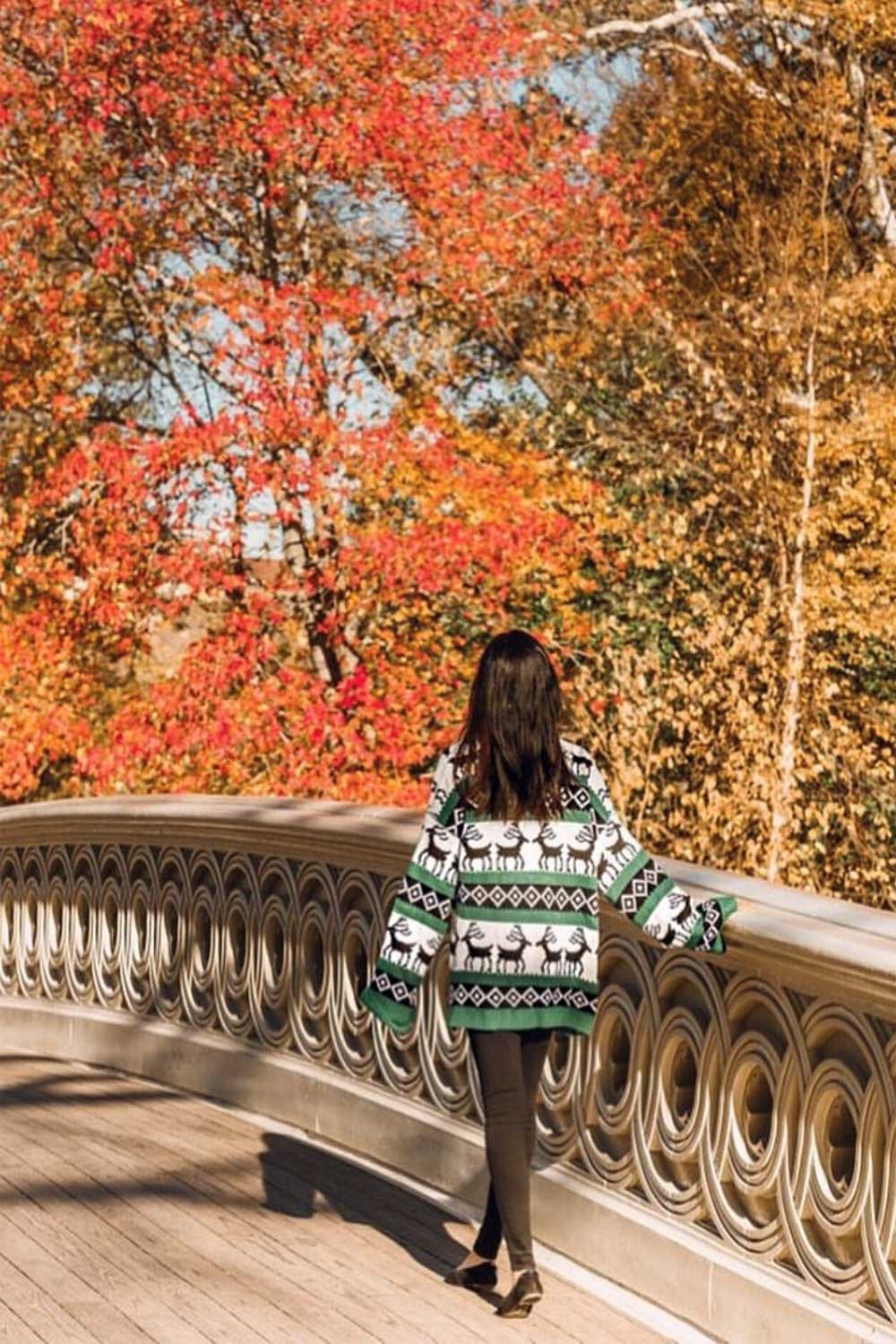 Fall in New York
Whew! Our last travel trip of the year just wrapped and we're finally back in NYC. The leaves are starting to change, pumpkins are everywhere and cider is all we're drinking :)
Fall is one of our favorite seasons to spend in the city so we're staying close to home for the next couple weeks. From food festivals to day trips upstate, I'm pretty excited to soak it all in.
ADVERTISEMENT
For today's post, I'm partnering with Birdies (wearing their insanely comfortable shoes) to share the best things to do in New York City this fall.
If you've been considering a trip to the Big Apple, fall is a perfect time to visit. Flights and hotels tend to be a little bit cheaper, the weather is fantastic and there's SO much fun stuff to do!
Pin this post to read later ⇟
The Best Things to Do in the Fall in NYC
I've organized the NYC fall bucket list into sections, depending on what you're in the mood for:
ADVERTISEMENT
---
---
Fall in New York: Sightseeing
---
Explore Central Park
There's nothing prettier than Central Park in a rainbow of color. Walk over Bow Bridge, take a rowboat out on the lake or just walk from 59th up to 82nd on a gorgeous fall day.
Open House New York
We're big fans of Million Dollar Listing New York. If you've ever wanted to see some architectural masterpieces, you have to check out Open House New York.
Over 250 sites will open their doors to the public and show you spaces that are usually off limits. There's everything from palatial apartments to jaw dropping rooftops!
Elsewhere
I live about as far from Bushwick as you can get, but even I can't deny that the neighborhood is up and coming. I'll be making the trek out to Elsewhere later this month to check out the new fall installation by Brooklyn-based perfumer Marissa Zappas, which will infuse the dance club with dark scents like jasmine, mushroom and myrrh.
ADVERTISEMENT
---
---
Cheer on the New York City Marathon Runners
NYC's 26.2 mile course through all five boroughs is iconic. While you won't catch me running in it – like ever – it's fun to cheer on those who do! Some of the best spots to catch the athletes hard at work are along Fourth Avenue in Park Slope, First Avenue from 60th – 96th on the Upper East Side and Central Park South at the Finish line.
The New York Comedy Festival
Ever since I started watching Mrs Maisel, I've begun to appreciate New York Comedy! A fun event is coming this November, when NYC's best comedy acts will be hitting the city. In 2019, comedians like Trevor Noah, Stephen Colbert, Bill Maher and more will be performing at the city's comedy clubs.
New York Comic Con
Did you know Comic Con is the second biggest event in New York? Over 150,000 visitors head to the Javitz Center to meet their superheros in real life. And with the convention hall being so far on the west side, you'll definitely want those comfy shoes!
Adidas: Art & Yoga
I think almost everyone would agree that life in New York City is fast paced. So why not slow down with a yoga session? This fall, the Brooklyn Museum will be hosting an hour long yoga plus meditation session for just $10, so you can soak in both the art galleries and perfect your posture in one afternoon.
ADVERTISEMENT
---
---
Food Festivals in New York this Fall
---
Walking all over the city has definitely burned off enough calories for you to indulge in all of these food events on the list!
The Big Chocolate Show NYC
Over 200 chocolate vendors will be celebrating all things chocolate at this ultimate food festival.
Oktoberfest
While New Yorkers might not be sporting lederhosen, they'll happily join in on the Oktoberfest celebrations. Hop in to any beer garden in the city, or check out the outside Oktoberfest stalls under the Dumbo Archway!
New York Irish Whiskey Festival
If you haven't been to The Dead Rabbit yet, you're missing out. The Irish pub in the Financial District is one of the best cocktail bars in the city and they specialize in Irish whiskey.
And for the first time ever, owners Sean Muldoon and Jack McGarry will be launching The New York Irish Festival, with live music, great food and of course… Irish Whiskey.
ADVERTISEMENT
---
---
Blues, Brews & Botany
We've been to a couple of the New York Botanical Garden's summer events in the past and they're boozy but classy :)
This fall, they'll be hosting a number of beer garden events where you can sample craft brews while listening to live bluegrass and blues. You can also stroll through the Perennial Garden to learn about the botany of beer brewing!
Read more:
Orchid Evenings at the NYBG
Cider Week
For seven glorious days, over 30 restaurants across the city will feature fall's drink of choice, with free tastings, food pairings and workshops!
The Great Dumbo Drop
This neighborhood block party will have great eats, activities, live performances… and tiny elephants parachuting onto Washington Street. Don't skip out on the fun!
Atlantic Antic
Another great street festival takes place in Downtown Brooklyn. Dozens of Brooklyn-based food vendors, shops and performers will take over 10 blocks in the neighborhood.
ADVERTISEMENT
---
---
Halloween in New York
---
The Great Jack O'Lantern Blaze
Head upstate to Van Cortlandt Manor to experience the most spirited Halloween decorations. Over 7,000 carved pumpkins will be on display along the river upstate. Don't worry – it's an easy day trip!
Read more:
The Best Day Trips from New York City
Giant Pumpkin Weekend
Monstrous pumpkins will be on display at the New York Botanical Garden's pumpkin garden in October. Some will weigh nearly 2,000 pounds!
Halloween Dog Parade
Check out the canine costumes at Thompkins Square Park for the most adorable Halloween parade.
Halloween Parade and Pumpkin Flotilla
If you love Halloween, head to Central Park for an epic costume parade. You can even carve a pumpkin at the Central Park Conservancy and participate in the Pumpkin Flotilla! The floating barge of gourds sail across the Harlem Meer at sunset.
ADVERTISEMENT
---
---
Thanksgiving in New York
---
Macy's Thanksgiving Parade
This will be the 92nd annual Macy's Thanksgiving Day Parade! Head to the Upper West Side for prime views of the giant balloons.
The Rink at Rockefeller Center Midtown West
The iconic Rockefeller ice skating rink opens in October. Don't wait for all the holiday crowds – grab a pair of skates and go ice skating when the weather is still warm!
The Bryant Park Winter Village
You know fall is winding down and Christmas is coming when the holiday markets start popping up. Bryant Park is our favorite holiday market because it has some of the most varied vendors (food, shopping, you name it). Plus, it has its own small ice skating rink too!
ADVERTISEMENT
---
---
Fall is on the short side in New York City (unfortunately) so if anything on our fall bucket list caught your eye, make sure to grab tickets, friends & comfy shoes and get going!
Read More:
Fall Decor
Walmart Fall Decor - Affordable & Surprisingly Chic!
Fall Events
Fall in New York City: All the Festive Events & Sights to Visit
Follow this Macy's Thanksgiving Day Parade Route for the Best Time
Halloween
Spooky Chic Halloween Decor You Can Grab Last Minute - Amazon!
Halloween Around the World: The Spookiest Celebrations
The Best Halloween Face Masks (instead of getting a costume!)
Follow me @Sher She Goes on