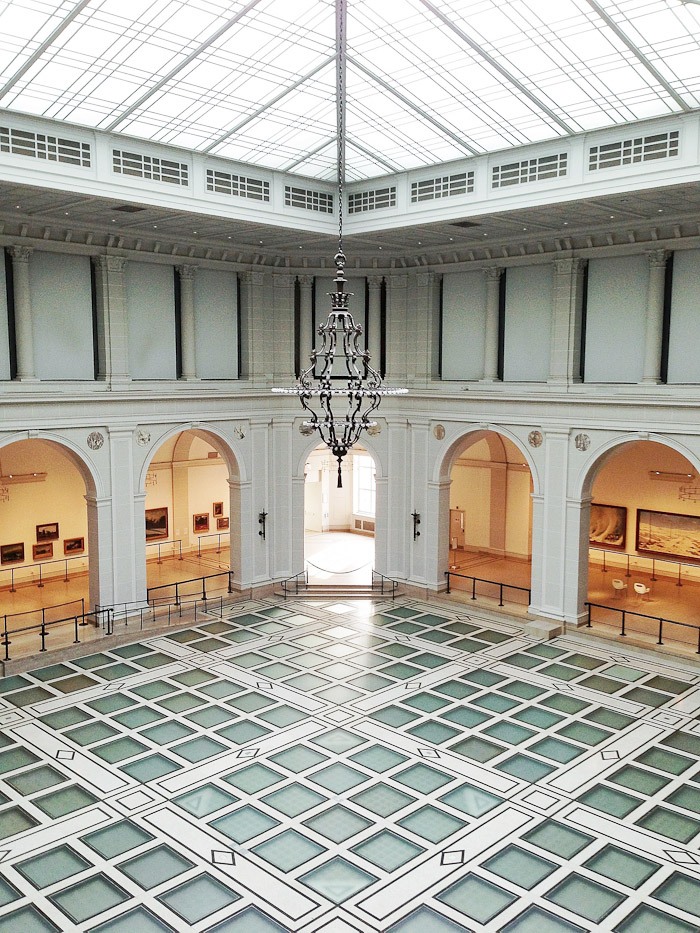 The Best Museums in New York City
NYC has some of the best museums in the world. From art, to sculpture to history to photography, there's something for everyone.
Here's my locals-only guide to the best of NYC's museums. I've grouped them by location and highlighted what I think are the best spots in each!
Quickly jump to
ADVERTISEMENT
---
---
NYC Museums Uptown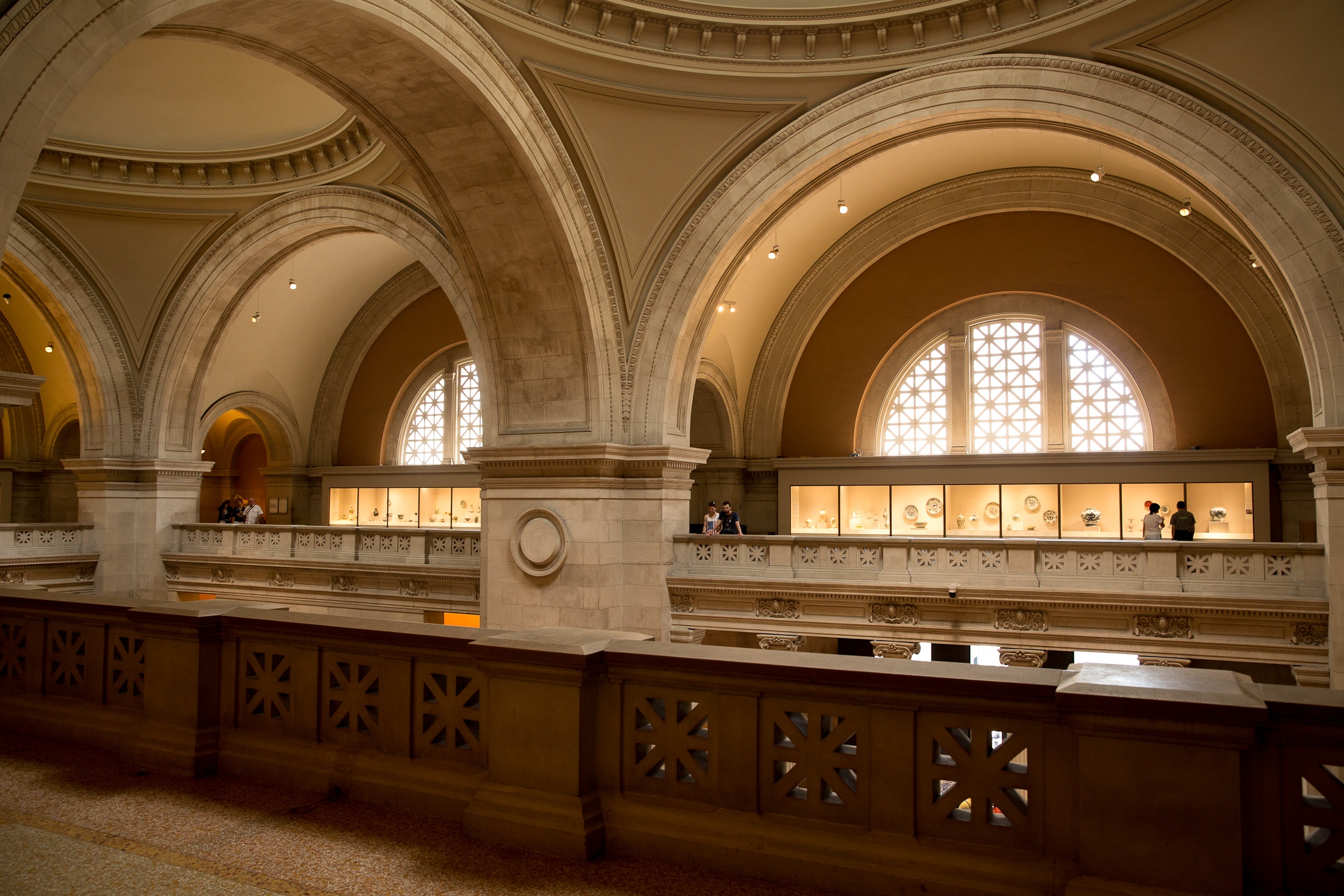 1. The Metropolitan Museum of Art
The classic, can't be missed Metropolitan Museum of Art is the first museum stop for any newcomer to New York City. With a permanent collection so large even the museum can't show it all off, the Met is worth a repeat visit, or two, to see it all has to offer.
My favorites are the Temple of Dendur (serene watering pools, ancient mummies), the Medieval Section, the Japanese Garden (a little bit of outdoors indoors) and the Oceania section (indigenous animal carvings, totem poles). If you visit in the summer, make sure to find your way to the top roof deck for a fantastic view of Central Park and the city. They also have a cocktail bar if you're worn out after so much art!
The one thing that annoys me about the Met is their sneaky admissions policy. For any New York State residents and students from Connecticut and New Jersey, the Met is a public museum and completely free. Their suggested donation is $25 per adult.
For out of towners, the Met recently changed their policy and instituted a mandatory fee, which is good for 3 consecutive days and also admits you into The Met Breuer and The Met Cloisters, which are in separate locations.
Location: 1000 Fifth Avenue (at 82nd street)
Hours: Open 10am – 5:30pm Sun – Thurs, until 9pm Fri – Sat
Cost: $25 admission, Free for NY state residents
ADVERTISEMENT
---
---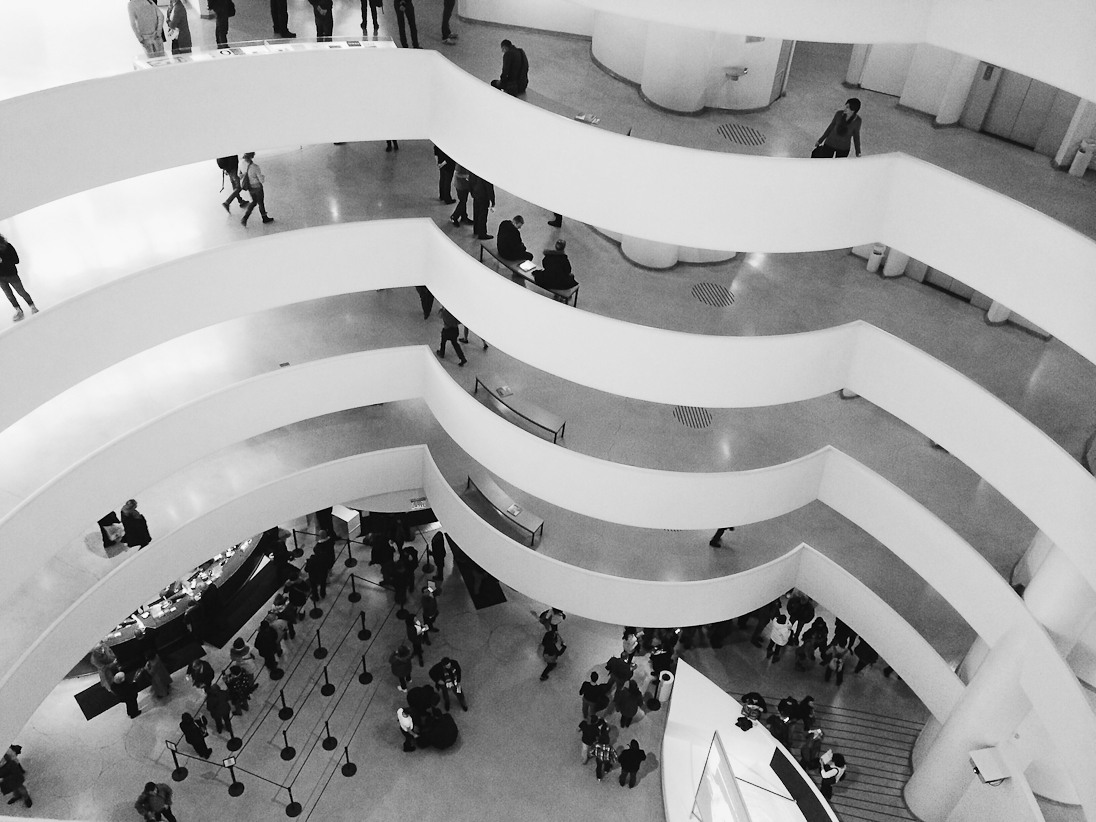 2. The Guggenheim
It took me a while to visit the Guggenheim and I went to the Guggenheim After Dark art event which was fun. I'm not sure why I waited so long!
The museum itself is an iconic architectural masterpiece – you walk gradually up a cylinder shaped path from floor to floor, pausing to stop at modern art along the way. Spot works by Picasso, Monet and van Gogh, including contemporary large scale installations.
If you're a local,the Guggenheim holds a seasonal event called Art After Dark where you can enjoy the museum after public hours, with some cocktails and good beats.
Location: 1071 Fifth Avenue (at 89th street)
Hours: Open 10am – 5:45pm every day, with extended Saturday hours to 7:45pm (last 2 hours are pay what you wish)
Cost: $25 admission for adults
ADVERTISEMENT
---
---
3. The Frick Collection
The Frick is a gorgeous mansion on the Upper East Side. The original building was built by Henry Clay Frick, one of America's most successful industrialists. Inside, the museum is decorated lavishly with period furniture pieces and art and felt similar to the Jacquemart Andre museum/mansion in Paris.
There's a beautiful open air Garden Court near the main entrance, with a skylight, fountain and greenery. It's so beautiful a couple fashion shows were held there for this past NY Fashion Week. The rest of the house is a delight as well, but unfortunately no photos are allowed.
I am a huge fan of mansion/museums because they really highlight beautiful architecture and art in one seamless experience – despite the hefty admission, I really recommend the Frick!
Location: 1 East 70th Street (off 5th Ave)
Hours: Open Tues – Sat 10am – 6pm, Sundays 11am – 5pm
Cost: $20 but Sunday is pay what you wish
ADVERTISEMENT
---
---
4. Neue Galerie
I'll admit, I sometimes come here solely to drop into Cafe Sabarsky, the Vienesse style cafe inside that offers amazing fancy cakes and beverages. Neue Galerie is worth a visit itself though.
This 20th century German and Austrian art collection is housed in the William Star Miller house right on Museum Mile, a Louis XIII Beaux-Arts type structure. Come here to view the Klimt works.
Location: 1048 5th Ave (at 86th St)
Hours: Open Thurs – Mon 11am – 6pm
Cost: $20 admission (free First Fridays)
ADVERTISEMENT
---
---
5. The American Museum of Natural History
After you've explored the UES museums, cross the park and head over to The Museum of Natural History.
The Natural History museum is a favorite with kids and school groups for its life like stuffed animal taxidermy. I love the planetarium, Old World Mammals hall (Akeley Hall for the pack of African elephants) and human origins hall myself.
Once I went to a fun event held in the Ocean Life section which was surreal. Anyone whose seen A Night at the Museum will likely have their own favorite spots to check out!
Location: Central Park West at 79th St
Hours: Open daily 10am – 5:45pm
Cost: $22 suggested donation, but pay what you wish
6. New York Historical Society
Nearby is the New York Historical Society, an unlikely name for a museum. The Museum focuses on exhibitions that showcase New York's rich history and is currently running Holiday Express trains and Superheroes in Gotham features. I meant to come here last year for an event but had a conflict. So, I've never been in person but it's definitely on my list!
Location: 170 Central Park West (at 77th St)
Hours: Open Tues – Thurs, Sat: 10am – 6pm, Fri: until 8pm. Sun: 11am – 5pm
Cost: $20 (pay as you wish Fri 6-8pm)
ADVERTISEMENT
---
---
Museum Mile
The portion of 5th ave from 82nd – 105th is nicknamed 'Museum Mile' as it's jam packed with cultural goodness in less than 1 square mile length.
The full list of Museum Mile museums (say that 3x fast) includes, from top to bottom:
National Academy Museum
Guggenheim Museum
Neue Galerie
Goethe-Institut
the Met
ADVERTISEMENT
---
---
NYC Museums in Midtown
7. The Museum of Modern Art (MoMa)
The MoMa is a perfect weekend afternoon museum, because it's not too large to tackle and the space itself is airy and bright.
Visitors usually flock to the Campbell soup label exhibit, Picasso's Les Demoiselles d'Avignon, Claude Monet's Water Lily painting and the Dali surrealist paintings.
to dine at the The MoMa is also famous for its dining room and bar. I had the chance Modern Dining room last spring and the food is absolutely delicious. I recommend doing both if you have time!
Location: 11 west 53rd st
Hours: Open daily 10:30am – 5:30pm
Cost: $25 admission, UNIQLO Fridays free from 4pm – 8pm
8. Morgan Library & Museum
One year I went to a holiday party held at the Morgan Library and seeing the old school floor to shelf library was surreal. It's one of those bonafide, need a ladder to climb to the top, kind of libraries and well worth a visit.
The Pierpont Morgan library was built in 1906 and houses rare books and manuscripts. The rest of the Morgan Museum houses art and photographs in a rotating selection of fascinating exhibits.
Past exhibitions have included Charles Dickens' A Christmas Carol, Matisse and the Book Arts and Ernest Hemingway photographs Between the Two Wars.
Location: 225 Madison Ave (at 36th st)
Hours: Open Tues – Thurs 10:30am – 5pm, extended weekend hours
Cost: $18 admission, free on Friday evenings
ADVERTISEMENT
---
---
NYC Museums in Chelsea & Meatpacking
9. The Rubin Museum
The Rubin Museum is interesting in that it focuses exclusively on art from the region of the Himalayas and India and has a beautiful Tibetan collection.
I also went here for the first time courtesy of a holiday party (this is starting to sound like a theme, but I promise I visit museums without the inducement of cocktails).
The museum is small enough to visit in a quick afternoon and has some really beautiful Southeast Asian works.
Location: 150 W 17th St
Hours: Various hours daily
Cost: $15 adults (Fridays free from 6 – 10pm)
10. Museum of Sex
Not for the buttoned up and definitely not a family kind of NYC museum… MoSex has a permanent collection of erotic and outlandish S&M gear.
The in-house store has more books and arty toys and aphrodisiac drinks in the new cafe. The less said about this museum the better – I'll let you discover it for yourself.
Location: 233 5th Ave (at 27th St)
Hours: Open Sun – Thurs: 10am – 9pm; Fri & Sat: 11am – 11pm
Cost: $17.50 plus $3 admission discount on their website
ADVERTISEMENT
---
---
11. The Whitney
The Whitney decamped to the hip Meatpacking district this year, after nearly 50 years on the Upper East Side. If you're taking an afternoon stroll on the high line, pop down to the Whitney to see some pieces by Georgia O'Keefe, Alexander Caldher and Edward Hopper.
The Whitney also holds excellent temporary exhibitions – most recently the Jeff Koons balloon exhibit. Every other year, the Whitney Biennial showcases notable contemporary art.
Location: 99 Gansevoort St
Hours: Open Wed, Thur, Sun: 10:30am – 6pm, Fri & Sat: until 10pm, Mon: Closed.
Cost: $22 admission
ADVERTISEMENT
---
---
NYC Museums in SoHo & the Lower East Side
12. International Center of Photography (ICP)
I'm used to the ICP in Midtown, but they recently relocated permanently downtown and are now located in Soho. Come here for moving photo exhibits and world class photography classes (still held in Midtown).
Location: 250 Bowery (spring 2016)
13. Tenement Museum
Between the 1860s and 1930s New York City underwent the height of the industrialist boom and thousands of immigrants worked in crowded, overheated factories.
Travel back in time at the Tenement Museum to see how immigrants lived in apartments back in the day and meet costumed staff members to hear about the lives of some of the tenement workers. Go in the height of summer to experience the heat and get the full experience. Only partly joking.
Location: 103 Orchard St (btwn Broome & Delancey)
Hours: Open Fri – Wed: 10am – 6:3opm, Thurs: until 8:30pm
Cost: $25 admission
ADVERTISEMENT
---
---
NYC Museums Downtown
14. Ground Zero Workshop Tour
The museum is located at the archaeological heart of the World Trade Center site and retells the story of 9/11 through multimedia displays, archives, narratives and artifacts.
It's a haunting but moving experience. Photographer Gary Marlon Suson has over 100 images on display, including the Frozen Clock pointing 10:02am, when the South Tower collapsed.
Location: 180 Greenwich Street
Hours: Open daily from 7:30am – 9pm; Museum: Open Sun – Thurs 9am – 8pm, Fri – Sat: 9am – 9pm
Cost: $24 admission, $44 for admission + tour
15. Museum of Chinese in America (MOCA)
MOCA is housed in a spacious former machine shop redesigned to represent a traditional Chinese house with a central courtyard and radial rooms and screened space.
Begun as a Chinatown History Project, the museum traces the development of the Chinese community in America, from the early stories operating laundromats and restaurants, to Chinese stereotypes and the humiliation endured by Chinese Americans in World War II.
There's also a small wing showcasing temporary exhibitions and Chinatown walking tours to explore the best of the area's food and history.
Location: 215 Centre Street
Hours: Open Tues – Sun: 11am – 6pm, Thurs: until 9pm, Mon: Closed
Cost: $10 adults (First Thursdays free)
ADVERTISEMENT
---
---
16. National Museum of the American Indian
I wandered into this museum one hot summer day, looking to get some relief from the heat. Instead, I found myself captivated as it tells a moving picture of the music, dance, life and diversity of the Native American peoples. The museum itself is quite small, and can be done in about a hour.
Location: One Bowling Green
Hours: 10am – 5pm daily, Thurs: to 8pm
Cost: Free Admission
17. The Statue of Liberty & Ellis Island Museum
A gift from France on America's 100th birthday, Lady Liberty is a shining beacon welcoming visitors to the U.S. Make a reservation to tour the statue's interior and climb to the top of the seven pointed crown.
Also stop by Ellis Island, where you'll learn about the various waves of immigration, see personal belongings and hear captivating stories of those who made the journey to America. Today the descendants of those immigrants account for almost half of the American people.
Before you write off Ellis Island as a boring history book, make a visit first. I went on a school trip years ago and it was well worth an afternoon.
Location: Take Statue Cruises to Ellis Island, boats depart from Battery Park in NY.
Hours: Ferries 9am – 5pm daily, extended summer hours.
Cost: $18 ferry fee + $25 for Ellis Island hospital tour + $3 to hike to the crown
ADVERTISEMENT
---
---
NYC Museums in Brooklyn
18. The Brooklyn Museum
Brooklyn's namesake museum is a quieter, less crowded alternative than the big wigs in Manhattan. You'll find an eclectic mix of everything here – sculpture, modern art, African art, paintings, installations etc.
My favorite is the beautiful glass diamond patterned room pictured above.
Location: 200 Eastern Pkwy, (at Washington Ave)
Hours: Wed – Sun: 11am – 6pm, Thurs: until 10pm
Cost: $16 Adults (Target First Saturdays free from 5 – 11pm
19. Brooklyn Botanical Garden
I grew up hearing about my mother's forced childhood photo shoots on the stone lions at the Brooklyn Botanic, sitting on the hot stone in the heat waiting for my grandfather's manual camera to slowly capture the perfect frame. By that point, everyone else in the picture was squinting and irritated but my mom's smile was a ray of sunshine.
I like the Brooklyn Botantic because it's conveniently right around the corner from the Museum and train station and has a great variety of trees and plants in bloom.
In the spring there are the cherry blossoms, in the summer the orchids, and in the winter season, there's sometimes sculptures in the Japanese garden. If you really like gardens, also check out the Bronx Botanical, which is larger but also a bit a ways outside of the city. They also have a gorgeous annual orchid exhibit and cocktail-themed Orchid Evenings.
Location: 990 Washington Ave, Brooklyn
Hours: Winter Hours: 8am – 4:30pm, Summer Hours 10am – 4:30pm
Cost: $12 adults (winter weekdays free)
ADVERTISEMENT
---
---
20. Transit Museum
Ah, the ideal subway station.
The Transit Museum is located in a historic 1936 train station and is actually a pseudo set for many movies looking to capture the feel of the New York underground without actually being subjected to it. The museum houses a complete collection of antique subway cars, MTA memorabilia and old subway tokens.
If you're not looking to trek to Brooklyn for a full visit, you can check out the Holiday Train that runs in the wintertime on select train lines – it's super fun to hop on a vintage subway car that still works with antique ads to boot!
Location: Boerum Pl & Schermerhorn Street, Brooklyn
Hours: Open Tues – Fri 10am – 4pm, Wknds 11am -5pm
Cost: $7 adults
ADVERTISEMENT
---
---
NYC Museums in Other Boroughs
21. MOMA PS1
Housed in a former public school, PS1 is known for its cutting edge shows. Artwork is in every corner of this distinctive Romanesque Revival building from the stairwells, to the roof.
Check out their Warm Up parties on summer Saturdays. PS1 is affiliated with the MoMA and you can access the Long Island City satellite within 14 days of buying your MoMA admission ticket.
Location: 22-25 Jackson Ave, Long Island City
Hours: Thurs – Mon: 12pm – 6pm; Tues, Wed: Closed
Cost: $10 Adults, free for NYC residents and students with ID
22. The Queens Museum
The Queens Museum doesn't get much love, probably due to its location.
Housed in a pavillion built for the 1939 World Fair and once former headquarters for the United Nations, the Queens Museum has a gorgeous collection of fine art, Tiffanys Glass and collections from the the 1939 World Fair.
If you like panoramas and models, you'll also find a large scale Panorama of the City of New York model of the five boroughs.
Location: New York City Building in Flushing Meadows Corona Park
Hours: Wed – Sun 12pm – 6pm
Cost: $8 suggested admission
ADVERTISEMENT
---
---
Am I forgetting any? Let me know which is your favorite museum in the comments below!
Save this post by pinning it for later or read the full series:
---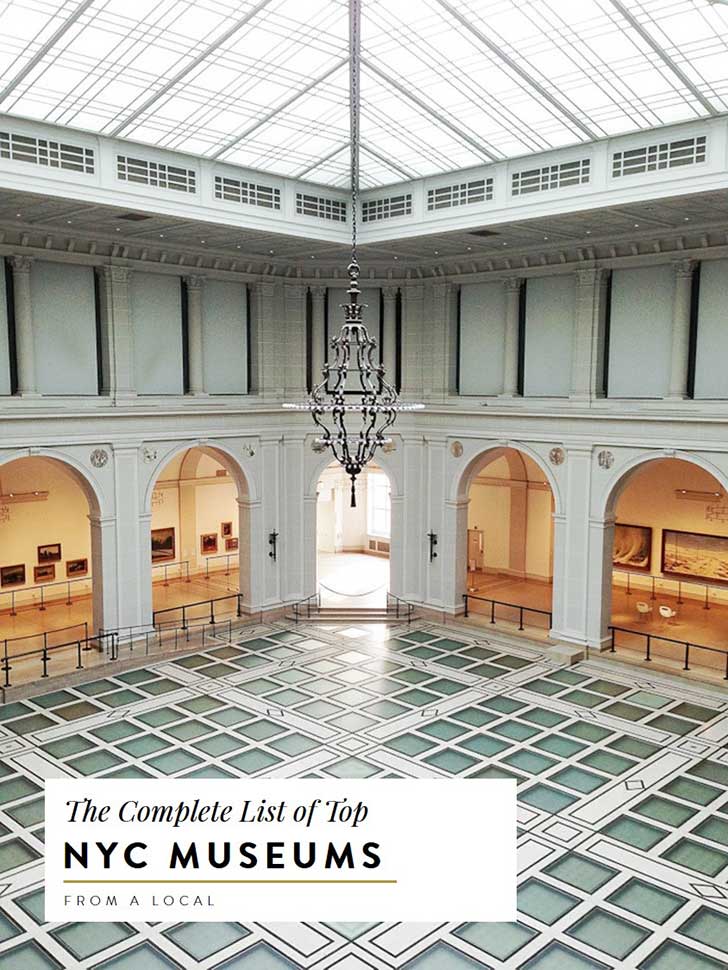 New York City Travel Guides
---
Guide to the Best Coffee Shops and Acai Bowls in NYC
The Best NYC Furniture Stores for Every Budget
New York City Things To Do & Events
---
Cherry Blossoms on New York's Roosevelt Island
NY Botanical Garden: Orchid Evenings
Art After Dark at the Guggenheim Museum
Trick or Treating on a New York Halloween
Christmas & New York City's Holiday Train
Institute of Culinary Education Class Review (+ Promo Code)
New York City Eats & Restaurant Reviews
---
Asian: Cha-An, Hatushana Sushi, Mihoko's 21 Grams, Jinya Ramen
Brunch: The Wren, The Meatball Shop, Brooklyn's Smorgasburg
Dinner: The Wayfarer, L'Artusi, Racines, Tamarind,
Fine Dining: Musket Room, River Café, The Modern, Annisa