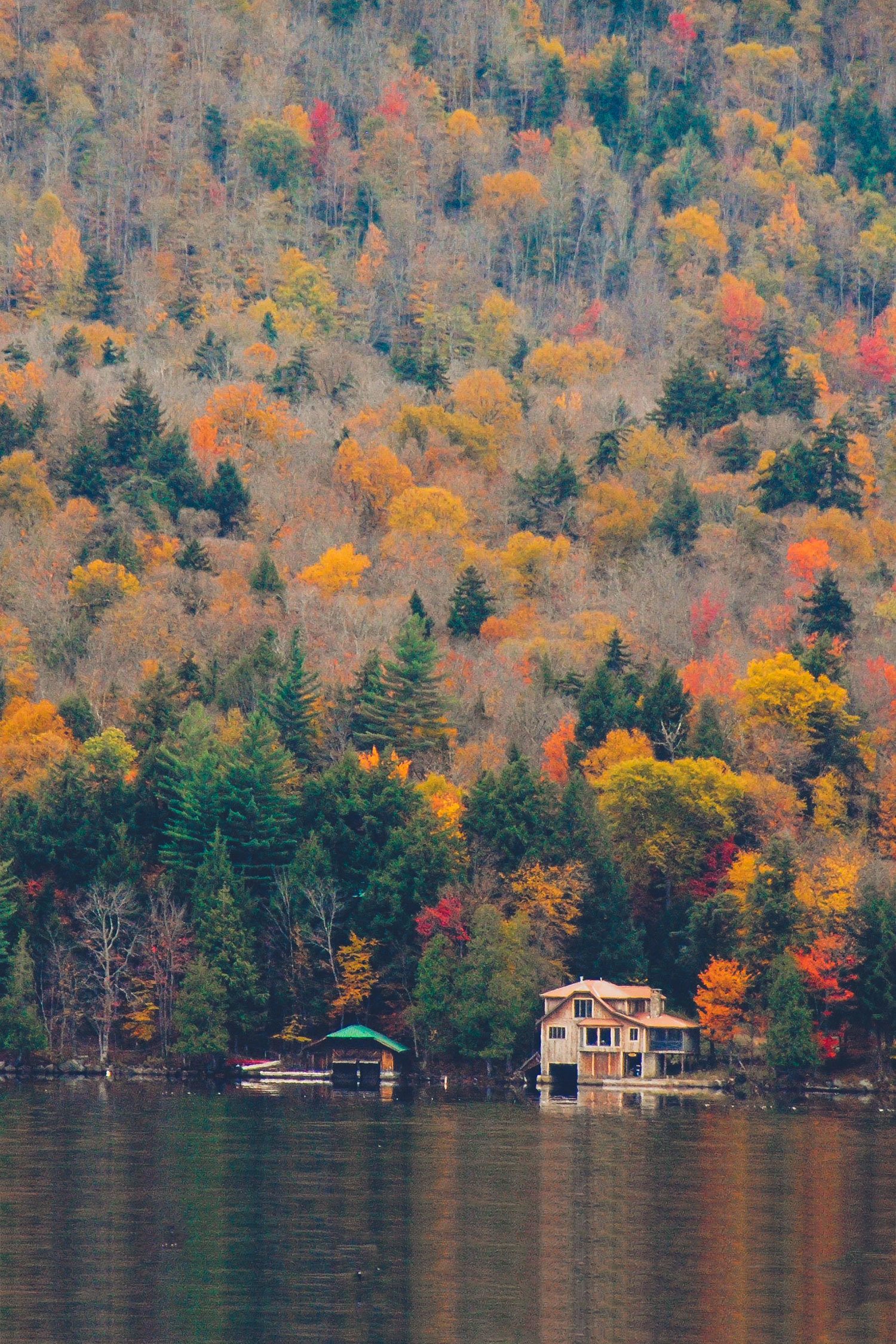 The Most Beautiful Places in New York
This fall, we'll be exploring a lot of Upstate New York and we're so excited to be exploring more of the US! Even though we live in New York City, we haven't done many weekend trips around greater New York.
For now, our plan is to road trip up to Corning in September, then explore the Thousand Islands. In October, we'll double back upstate again (hopefully to see some fall foliage), and eat and drink our way through Hudson Valley and Dutchess County.
In between those set plans… we're not sure!
To get prepared for our Upstate New York road trip, I've asked fellow travel blogger Holly, of HollyHabeck.com to share her best tips for what to do in the region. Holly is from Rochester and went to college in Ithaca, so she knows Upstate New York like the back of her hand!
Keep reading to discover the prettiest small towns in New York!
Keep reading or save this article for later ⇟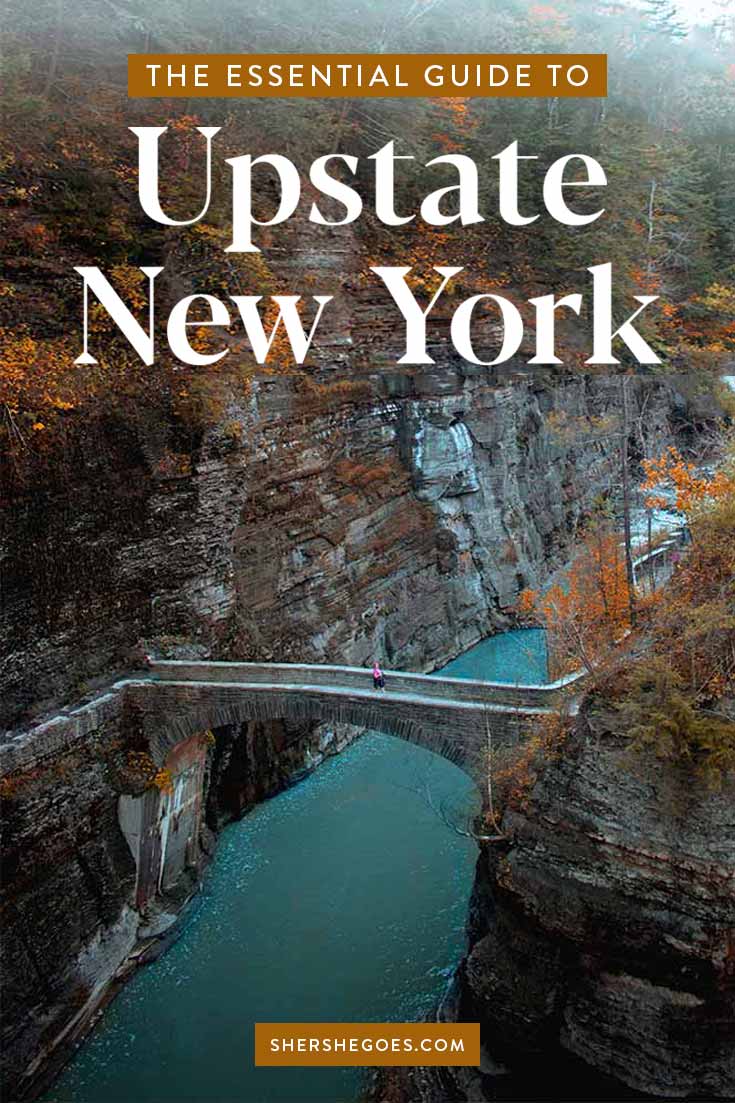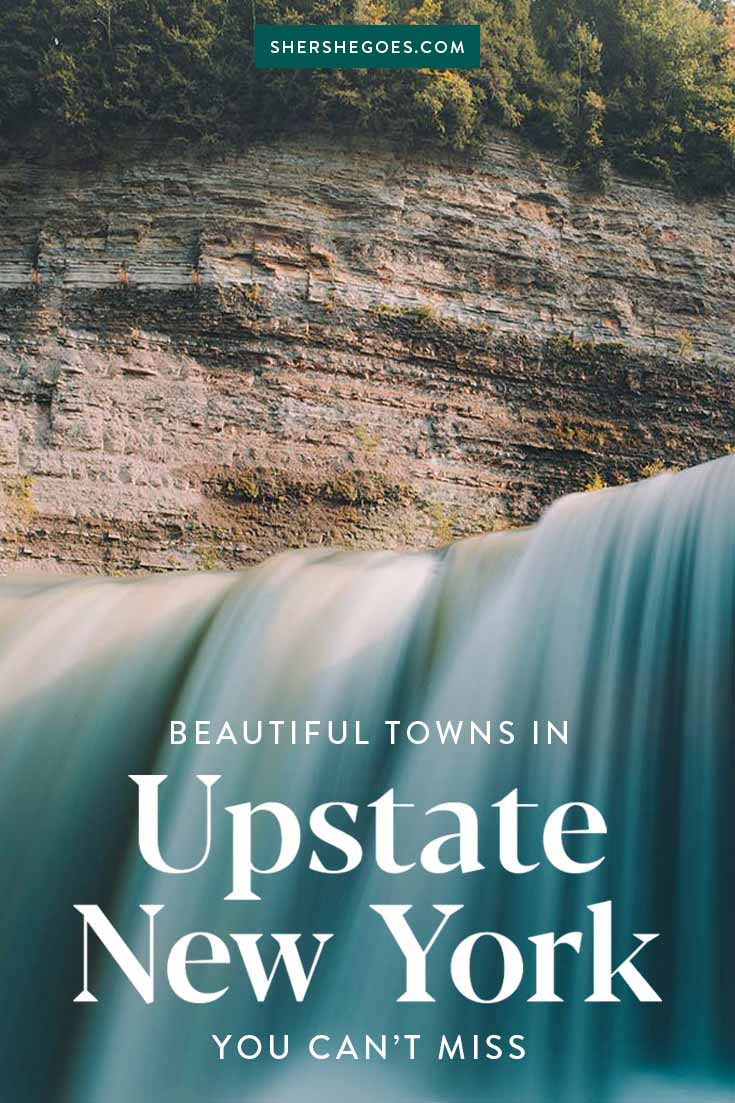 ---
---
7 Charming Small Towns in New York State
Growing up, I always resented the fact that I wasn't a true "New Yorker". Though I lived in New York State, I had never caught a glimpse the Statue of Liberty, or even come close to shopping on 5th Avenue!
I craved the bustle of a big city life, but I was instead met with an abundance of rolling hills and quiet days spent on the countryside.
In retrospect, these things are what make Upstate New York such a desirable destination to live, visit, work, and play.
Check out these beautiful small towns in New York, and you'll quickly learn to love the slower pace and fresh outdoors that make this upstate region the perfect getaway!
1. Ithaca
Ithaca, NY holds an incredibly special place in my heart.
As a graduate of Ithaca College, I had several years to enjoy this small town in New York and totally fall in love. Though Ithaca has been consistently rated as one of the top college towns, don't think that's all it has to offer.
For one, Ithaca is known for its many beautiful gorges. There are plenty of hiking trails and waterfalls to explore.
Taughannock Falls State Park is a great place to start your adventure and even stay awhile in one of the beautiful cabins overlooking Cayuga Lake.
Speaking of Cayuga Lake, don't miss out on enjoying a section of the renowned Finger Lakes Wine Trail. There's dozens of wineries to tour, all situated with great views of the lake or Ithaca's gorgeous hills.
Don't forget to venture into the Ithaca Commons either for some shopping, dining, and entertainment.
This recently renovated area in downtown Ithaca is the perfect place to spend the afternoon, with a mix of eclectic shops, internationally recognized restaurants, and more. It's also worth taking a drive up through Cornell University before heading out on your next adventure.
This Ivy League institution boasts heaps of beautiful, historical buildings, and it's even said that the library reminds some visitors vaguely of the setting of the Harry Potter films.
Book Ithaca accommodation here.
---
---
2. Woodstock
Next up on this list is of course the iconic town of Woodstock, NY.
Nearly everyone's heard of the 1969 Woodstock Music & Art Fair, and visiting Woodstock is practically a portal back in time.
Though the Woodstock Music & Arts Fair actually took place in the nearby town of Bethel, NY, there's still plenty to see and do in this famous destination.
Book Woodstock accommodation here.
Make sure you check out Tinker Street, where there's rows of one-of-a-kind shops and eateries. It's a great place to spend the day and bask in the wonderful history of this small town.
Read more:
The Ultimate Guide to Woodstock, NY
---
---
3. Saratoga Springs
Saratoga Springs is arguably one of Upstate New York's most charming small towns.
In fact, the town even made it on the list of the top 10 places to live in New York State in 2014! One of the things this area is most well-known for is horse racing.
The Saratoga Race Course was founded in 1863 and is one of the most popular attractions for visitors to this small New York town.
Saratoga Springs is also a great place for shopping, eating, and entertainment.
The area is home to a number of museums, and there's of course a beautiful countryside to explore as well.
---
---
4. Lake George (Adirondacks)
Growing up, Lake George was our go-to destination for family vacations.
Located at the southeast base of the Adirondack Mountains, this small town is the perfect place to spend a relaxing weekend enjoying nature.
Like many of the other destinations on this list, Lake George is ideal for shopping and fine dining.
Beyond that though, you'll find an abundance of outdoor activities like:
hiking
horseback riding
boating
whitewater rafting
If you're looking for a bit of luxury, make sure you book a room at The Sagamore Resort.
This hotel was always my favorite growing up, and it has a history spanning over 100 years. It's a wonderful property that has hosted families, celebrities, and dignitaries alike throughout its many years in business.
---
---
5. Alexandria Bay (Thousand Islands)
Alexandria Bay is a small town located in New York's Thousand Island region.
You can't really get a feel for Upstate New York without hitting up at least one of our beautiful islands!
One of the best ways to spend the day in Alexandria Bay is of course out on the water. Whether you rent a boat, jet skis, or just visit the beach, this is a great place to relax and enjoy the outdoors.
Alexandria Bay is also home to Boldt Castle, which is a major landmark and tourist attraction in New York's Thousand Island region.
The castle was originally commissioned by George C. Boldt, millionaire proprietor of the Waldorf Astoria Hotel in New York City.
His goal was to build a full size Rhineland castle here in Alexandria Bay as a display of his love and affection for his wife Louise.
Unfortunately tragedy struck, and Louise suffered an early and unexpected death. The castle was never completed, but it remains an incredible sight and attraction in the area.
Book Alexandria Bay accommodation here.
---
---
6. Corning
Corning, NY is another great historical town to visit.
The area is most well-known for the Corning Museum of Glass, which is a museum entirely dedicated to the art, history, and science of glass. There's plenty to see and learn about here, with some artifacts dating back to 3,500 years ago. You can even sign up ahead of time to take part in a class where you get to learn how to make your own glass!
The Rockwell Museum, which has been described as "one of the best-designed small museums in the Northeast", is also located in Corning. This museum is a Smithsonian Affiliate museum of American art.
Other attractions in the area include a large selection of wineries, outdoor activities, and shopping. Make sure you stop by one of the local farm markets too and sample some fresh food!
Book Corning accommodation here.
---
---
7. Lily Dale
Lily Dale is perhaps one of the most interesting destinations I've stumbled upon in New York state.
It's the true definition of a small town, with an estimated year-round population of 275 people. That doesn't mean there isn't plenty to discover here though. The town is estimated to host 30,000 visitors annually!
What makes Lily Dale particularly unique is that it is well known as one of the most psychic towns in America. The town is home to 54 registered mediums and has been featured in popular tv shows like TNT's Supernatural.
If you are looking to book a session with a registered medium or take part in many of the available workshops hosted in Lily Dale, make sure you register well in advance. This is a very popular destination during the summer and draws significant crowds at times.
---
---
Even if you don't believe in the supernatural though, don't write this small town off just yet.
There's a tranquility and quietness in Lily Dale that you simply cannot find anywhere else. There's rows of beautiful homes to wander, as well as camping grounds and forests to explore.
While I wouldn't call this small town a foodie's paradise (there's only a few restaurants to choose from), it's definitely a unique location you won't want to miss on your tour of Upstate New York.
Book Lily Dale accommodation here.
---
---
Have you ever visited Upstate New York? Which of these small towns would you like to explore most?
Visiting NYC – Travel Checklist
New York City has 3 airports: John F Kennedy (JFK), the bustling international hub; LaGuardia (LGA), the run down smaller airport near Astoria Queens; and Newark Airport (EWR) which is actually in New Jersey. You can check for flight deals here for your upcoming trip – for better rates, make sure you include all 3 airports.
Be sure to visit New York with travel insurance. Whether you get injured and need to be hospitalized, or your phone gets stolen, or a delayed flight leaves you with nothing but the clothes on your back, travel insurance will help when you need it most. Get a quote for your trip here.
Everything about the city is expensive (sorry). From food to accommodation to sights, try to save up a healthy vacation fund and then enjoy the entire visit. I do recommend booking hotels in NYC – Airbnb is illegal in the city, so only book an Airbnb for nearby New Jersey. You can check here for last minute accommodation deals.
Getting around, on the other hand, is easy! The subway system is extensive and follows a North South grid (for the most part). If you want to avoid the grime, use Uber and Lyft on your phone or hail a cab by sticking out an arm. Cabs with lights on the roofs mean they're open and available!
You Might Also Enjoy:
Planning a Trip to New York City
A Neighborhood Guide to New York
Affordable NYC Hotels Under $200 / Night
The Best NYC Furniture Stores for Every Budget
Cultural Things to Do in NYC
An Insider's Guide to New York City Museums
The Most Photogenic Locations in Central Park
Cherry Blossoms on New York's Roosevelt Island
NY Botanical Garden: Orchid Evenings
Art After Dark at the Guggenheim Museum
Boating in Central Park for Kids
Fun Activities & Events
Institute of Culinary Education Class Review (+ Promo Code)
Seasonal Things to Do in NYC
The Best Fall Activities to Try in NYC
Holiday & Christmas Things to Do
Riding New York City's Holiday Train
New York City Eats & Restaurant Reviews
Guide to the Best Coffee Shops and Acai Bowls in NYC
Asian: Cha-An, Hatushana Sushi, Mihoko's 21 Grams, Jinya Ramen
Brunch: The Wren, The Meatball Shop, Brooklyn's Smorgasburg
Dinner: The Wayfarer, L'Artusi, Racines, Tamarind, Sociale
Fine Dining: Musket Room, River Café, The Modern, Annisa, Benoit
Getaways from New York City
Follow Sher She Goes on
Youtube | Instagram | Facebook | Twitter | Pinterest | Bloglovin