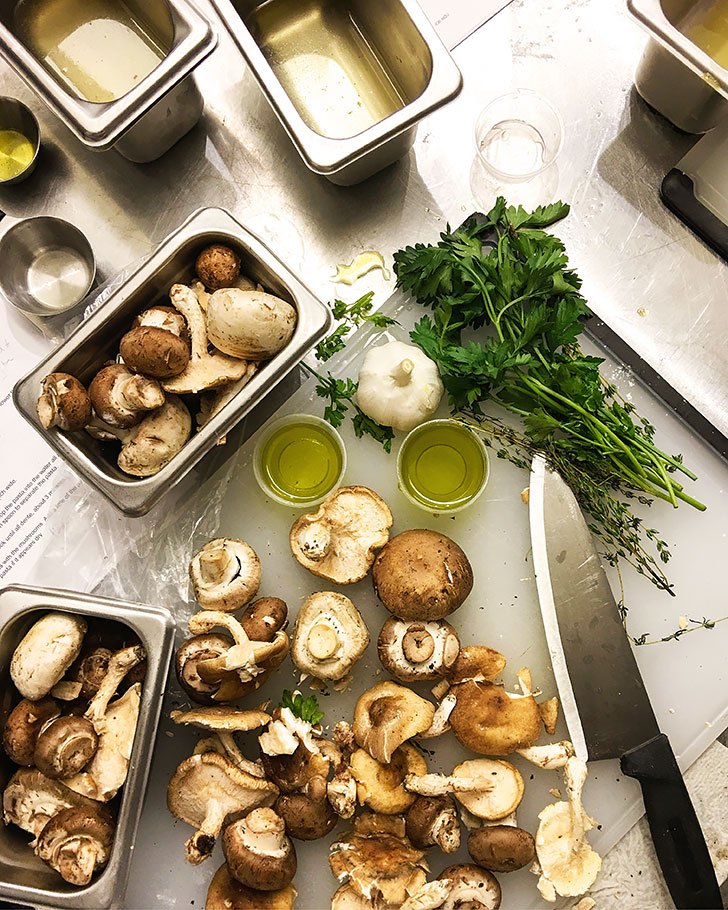 Institute of Culinary Education Review
A Couples Cooking Class Experience at Pasta 101
Last week I had a really fun date night cooking class that I booked via Vimbly. Vimbly is an amazing site dedicated to fun New York City activities – there's everything from art + music classes to food + cocktail walking tours and great group activities like Escape the Room + burlesque shows. What immediately caught my eye though were the cooking classes at the Institute of Culinary Education!
I've really been trying to brush up on my cooking skills this year (as you might have seen on my snapchat). There's just something so relaxing and gratifying about making a home cooked meal. I've also been trying to eat healthier in general and when I can, pre-making and packing healthy lunches for work. I have all the basics down but I wanted to graduate to something more difficult when I remember that just around this this time last year I bought a fresh pasta maker.
I actually bought my machine on sale during the Amazon Prime sale went on and coincidentally the same sale is going on today. This exact version I have is actually on sale again today for 25%! I don't remember it coming in this many colors though. If you don't have prime, you can sign up for a 30 day free trial here.
I have a really bad habit of buying things and letting them languish and case in point, got around to cleaning the apartment the other day and spied the pasta maker buried in the back – nearly a year later. Vimbly had the perfect solution: an Institute of Culinary Education Pasta 101 class. The class promised to teach everything there is to know about making fresh pasta and I immediately signed C and I up, figuring it would not only be a great date night activity but useful to boot!
Fresh Pasta 101 Class Review
Booked via Vimbly and taught by the Institute of Culinary Education
---
We had so much fun during the 4 hour class and we LOVED the experience. The class I picked was called Pasta 101 and is taught by the Institute of Culinary Education in the new redeveloped Brookfield Mall. According to the class description on Vimbly, it was to span 4.5 hours and teach us to make fresh pasta by hand as well as practice various complimentary pasta sauces.
Pasta is one of my favorite comfort foods and I eat it way too often. I heard from some Italian coworkers that fresh pasta isn't all that bad for you and I figured if I could learn to make the real good stuff from scratch that I could continue to indulge, guilt free!
About the Class
We met the instructor and learned a bit about each of the pastas we were to make. Did you know:
Italians consider it "pasta WITH sauce" and complain that Americans overdrown their pasta
Always save pasta water, as the starchy salty goodness is the secret to a great sauce base
Never add oil to your pasta – it forms an insoluable barrier that prevents sauce from sticking
We used these pasta steamer sets during the class that came in handy for saving the pasta water. At home I've been pouring out the pasta water over a coriander over a bowl and accidentally burned myself a couple times. I had my eye on this cuisinart set but it didn't seem to go on sale during Prime Day so I picked up this one instead, which did and is a best seller so still good!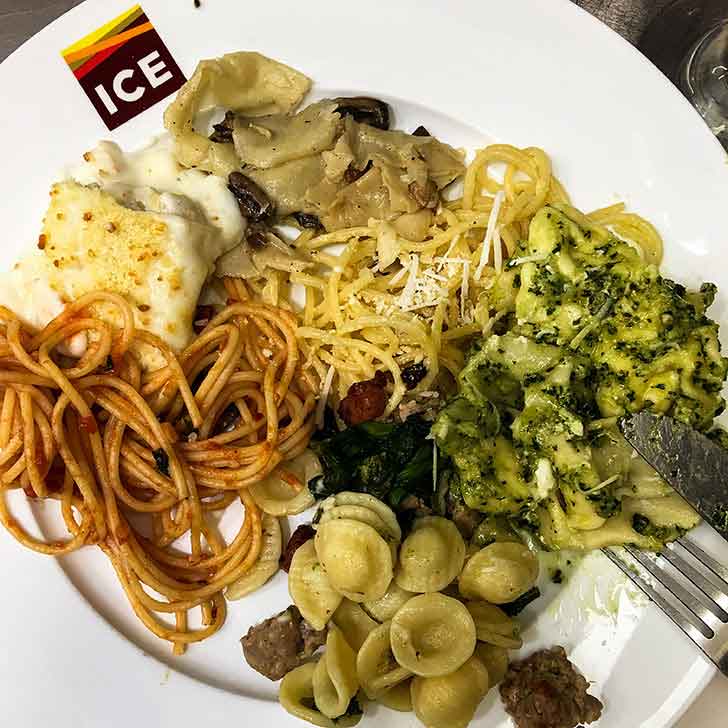 Essential Fresh Pasta Tools
---

The pasta maker I have is a great affordable hand crank option. In class we used the KitchenAid pasta attachment, which is nicer because it's motorized but also more expensive. If you try the Mercato and decide hand cranking is too much effort, they also sell a battery attachment to speed things up. So far making small quantities of pasta by hand for 2 people has been fine.
Making the Dough
---
Then, it was on to the demonstration of making pasta dough! This was so helpful and what I really wanted to know. We learned how to make 2 different pasta dough's, a flour + egg version for your traditional pastas, and a flour + semolina + egg version that forms a thicker dough to stand up to the weight of stuffed pastas. There were 10 people in the class so we split into 2 groups of five to each tackle the pasta menu.
I have mixed thoughts on the team approach. On the one hand, it was nice to have a divide and conquer mentality. On the other hand, I got so absorbed into the pasta I was tasked to make that I didn't quite catch how the other pastas were made. C and I volunteered to handle cacio e pepe (one of my favorites) and the pappardelle with wild mushroom ragu. We had a lot of fun cutting up 3 pounds of mushrooms and then sauteing them in loads of butter and oil. Mhm!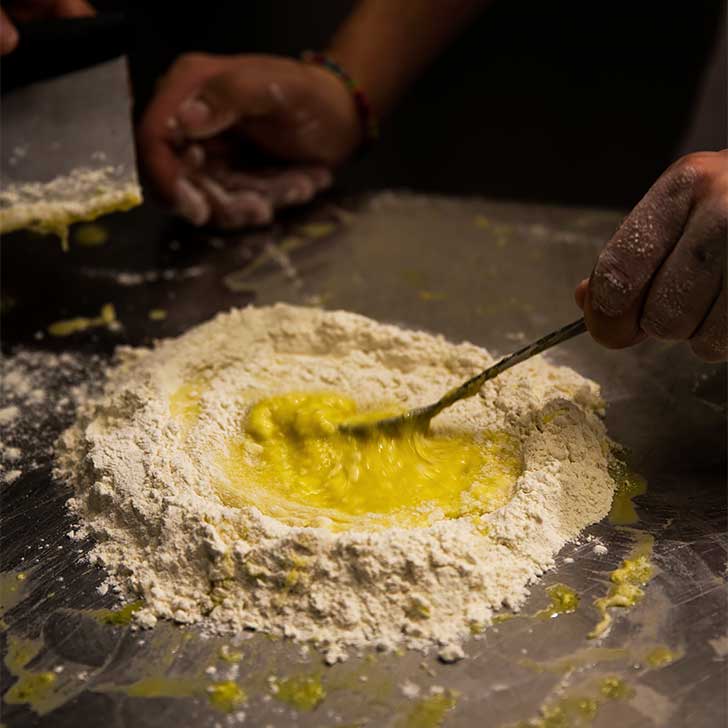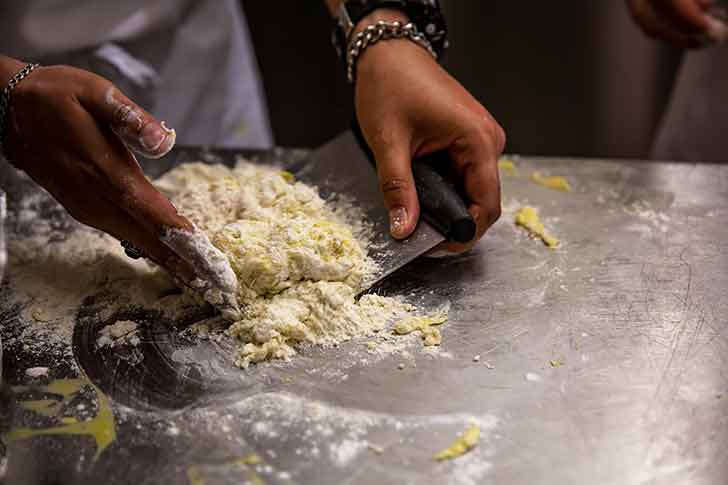 Preparing the Sauce
---
After the pasta dough was made, we put them aside to sit. Then we turned our attention to preparing the sauce. We spent about two hours chopping, cooking and preparing enough pasta for 10!
For the pappardelle that I was in charge of, we used 3 different mushrooms: shiitake, crimini and portobello.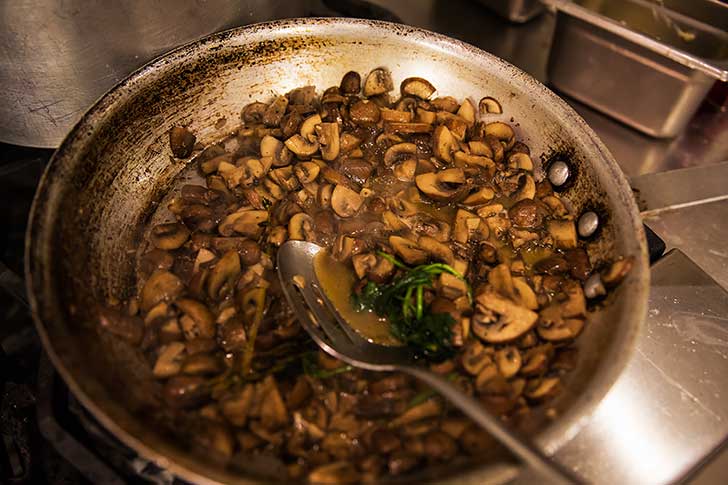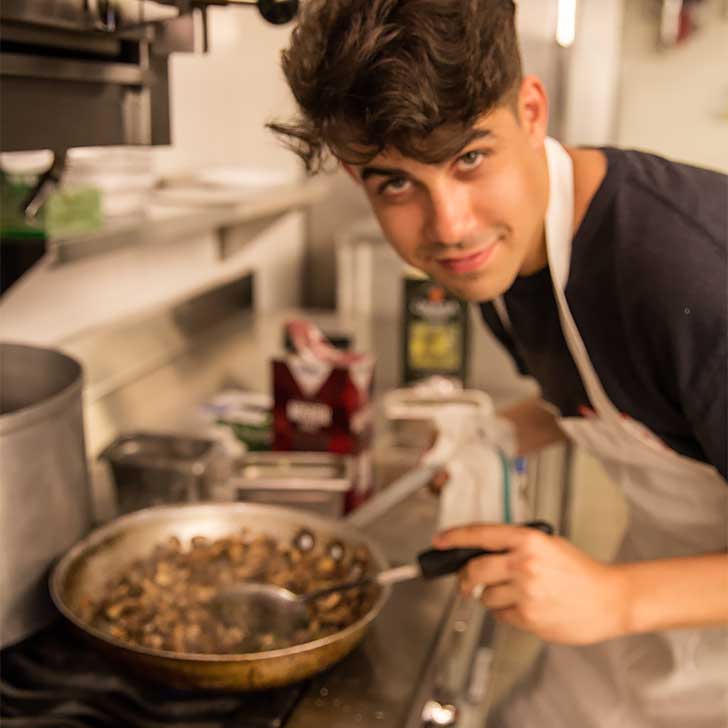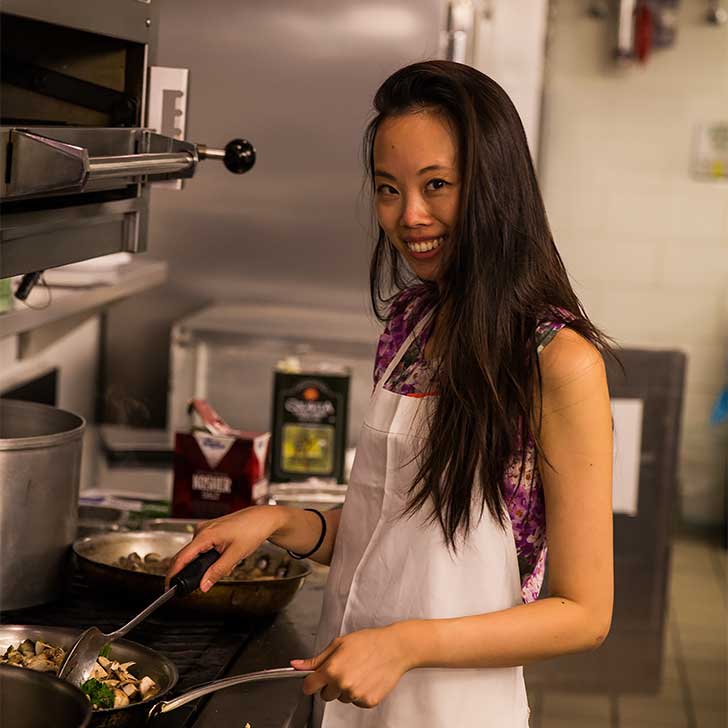 After making some headway on the sauces, we watched a second demonstration on rolling out pasta dough which was really fun. The instructor demonstrated how to make ravioli and then we each got to try rolling out the pasta ourselves and making stuffed pasta. It was so much easier than I thought it would be! And so fun to roll it through over and over.
In class we used the kitchenaid mixer with the pasta attachment, which is easier because it leaves you with two hands to feed the dough and hold it as it comes out. With a hand crank, you need to spare one hand to turn the dough through so it's slightly more of a juggling act.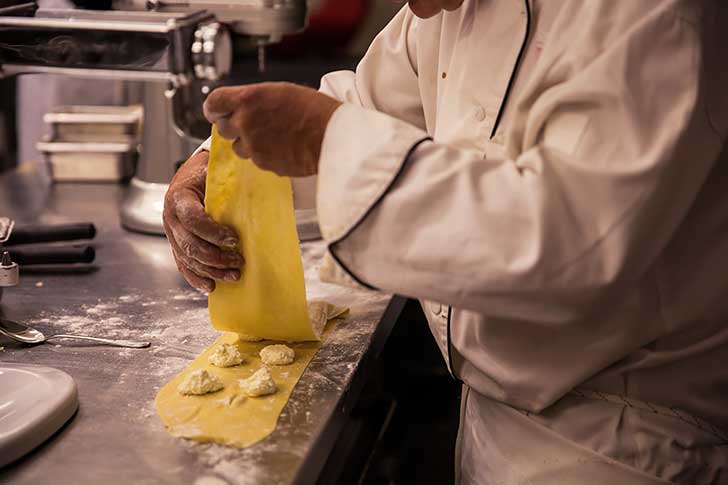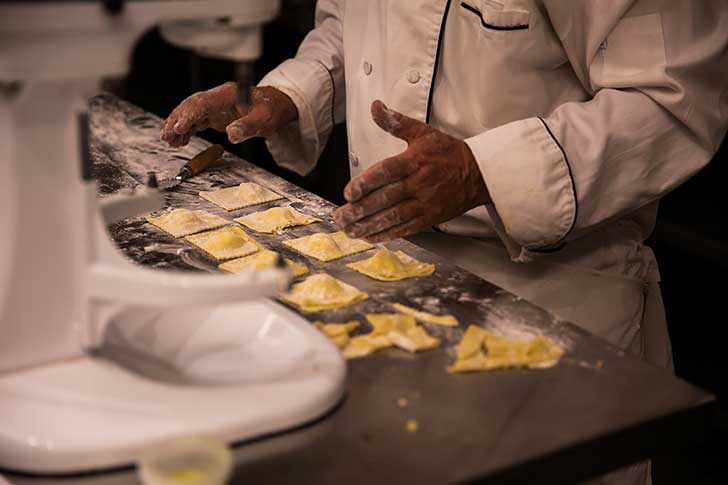 One Big Happy Italian Family
---
At the end of the class, we all got together to sit down and eat family style and ICE generously provided a cheese plate and wine. Everyone in the class got to eat together and it just felt like such a nice family experience. I would love to take another class and honestly would even re-take Pasta 101 to get a hands on experience making a different type of pasta – it was such a fun and useful activity. At the end of the night there was so much food leftover, we each got to take some home and also keep the recipe booklet.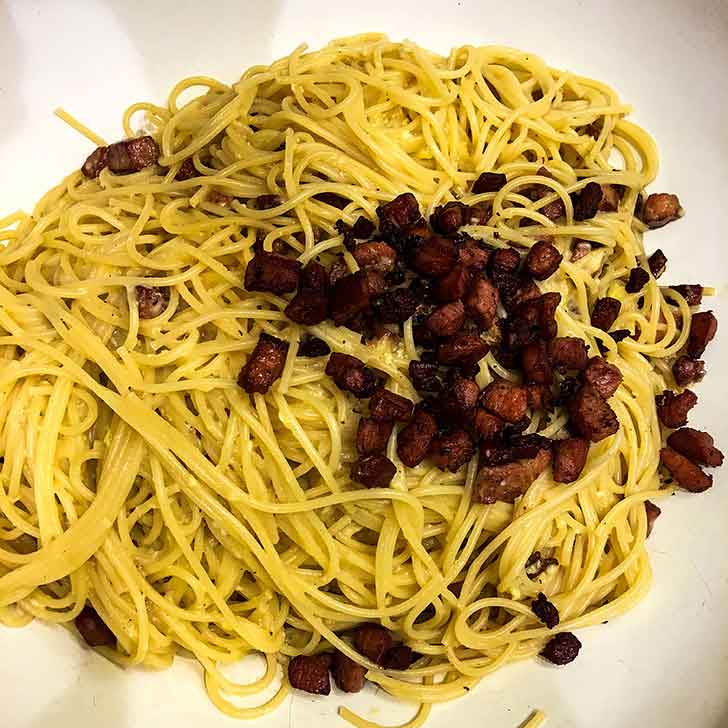 Spaghetti Carbonara
spaghetti with egg, cheese and bacon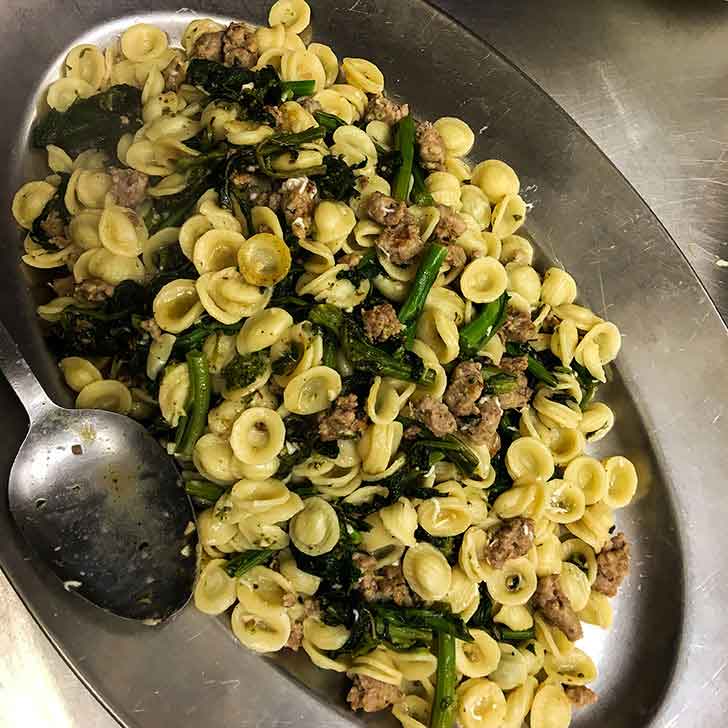 Orecchiette with Broccoli Rabe + Spicy Sausage
"little ear" pasta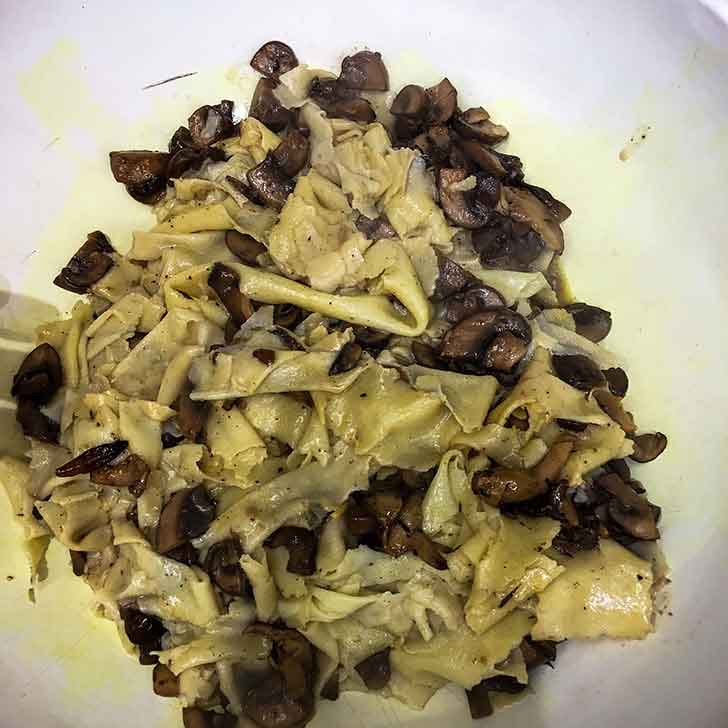 Pappardelle with Wild Mushroom Ragu
wide ribbon pasta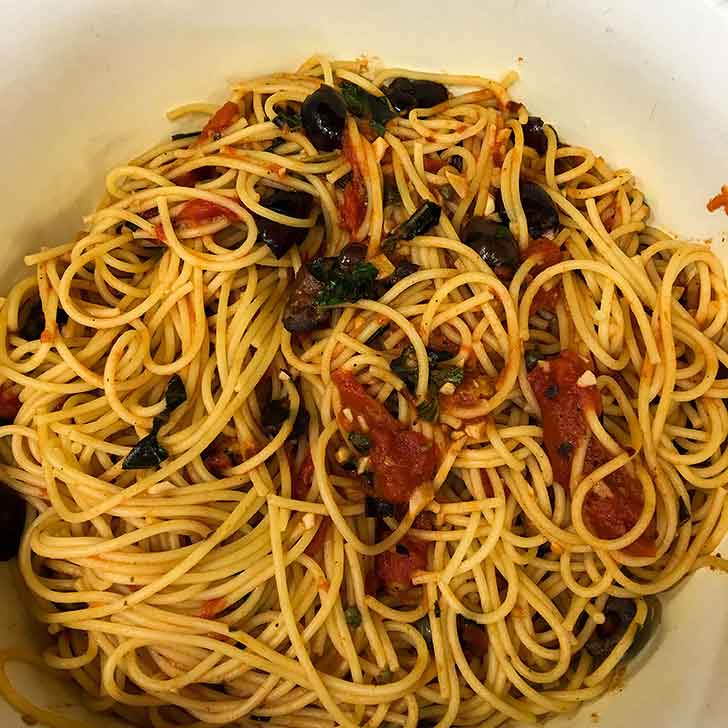 Puttanesca
spicy tomato sauce with olives, capers and anchovies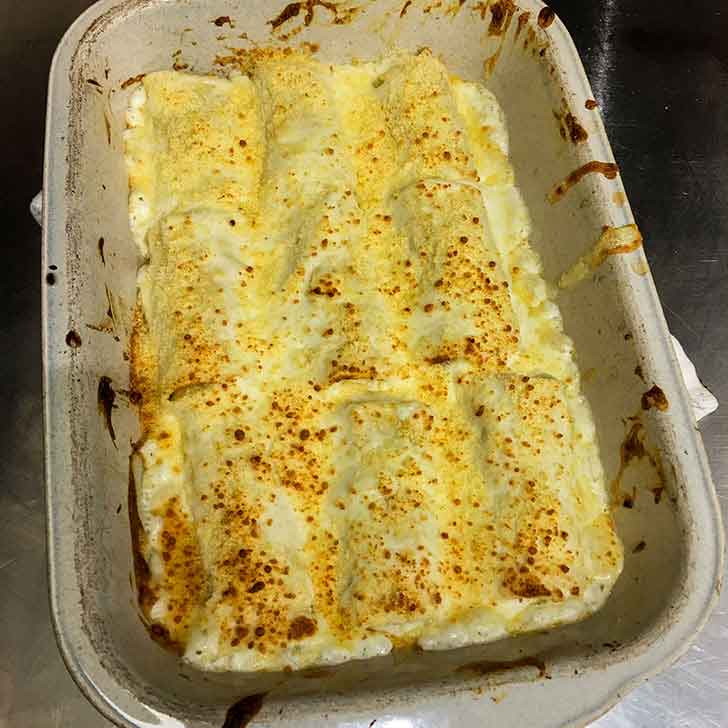 Cannelloni
Baked Pasta with Veal and Bechamel sauce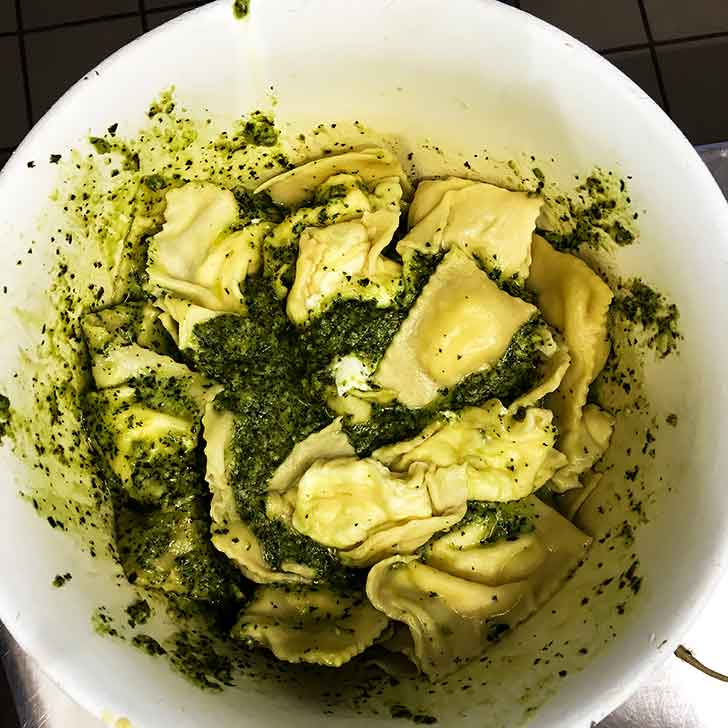 Ricotta-Filled Ravioli with Pesto Genovese
stuffed pasta in a basil sauce with cheese and pine nuts
Vimbly Class Bucket List
---
I got so many questions and snaps about the class so I hope this post was helpful. I'm totally addicted to Vimbly now and there's so many other NYC cooking classes I can't wait to try!
If you'd like to try a class as well, you can click over to Vimbly through my link to get $10 off your first activity! Let me know what you pick or send me a snap (username: shershegoes) if you end up going! I'd love to see.
Read more about fun things to do in NYC here.