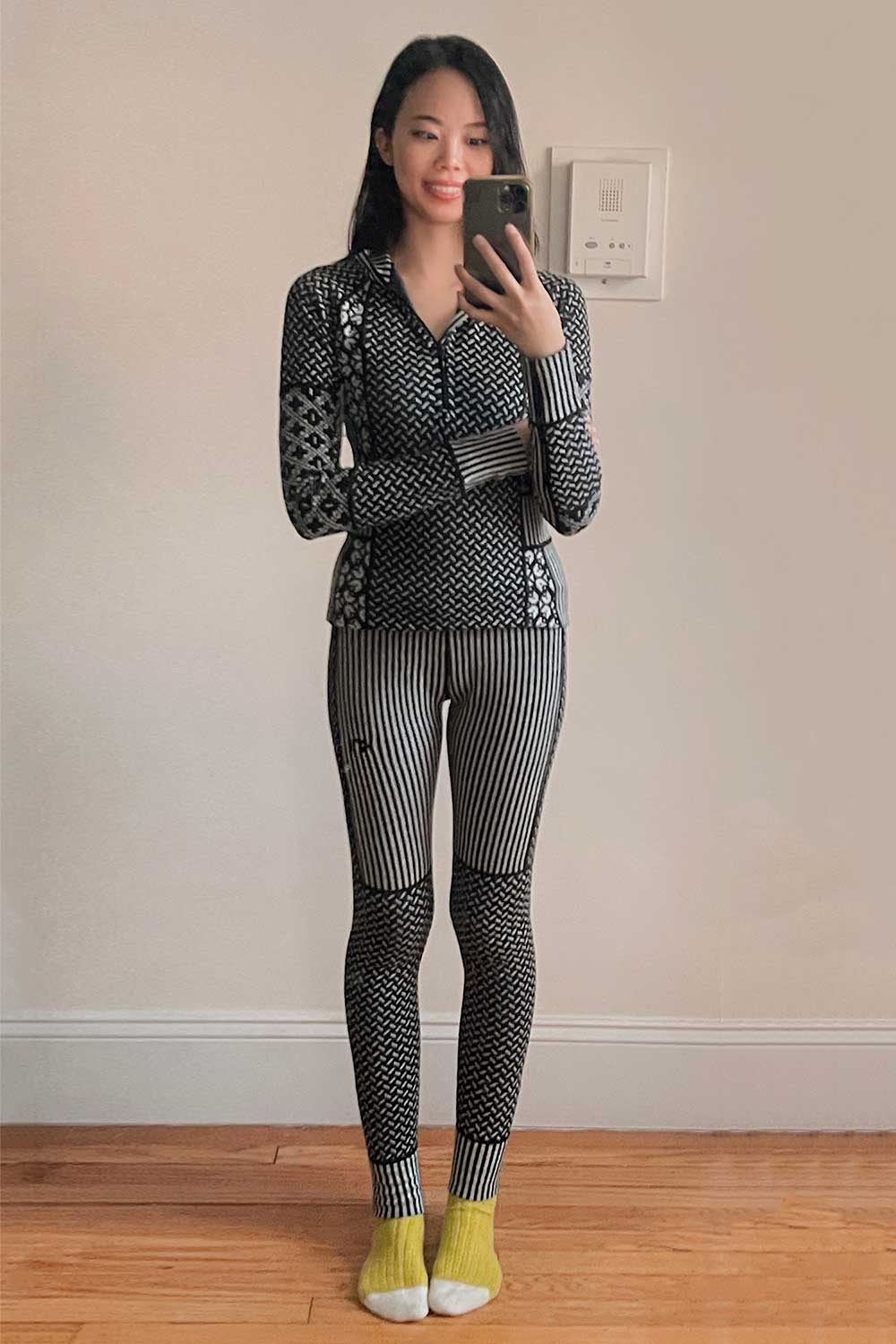 Kari Traa Review
If there's one thing I've learned about dressing for extreme cold, it's that you need a great set of base layers!
On my trip to Norway, it seemed like every woman I met was hiking in the rain, skiing in the snow or spending time outdoors with a giant smile on their face. And they were all wearing pretty patterned base layers and fleeces from Kari Traa.
So I bought my own set of thermal underwear from the brand and joined them!
I ended up liking the merino wool base layer set so much that a couple weeks later, I ordered another.
Here's my review of Kari Traa's Smekker base layer set.
Keep reading, or pin this article to save it for later ⇟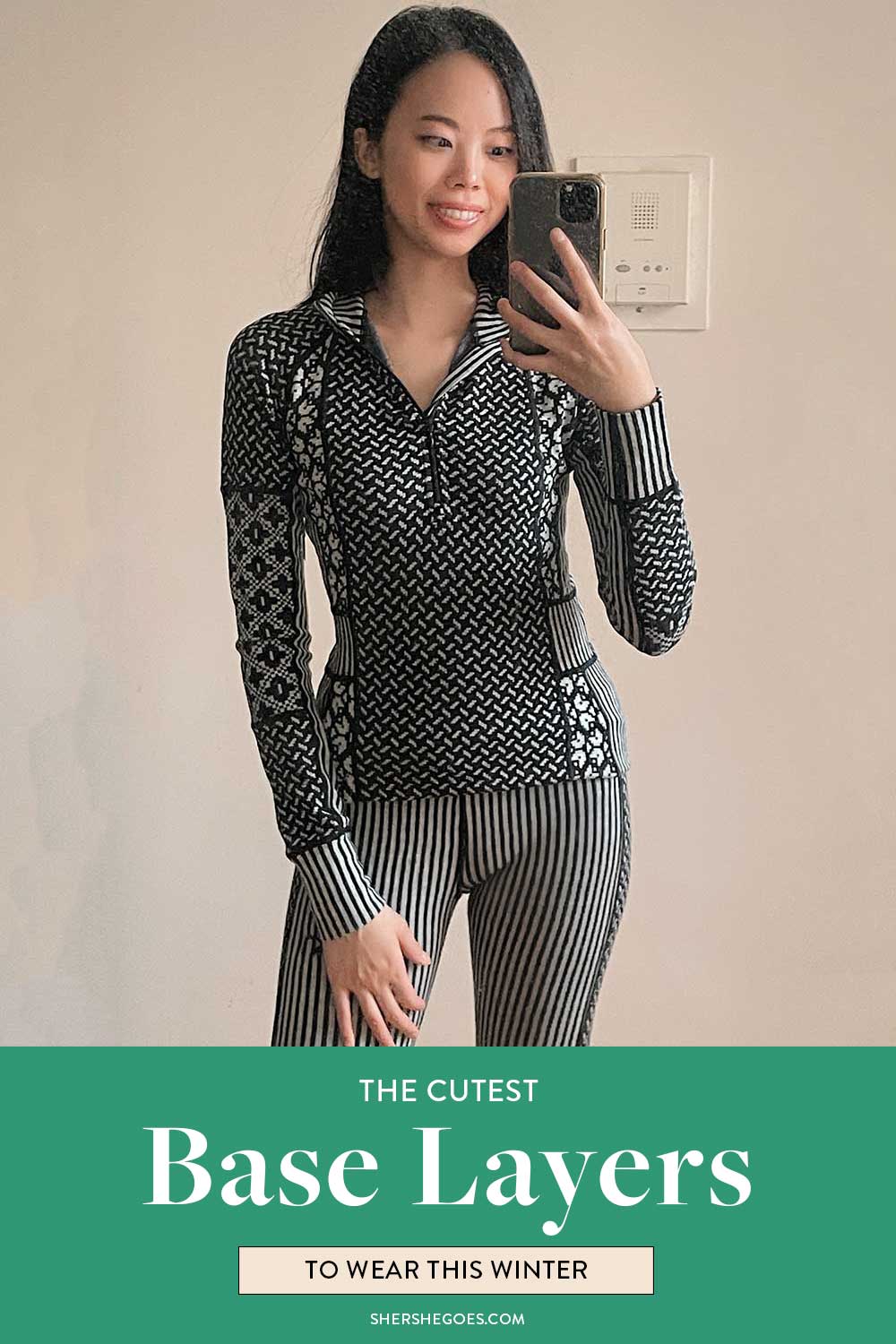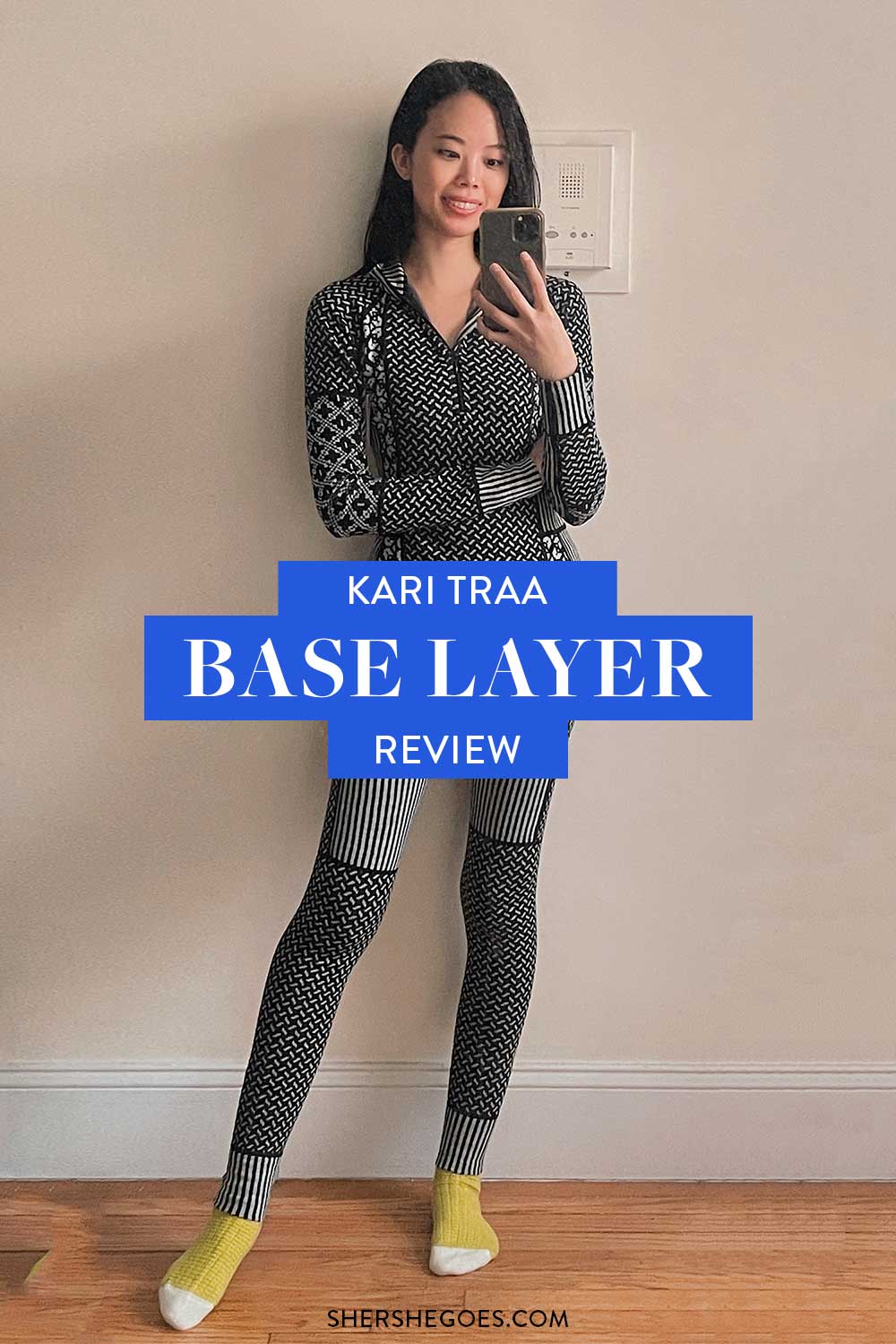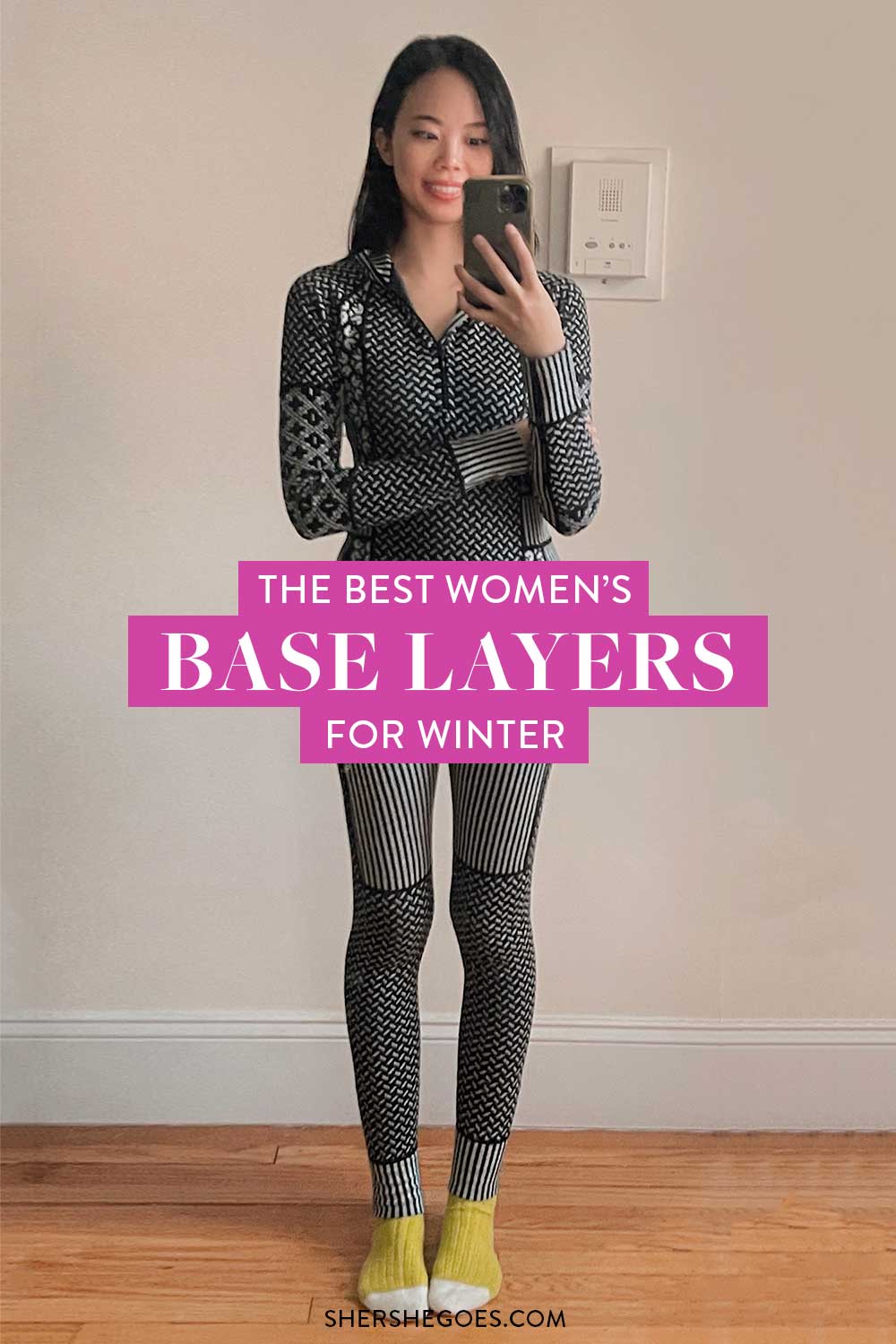 ADVERTISEMENT
---
---
Kari Traa
Kari Traa makes some of the prettiest and most functional thermal underwear for women.
Base layers are an absolute must in winter, whether you're going out to walk the dog, taking a quick stroll to dinner or doing something more active like skiing.
And for some reason, most brands cater to men when it comes to ski clothes, so I thought I'd share the secret on Kari Traa and tell you all about my favorite base layer company.
The brand was founded in 2006 by Norwegian Kari Traa, an Olympic champion freestyle skier.
She often knit beanies in her free time and customized her own ski wear, and started creating headbands and hats for friends and family. Eventually, she turned her hobby into a sportswear brand focused exclusively on girls and women.
Most of the patterns are inspired by Scandinavian traditions and rugged Norwegian conditions. They're colorful without being too loud or clash-y, and they're fitted for women's bodies without being too tight or uncomfortable.
Kari Traa makes everything from jackets to sweaters but the brand is most famous for its base layers. Most base layers are solid black or grey, so Kari Traa stands out for its distinctive designs!
ADVERTISEMENT
---
---
Kari Traa Smekker Base Layer Review
I have two sets of base layers from Kari Traa: the popular Rose set and the Smekker set.
Tops and bottoms are sold separately, and the tops often come in different neckline styles. In fact, the brand makes a huge variety of base layers, in lengths and materials, including synthetic and wool blends.
But the original and most popular line in the collection is 100% merino wool based.
ADVERTISEMENT
---
---
Fabric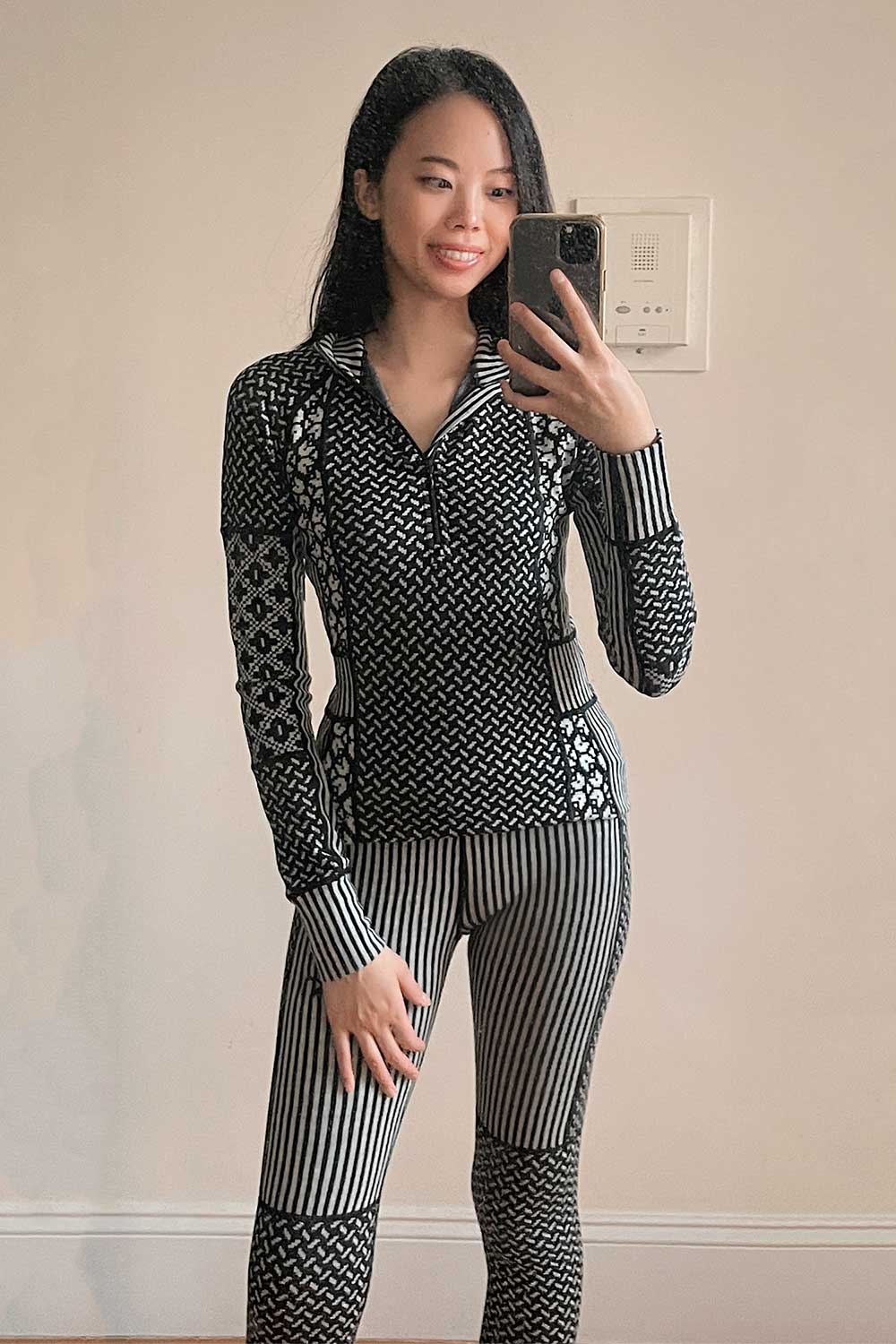 Base layers are essentially thermal underwear.
They're the first layer you put on and sit closest to the body. Ideally, put them on about 30 minutes before you plan to head outdoors. That allows them to warm up indoors to your own body temperature, and maintain that warmth when you step out into the cold.
Base layers typically come in synthetic and merino wool options.
Both are great for different reasons.
Synthetics, usually made from acrylic or polyester, will be cheaper and softer. Merino wool is a natural fiber that offers moisture wicking properties and breathability, so it's better for people who run a little sweatier or on days when you plan to be active outdoors.
Merino wool is also warmer!
Lots of brands will say 'merino wool' but it's important to check the label for the actual wool percentage. Kari Traa's base layers are 100% merino wool.
ADVERTISEMENT
---
---
Fit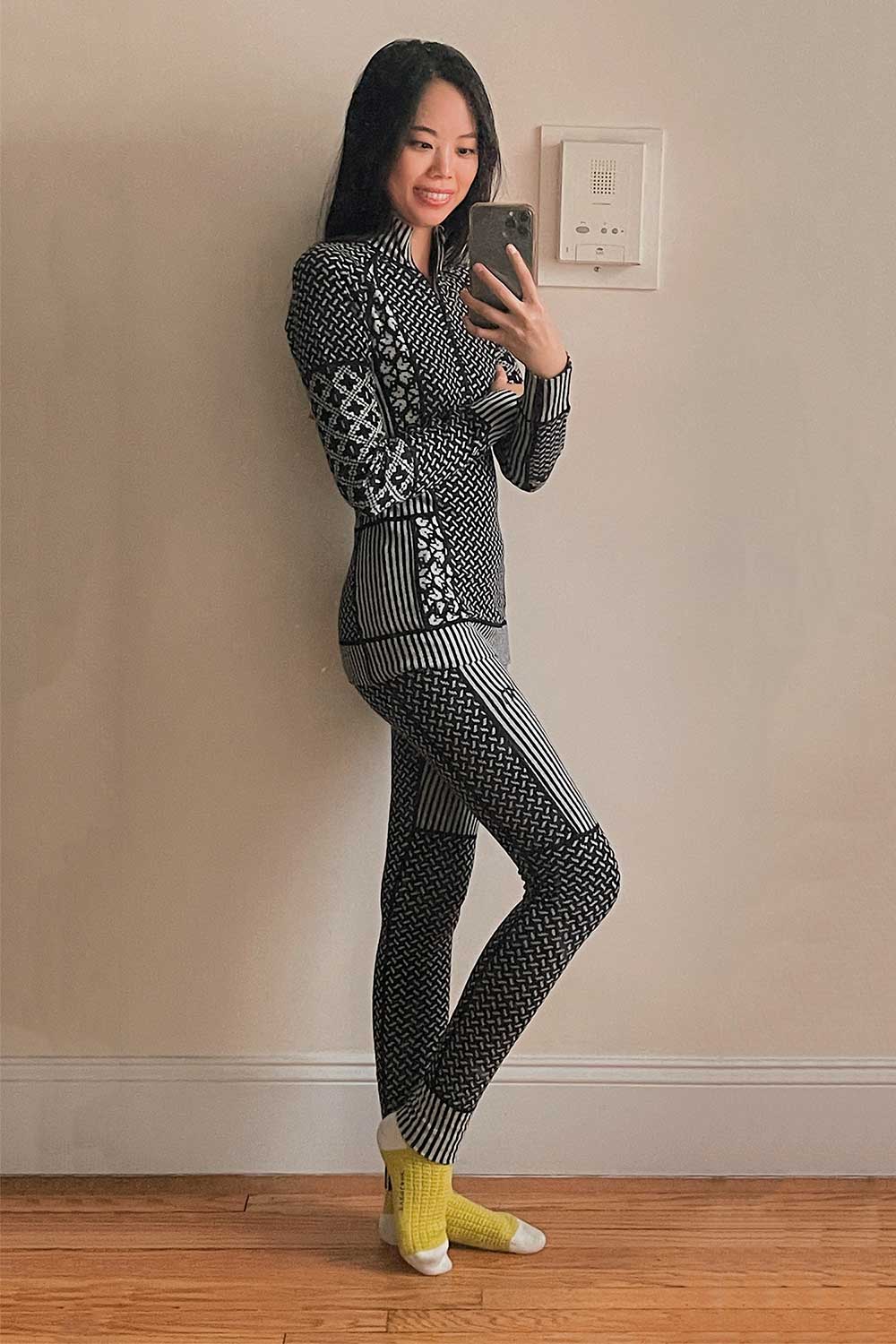 Base layers should fit pretty snug to the body.
Kari Traa's Smekker base layers have 4 way stretch, so they move with you on the go and are quite comfortable to wear.
The top comes in all different styles, but I opted for the half zip. I find the extra material around your neck makes a big difference when you're outside!
If you hate high necks, you could get the crew neck version and wear a neck gaiter or infinity scarf on top.
I also really like the alternating patterns on the Smekker base layer.
It has a traditional Norwegian pattern with different sections on the arms and torso. Not only does it look really pretty, the contrasting cross and stripe pattern gives you the illusion of a smaller waist!
The Smekker top is pretty long in the torso as well – it easily covers my butt.
I'd actually prefer if it was a little shorter, but the longer length is warmer. I usually tuck it into the leggings for a seamless fit.
Finally, Kari Traa's base layers have ventilation panels on the sides of the top and legs to help regulate your body temperature along with lay flat seams to prevent chafing.
ADVERTISEMENT
---
---
Price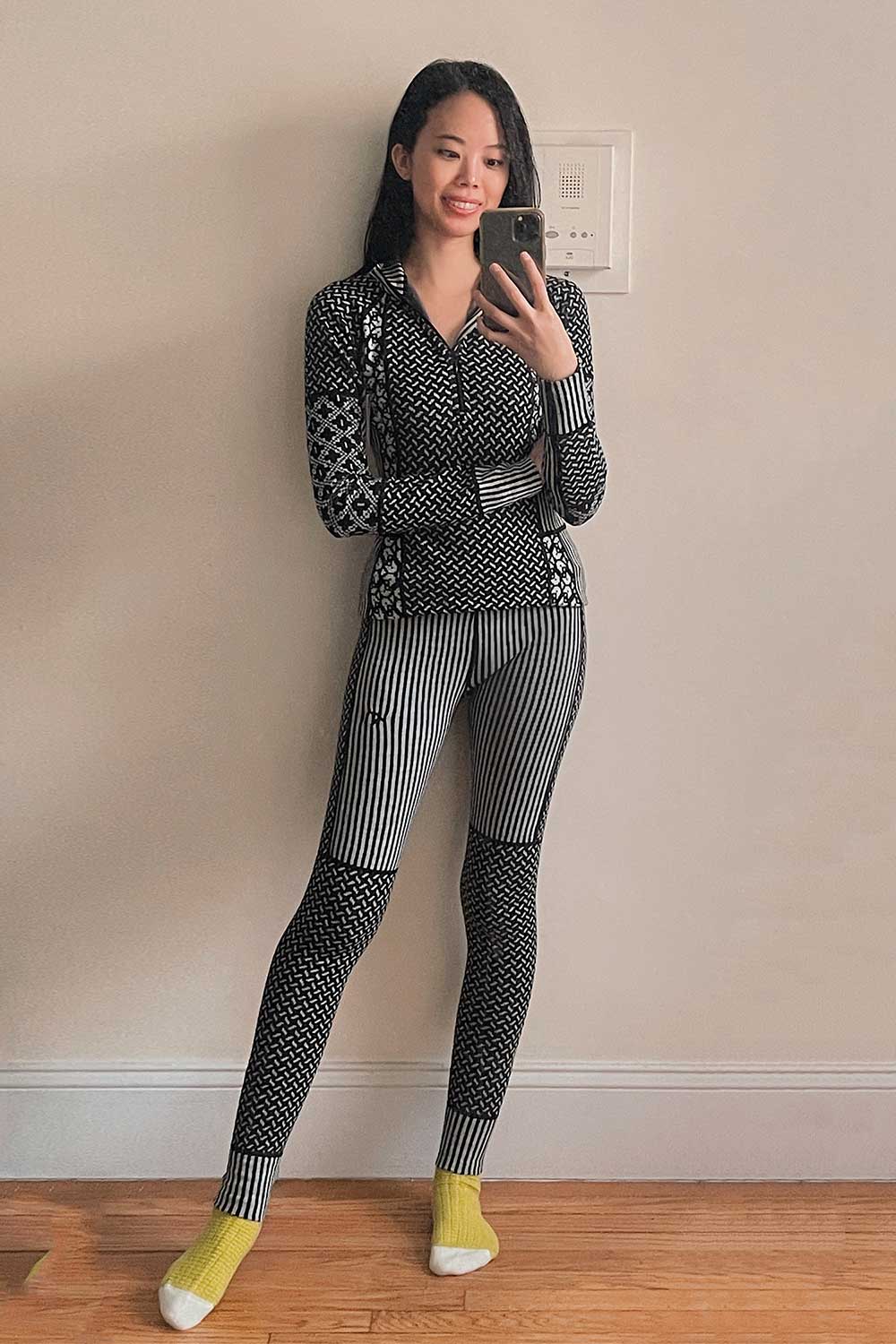 Most 100% merino wool base layers will run about $70-120 each for the top and bottom.
Kari Traa is about average in price, at $110 each, and their clothing is well made.
One of the drawbacks with merino wool is that because it's quite a thin material, it can stretch out over time, or develop holes.
But in my experience the Kari Traa thermal underwear has held up really well.
And, because these base layers are so pretty, they're versatile enough to wear as pajamas or even out to dinner on the town. The fabric hasn't pilled or torn, and it always keeps me warm!
ADVERTISEMENT
---
---
Overall, I'm a big fan of Kari Traa's winter clothing!
Whether you're looking for cute base layers for an upcoming ski trip, or want something cute and cozy for a winter getaway, Kari Traa is a great option.
I haven't reached for my all-black tops and leggings since getting these pretty base layers!
Available on Kari Traa, Zappos, Backcountry, REI, Moosejaw & Amazon
Shop Women's Base Layers
---

ADVERTISEMENT
---
---
Ski Wear Haul
SKI CLOTHING TRY-ON HAUL: do cute ski pants exist ?? | women's ski pants + bibs review
ADVERTISEMENT
---
---
ARE DESIGNER SKI PANTS WORTH $$$? | luxury ski pant try-on (bogner, cordova, holden, helly hansen)
I posted a couple try-on hauls of all the ski wear brands that I've tried. You can check them out on my Youtube channel here.
ADVERTISEMENT
---
---
Ski Wear Haul
I posted a couple try-on hauls of all the ski wear brands that I've tried. You can check them out on my Youtube channel here.
ADVERTISEMENT
---
---
ADVERTISEMENT
---
---
ADVERTISEMENT
---
---
Read More: in our ski style series:
Ski Trip Packing Essentials
What to Wear Skiing: Packing List Must Have's
The Best Ski Pants for Women (Stylish & Functional)
I Found the CUTEST Women's Ski Pants (Video)
Are Designer Ski Pants Worth It? (Try-On Haul)
The Best Ski Sweaters for Apres-Ski 
Planning the Perfect Ski Trip
What to Know Before Skiing in Vermont for the First Time
Ski Trip Recaps + Mountain Guides
Lake Tahoe, California: Heavenly, Kirkwood & Northstar
Montana: Big Sky
Vermont: Stowe
Catskills, New York: Belleayre Mountain
Quebec, Canada: Mont Tremblant
+ More Ski Vlogs on Youtube
Follow me @Sher She Goes on