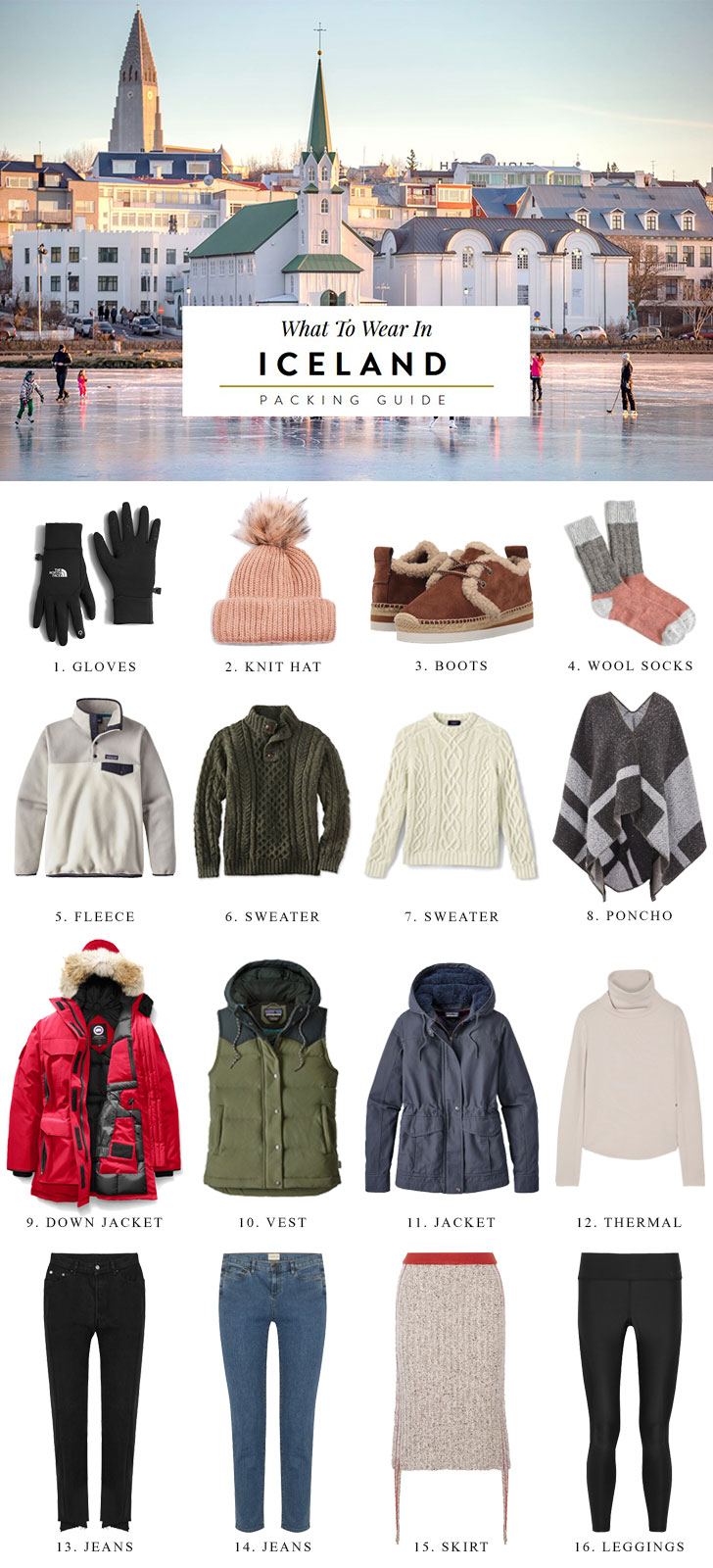 What to Pack for Iceland Checklist
---
Click the icon next to each image to shop directly on the retailer page or browse via the links below. I've also linked more affordable options throughout the post.
1. E-Tip Gloves | 2. Knit Hat | 3. Shearling Sneaker (boot version) | 4. Wool Socks | 5. Pullover Fleece (similar) | 6. Fisherman's Sweater | 7. Cable Knit Sweater | 8. Striped Poncho (similar) | 9. Heavy Duty Parka | 10. Down Vest | 11. Rain Jacket | 12. Thermal Undershirt | 13. Black Jeans | 14. Blue Jeans | 15. Knit Skirt | 16. Thermal Leggings
What to Wear in Iceland
Just as finalizing an Icelandic vacation can be a dream come true, figuring out what to pack for Iceland can turn into a nightmare! Weather conditions can be famously brutal, and figuring out how to pack all your cold-weather clothes while still leaving enough room for your camera or film equipment (gotta hold out for those aurora borealis shots!) can be incredibly challenging. Keep reading for the ultimate Iceland packing list!
Read more:
Where to Stay in Reykjavik
---
---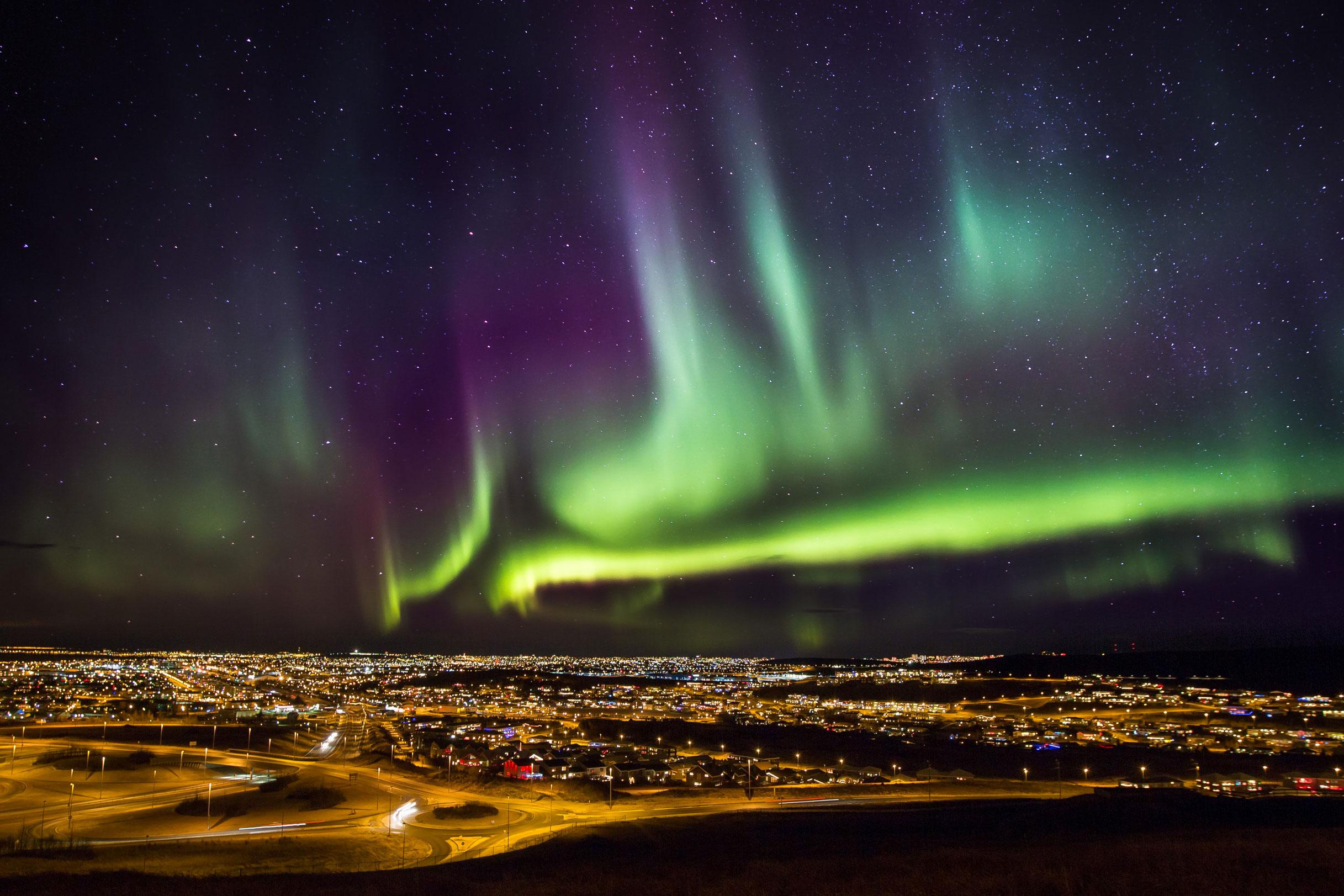 Iceland Clothing – Layers, Layers, Layers!
1. Thermal Underwear
When it comes to what to wear in Iceland, it definitely starts and ends with thermal underwear (literally…because they're the first thing you put on and the last thing you take off!).
Whether you're freezing sitting still for that great nightscape shot or doing something active like exploring Iceland's many ice caves or mountain biking, a great pair of thermal underwear is crucial to making sure your Icelandic adventure is as comfortable as possible.
For thermal underwear that's stylish, affordable, and performs well, check out this offering for men and this set for women. Also pick up a pair of waterproof hiking pants like this pair if you'll be doing any outdoor activities like hiking, ice caving etc.
Fun day trips in Iceland
---
2. Waterproof Boots
Boots throw a wrench into the layering scheme – wearing too many socks actually cuts off circulation to your feet, which actually increases the chance of frostbite – yikes!
To get around this issue, your winter boots should have a thin but high-grade fleece lining. A thin layer keeps your feet snug while allowing full circulation, but the high-grade fleece will keep your lil' piggies warm as you adventure through Iceland!
Internationally, there's no more respected boot manufacturer than Sorel, and their latest, the Caribou Slim, is my preferred waterproof boot for any and all cold-weather expeditions!
3. Travel Jacket
Many hope and pray for a single travel jacket that can work everywhere, but the truth is insulation and fabric materials are often designed for specific conditions.
The two main travel jacket insulators are goose and synthetic down. Goose down is generally warmer, more compressible, less breathable, and less water-resistant than synthetic down. A goose down jacket is ideal for cold and still conditions with limited physical activity – because it's less breathable, goose down can easily cause overheating.
Synthetics, on the other hand, are perfect for physically active itineraries in cool and potentially wet locations. The best jackets for travel will also have some combination of windproof, waterproof, or water-resistant external fabrics.
Read more:
These are the Best Jackets for Travel
---
---
4. Suitcase & Accessories
If you're visiting Europe for two weeks or less, I recommend bringing a rolling suitcase, just because I find it more comfortable to push luggage rather than carry on my back. I've reviewed all my favorite carry on luggage brands in this previous post here and am currently using my Delsey large suitcase.
Packing Cubes | I like to group clothing by color or function and pack each group of items snugly in their own packing cube. These are a lifesaver for keeping your suitcase organized in your hotel room and are my number 1 secret to maximizing space in just a carry on suitcase. I typically reserve one packing cube for all my worn clothes to separate the dirty stuff from my fresh clothes!
Amazon has their own inexpensive 4 piece packing cube set and several travel blogger friends swear by this set from eBags.
Toiletry Bottles | Optional, but I currently like these for shampoo and conditioner. If I know I'm staying in nice hotels, I don't always bring shampoo but I always want my conditioner. I also pack extra ziplock bags to keep toiletries and wet clothes safely contained.
Sunscreen | I know this might seem like an oxymoron, but many native Icelanders use sunscreen often in the summer, when temperatures are still mild but sun exposure is very direct. Thrown in an always-high chance of wind burn, and you won't regret bringing a travel-sized sunscreen bottle along for the ride!
My favorite is Biore sunscreen – it's got a very high degree of protection against both UVA and UVB rays, is non sticky and glides on smoothly. If you've only ever used American sunscreen (like tacky Neutrogena that takes forever to apply and smells) you need to give this a go! The Japanese brands really know their sunscreen!!
Portable Charger | Definitely a must! I currently use an iPhone 6S Plus and this Anker portable charger keeps my phone fully charged at all times. The charger is small and sleek enough to fully charge an iPhone twice. Anker has great customer service – I once bought a product off Amazon that ended up dying and they quickly sent me a replacement free of charge, so I highly recommend them!
Electric Converter | If you are abroad, you'll need a universal adapter and converter. Also pick up a travel sized power strip so you can charge your laptop, phone and everything in one go.
---
---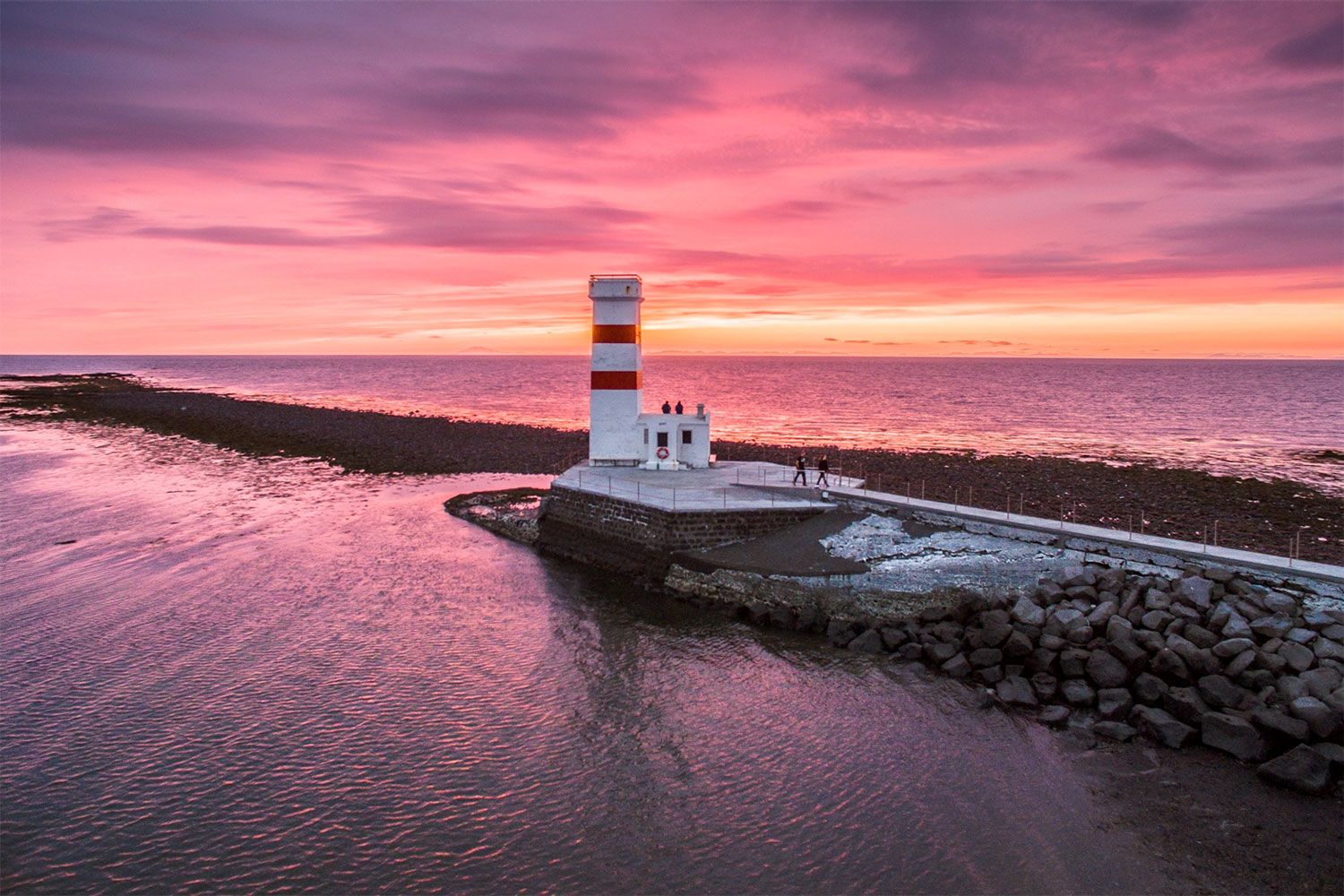 Photographing Your Iceland Vacation: Camera Packing Checklist
5. Camera and Lenses
When traveling in Iceland, you'll likely want to photograph the beautiful natural landscape. I like the 16-35mm lens and recently picked up this Sony camera body as it's much lighter than my Canon!
I also bring along a GoPro to capture any action like bike riding or swimming. I recommend the GoPro Hero 6 which was just released!
To capture the Northern Lights, you'll need a tripod so that your camera get remain steady enough for the long exposure. I use a carbon fiber Gitzo tripod but also bring along this much more affordable Mefoto for travel as it's much lighter.
---
---
Iceland Souvenirs
Icelandic Sweaters | Cozy patterned sweaters are one of Iceland's most famous souvenirs and make for great Icelandic gifts. These traditional knits are spun from fine Icelandic wool (from the cute sheep you see all over the roads) and are called Lopapeysa.
If you have friends and family back home who appreciate authentic gifts, grab an Icelandic cardigan, sweater or pullover and surprise them with a gift they'll actually want to use and wear! Meanwhile, if you forget to pack high quality technical clothing, Icelandic brand 66°North sells great outdoor clothing to keep you warm while in Iceland.
So that's my Iceland packing checklist! Am I missing anything – what can't you live without on your vacation?
Iceland Vacation Checklist
Compare flight prices and timings for Iceland here
Check accommodation availability and pricing on Booking.com
Buy travel insurance for your Europe trip – get an immediate online quote here
Follow Sher She Goes on
Bloglovin | Facebook | Twitter | Pinterest | Instagram