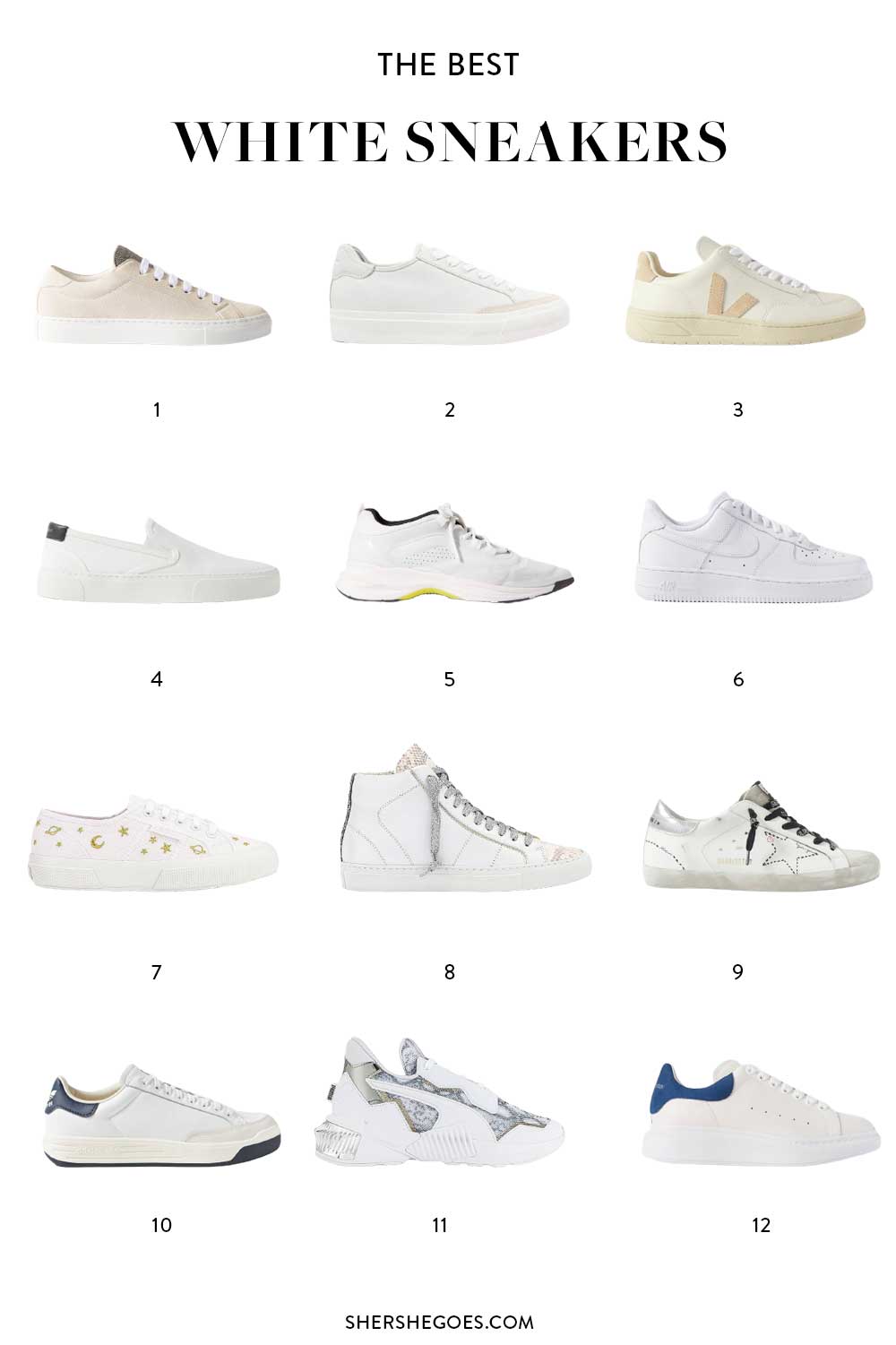 Best White Sneakers (2021)
White sneakers will never go out of style.
Spring, Summer, Winter, Fall… crisp white or well-worn, a pair of white sneakers work just as well with a sundress as with black jeans and a leather jacket.
Here are our recommendations for the best classic white sneakers!
ADVERTISEMENT
Or save this article to read later by pinning it ⇟
ADVERTISEMENT
---
---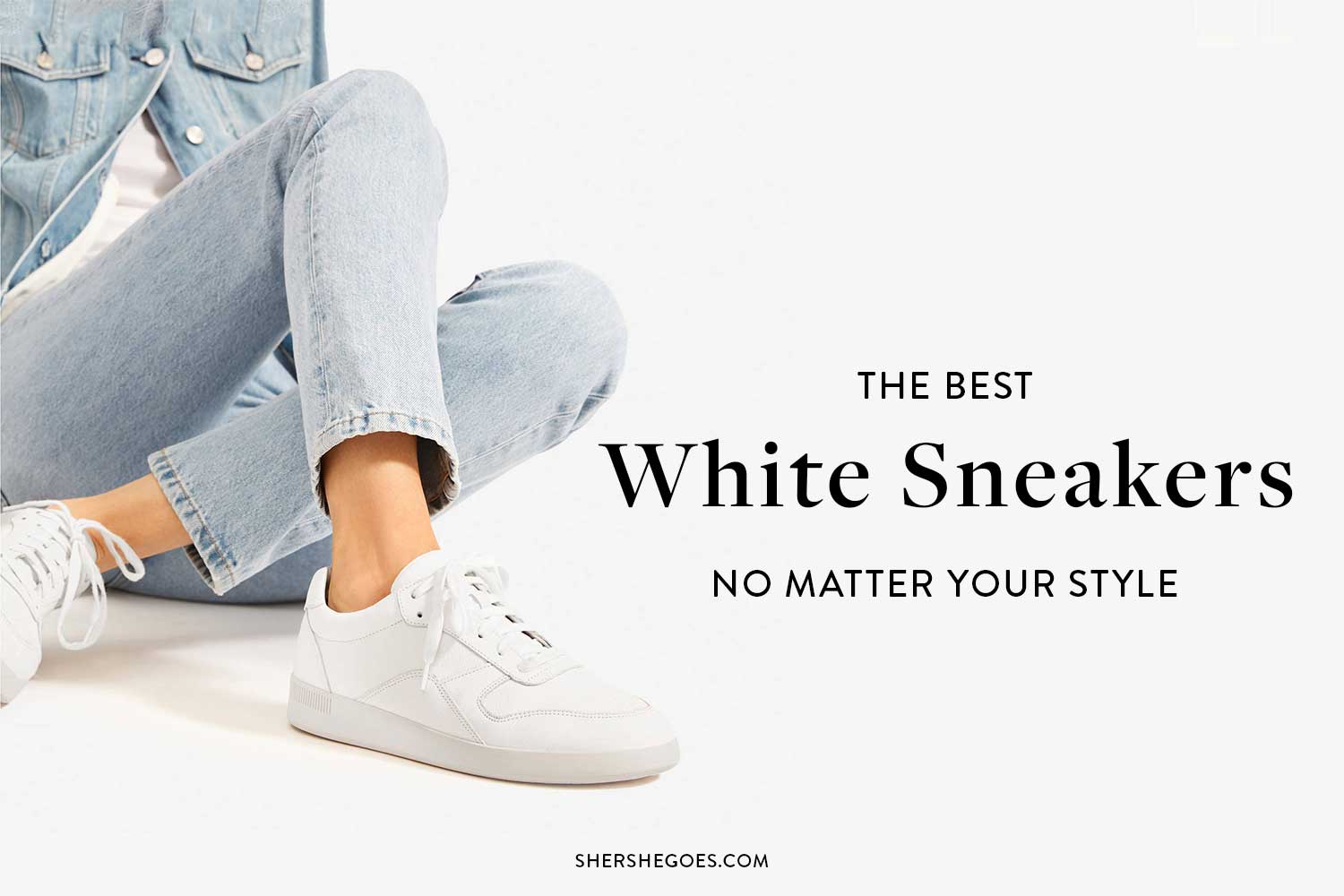 The Best White Sneakers for Women (2021)
While a white sneaker may sound simple, there are so many different types! No matter your style, we've identified the best women's white sneaker brands below!
Top White Sneaker Brands
ADVERTISEMENT
---
---
Best Lace Up White Sneaker: Thousand Fell
ADVERTISEMENT
---
---
Best Sustainable White Sneaker for Women: Everlane
ADVERTISEMENT
---
---
Best Classic Women's White Sneaker: Adidas
ADVERTISEMENT
---
---
Best Slip On White Sneaker for Women: Steve Madden
ADVERTISEMENT
---
---
Best Low Profile White Sneaker for Women: Converse
ADVERTISEMENT
---
---
Best Designer White Sneaker: Common Projects
ADVERTISEMENT
---
---
Best Leather White Sneaker: M. Gemi
ADVERTISEMENT
---
---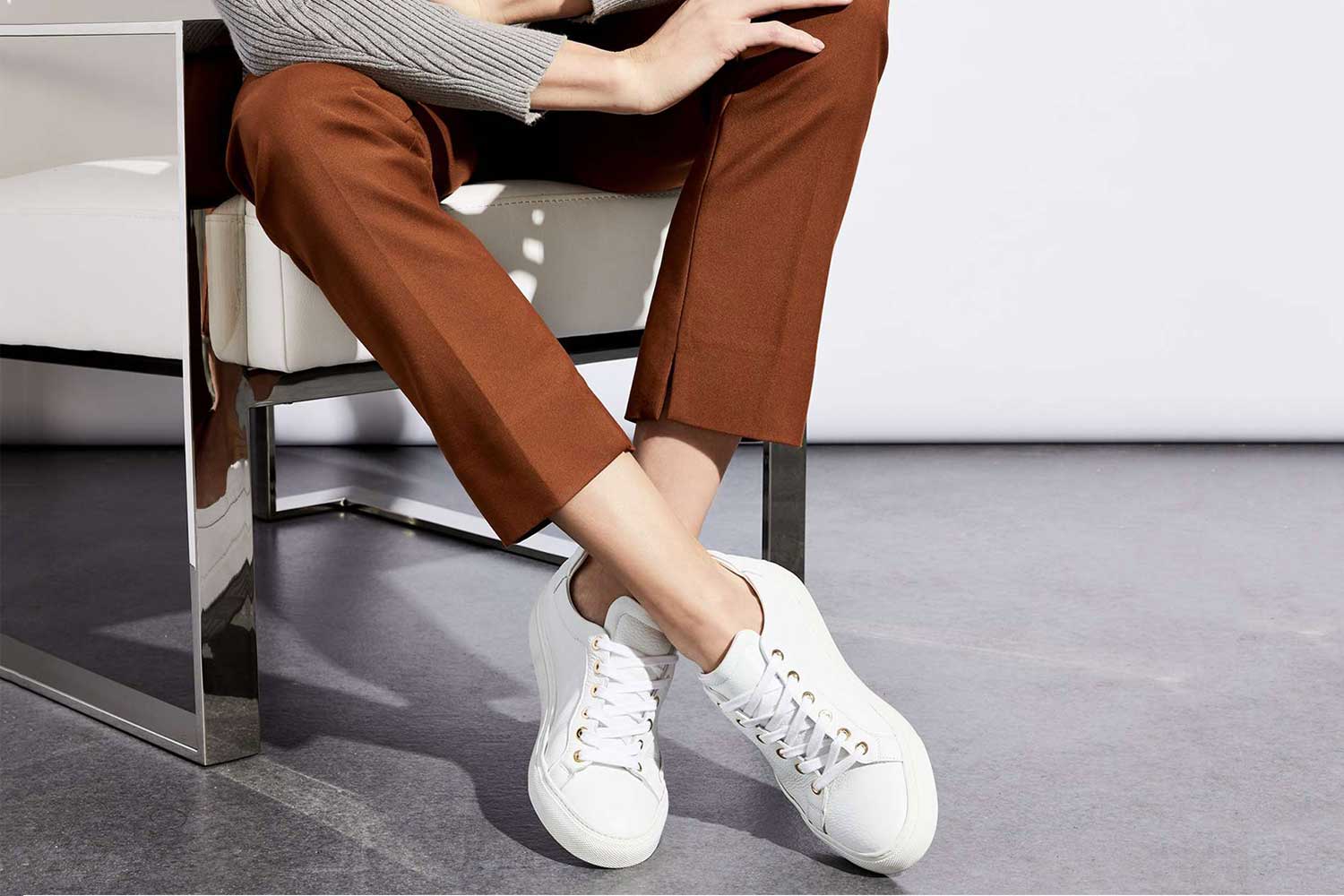 How to Clean White Sneakers
Right Out of the Box
Spray your white sneakers with a stain and liquid repellent like this one before you wear them.
These are essential for creating a protective barrier around the fabric so potential dirt and puddles will roll off and be easier to remove.
Use this on any of your white shoes, but especially white sneakers like Converse, which are made from canvas!
Spot Clean
White sneakers require just a bit more maintenance than other shoes.
In a city like New York where I'm walking everywhere, I take a minute or two when I get home to check for any dirty stains. I'm not going to lie – it's definitely tedious and not for everyone.
ADVERTISEMENT
---
---
If you want white shoes to stay white, use a stiff brush like this one to gently wipe off any stains or scuffs the day they happen. The longer stains have a chance to sink into the fabric, the more risk they'll permanently set.
Another great option?
We use these magic erasers for scuffs on our walls, and they're great at spot cleaning white shoes too. Or, if you don't have any of these on hand, dip an old toothbrush into some vinegar and rub it on the stain.
ADVERTISEMENT
---
---
Washing Machine
I wouldn't make a habit of doing this, but if your white shoes are fabric based (not leather or suede) and deeply dirty, you can put them in a washing machine.
To protect them, put your sneakers in a delicates wash bag and run them through a delicate cycle. Add in a little baking soda to the wash to get an extra white result.
The strength and spin of a washing machine drum can ruin shoes, so opt for this as a last resort. I also like to take the laces out and let them wash in the cycle separate from the shoes. That way the machine can clean the full length of lace.
After, let them dry indoors away from the sun. Stick in some old magazines or paper towels to help soak up moisture and allow them to dry faster.
ADVERTISEMENT
---
---
Shop Womens White Sneakers
---
ADVERTISEMENT
---
---
Read More in my favorite Comfy Shoe series:
Most Comfortable Shoes
The Most Comfortable Flats EVER
The Most Comfortable Sandals for Summer
The Most Comfortable Boots for Winter
The Most Comfortable Heels (you can actually walk in)
Best Sneakers
The Best White Sneakers that Go with EVERYTHING
Cute Casual Sneakers to Wear Anywhere
Best Boots
The Best Chelsea Boots to Wear All Year Round
The Best Lace Up Boots for Military Inspired Chic
The Best Over the Knee Boots that Make a Statement!
The Best Shearling Boots to Stay Cozy this Winter
The Best Black Combat Boots That Go with Everything
Cozy At Home Shoes
The Best Mules for Easy Slip on Style
The Best Loafers to Look Polished but Stay Comfy
Shoe Reviews
The Best Travel Shoes in Every Style - Sneakers, Slip Ons, Flats & Sandals
Everlane Flats - These 5 Pairs are Extra Comfortable
OluKai Shoes: Sneaker & Sandal Review
Where to Get Stuart Weitzman Boots on Sale
Designer Inspired
The Best Cap Toe Ballet Flats to Get the Chanel Look, for Less
Classic Chanel Inspired Slingbacks (Two Toned)
The Best Chanel Inspired Espadrilles to Rock All Summer
The Best Manolo Blahnik Lookalikes
The Best Over the Knee Boots that Rival Stuart Weitzman Lowlands!
Follow me @Sher She Goes on