Everything you need to include on your packing list for Europe: what to wear, what to bring, souvenirs, recommended camera gear and luggage!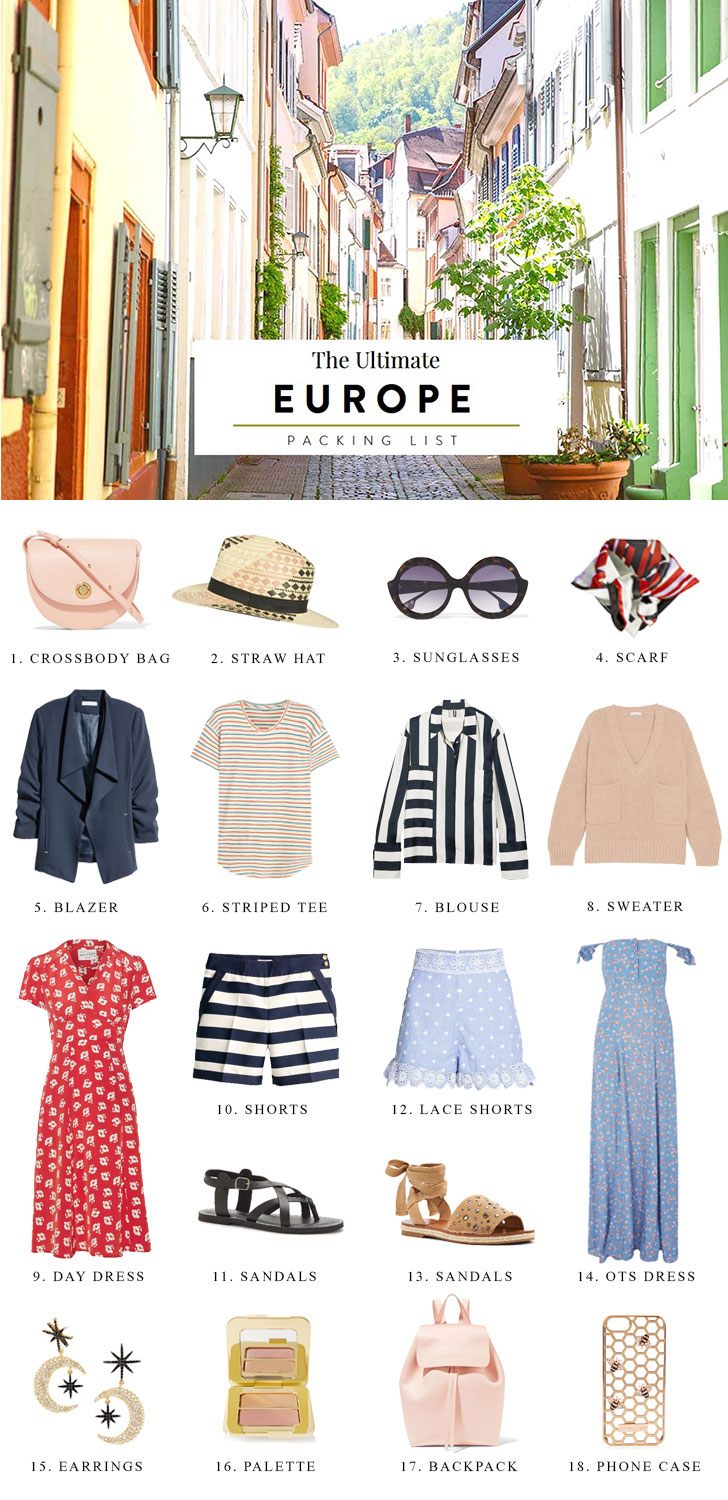 Europe Packing List (for Spring and Summer)
---
Click the icon next to each image to shop directly on the retailer page or browse via the links below. I've also linked more affordable options throughout the post.
1. Pink Crossbody Bag | 2. Straw Hat | 3. Sunglasses | 4. Printed Scarf | 5. Navy Blazer | 6. Striped T Shirt | 7. Striped Blouse | 8. V-neck Sweater | 9. Red Day Dress | 10. Navy Striped Shorts | 11. Black Sandals | 12. Blue Lace Shorts | 13. Ankle Wrap Espadrilles | 14. Off the Shoulder Floral Dress | 15. Star Earrings | 16. Blush and Bronzer Palette | 17. Backpack | 18. Phone Case
The Ultimate Packing List for Europe
I'm headed off to Europe this weekend for summer vacation and can't wait! I've been to Europe many times and think I've nailed down the art of what to pack so here's my ultimate Europe packing list for summer and spring.
Europeans dress just a touch more formally than we do in America so I'm packing lightweight tops and longer shorts with subtle accents for my summer Euro trip. I particularly love lace and stripes for summer wear! All of the fabrics are easily cleanable and breathable in the heat. Here are the essentials you must pack for your European vacation!
Read more:
A First Timer's Guide to Paris
Packing List for Europe in Summer / Spring
Clothes | I recommend packing breathable tops and a couple pairs of jeans and shorts to mix and match. I want to be comfortable sightseeing but I also still want to look nice, so I recommend stain resistant blouses and tank tops and then I usually pack a blazer or light sweater for chillier evenings.
European countries generally do not use AC so I stick to lighter, cool fabrics and I don't worry about packing a jacket for AC chills.
Shoes | Europe has tons of cobblestone streets and you'll likely do a TON of walking. I recommend comfortable sneakers like these for sightseeing and all around day wear. I'm also loving comfortable strappy sandals like this black leather pair from Lucky Brand and a slightly dressier sandal, like these ankle wrap espadrilles to pair with flow-y off the shoulder dresses.
Accessories | A large scarf is essential. It can cover your shoulders if you want to visit a church and can also keep your neck warm on chilly days. I never travel without a scarf.
For dinners or shows, I also bring a couple inexpensive but cute costume jewelry pieces. My current favorite shop is Bauble Bar – they've got loud statement pieces, dainty pieces and everything in between… and they're really affordable so if you lost an earring you don't get too worked up.
If you're traveling to Europe in summer, don't forget a hat! I like bringing inexpensive straw hats to protect from the sun and to also make the outfit :)
Watch | With all the changing time zones, I also recommend a watch! I got the Fossil Explorist smartwatch over the holidays and love how connected I am with it – even on the go! If you love travel and fitness, this is the perfect watch. It easily notifies you on the go, so you can get real time updates from social media, texts, emails, alarm clocks and calendar alerts. There's a handy built in fitness tracker to help you keep fit and mindful of your steps, even when traveling, and it connects to wifi via bluetooth! I know that sounds like a lot of functions. If you have favorites, there are 3 buttons on the dial so you can customize which functions you use most. The straps are also interchangeable – I like the metal links personally. Check out all the features here.
Bag | I recommend a backpack or large tote bag for day trips as well as a smaller cross-body bag for everyday sightseeing. I currently use this extra large travel friendly Lipault tote bag which doubles as my carry on in airports. It fits loads, including a laptop, spare change of clothes and all my camera equipment plus there's a handy slip pocket to loop over a carry-on suitcase.
I also usually bring a smaller bag, like a cute cross-body bag. For my favorite travel backpacks, you can reference this post.
Wifi | No Europe trip packing list would be complete without this! Chances are, if you're visiting Europe you're traveling throughout multiple countries and cellular zones. I recently discovered KnowRoaming, which has a global SIM card that you pop into your phone once and top up at will. It automatically connects to each country's local network with just the one SIM card.
Here's why I loved using KnowRoaming:
Unlimited data in over 90 countries and free WhatsApp usage anywhere – I just learned that you can make free calls with WhatsApp in addition to texting internationally! How did I not know this?
I downloaded the KnowRoaming app on my phone before my trip to Italy. Once I arrived in Milan, I switched to the KnowRoaming sim card and used it daily to help me navigate with google maps, buy tickets online, find great restaurants near my location.. and of course to surf the web and use social media!
You can monitor your usage and spending. Their mobile app tells you in real time how much data you're using. There's nothing worse than unexpected sticker shock at bill time so I thought that feature was quite handy! You can also top up directly through the app when your credit runs out.
KnowRoaming offers different plans.
Purchase a set amount of data – for example, if you only plan to use data to text and use WhatsApp to call for free.
Unlimited data – the unlimited data package starts at $7.99 per day.
Check if the unlimited is offered in the country you are traveling to, as it's not currently supported worldwide. I used the pay as you go plan, which offers slightly stronger signals but obviously can get expensive if you use it as much as I do.
To save on cellular usage, don't use Instagram stories or Snapchat when traveling. Those features download videos to your phone and are a sneaky bandwidth hog!
Note: KnowRoaming does not support text messaging, but you can use WhatsApp or Facebook Messenger to message for free instead. If you have an iPhone and so do most of your friends and family, you can still iMessage each other for free using the sim card data.
Try It:
 If you'd like to give it a go, you can get
50% off
the purchase price of a KnowRoaming SIM card or SIM sticker plus an extra
$5 account credit
with code '
SHERSAVE50
'.
If you try it, please let me know your thoughts! I am curious if you like it as well or if you'd recommend a different service.
Travel Bags, Necessities and Electronics for Your Europe Trip
Suitcase | If you're visiting Europe for two weeks or less, I recommend bringing a rolling suitcase, just because I find it more comfortable to push luggage rather than carry on my back. I've reviewed all my favorite carry on luggage brands in this previous post here and am currently using my Delsey large suitcase and my Raden carry-on luggage for Italy.
Packing Cubes | I like to group clothing by color or function and pack each group of items snugly in their own packing cube. These are a lifesaver for keeping your suitcase organized in your hotel room and are my number 1 secret to maximizing space in just a carry on suitcase. I typically reserve one packing cube for all my worn clothes to separate the dirty stuff from my fresh clothes!
Amazon has their own inexpensive 4 piece packing cube set and several travel blogger friends swear by this set from eBags. Personally I use a set from CalPak which I love. They're machine washable for easy cleaning and have a mesh panel so you can see easily what's inside.
Toiletry Bottles | Optional, but I currently like these for shampoo and conditioner. If I know I'm staying in nice hotels, I don't always bring shampoo but I always want my conditioner. I also pack extra ziplock bags to keep toiletries and wet clothes safely contained.
Portable Charger | Definitely a must! I currently use an iPhone 6S Plus and this Anker portable charger keeps my phone fully charged at all times. The charger is small and sleek enough to fully charge an iPhone twice. Anker has great customer service – I once bought a product off Amazon that ended up dying and they quickly sent me a replacement free of charge, so I highly recommend them!
Electric Converter | If you are international, you'll need a US converter. Also pick up a travel sized power strip so you can charge your laptop, phone and everything in one go.
Photographing Your Europe Vacation: Camera Packing Checklist
Camera and Lenses | When traveling in Europe, I find myself photographing lots of architecture and food. My two go to lenses are both zooms, with one being the 24-70mm for portraits + food while the other is a 70-200mm for castles + far away buildings. For example, I was able to get great shots of German castles on the Rhine due to the zoom.
They're both pretty heavy so I'm looking to find a lighter camera soon.. but for top quality photos, I still love the Canon 5D series. This is my go-to travel camera!
I also bring along a GoPro to capture any action like bike riding or swimming. I recommend the GoPro Hero5 Black because it takes sharp footage and has a camera LCD screen on the back. I used to use the GoPro 3 and never knew what I was taking because it didn't have a screen – that was frustrating, to say the least.
Camera Accessories | Along with the camera, I recommend a spare battery, battery charger and extra SD and CF cards. The cold can make your device batteries drain faster so it's helpful to bring along a spare battery on your person.
I shoot primarily with SD cards since you can insert them in your laptop to easily offload, but I keep all my cards in this wallet to keep them organized and easily reachable. This memory card case that I use fits both SD and CF cards and was under $7.
Lenovo Yoga Book | Recently, I've ditched my laptop on trips, in favor of this 10″ Lenovo Yoga Book for travel. It's all white, super lightweight and very chic. The best part is its design friendly and can easily switch from a drawing bad surface to take notes/draw and a keyboard for typing. The keyboard is a lightscreen, so there's no actual keys and grooves for dirt, dust, food, etc to get stuck in – perfect for travels in Europe!
Note – it doesn't fully replace a laptop though. The keyboard is quite sensitive and the storage is that of a mini book, so I still use my full size laptop on a day to day basis.
So that's my Europe packing checklist! Am I missing anything – what can't you live without on your vacation?
Europe Vacation Checklist
Read more: Sailing the Rhine River on a European River Cruise and eating my way Through the Best Desserts in Paris
Save this post by pinning it for later or read the full series: 
---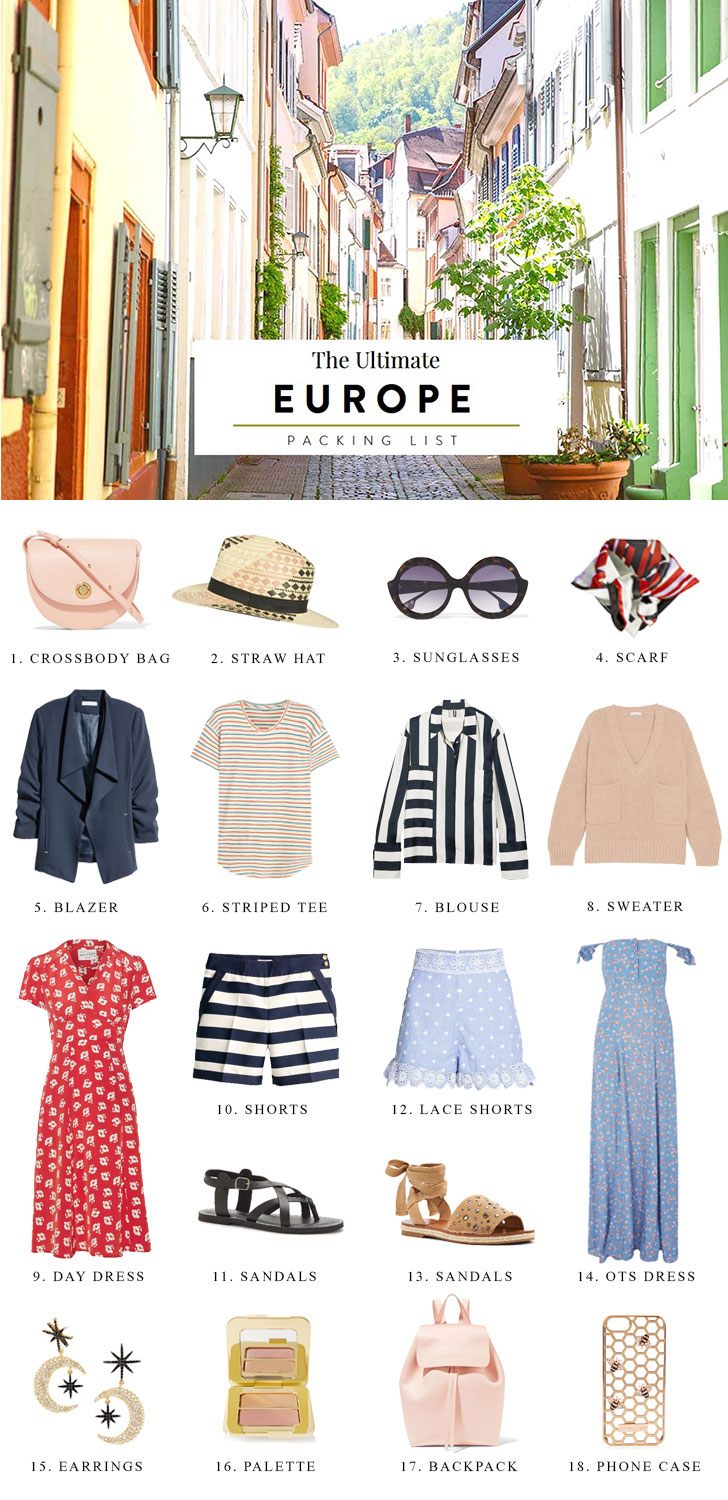 What to Pack for… Country Series
---
Follow Sher She Goes on
Bloglovin | Facebook | Twitter | Pinterest | Instagram
---