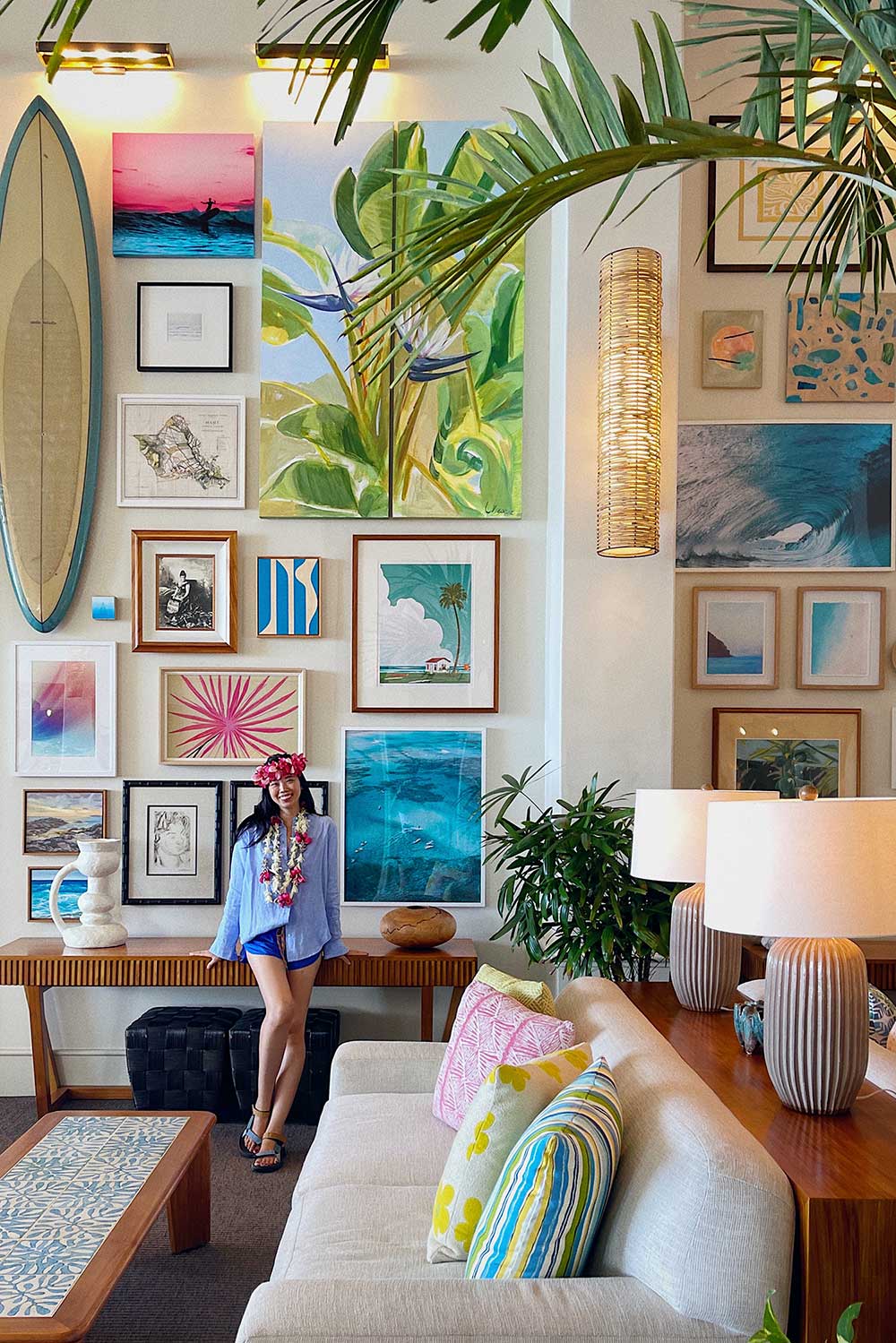 wearing linen shirt & tevas
Hawaii Packing List
We just got back from a trip to Hawaii and had the best time!
Sunshine, beautiful beaches and a fun food scene all made our tip on the islands memorable. If you're traveling to the Hawaiian islands and curious about what to pack, then keep reading!
Here's a packing guide for Hawaii including outfit ideas, must-have items and things you can leave at home.
ADVERTISEMENT
Keep reading, or pin this article to save it for later ⇟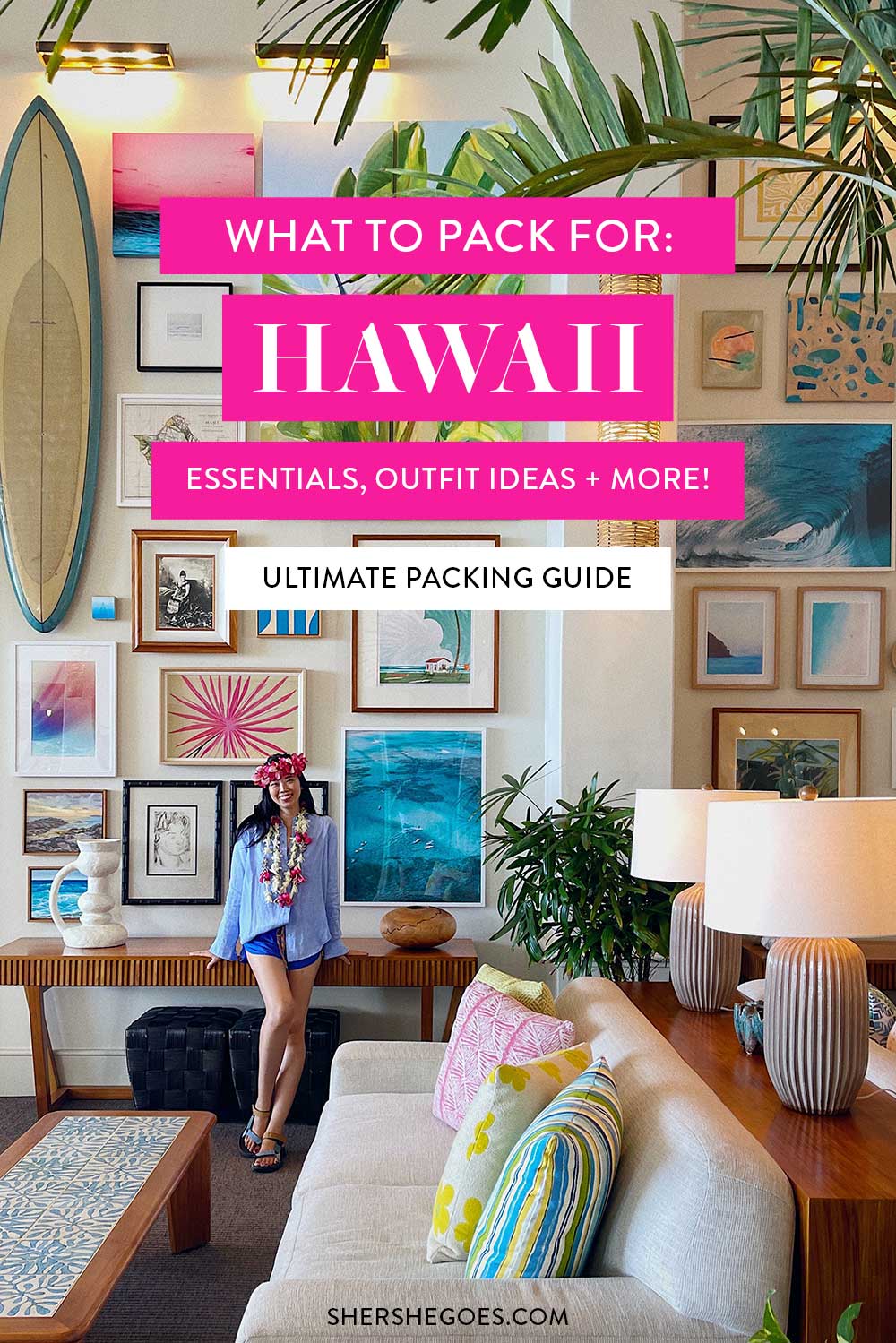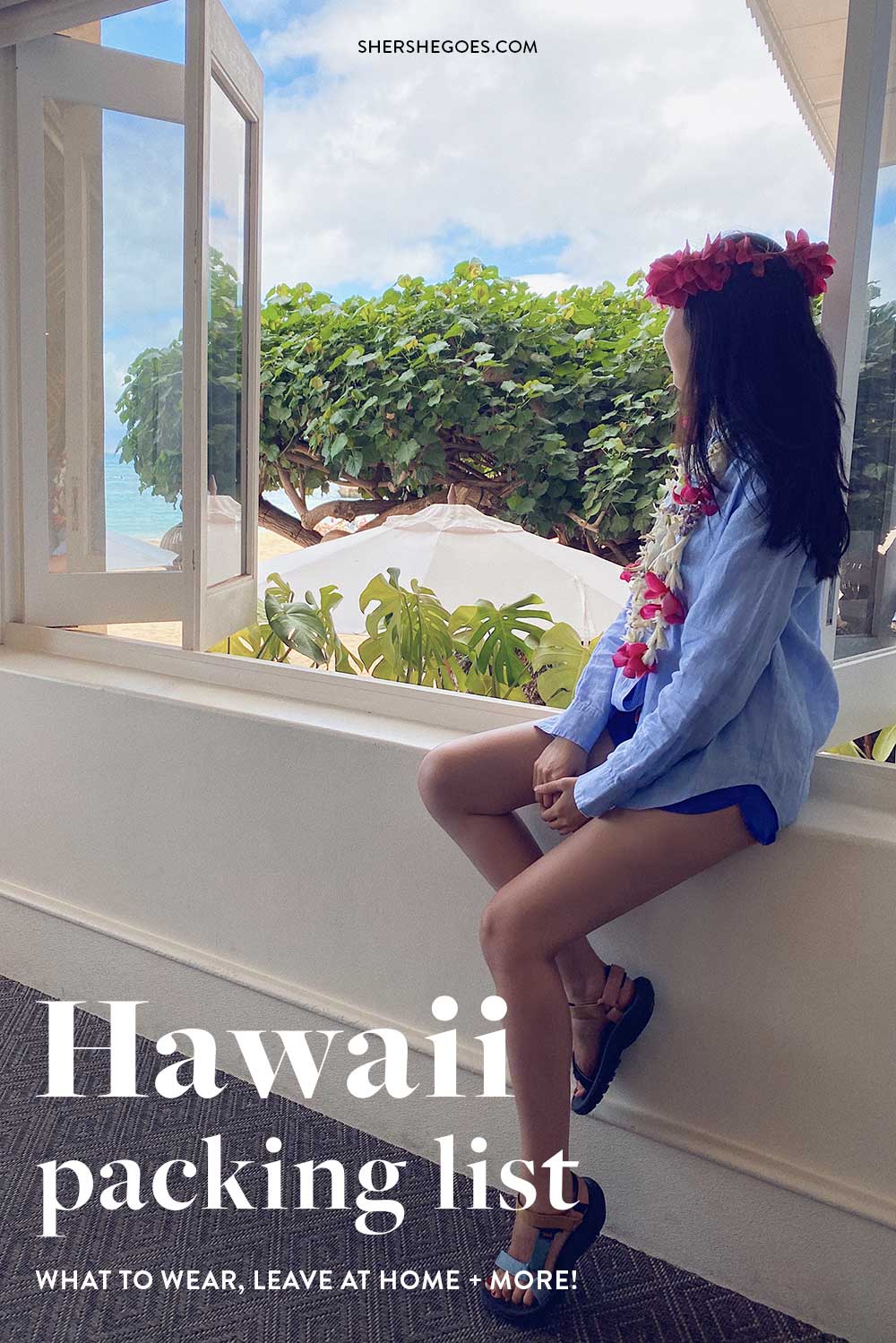 ADVERTISEMENT
---
---
What to Wear in Hawaii
For Hawaii, think casual! Packing for Hawaii is extremely easy because people on the islands dress very laidback. We even saw some people walking around barefoot.
similar floral dress, black ribbed hoodie & sleep shorts
Sundress
I think sundresses are such a cute girly way to look dressed up.. without actually getting uncomfortably fancy. Throw on a breezy sundress over your bikini, or wear it during the day as you sightsee around Hawaii.
Denim Shorts
One or two pairs of jean cutoffs will come in handy. They look great with just a white bikini or one piece and they're what you find most local wearing day in and day out!
ADVERTISEMENT
---
---
wearing linen shirt, linen shorts, water shoes, long sleeve swimsuit & black rec shorts
Cute Tops
If you like to dress up and want to look a bit more put together for dinner, pack a couple cute tops. I like anything floral or fruit printed or with puff sleeves and square necklines for the summertime.
Shorts
Originally I was going to pack one pair of linen trousers, because I saw other Hawaii packing guides recommend them, saying restaurants and stores blasted the air conditioning to extreme levels.
I ended up taking them out at the last minute (overweight luggage problems) and didn't miss them! I found Hawaii to be hot, hot and more hot and if there was strong AC from a store or restaurant, it was a relief.
So I'm so glad I packed a mix of shorts!
I brought a couple pairs of lightweight quick dry shorts that I could wear on hikes or beach days, and two pairs of slightly dressier shorts (in silk and linen) for dinner.
That was perfect – I definitely don't think you need to bring jeans, trousers or long pants of any kind, unless you want to.
ADVERTISEMENT
---
---
Button Down Shirts
The #1 thing I wore the most?
Button down shirts!
I packed a couple linen shirts and wore them practically every day. In thin cotton or linen, they're lightweight and can shield you from the strong Hawaiian sun.
Button downs also make great beach cover ups over your swimsuit or just as an extra light layer if you're indoors in air conditioning. We often went from the beach to a hike, or vice versa, so I wanted to protect my skin but at the same time, not overheat!
You can also bring a spring jacket, cardigan, or loose knit sweater if you prefer to be more covered up.
Lightweight Rain Jacket
If you're visiting Hawaii during the wet season, there's typically a short afternoon burst of rain. It comes and goes quickly, but it's really annoying if you get stuck in a downpour!
Pack a lightweight rain jacket that you can throw in your day bag.
I have this one from Arc'teryx that's really come in handy over the years! It was a little expensive but the quality is un-matched as it's made from Gore-Tex. Plus it crumples down to practically nothing.
ADVERTISEMENT
---
---
wearing linen shirt, tevas, french terry tee & lightweight joggers
Hiking Clothes
Hawaii is pretty famous for it's scenic mountains and going on a morning or evening hike is one of the most popular things to do on the islands.
Don't worry if you're not a hiker – I loathe hiking and we still squeezed in a couple during our time on Oahu! There's all sorts of hike options too. Some are paved paths, others are steps and some are a bit more adventurous.
I'd pack athletic wear or comfy workout clothes that you don't mind getting dirty.
Some of Hawaii's most popular hikes involve muddy paths through the woods in order to reach a waterfall, so bring long pants instead of bike shorts and pack a couple pairs!
ADVERTISEMENT
---
---
Clothes in Hawaii
You're on an island! This is the trip to bring all your cute one pieces and bikinis because you'll get a ton of wear out of them.
Bikini
Bikinis are great for Hawaii because they're so easy to wear. But it can be a little tricky finding a flattering suit!
Personally, I like a high-waisted bottom. It elongates your legs and provides a little bit of extra coverage. I recommend packing a swimsuit for every day of your trip. You'll definitely use them all in a place like Hawaii!
Here are some of my favorite options:
ADVERTISEMENT
---
---
wearing sun hat, bikini, skirt, & reversible bikini
One Pieces
For water sports and activities, I prefer wearing a one piece.
There's nothing worse than going to surf for the afternoon and spending the day instead finding your missing bikini tops, ha!
And the best part is there are really cute one piece swimsuits now. You don't have to look frumpy or dowdy!
Cover Ups
A cover up is always nice to have when you'll be spending a lot of time in your bikini and going from the beach to a food truck to a coffee shop, etc.
There are so many cute, affordable cover ups now or shop the ones below!
I also love an oversized men's button down shirt and a beach-y crochet dress.
ADVERTISEMENT
---
---
Plus rash guards come in so many prints and price points! You don't have to splurge and investing in one long sleeve piece will protect you from sun aging down the line.
ADVERTISEMENT
---
---
Snorkel Set
There are so many fantastic beaches in Hawaii with vibrant coral reef systems and colorful marine life. And let's face it – the opportunity to swim with turtles and dolphins is magical!
Some of the more touristy beaches like Hanauma Bay will rent snorkel gear. If you take a tour to swim with dolphins in the wild, or this incredible cage shark diving tour, they'll definitely provide gear too.
But personally, I think it's gross sharing snorkel sets and that was before the pandemic hit. Can you imagine sharing a mouth piece now?
No, thank you.
It's also much more cost effective.
In Mexico, in Hawaii, in most touristy beach destinations, it costs ~$20 dollars to rent snorkel gear – just for the afternoon. That's basically the price of a basic snorkel set that you can keep and re-use forever.
Do yourself a favor and just buy your own before your travel!
Buy affordable snorkel gear on Amazon.
ADVERTISEMENT
---
---
Footwear
Comfortable Sandals
When you're in Hawaii, you're on island time. Pack sandals or flip flops so you can relax!
For comfort, try Birkenstocks or Olukai, a local Hawaiian brand. Both are known for making high quality sandals that are extremely comfortable! I have an in-depth review of my Olukai strappy black sandals here.
For something that balances comfort and style, try Everlane sandals.
I've also linked cute sandals below, that are great for going out to dinner or light walking days!
ADVERTISEMENT
---
---
Sneakers
A good pair of sneakers will come in handy for walking around day to day, especially if you plan to go sightseeing!
I also recommend sneakers for going hiking, as most of the popular hikes in Hawaii do get pretty muddy. Try brining an older pair of closed toe shoes that you won't mind getting ruined.
I also love a classic white sneaker. They're comfortable, great to walk in for sightseeing and match pretty much every outfit! White sneakers go with denim shorts, a floral sundress – you name it.
ADVERTISEMENT
---
---
Water Shoes
Water adventures are abundant in Hawaii. Honestly you probably won't enjoy Hawaii if you don't like the water?
Whether it's snorkeling, kayaking or cliff jumping, a sturdy pair of water shoes really comes in handy.
They're also great for muddy hikes where you plan to hike first thing in the morning, get all sweaty, and then cool off in the beach!
I like these Speedos which have a thick protective sole if you like a fully covered option. For a more open water shoe, Teva makes lots of colorful styles.
I wore these fun rainbow Tevas for the entire trip and they were super comfortable, with a cushioned foot bed. I also thought the soles had really great traction and even wore them hiking.
A lot of the beaches in Hawaii (especially the ones great for snorkeling) will have sharp pebbles or be slippery and sharp. So wearing a good pair of water shoes will prevent your feet from getting cut up!
Read more:
The Best Water Shoes for Women
ADVERTISEMENT
---
---
Accessories
Sunglasses
ADVERTISEMENT
---
---
Reusable Water Bottle
ADVERTISEMENT
---
---
Sunscreen
ADVERTISEMENT
---
---
Aloe Vera Gel
When I was a child, my grandma had a cactus plant and would pinch of a leaf and take out the gooey gel on the inside to spread on my nicks and burns.
Aloe vera gel is really soothing and has anti-microbial properties, so it's especially great for sunburns. Bring this along if you burn easily!
Or, if you're traveling with a significant other or friend who loves to tan and refuses to use sunscreen. The sun in Hawaii can be deceptively mild but it will burn you if you go out unprotected!
And, as with most drugstore products, it's much cheaper to buy it from home and pack it just in case, than to buy it in Hawaii.
Buy aloe vera gel on Amazon here.
ADVERTISEMENT
---
---
Bug Spray
I don't know what it is but mosquitoes love me. I could really do without the attention but to protect myself, I always bring a good bottle of mosquito repellant with a high DEET percentage.
I've also used these mosquito repelling bracelets and these stickers in the past (for my trip to the Amazon jungle).
I used everything all together so I can't pinpoint if one worked particularly better than the others.. but in my opinion, better to be extra protected than attacked!
ADVERTISEMENT
---
---
Cooling Towel
If you're sensitive to the heat, get a cooling towel for your trip.
I learned about these on my trip to the Amazon basin, where a friend had one. It's kind of a genius invention – there's no chemicals but somehow wrapping the cooling towel around your shoulders or head provides instant relief.
These towels are small and don't take up much space, but they remain chilled for up to 60 minutes and run 20 to 30 degrees cooler than the outside air temperature.
Once the cooling effect starts to lessen, dip the towel in water, wring it out and the cooling effect repeats!
Buy cooling towels on Amazon here.
Windproof Travel Umbrella
Each island in Hawaii has a rainforest section where it's much wetter and windier. For example, the Leeward Coast on Oahu or the Road to Hana section of Hawaii.
Chances are, you'll want to visit for a chance of scenery so pack a windproof travel umbrella that can easily fit in your carry on and save you from getting completely soaked!
I have a whole post on recommended travel umbrellas.
Buy travel umbrellas on Amazon here.
ADVERTISEMENT
---
---
Floats
Grab some fun floats to enjoy your time in the water!
Pick them up on Amazon here, and just pack them unopened in your suitcase. Any of the ABC stores on the island will inflate them for you for a nominal fee.
Leave In Hair Conditioner
All the time spent in the water can damage your hair.
If you have room, pack some leave in conditioner to provide your hair with extra moisture and protection! I like this conditioning spray.
I also like this beach texturizing spray. It's so hot and humid in Hawaii that I don't bother with doing my hair properly. Mist in some beach spray and get that nice tousled, beachy look!
ADVERTISEMENT
---
---
Sun Hat
I'm obsessive about protecting my skin from the sun, so I always pack a sun hat for tropical climates.
There are so many cute, flexible sun hats that easily fit in a carry on bag. You can check out my full post of recommendations here!
Hair Accessories
I always like to tie my long hair up in the heat, so don't forget hair ties. They'll especially come in handy when you're hiking!
For some cute hair accessories that will look great in photos, consider a hair scarf, headband or claw clips!
They're such an easy way to add interest to your outfit, especially if you're like me and only want to wear breezy, comfortable basic clothes in the heat.
ADVERTISEMENT
---
---
Travel Bags
After visiting 6 continents, I've learned a thing or two about efficient packing. Here's what I recommend to stay organized (and under the weight limits)!
Straw Bag
I packed a cute straw tote bag for nights when we dressed up a little to go out to dinner. They're cute for tropical vacations and so easy to throw in your luggage, because they lay flat!
Or bring along a cute straw bucket bag!
ADVERTISEMENT
---
---
Dry Bag
While a beach tote or straw bag is really cute, it's not that practical for actually spending a day near the water.
So I also recommend a dry bag! I picked one of these up when I learned how to scuba dive, as all the divers used them, and I can't recommend them enough. You don't have to be a pro swimmer or surfer to find these functional.
They come in all different sizes, are easy to throw over your shoulder, and keep everything you need for the day nice and dry!
This one is an affordable option (and comes with a phone dry pouch!) while this one is a larger, high quality option you can also wear as a backpack.
ADVERTISEMENT
---
---
Backpack
I usually 'Russian-doll' my bags so that I can fit a couple on a trip. I mean, you never know what size handbag you'll need for the day!
For hikes or heavy sightseeing days, I prefer a backpack. It can hold all my camera gear, plus a change of clothes, a towel and water bottle, plus any souvenirs. I've used this small Arc'teryx one for years and it's durable, lightweight, folds flat and can actually fit a ton of stuff!
I've used a lot of different brands throughout the years but some of my favorites include
ADVERTISEMENT
---
---
Quick Dry Towel
Hawaii is famous for its beaches.. but it's also foodie heaven.
There are so many incredible food trucks dotted throughout the islands. Pack a quick drying towel so you can easily dry off after a swim or surf and then head straight to your favorite food truck for a refreshing acai bowl!
A giant beach towel also comes in handy. While hotels have regular towels and pool towels, you won't be able to bring them as you road trip throughout the islands!
I love these Turkish towels. They're cute, affordable and don't take up much space.
Buy quick dry beach towels on Amazon here.
ADVERTISEMENT
---
---
Luggage
Since Hawaii is considered a domestic destination, we flew carry on only to avoid paying extra bag fees. It was tough squeezing everything in in just a carry-on bag but we managed!
I've been using my lightweight Calpak suitcase for years. It's taken a beating but still looks good, and I like that it's a sleek hardside but still has extra room with an expandable zipper.
You can read my reviews of more carry-on luggage brands here.
ADVERTISEMENT
---
---
Personal Bag
Maybe you can tell by this detailed packing list… but I like to travel prepared. The downside is finding a way to fit everything!
I usually travel with a carry on suitcase and this tote bag.
Together, they meet all the luggage requirements for US airlines and they're easy for a single girl by herself to lug around. (I used to panic at the thought of not being able to lift my carry on into the overhead bin, ha).
This Lipault tote bag is one I've used for 5 years and counting, and it's only just starting to show some wear and tear at the corners.
It's made from heavy duty nylon so it can take a beating and won't show dust or dirt marks. The inside is incredibly roomy so you can fit everything you need for the flight here (laptop, cameras, change of clothes, etc).
In the back there's a sleeve for the bag to slide over your suitcase handle too!
ADVERTISEMENT
---
---
Packing Cubes
Packing cubes are a lifesaver!
They keep your clothes organized and allow you to fit way more in your suitcase than you thought was possible.
I have a whole post on my favorite packing cubes, but in general you want to look for a set in different sizes that offers compression.
If they're color coded or can fit shoes, even better!
ADVERTISEMENT
---
---
Travel Wallet
I find a travel wallet comes in handy on vacation.
It can securely hold cash, credit cards, your room key and any other important documents all in one place. It's also a good idea to keep the important things separate from the rest of your luggage and stuff – just in case anything happens.
I've compiled all my favorite travel wallets that are stylish and functional in this post.
Hawaii is one place where it's useful to bring some spare cash.
On Oahu, there is a local bus that serves the Waikiki area but it's cash only and doesn't give change. Likewise, you'll find you often have to pay for parking or entrance admissions to local beaches and hikes in cash.
ADVERTISEMENT
---
---
Toiletry Bag
Since I usually travel carry-on only, I stock my toiletry bag with miniatures of all my skincare and makeup. There's always tons of cute toiletry bags in all different shapes, sizes and price points!
I've rotated through so many toiletry bags over the years, because lately I've been loving this option from Peak Design.
It's simple and elegant and has the dual ability to sit upright on a counter, or hang via a stow-able hook! There's tons of internal pockets so you can fit way more than you need and still keep it all organized.
Kindle
I love a chill pool day, sipping frozen mango margaritas and curling up with a fluffy beach read.
If you love to read, or think you'll want a day or two of rest in your Hawaii itinerary, get a Kindle! They're really handy for travel days (especially on the incredibly long flight to Hawaii).
I also like that Kindles are a single purpose device. I find I get too easily distracted reading on my iPad, whereas I never do with my Kindle!
Best of all, the Kindle screen is anti glare so you can read without straining your eyes – even lying directly under the sun on the beach!
ADVERTISEMENT
---
---
Travel Insurance
Travel insurance is one of those things you never think you need… until something happens.
It's a little unfortunate, but it's not uncommon for thieves to target parked cars in Hawaii.
There's been too many incidences of people leaving their car at a popular tourist site, like before a hike or at a beach, and returning to smashed windows and stolen belongings.
We were fortunate not to have any major accidents, but there was one mishap…
We had just finished snorkeling and headed across the street to grab some lunch at the North Shore food trucks when I realized I needed a mask.
I grabbed the keys from my friend, headed back to the car and found a spare mask in the trunk… only to place the keys down to put the mask on. I instinctively closed the trunk on the keys and locked us out of car ugh.
We ended up using our car insurance to help us out, and it only took about an hour of waiting. Not too bad! When I think of what we would have done without insurance… I honestly don't know.
With the upheaval of the pandemic and the last year, I think travel insurance is a 'better to be safe than sorry' add on for simple piece of mind.
Whether you get injured and need to be hospitalized, your phone gets stolen, or a flight delay leaves you with nothing but the clothes on your back, insurance will help when you need it most.
Get a quote for your trip here.
ADVERTISEMENT
---
---
Phone Charger
Nowadays I use my camera for everything.
To take photos all day long, to look up driving directions of Google Maps, to search great restaurants in the area, reviews of activities… you name it.
So pack a portable camera charger to ensure your trusty phone never dies on your trip!
I recommend this phone bank – it's a brand well known for heavy duty, reliable charges. Plus, it can fully recharge your phone several times on a single charge!
ADVERTISEMENT
---
---
Car Charger
Most people who go to Hawaii do choose to rent a car, since that way you can see *a lot* more of the islands.
If you're like me, you use your phone to navigate, play Spotify, and search for cheap gas as well as a great restaurant on the way – all of which can drain your battery quickly!
Just make sure to bring a car charger so you can keep your phone charged as you drive. I got this inexpensive one off Amazon several years ago for a road trip to the South and it's tiny enough to chuck in my luggage whenever I know I'll be driving.
Btw – if you do plan to rent a car in Hawaii, it can get very pricey. Make sure to book in advance for your dates!
I searched all the main car rental agencies, like Alamo, Enterprise, Hertz, National, Dollar, Sixt, Thrifty and Budget – but local company Hawaiian Discount Car Rentals offered the best rate of them all.
Browse car rental rates for your trip here.
ADVERTISEMENT
---
---
Worldwide Adapter
Hawaii feels like a world away, but it is part of the United States so you'll need an American style plug.
I always just pack a worldwide adapter, so I don't have to worry about the local electricity voltage or plug type. I highly recommend picking one up for all your trips.
This one is a sleek inexpensive option that has a plug type for every country!
ADVERTISEMENT
---
---
Travel Power Strip
I find that too many hotels have one outlet in a random, inconvenient corner and it can be frustrating at night when multiple people each have multiple things they need to charge.
Plus, I can easily hog up 3 outlets between my laptop, camera and phone chargers, ha. So I started bringing along one of these mini travel-friendly power strips and it's been life changing.
They can charge multiple devices at once and they work pretty quickly too!
ADVERTISEMENT
---
---
Camera Gear
I often get asked how I take my photos or what gear I use, so I included this last section.
For the average person, bringing all of the gear below is probably overkill. But this is what I always bring on travel trips where I want to shoot content and might be handy for any fellow photography enthusiasts!
Camera
I love taking pictures when I travel so I do usually bring my full gear bag of camera equipment.
Camera stuff gets upgraded constantly so I'm always trying out new gear in hopes of finding the lightest, most compact and efficient equipment. Everything I use today is linked on my Amazon storefront here, with some notes on why I like each item.
If you're curious about what's in my kit, you can check it out here!
ADVERTISEMENT
---
---
Tripod
I never used to bring a tripod on travel trips because they're cumbersome and heavy. Actually all of the large tripods I use at home can't even fit in a carry on suitcase.
But then I discovered Peak Design.
I have this light and travel-friendly tripod which folds down to the size of a water bottle and is really easy to use. The legs have clips (as opposed to twist locks), and the ball head can take an iPhone adjustment as well as a DSLR.
It's made of carbon fiber so it's (relatively) light too! They also offer a more affordable aluminum tripod.
ADVERTISEMENT
---
---
Waterproof Phone Case
You don't need a fancy DSLR or mirrorless camera though to take great travel photos. Honestly, I whip out my iPhone for most shots!
Bring along one of these waterproof phone case lanyards for your trip to Hawaii. They're inexpensive and they really work!
These are especially handy if you plan to surf, try a dolphin swimming tour or go kayaking!
I used it snorkeling and was even able to take some photos and video while it was inside the protective case!
Shop waterproof phone cases on Amazon here.
ADVERTISEMENT
---
---
GoPro
Even if you're not a blogger though, I think a GoPro is a really fun addition to take on trips where you know you'll be active.
They're small, easily packable cameras so they're meant to be accessible even when you're biking, running, swimming, etc.
GoPro Underwater
If you want to capture photos (or video) or your time snorkeling, surfing and kayaking, I recommend picking up this underwater housing dome.
This one allows you to use it underwater and has a cool circular divider so you can capture those half underwater / half above water photos.
Really fun for a day at the pool or snorkeling!
ADVERTISEMENT
---
---
GoPro Float
The float is a little device that attaches to your GoPro and forces it to float in case you lose the camera.
Years ago, I didn't think this was necessary ("I'll just hold on to the GoPro!, "I thought) – and then I got distracted scuba diving and lost the GoPro entirely.
So… now I always use one of these.
It doesn't guarantee you won't lose your GoPro but at least makes it easier to find if the two of you get separated.
SD Card
One thing you may not realize is GoPro's take a micro small SD card.
Just make sure to have a couple of these (or bring along an external hard drive to offload your footage) since chances are you'll be snapping away!
ADVERTISEMENT
---
---
Card Wallet
I typically am bringing 1 or 2 big cameras plus a small Vlog camera or GoPro, so I need a lot of SD cards.
To keep everything neat and organized within my broader travel bags and suitcases, I have this nifty card wallet.
It's super small and compact, but keeps each card separate, easy to read and dust free. I'll usually put empty, ready to go cards face up and filled cards face down to keep track.
And I like that it's so sleek, because it can fit in the interior zipper compartment of any handbag.
There's nothing worse than accidentally deleting travel memories off a full card before offloading the footage (or losing a card altogether!) so I find these small card wallets priceless.
ADVERTISEMENT
---
---
Follow me @Sher She Goes on