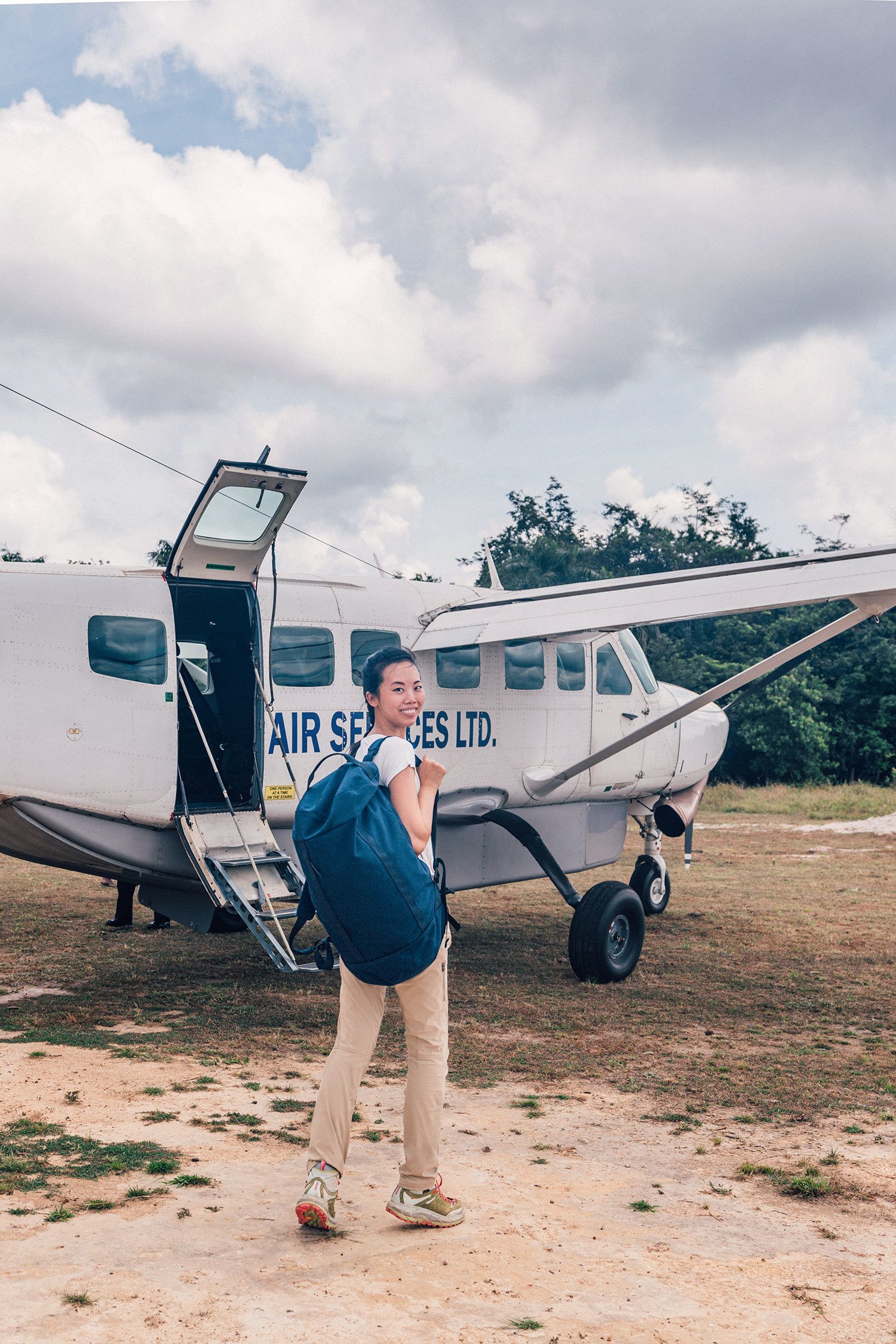 everlane backpack / content t shirt / columbia pants / hoka one one shoes
Amazon Packing List
For our trip to Guyana and the Amazon basin, we knew we needed to adhere to a strict packing list.
I've never been one for extensive camping, but our Guyana itinerary was action packed and we were looking forward to trying out some great day trips and tours: piranha fishing, mountain hiking, safari drives and more.
The only downside? Figuring out how to packing for the jungle!
The heat and humidity made this trip unlike any other nature based adventure we've taken. Add to that all sorts of bugs, reptiles and creepy crawlies, strict weight limits on small charter flights and frequent rain showers… well, we were glad we spent some time properly packing.
Here's a comprehensive Amazon packing list covering everything you need for the jungle!
ADVERTISEMENT
Keep reading or save this article for later ⇟
What to Wear in the Rainforest
The Amazon jungle is located right on the Equator, so it's a balmy 80+ degrees Fahrenheit all year round.
What was unexpected was the feel and weight of the humidity! From the second we got off the airstrip, we felt like we could taste the humidity.
The best time to visit the Amazon is right after the rainy season, from September – December. While there are still intermittent rain showers, water levels have subsided so roads are easier to navigate.
ADVERTISEMENT
---
---
Jungle Clothing
Adventuring in the Amazon can be rough so we knew our everyday clothes wouldn't cut it. It killed me a little inside, to spend so much on (what I call) ugly hiking clothes, but in the end it was worth it.
1. Long Sleeve Tops & Pants
ADVERTISEMENT
---
---
ADVERTISEMENT
---
---
Extra Change of Clothes
If you can fit it in your luggage, bring 2 sets of clothing per day.
A long sleeve and long pants version for hiking out and about in the day time, and then a comfortable pair of clean, dry, long-sleeved sweats or pajamas to lounge around the lodge in the evenings.
We even went to bed with our shirts tucked into our pants, tucked into our socks! You'll want to avoid as much skin exposure as you can.
You'll especially want extras for underwear, sports bras and socks! Washing your laundry is doable, but can often take a day or two just to dry in the jungle humidity.
ADVERTISEMENT
---
---
2. Hiking Boots
ADVERTISEMENT
---
---
3. Sandals
ADVERTISEMENT
---
---
4. Rain Gear
We got unexpectedly soaked one day as we were high up in Iwokrama Forest on the Canopy Walkway. Getting wet was refreshing at first, but then we just felt soggy and gross, so we had to turn back and change/shower.
Make sure to bring a waterproof backpack so any camera gear or essentials are protected!
ADVERTISEMENT
---
---
5. Backpacks, Duffels & Luggage
At the airport, they took this seriously and weighed not only ourselves, but our backpacks and luggage in addition to the entire group's supplies of food and gear.
ADVERTISEMENT
---
---
6. Sunscreen
The sun is really intense in the jungle so bring lots of heavy-duty sunscreen and reapply often. We brought 3 that were great:
Australian Gold tinted mineral sunscreen: this one is tinted and a strong SPF 50, so it's a nice way to get sun coverage and color correct. I would use this in the mornings only, as it can get slightly greasy if you over apply.
PCA sunscreen: this is by far my favorite American sunscreen. It's lightweight, non greasy and has strong SPF 45 coverage without any white cast or grease. You can't even feel it when you wear it.
Australian Gold sunscreen spray: I threw this easy-to-apply spray bottle in my day bag to top up throughout the day. The best part is it smells amazing – everyone in the group asked what I was putting on because they liked the scent!
ADVERTISEMENT
---
---
7. Insect Repellent
ADVERTISEMENT
---
---
For bites and a more natural approach, we also brought a small jar of lavender oil.
On a trip right before this to Upstate New York, where we also did lots of hiking and outdoor activities, a friend swore by lavender oil. She said it was the best natural remedy to repel mosquitoes so we brought along a bottle just in case.
Lavender oil does double duty to soothe bites and provide pain relief if you do get bit. Just be sure to put it on the bite right away.
As a bonus, it smells heavenly! Supposedly tea tree oil and peppermint oil are also good for warding off mosquitoes as well.
If that wasn't enough, some of us also wore mosquito repellent patches on the wrists and ankles.
Finally, you want to bring some cortizone or anti-itch cream for any bites – they itch badly! For extra duty strength, get benadryl antihistamine tablets or Tylenol that you take orally. Those will help to prevent scratching which inflames the bites.
ADVERTISEMENT
---
---
8. Binoculars
ADVERTISEMENT
---
---
9. Camera with Zoom Lenses
We didn't bring any zoom lenses! If you're serious about photography, make sure to pack the biggest zoom lens you have. The Canon 100-400mm lens is a great option, or you can buy these inexpensive extension tubes to magnify the lenses you do have.
To hold everything neatly and safely in the jungle, check out the LowePro DryZone bag. There's enough room to fit a bulky dslr and zoom lens along with any accessories.
We get a lot of questions about camera equipment – you can find our complete gear kit here.
ADVERTISEMENT
---
---
10. Toiletries, Wet Wipes & Soap
Forget about makeup and instead pack some heavy-duty makeup wipes to remove all the layers of sunscreen and insect spray! We also found wet wipes really useful for our overnight camping trips, or just to clean up in the middle of the day, before meals, etc.
You might also want to investigate cooling towels. Two people on our trip had them and they looked SO refreshing!
ADVERTISEMENT
---
---
11. Hats and Headlamps
At night, a headlamp was crucial.
Most of the Amazon lodges are off the grid and rely on solar power for energy. One lodge in particular turned off the electricity each night by 8pm and didn't re-open it until 4pm the next day!
It was a challenge getting around in the dark even with our flashlights and headlamps. If you plan to go camping or do any wilderness survival training, you'll also need a headlamp.
ADVERTISEMENT
---
---
arc'teryx daypack / everlane linen tee / patagonia pants / hoka one one hiking boots
12. Travel Insurance
You should always have travel insurance but definitely will want it for somewhere as remote as the Amazon! Guyana has had recent cases of yellow fever and malaria, so make sure to get your vaccinations and pills before you visit and get insured in case of any accidents!
You can get a quote for your trip to the Amazon jungle here.
13. First Aid Kit
The jungle is really remote, so plan ahead and bring some basic medicines. Think tylenol for any pain, diarrhea medication, bandaids and bandages as well as aloe vera for sun burns. Some of the travelers in our group went as far as to buy paracord!
ADVERTISEMENT
---
---
12. Refillable Water Bottle
It's actually quite easy to get dehydrated in the jungle, since you sweat SO much! Bring along a refillable water bottle and save some plastic.
Shop the Post
ADVERTISEMENT
---
---
Have a great time in the Amazon!
You Might Also Enjoy:
Guyana Vacation Planning Articles
Quick Guide to Guyana
What to Pack for the Amazon Jungle Clothes + Recommended Gear
2 Weeks in the Guiana Shield: Our Guyana Itinerary
Explore All the Best Things to Do in Guyana
Visiting Georgetown: What to See & Do in Guyana's Capital!
Guyana's Interior: The Amazon Basin
Day Trip to Kaieteur, the World's Longest Free Falling Waterfall
Day Tour: Learning How to Fish for Piranha in the Amazon
Guyanese Food: What to Expect, Where to Eat & More!
Guyanese Culture & It's Amerindians
Photos of Guyana from our trip!
Follow me @Sher She Goes on