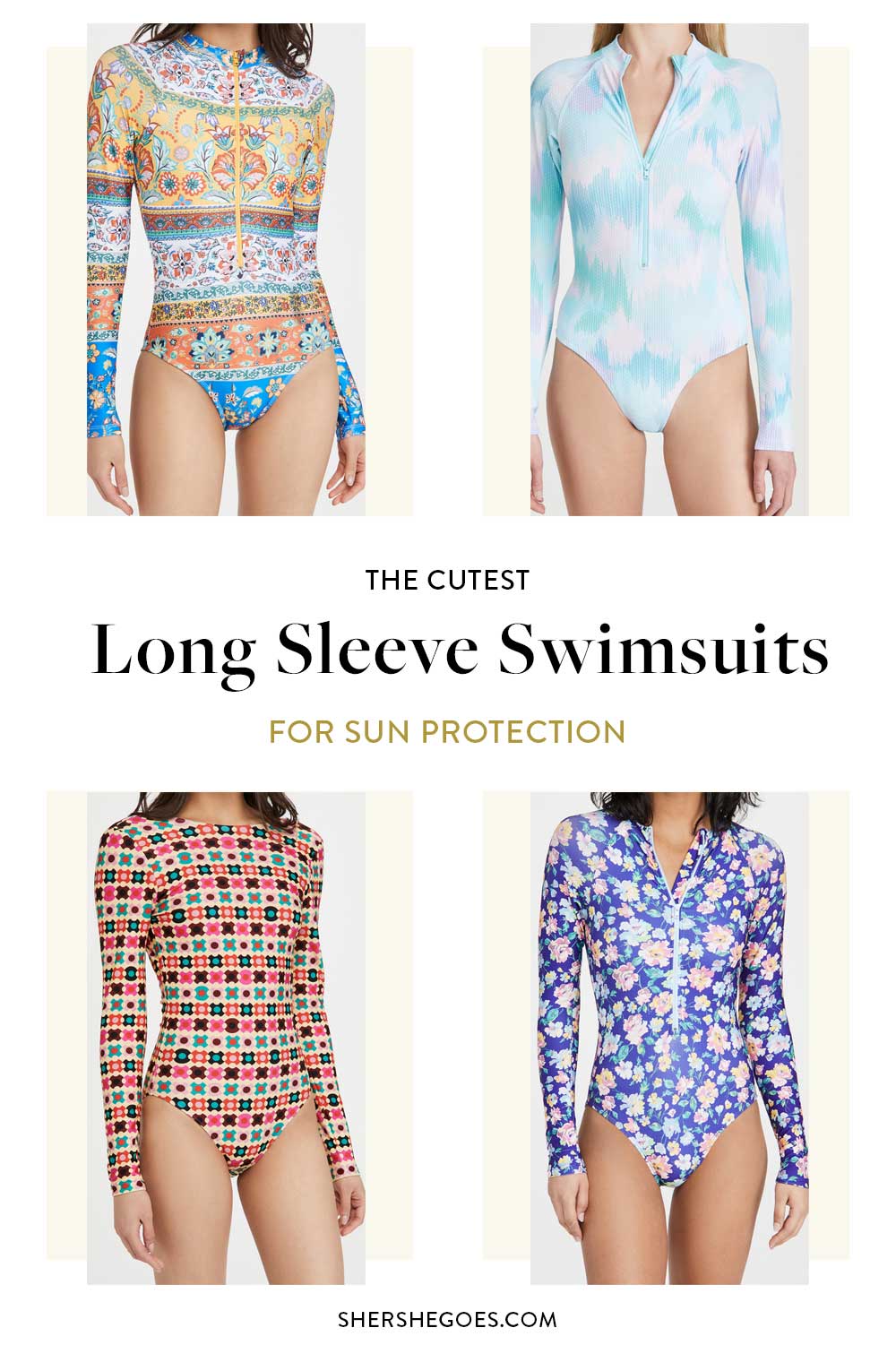 Long Sleeve Swimsuits
I'm obsessed with long sleeve swimsuits.
Whether they're long sleeve one pieces or bikini sets, these surf inspired swim options strike the perfect balance between looking good and actually getting in the water to have some fun.
Whether you're into surfing, kayaking, paddleboarding or laying out, long sleeve swim stays put through any activity and gives you extra sun protection.
Plus, if you're small chested, I think long sleeve swim looks much sleeker and more fashionable than a skimpy bikini!
Here are the best long sleeve swimsuits to check out for summer.
ADVERTISEMENT
Keep reading, or pin this article to save it for later ⇟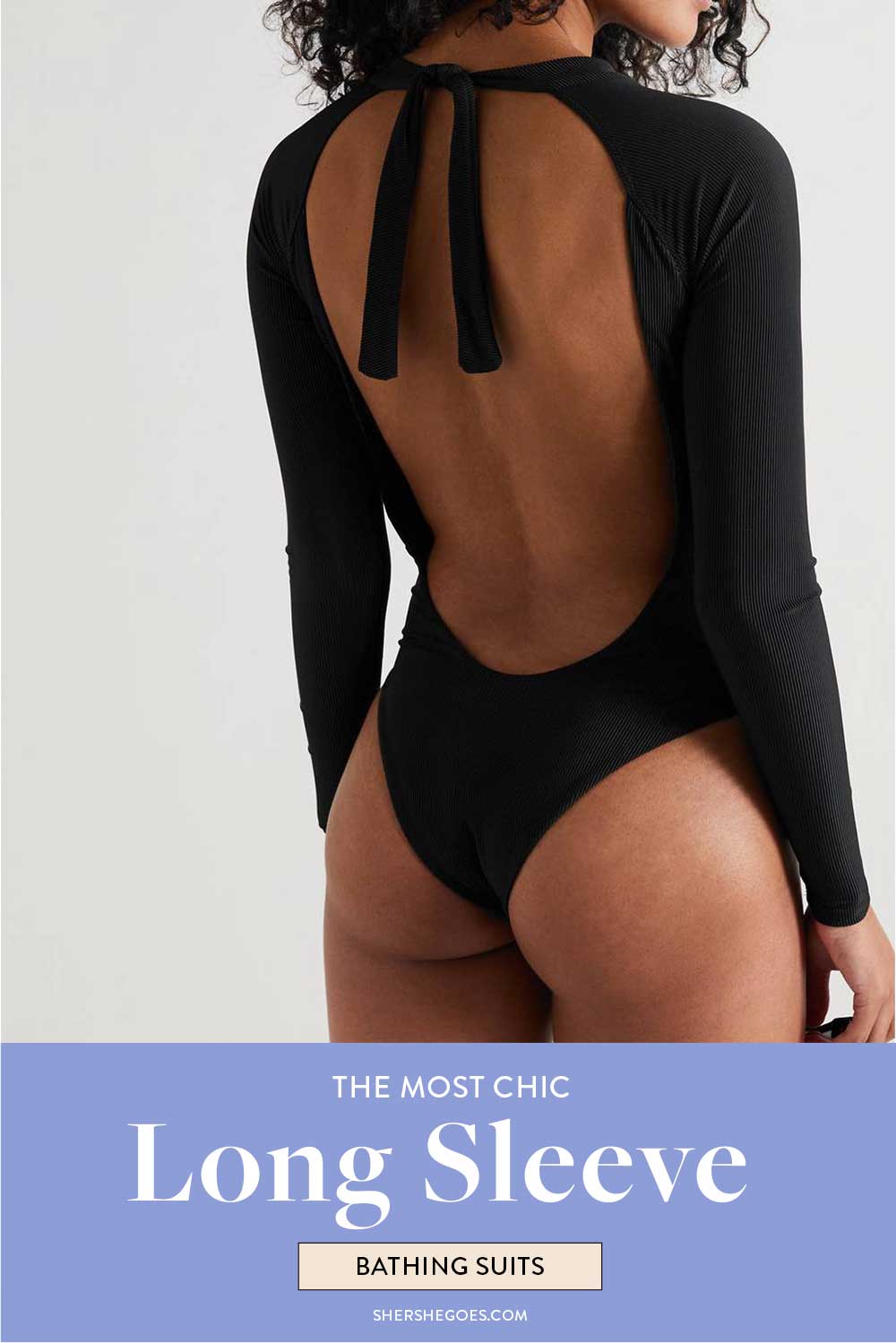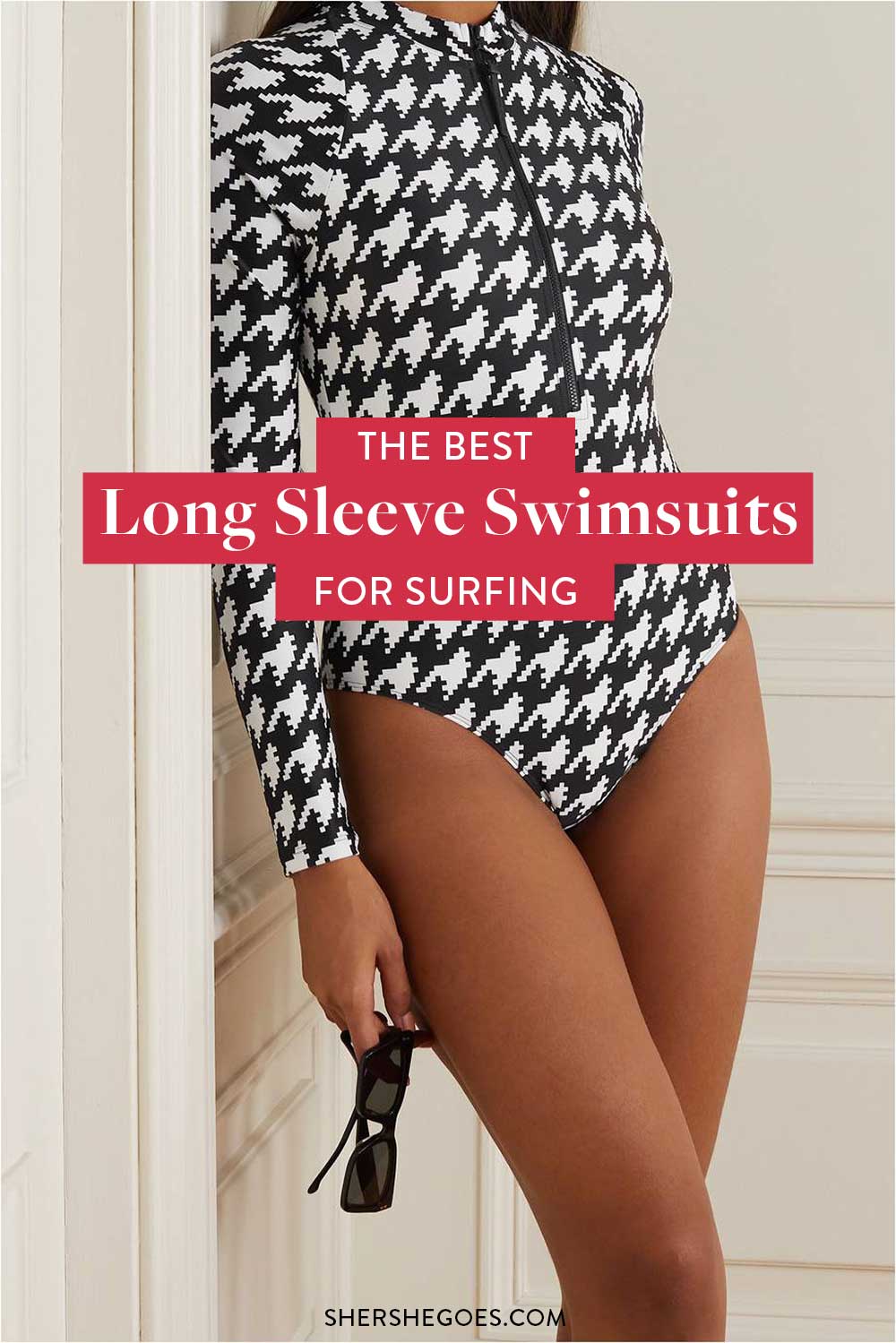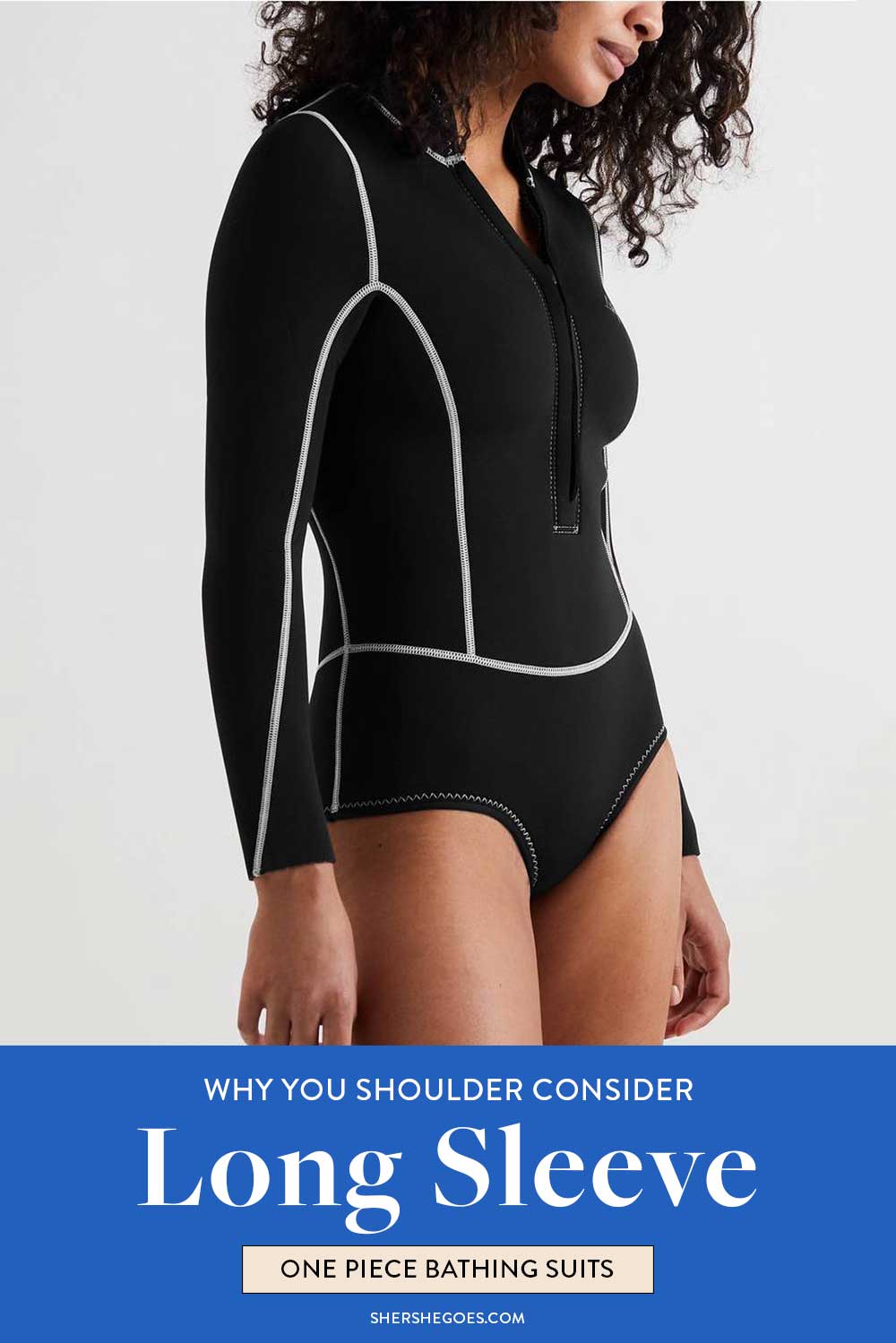 ADVERTISEMENT
---
---
Long Sleeve One Piece Swimsuits
There are so many fantastic long sleeve swimsuits on the market.
Whether you prefer a sporty rash guard esque one piece or a flirty long sleeve crop top bikini set, there's a swim option for every budget and body type!
Here are some of our favorites.
Best Long Sleeve Bathing Suits
ADVERTISEMENT
---
---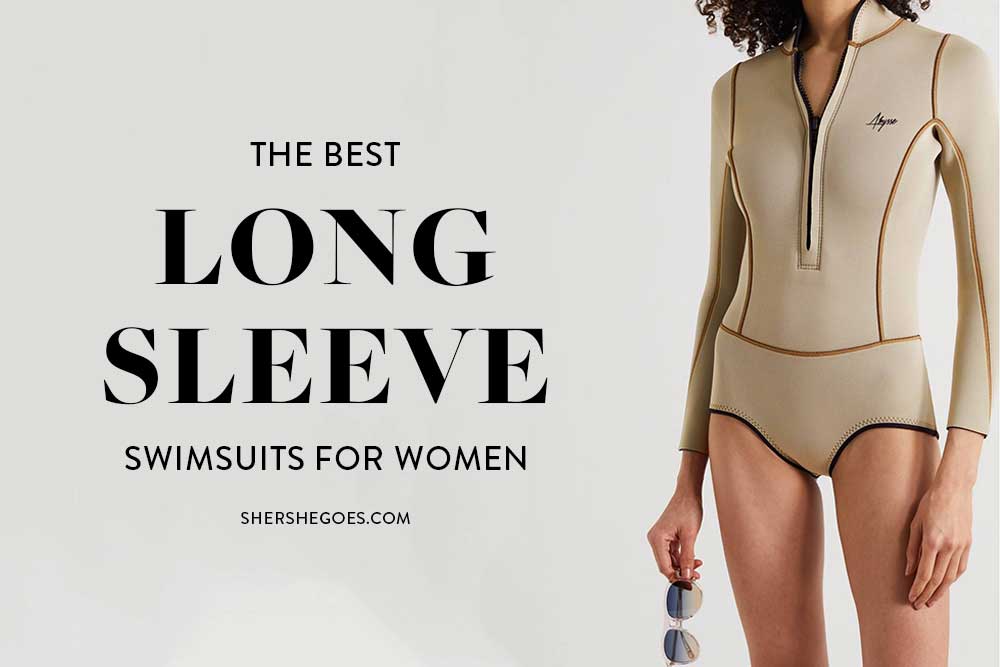 Best Long Sleeve Swimsuits (2021)
Most Affordable Long Sleeve Swimsuit: Amazon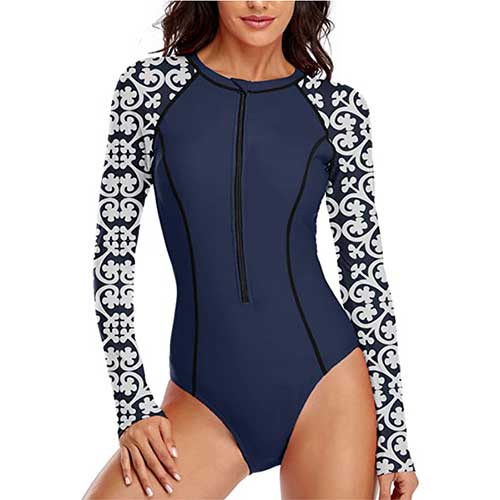 Not sure if you'll love the trend?
Then try out this affordable long sleeve swimsuit that's sleek and sexy. With a long zipper down the front, it's easy to get in and out of this body hugging one piece.
We especially love the contrast between the dark navy body and patterned sleeves, but the suit comes in a rainbow of different colors and prints!
ADVERTISEMENT
---
---
Best Black Long Sleeve Swimsuit: Nike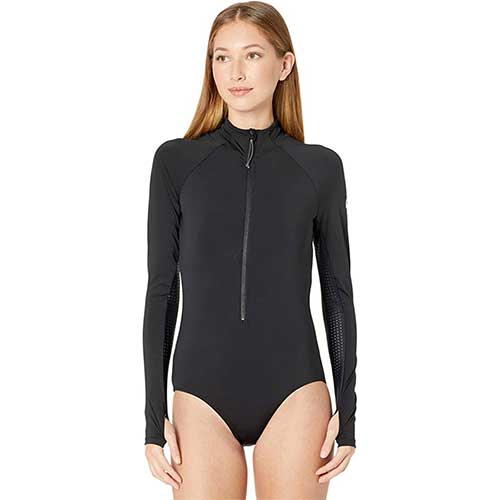 Gearing up for an active summer?
Then you'll want a comfortable, well-made long piece swimsuit.
This option from Nike is made from 20% recycled materials and is wave-ready. The fabric is stretchy but comfortable, double lined and super secure!
ADVERTISEMENT
---
---
Most Colorful Long Sleeve Swimsuit: Maaji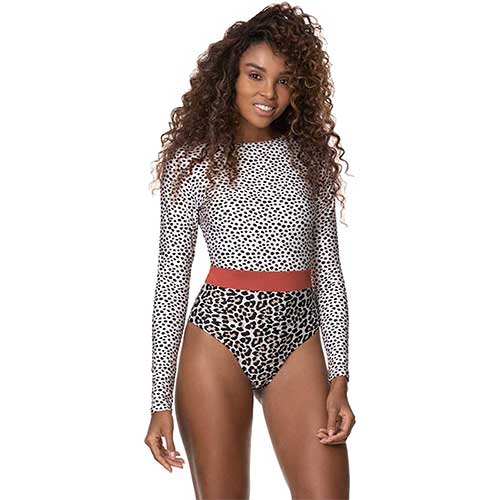 On the other hand, if you're looking for a more fashionable swimsuit, check out Maaji.
The fun swimwear brand is known for its colorful prints and reversible fabrics.
We love this animal printed long-sleeve one piece that has cute polka dots and leopard print. Plus, the color blocked red waistband gives you the illusion of a smaller waist!
ADVERTISEMENT
---
---
Best Sexy Long Sleeve Swimsuit: Rip Curl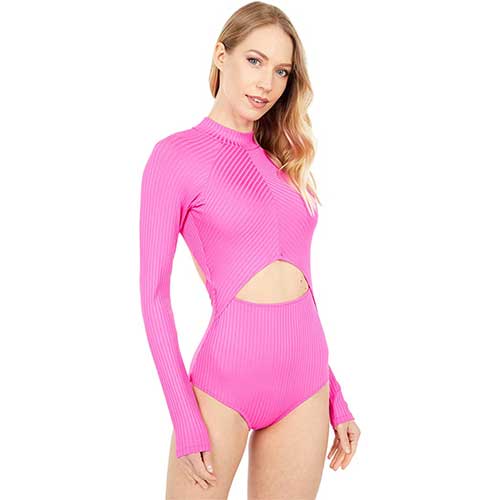 Want sun protection but still want to look sexy?
Then give this statement long sleeve swimsuit from Rip Curl a try. It features a gorgeous ribbed design, sexy peephole front and extra long sleeves.
Plus the cutout at the waist gives you the illusion of a higher waistline and therefore longer legs! This long-sleeve suit also has just slightly cheeky coverage in the rear for a covered-up, but still chic vibe!
ADVERTISEMENT
---
---
Best Zip Up Long Sleeve Swimsuit: Jantzen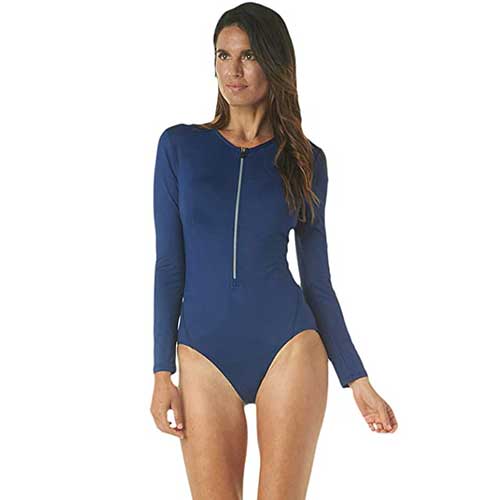 We love the simplicity of this Jantzen one piece.
With just a hint of contrasting color from the front zip up, the solid color one piece is elegant and slimming.
Plus, with long sleeves and full coverage bottoms, this is a great option if you prefer sleeker and more modest swimwear!
ADVERTISEMENT
---
---
Best Printed Long Sleeve Swimsuit: Helen Jon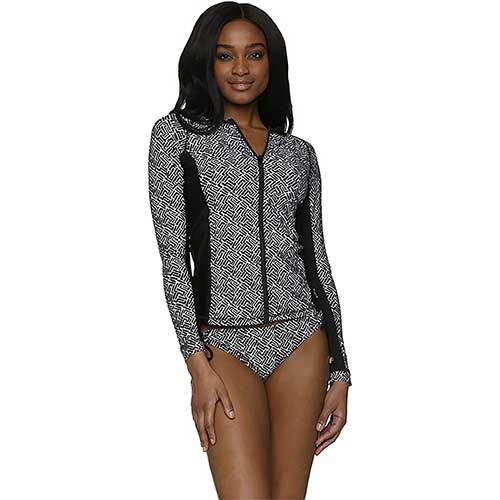 Helen Jon makes high quality swimwear that's especially flattering on older women.
This long sleeve surf shirt is classic and slimming, with it's allover print, color-blocked sides and flattering hip length.
Best of all, it's crafted from UPF 50+ to protect against harmful UV rays and has a full-length zip closure, making it easy to get in and out of.
Pair it with the matching bottoms for a statement summer look!
ADVERTISEMENT
---
---
Shop Long Sleeve Swimsuits for Women
---

ADVERTISEMENT
---
---
Read More: in our summer packing checklist series:
Best Swim Brands
The Best Online Sites to Shop for Swimwear
The Best Swimwear Brands at Every Price Point
The Best Swimsuits to in Every Style - Retro, Cut Outs, Barely There & More
The Best Bikini Brands to Rock this Summer
Top Swim Trends
8 Swimwear Trends to Try this Summer
7 Barely There Bikinis for Barely There Tan Lines!
Full Coverage Swimwear
The Best Swimsuits for Small Busts
Amazon Fashion Finds: Modest Swimsuits
Modest Swimwear Brands to Check Out - if skimpy isn't your thing!
The Best High Waisted Bikini Bottoms to Keep Everything Tucked In
Summer Essentials
The Best Sun Hats that Offer Full Sun Protection
The Cutest Linen Dresses for Hot Summer Nights
The Best Men's Linen Pants - Summer Casual
The Best Women's Linen Pants for Coastal Chic Style
The Best Women's White Linen Pants - Simple, Clean & Breathable!
Follow me @Sher She Goes on