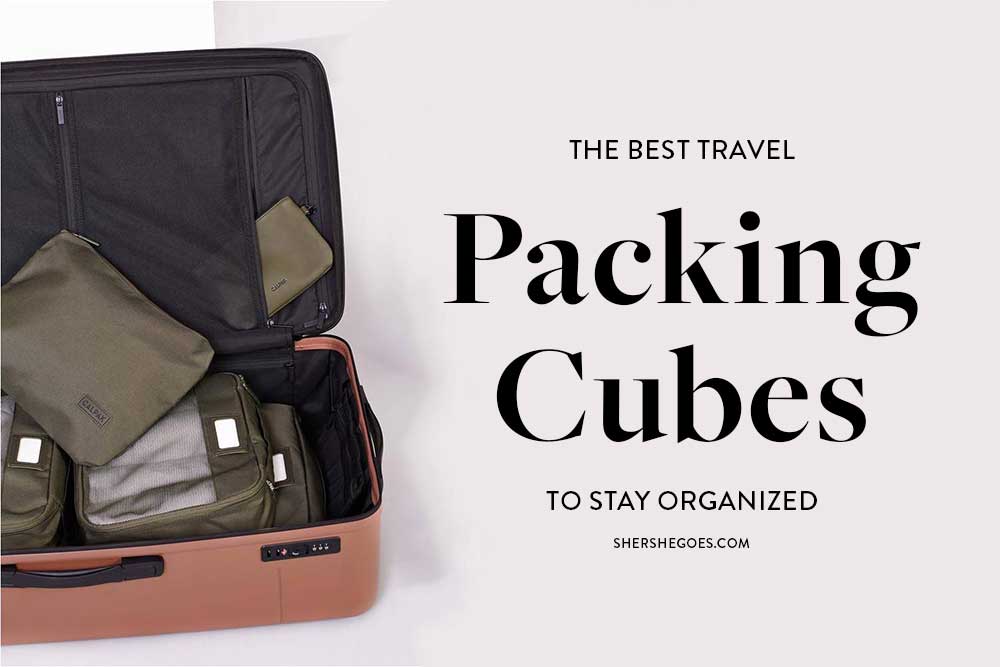 Thank you to Zappos for sponsoring this post.
Best Packing Cubes
Best Lightweight Packing Cubes: Eagle Creek
Best Packing Cubes for Business Travel: Tumi
Best See Through Packing Cubes: Baggalini
ADVERTISEMENT
Best Packing Cubes for Travel
Remember the good ole' days, when a decent suitcase meant a non-collapsible handle and two wheels that could only move in one direction?
I don't either, because those days were dark and full of terrors.
Today, suitcases feature everything from handles that lock in multiple positions and four wheels that move in all directions.
A similar renaissance has impacted how we pack what's inside these travel bags, namely in the explosion of compression bags and packing cubes.
Packing cubes help maximize the amount of clothing you can pack, while ensuring everything stays neat, tidy and wrinkle free.
Keep reading for the best travel packing cubes!
ADVERTISEMENT
---
---
Keep reading, or pin this article to save it for later ⇟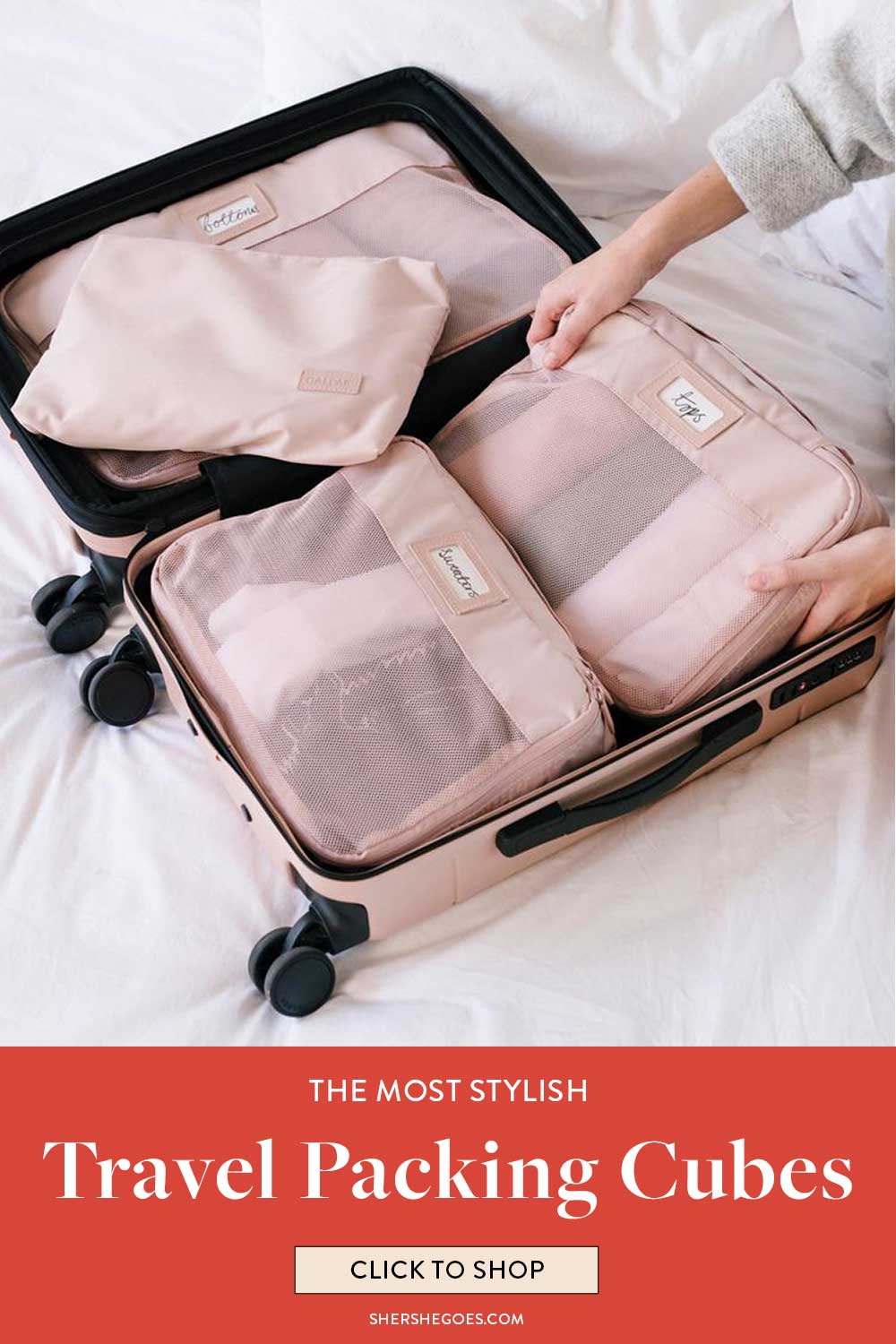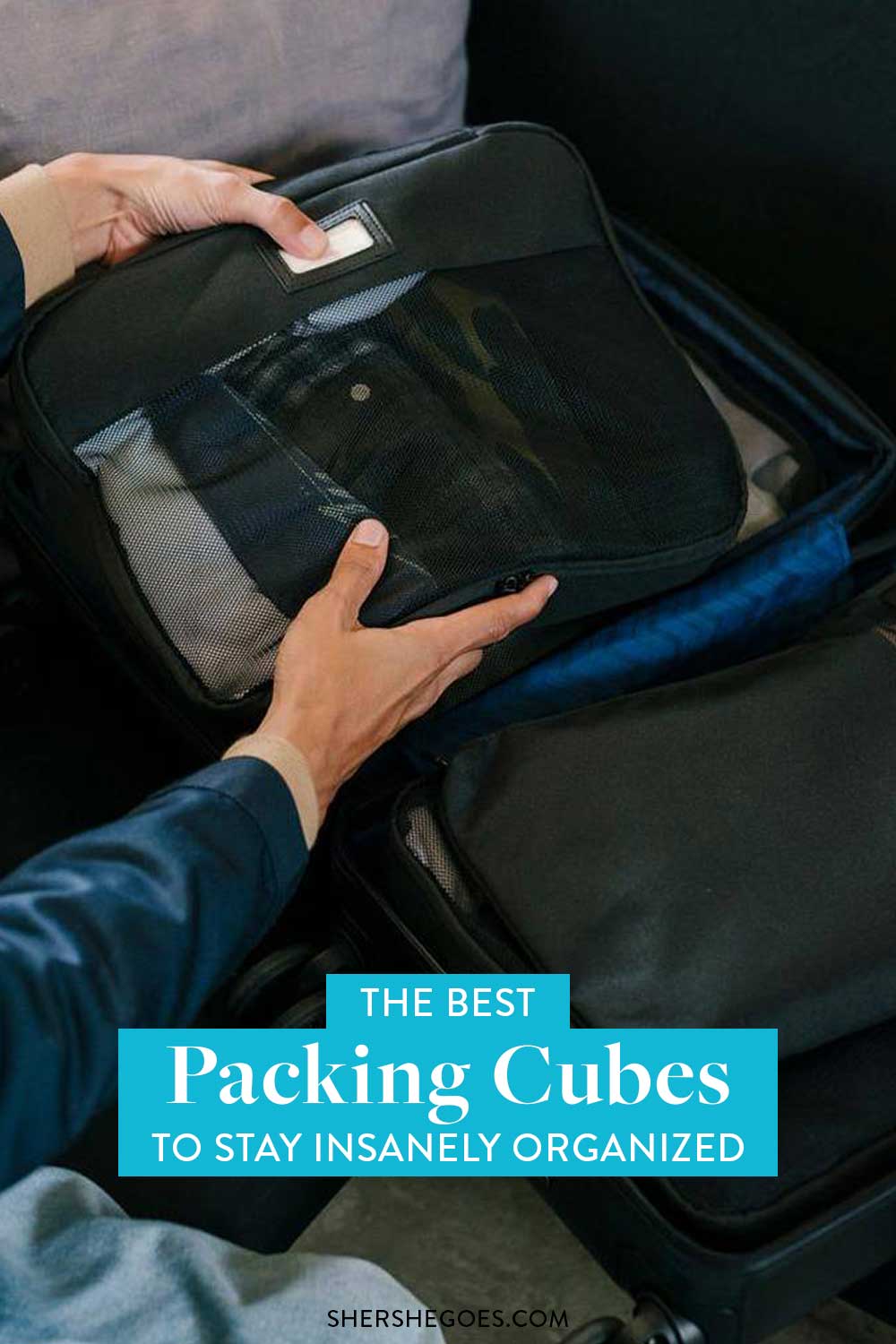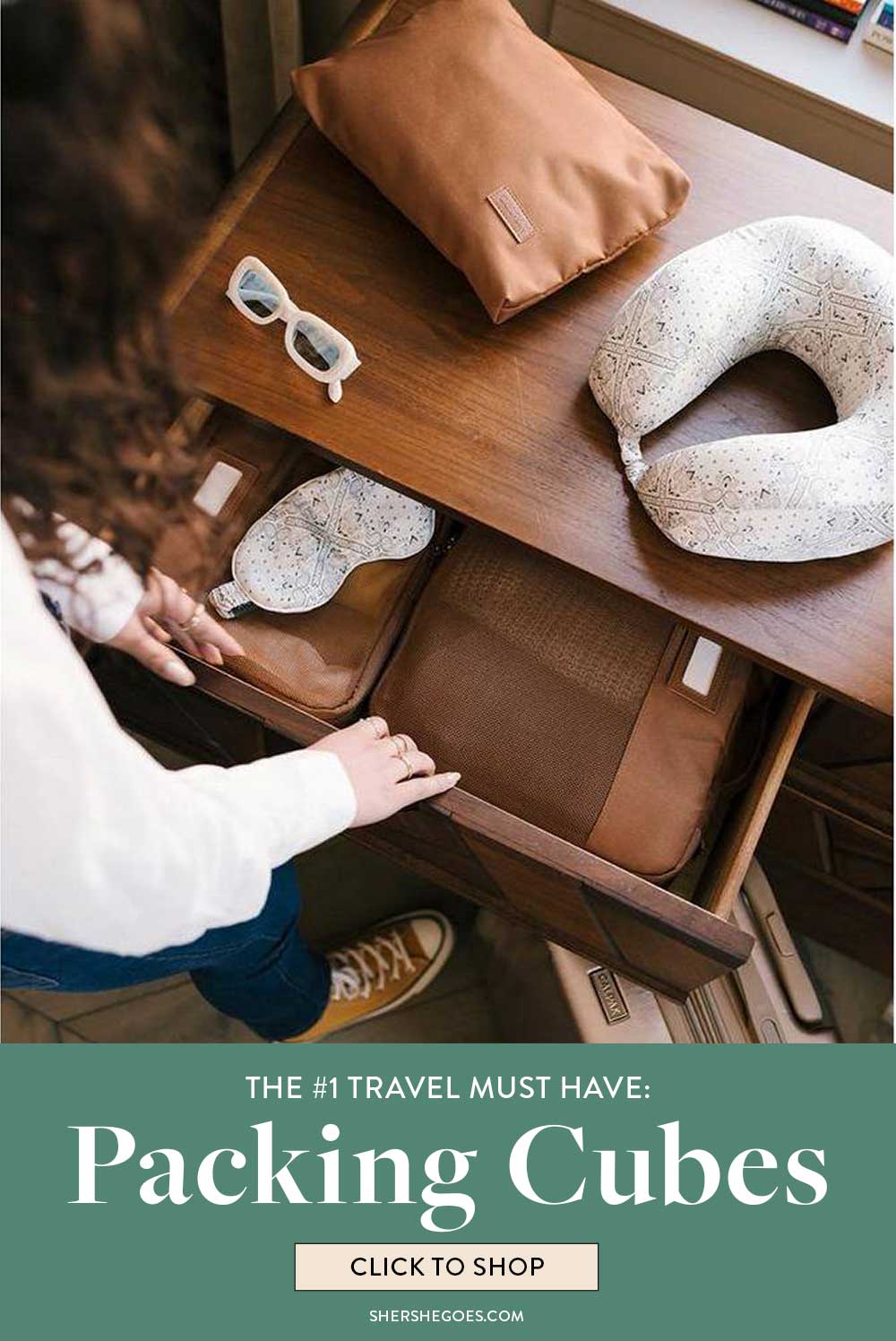 Flying in 2021
Before you hop on a plane, make sure to bring along a face mask!
Face masks are still required on all flights in the US, regardless of vaccination status. These Atoms everyday masks are a really comfortable option, especially on long haul flights, as they're made from a lightweight and breathable polyester.
Best of all, they sit high up enough on the nose to tuck under glasses so you can breathe easier without fogging up your vision!
ADVERTISEMENT
---
---
Best Packing Cubes (2021)
Best Lightweight Packing Cubes: Eagle Creek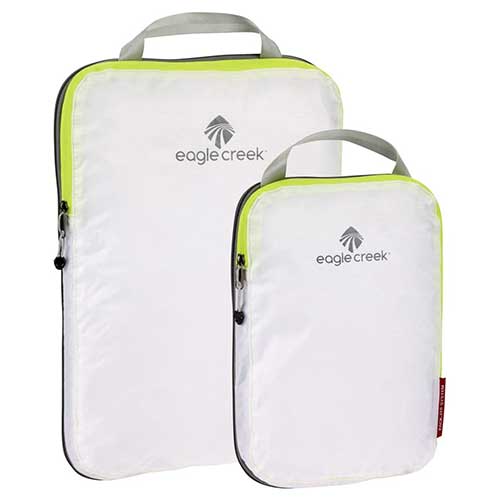 Eagle Creek was one of the first brands to make compression packing cubes.
Their best selling 2 pack is great for a couple reasons.
First, they're ultra lightweight so you don't have to worry about them adding bulky weight to your already limited suitcase. Second, they're made from durable rip-stop nylon, which ensures one puncture doesn't cause a tear throughout the entire bag.
Third, each cube also contains a mesh-lined section, which is great for breathability and quickly locating certain items!
They also are quite compressive, with an extra compression zip running around the length of the cube for extra consolidation.
Lastly, these are really versatile. Since they have a slim upright profile with a top handle, you can use these in both checked luggage (lying flat) and in a carry-on only backpack situation.
Best of all, Eagle Creek offers a lifetime warranty so you can trust that you'll be getting quality packing cubes!
ADVERTISEMENT
---
---
Best Packing Cubes for Business Travel: Tumi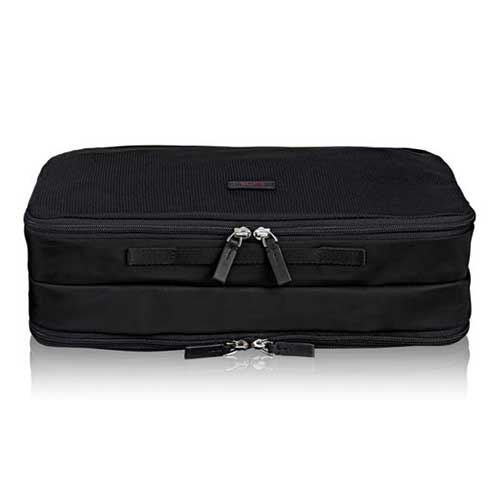 If you travel for business, you need these Tumi packing cubes.
They come in several sizes but the large is perfect for storing folded dress shirts and keeping them neat and tidy during travel.
Plus, it has a built-in divider so you can pack different outfits on the top vs. the bottom and keep everything nicely organized.
They're quite sturdy, made from durable nylon, and the shiny opaque black color keeps your bag looking professional – just in case TSA decides to open up your luggage in front of your colleagues!
The Tumi packing cubes do have a see-through mesh top compartment though, so you can easily keep track of where all your things are.
Best of all, these are really high quality!
If you've used cheap packing cubes in the past and experienced them breaking after a couple trips, you'll be really satisfied with Tumi's version.
ADVERTISEMENT
---
---
Best See Through Packing Cubes: Baggallini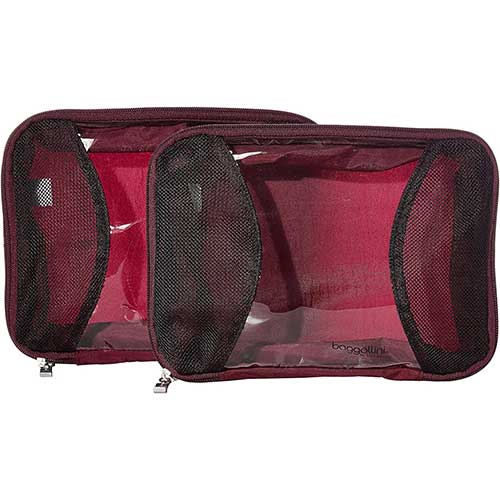 If you prefer to see directly into the contents of your stuff, for extra easy organization, try Baggallini's packing cubes.
The travel brand makes clear, see-through organizers, so it's perfect for those who over pack or are OCD about organization!
Each packing cube is made from heavy duty nylon, with mesh inserts for further organization.
They're also available in various sizes and colors too, so you can find the perfect set for your trip!
ADVERTISEMENT
---
---
Read More   in my travel packing checklist series:
Best Travel Luggage
The Best Carry on Luggage for 2021
The Best Packing Cubes for a Perfectly Organized Bag
The Best Lightweight Luggage for Overpackers
The Best Hard Luggage Sets for Stylish Travelers
The Best Underseat Luggage for Minimalists
The Best Carry On Bags for Men - Rugged + Durable!
Business Travel
The Essential Business Packing List
The Best Business Travel Luggage
The Best Laptop Cases for Working Women
The Best Laptop Bags for Men
Packing Hacks
The Best Travel Wallets for All Your Vacation Essentials
The Best Jewelry Cases Never Untangle a Necklace Again!
The Best Toiletry Bags to Clean Up Quick
Travel Packing Lists
The Best Travel Jackets for All Types of Weather
The Best Duffel Bags for Your Next Weekend Trip
The Best Travel Backpacks to Hold Everything You Need
Follow Sher She Goes on
Youtube | Instagram | Facebook | Twitter | Pinterest | Bloglovin