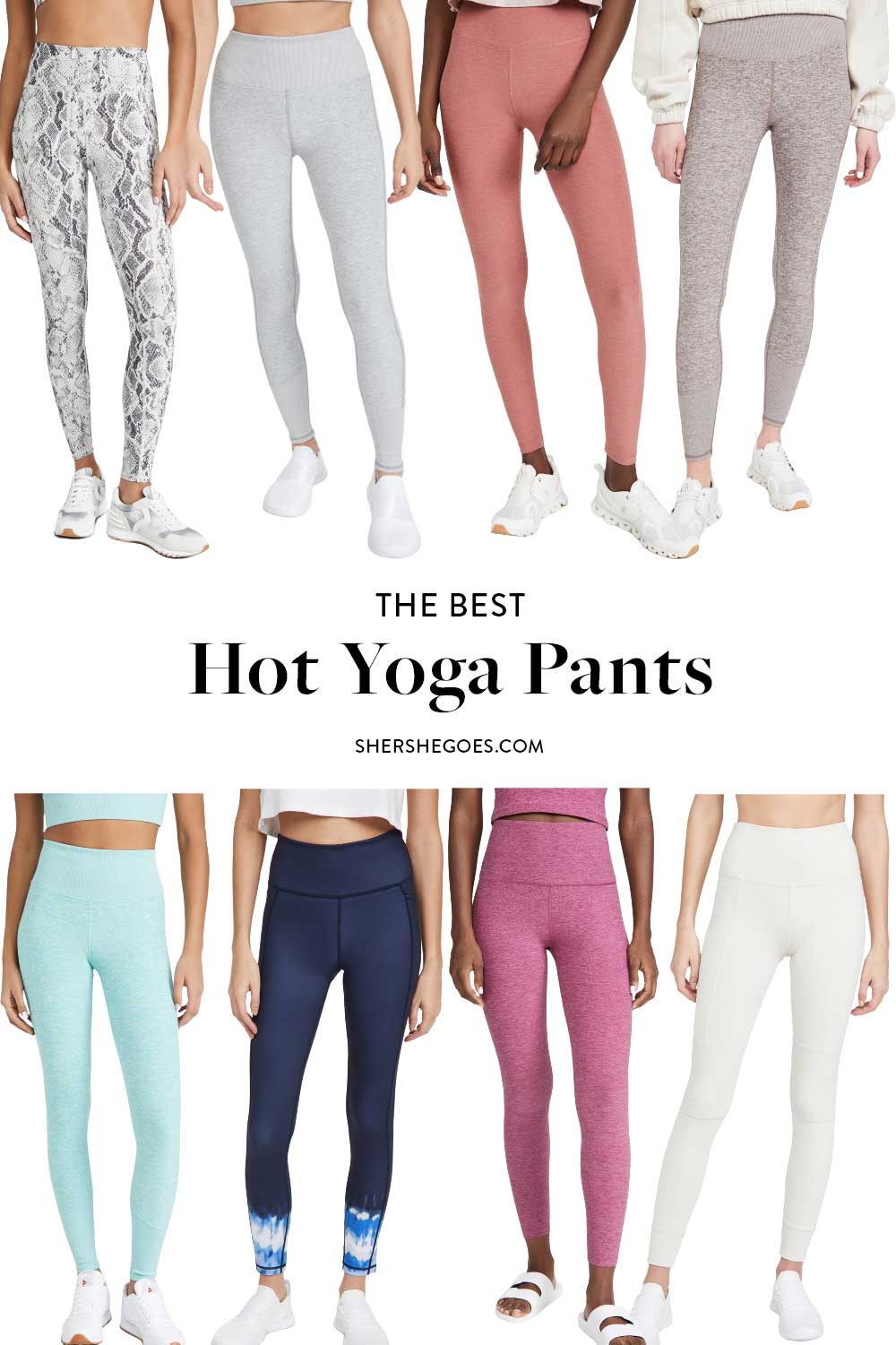 The Best Hot Yoga Pants (2021)
The nice thing about the current athleisure craze is, as the name so obviously suggests, you can wear the clothes during light workouts or as casual wear out on the town.
While this is super convenient (honestly, who doesn't love a fashion trend where dressing down is the cool thing to do?), there are still certain workouts where athleisure simply won't cut it.
Hot yoga, my dears, is one such workout.
By definition, hot yoga is not leisurely.
Regular yoga can be intense enough. Now add a crowded room, temperatures over 90 degrees, pools of sweat.
That's hot yoga, and for hot yoga you absolutely need the highest-performing workout apparel you can find.
Something that makes your butt and legs look good might suffice for everyday yoga pants, but the best hot yoga pants require durability, breathability, and best-in-class performance.
Through trial and error, we've finally found the hot yoga pants that we believe work best – keep reading for our 6 favorites!
Keep reading, or pin this article to save it for later ⇟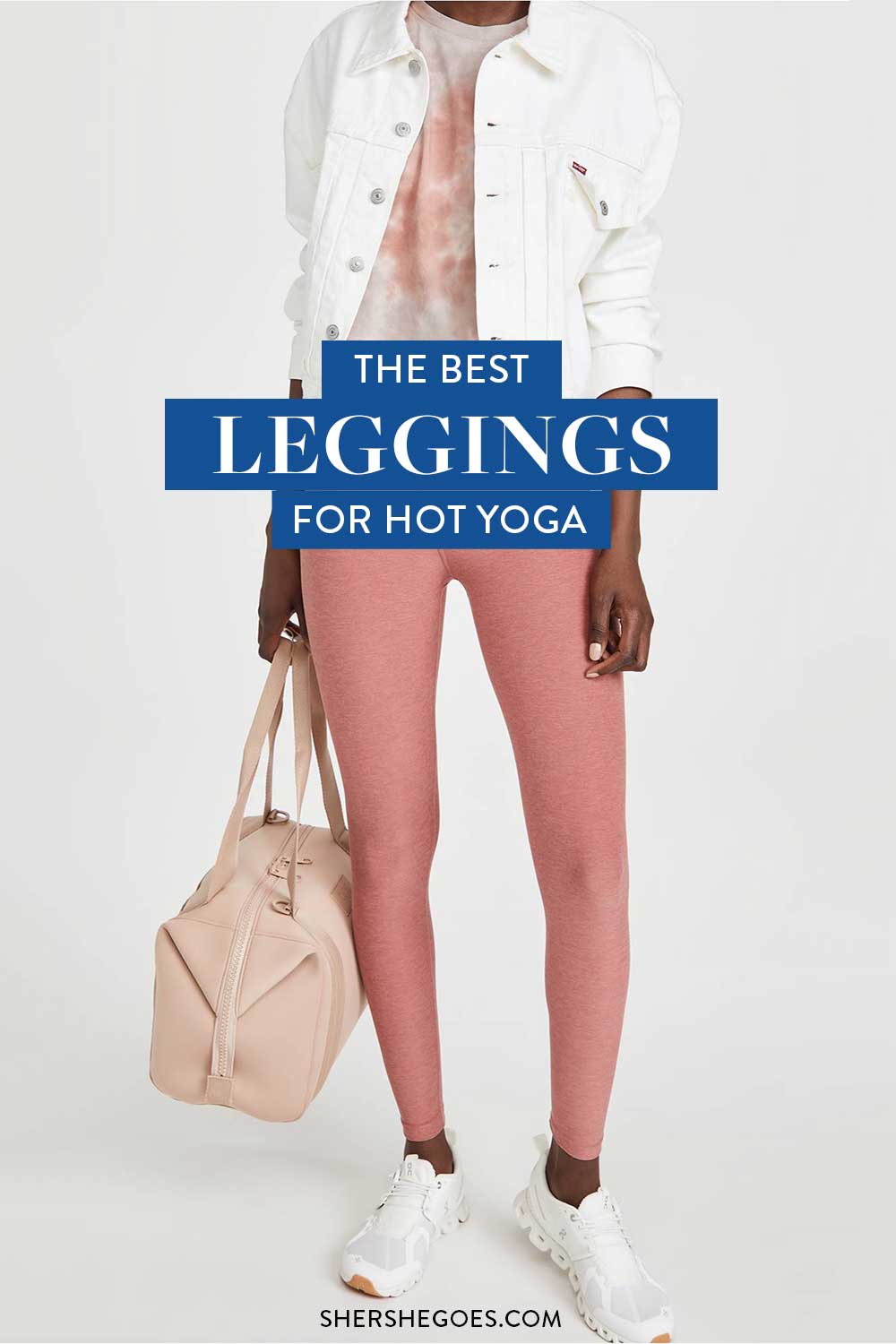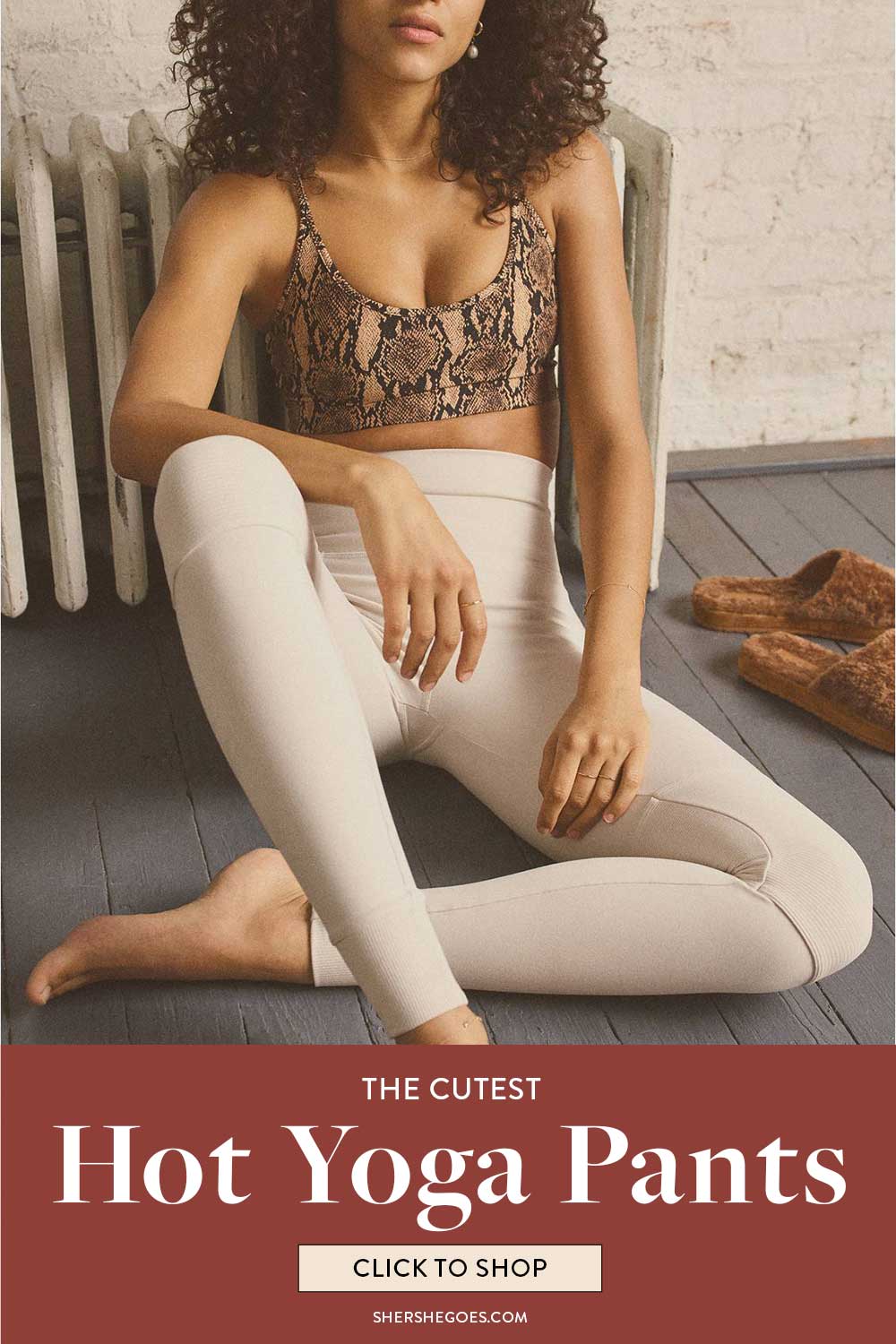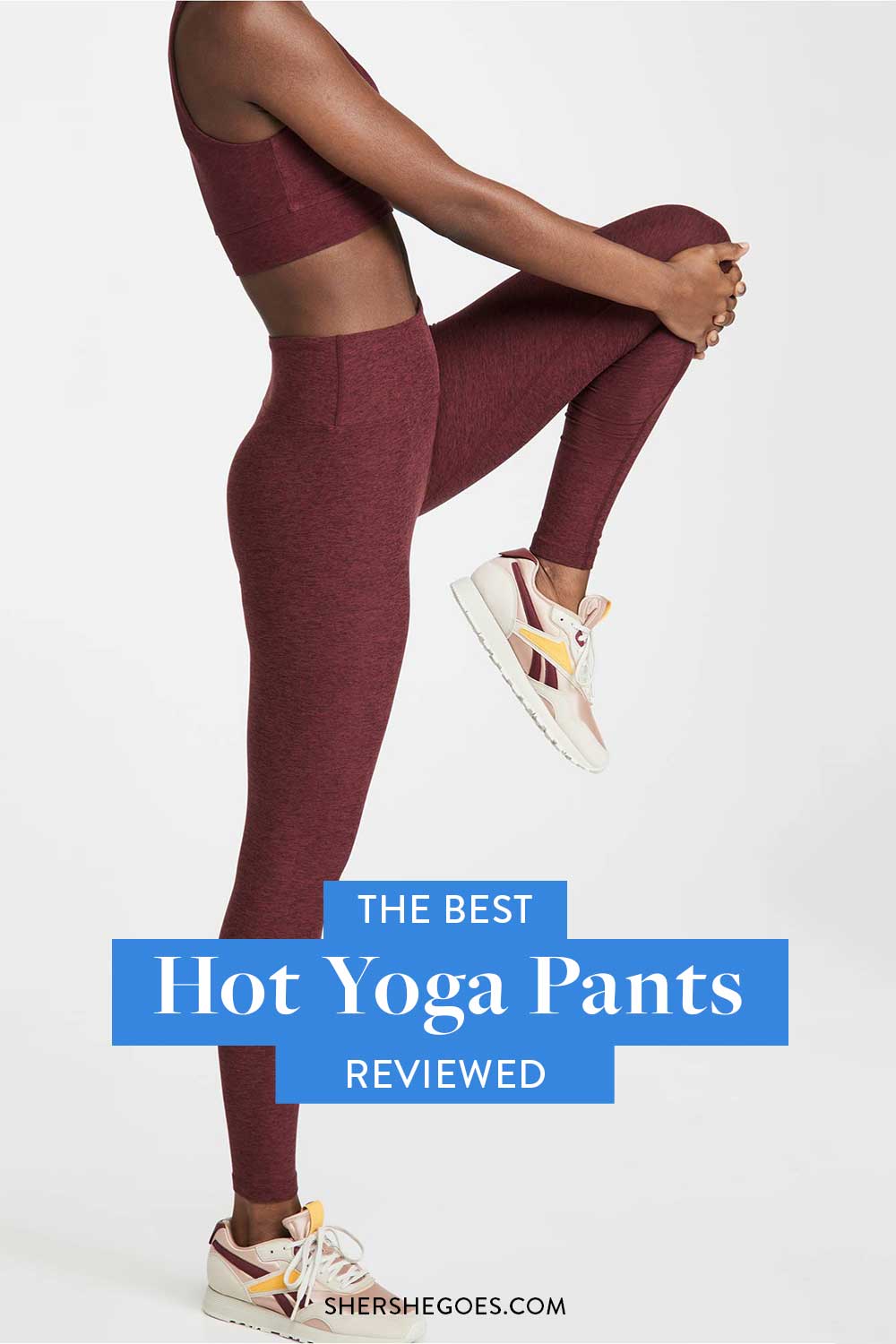 ---
---
The Best Women's Hot Yoga Pants (2021)
The best hot yoga pants always have 2 essential elements: durability and breathability. Finding this balance can be difficult, so check out our favorite hot yoga pants below!
Top Hot Yoga Pants for Women
Best High Waisted Hot Yoga Pants: Alo
Best Capri Hot Yoga Pants: Beyond Yoga
Most Flattering Hot Yoga Pants: Koral
---
---

The Best Women's Hot Yoga Pants
Best High Waisted Hot Yoga Pants: Alo
Speaking of Lululemon, Alo is one of the hot new brands currently trying to usurp the athleisure and workout apparel throne.
These hot yoga pants are truly the best of both worlds.
The moisture-wicking and naturally anti-microbial fabric adds durability, while the high waistband and ribbed cuffs provide a stylish flair!
---
---
Best Capri Hot Yoga Pants: Beyond Yoga
To me, these hot yoga pants from Beyond Yoga probably strike the best balance between performance and fashion.
Specifically designed for strenuous workouts, these yoga pants also offer an exaggerated waistband and capri-length cut that makes them equally useful whether you're inside the studio or casually running errands around town!
---
---
Most Flattering Hot Yoga Pants: Koral
Crafted with shape-supporting Lycra, these hot yoga pants from Koral provide an incredibly flattering and figure-forming silhouette.
These hot yoga pants also feature chloride-resistant (chloride is basically sweat!) properties that allow these pants to retain color, shine, and shape far better than the hot yoga pants of most competitors!
---
---
Read More in my favorite Comfy Shoe series:
Most Comfortable Shoes
The Most Comfortable Flats EVER
The Most Comfortable Sandals for Summer
The Most Comfortable Boots for Winter
The Most Comfortable Heels (you can actually walk in)
Best Sneakers
The Best White Sneakers that Go with EVERYTHING
Cute Casual Sneakers to Wear Anywhere
Best Boots
The Best Chelsea Boots to Wear All Year Round
The Best Lace Up Boots for Military Inspired Chic
The Best Over the Knee Boots that Make a Statement!
The Best Shearling Boots to Stay Cozy this Winter
The Best Black Combat Boots That Go with Everything
Cozy At Home Shoes
The Best Mules for Easy Slip on Style
The Best Loafers to Look Polished but Stay Comfy
Shoe Reviews
The Best Travel Shoes in Every Style - Sneakers, Slip Ons, Flats & Sandals
Everlane Flats - These 5 Pairs are Extra Comfortable
OluKai Shoes: Sneaker & Sandal Review
Where to Get Stuart Weitzman Boots on Sale
Designer Inspired
The Best Cap Toe Ballet Flats to Get the Chanel Look, for Less
Classic Chanel Inspired Slingbacks (Two Toned)
The Best Chanel Inspired Espadrilles to Rock All Summer
The Best Manolo Blahnik Lookalikes
The Best Over the Knee Boots that Rival Stuart Weitzman Lowlands!
Follow Sher She Goes on
Youtube | Instagram | Facebook | Twitter | Pinterest | Bloglovin