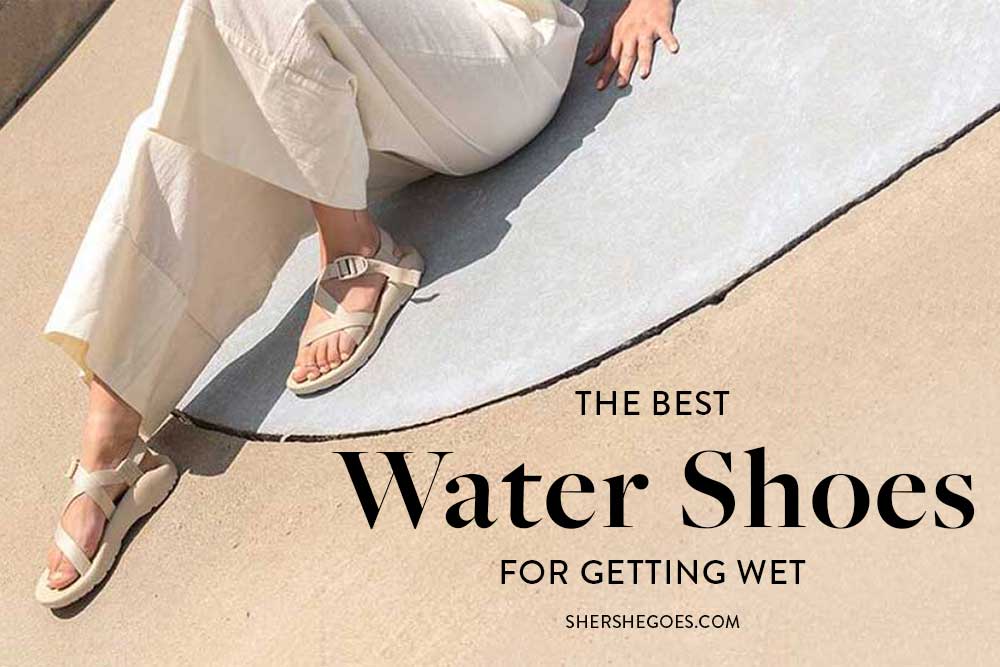 Water Shoes for the Beach
ADVERTISEMENT
Beach Shoes
Ah summer.
There's nothing like spending the day at the beach once the sun's out. Whether you enjoy long walks on the sand, speed runs to challenge your workout routine or kayaking and paddling the afternoon away, a sturdy pair of water shoes are essential.
Thankfully, there are tons of great options for beach footwear!
From rubber thongs to simple sandals and waterproof sneakers, we've rounded up the most stylish and comfortable water shoes for women.
Keep reading, or pin this article to save it for later ⇟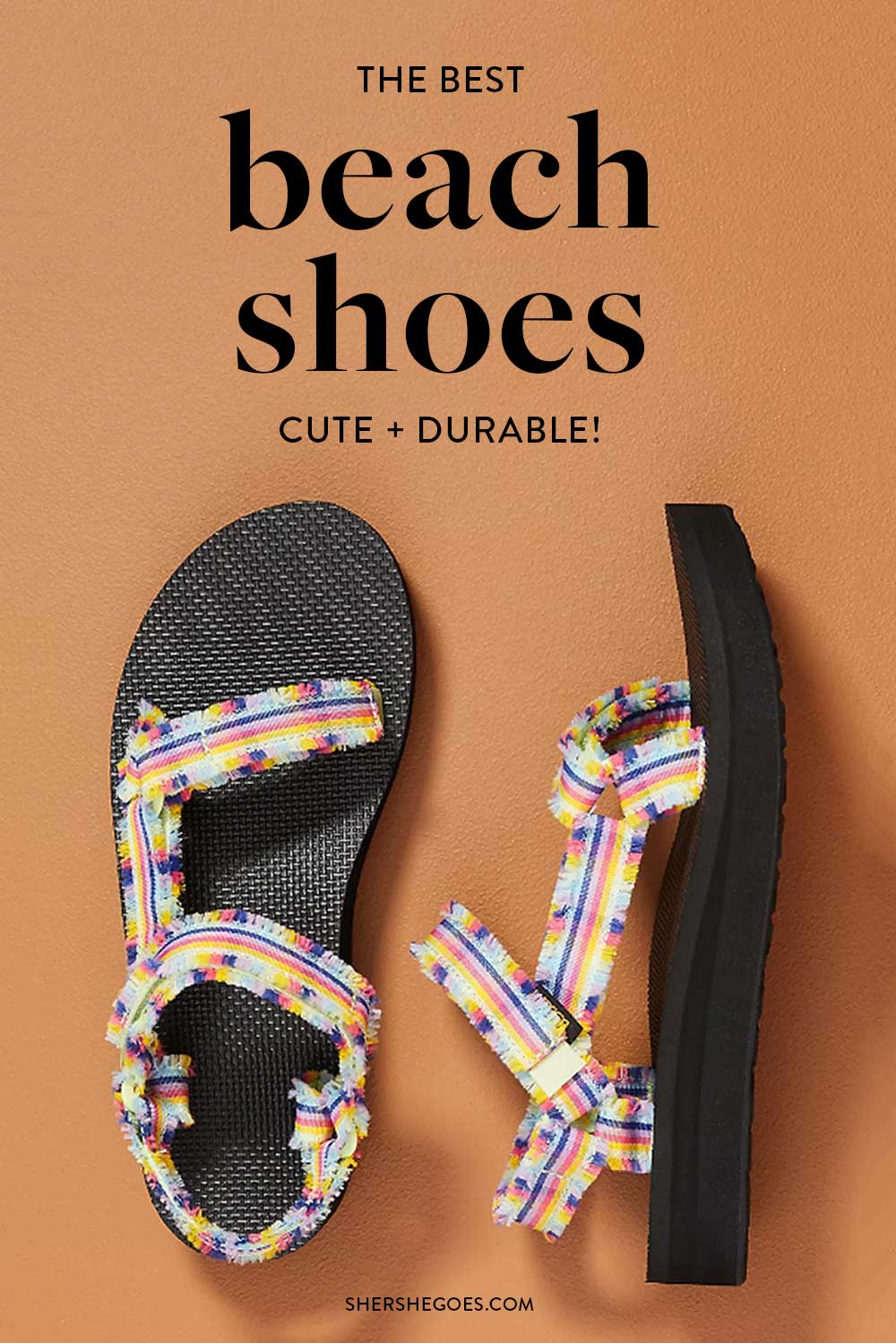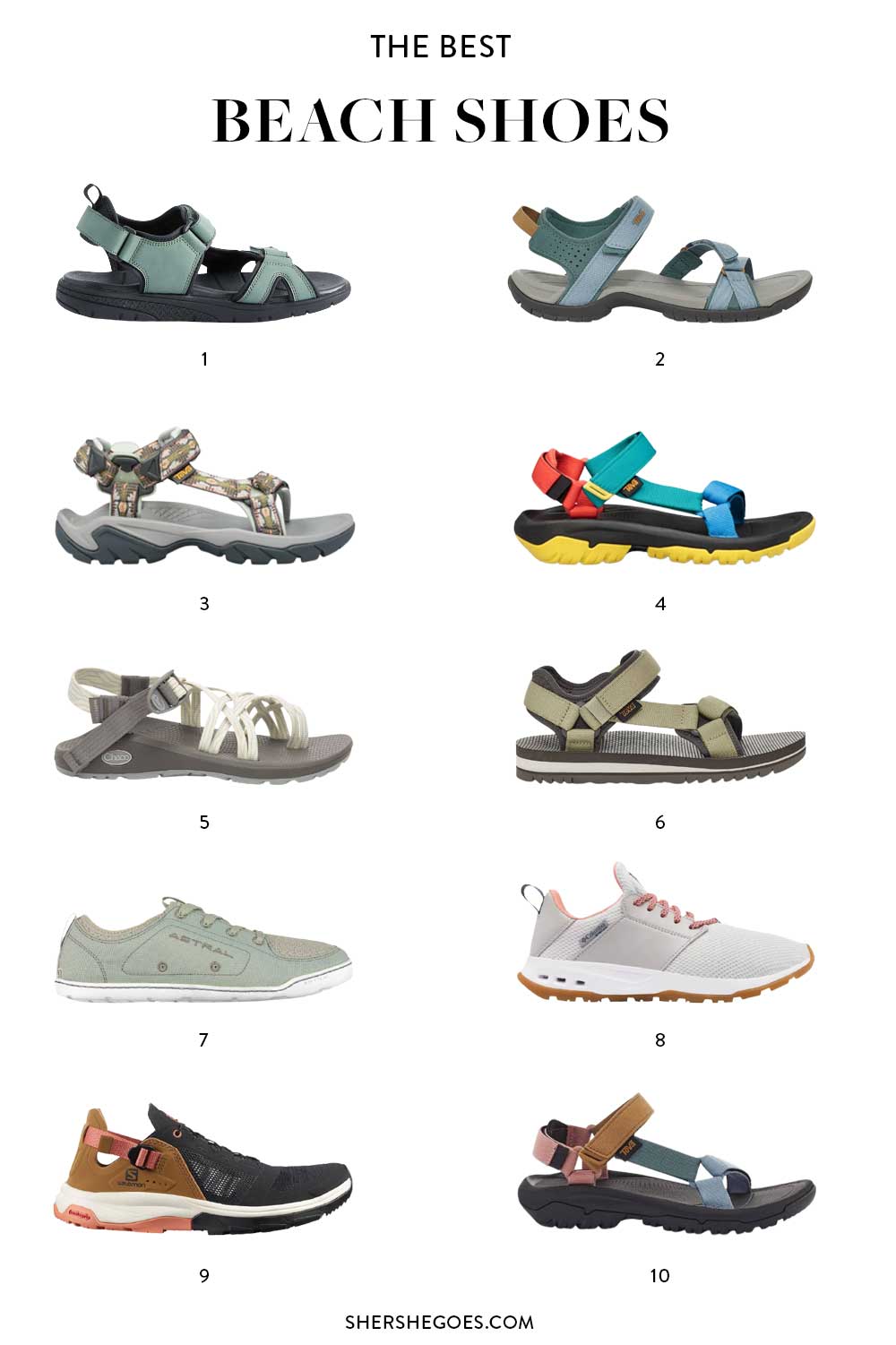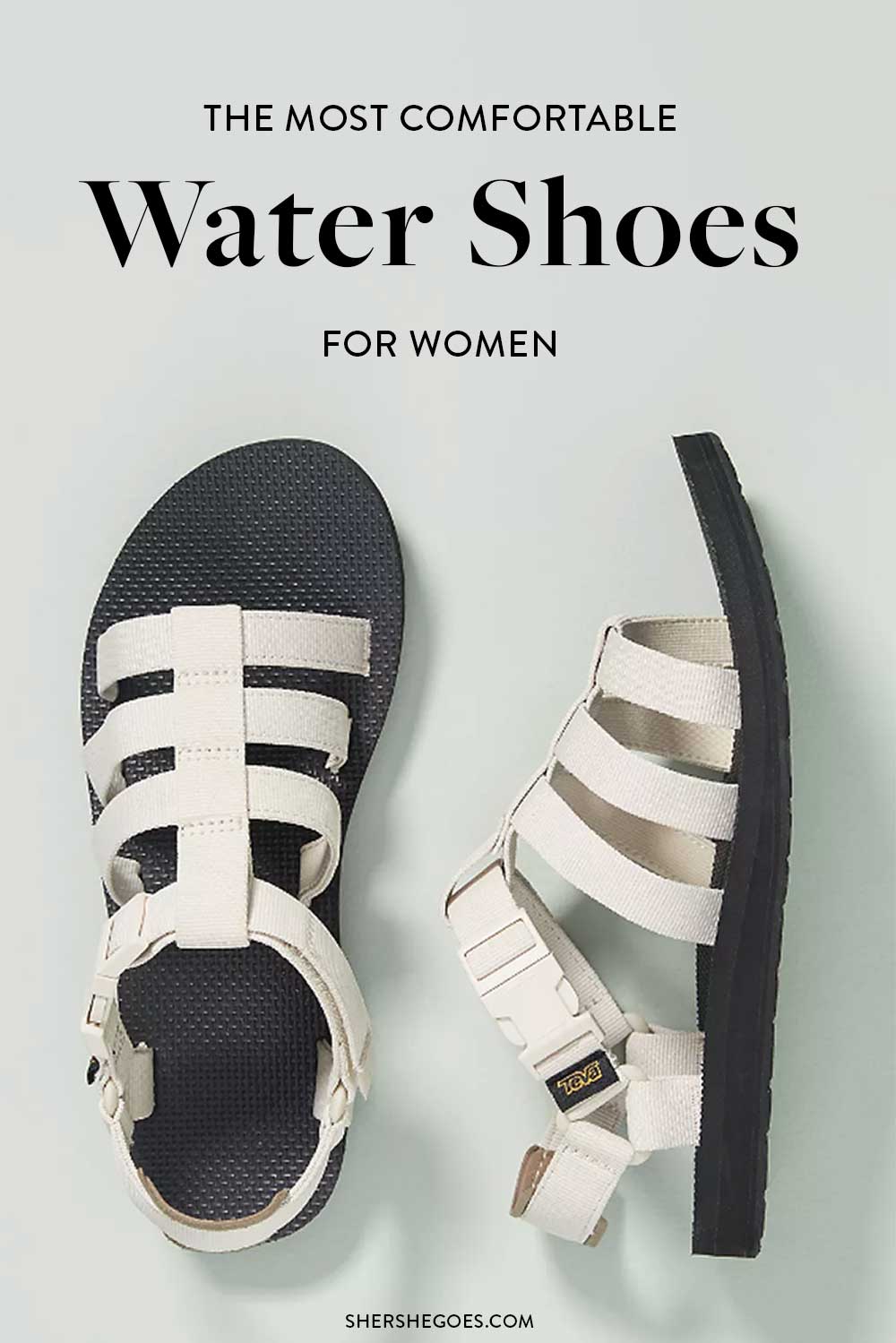 ADVERTISEMENT
---
---
Best Water Shoes (2021)
Best All Around Water Shoes: Speedo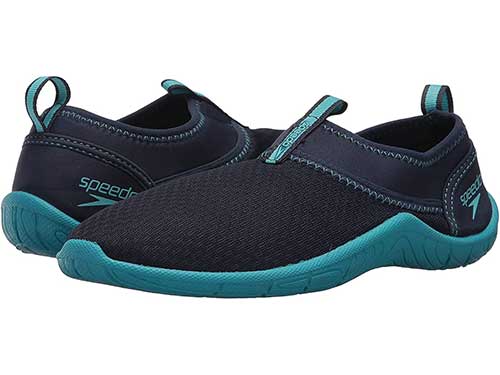 These are the perfect women's water shoes.
They fully cover your feet, so they're great for water activities like boating or kayaking, and they have a padded footbed for comfort.
I like that the mesh uppers are quick draining and also quick drying. They're pretty affordable and chic looking for beach shoes.
The rubber soles are thick and durable, so pebbles and coral on the beach won't cut up your feet. I'll be taking a pair of these with me to Hawaii!
ADVERTISEMENT
---
---
Most Colorful Beach Shoes: Teva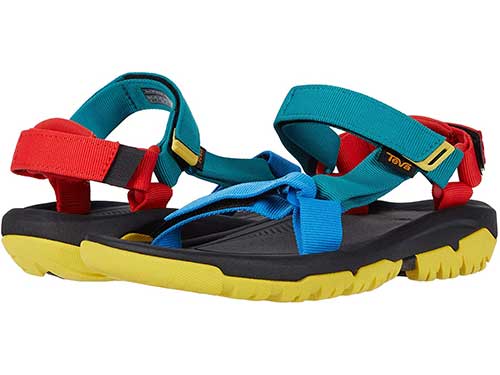 For any type of outdoor adventure, Teva is a fantastic brand.
These colorful sandals look so cute and are one of the brand's best selling styles.
The straps are made from 100% recycled plastic and are vegan friendly. Plus the soles are made from synthetic plant based material, and saved 4 plastic bottles from ending up in landfills.
The best part is the hook and loop closures allow you to adjust them to fit your own feet.
I like the foam midsoles – not only are they contoured to guide your feet in a comfortable walking pattern, they also have great traction!
These would be great sandals for traveling to any outdoor parks as well. They're lightweight and easily packable.
ADVERTISEMENT
---
---
Best Beach Thong Sandal: OOFOS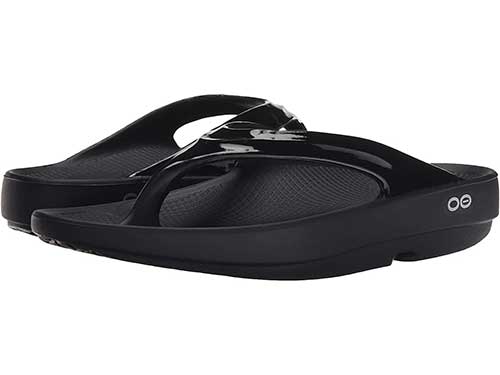 ADVERTISEMENT
---
---
Best Beach Sandals: Chaco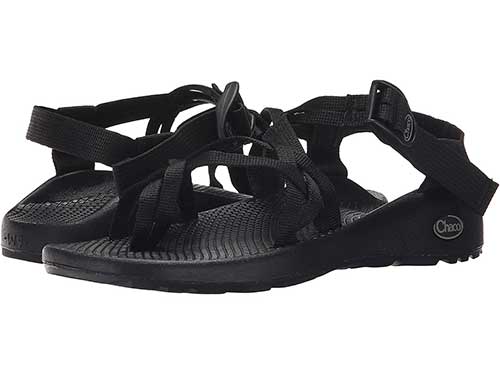 I used to think Chacos were really ugly, ha.
That was before my feet suffered from years of poor shoes and now, I think the platform footbed looks heavenly.
These classic Chaco water shoes have polyester web straps that wrap all the way around your feet to securely attach them to the sandal.
You can wiggle and pull the straps to adjust to your feet, so these are comfortable no matter if your feet run normal, wide, narrow or have bunions.
The footbed is very supportive and contoured for extreme arch support!
They come in a ton of different colors and variations too!
ADVERTISEMENT
---
---
Most Stylish Beach Sandals: Reef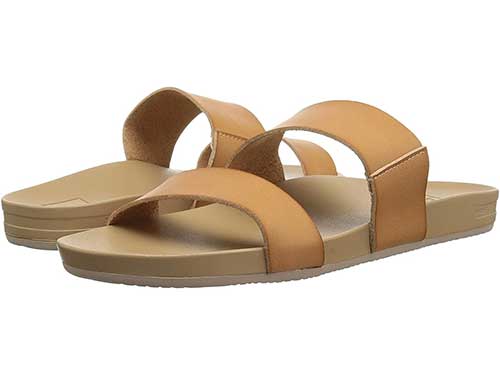 Reef makes cushioned, cute sandals.
These vegan leather sandals are simple yet chic, and made entirely without animal products.
The soles have a cushioned memory foam to support your feet all day long, and the modern contouring provides anatomical arch support and cups your heels as you walk.
If you need arch support, Reef sandals and flip flops are the best – and they're water friendly for beach activities!
ADVERTISEMENT
---
---
Best Strappy Beach Sandals: Olukai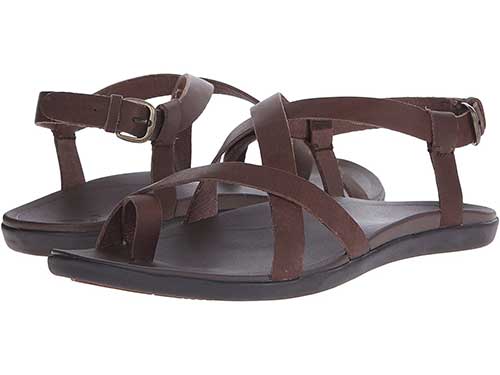 Olukai is a Hawaiian brand and they're my go-to for comfortable sandals.
I got these in black several years ago and wear them to death in the summertime, since they're incredibly comfortable. I can easily walk 50+ city blocks in them without any chafing or blisters!
The midsole is anatomically molded and the rubber outsoles have textured pods for traction and durability, which is great for the beach or water activities.
The strappy leather uppers are adjustable – you can kind of pull and tug them for the perfect fit. I also like that they have the footbed support and comfort of say, Chacos, but look a little sleeker and less sporty.
Technically, they're made from leather, but I've worn them walking on the beach with no problem. After several years, they still look good as new!
You can also read my in-depth review of all my Olukai shoes here.
ADVERTISEMENT
---
---
Best Shoes for Running on the Beach: On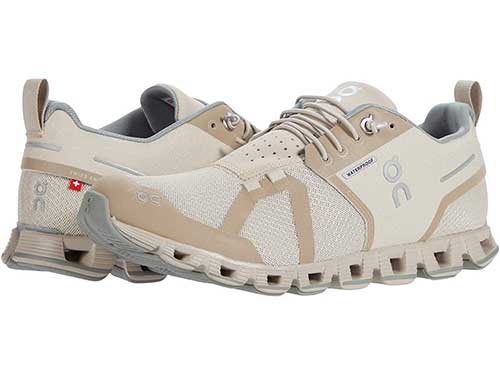 ADVERTISEMENT
---
---
Best Slip On Beach Shoes with Arch Support: Skechers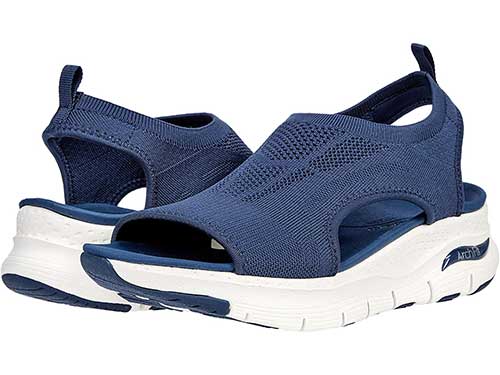 Sometimes you want the security of a enclosed water shoe, but you hate the constant need to take them off and dump out sand and pebbles.
Enter the Skechers slip on beach shoes.
These combine an open toe sandal and a closed toe beach shoe to create a hybrid that's super comfortable and great for water activities.
The platforms are very well cushioned, with memory foam inserts that cradle your feet as you walk. Plus, the footbed is contoured with Skechers' patented arch fit and podiatrist approved.
They come in black, navy and a ton of other colors too! Overall, a great affordable beach shoe!
ADVERTISEMENT
---
---
Shop Beach Shoes for Women
---

ADVERTISEMENT
---
---
Read More: in our summer style series:
Summer Essentials
Everything You Need for a Classic Summer Wardrobe
The Best White T Shirts in Every Style
The Best Classic White Button Down Shirts
Summer Dresses
7 Easy, Comfortable T Shirt Dresses for Summer
The Most Chic Slip Dresses to Dress Up or Down
The Best Fit and Flare Dresses
The Best White Dresses on Amazon
25 Cute & Affordable Amazon Dresses
Summer Shoes
The Most Comfortable Summer Sandals
The Best Minimalist Strappy Sandals
The Best Classic White Sneakers
Review: Olukai Sandals
Review: Everlane Flats
The Best Chanel Espadrille Lookalikes
Summer Accessories
The Best Sun Hats that Offer Full Sun Protection
7 of the Cutest Straw Basket Bags
Summer Linen
The Cutest Linen Dresses for Hot Summer Nights
The Best Men's Linen Pants - Summer Casual
The Best Women's Linen Pants for Coastal Chic Style
The Best Women's White Linen Pants - Simple, Clean & Breathable!
Summer Swim
The Best Online Sites to Shop for Swimwear
The Best Swimwear Brands at Every Price Point
The Best Swimsuits for Small Busts
Amazon Fashion Finds: Modest Swimsuits
The Best High Waisted Bikini Bottoms to Keep Everything Tucked In
Follow me @Sher She Goes on