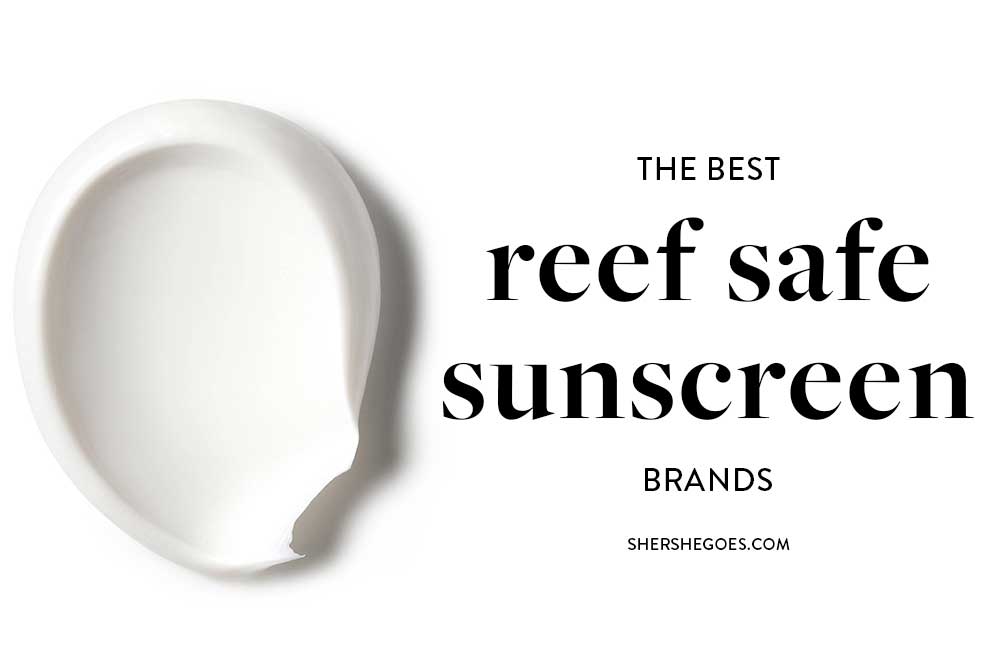 Best Reef Safe Sunscreen Brands
ADVERTISEMENT
Reef Safe Sunscreen
It's actually quite difficult to tell if sunscreens are reef safe.
A lot of brands will stick the words 'reef friendly' or 'reef safe' on the front of the packaging… but you really need to read the actual ingredient label to know for sure.
It's also still a bit ambiguous as to which sunscreen ingredients are ok for coral reefs, and which aren't. A lot of articles that I read online conflict with each other!
ADVERTISEMENT
---
---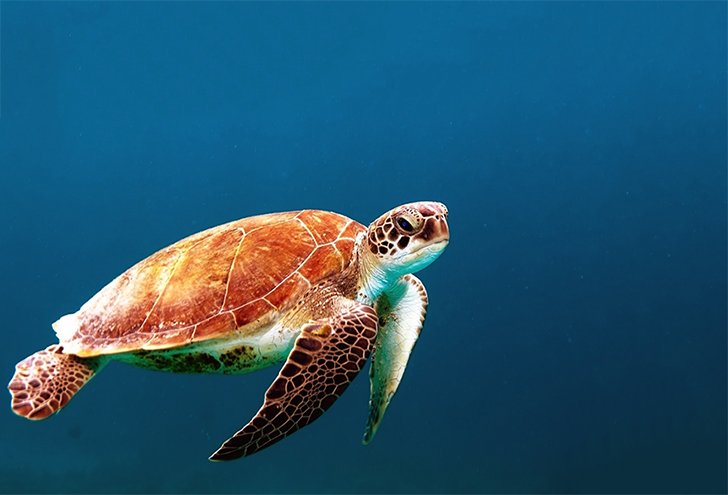 Reef Safe Sunscreen for Hawaii
For our trip to Oahu, the state of Hawaii formally bans two sunscreen ingredients: oxybenzone and octinoxate.
These are two of the most common ingredients in sunscreen. They're chemicals, meaning they protect the skin by being absorbed into the skin and neutralizing the sun's rays.
Personally, I prefer physical or mineral sunscreens, that form a physical barrier to block out UVB and UVA rays. Physical sunscreens use either zinc oxide or titanium dioxide.
The trade off is usually the texture and formulation. Physical sunscreens can sometimes be thick, leave a white cast or feel tacky and hard to spread.
Here are some of the best mineral sunscreens that are reef friendly, lightweight and apply clear!
Keep reading, or pin this article to save it for later ⇟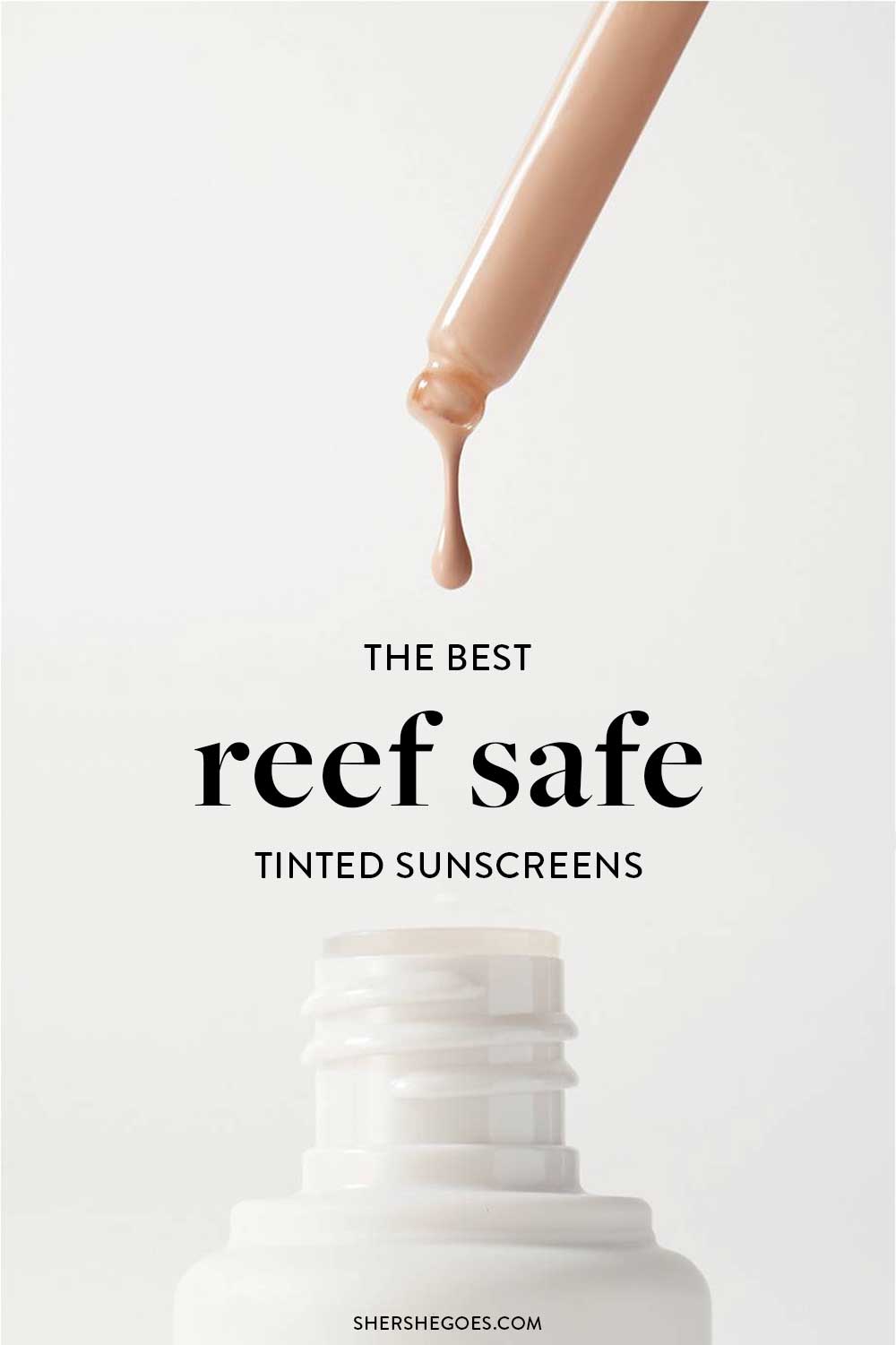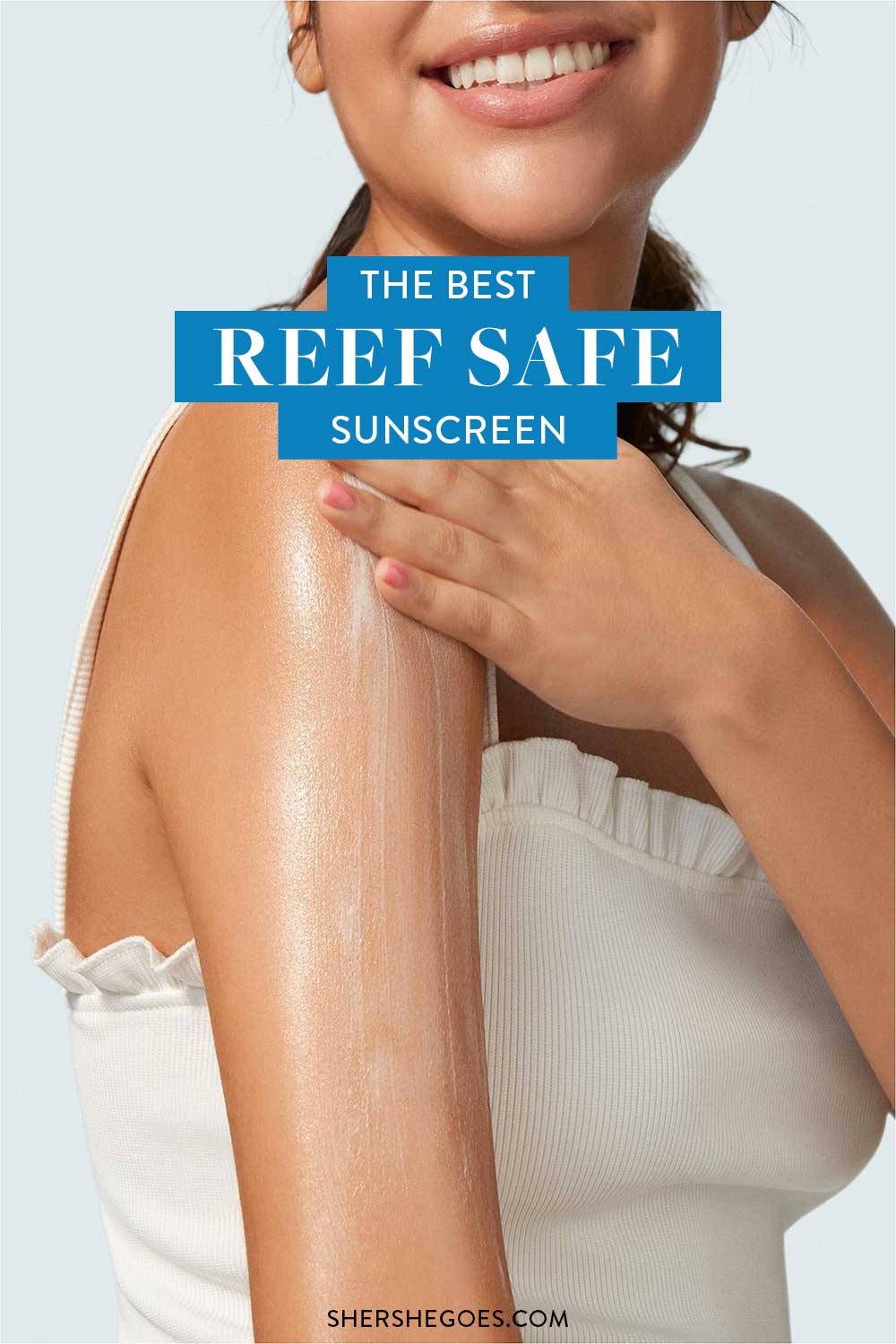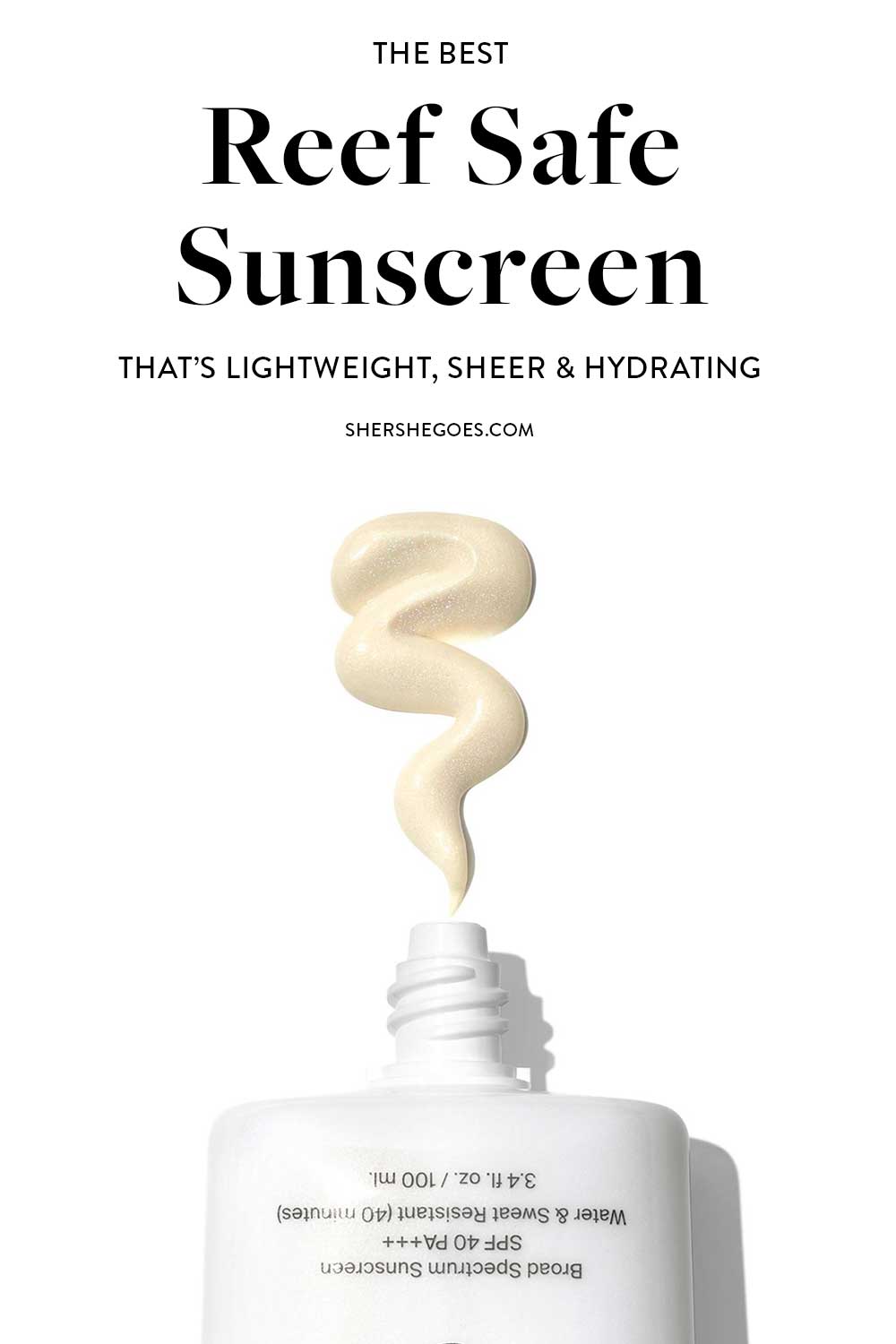 ADVERTISEMENT
---
---
Best Reef Safe Sunscreen (2021)
Best Reef Safe Body Sunscreen: La Roche Posay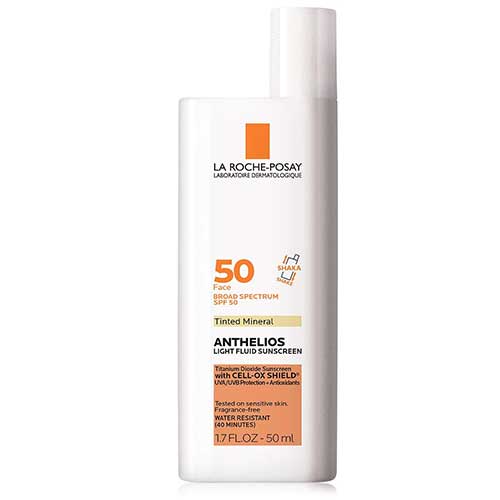 La Roche Posay typically makes chemical sunscreens, but they do offer 2 excellent physical options.
This one is SPF 50 and works great for face and body. It's quite gentle and offers excellent full-spectrum protection thanks to a 15% zinc oxide and 5% titanium dioxide formula.
This one is similar, but primarily for the face. It's tinted so great for those who like a bit more coverage and want to go without makeup.
Both rub in quite clear and have a soft, non-greasy finish!
ADVERTISEMENT
---
---
Best Tinted Reef-Safe Sunscreen: Paula's Choice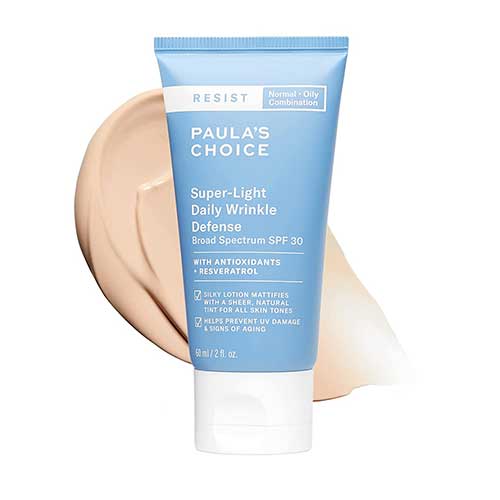 Paula's Choice makes an excellent tinted mineral sunscreen.
This one applies matte, offers SPF 30 full spectrum protection and even has anti-aging ingredients!
If you're a fuss-free kind of person and want to enjoy your day without applying tons of makeup or skincare products, this is a great all-in-one type of sunscreen.
It's tinted, to smooth out your complexion and offer some lightweight coverage. It has resveratrol, a potent anti-oxident ingredient that fights environmental damage and boosts the SPF protection.
Finally it also has willow bark to calm and soothe the skin, and dries to a nice matte finish.
ADVERTISEMENT
---
---
Best Reef Friendly Sunscreen for Sensitive Skin: Aveeno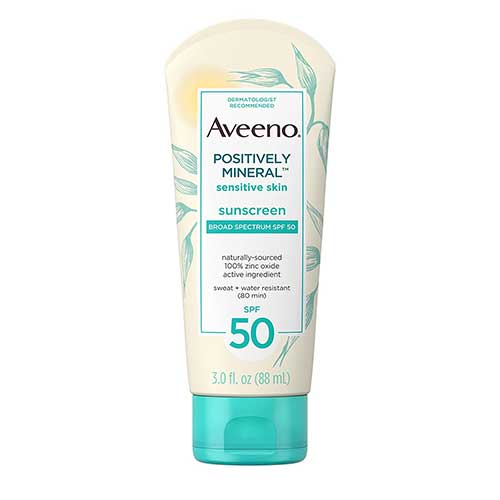 Aveeno is a gentle dermatologist recommended brand. Their sensitive sunscreen is great for travel, as it comes in a carry-on friendly 3 fl oz size.
It's also a physical sunscreen, with 100% zinc oxide as the active ingredient. This particular formula from Aveeno is lightweight, sheer and non greasy!
It's also hydrating thanks to Aveeno's signature oat formula.
Finally, this sunscreen is water resistant for up to 80 minutes, so it's fantastic for days where you'll be outdoors all day and in and out of water (just make sure to reapply)
ADVERTISEMENT
---
---
Best All Day Reef Friendly Sunscreen: Thinksport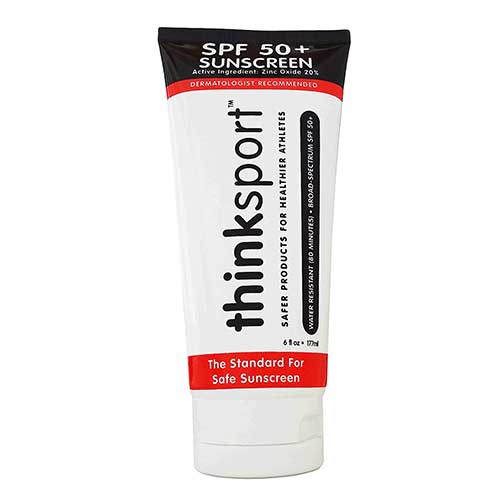 Thinksport is another great physical (or mineral) sunscreen brand.
It contains 20% zinc oxide and offers full spectrum protection against both UVA and UVB rays. It's also water resistant for up to 80 minutes and they even offer Thinkbaby, a more sensitive skin option for children.
ADVERTISEMENT
---
---
Best Water Resistant Reef Safe Sunscreen: TropicSport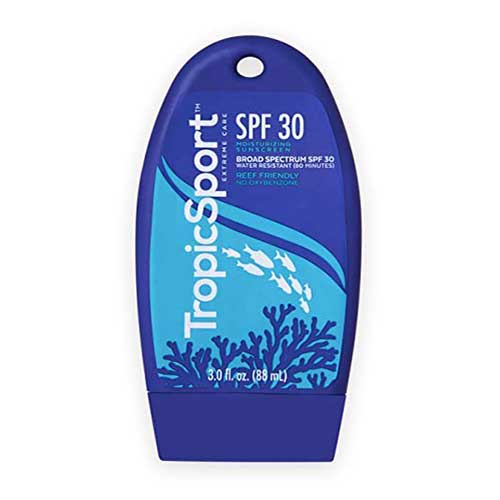 TropicSport's sunscreen is ecological and reef friendly, thanks to a formula free of oxbyenzone, octinoxate and avobenzone.
Instead, it contains just zinc oxide and titanium dioxide – the two ingredients recognized as safe for humans.
This is a great sunscreen for surfers, snorkelers or anyone who'll be out on the water for long periods. It's water resistant for up to 240 minutes (even better than the U.S. 80 minute standard).
But, always make sure to reapply often!
Finally, it's a sheer formula that provides great even coverage. No gloopyness or thick tackiness!
ADVERTISEMENT
---
---
Clothing with SPF
While sunscreen is a must, it's still not scientifically certain which ingredients may cause harm to coral reefs. I find it a little annoying to constantly reapply throughout the day – let's be honest, most of us don't re-apply as often as we should.
If you have trouble remembering to add on more sunscreen, or just don't want to deal with the stickiness and smell, try out UPF protective clothing!
So many brands are making cute SPF friendly clothing that you can wear all day – from running errands to a day at the beach to hiking or workout out outdoors.
Here are some of our favorites:
Helen Jon Rashguard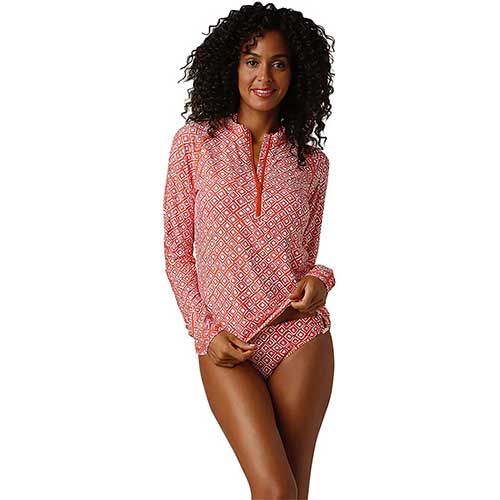 I'm a big fan of Helen Jon's sun shirts.
These double as both a rash guard over a swimsuit, and an actual shirt for day time wear. Pop this on anytime you'll be outside – from gardening to hiking to yoga to golfing!
I also think these are a really nice design.
They come in a bunch of different tropical prints and zip up for easy access. They're not as tight as swim rash guards so they're quite comfortable to wear, and they have built-in UPF 50+ protection which is truly fantastic.
ADVERTISEMENT
---
---
SPF Swim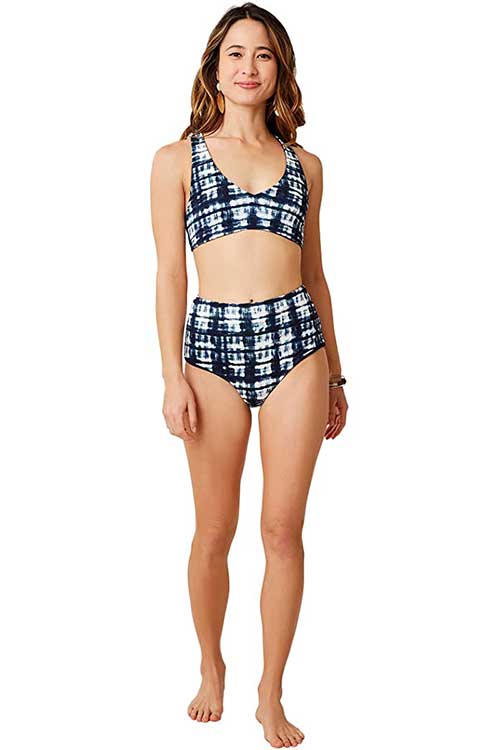 More and more brands are also starting to make UV protective swimwear!
You don't have to get a full coverage rash guard – there are one pieces and bikinis with built-in spf protection like this cute two piece set from Carve Designs.
The style is trendy and the bikini is actually made from reversible fabric, so it's not only cute but will protect you from harsh UVA and UVB rays.
I highly recommend wearing swim with UPF protection instead of just a regular bikini.
ADVERTISEMENT
---
---
Jamie Sadock SPF Clothing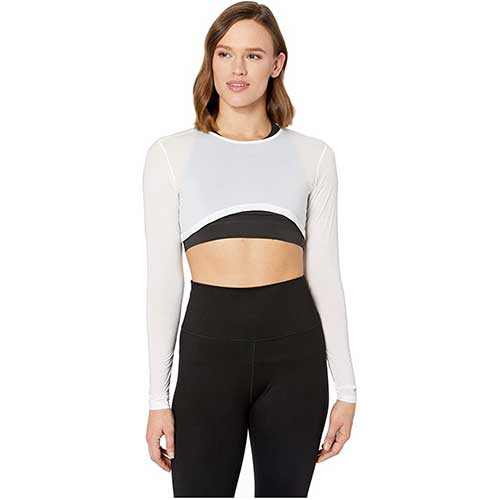 Another option for SPF protective clothing are these lightweight layering tops.
They're cropped so you can wear them under or over tank tops and tees. They're perfect for running, hiking, outdoor gardening or more adventure-heavy activities like kayaking and white water rafting.
The SPF tops include 35+ protection against both UVA and UVB rays and they're quite light and comfy to wear!
ADVERTISEMENT
---
---
Free People Movement SPF Activewear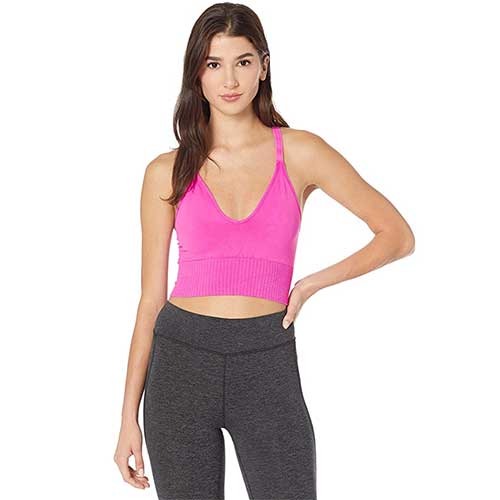 Even active wear is available with SPF protection now!
I love this cute crop top from Free People. FP makes some of the most flattering and comfortable workout sets and it's even more impressive that these contain UV protection.
The workout tank has a tiny bit of compression, a supportive design and flattering rib details to mold to your shape. The built-in SPF 30 protection makes them especially great for working out outdoors.
ADVERTISEMENT
---
---
Shop Reef Safe Suncreen
---
ADVERTISEMENT
---
---
Read More   in my travel packing checklist series:
Best Travel Luggage
The Best Carry on Luggage for 2021
The Best Packing Cubes for a Perfectly Organized Bag
The Best Lightweight Luggage for Overpackers
The Best Hard Luggage Sets for Stylish Travelers
The Best Underseat Luggage for Minimalists
The Best Carry On Bags for Men - Rugged + Durable!
Business Travel
The Essential Business Packing List
The Best Business Travel Luggage
The Best Laptop Cases for Working Women
The Best Laptop Bags for Men
Packing Hacks
The Best Travel Wallets for All Your Vacation Essentials
The Best Jewelry Cases Never Untangle a Necklace Again!
The Best Toiletry Bags to Clean Up Quick
Travel Packing Lists
The Best Travel Jackets for All Types of Weather
The Best Duffel Bags for Your Next Weekend Trip
The Best Travel Backpacks to Hold Everything You Need
Follow me @Sher She Goes on