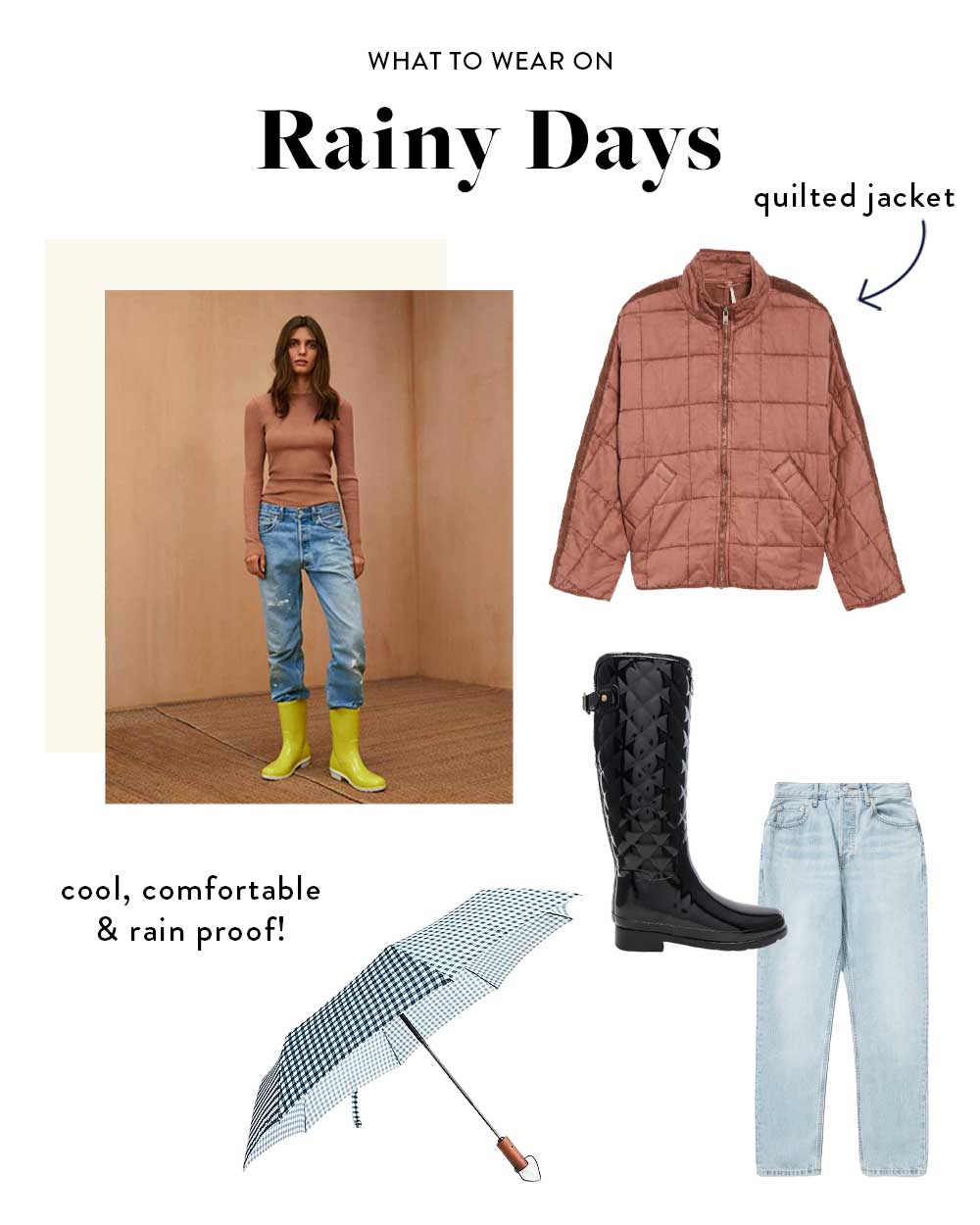 Thank you to Zappos for sponsoring this post!
The Best Rainy Day Outfits (2021)
Rain, rain, go away, come again another day!
Despite the poignant lyrical power of that childhood chant, all of us adults know that this song……actually doesn't work.
Regardless of where you live, rain is an unfortunate constant.
And, if you're like me, rainy days are the easiest to just throw on whatever clothes I like the least or look the worst.
The irony of this, however, is that I make an already dreary day even more bleak by dressing like I've just escaped from a cult compound.
Just because rainy days suck doesn't mean your outfit has to as well!
From edgy looks to preppy styles, there are a variety of rainy day outfits that can brighten an otherwise bleak day and help you stand out from the crowd!
Keep reading for our 8 favorite rainy day outfits!
Keep reading, or pin this article to save it for later ⇟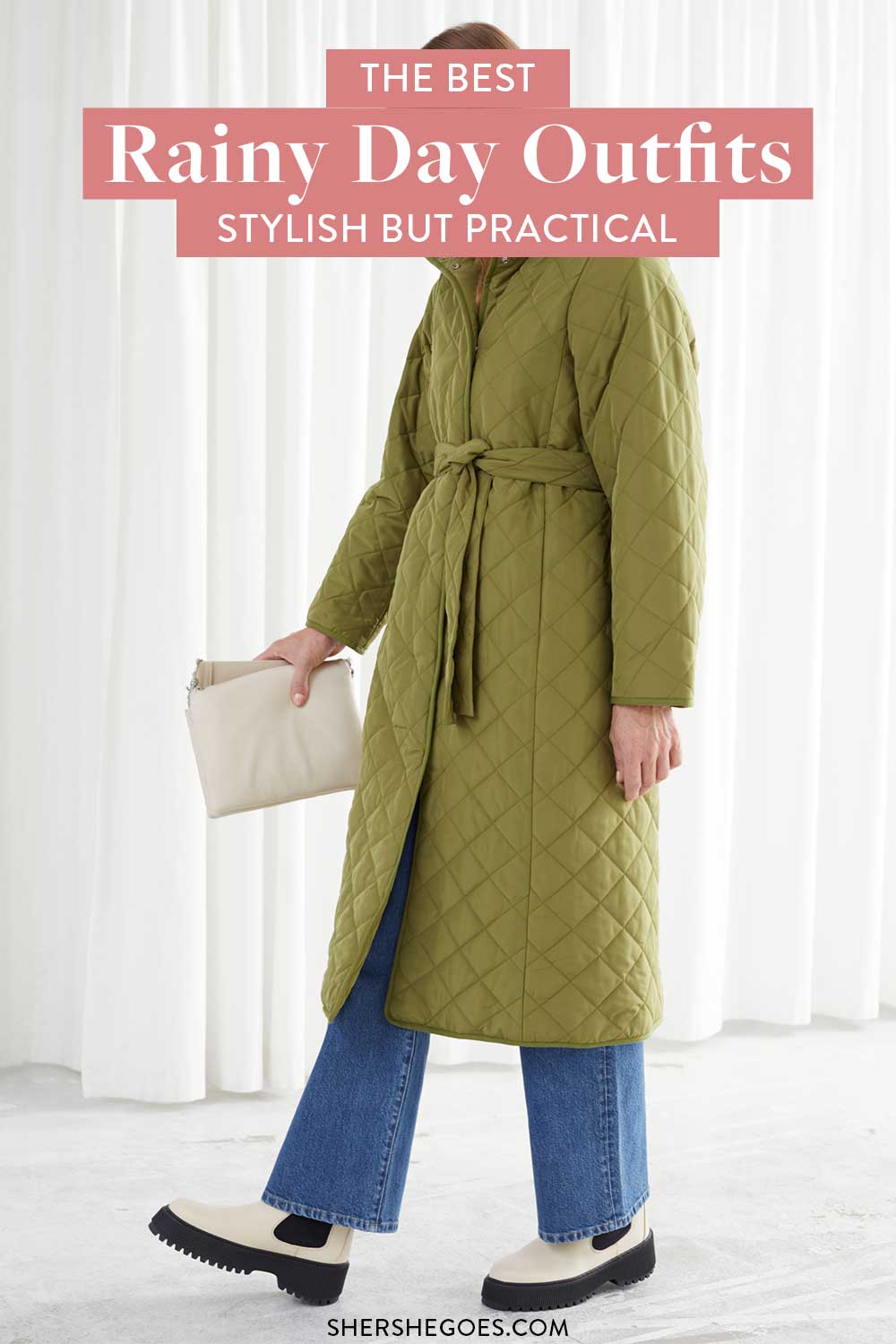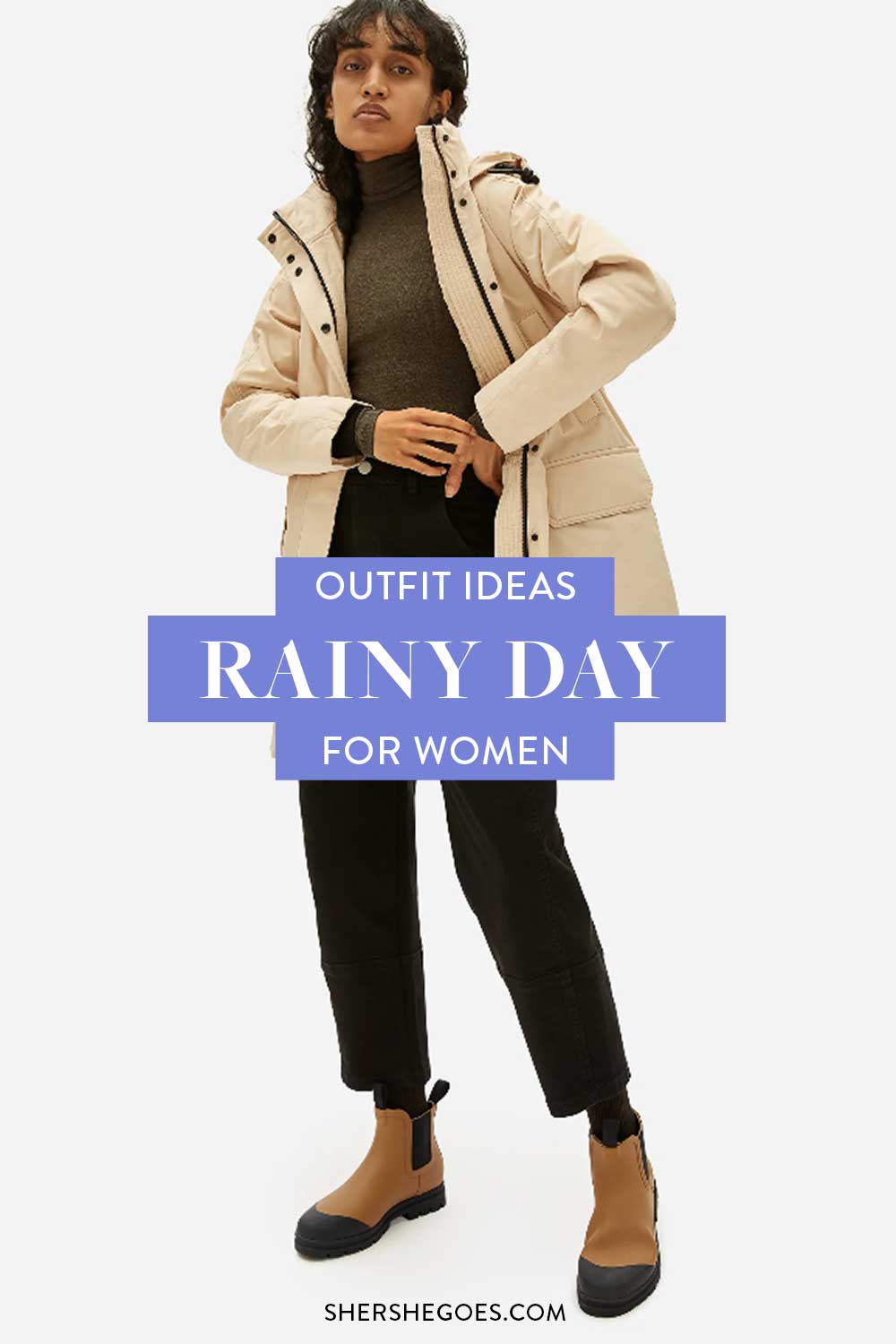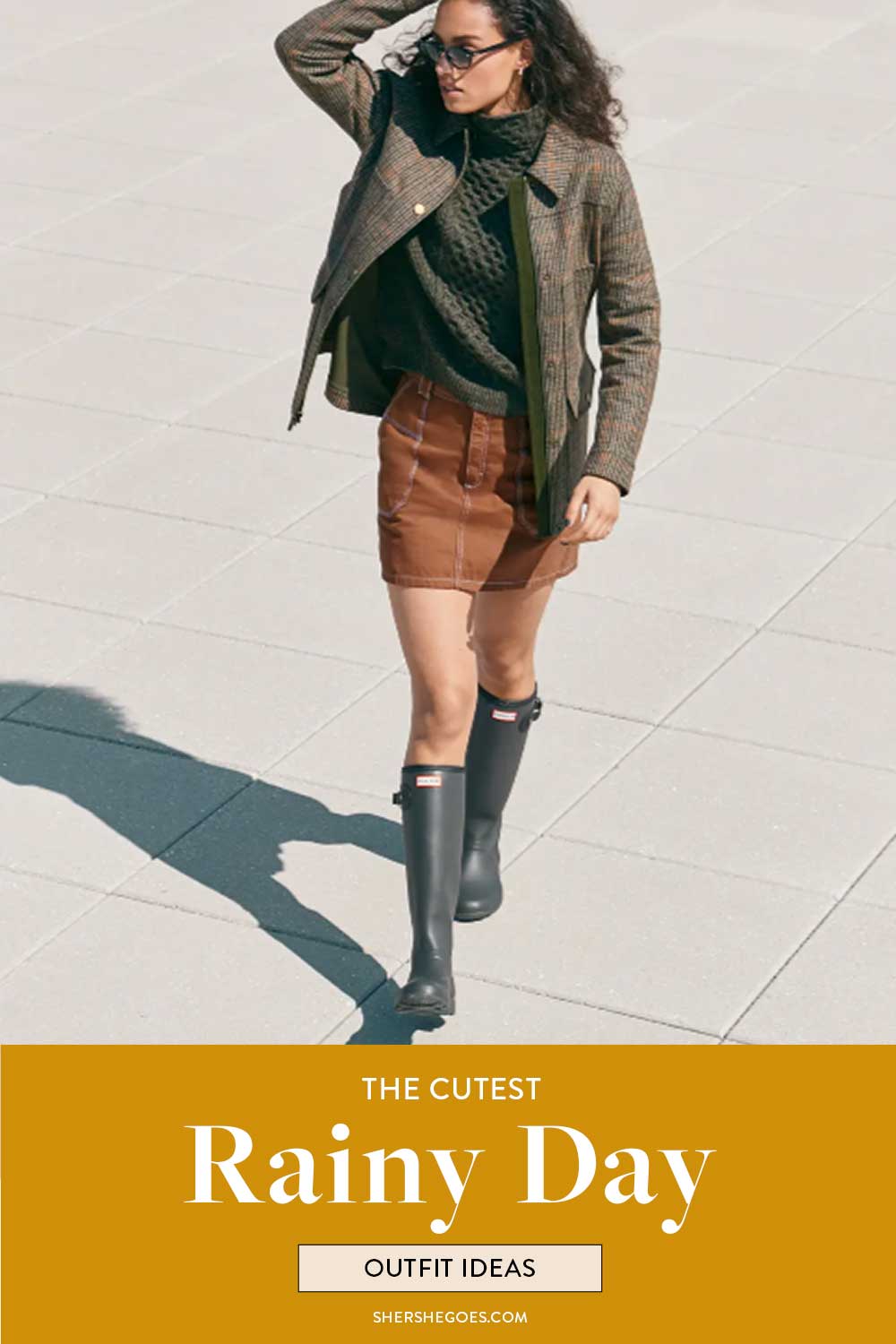 ---
---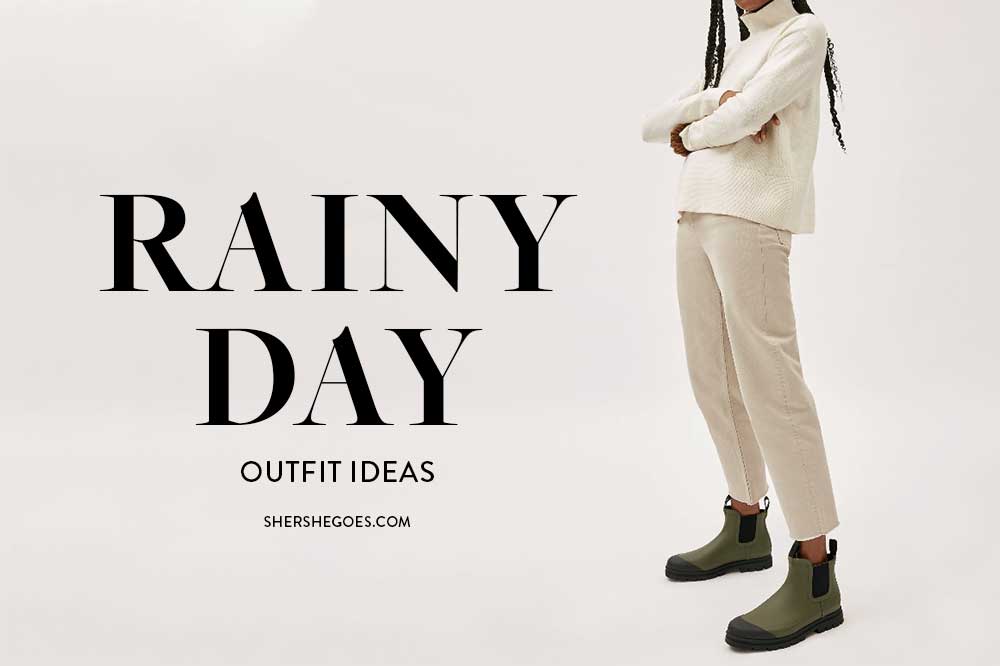 The Best Rainy Day Outfit Ideas
Quilted Coat + Wide Leg Jeans + Chelsea Boots
Not much beats the preppy yet trendy look for cold weather rainy days featured by a nice quilted coat, sleek wide leg jeans, and stylish Chelsea boots!
---
---
Bomber Jacket + Cargo Pants + Combat Boots
For something a little edgier, check out this rainy day outfit idea.
Sporting a bomber jacket, cargo pants, and rugged combat boots, you'll be able to fight back the weather – and anything else!
Try these tall black ankle boots from Margaux to keep your feet dry but chic!
---
---
Raincoat + Leggings + Knee High Boots
Sometimes the simplest rainy day outfits are also the best.
Nothing balances sleek and simple better than a trendy raincoat, knee high boots, and tasteful leggings!
---
---
Waterproof Trench Coat + Mom Jeans + Hoop Earrings
You can call this the retro rainy day outfit look.
Featuring an oversized trench coat, mom jeans, and large hoop earrings, this rainy coat outfit will definitely make a fashion statement as bold as the weather is crappy!
---
---
Athleisure + Puffer Jacket + Umbrella
Athleisure looks continue to be all the rage, so why not rock the look even when it's raining outside?
Just remember that most puffer jackets aren't fully waterproof, so make sure you grab a trendy umbrella with you before you head out!
---
---
Faux Leather Jacket + Bike Shorts + Chunky Sneakers
For those spring and summer rainy days, check out this look featuring faux leather, bike shorts, and chunky sneakers.
Aside from hitting all the current fashion trends, this look also makes practical sense as faux leather is more likely to be waterproof and easier to maintain than true leather!
---
---
Denim Jacket + Joggers + Casual Sneakers
Here's another warmer weather rainy day outfit I love.
The joggers and casual sneakers won't necessarily turn heads until you pair them with a light blue denim jacket, which perfectly accents this chill look!
---
---
Shacket + Short Rain Boots + Hat
For a trendy, slightly hipster rainy day outfit idea, check out this subtle but highly popular look.
With a shacket, short rain boots, and a hat, you'll have a rainy day outfit that will work for any season and any occasion!
---
---
Read More in my favorite Comfy Shoe series:
Most Comfortable Shoes
The Most Comfortable Flats EVER
The Most Comfortable Sandals for Summer
The Most Comfortable Boots for Winter
The Most Comfortable Heels (you can actually walk in)
Best Sneakers
The Best White Sneakers that Go with EVERYTHING
Cute Casual Sneakers to Wear Anywhere
Best Boots
The Best Chelsea Boots to Wear All Year Round
The Best Lace Up Boots for Military Inspired Chic
The Best Over the Knee Boots that Make a Statement!
The Best Shearling Boots to Stay Cozy this Winter
The Best Black Combat Boots That Go with Everything
Cozy At Home Shoes
The Best Mules for Easy Slip on Style
The Best Loafers to Look Polished but Stay Comfy
Shoe Reviews
The Best Travel Shoes in Every Style - Sneakers, Slip Ons, Flats & Sandals
Everlane Flats - These 5 Pairs are Extra Comfortable
OluKai Shoes: Sneaker & Sandal Review
Where to Get Stuart Weitzman Boots on Sale
Designer Inspired
The Best Cap Toe Ballet Flats to Get the Chanel Look, for Less
Classic Chanel Inspired Slingbacks (Two Toned)
The Best Chanel Inspired Espadrilles to Rock All Summer
The Best Manolo Blahnik Lookalikes
The Best Over the Knee Boots that Rival Stuart Weitzman Lowlands!
Follow Sher She Goes on
Youtube | Instagram | Facebook | Twitter | Pinterest | Bloglovin