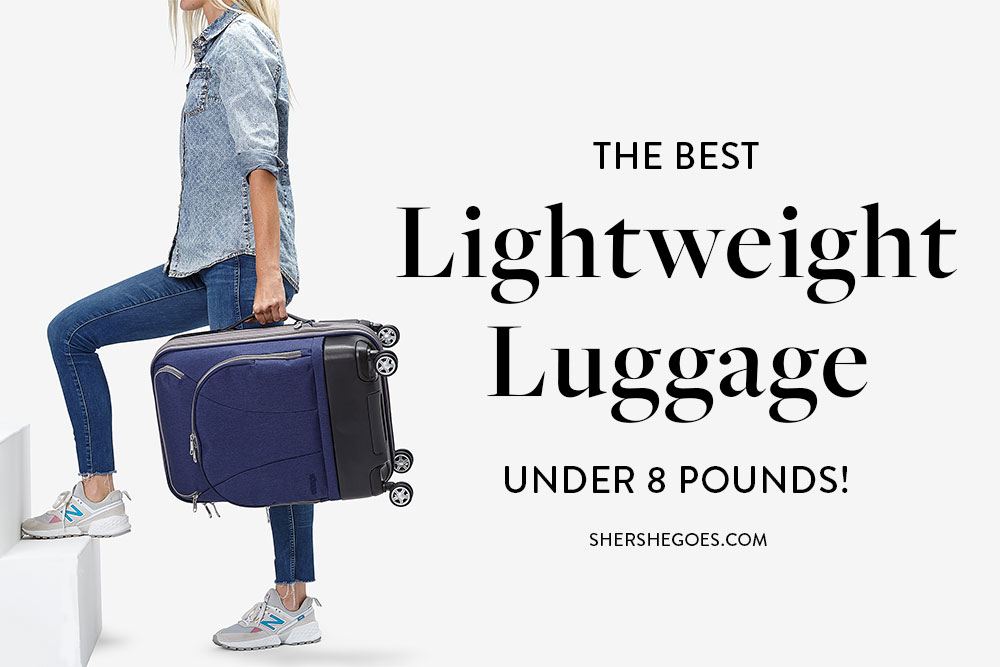 Best Lightweight Luggage Brands
Most Stylish Lightweight Carry On: Calpak
Most Stylish Lightweight Checked Luggage: Delsey
Most Affordable Light Soft Side Luggage: eBags
Most Affordable Light Hard Side Luggage: Amazon Basics
Best Softside Carry On Bag: Lipault
Most Functional Lightweight Luggage: Travelpro
Best Lightweight Suitcase for Business Travel: Tumi
Most Lightweight Checked Luggage: Samsonite
Best Lightweight Luggage Set: Traveler's Choice
ADVERTISEMENT
---
---
Lightweight Luggage for Travel
Finalizing itineraries.
Charging phone, camera, and video equipment.
Acquiring local currency.
Confirming transportation.
Preoccupation with these tasks and more is why many travelers adopt a "stuff and huff" attitude toward packing. Stuff everything hastily into your suitcase, and huff everywhere you drag your behemoth luggage.
But, fitting your ginormous packing list into luggage that's lightweight will give you a much smoother and hassle free travel experience.
No need for a luggage scale – these carry-ons, checked bags and luggage sets below are all incredibly light!
Here are the best lightweight luggage pieces to shop now!
ADVERTISEMENT
---
---
Keep reading, or pin this article to save it for later ⇟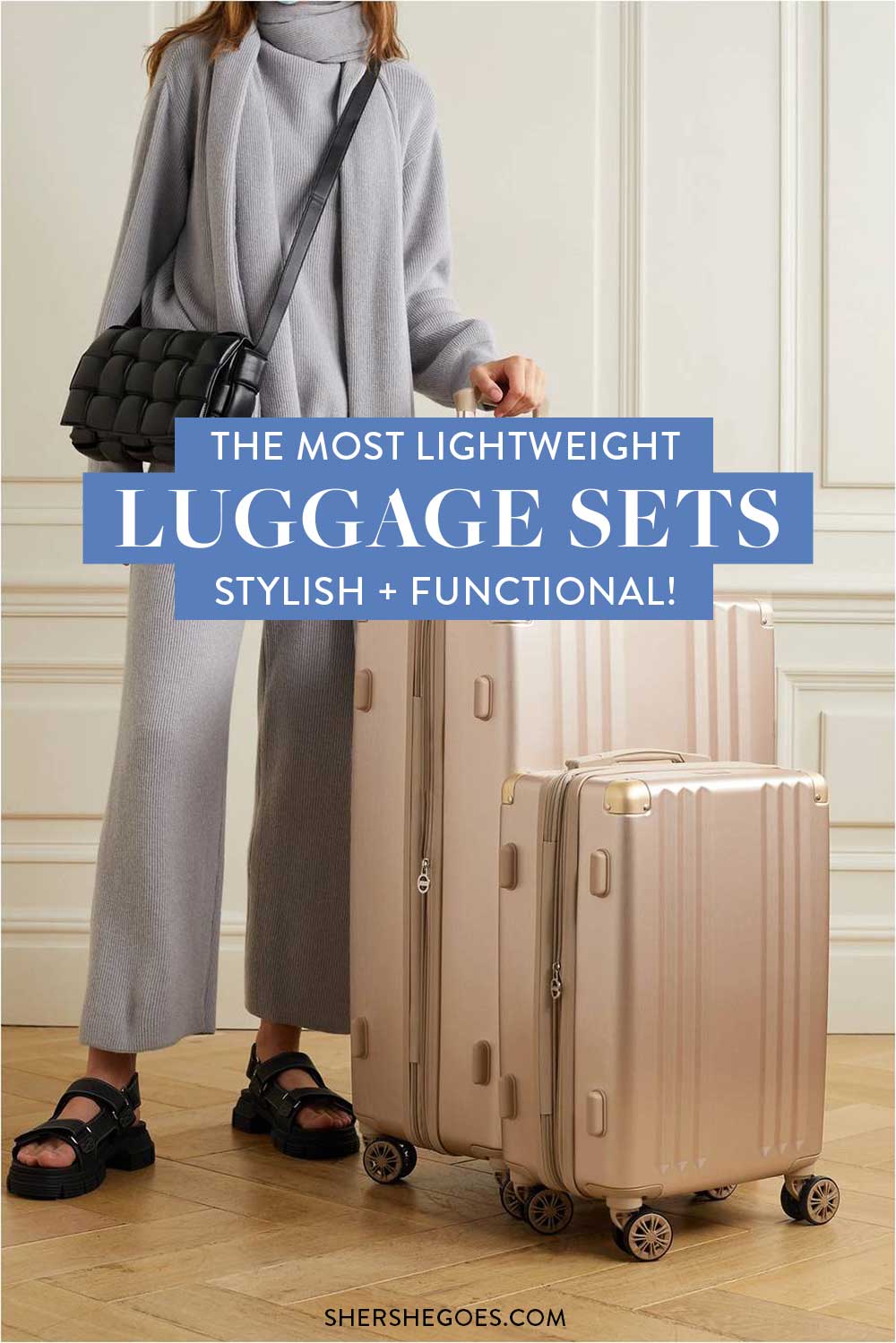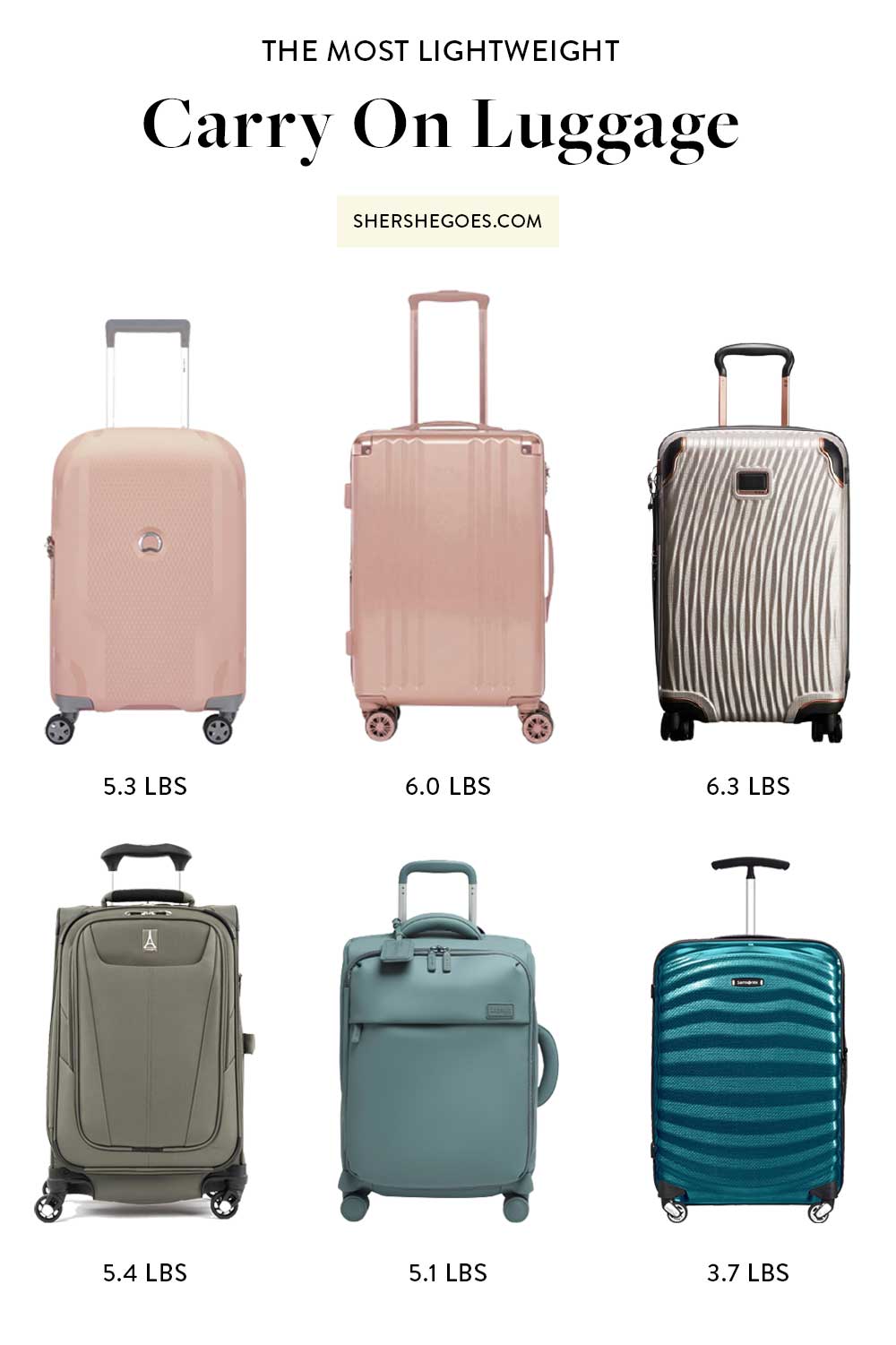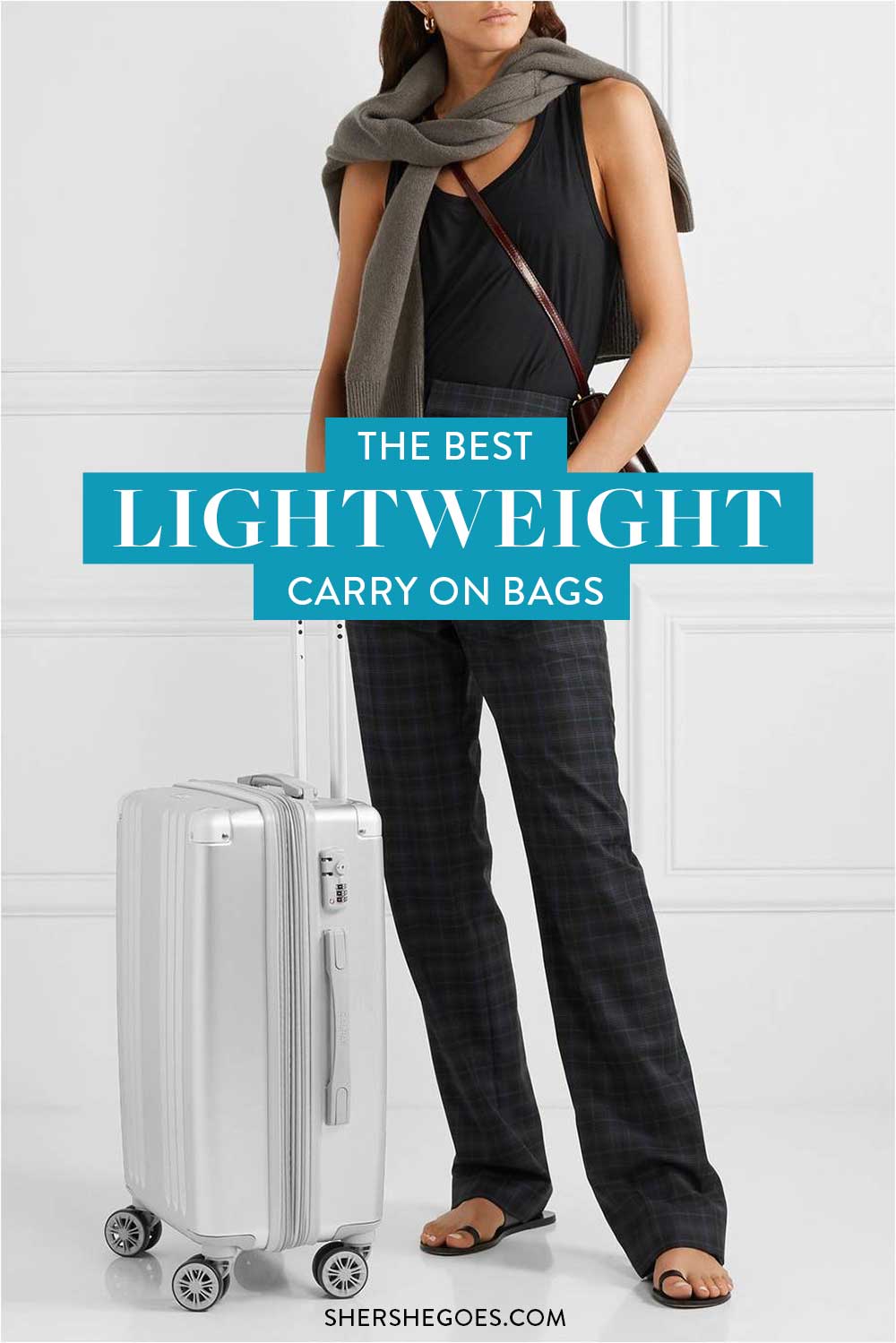 ADVERTISEMENT
---
---
Best Lightweight Luggage (2023)
Calpak Luggage
Outer Dimensions: 22″ x 14″ x 8.5″
Weight: 6 lbs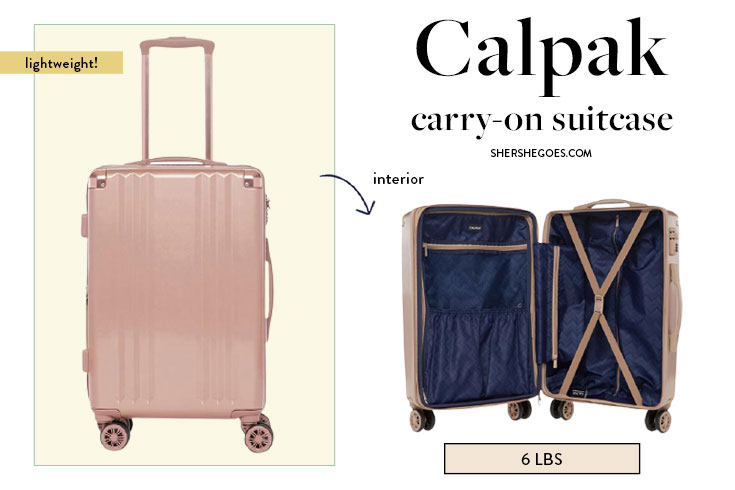 Calpak was one of the first luggage sets that I got when I started traveling heavily. They're a modern luggage brand based in LA known for extremely stylish suitcase sets.
And of course, because I'm featuring them in this post – their gear is lightweight!
They offer a wide variety of hardside options, depending on how you like your luggage to look, but this option is my favorite.
It's ultra lightweight and so sleek. The carry on is made from polycarbonate, with extra aluminum reinforcement on the corners for durability.
I've brought my Calpak set all over the world, on multiple layover flights to Asia and back, and it's taken a beating but still works just like new!
Inside, their suitcases have two equal compartments with compression straps. This option is also expandable and comes with spinner wheels and built in TSA locks.
What's not to love?
ADVERTISEMENT
---
---
Delsey Luggage
Outer Dimensions: 21.75″ x 13.75″ x 9.75″
Weight: 5.3 lbs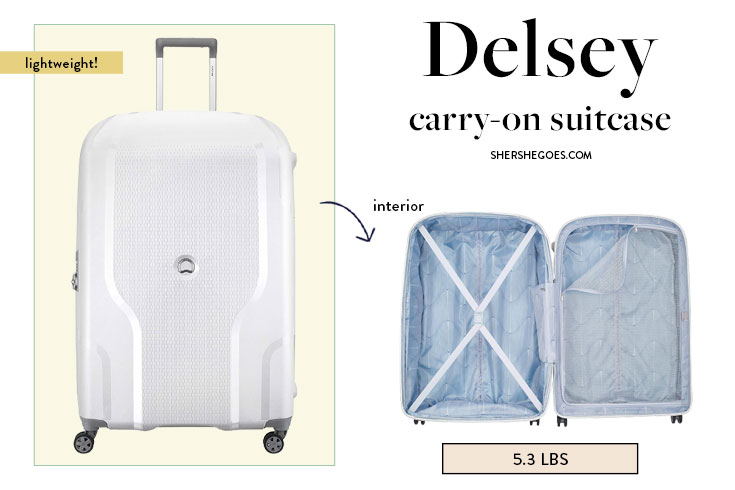 Delsey is a high quality French luggage brand that makes beautiful luggage.
This pretty carry on is one of their lightest options, at 5.3 lbs.
It comes in a rainbow of pretty colors and 3 main sizes: a 19″ spinner carry on, a 25″ spinner checked bag and a roomy 30″ upright.
All were specifically designed to be ultra lightweight and durable, thanks to a material called polypropylene which is resilient to heat, wear and tear.
In fact, the brand won a 2020 Red Dot design award for this suitcase's elegant and user friendly design!
The bag featured a unique closing system that's resistant to theft and intrusion as well as a TSA accepted combination lock.
Inside are two separate compartments with tie-down straps on one side, and a zippered side on the other. Dividers for shoes are included too!
Other positives: the shell is expandable (rare for a hard case) and comes with a 5 year warranty.
I've been a huge fan of Delsey for so long that the brand generously gave me a discount code to share with you all! Enter SHERSHEGOES at checkout for an extra 30% off here.
Delsey also offers other carry on styles that are relatively lightweight. They include the following:
ADVERTISEMENT
---
---
eBags Luggage
Outer Dimensions: 22″ × 14″ × 9″
Weight: 8.04 lbs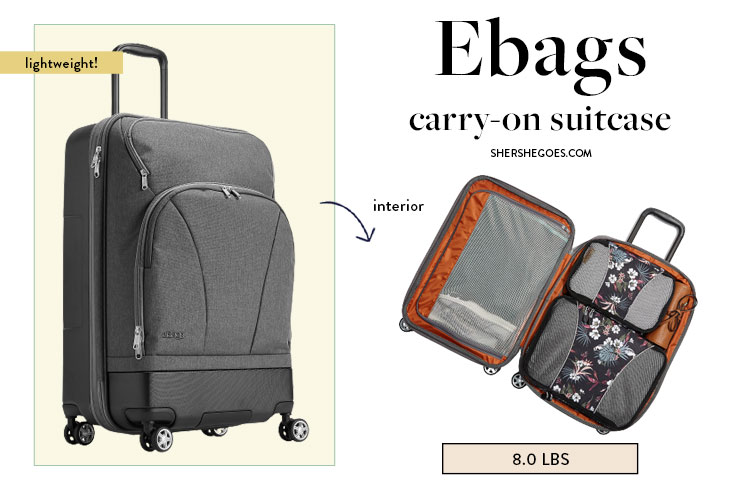 eBags specifically designed this carry on to be lightweight, in response to consumer feedback.
Out of all their luggage, the Mother Lode line is the lightest, with the 22″ soft side carry on clocking in at a respectable 8.04 lb.
What I like most about it is the sleek functionality.
It features one main compartment, with an interior zip around mesh pocket. This is a great carry on bag if you plan to use your own packing cubes to keep everything organized in one large roomy space!
Meanwhile, the outside has an exterior quick grab pocket right on top, which is really handy for storing a laptop (to get through TSA) and a light jacket in case the plane gets cold.
Overall, a fantastic lightweight suitcase at an attractive (under $100) price tag!
eBags also makes this lightweight series in a variety of luggage styles, including a rolling backpack, 21″ carry on, 25″ checked roller, 26″ extra large spinner, duffels and luggage sets.
Lots of options!
Check them all out here.
ADVERTISEMENT
---
---
Amazon Basics Luggage
Outer Dimensions: 21.6″ x 14.9″ x 10″
Weight: 7.34 lbs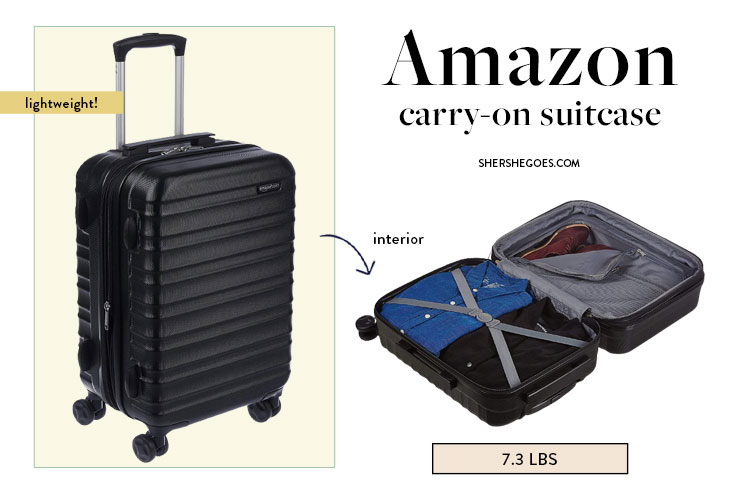 If you don't travel frequently and just need a light carry-on that will get the job done, check out this 21″ spinner from Amazon.
It comes in 4 basic colors, can hold 39 liters of stuff and is priced very affordably.
The exterior hard shell is made of scratch-resistant ABS for enhanced durability, and the inside is fully lined with 3 zippered pockets to organize your small items.
Amazon also makes a full range of travel gear, including soft shell luggage, underseat bags and hybrid suitcases. Check out the full range here.
ADVERTISEMENT
---
---
Lipault Luggage
Outer Dimensions: 22″ x 14″ x 8.5″
Weight: 5.1 lbs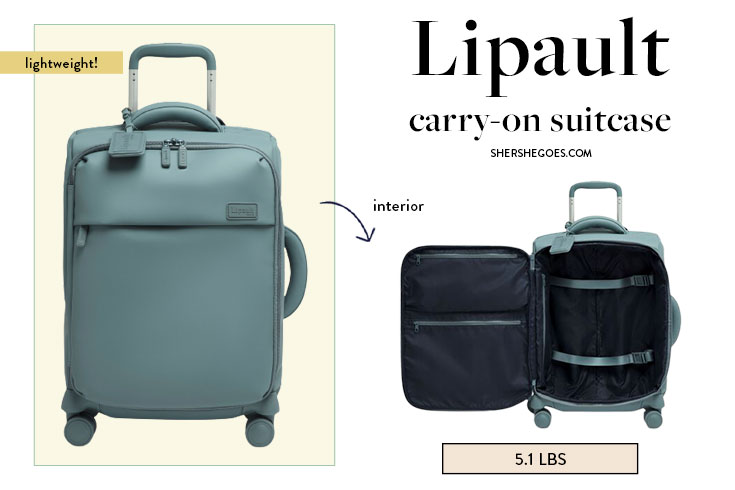 Lipault is a French luggage brand known for their distinctively plushy luggage. There's just no other way to describe them!
Their travel bags are almost all softside luggage, with a durable nylon exterior accentuated with rubberized details. Because of this, the bags are extremely light!
I particularly love the colors of Lipault luggage. How chic is this pale dusty blue and this bright canary yellow?
I have a Lipault checked bag that's a deep green but have to upgrade to their new colors. They're just so fun!
Their carry on option weighs barely 5 lbs and features one main interior pocket. It's extra roomy and great for anyone who tends to overpack outfits.
Finally, the exterior has an outer pocket that zips up as well.
ADVERTISEMENT
---
---
Travelpro Luggage
Outer Dimensions: 23″ x 14.5″ x 9″
Weight: 5.4 lbs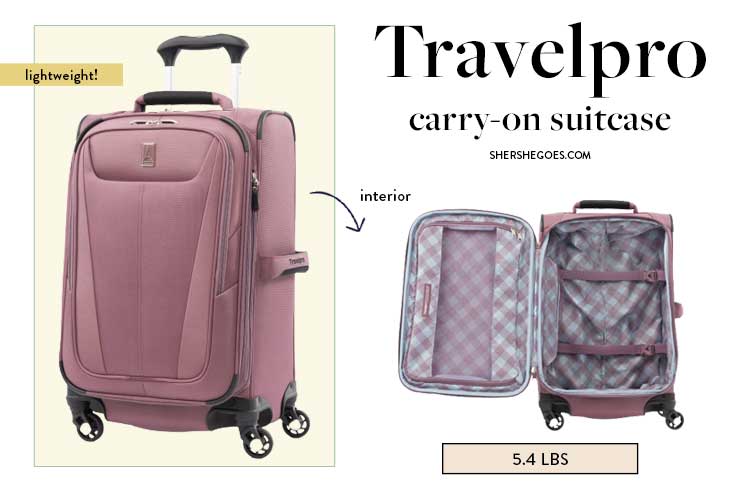 Travelpro is one of the best made luggage brands out there. After all, they began as the luggage of choice for airline crew!
Their bags are durable, functional and in the case of the Maxlite line, incredibly light.
The 21″ carry on suitcase clocks in at just 5.4 lbs and will practically fly as it glides down a tarmac, thanks to 4 wheel spinners that rotate a full 360 degrees and a lightweight outer shell.
It has two quick access pockets on the exterior and one main compartment, with plenty of interior zip pockets for storage!
Travelpro really believes in their products.
They offer a 100 day trial, no questions asked, and even cover return shipping. All orders over $99 ship free and they offer great discounts on their luggage sets!
For example, the Maxlite series is available in an underseat option, a soft tote, hardside carry on and checked luggage.
See the full range of styles here.
ADVERTISEMENT
---
---
Tumi Luggage
Outer Dimensions: 22″ x 14″ x 9″
Weight: 6.29 lbs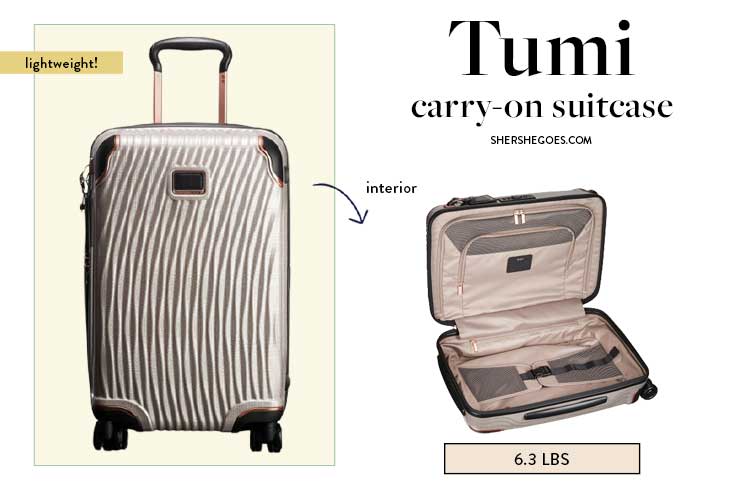 Tumi is known for it's luxury luggage goods.
If you're looking for a sleek, sexy, lightweight set of luggage, check out their entire Latitude collection here.
It's an extremely durable hard-side crafted from layers of specially woven ballistic material, so that the outer shell can bend and flex in response to its surroundings.
Suitcase gets buried at the bottom of the luggage cart?
No cracks or damage here!
This particular option is a beautiful champagne color and has a wavy reflective design.
Inside, you'll find a sandwich construction style suitcase, with two equal compartments. There's plenty of flaps, zippers and pockets to keep everything organized.
Tumi is one of the better brands out there when it comes to lightweight suitcases. Many of their carry-ons are incredibly light, but more importantly they're stylish!
Check out their Recycled Collection (carry-ons weigh 7.84 lbs) and their Softside Collection (carry-ons weigh 7.73 lbs)
Tumi is definitely a luxury luggage brand but I think splurging on their travel goods are worth it.
ADVERTISEMENT
---
---
Samsonite Luggage
Outer Dimensions: 29.5″ × 20″ × 12″
Weight: 5.5 lbs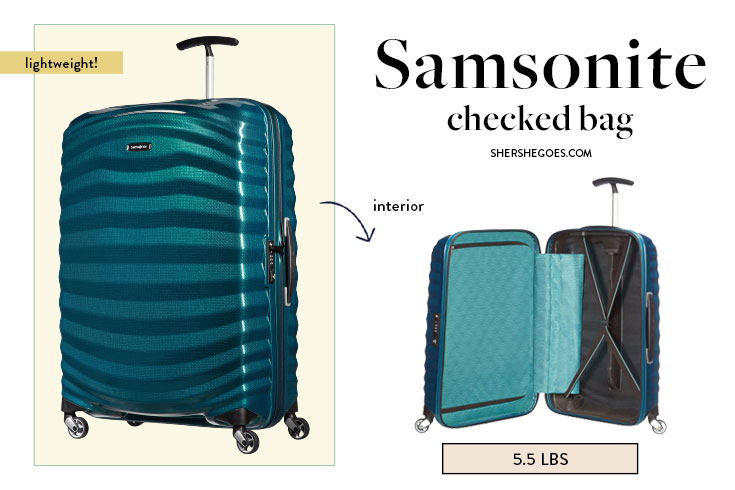 Samsonite has created durable and stylish luggage for over 100 years. They specialize in travel products for business travelers, so their suitcases are especially well made and long lasting.
The brand has several lines of exceptionally light suitcases – this spinner is our favorite.
It comes in several stylish metallic colors and was purposely designed to be extra light, yet durable. This suitcase is made with Curv material, to be extremely strong and shock absorbing (with extra strength at the corners) but also incredibly light.
It weighs just 5.5 pounds for the 30″ checked bag which is honestly amazing – there are tons of small 21″ carry-ons that are heavier than that!
Inside, the luggage features two equal compartments, one with a mesh zippered divider and the other with compression straps.
And of course, the light checked bag has features that frequent travelers will appreciate, like an adjustable height handle, four 360 degree spinner wheels and a TSA lock.
There's also a matching light carry on that's the lightest we've ever seen – just 3.7 lbs!
Samsonite is a great, high quality luggage brand and they're constantly innovating their suitcase designs.
See the full range of lightweight carry on and checked bags here.
ADVERTISEMENT
---
---
Traveler's Choice Luggage
Outer Dimensions: 21″ x 13.25″ x 9.25″
Weight: 4.51 lbs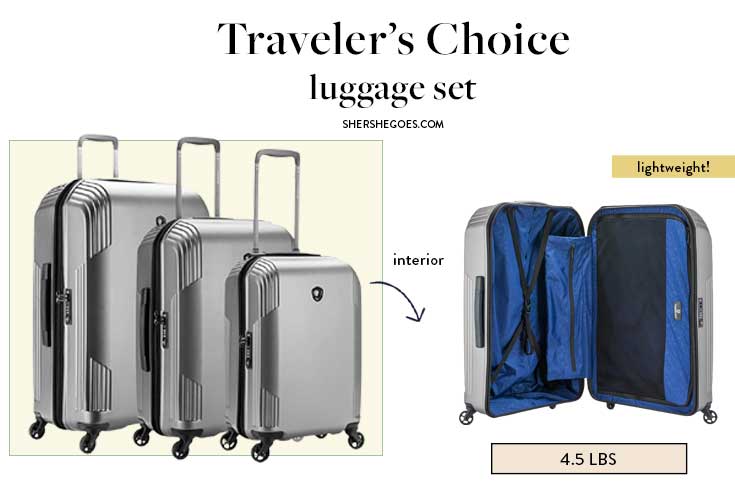 Traveler's Choice created a minimalist and incredibly light luggage set.
With a durable shell design made of ultra lightweight polycarbonate, this hard shell luggage set is effortlessly maneuverable. And the carry on weighs in at just 4.5 pounds, an incredible achievement!
It has anti-theft zippers and smooth 360-degree Hinomoto spinner wheels for stability. The interior has two equal compartments with built in organization so the whole family can travel in ease.
The brand also has several other lightweight luggage styles (although not quite as light). Check out these styles:
ADVERTISEMENT
---
---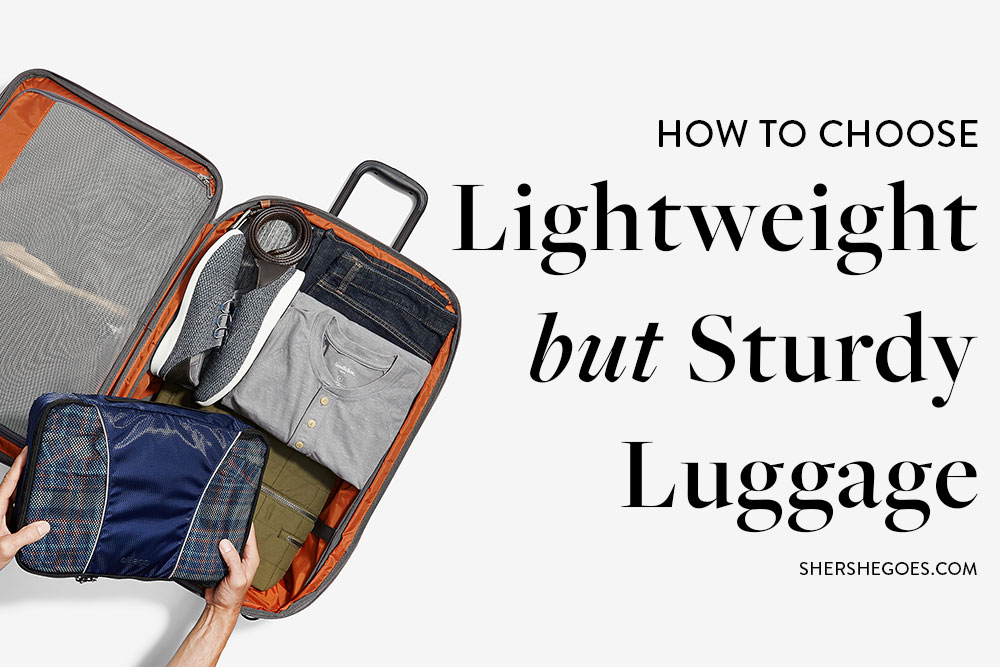 What Are the Lightest Luggage Brands?
I've used so much luggage over the years.
I'm lucky enough to get to try new releases from brands and so I've compiled this post to feature only the best of the best.
These are the best lightweight luggage brands with every option listed under 8 pounds:
Calpak
Delsey
Traveler's Choice
Travelpro
Tumi
Samsonite
ADVERTISEMENT
---
---
Shop Lightweight Suitcases
---

ADVERTISEMENT
---
---
What lightweight gear do you swear by for travel?
Read More   in my travel packing checklist series:
Best Travel Luggage
The Best Carry on Luggage for 2021
The Best Packing Cubes for a Perfectly Organized Bag
The Best Lightweight Luggage for Overpackers
The Best Hard Luggage Sets for Stylish Travelers
The Best Underseat Luggage for Minimalists
The Best Carry On Bags for Men - Rugged + Durable!
Business Travel
The Essential Business Packing List
The Best Business Travel Luggage
The Best Laptop Cases for Working Women
The Best Laptop Bags for Men
Packing Hacks
The Best Travel Wallets for All Your Vacation Essentials
The Best Jewelry Cases Never Untangle a Necklace Again!
The Best Toiletry Bags to Clean Up Quick
Travel Packing Lists
The Best Travel Jackets for All Types of Weather
The Best Duffel Bags for Your Next Weekend Trip
The Best Travel Backpacks to Hold Everything You Need
Follow me @Sher She Goes on