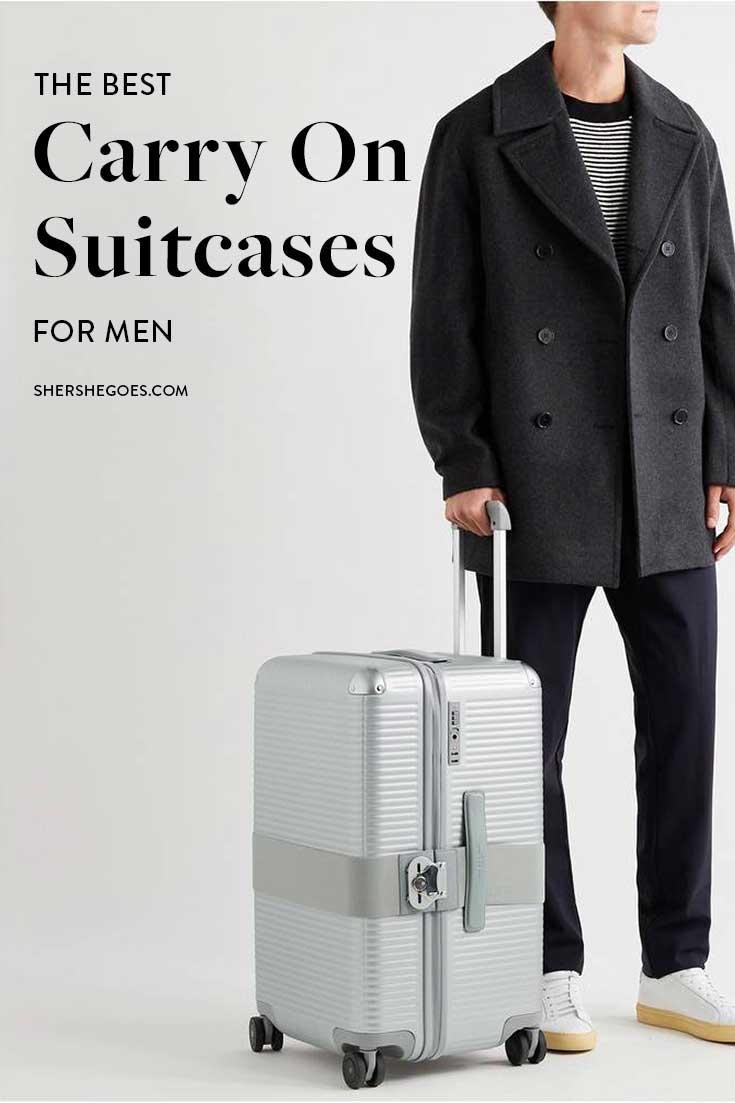 Best Carry On Luggage for Men (2021)
As frustrating as airline ticket prices can be, the oft-repeated saying that air travel has never been cheaper is actually true.
As with all things, though, there is one giant "but" that is quickly turning checked baggage obsolete – at least for the savvy traveler.
Two "buts" in this case, actually.
The first and most obvious is that airlines, to recover profitability lost from increasingly affordable ticket prices, are keen to jack up fees where they can.
Checked bags are obvious targets for fees, and unsurprisingly many airlines have not only raised existing fees, but also have completely done away with any number of complimentary checked bags for travelers not in the higher rewards tiers.
The second reason most jetsetters I know don't even think about checking bags anymore is that, as airfares plummet, more people naturally want to fly.
This makes every aspect of flying even more miserable. Endless security lines, waiting forever as a packed flight deplanes, and the ever-increasing chance that your checked luggage is the one that gets lost in an ever-busier airport shuffle.
That's why finding carry on luggage that's durable and versatile enough to eliminate the need for checking bags is so important.
We've written a lot on the best carry on luggage in general, but today we're giving special focus to the boys.
If you want to check out the best carry on luggage for men, keep reading!
ADVERTISEMENT
Keep reading, or pin this article to save it for later ⇟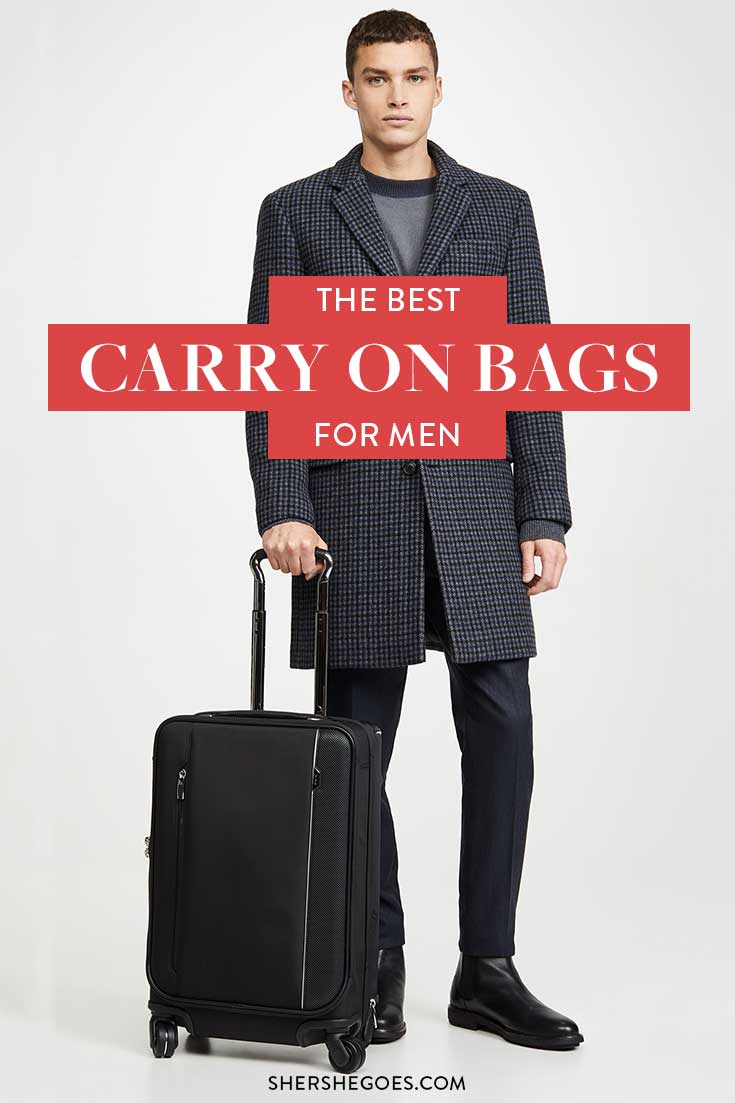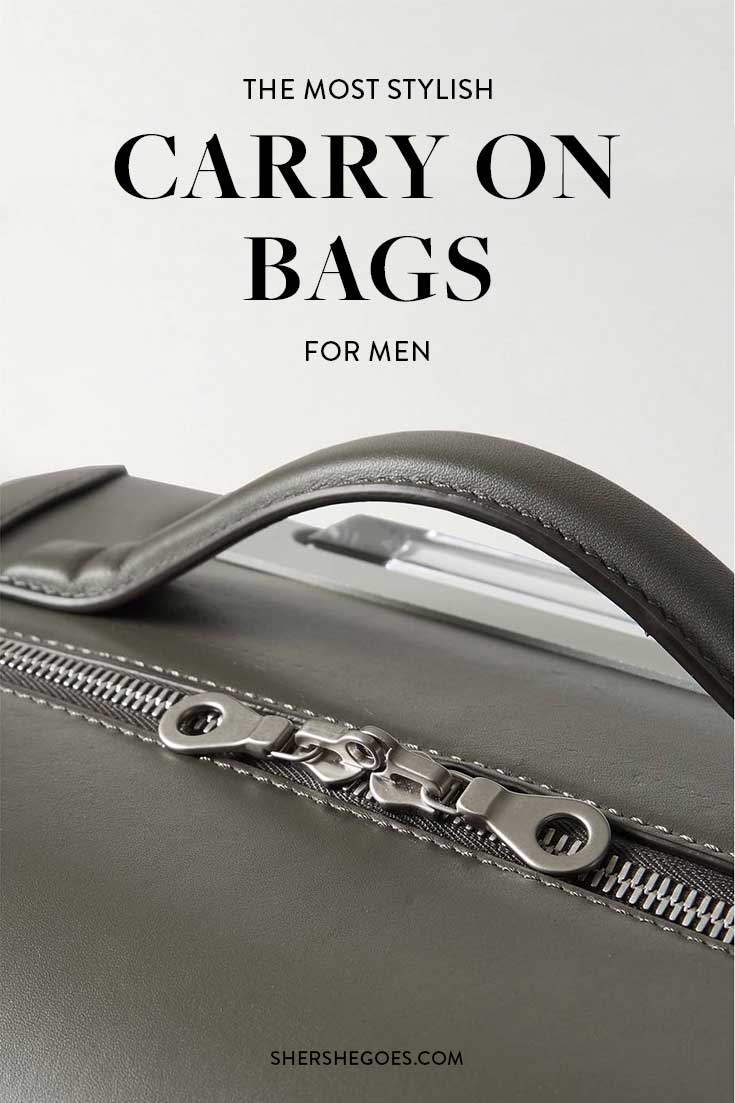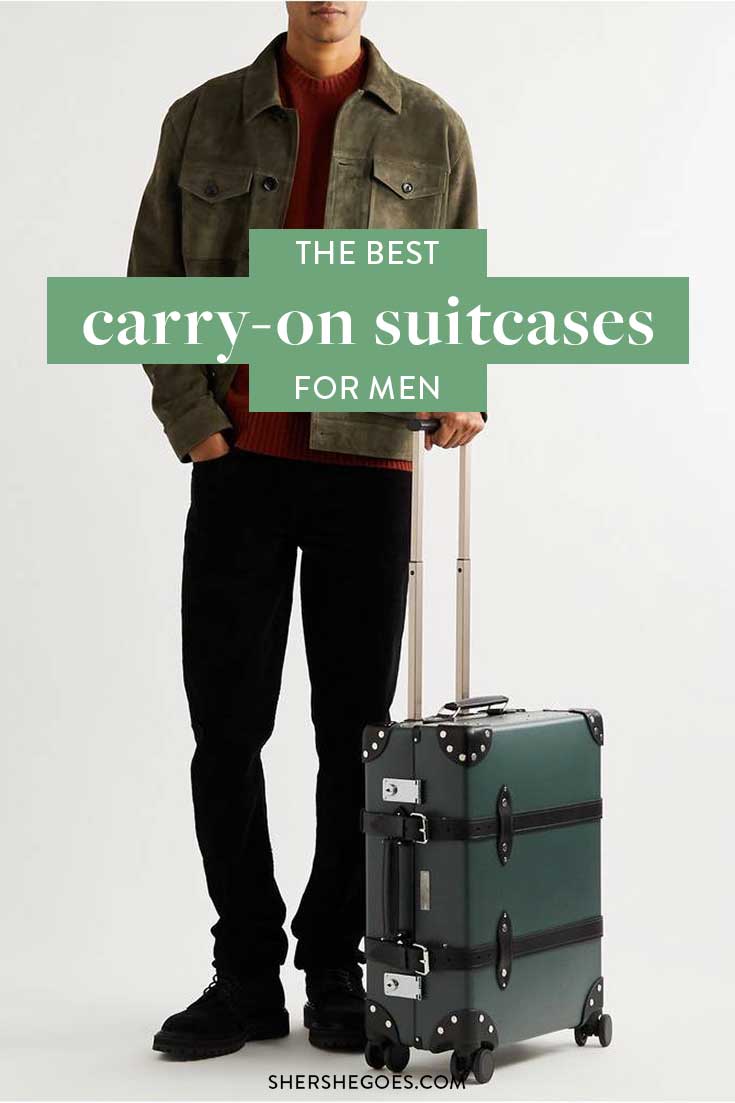 Best Men's Carry On Luggage
From the rough and rugged to the elegant and expensive, we have the best carry on luggage for men covered right here!
Best Carry On Luggage
ADVERTISEMENT
---
---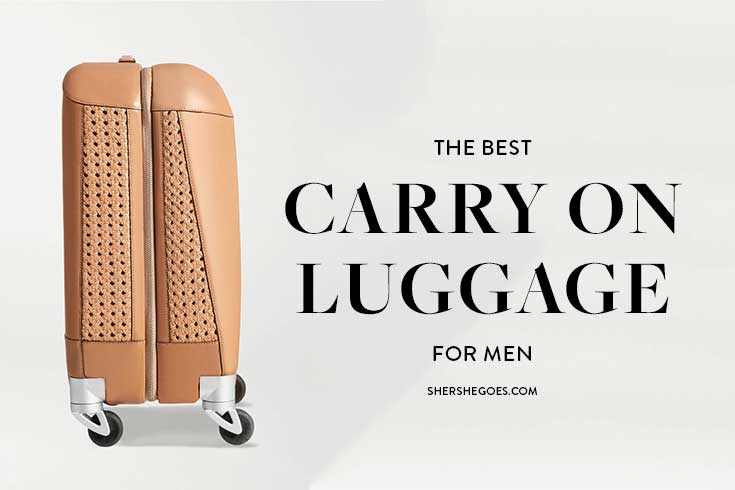 The Best Carry On Luggage for Men
Best Overall Carry On Luggage for Men: Briggs & Riley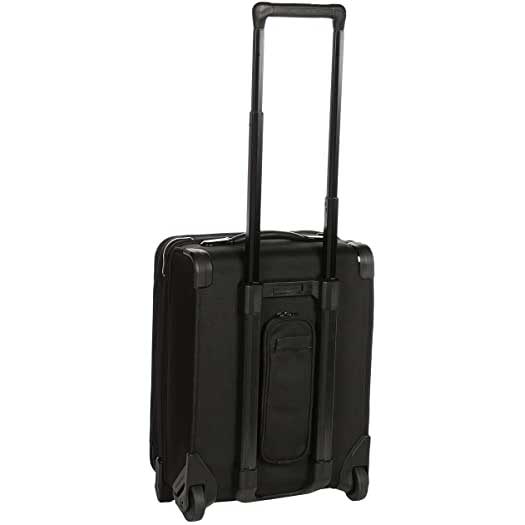 This piece is classic Briggs & Riley.
Never going to win any fashion awards, but always gets the job done better than nearly everybody else.
Featuring a patented expansion-compression system that expands packing capacity while still compressing to its original size for stowing, a super lightweight hybrid-fiberglass frame, and a ballistic nylon fabric that resists moisture, dirt, and abrasion, Briggs & Riley leave no box unchecked.
And, as ever, Briggs & Riley feature its telltale external frame. Honestly guys, once you see how easy packing on a flat surface is, you'll never go back to internal frames again!
Dimensions & Weight: 14″ x 7.5″ x 18″, 8.1 pounds
ADVERTISEMENT
---
---
Best Spinner Carry On Luggage for Men: Tumi
If you are looking for the best carry on luggage that can truly replace a checked piece, look no further than the Tumi V4 International.
The ultra-lightweight poly-carbonate material makes the Tumi significantly lighter than nearly every other carry on luggage piece, including many with smaller dimensions.
This piece also works great for any travel environment as the 4 recessed spinner wheels, 3-stage telescoping handle, and retractable side, top, and bottom handles allow this puppy to be carried, dragged, or held in literally every way imaginable!
Dimensions & Weight: 14″ x 9″ x 22″, 7.0 pounds
ADVERTISEMENT
---
---
Best Affordable Carry On Luggage for Men: Timbuk2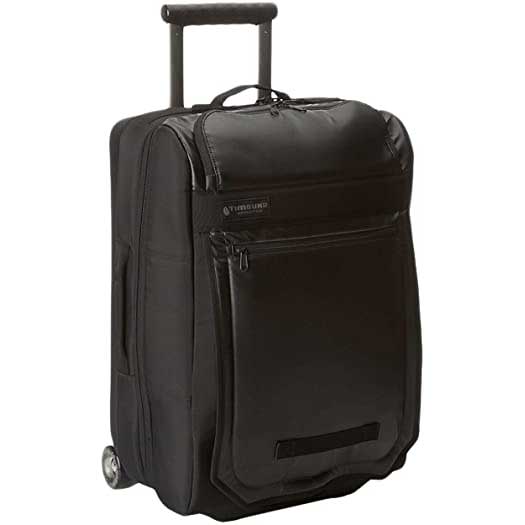 Luggage has become incredibly expensive lately, so I don't blame you If the last couple price tags made you double take.
Whether you don't travel all that much or are just prudently budget-conscious, check out this piece from Timbuk2.
While it doesn't have all the bells and whistles of a more expensive piece, it has the key necessities including a dedicated laptop sleeve, expandable top stash pocket, and large skateboard-style wheels!
Dimensions & Weight: 14.5″ x 6″ x 20″, 7.0 pounds
ADVERTISEMENT
---
---
Best Durable Carry On Luggage for Men: Filson
If Filson didn't have the most durable carry on luggage for men, given the brand has been famous among outfitters for over a century, there would be a pretty big problem.
The keys here are the leather-reinforced base and 100-denier nylon, which is a fabric that strikes the perfect nexus of water-resistant, abrasion-resistant, durable, and lightweight!
Dimensions & Weight: 15″ x 8″ x 21″, 6.6 pounds
ADVERTISEMENT
---
---
Shop Men's Carry On Luggage
---

ADVERTISEMENT
---
---
Read More   in my travel packing checklist series:
Best Travel Luggage
The Best Carry on Luggage for 2021
The Best Packing Cubes for a Perfectly Organized Bag
The Best Lightweight Luggage for Overpackers
The Best Hard Luggage Sets for Stylish Travelers
The Best Underseat Luggage for Minimalists
The Best Carry On Bags for Men - Rugged + Durable!
Business Travel
The Essential Business Packing List
The Best Business Travel Luggage
The Best Laptop Cases for Working Women
The Best Laptop Bags for Men
Packing Hacks
The Best Travel Wallets for All Your Vacation Essentials
The Best Jewelry Cases Never Untangle a Necklace Again!
The Best Toiletry Bags to Clean Up Quick
Travel Packing Lists
The Best Travel Jackets for All Types of Weather
The Best Duffel Bags for Your Next Weekend Trip
The Best Travel Backpacks to Hold Everything You Need
Follow me @Sher She Goes on