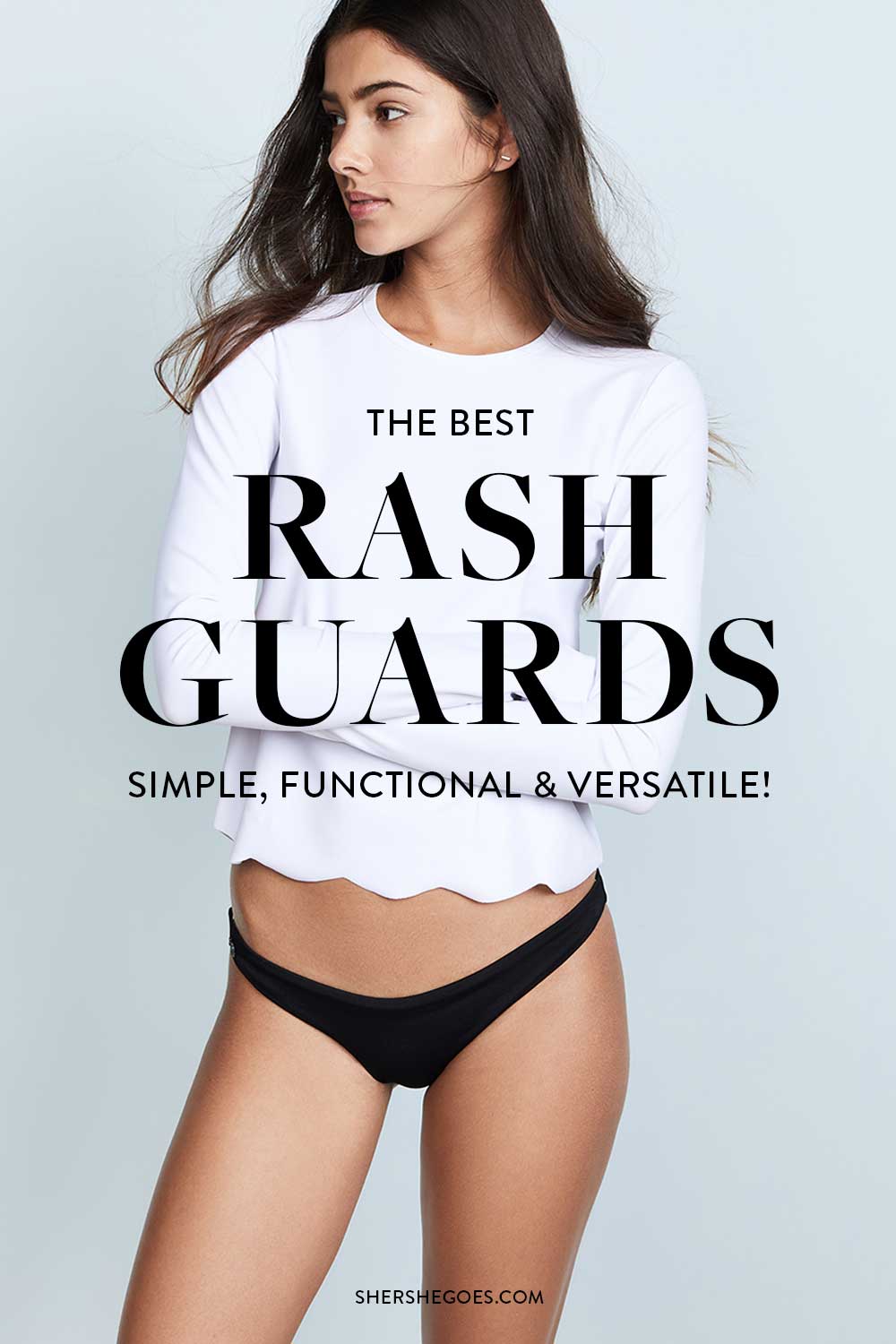 Rash Guard
Sun worshipping is not for me.
I'm the person packing 5 sunscreens for a vacation, slathering it over my entire body and re-applying like a mad woman.
I might be pasty pale… but at least I won't age like a dried prune!
So when I found out about rash guards, SPF infused clothes that doubled as swimwear, I was intrigued.
Here's everything you should know about rash guards and the best ones on the market!
ADVERTISEMENT
Keep reading, or pin this article to save it for later ⇟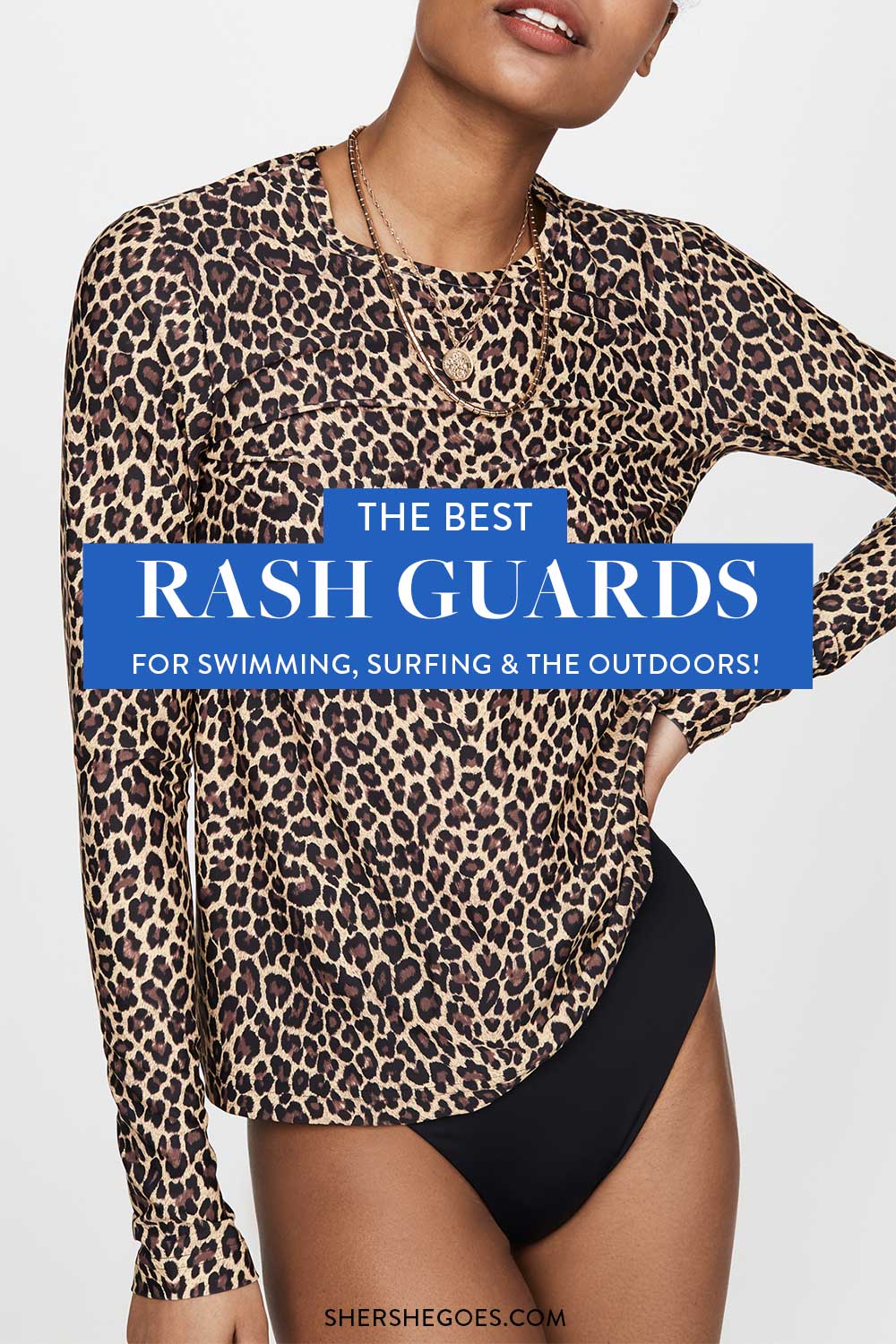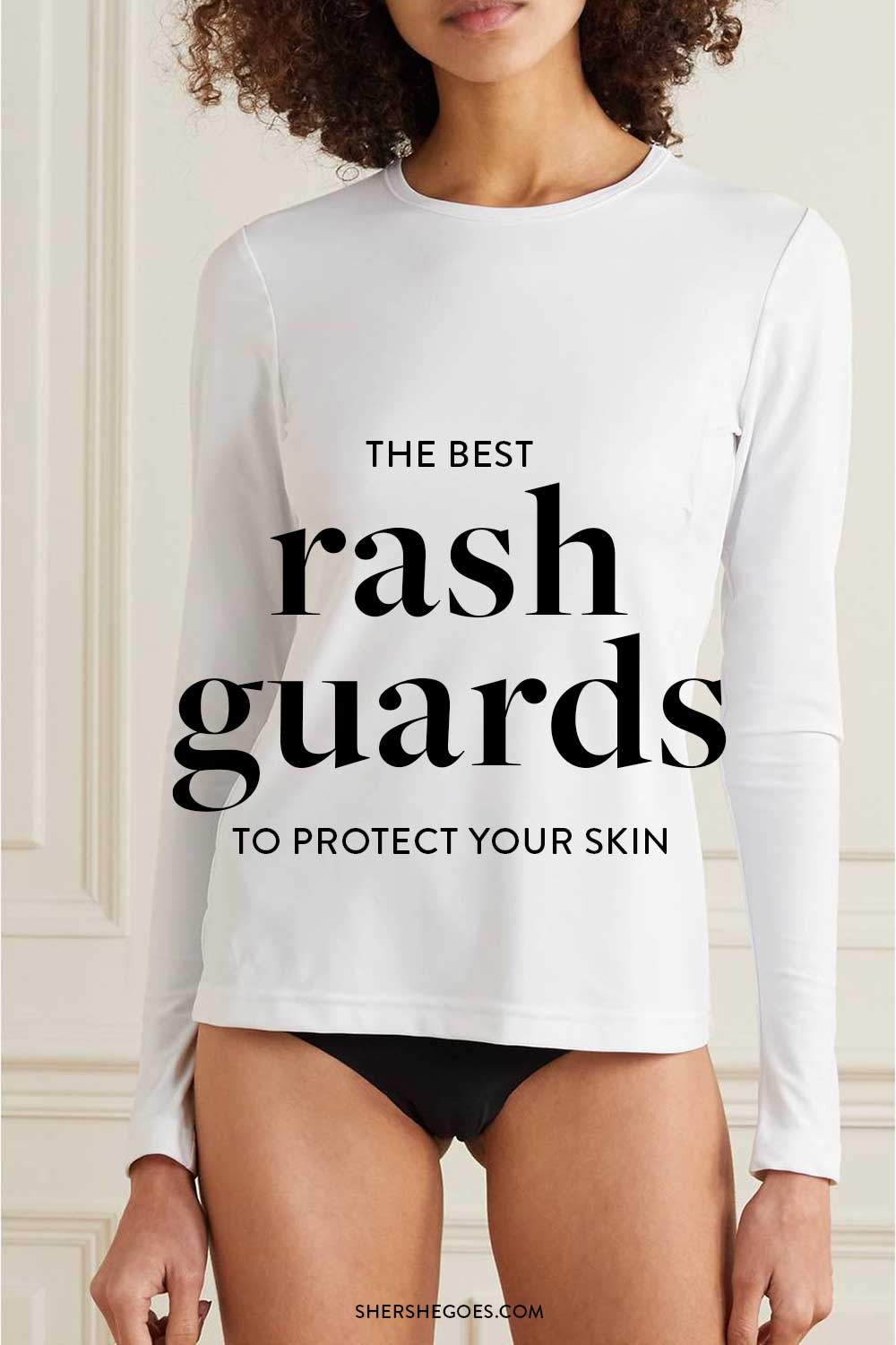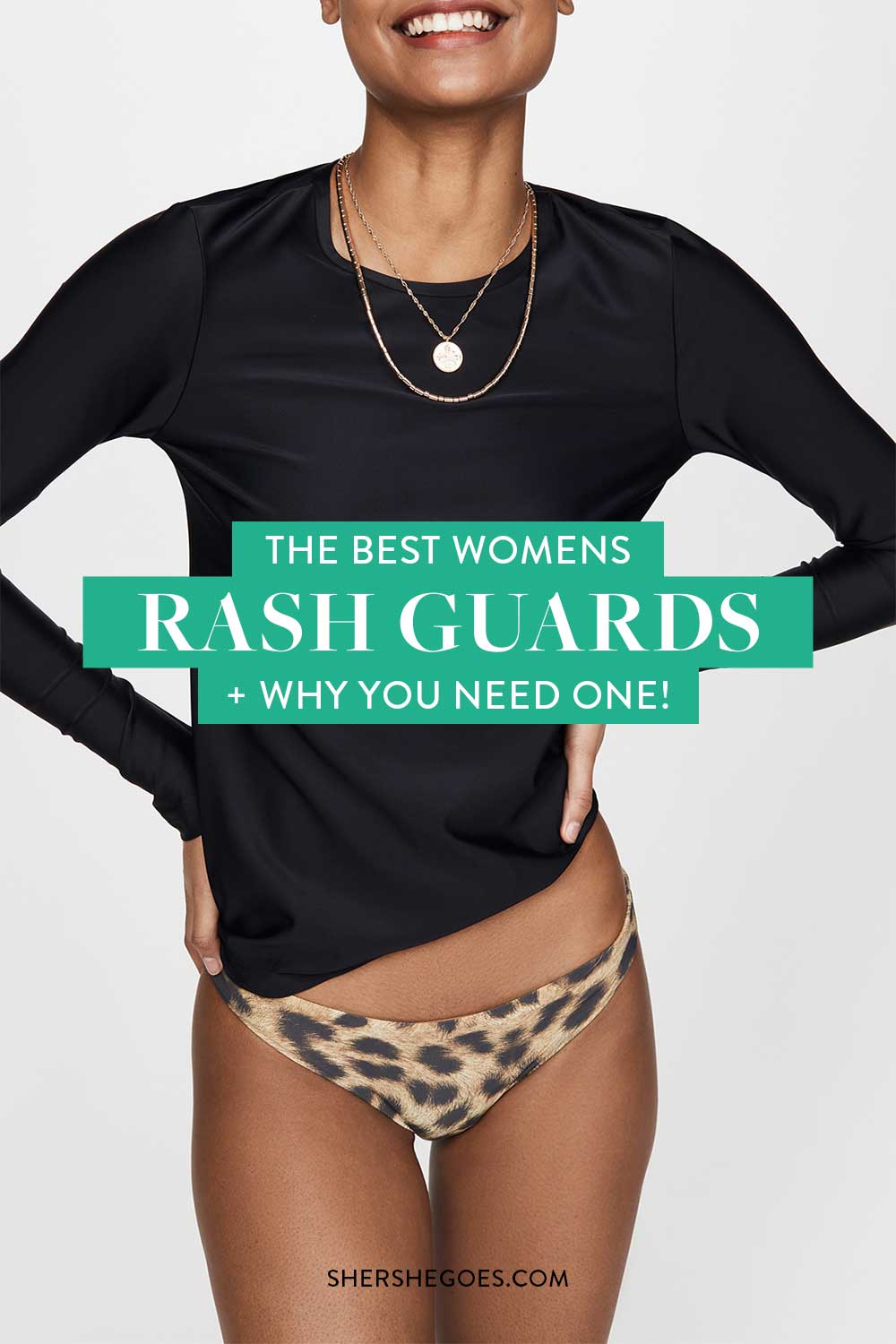 ADVERTISEMENT
---
---
What Does A Rash Guard Do
But first, what are they.
Rash guards are essentially swim shirts.
Nope, they're not really for modesty (although they certainly help if you're concerned with that!) but more for sun protection.
Rash guards are typically long sleeves and made to be worn over your swimsuit as an additional layer to protect you against the sun.
They should be made from SPF fabrics to shield you from both UVA and UVB rays, and they're especially great if you love doing lots of water activities.
ADVERTISEMENT
---
---
Surfing, scuba diving, kayaking.. rash guards come in handy for any activity where you'll be spending a lot of time outdoors under the full glare of the sun.
If you're prone to chafing, they also provide an extra layer against your skin and an extra layer of warmth under a wetsuit!
And finally, the best part is they cut out the chore and time of reapplying sunscreen! Always make sure you buy a rash guard with explicit sun protection.
ADVERTISEMENT
---
---
Rash Guards for Women
Rash guards come in all styles, fits, thicknesses and fabrics. Here are the best rash guards for women to check out this summer!
Best Women's Rash Guards
ADVERTISEMENT
---
---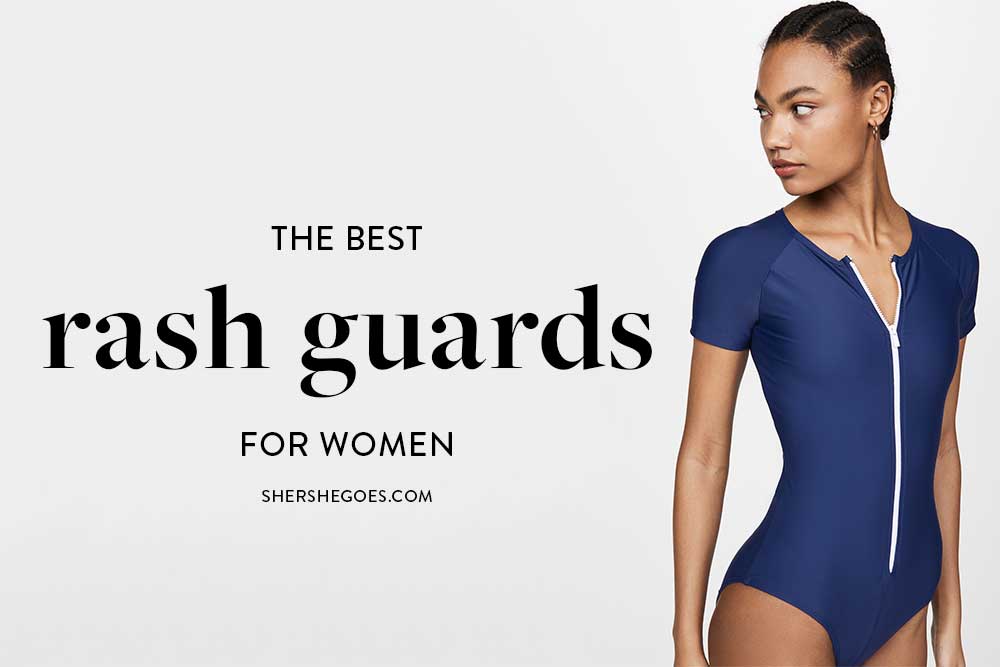 Best Rash Guards (2021)
Most Affordable Rash Guard: Charm Leaks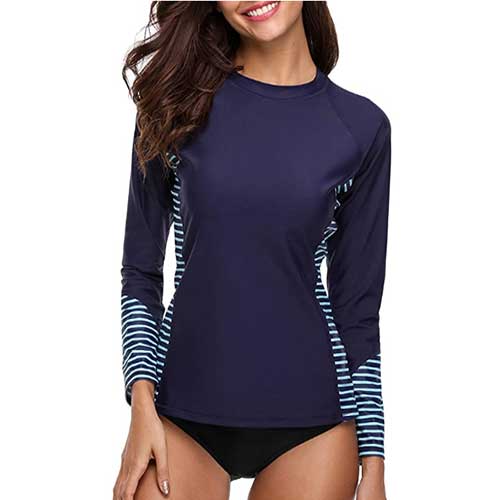 If you want to try out a rash guard and are simply looking for an affordable option, Amazon is here to the rescue.
This best selling guard is made from a quick dry, breathable polyester spandex blend. It fits a little on the smaller size (so go one size up if you prefer a looser fit) and has a simple crew neck and long raglan sleeves.
It's available in a whole host of different patterns and contains UPF 50 fabric.
While it's not the best quality rash guard, it gets the job done!
ADVERTISEMENT
---
---
Best Simple Rash Guard for Surfing: J.Crew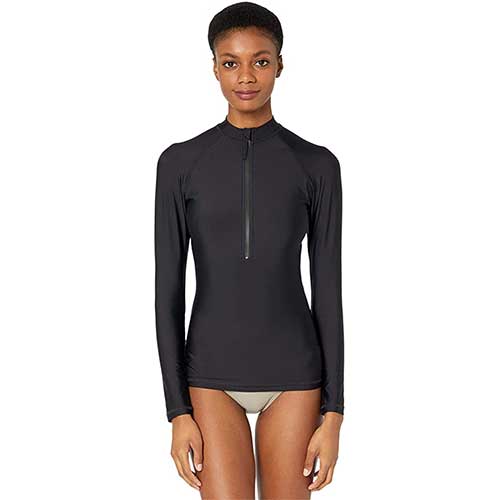 J. Crew makes some truly excellent swimwear.
It's relatively affordable, always available in different fits and styles (especially for mature women) and classic enough to wear for years.
This long sleeve rash guard is yet another winner from the brand.
It features a front 3/4 zip, making the rash guard easy to get in and out of, and has slim long sleeves to give you a long, lean look.
Best of all, it's made from a recycled fabric that has sun protection built into it, so not only is it a more sustainable option, it's got all the benefits too!
ADVERTISEMENT
---
---
Cutest Rash Guard: Maaji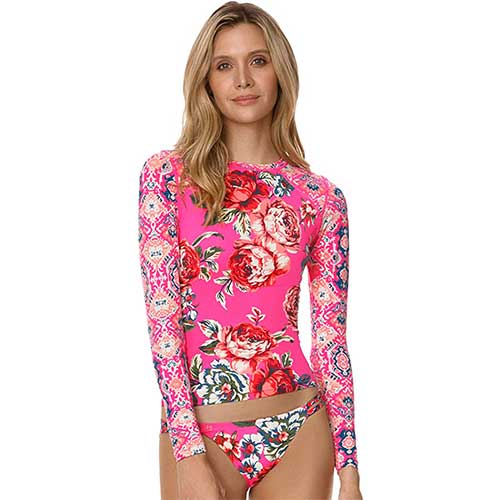 Maaji is a newer swim brand that specializes in fun, colorful prints. I love their cut out one pieces and reversible swim fabrics.
Their diver rashguard is one of the prettiest on the market. Not only does it offer comfort and all day sun protection, but style as well!
Pair this UPF 50+ rash guard with the matching bottoms for an especially chic look.
ADVERTISEMENT
---
---
Best Short Sleeve Rash Guard: Amazon Essentials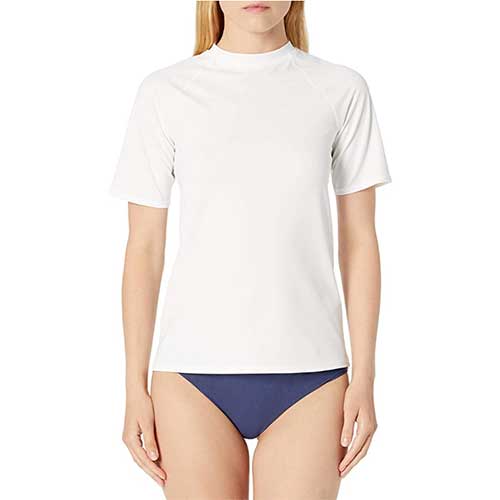 If you're looking for a short sleeve rash guard, this simple option from Amazon Essentials might be perfect for your needs.
Made from a polyester elastane blend, it features exposed stitching, slightly longer raglan sleeves and a fitted cut.
It's also a heavier weighted material and categorized with a UPF 50 sun protection rating.
ADVERTISEMENT
---
---
Best Fitted Rash Guard: Carve Designs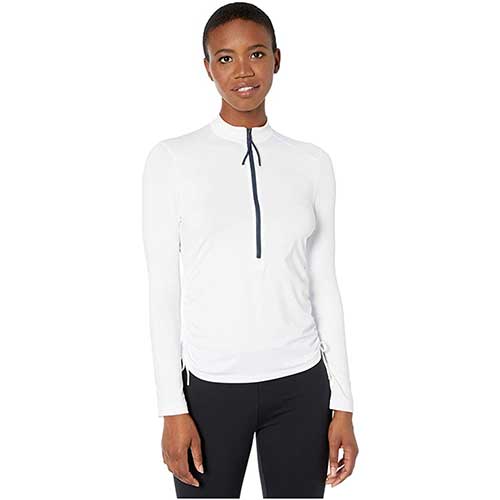 Personally, I like rash guards that have zippers because it makes them SO much easier to get off once they're wet and stuck to your body.
This gorgeous rash guard from Carve Designs is beautifully made, with a four way stretch fabric composed of nylon and spandex.
It's high quality and cut to fit close to the body in a flattering silhouette.
There are also drawstring ties at the side to camouflage the stomach area and also give you a bit of shape! If you're looking for a well made, well designed swimsuit, this one is it.
ADVERTISEMENT
---
---
Best Loose Fitting Rash Guard: Helen Jon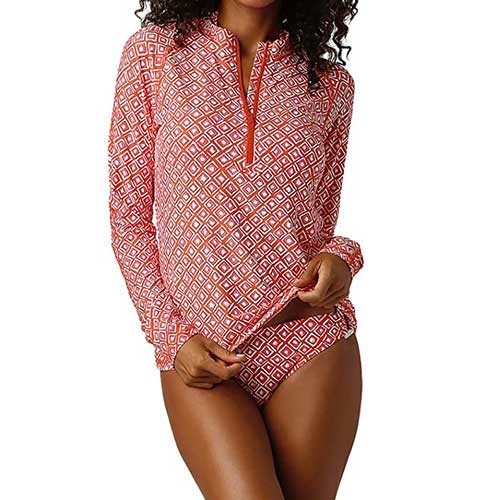 You might be wondering if all rash guards are tight.
Since rash guards initially developed for surfers to wear, they are pretty form fitting and purposely designed for a compression like fit.
If you hate the feeling of being sausage'd into a shirt, then you want a sun shirt! And no one does it better than Helen Jon.
This loose fitting, pretty printed swim shirt is designed to protect against the sun but also to feel really comfortable on.
Wear it hiking, golfing, gardening.. or just for a day at the beach! Helen Jon specializes in well made swimwear, and this punchy Calypso print is no exception.
ADVERTISEMENT
---
---
Best Zip Up Rash Guard Shirt: Tory Burch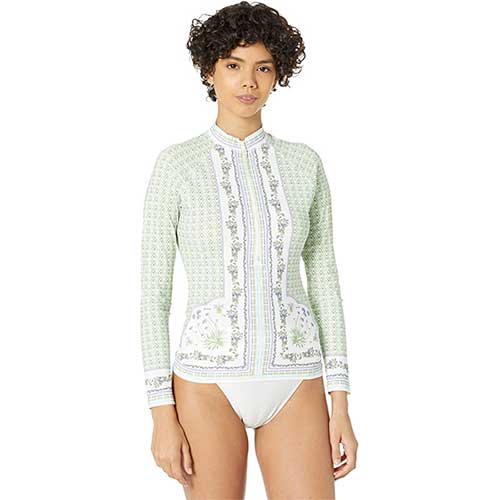 If you're the type of woman that wants to show up to the beach or pool and look simply fabulous, then chances are you'll love this Tory Burch rash guard.
Actually, it screams chic swim jacket more than rash guard!
With a beautiful geometric floral print, long raglan sleeves and zip front, this swim top is easy to get on and off and looks more suited to the runway than the community pool.
Bring a bit of Hamptons chic to your swim wardrobe and grab this before it sells out!
ADVERTISEMENT
---
---
Best Plus Size Rash Guard: Halcurt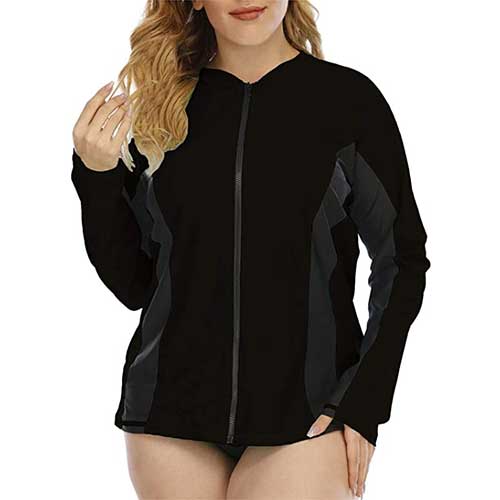 Amazon is slowly building out its plus size fashion and this cute and simple rash guard is the perfect example.
Available in both regular and plus sizes, this rash guard features a subtle color blocking pattern and full zip up style.
It protects against both UVA and UVB rays and is quick drying as well!
ADVERTISEMENT
---
---
Shop Womens Rash Guards
---

ADVERTISEMENT
---
---
Read More: in our summer packing checklist series:
Best Swim Brands
The Best Online Sites to Shop for Swimwear
The Best Swimwear Brands at Every Price Point
The Best Swimsuits to in Every Style - Retro, Cut Outs, Barely There & More
The Best Bikini Brands to Rock this Summer
Top Swim Trends
8 Swimwear Trends to Try this Summer
7 Barely There Bikinis for Barely There Tan Lines!
Full Coverage Swimwear
The Best Swimsuits for Small Busts
Amazon Fashion Finds: Modest Swimsuits
Modest Swimwear Brands to Check Out - if skimpy isn't your thing!
The Best High Waisted Bikini Bottoms to Keep Everything Tucked In
Summer Essentials
The Best Sun Hats that Offer Full Sun Protection
The Cutest Linen Dresses for Hot Summer Nights
The Best Men's Linen Pants - Summer Casual
The Best Women's Linen Pants for Coastal Chic Style
The Best Women's White Linen Pants - Simple, Clean & Breathable!
Follow me @Sher She Goes on