Normandy Cemetery
On D-Day, June 1944, the Allies launched their offensive attack against the Nazis along five beaches in northern France. Today, you can visit the landing beaches and the World War II cemetery dedicated to the fallen soldiers.
At the Normandy American Cemetery in particular, nearly 10,000 soldiers were laid to rest, in a grid of perfectly aligned white crosses that point towards America.
Here's a look at what to expect when visiting the Normandy Cemetery.
Or save this article to read later by pinning it ⇟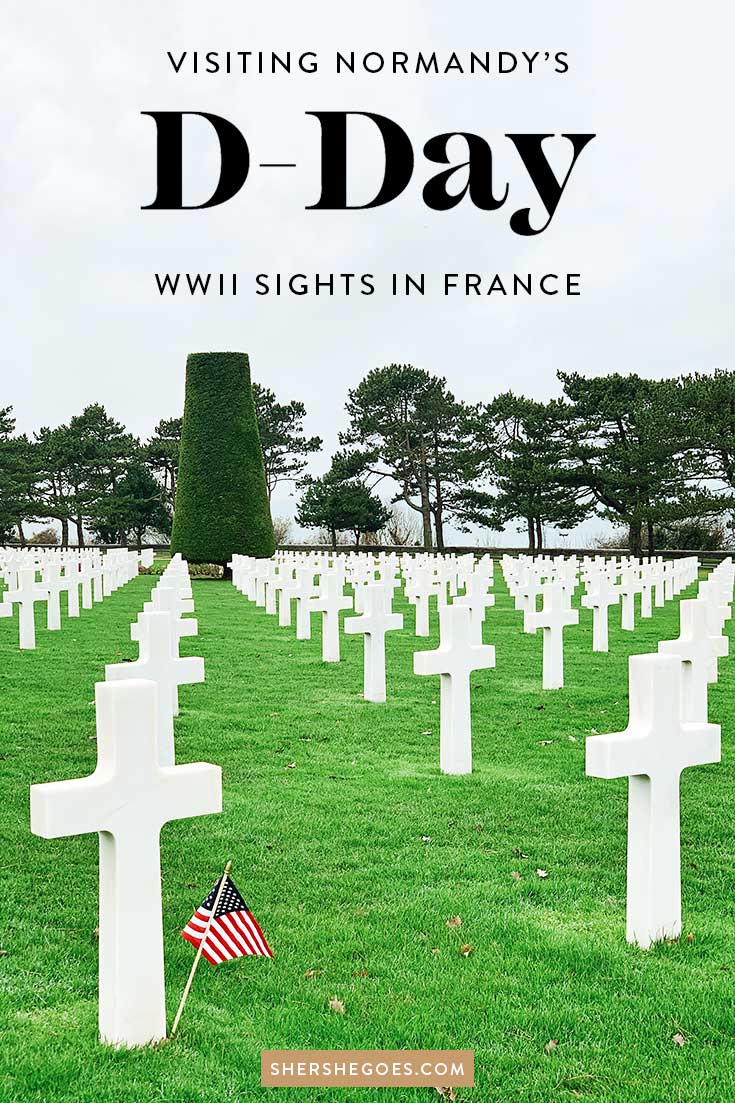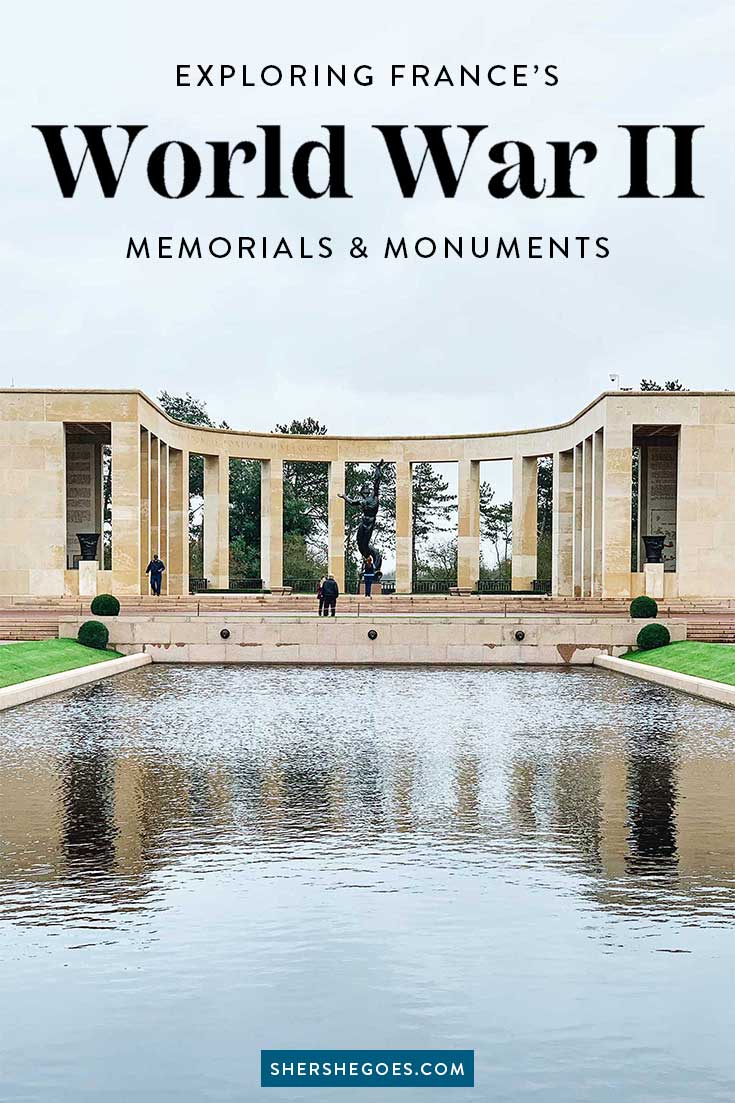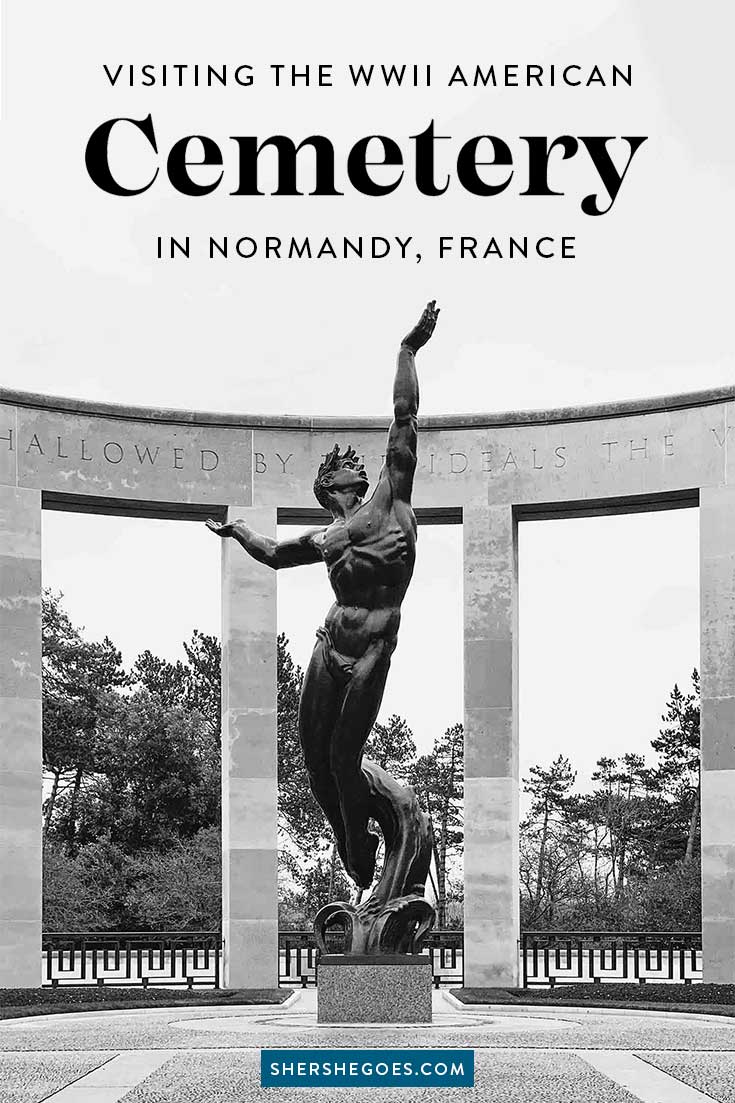 ADVERTISEMENT
Landing Beaches
Of the 5 landing beaches chosen for D-Day, Omaha Beach suffered the heaviest casualties. Officially, the U.S. estimated nearly 125,000 casualties during the war, with nearly 2,500 American deaths on D-Day alone.
During the fighting, the Allies buried their soldiers in temporary graves. However, after the war, the Americans wished to establish a central cemetery and memorial for their fallen troops. France graciously deeded 172 acres of land on a hill near Omaha Beach to the United States, for eternity.
As a result, today you'll find a small slice of America on French territory, with an elaborate cemetery, memorial and World War II museum.
Read more:
Where to Go in Normandy: A Guide to Its Small Towns
ADVERTISEMENT
---
---
Normandy American Cemetery
The Normandy American Cemetery is located on the former cemetery of Saint Laurent in Colleville-sur-Mer, Normandy. Today, the green hill is serene and peaceful.
The cemetery of crosses lies at the north end, with 9,380 graves arranged in orderly rows of white. Among them are Theodore Roosevelt Jr, son of President Roosevelt, and Preston and Robert Niland, the two brothers whom Saving Private Ryan is based on.
Nearly 14,000 other American soldiers were initially buried here but eventually brought home to their families.
Read more:
The Most Memorable Things to Do in Normandy
ADVERTISEMENT
---
---
American Cemetery Memorial
A semicircular colonnade anchors the cemetery, with maps illustrating the Normandy landings and military plannings of Operation Overlord. At its center is a bronze statue titled Spirit of American Youth Rising from the Waves.
Looking west, there is a serene reflecting pool and chapel. On the east end, a semicircular Garden of the Missing, pays tribute to the soldiers who died but could not be found or identified.
There is also a lookout point over Omaha Beach.
Towards the entrance and parking lot, you'll find the visitors center and museum.
Read more:
How to Get from Paris to Normandy by Train
ADVERTISEMENT
---
---
Normandy Visitors Center & Museum
The museum was opened in 2007, and includes films, exhibits, uniforms and weapons from the Normandy landings.
Here are some popular D Day tours
Visiting Normandy – Travel Checklist
We took a red eye to Paris from JFK, then sailed on the Seine to Rouen on a river cruise. You can check for flight deals here and set an alert for your dates.
It's also easy to take the train from Paris to cities throughout Normandy. Check my post here for more logistical information on taking the train in France and how not to buy tickets.
In Normandy, there's so much to see over a large area that I'd recommend basing yourself in a city for a couple nights to take day trips, then moving to another city. For the D Day beaches, Bayeux and Caen are both popular bases. Check here for deals on Normandy hotels.
Lastly, be sure to visit Paris with travel insurance. Whether you get injured and need to be hospitalized, your phone gets stolen, or a flight delay leaves you with nothing but the clothes on your back, travel insurance will help when you need it most.
During our recent trip, riots in Paris shut down the city center and forced a closure of all the main sights (the Louvre, Versailles, etc). Get a quote for your trip here.
You Might Also Enjoy:
Normandy Vacation Planning
How to Get from Paris to Normandy
Cruising on the Seine River from Paris to Rouen
The Most Beautiful Places in Normandy
21 of the Best Things to Do in Normandy
Normandy Towns
Quick Guide to Rouen, Normandy's Capital
Paris to Normandy Day Trips: Vernon & Auvers-sur-Oise
Visiting Giverny & Monet's House
WWII Memorials
How to See Normandy Beach & D-Day Sites
Visiting the Normandy Cemetery in Remembrance of D-Day
Follow me @Sher She Goes on