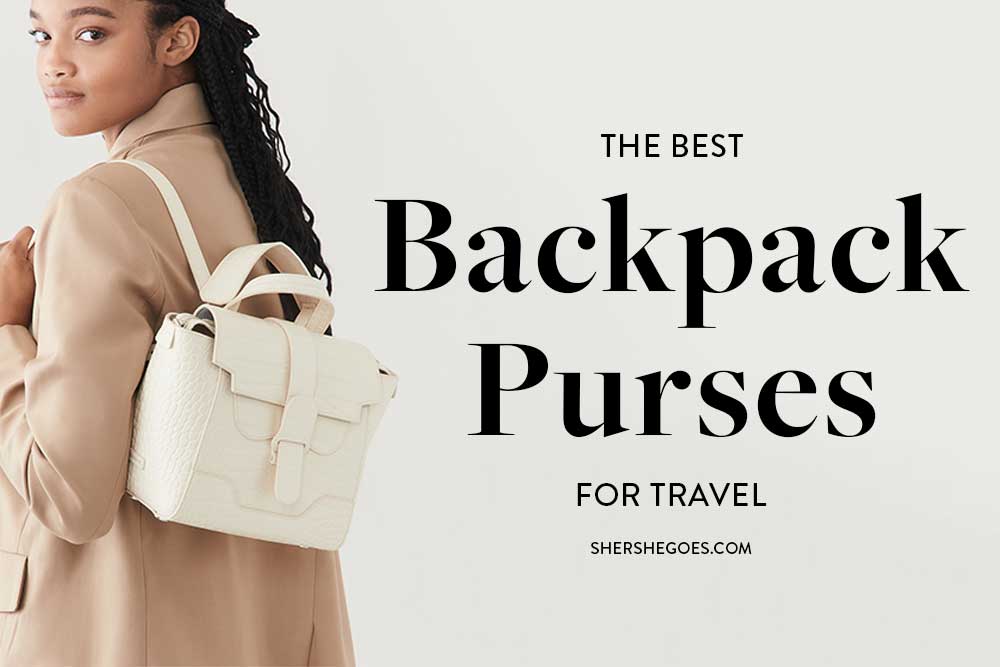 Best Backpack Purses

ADVERTISEMENT
---
---
Stylish Backpacks
I've gone through so many backpacks over the years.
A classic book bag throughout high school, a more giant tote bag for college, a stylish laptop bag for work and then giant camera bags to hold all my gear as a travel blogger.. but finding the perfect small to medium sized backpack has always been a challenge!
It has to hold the essentials – keys, wallet, water, phone – and ideally a small laptop or tablet.
But it also has to look sleek and stylish.
I love a backpack bag that's versatile enough to use both for traveling and everyday life in the city. Even better if the backpack is purse like, meaning it can transition from two shoulders to one and look cute with an everyday outfit!
Here are the best backpack purses I've found.
ADVERTISEMENT
---
---
Keep reading, or pin this article to save it for later ⇟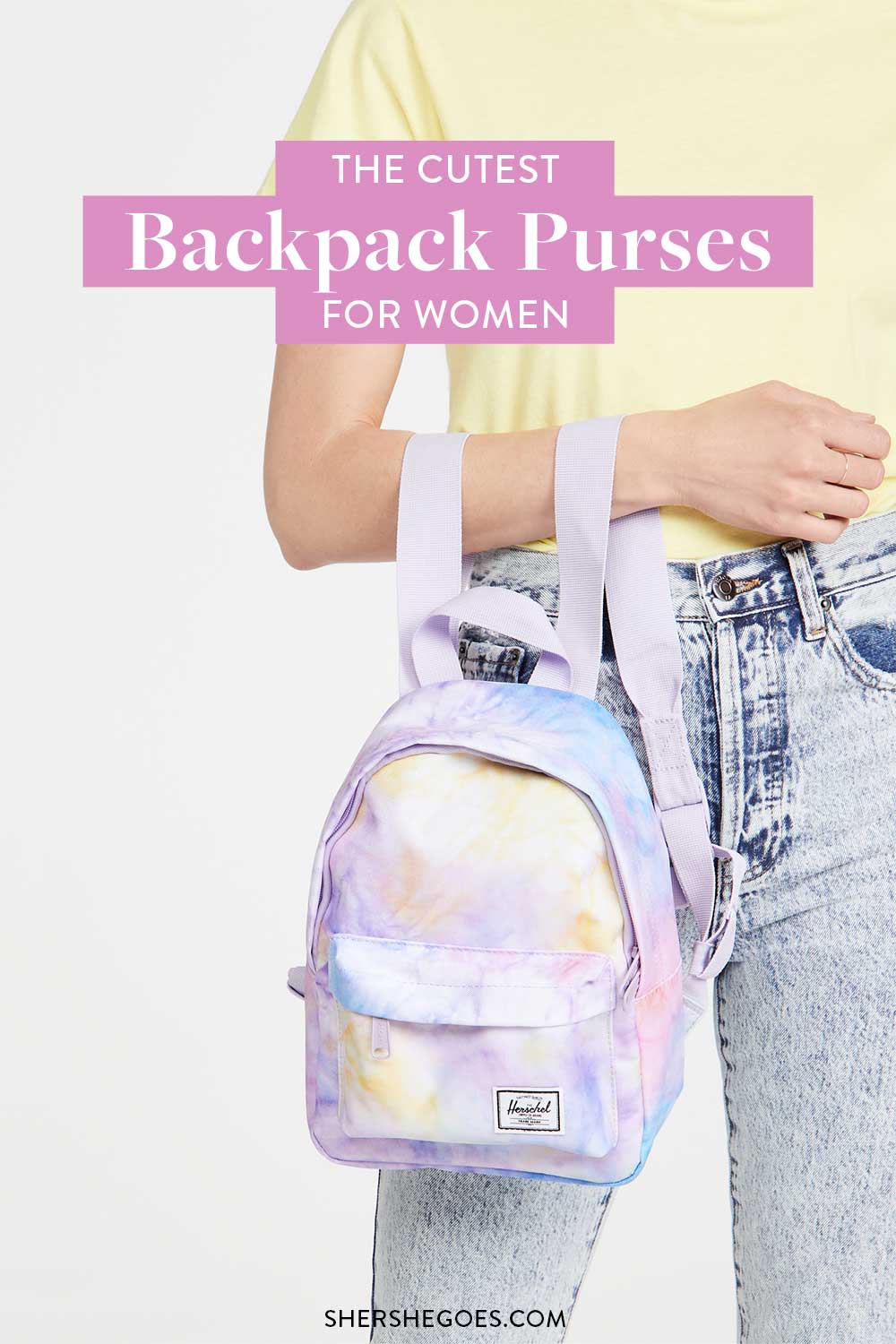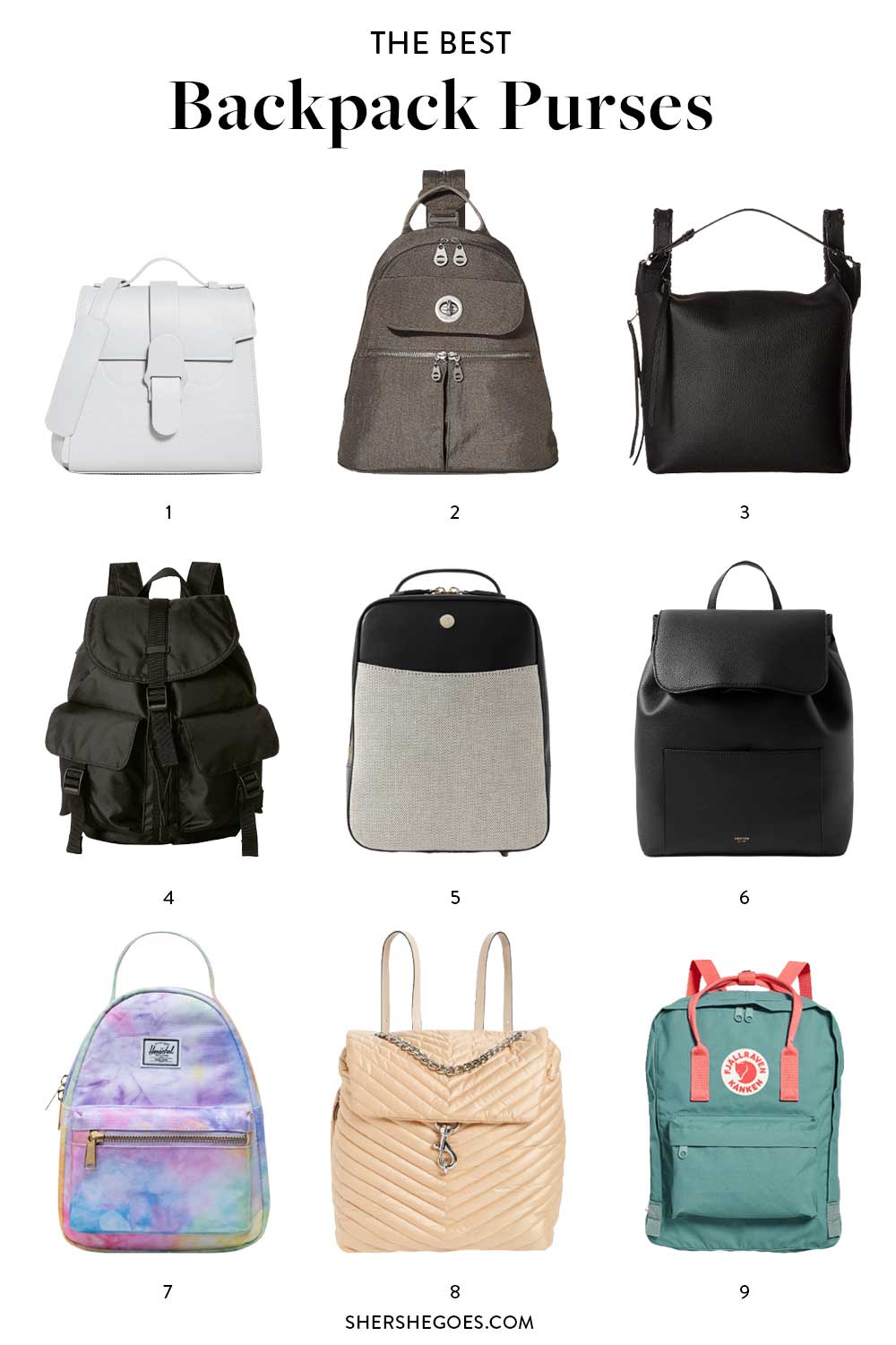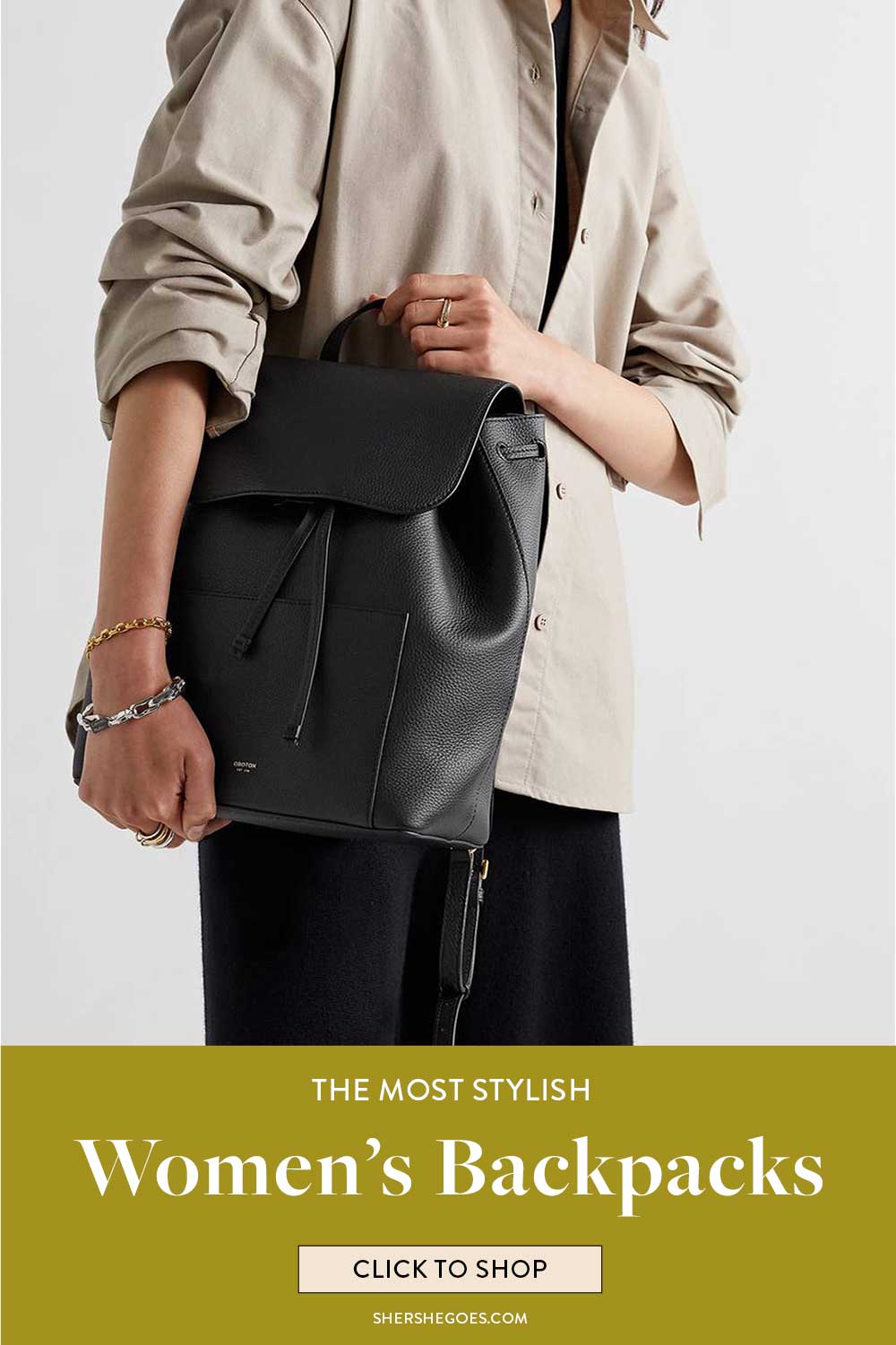 ADVERTISEMENT
---
---
Best Backpack Purse for Women (2023)
Best Leather Backpack Purse: Cheruty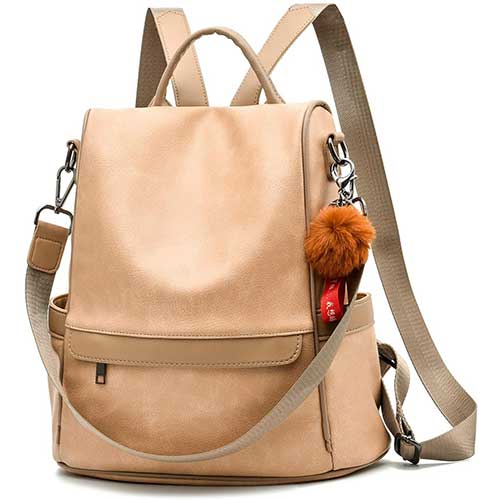 This adorable faux leather backpack is cute and convenient.
It's quite roomy, and has a main zippered compartment that can easily fit an umbrella, water bottle, keys, wallet and phone. The bag comes in 2 sizes, with the medium able to fit an ipad or tablet, and the larger able to fit a small laptop.
I really like how stylish it looks and how versatile it is to wear – with the various straps you can throw it over one shoulder, sling it like a backpack or carry it as a tote.
It's also great for traveling since the backpack opens in the back. Unless you take the bag off, no one can get inside the main compartment!
Best of all, it's really affordable and comes in a ton of colors.
ADVERTISEMENT
---
---
Best Nylon Backpack Purse: Pincnel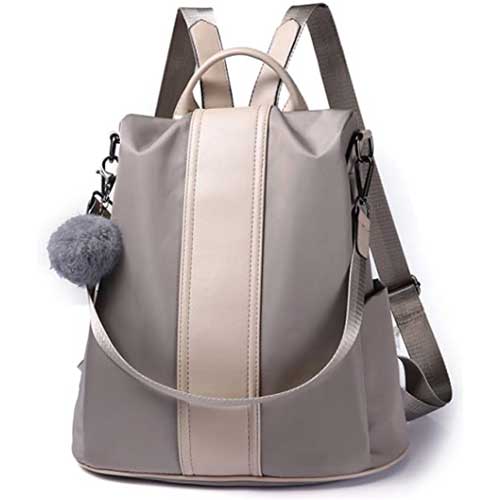 This Amazon backpack is another affordable, stylish option.
It's made from durable nylon that won't show dirt or wear and tear. I love the back zipper design, which prevents anyone from getting in the bag unless you take it off.
There's lots of pockets, on the sides, interior and back, so it's easy to organize all your things. Best of all, it's lightweight, comfortable to carry all day and water resistant!
If you're looking for a backpack that doesn't scream school bag, this stylish women's backpack is a great option.
Finally, it also comes with a passport holder, which is a nice touch if you plan to use this bag for travel.
ADVERTISEMENT
---
---
Cutest Backpack Purse: Fjallraven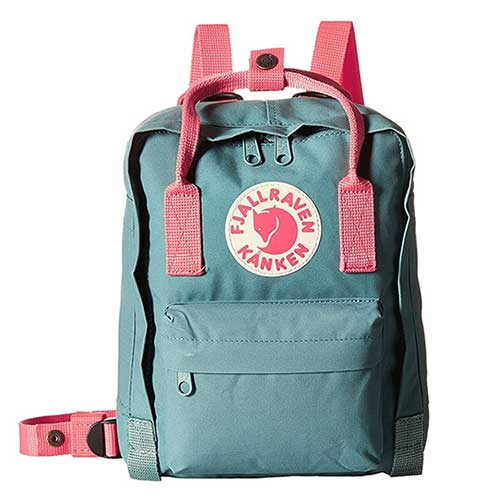 Fjällräven makes some of the cutest backpacks!
I have the Fjällräven mini, which is a small colorful backpack that holds all the essentials! The fabric is a stiffer nylon that won't show wear easily or tear.
There's a front pocket, side slip pocket and roomy main compartment. Because the bag is pretty square, it can hold a lot despite being small!
Fjällräven makes backpacks in all different bright colors, and all different sizes, so you can find the perfect one for your needs.
ADVERTISEMENT
---
---
Best Backpack Purse for Travel: Baggalini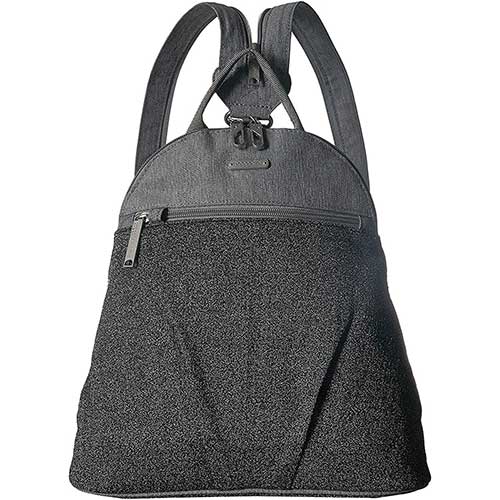 Baggallini specializes in travel backpacks and bags.
Their backpacks are stylish, practical and extra safe, designed to deter theft and secure your possessions.
This backpack purse looks really stylish and has pickpocket proof zippers, anti-cut straps and a removable RFID phone wristlet. Plus the bag itself is made of SecurTex™ so it's extra durable and cut resistant.
I especially like the backside zipper pocket, that has an opening for a charging cord or earphones. You can slip your phone in the bag and let it charge on the go, or use it as a quick access pocket.
Finally, the straps convert easily from backpack to sling, so you can carry the bag in multiple ways and look stylish, not frumpy!
ADVERTISEMENT
---
---
Most Stylish Backpack Purse: Rebecca Minkoff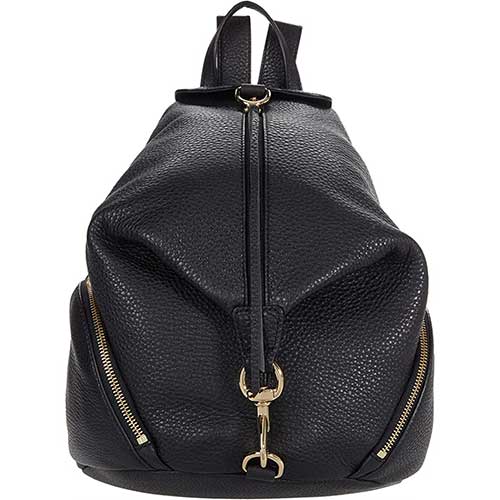 If you're looking for a fashionable leather backpack purse, check out Rebecca Minkoff, who practically invented the category with their Julian backpack.
It's cool and edgy, with metallic hardware accents, lots of zippered pockets and a unique shape! The leather is extra buttery soft and comes in a ton of neutral colors.
Rebecca Minkoff also makes a bunch of variations in terms of studs, fringes and hardware, so you can find the perfect style for your wardrobe.
Finally, the bag is pretty roomy and fits all the essentials. It has dual backpack straps, a top handle and a flat base so it sits upright even left alone.
I think this is one stylish backpack purse that suits women of all ages!
ADVERTISEMENT
---
---
Best Backpack for City Wear: Herschel Supply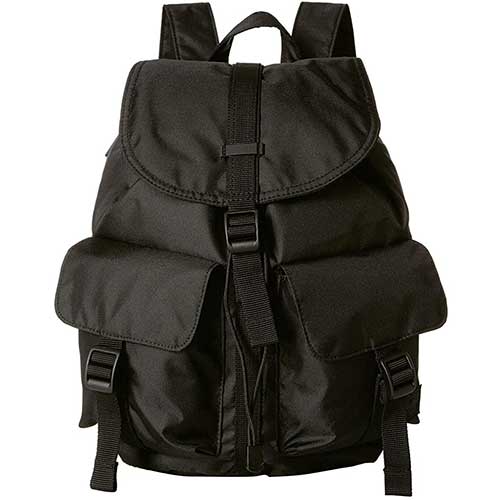 Herschel Supply makes the classic book bags of my childhood.. but they also have more fashionable purse like options!
This small daypack is exactly what I mean – it would be perfect to carry everyday in the city and also to take on outdoor adventures or weekend trips!
The bag is lightweight, medium sized and has padded shoulder straps making it easy and comfortable to carry. There's external compartments to store things like your phone, and a roomy main compartment that fits all the essentials.
I like the sleek look of the bag and how functional it is!
ADVERTISEMENT
---
---
Best Minimalist Backpack Purse: Allsaints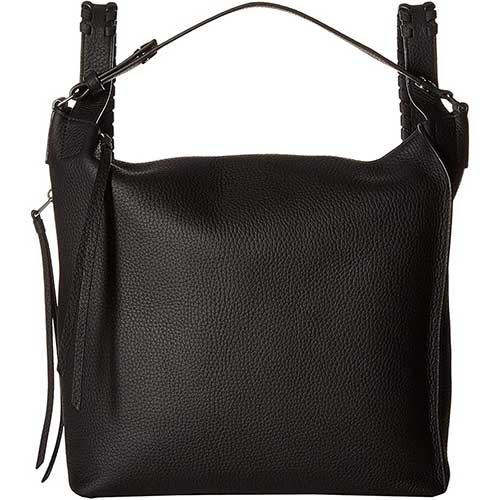 If you love fashion and need a backpack, it can be hard to find a bag that marries the two.
Enter Allsaints.
Their sleek top handle backpack is chic, minimalist and functional.
Made from softly pebbled leather, it's buttery soft and luxurious.
Inside, the bag can hold a notebook, small laptop plus your everyday things. There's zippers to keep everything secure, tons of interior slip pockets for organization and a flat bottom so it can stand upright.
If you're looking for the perfect sized good looking backpack purse, this is it!
ADVERTISEMENT
---
---
Shop Backpack Purses
---

ADVERTISEMENT
---
---
Read More   in my travel packing checklist series:
Best Travel Luggage
The Best Carry on Luggage for 2021
The Best Packing Cubes for a Perfectly Organized Bag
The Best Lightweight Luggage for Overpackers
The Best Hard Luggage Sets for Stylish Travelers
The Best Underseat Luggage for Minimalists
The Best Carry On Bags for Men - Rugged + Durable!
Business Travel
The Essential Business Packing List
The Best Business Travel Luggage
The Best Laptop Cases for Working Women
The Best Laptop Bags for Men
Packing Hacks
The Best Travel Wallets for All Your Vacation Essentials
The Best Jewelry Cases Never Untangle a Necklace Again!
The Best Toiletry Bags to Clean Up Quick
Travel Packing Lists
The Best Travel Jackets for All Types of Weather
The Best Duffel Bags for Your Next Weekend Trip
The Best Travel Backpacks to Hold Everything You Need
Follow me @Sher She Goes on