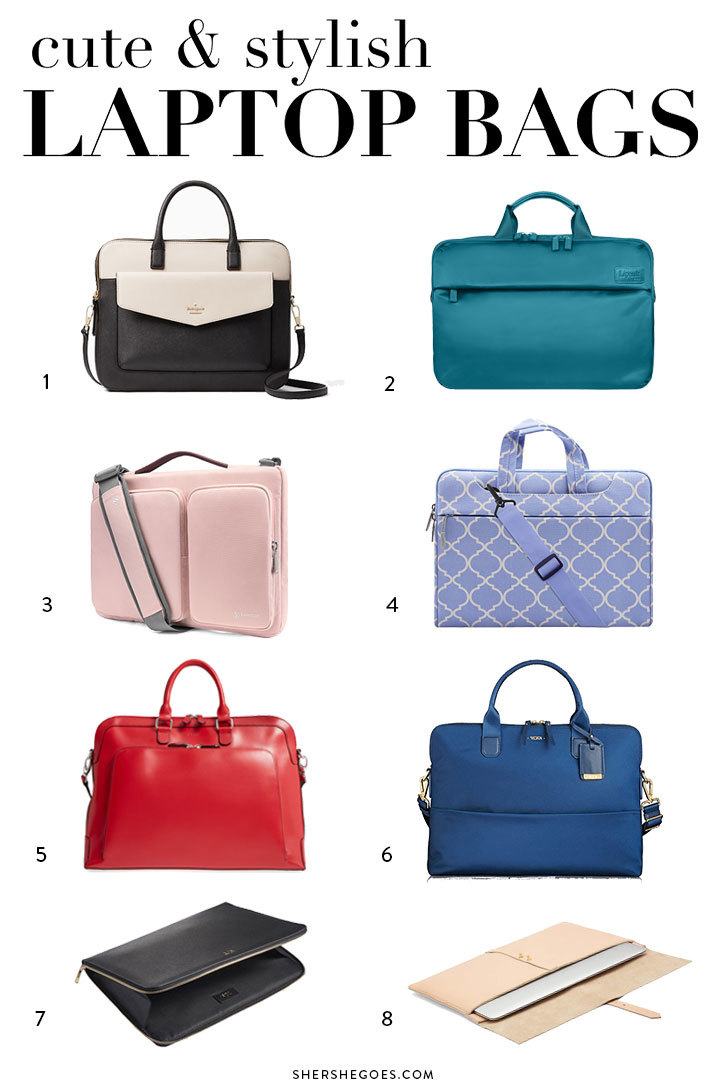 Best Laptop Bags
Trust me, I will always love my designer handbags.
But, when I got a job that required me to carry my laptop to and from work on a daily basis, I knew I needed a dedicated bag just for my computer!
I wanted something sleek and stylish in a neutral color that would shout polished and take me from a fresh college graduate all the way up the corporate ladder.
As I traveled more and more frequently for business trips and conferences, I realized how handy laptop bags truly were.
Today I'm sharing cute laptop bags that will keep your electronics protected while still making a style statement!
ADVERTISEMENT
Laptop Bags for Women
Here are the brands that make the best laptop bags for women, combining style with function:
Below are more in-depth reviews of each bag!
ADVERTISEMENT
---
---
Stylish Laptop Bags
People used to display their style and personality using the conventional vehicles – bumper stickers, clothes, and – most importantly – handbags.
Now, however, everything we need is increasingly digital.
Phones, tablets, and computers have become important for my daily needs so I needed a handbag that was versatile enough to hold my laptop and my wallet, keys, and essentials!
Here are the best laptop bags for women!
ADVERTISEMENT
---
---
Best Designer Laptop Bags
Kate Spade Laptop Bag
If you need to bring your laptop to and from work or school, this would be the laptop bag I recommend. It can fit a 13″ laptop and charger in the main pocket while the front magnetic pocket is great for items you need to easily access (like your phone and wallet).
But if you have a larger laptop, Kate Spade makes a larger saffiano leather laptop bag, that can hold a 15″ laptop. Ultimately, Kate Spade makes sleek yet lightweight laptop bags that are great for ladies on the go!
ADVERTISEMENT
---
---
Best Affordable Laptop Bag
Mosiso Laptop Bag with Shoulder Strap
Finally, the outer surface is water-resistant (perfect for that jostling morning commute or in public spaces like coffee shops) and the 3 layers of shock-resistant foam will keep your laptop as snug as a bug in a rug!
There are 2 size options and 5 colors to choose from.
ADVERTISEMENT
---
---
Best 'Doesn't Look Like a Laptop' Bag
Everlane Laptop Crossbody
But it's deceptively roomy and larger than you think. The strap is adjustable too, so it fits ladies of all heights!
Personally, I always wear mine cross body because I like to be hands free. The only thing I wish were different were the closure – the bag has a magnetic close which is pretty, but I'd prefer a zipper.
It also comes in 6 beautiful colors. I had such a hard time choosing but ultimately went with the rich brown cognac.
For Spring, they also released a smaller form bag (which probably can't fit a laptop but looks like it could fit an iPad pro)!
ADVERTISEMENT
---
---
Best Laptop Messenger Bag
Tomtoc Women's Laptop Bag
ADVERTISEMENT
---
---
Best Laptop Bag for Business Travel
Tumi Designer Laptop Bag
The back sleeve slips right over my carry on when I'm traveling and there's enough space to fit a 15″ laptop, charger, mouse, papers and whatever you need.
If you want a high quality designer laptop bag that will last you years and can transition easily from the office to travel, pick up this laptop carrier.
Tumi puts their products through the ringer during testing and quality control, so although it may seem like an expensive purchase, it will hold up nicely.
ADVERTISEMENT
---
---
Best Laptop Backpack
Lekesky
ADVERTISEMENT
---
---
Best Laptop Tote Bag for Women
Kroser Laptop Tote Bag
ADVERTISEMENT
---
---
Best Minimalist Laptop Bag for Women
EaseGave Laptop Tote Bag
ADVERTISEMENT
---
---
Best Womens Laptop Bag for Organization
Tanto USB Laptop Tote Bag
ADVERTISEMENT
---
---
Most Fashionable Laptop Bag
Kamlui Laptop Bag
ADVERTISEMENT
---
---
The Best Laptop Bags for Work
These are our top picks for stylish laptop bags that will protect your laptop and easily transport it to and from the office. We've included both budget options and designer bags!
Shop Womens Laptop Bags
---
ADVERTISEMENT
---
---
Read More   in my travel packing checklist series:
Best Travel Luggage
The Best Carry on Luggage for 2021
The Best Packing Cubes for a Perfectly Organized Bag
The Best Lightweight Luggage for Overpackers
The Best Hard Luggage Sets for Stylish Travelers
The Best Underseat Luggage for Minimalists
The Best Carry On Bags for Men - Rugged + Durable!
Business Travel
The Essential Business Packing List
The Best Business Travel Luggage
The Best Laptop Cases for Working Women
The Best Laptop Bags for Men
Packing Hacks
The Best Travel Wallets for All Your Vacation Essentials
The Best Jewelry Cases Never Untangle a Necklace Again!
The Best Toiletry Bags to Clean Up Quick
Travel Packing Lists
The Best Travel Jackets for All Types of Weather
The Best Duffel Bags for Your Next Weekend Trip
The Best Travel Backpacks to Hold Everything You Need
Follow me @Sher She Goes on