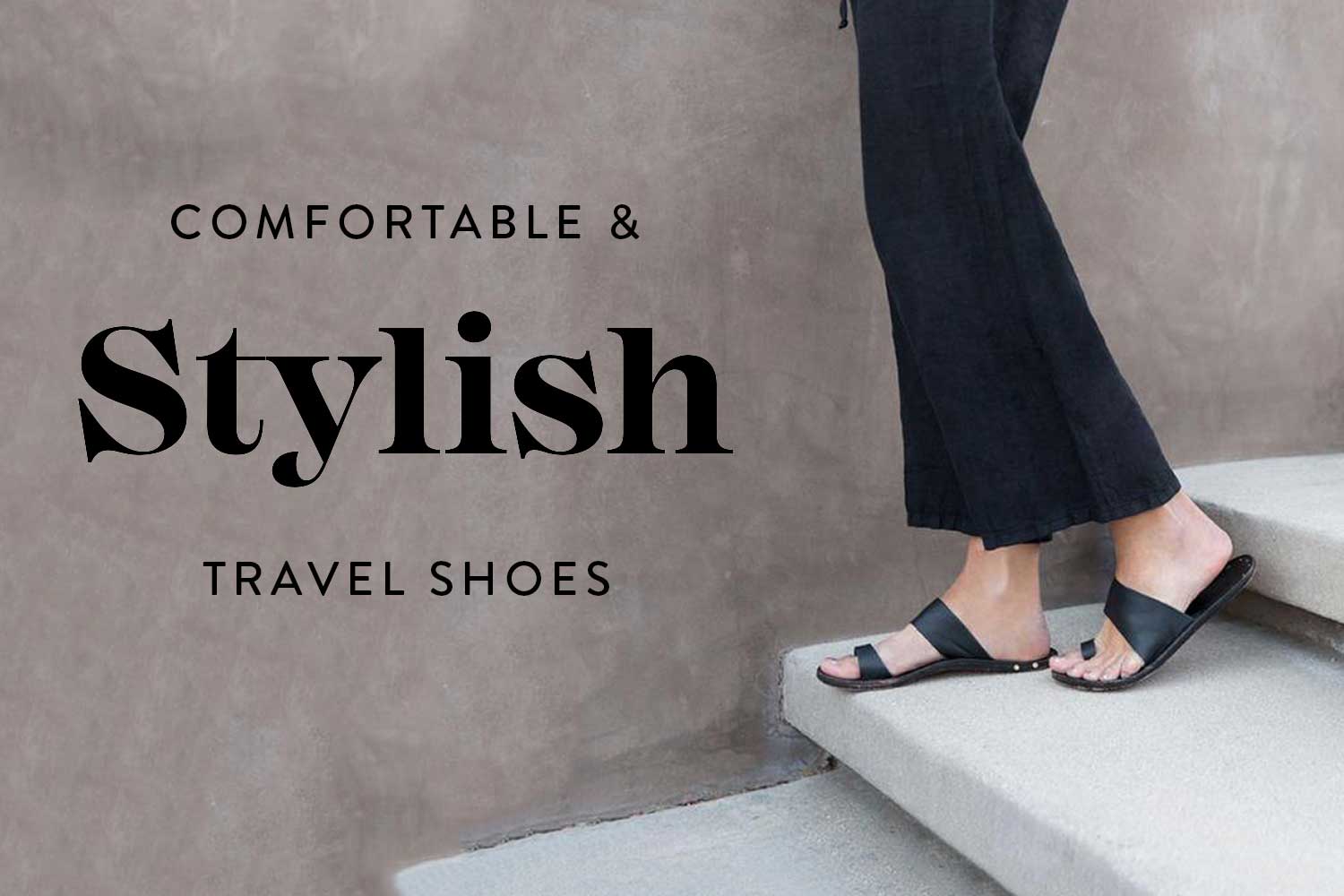 Best Travel Shoes
Whenever I travel, I want to have the freedom to explore as much as possible on foot, but I also don't want to look like a backpacker!
I'm definitely the kind of traveler who over-stuffs the itinerary to see as much as possible and have gotten blood blisters and tired heels from wearing stylish shoes with little support.
Over time, I've gradually narrowed my search for walking shoes for travel that come in breathable fabric, have arch support and are stylish enough for photos!
If you've ever wanted to be able to go from sightseeing to a nice dinner without worrying whether your shoes are "dinner room" appropriate, this travel packing list is for you!
Below is a summary of the best women's shoes that blend comfort and style after years of traveling – without looking orthopedic.
ADVERTISEMENT
Best Travel Shoes for Women
I generally pack 3 types of shoes when I travel:
A pair of sneakers (for working out or all-day walking tours)
A stylish but comfortable pair of flats or moccasins (for dinner and more casual days)
An easy slip on pair of flip flops / sandals (for the beach or shower)
I am admittedly an over packer so… sometimes I pack multiple pairs of shoes from the 3 categories. The upside is I've tried and tested many different shoe brands over the years! I've organized my list of the best walking shoe options for travel according to the 3 categories above.
Quickly jump to
ADVERTISEMENT
---
---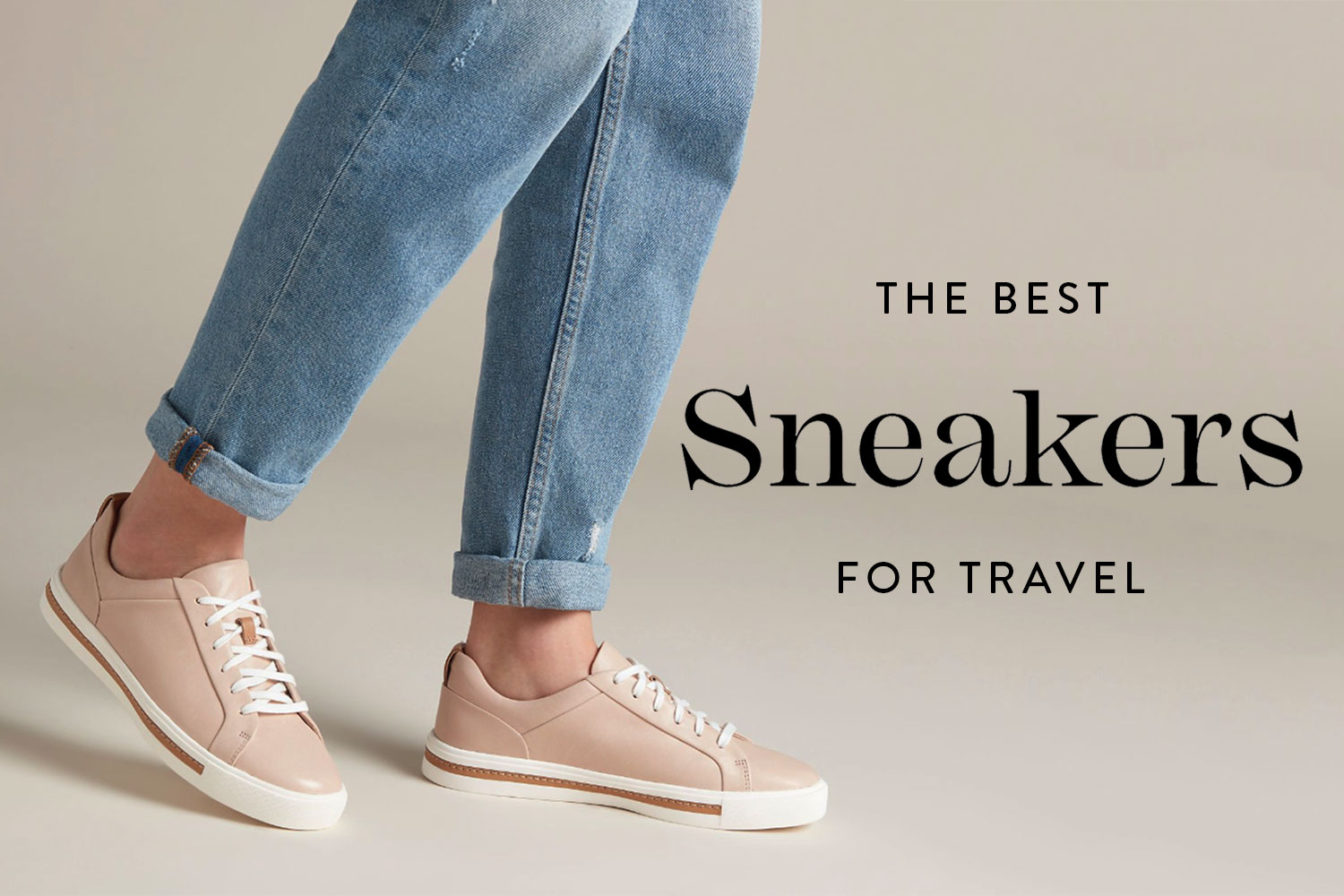 Best Travel Sneakers
Sneakers are always a must have.
For heavy walking days, uneven cobblestone streets or airport days, I like having a thick soled, extra comfortable and closed toe shoe. But, I don't necessarily want to look like I'm going to the gym!
Best Sneakers for Travel
Click each shoe name to jump to the in-depth review or the image to shop directly.
Here are 6 stylish sneakers that are perfect for travel.
ADVERTISEMENT
---
---
Cole Haan Tennis Sneaker
Everlane
ADVERTISEMENT
---
---
Adidas Sneakers
Ecco Sneakers
ADVERTISEMENT
---
---
Clarks Sneakers
M. Gemi
ADVERTISEMENT
---
---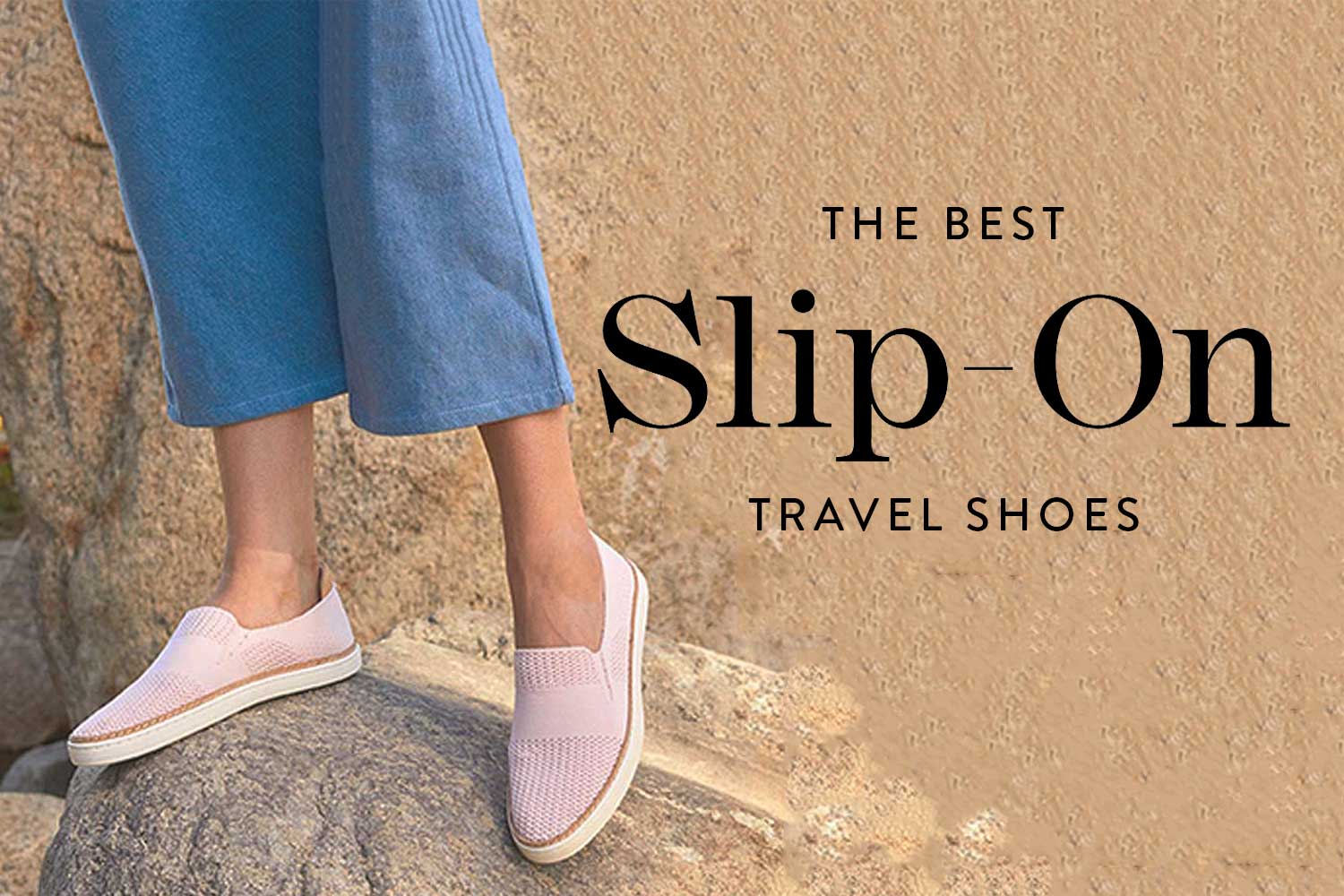 Stylish Walking Shoes
Sometimes you want the comfort of a sneaker, but you don't want a clunky athletic shoe. Gym sneakers can take up lots of room and who wants to constantly tie laces?
Enter a more streamlined, fashion sneaker. With their low profile, slip on style, these go with everything – from casual day outfits (jeans and a t-shirt) to a flowy dress for a nice dinner.
Best Slip On Shoes
Click each shoe name to jump to the in-depth review.
Here are 6 of our favorite comfortable slip-on travel shoes.
ADVERTISEMENT
---
---
UGG Sammy Sneaker
Dr Scholl's Slip On
ADVERTISEMENT
---
---
Skechers Breathe Easy Sneaker
Toms Canvas Slip-On
For a more long lasting option, I love this lightweight sneaker that's new for Spring – it's slimming with pretty suede uppers and a cushioned insole for arch support.
Toms also makes comfortable sandals – same comfort but these will let your feet breathe a bit more.
ADVERTISEMENT
---
---
Olukai
Keds
ADVERTISEMENT
---
---
Best Travel Flats
Need comfortable shoes for Europe that look a little bit more put together?
Pick up a sturdy driving moc or loafer that will mold to your feet and be comfortable all day long. Plus, with these stylish flat and loafer options, you'll blend right in with the locals!
The Most Comfortable Flats
Click each shoe name to jump to the in-depth review.
We're obsessed with comfortable flats – here are 5 of the best travel flats that are chic yet don't chafe.
ADVERTISEMENT
---
---
Everlane Day Glove Flat
In general, I go to Everlane for high quality basics. Although the prices can be higher than fast fashion brands, the material are worth it (these are Italian leather) and everything has lasted season after season. I wrote an in depth review of my favorite Everlane outfits here.
M.Gemi Felize Moccasin
ADVERTISEMENT
---
---
Jack Rogers Taylor Loafer
In comparison to the M.Gemi, the Jack Rogers are softer while the M.Gemi are more durable. The Jack Rogers are great for casual wear and also for travel, but if you plan to walk on cobblestone / uneven streets, you may prefer a sneaker with more cushion.
The M. Gemi moccasins are more of a driving moc – with reinforced heels and grips on the bottom. They also feel stiffer and more durable. It just depends on what type of loafer you prefer!
I have a ton of Jack Rogers shoes – they make great, fun summer sandals and wedges and I would also recommend their suede scalloped flats if you want a prettier flat instead of a loafer. The flats are an affordable version of the classic Chloe flat and quite cushioned in the foot bed – for these I sized down half a size to a 6.5 as they run a tad large.
Vionic Minna Flat
ADVERTISEMENT
---
---
Madewell Frances Loafer
Lucky Brand
ADVERTISEMENT
---
---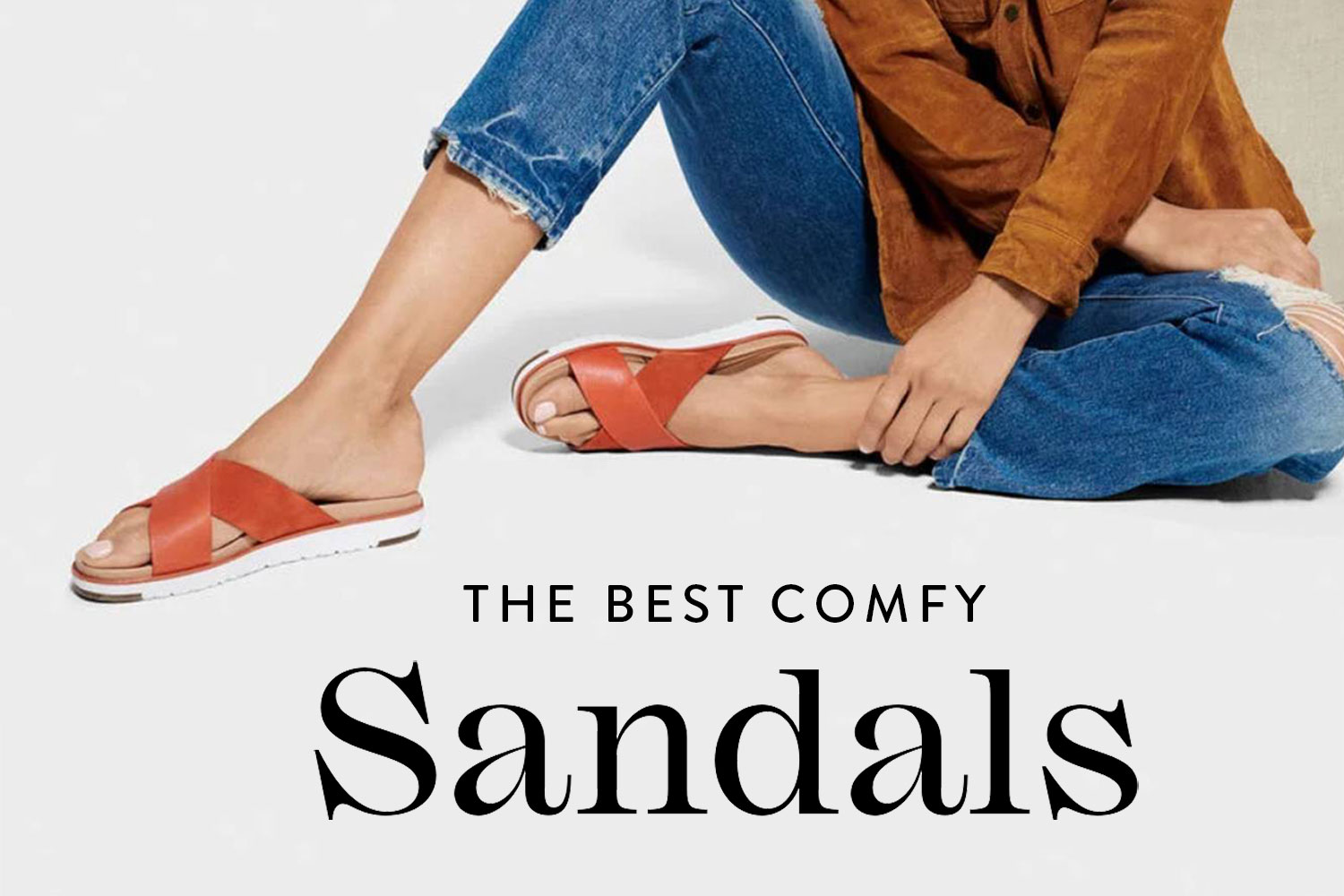 Best Travel Sandals
In spring and summer, you're likely looking for cute and comfortable sandals!
Here are some of our favorite travel sandals that don't chafe, pinch or blister your feet…and look gorgeous with skirts, dresses and every kind of outfit.
Most Comfortable Sandals
Click each shoe name to jump to the in-depth review.
ADVERTISEMENT
---
---
Plaka Flat Sandal
UGG Kamile Sandal
UGG also makes a sandal version here, which comes in leather, suede and metallic color options. Since I don't do well with slide on shoes, I opted for the strap across the bank.
I do wish the straps themselves were slightly thinner (like the Kari sandals) and that the sole wasn't white, but overall they're so comfortable I can't complain! If you like to pack light, I think these versatile travel sandals go with everything.
ADVERTISEMENT
---
---
Blowfish Fisherman Sandal
Olukai Upena Sandal
ADVERTISEMENT
---
---
Beek Finch Sandal
Crocs Sandal
ADVERTISEMENT
---
---
How to Pack Shoes for Travel
I always pack walking shoes for travel in my luggage in either a shoe dust bag or a plastic / canvas bag.
ADVERTISEMENT
---
---
Shop Comfortable Travel Shoe Brands
---
Read More in my favorite Comfy Shoe series:
Most Comfortable Shoes
The Most Comfortable Flats EVER
The Most Comfortable Sandals for Summer
The Most Comfortable Boots for Winter
The Most Comfortable Heels (you can actually walk in)
Best Sneakers
The Best White Sneakers that Go with EVERYTHING
Cute Casual Sneakers to Wear Anywhere
Best Boots
The Best Chelsea Boots to Wear All Year Round
The Best Lace Up Boots for Military Inspired Chic
The Best Over the Knee Boots that Make a Statement!
The Best Shearling Boots to Stay Cozy this Winter
The Best Black Combat Boots That Go with Everything
Cozy At Home Shoes
The Best Mules for Easy Slip on Style
The Best Loafers to Look Polished but Stay Comfy
Shoe Reviews
The Best Travel Shoes in Every Style - Sneakers, Slip Ons, Flats & Sandals
Everlane Flats - These 5 Pairs are Extra Comfortable
OluKai Shoes: Sneaker & Sandal Review
Where to Get Stuart Weitzman Boots on Sale
Designer Inspired
The Best Cap Toe Ballet Flats to Get the Chanel Look, for Less
Classic Chanel Inspired Slingbacks (Two Toned)
The Best Chanel Inspired Espadrilles to Rock All Summer
The Best Manolo Blahnik Lookalikes
The Best Over the Knee Boots that Rival Stuart Weitzman Lowlands!
Follow Sher She Goes on
Youtube | Instagram | Facebook | Twitter | Pinterest | Bloglovin