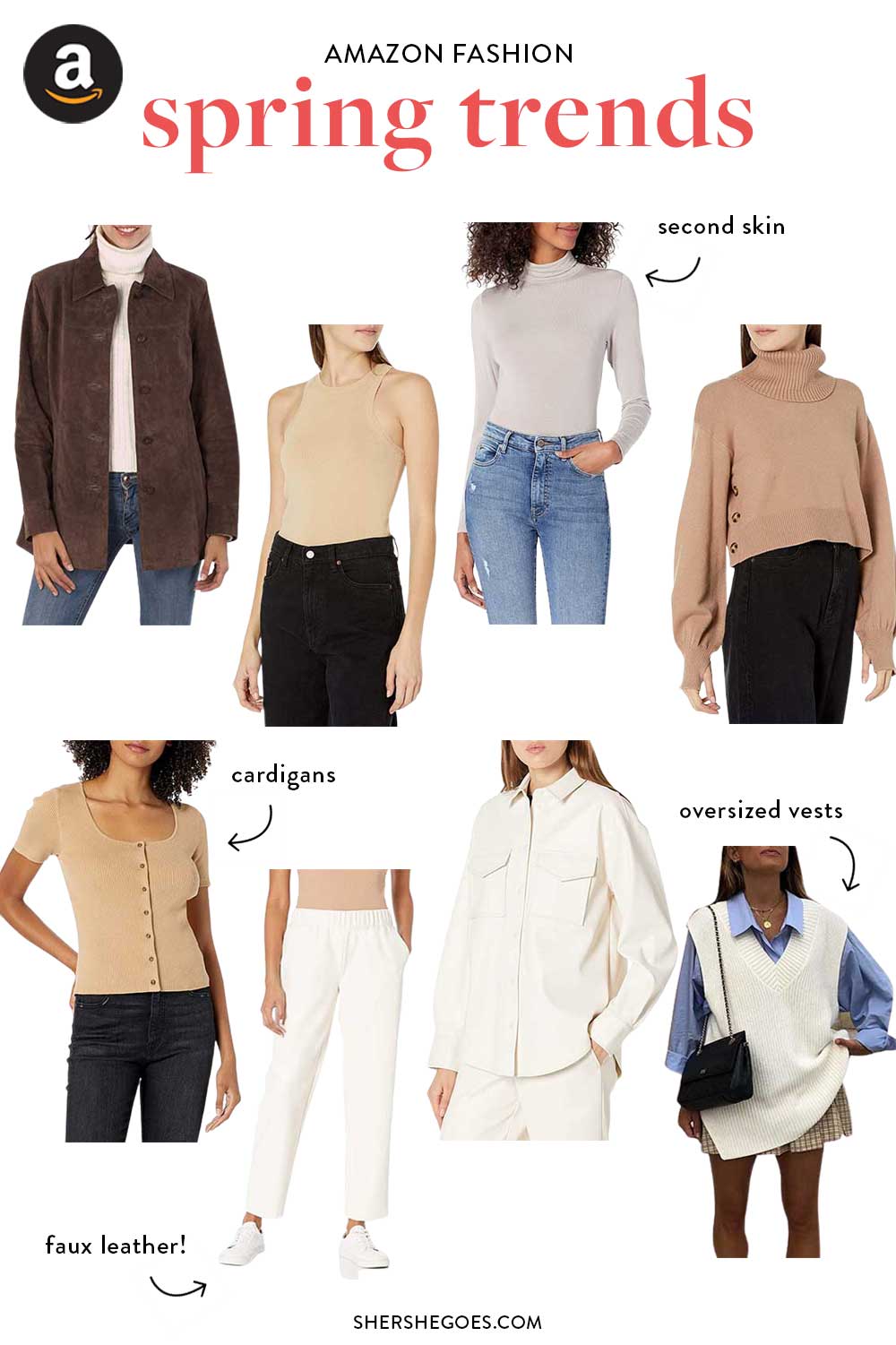 Amazon Fashion Finds
It's almost spring!
While not much may actually change (we're still in a pandemic, after all), longer daylight hours and warmer temperatures can't come fast enough.
Here's a look at what's trending for Spring fashion and how you can easily tweak your existing wardrobe with a couple unexpectedly cool and affordable Amazon finds.
ADVERTISEMENT
Keep reading, or pin this article to save it for later ⇟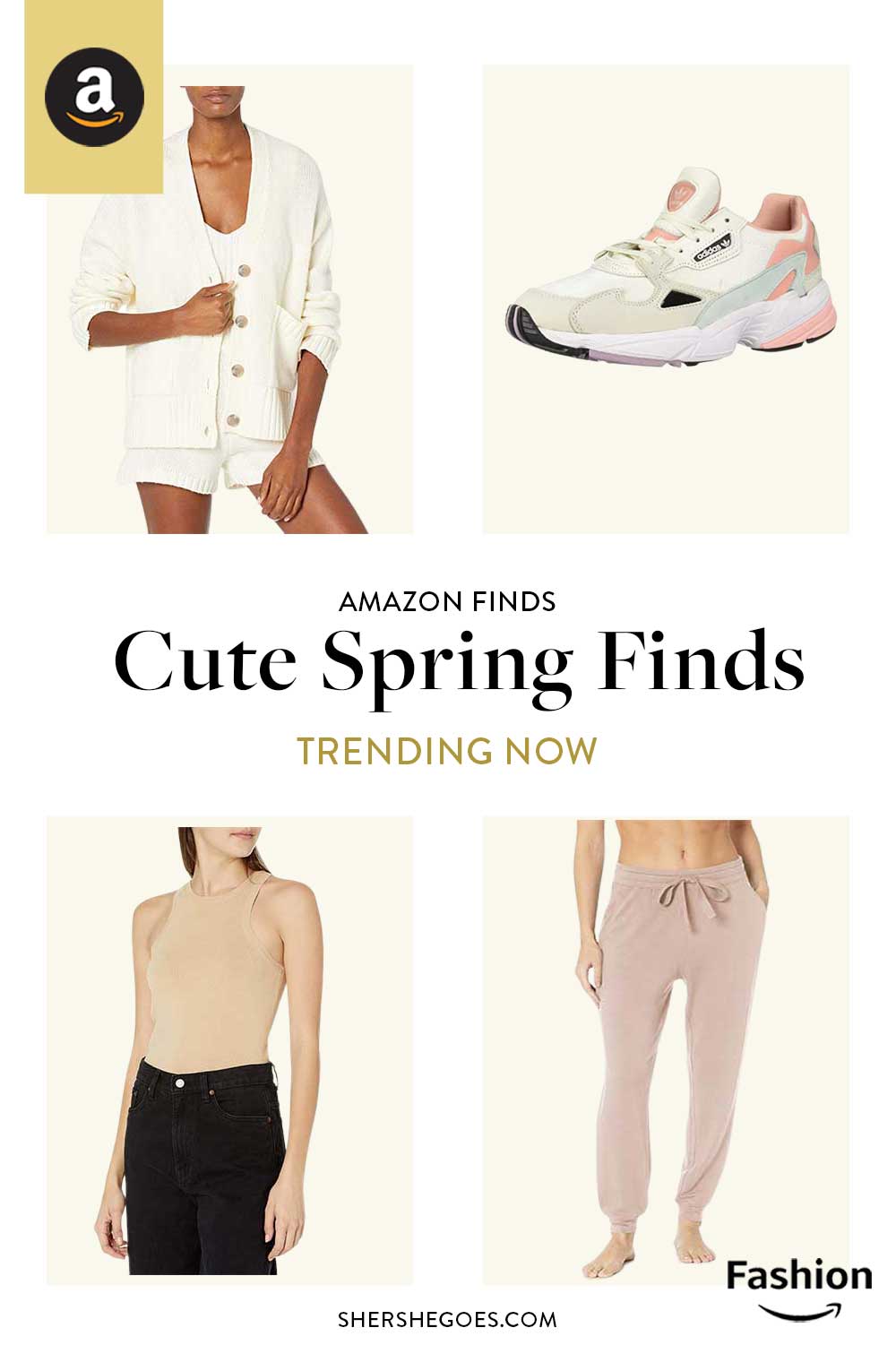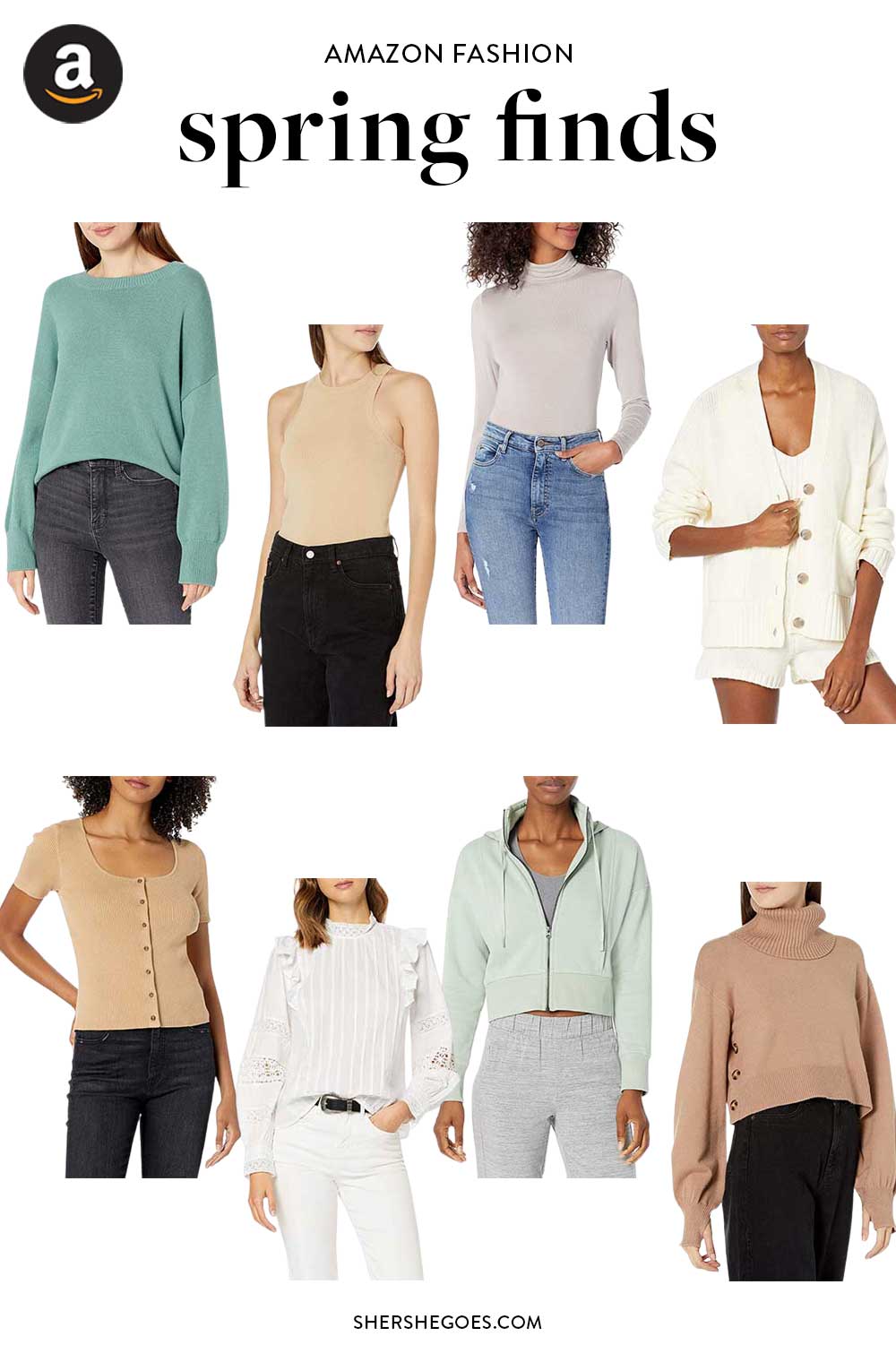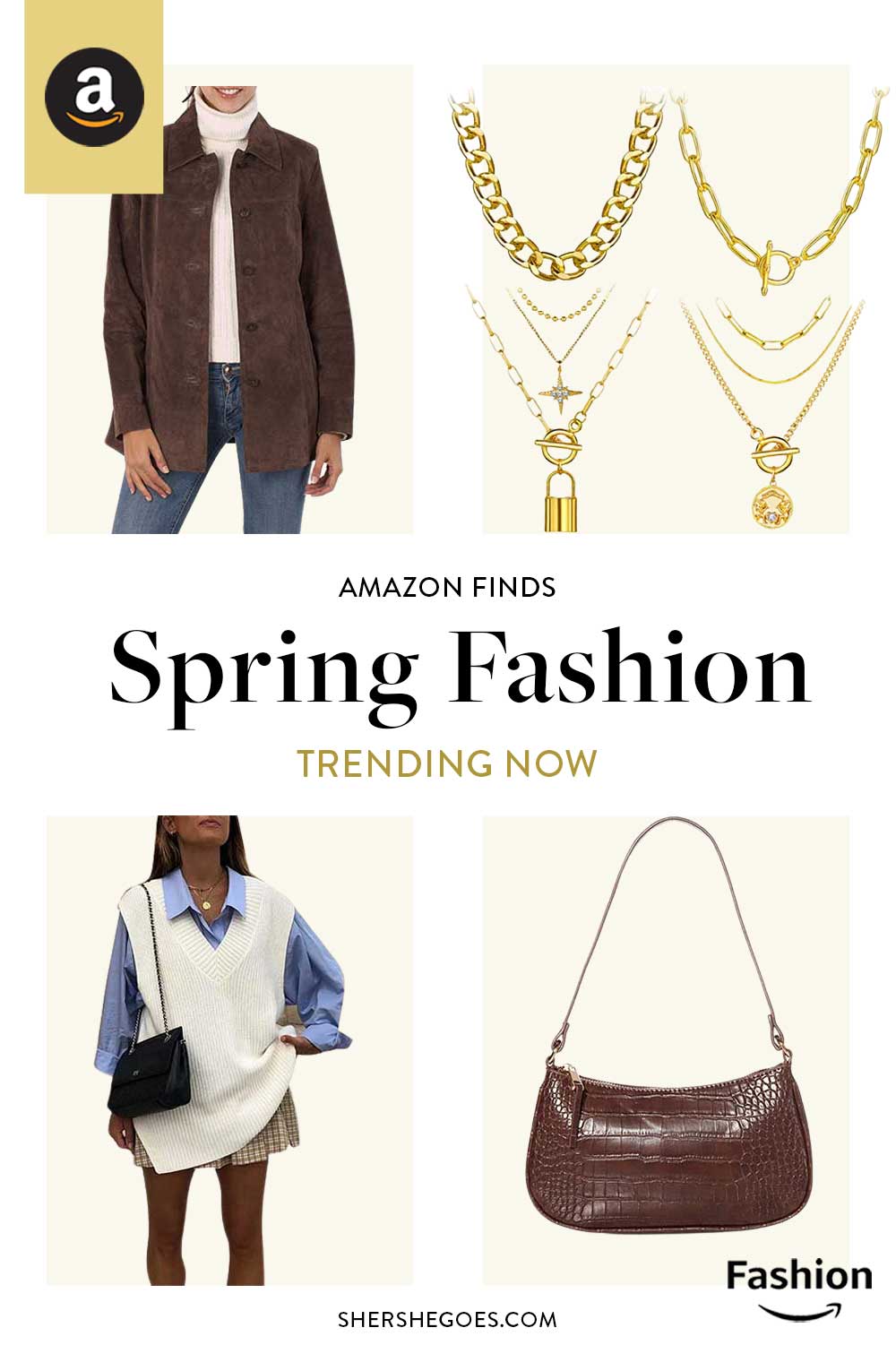 ADVERTISEMENT
---
---
Spring Fashion Trends
Comfort and casual still reigns supreme for spring.
Instead of formal suiting, think wide leg trousers and relaxed oversized blazers. To balance out the trendy loose pant styles, we're seeing lots of tighter 'second skin' tops.
And with a bit of scrolling, you can find tons of budget friendly spring fashion finds on Amazon. Here's what caught our eye:
Spring Fashion Trends
For our full selection of spring fashion picks, keep reading below!
ADVERTISEMENT
---
---
Best Amazon Fashion Finds: Spring 2021
Baguette Bag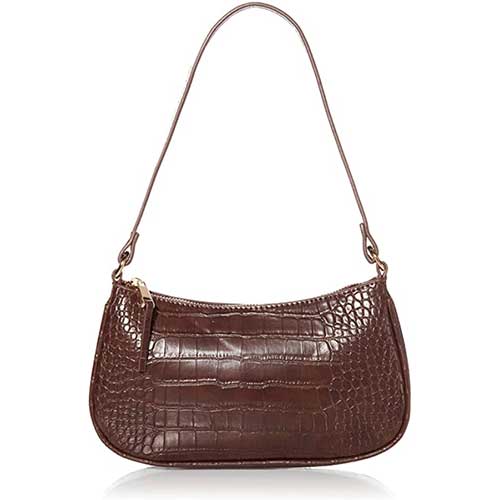 The 90s are back, and there's no easier way to update your wardrobe than with this simple handbag: a classic baguette.
This cute faux crocodile has a zipper closure up top and brass hardware accents. It fits perfectly under the shoulder with a simple strap!
ADVERTISEMENT
---
---
Second Skin Tops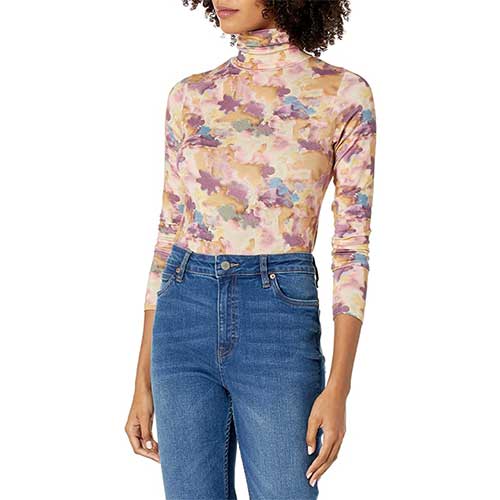 Second skin tops are a huge spring trend!
While this comes in a bunch of neutral colors, graphics and retro prints are the most on trend. Wear this slinky long sleeve tee as a layering piece – or on its own with some wide leg jeans.
ADVERTISEMENT
---
---
Loose Jeans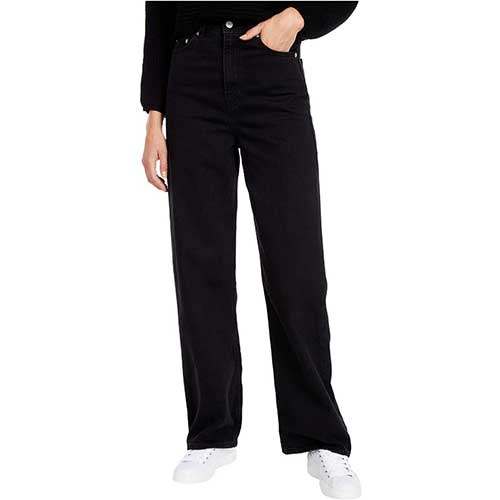 I won't be giving up skinny jeans anytime soon… but let's face it. Loose jeans are the new pair of "IT" pants.
These 100% cotton Levi's are an easy way to upgrade your spring closet without diving off the deep end. With an extra high rise and loose straight leg fit, they're cute, comfortable and spring-trend approved!
ADVERTISEMENT
---
---
Cropped Cardigan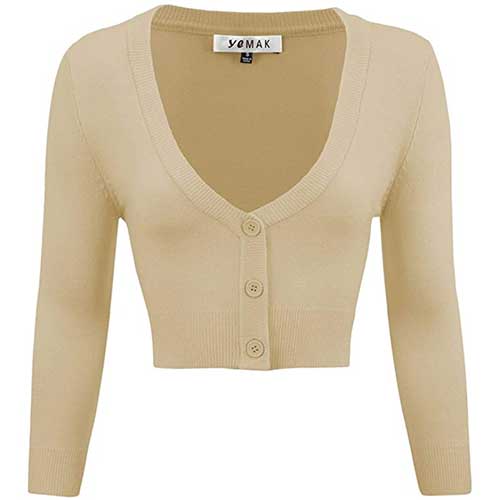 With loose fitting jeans on the rise, tighter tops are in.
This cute cropped cardigan is a stylish and easy way to try out the new Gen Z trend. It has a v neckline, 3/4 length sleeves and cute buttons down the front.
The fabric is super soft and wearable over camis, on its own or however you'd like!
ADVERTISEMENT
---
---
Suede Jacket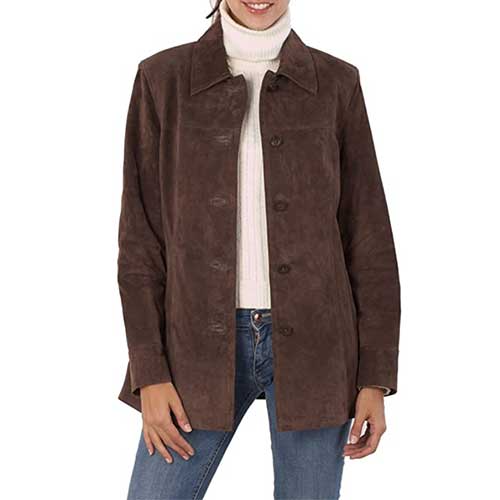 Brown has made quite the comeback.
While my first thought was "who would want to wear the color of poop", I have to admit deep brown shades have grown on me.
So much so that this casual brown suede jacket caught my eye as an easy stylish layer to throw over any basic outfit.
Made from 100% suede, the jacket has a spread collar and two front pockets. Best of all, it's affordable!
ADVERTISEMENT
---
---
Trench Coat
Another style come back into fashion?
The trench coat.
This midi length option from Orolay (the maker's of the famous Amazon winter coat) have done it again. I love the double breasted design, adjustable buckle cuffs and 6 buttons. It looks so much more expensive than it is and comes in a couple of different neutral colors.
Grab this duster coat to thrown on on any chilly days and you'll be all set.
ADVERTISEMENT
---
---
Quilted Coat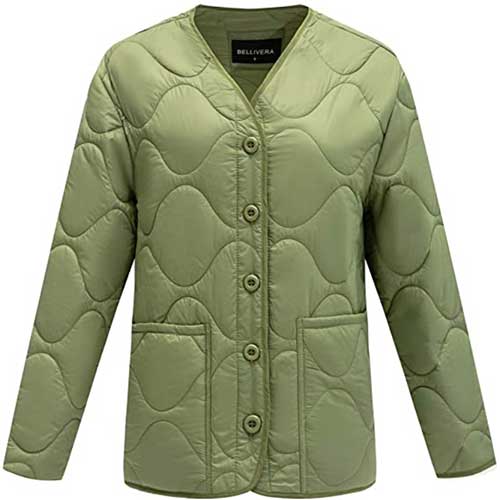 Quilted jackets are another trend popping up all over the place.
This short bubble jacket is cute, affordable and will keep you warm, if you (like me) live somewhere where spring is a little late to arrive.
It has a simple and minimalist quilted fabric, two front pockets and a row of subtle buttons.
ADVERTISEMENT
---
---
Faux Leather Long Shirt Jacket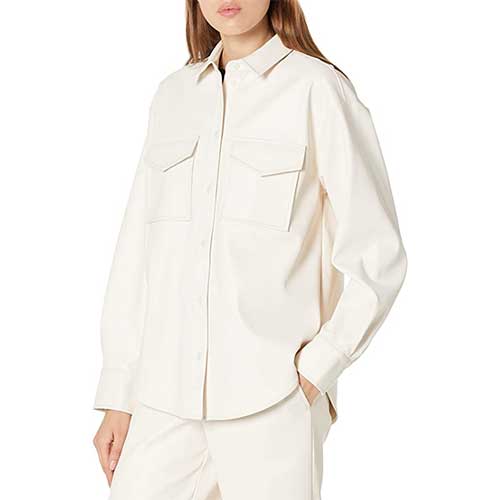 Leather is popping up everywhere and when we saw this cute two piece faux leather set on Amazon of all places, we were impressed!
This cute shirt jacket is oversized and made from a super soft faux leather fabric. It looks great on its own but also especially cute with the matching jogger pants.
ADVERTISEMENT
---
---
Faux Leather Joggers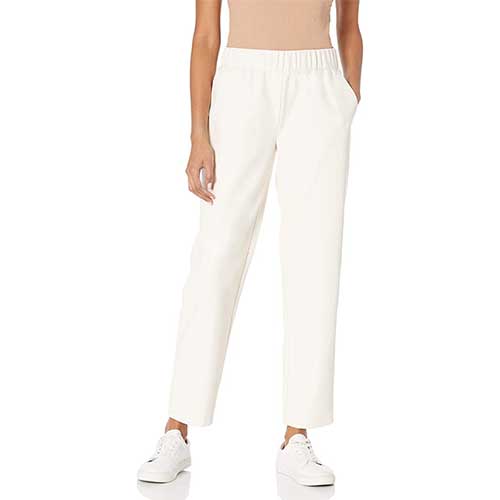 These are some seriously fun comfy pants.
With a slightly cropped length and straight leg, they're a modern chic alternative to wearing leather. Dress them down with retro sneakers and a cropped sweatshirt, or wear them with a bodysuit for a cute going out look.
The fabric is a faux leather material, but in person looks (and feels) surprisingly realistic!
ADVERTISEMENT
---
---
Chunky Oversized Cardigan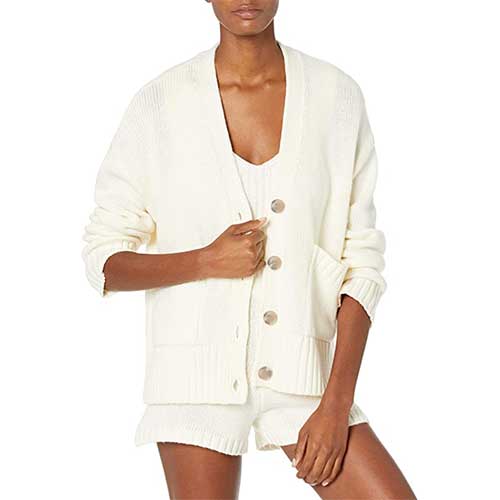 I bought this cardigan last fall in the beige-y brown color and can't recommend it enough.
It's cozy, it's slouchy and it's chunky. In short, it's the perfect oversized boxy cardigan to keep you warm but looking fabulous.
With a v neckline, pretty rib detailing and chunky horn buttons, you'll be amazed just how often you reach for this cardigan!
ADVERTISEMENT
---
---
Super Soft Joggers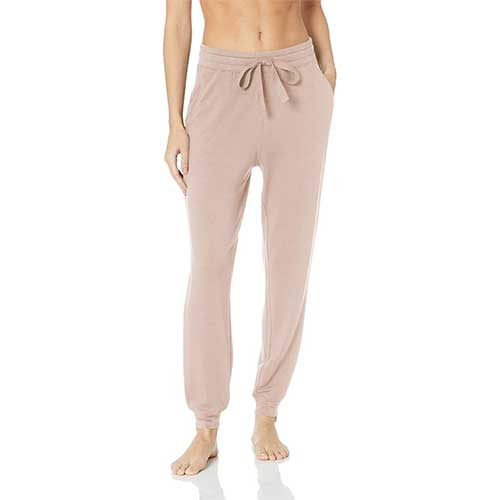 Loose fitting jeans may be in, but you bet I'm not giving up my sweatpants entirely.
These super soft, pale blush joggers are perfect for spring. With an elastic waistband, slightly cropped inseam and casual french terry fabric, they're too cute to pass up!
ADVERTISEMENT
---
---
Pastel Retro Sneakers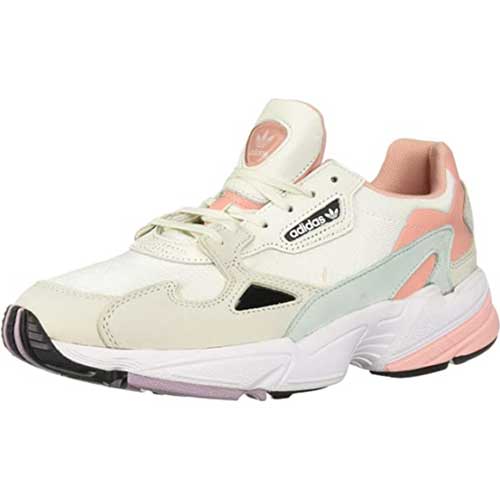 If there's one thing the pandemic brought out, it's long daily walks.
These cute pastel sneakers are the perfect (and probably only) shoe you'll need this spring. They're chunky, slightly retro and available in tons of colors – and they're actually comfortable for your feet!
I might permanently ditch the heels…
ADVERTISEMENT
---
---
Sweater Vest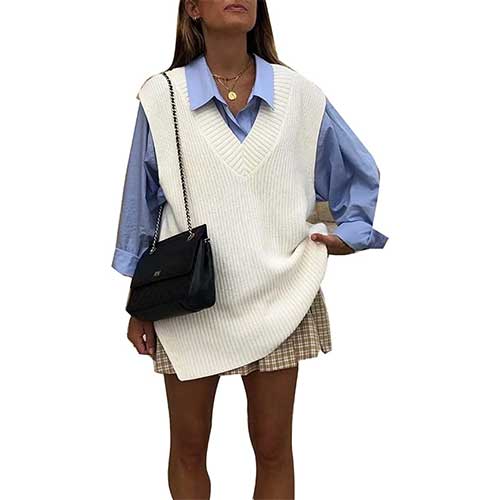 Oversized sweater vests just look effortlessly chic.
Somehow they look both 'grandpa' and Gen-Z… I don't know how they do it, but sweater vests are a cute layering piece and a must have!
ADVERTISEMENT
---
---
Wide Leg Pants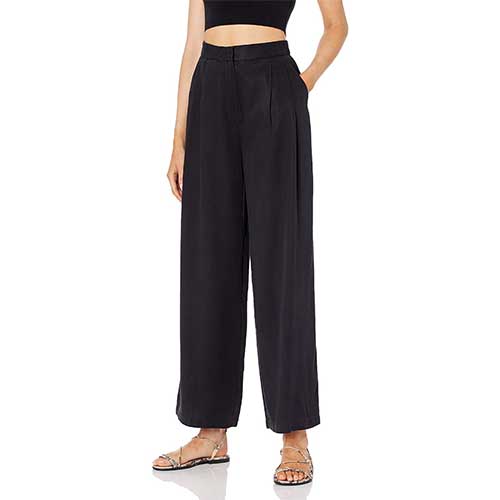 If you're not yet ready to stuff yourself back into rigid denim, give these wide leg pants a try.
They're made from a light, soft fabric and give your outfit a classy vibe – impressive considering they have an elastic waistband! Pair these with simple white sneakers and a sweater vest, and you're good to go.
ADVERTISEMENT
---
---
Chunky Gold Chain Necklace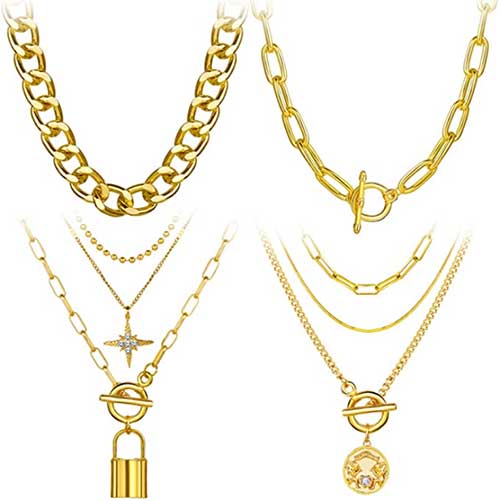 Chunky bold jewelry is in and I absolutely recommend a gold chain necklace to dress up even the most basic outfit.
I splurged on a couple from Missoma, but if you want to try out the trend on an absurdly low budget, get this.
You get a whopping 4 necklaces for $15 and while they're lightweight pieces of jewelry, they look stylish and really pretty on! Who's going to know…
ADVERTISEMENT
---
---
And those are my Amazon fashion finds for spring!
P.S. I'm always updating my Amazon shop page with the latest items I find and try out. You can browse all my latest Amazon picks here.
ADVERTISEMENT
---
---
Read More of the best Amazon Fashion Finds:
Amazon Spring Fashion
The Best Affordable Spring Clothes on Amazon
Trendy Spring Items You Can Find on Amazon
Amazon Summer Fashion
The Best White Dresses on Amazon
Breezy, Beautiful Linen Dresses to Stay Cool All Summer Long
The Best Sun Hats - Stylish, but with Sun Protection
10 Cute Basket Bags for Summer
8 Swimwear Trends to Try in 2020
The Best Modest Swimwear Finds from Amazon
Amazon Fall Fashion
The Best Faux Leather Leggings (Affordable Spanx Lookalikes)
The Best Fleece Jackets on Amazon
The Best Designer Inspired on Amazon: Shoes, Handbags & Accessories
The Best Clear Purses for Game Days & Concerts
Amazon Winter Fashion
The Best Snow Boots on Amazon
5 Stylish Warm Winter Coats on Amazon
The Best Winter Gloves on Amazon
The Most Comfortable Boots for Fall Winter
Amazon Holiday Fashion
The Best Holiday Party Dresses on Amazon that Look Amazing but are Under $50
The Best Ugly Christmas Sweaters on Amazon - Adorable, Funny & Cute!
Amazon Work Clothes
The Best Work Dresses on Amazon
I Tried Amazon's Personal Shopping Service: Here's My Review
Cozy Loungewear
The Best Comfy Bralettes on Amazon
The Most Comfortable Loungewear on Amazon
The Cutest Jumpsuits & Rompers on Amazon
The Best Workout Clothes on Amazon
12 Athleisure Outfit Ideas from Amazon
Cute Matching Pajama Sets from Amazon
The Best Womens Slippers on Amazon
The Best Mens Slippers on Amazon
Amazon Fashion Casual Clothes
The Best Denim Jackets on Amazon
The Best Casual Sneakers: 12 Comfy, Affordable Picks
10 Cute Slip on Sneakers on Amazon
The Best Matching Loungewear Sets to Look Cute + Cozy
Amazon Home Finds
The Best Floor Lamps on Amazon: Chic & Affordable
Amazon Furniture Finds: Stone & Beam
Roborock vs. Roomba: Which Robot Vacuum Is Best?
Are Standing Desks Worth It? A BDI Desk Review
Affordable Amazon Wall Art
The Best Affordable Faux Plants from Amazon
Cute Affordable Planters on Amazon
The Best Smelling Candles on Amazon
Follow me @Sher She Goes on