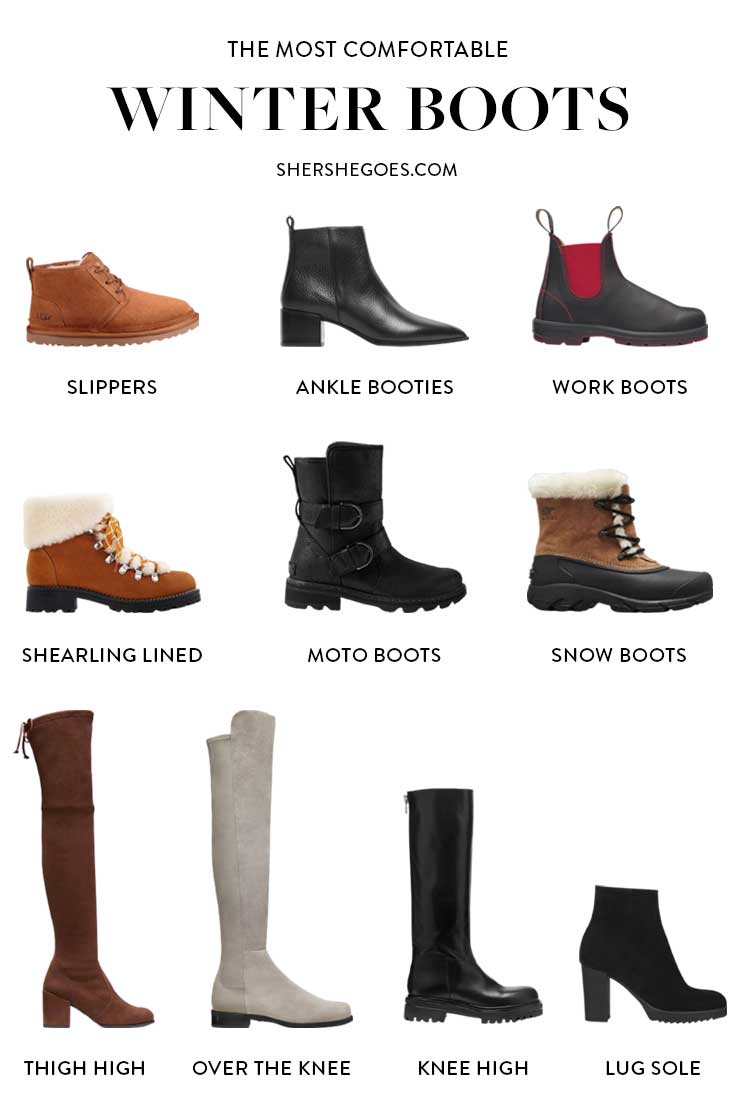 The Most Comfortable Boots for Women
Keep reading, or pin this article to save it for later ⇟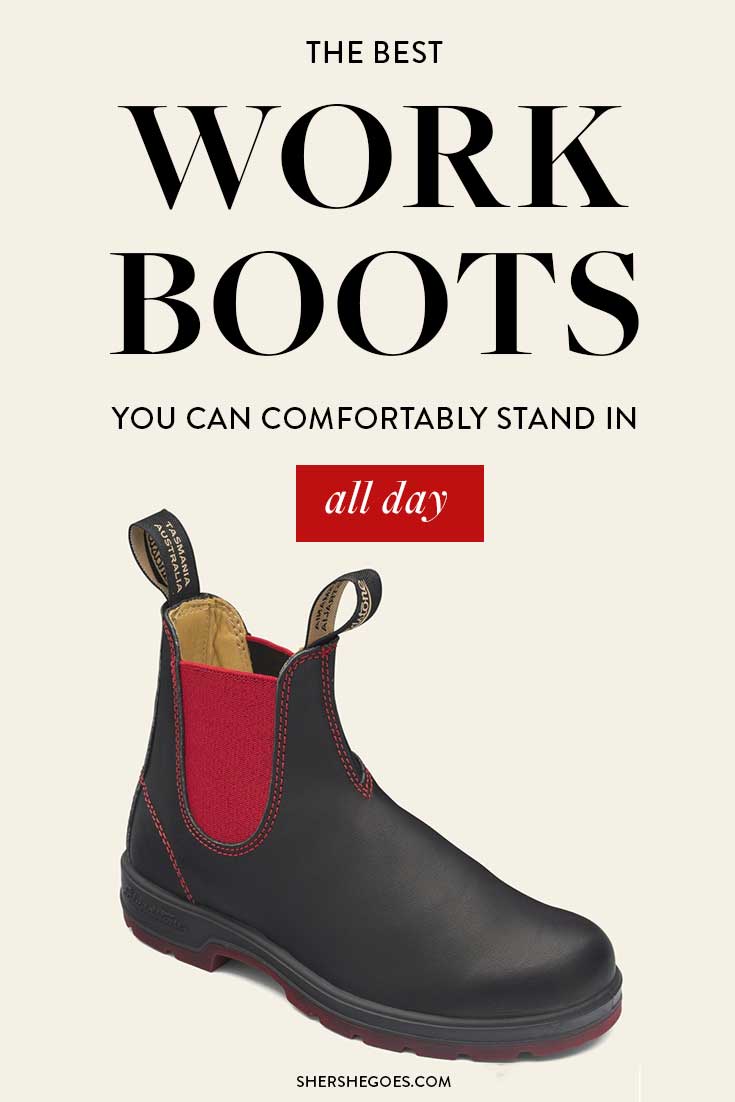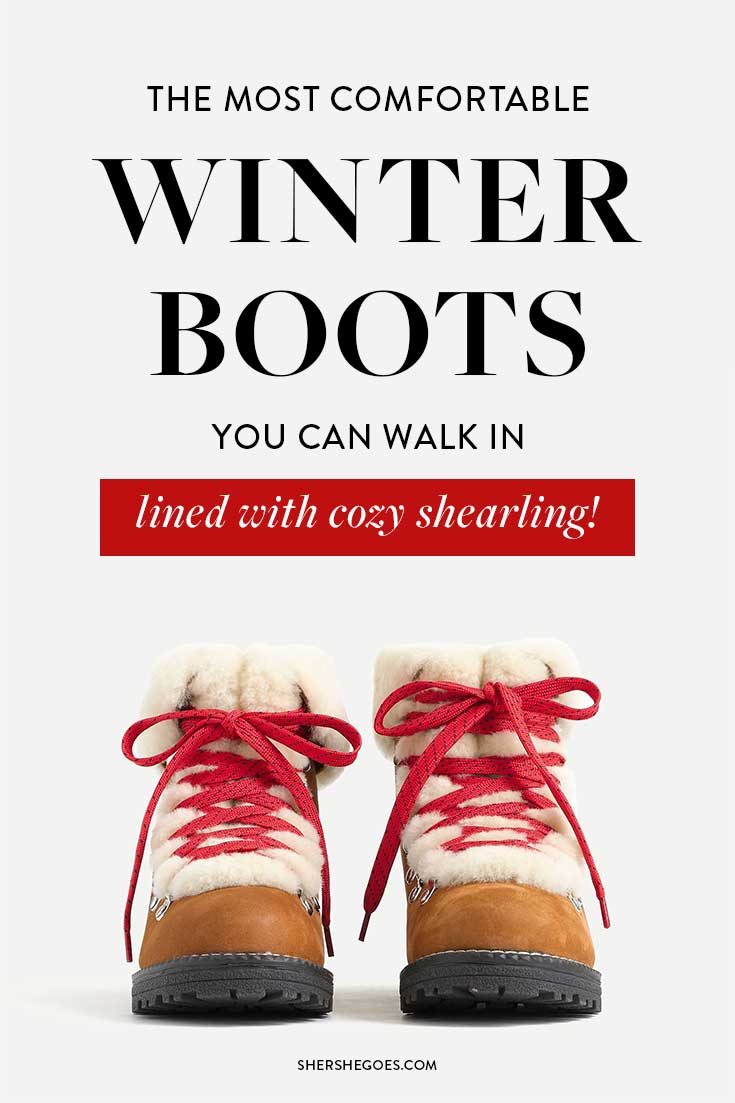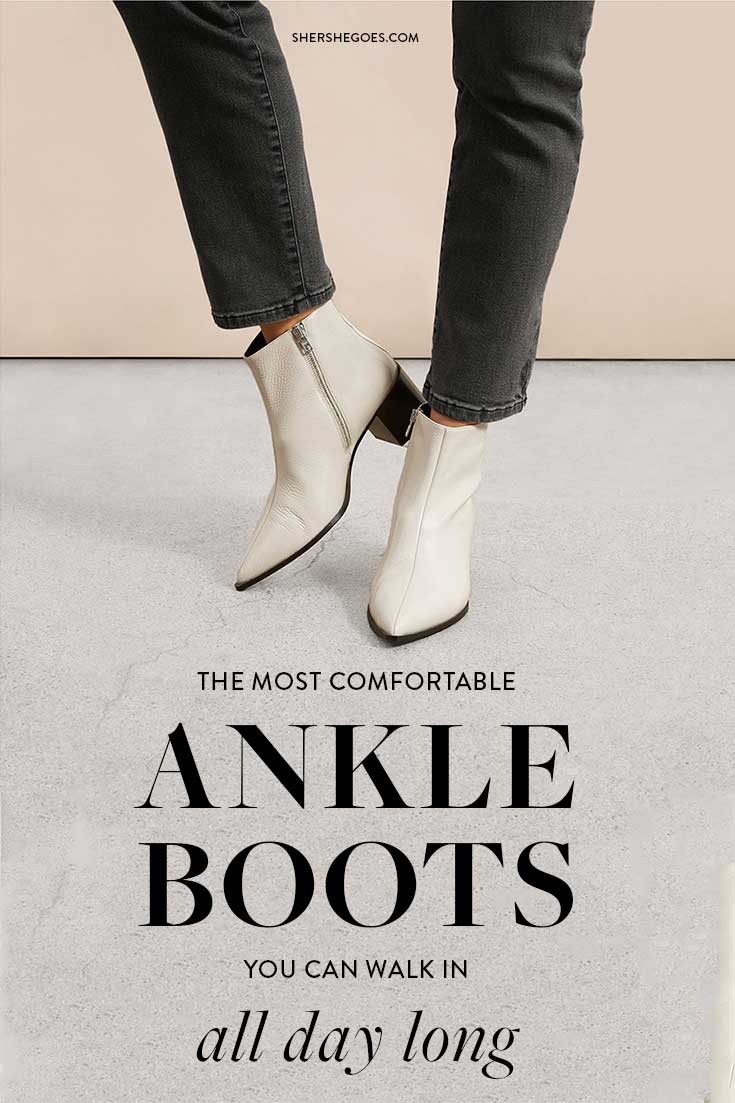 ADVERTISEMENT
---
---
Most Comfortable Boots (2023)
Boots are probably my favorite type of shoe for women.
This is completely ironic, of course, as freezing temperatures, blustery conditions, or both are the only reasons we even need boots in the first place!
This simplicity – after all, boots are basically just a generic term for any shoe that provides high coverage and ideally some extra insulation as well – is exactly why I find boots such a versatile wardrobe element capable of making so many different fashion statements.
Either that or this is the story I tell myself to get excited about getting dressed for weather so awful that even sitting pajama-clad on the couch and staring through the window makes me shiver and freeze.
If you're looking to boot cold feet out of your winters, keep reading for the 9 most comfortable boots for women!
ADVERTISEMENT
---
---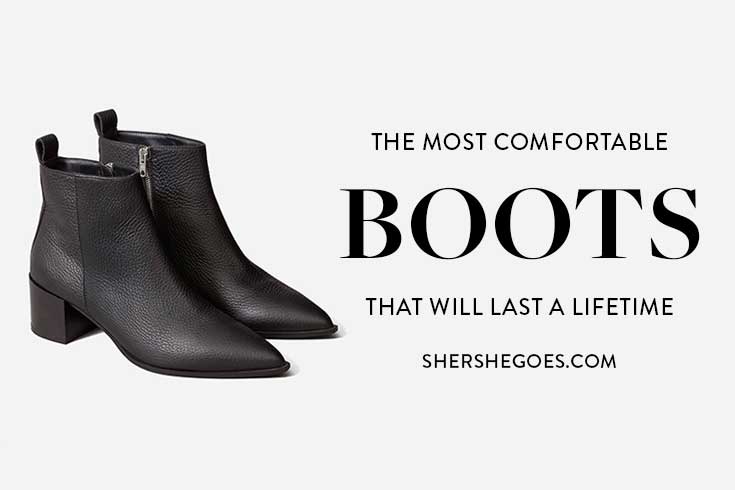 The Most Comfortable Boots
From the slopes to the sidewalk and the office to the outdoors, we have the most comfortable boots for women covered below!
Most Comfortable Shearling Boots: UGG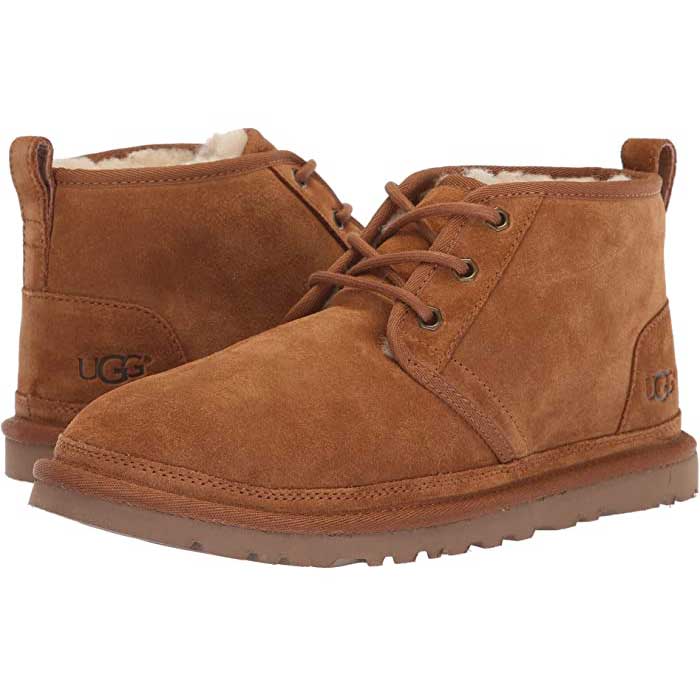 If you've ever been afraid to ask, shearling is freshly shorn sheepskin that is tanned, dyed, and processed with the original wool still attached.
This material's essential properties are superior durability, breathability, and naturally anti-microbial fibers.
In plain English?
Shearling is the most comfortable and longest-lasting fabric out there.
Pair this with a brand like UGG, which crafts shoes so ridiculously and indisputably comfortable they are basically the cold weather version of Crocs, and you can at least count on your feet staying warm through winter!
ADVERTISEMENT
---
---
Most Comfortable Leather Boots: Everlane
Looking for a chic pair of all purpose black leather boots?
Check out this option from sustainable brand Everlane.
They're made from 100% leather, have a small block heel that's comfortable to walk in, and a chic pointy toe. The pull on tab makes them easy to get on and off, and they're super durable thanks to the pebbled leather!
ADVERTISEMENT
---
---
Most Comfortable Winter Boots: J. Crew
I bought these cozy J Crew boots years ago and pull them out every winter, because they're just that comfortable.
They're made from high quality suede and lined with thick, fuzzy shearling so it feels like you're walking on clouds. I like that they come with 2 different colors of laces, so you can mix and match.
And the sherpa texture the outside makes them too cute!
ADVERTISEMENT
---
---
Most Comfortable Over the Knee Boots: Stuart Weitzman
While flannel-lined pants are kind of a thing for boys, the reality is women lack fashionable options that insulate the legs and lower body.
Well…fashionable pants options, that is!
Nothing makes a bold and confident fashion statement like a woman rocking some gorgeous and flashy over the knee boots, and few brands have perfected this boot niche quite like Stuart Weitzman!
While these are definitely pricey, a pair of Stuart Weitzman over the knee boots will last you a lifetime.
The brand also makes these in every type of heel length, leather type and boot style, so you're guaranteed to find the perfect pair of over the knee boots for your legs.
Personally, I like the flat 5050 boots and the classic highlanders for a heeled option.
Wear these over skinny jeans, with a silky slip skirt or with a chunky ribbed sweater dress. These over the knee boots go with everything!
ADVERTISEMENT
---
---
Most Comfortable Tall Boots: La Canadienne
The images may be a little hard to tell, but these tall boots from La Canadienne are actually quite different from OTK (over-the-knee) boots in both size and purpose.
Whereas OTK boots are meant to look distinct and be cleverly paired with a short dress or skirt, tall boots settle a few inches below your knee.
Knee length boots are truly meant as workhorse boots that can deflect heavy rain and splatter from winter's worst, and no brand does it better than La Canadienne.
The brand was founded in Montreal, Canada's snowy and cold fashion capital. All of their boots are high quality leather and suede, super comfortable to wear all day long, and entirely waterproof for snowy icy conditions.
Featuring memory foam comfort on the insoles and your choice of completely waterproof leather or suede fabric on the upper, these La Canadienne boots actually make your feet forget what winter feels like!
ADVERTISEMENT
---
---
Best Short Snow Boots: Talbots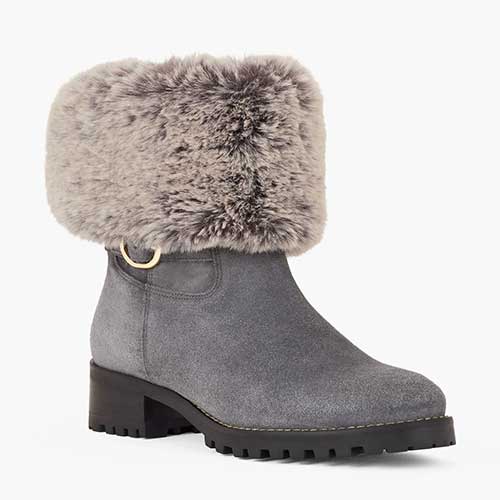 These snow boots are short but chic!
They're lined in shearling for extra coziness and have a fold-over cuff that adds a little something extra to your outfit!
The outsoles are made from sturdy and flexible rubber for great grip. These would be great winter boots if you live in a place that doesn't get too much snow!
ADVERTISEMENT
---
---
Most Comfortable Short Boots: MM LaFleur
These MM LaFleur knit booties are so elegant!
They have a manageable 3 inch heel and over time, the shoes will mold to your feet thanks to their 3D knit construction. Plus, these are made in a low-waste 3D knitting process, so they're sustainably made!
ADVERTISEMENT
---
---
Most Comfortable Snow Boots: Sorel
Whether you work outside and need the most comfortable boots for standing all day or simply love hitting the slopes, check out these mid-height boots from revered footwear brand Sorel.
Waterproof suede and an injection-molded waterproof rubber shell provide total protection from winter precipitation and sludge, while a faux-fur lining and removable EVA comfort footbed provide maximum (and guilt-free!) comfort.
I wore these Sorel snow boots all throughout our Norway road trip and my feet stayed so cozy!
In Norway they don't de-ice the roads, so the incredible traction on these boots saved my feet and allowed me to walk on sheets of slippery ice without a problem.
Definitely one of the best snow boots around.
ADVERTISEMENT
---
---
Most Comfortable Work Boots: Blundstone
While people like me complain when 5-minute strolls turn into 15-minute marathons, some of you troopers out there work on your feet.
Like every day. What???
For those who need the most comfortable boots simply to function at work, check out the industrial-strength comfort features on these Blundstone work boots.
The outsoles are simultaneously waterproof, lightweight, and designed for superior traction. Meanwhile, the insoles and footbed feature enhanced cushioning and a patented shock-dispersing design.
Finally, the premium leather upper punctuates the Blundstone boot's durability and professionalism!
ADVERTISEMENT
---
---
Most Comfortable Waterproof Boots: Blondo
Whenever people ask me about the difference between "water-resistant" and "waterproof" I always remind them that all "water-resistant" means is it takes you longer to get wet.
Eventually, everything that's "water-resistant" loses its impermeability and becomes just as soaked and awful as any other typical fabric (cotton, linen, fleece, etc.).
Only waterproof fabrics are designed to remain dry regardless of the precipitation's intensity or duration. Bottom line is always go for waterproof fabrics to be safe.
This pair from Blondo is the most advanced waterproof boot I've been able to check out.
It has a unique seam-sealed construction that not only adds a second layer of defense against moisture, but also enhances the performance of an insulating textile inner lining!
ADVERTISEMENT
---
---
Read More in my favorite Comfy Shoe series:
Most Comfortable Shoes
The Most Comfortable Flats EVER
The Most Comfortable Sandals for Summer
The Most Comfortable Boots for Winter
The Most Comfortable Heels (you can actually walk in)
Best Sneakers
The Best White Sneakers that Go with EVERYTHING
Cute Casual Sneakers to Wear Anywhere
Best Boots
The Best Chelsea Boots to Wear All Year Round
The Best Lace Up Boots for Military Inspired Chic
The Best Over the Knee Boots that Make a Statement!
The Best Shearling Boots to Stay Cozy this Winter
The Best Black Combat Boots That Go with Everything
Cozy At Home Shoes
The Best Mules for Easy Slip on Style
The Best Loafers to Look Polished but Stay Comfy
Shoe Reviews
The Best Travel Shoes in Every Style - Sneakers, Slip Ons, Flats & Sandals
Everlane Flats - These 5 Pairs are Extra Comfortable
OluKai Shoes: Sneaker & Sandal Review
Where to Get Stuart Weitzman Boots on Sale
Designer Inspired
The Best Cap Toe Ballet Flats to Get the Chanel Look, for Less
Classic Chanel Inspired Slingbacks (Two Toned)
The Best Chanel Inspired Espadrilles to Rock All Summer
The Best Manolo Blahnik Lookalikes
The Best Over the Knee Boots that Rival Stuart Weitzman Lowlands!
Follow me @Sher She Goes on