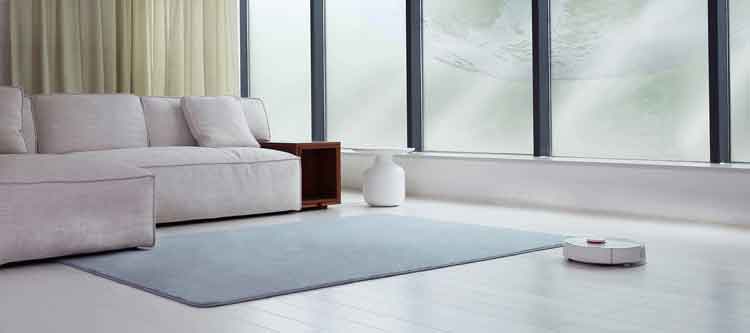 Roborock Robot Vacuum Review
I just finished a massive "fall clean" of the entire apartment, which got me thinking that it was time to do a review of our robot vacuum!
I picked up the Roborock S5 smart vacuum earlier this spring (as we were just wrapping our first 'big clean') so we've been using it for about 4 months now.
Robot vacuums are perfect for lazy people who want to keep the house clean on a consistent basis, with minimal effort.
Essentially… me in a nutshell.
I was tired of running a vacuum throughout the apartment (even though we live in NYC so our place is small) so I did a ton of research about all the different robot vacuum brands to find the best smart vacuum.
Eventually, I purchased the Roborock robot vacuum because it had by far the best reviews on the market and outperformed the popular and more expensive Rooma 980 and Neato D7 robot vacuums in every test imaginable.
It seems like I'm not the only one who loves the idea of a self-cleaning home, because when I unboxed this guy on my Instagram stories, I got so many questions and messages from you guys! I wanted to give it some time and really test it out before writing a review.
Today I'm sharing the good, the bad and everything you should know about the Roborock robot vacuum.
Keep reading or save this article for later ⇟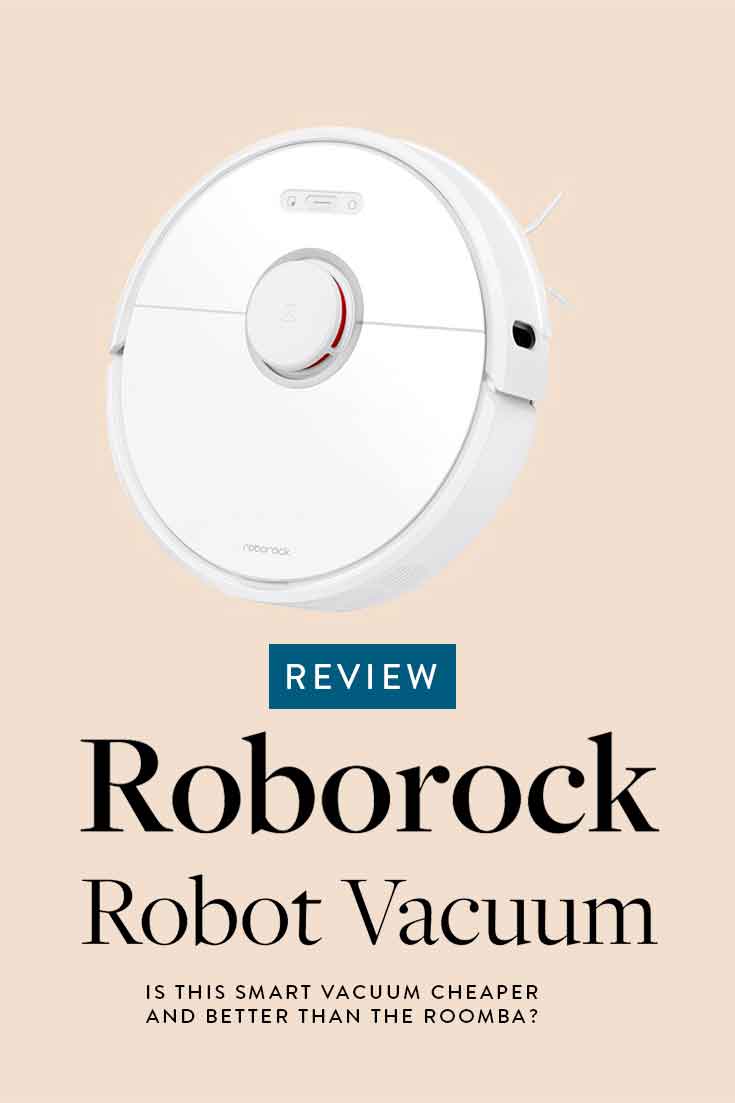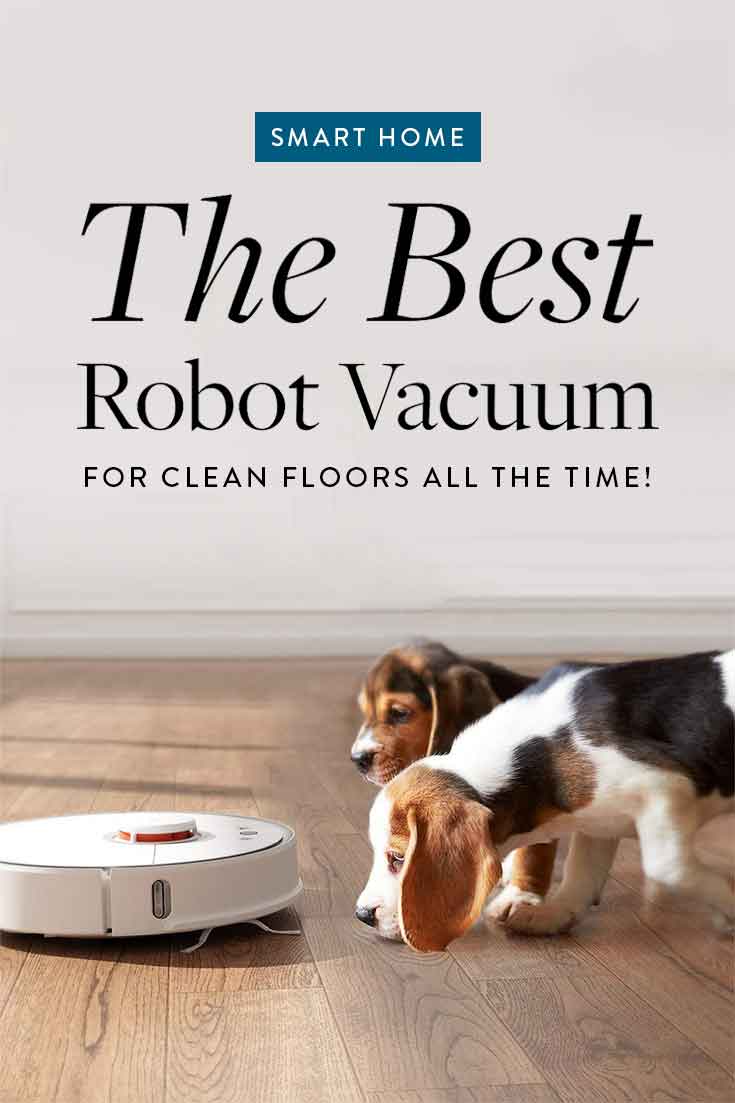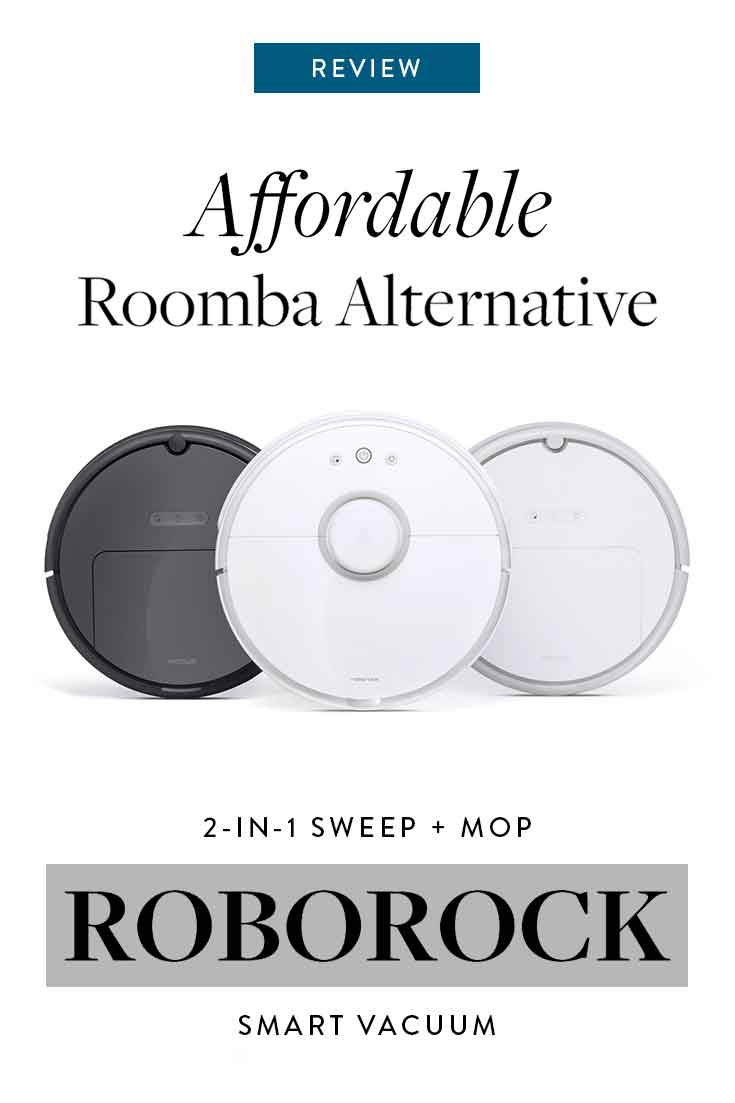 ADVERTISEMENT
---
---
Or, jump straight to a section:
Roborock S5 Review
For those wanting the short answer, yes I think it's a great buy.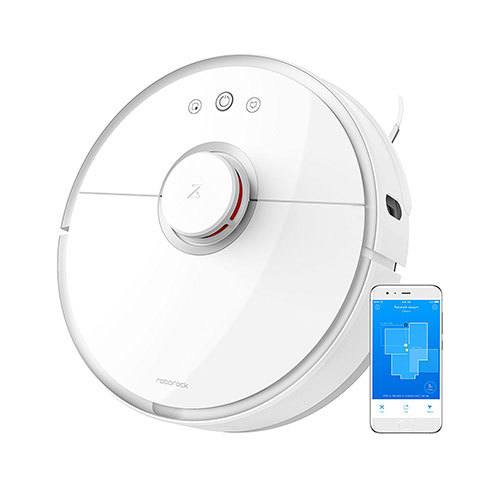 The Roborock robot vacuum has the most intelligent route planning of any smart vacuum on the market. It uses a laser to scan its surroundings in 360 degrees, while simultaneously mapping the room's perimeter, so that it cleans efficiently in a "Z" pattern.
Think of it like drawing a rectangle and then coloring from top to bottom – the Xiaomi mi robot zooms up and down to clean every inch of your space.
In contrast, the roomba does not map a space and cleans in a random pattern, so it's not uncommon for the iRobot vacuums to miss patches of a room.
Xiaomi's robot vacuums have strong suction power to work on both hardwood floors and short carpets.
The S5 model (and all subsequent models) even have a mopping function! With the free mobile app, you can set up remote cleans or track it around as it works.
Check price
and read more reviews here
.
ADVERTISEMENT
---
---
Summary
Pros
Smart Mapping function mean it cleans an entire room efficiently
Strong suction to clean up dirt, hair, dust and debris on hardwood floors
Excellent navigation around furniture, door stoppers or obstacles (no scuff marks!)
Slim profile – can clean under furniture like my bed frame and sofa
Long battery life – 2.5 hours on 1 charge
Remote control via mobile app
It can mop!
Cons
Not a "sealed" system – you need to manually empty the dust container
If you shed long hair, it can get caught in the wheels
Not meant for high-pile carpet
ADVERTISEMENT
---
---
Is the Roborock s5 Worth it?
Smart vacuums are a little pricey – around $500-700 for the higher end, better models. So, is it worth the purchase?
Here's who I think should invest in a smart robot vacuum:
If You're Short on Time or Hate Vacuuming
Honestly, who isn't and who doesn't?
The Roborock Robot can be programmed remotely via the Mobile App, which is available for both Android and iPhone.
When I first unboxed the vacuum, I spent a couple of minutes syncing the device up to my phone and wifi network and then everything was good to go.
The app is available in English – so no worries that you need to translate Mandarin.
Pet Owners
The robot vacuum can be programmed to clean every day and pick up stray hair, debris or litter. Long hair can clump up the wheels, so if you do have pets, you should run it more often.
If Your Home Is Mostly Hardwood
Robot vacuums work best on hardwood floors but the Roborock robot performs equally well on my low pile carpets. I have area rugs in every section of the house and it leaves them shining and clean every time.
ADVERTISEMENT
---
---
Roborock Robot Vacuum Features
The Roborock robot vacuum is made in China and is incredibly popular in the East.
In performance reviews against the Roomba, Neato and iLife, it attracted lots of attention for its more advanced navigational abilities and cleaning power at a fraction of the price.
Here's a short clip as I unbox the package!
Xiaomi Robot Vacuum Unboxing + Review | Roborock s5 Robot Vacuum
ADVERTISEMENT
---
---
My audio is a little quiet (sorry!) but essentially, I was pretty happy with how well packaged the smart vacuum arrived. It came right out of the box with an English instruction manual and English packaging – which I wasn't expecting, since previous reviews said everything was in Chinese.
I find that Roborock constantly updates the mobile app.
Now you can even draw zones with you finger, to tell the robot that you only want it to clean a small section within a larger space.
It can also save multiple maps, which is handy if you live in a home with multiple floors.
If you have an open floor plan, I find this feature really handy!
ADVERTISEMENT
---
---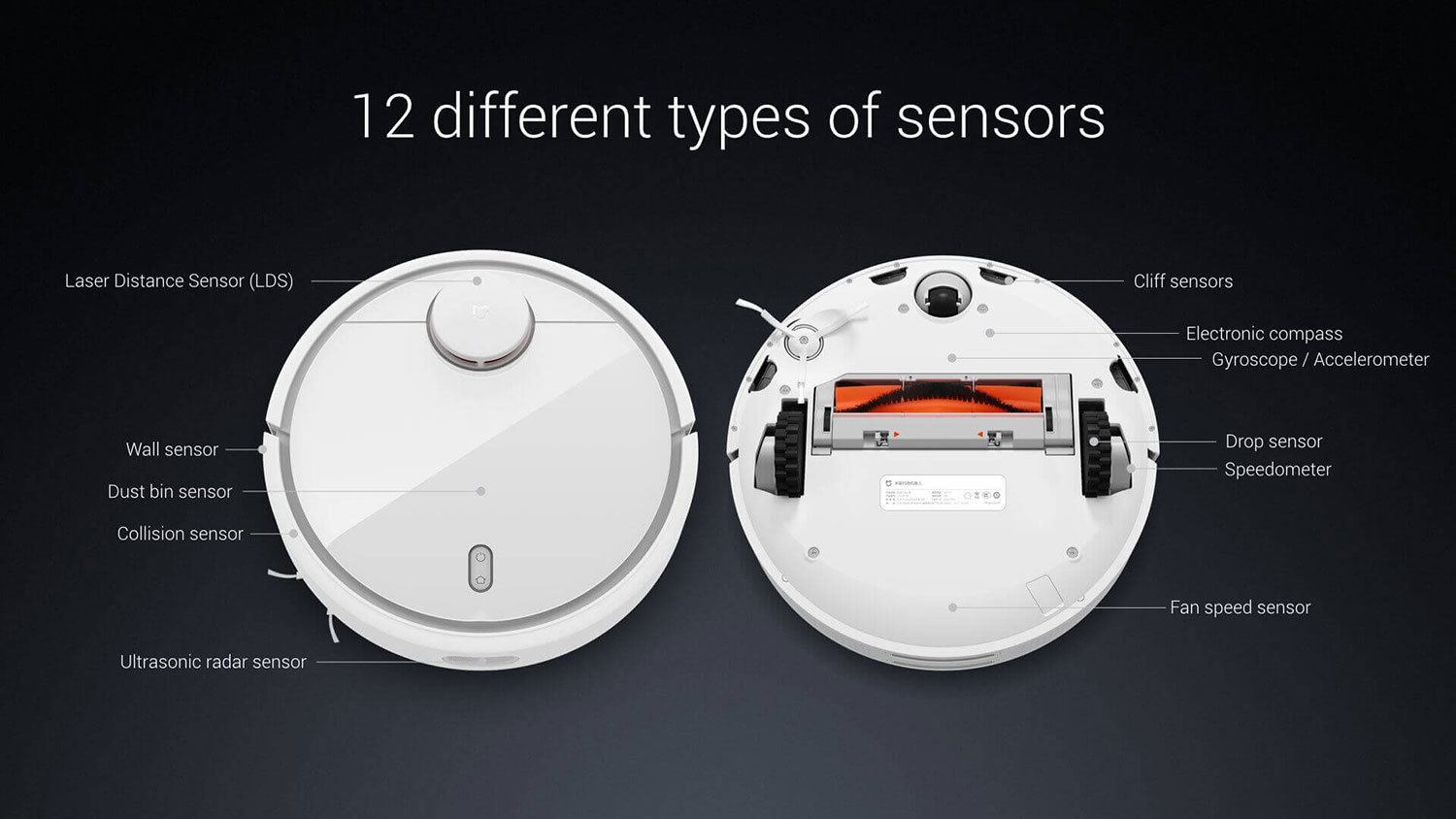 Roborock Build
The Roborock robot vacuum has a large circular shape.
On the outside is a bumper ring that allows it to gently bounce into walls or furniture legs without taking on any damage – and most importantly, not scuffing your things! I have enough marks and nicks on my walls so I've been very happy with how gentle the Roborock vacuum is.
When it nears a wall, its sensor "feels" the object and the robot slows down to gently "bump" the obstruction. It also cleans entirely around furniture legs.
The vacuum profile is flat and low enough to the ground that it can clean under your furniture – I love that it picks up all the dust under my bed.
ADVERTISEMENT
---
---
On the bottom, the Roborock S50 vacuum has 2 large wheels that enable it to transition between hardwood floors and carpet. I'd say it can tackle about the thickness of a shag rug – it won't work well for plush carpet.
Roborock Accessories & Parts
The Roborock Robot Vacuum is shipped with an extra filter and a mopping insert as well as a charging base, cord and cleaning tool.
When not in use, I keep the Roborock robot vacuum on its docking station against a wall. I like that the charging station is small and minimal. It's actually low profile enough to fit in underneath my dresser, so you can't even see it in the room!
You can also buy replacement parts if you need them. But in the 3 years that I've had the Roborock, I haven't had to replace anything.
ADVERTISEMENT
---
---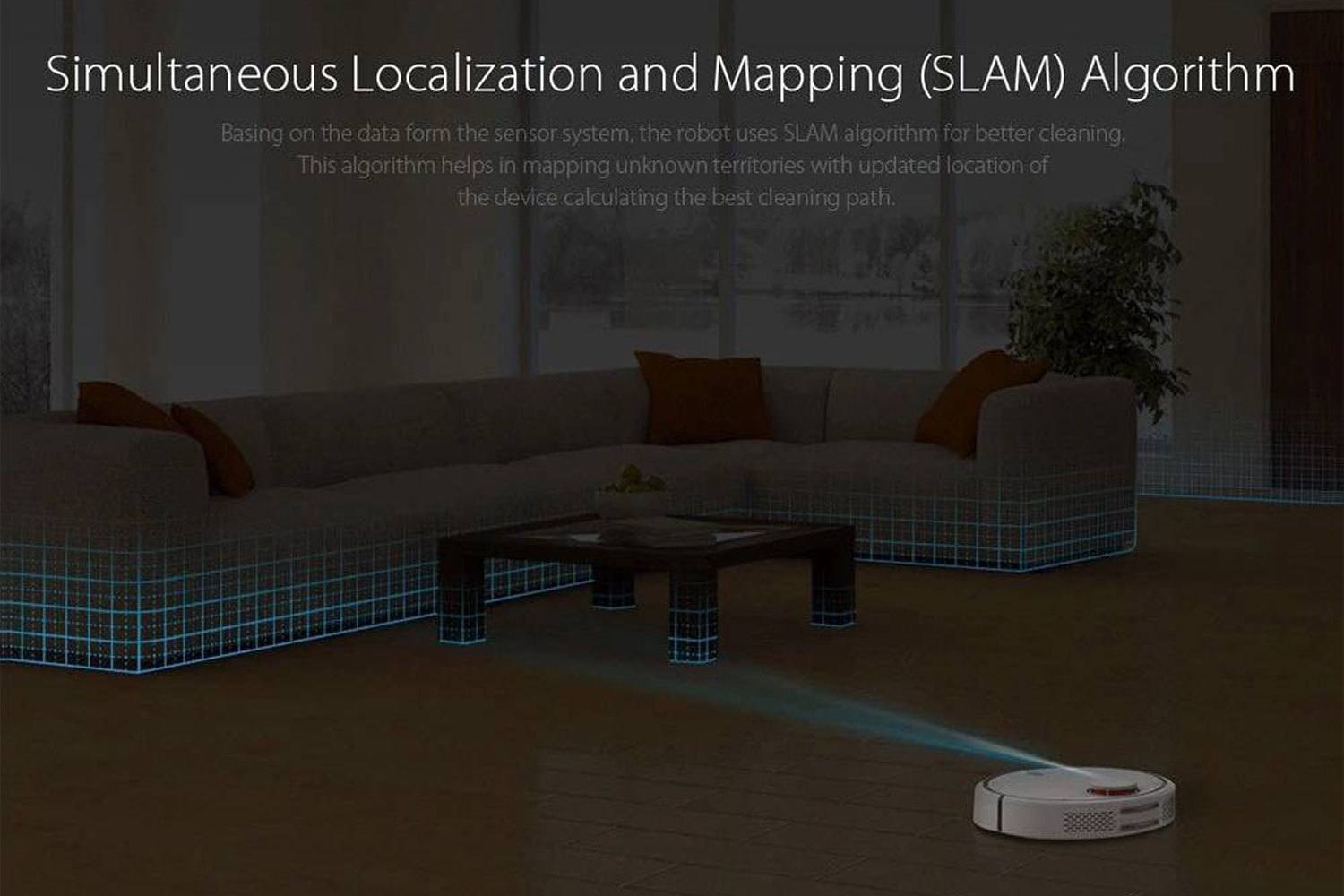 Roborock LIDAR Laser Technology
The Roborock smart vacuum works by using a LIDAR laser to scan its surroundings. It maps out a perimeter of the room and then zooms back and forth in a methodical pattern to clean every inch inside that perimeter.
The navigational dome is located on the top of the vacuum, right in the center. This helps navigate better and faster without getting stuck.
The laser can also auto detect carpet, which lets the smart vacuum know to increase suction when cleaning carpeted areas.
ADVERTISEMENT
---
---
Roborock App
I think Roborock knows that lots of international customers are buying its vacuums, because I read and watched lots of reviews before buying and those mentioned that a drawback to the machine was that it's programmed in Chinese.
When I opened up my Roborock robot vacuum in May 2018, I was able to set it up in English right out of the box. The instruction manual is also in English and the charging dock is made for a US electrical outlet.
It took me a couple tries to connect the vacuum to my wifi (you need to toggle it off 5G and onto 2G) and the app was entirely in English as well.
Since then, the app has had a couple of significant firmware updates so the manufacturer keeps it running in good condition and even an older model of the Roborock will continue to run smoothly on the latest app updates.
ADVERTISEMENT
---
---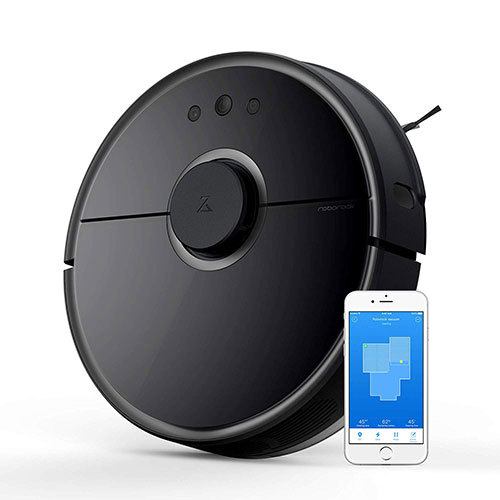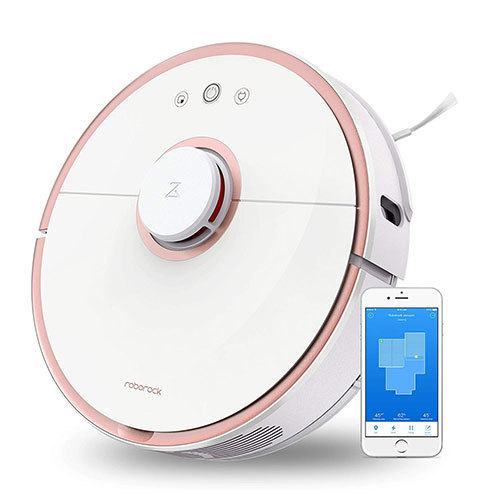 Roborock Aesthetics
Not super important, but I think everyone appreciates when boring home appliances are beautiful enough to be displayed. Dyson's sleek look is half the reason why people love them so much.
In the smart vacuum category, I think Roborock's robot vacuums look the best. They're minimalist and modern looking, almost Apple-esque!
I picked up the all white version since that was all that was available at the time. But, Roborock has since released 2 additional colors: all black and white with rose gold trim.
ADVERTISEMENT
---
---
How the Roborock Vacuum Cleans
As I mentioned, the Roborock has an excellent navigational system thanks to its lasers.
The brand's use of LIDAR lasers stands out in the market (some other robot vacuums use a camera)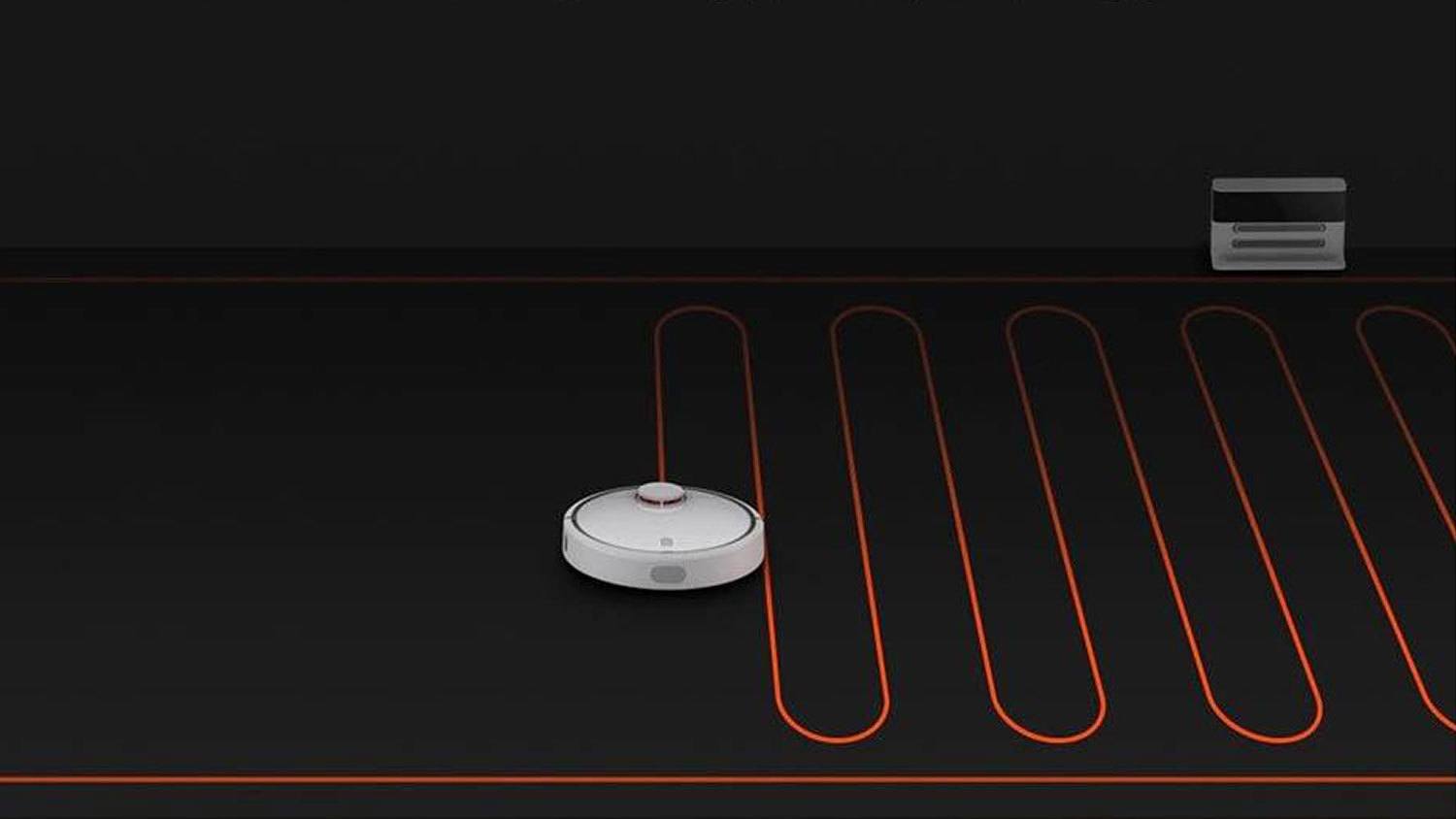 Brushes and Suction
On the bottom of the Roborock robot vacuum is the spinning brush and rolling brush. The former sweeps dirt and debris into the path of the vacuum so that the latter can suck it right up.
Cleaning Power
The first time I ran the Roborock robot vacuum, I was horrified by how much dust was in the container – it was overflowing! I also have long hair that sheds easily and that was entirely wrapped around the bottom brushes.
I find that if I haven't cleaned in a while, it's best to run the Roborock in sections and to be sure to empty the vacuum more frequently. The vacuum picks up dirt, dust and debris incredibly well, but can get trapped with long hair.
ADVERTISEMENT
---
---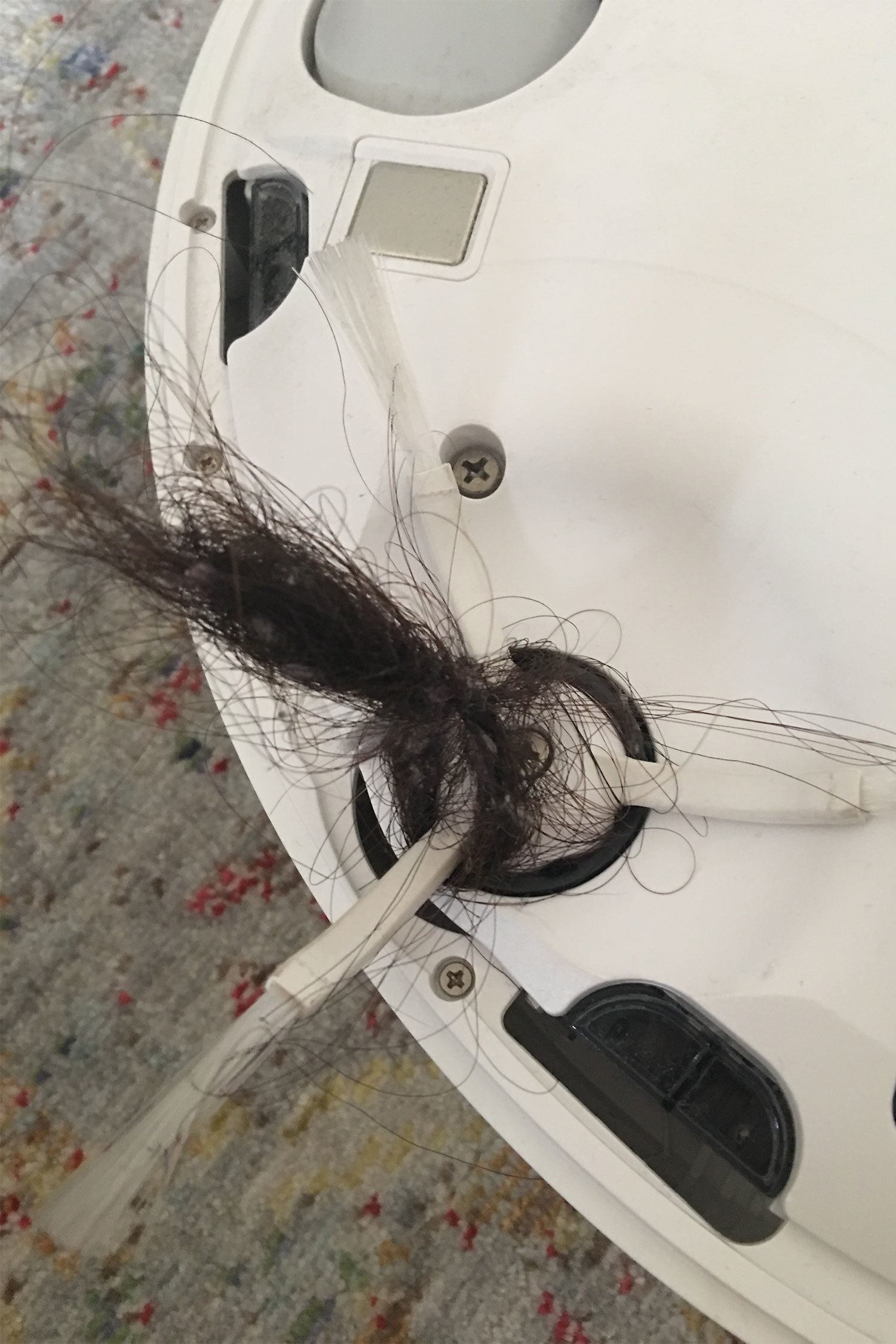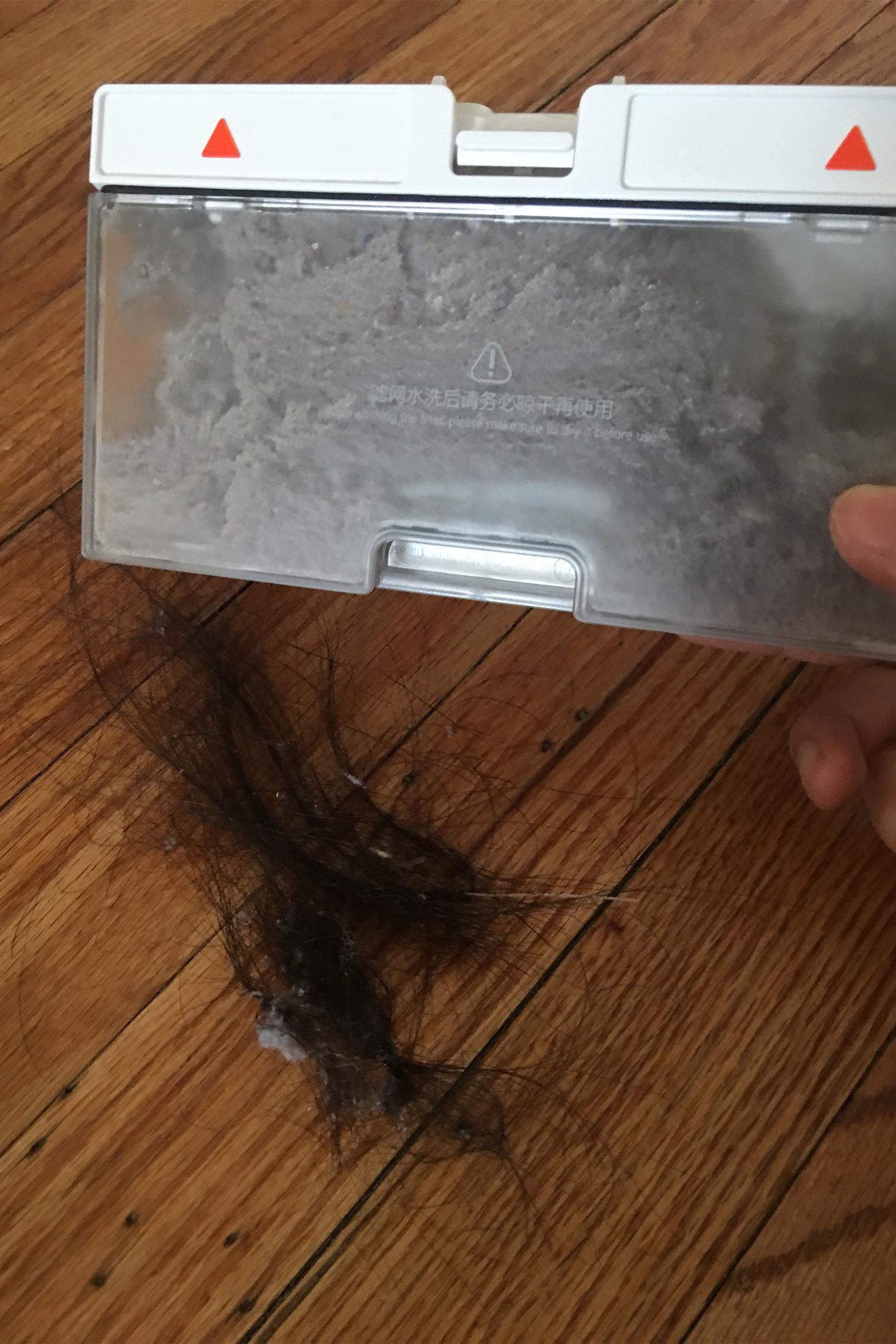 The main downside is if you shed lots of hair, or have long hair. Lots of long hair can get tangled up in the wheels and brushes, which you'll need to manually clean / cut off.
Cleaning Modes
The default cleaning mode is set to Standard, but you can toggle it in the Mi Home app to Quiet, Turbo or Max.
There's also a spot cleaning mode which I find particularly handy for our kitchen (since C frequently makes a mess while cooking, ha).
To toggle that hit the button on the unit or from within the app and it will clean a roughly 5 x 5 virtual square.
ADVERTISEMENT
---
---
Battery Life
The Roborock robot vacuum specs state that it has enough battery for 2.5 hours of cleaning on one charge. I don't quite know how accurate that is, but I will say 1 full charge is enough to clean my entire apartment once.
When it feels the battery is low, the smart vacuum automatically returns to dock at its home state and recharge.
If you have a bigger home, or multiple floors, no worries. After the Roborock recharges, it remembers its last location and returns to continue the cleaning cycle instead of starting over from scratch.
ADVERTISEMENT
---
---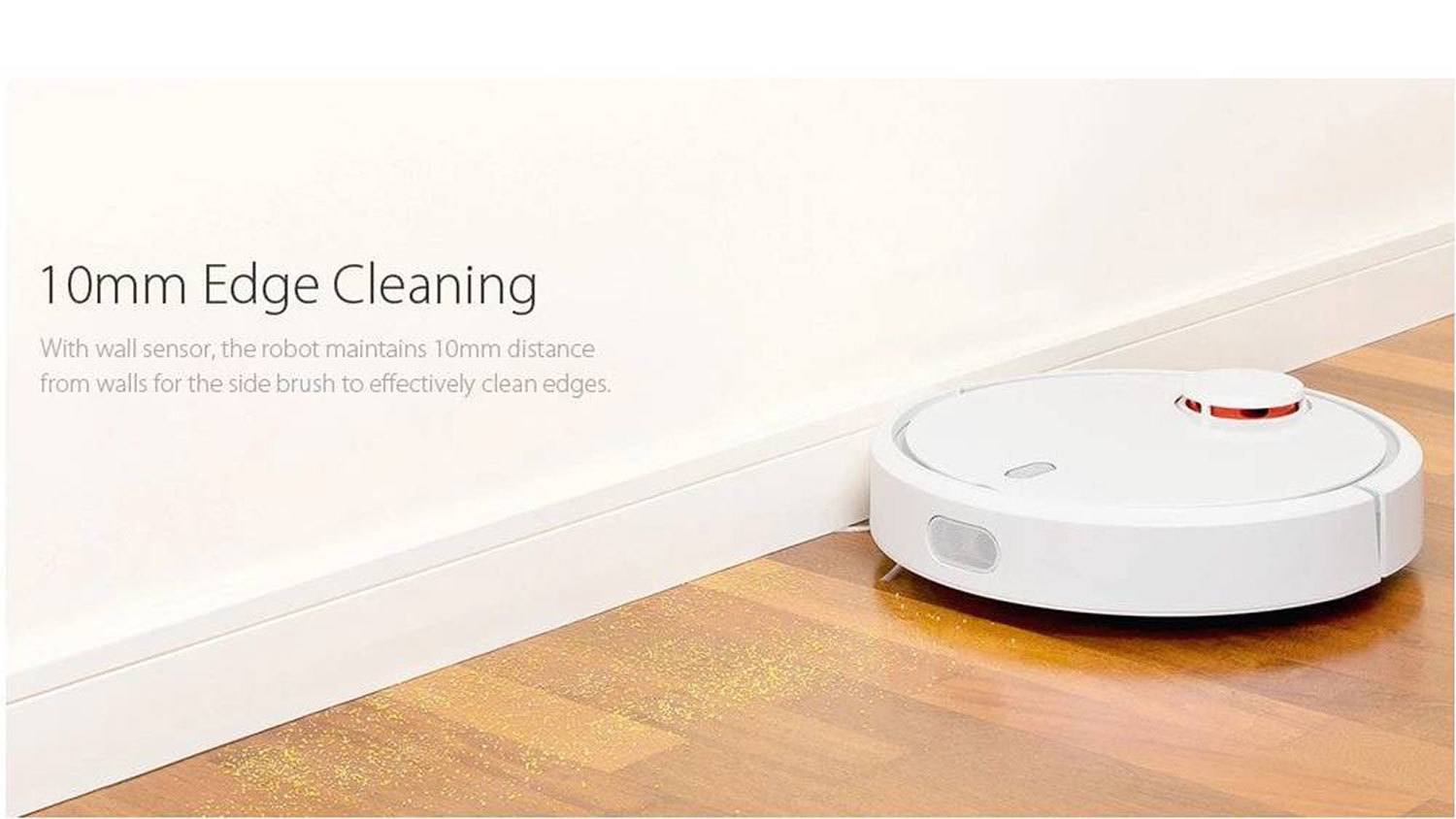 Maintenance
While the Xiaomi robot vacuum is a "smart robot", I usually take about 10 minutes to adjust the house to make its job easier.
I have floor length curtains, so I tuck those up on a sill; I move laundry baskets and random socks or things off the floor.
The robot vacuum goes around furniture legs quite well but if I have the time, I put my dining chairs upside down on the dining table so it has more room to maneuver.
The rest of my furniture I leave as is.
ADVERTISEMENT
---
---
HEPA Filters
The robot vacuum uses HEPA filters which do need to be replaced eventually.
The nice thing is when you purchase the vacuum, Xiaomi includes an extra filter. I saw in reviews from late 2017 and early 2018 that people didn't have the extra filter, so I think this is a new thing that the company started including.
They're Washable!
What I really like is that you can clean the HEPA filters so you don't have to replace them anytime soon.
Xiaomi's directions state to run water through the filter to clean it – no soap – and the dust container completely opens up so that you can just clean the filter by itself. I did this after running the machine the first time as my house was verryyy dusty and the filter was filthy.
The one important thing is that you let the HEPA filter completely dry. I left it for a day, but the machine kept running an error as it wasn't entirely dry.
Now I leave the HEPA filter on a windowsill in direct sunlight to air out completely before inserting it back into the robot vacuum and everything is fine.
ADVERTISEMENT
---
---
Price
I bought the Roborock S5 robot vacuum on Amazon for ~$550.
The product is imported from China but sold direct by Roborock, so you still get the 12 month warranty as well as free returns within 30 days. With Prime, mine arrived in 2 days with free shipping.
I think it is cheaper in China (maybe $100 to $200 cheaper) but unfortunately you do have to pay more if you want it in the US, as it needs to be imported.
There are also import websites where you can buy it directly from China via a middleman, but I'm unsure how this works (if it comes with a US plug, if it includes the 1 year warranty, if you can return, etc)
Check back on Amazon frequently as I've noticed the price fluctuates and occasionally the seller even offers coupons.
As of this writing, the Roborock robot vacuum is being sold for $500. If you compare it to the iRobot roomba 980, which retails for $899, it wins on price alone.
Minimal Lifetime Costs
New filters can be purchased separately for ~$7-10 each on Amazon. I think if you take good care of the machine and thoroughly clean it out after each use that you could use the filters for quite a long time.
If for some reason you needed to replace the two brushes, you can also buy them online in a set here, which comes with the replacement filters and extra cleaning tools.
Update Fall 2020: I've had the vacuum for 2.5 years now and have not needed to purchase any extra parts. I did change out the filter, so I'm now using the extra filter they provided.
ADVERTISEMENT
---
---
What Could Be Improved
My biggest pet peeve with the Roborock robot vacuum is that hair gets stuck in its brushes. The main reason I wanted the vacuum was to do weekly 'maintenance' cleans where it could sweep up hair and dust on auto pilot.
Unfortunately, I naturally shed tons of hair – so much that if you saw it, you might think I was going bald. Long hair can get wound up so I find that I have to take out each brush and gently untangle all the hair that's gotten tangled in its brushes.
To make the job a little easier, I just run the Roborock robot vacuum often – I aim for once a week so that hair doesn't pile up around the house. I don't have any pets, but I would assume that pet hair might have a similar clogging issue with the robot vacuum.
Update Fall 2020: If you run the Roborock weekly, you won't have an issue with the hair tangling up. A reminder to myself to not be lazy and to run it often!
I also have a Miele container vacuum for deep cleans and vacuuming furniture. The container vacuum uses self contained bags, where all the dirt and dust is sucked up into a sealed container which you then dispose of – you never have to come into contact with the dust.
I would love to see that in a future model of a smart vacuum!
Update Fall 2020: Roomba came out with a bagged robot vacuum and I bought it! The Roomba 6+, 7+ and 9+ can all self empty. I will have a more in-depth review soon.
ADVERTISEMENT
---
---
Conclusion
Overall, the Roborock robot vacuum is an unbeatable value for the price. It's an upfront investment, but I'm always amazed at how much this small robot can pull out of my carpet and corners and it's invaluable for cleaning under furniture.
The driving and maneuvering mechanics are really impressive. It knows to decelerate when it's about to encounter a wall and completely cleans around furniture legs.
I've heard of other high-end robot vacuums slamming into walls, chipping paint or damaging baseboards – I have enough nicks on my walls, I don't need any more! The Roborock is super careful.
I also appreciate the washable filter design so that the lifetime maintenance cost of the product is minimal.
The Roborock is so handy for weekly maintenance. I can program it to run from the app (you can also control it with Alexa) and it keeps my apartment dust, hair and dirt free without really lifting a finger.
Genius.
ADVERTISEMENT
---
---
Have you ever used a robot vacuum?
Small Space Living
Living in a New York City apartment means space is a premium! Over the years, we've learned to ruthlessly purge our closets, adapt the Konmari method and max out every inch of space. Despite the challenges, we love interior design, NYC real estate and wouldn't trade living here for anywhere else. Follow along on our small space living adventure!
You Might Also Enjoy:
Small Space Living
25+ Small Apartment Hacks to Transform Your Space
The Best Makeup Storage Ideas When Space is Tight
Aerogarden Harvest Review: Growing Plants Indoors is Now Doable!
How to Dress a Bed as Luxuriously as a 5 Star Hotel
Small Apartment Entryways: 4 Decorating Ideas
Storage Hack: Saving Space When You Don't Have a Pantry
Home Decor
The Best Affordable Wall Art - from Amazon!
Crazy Real Faux Plants (for Black Thumbs)
The Best Smelling Candles to Create a Sense of Hygge
Amazon Home Finds: Stone & Beam
Our NYC Renovation
Renovating a Kitchen in NYC: Tips, Tricks & Cost
Everything We Learned About Renovating Our NYC Kitchen (Video)
How to Remodel a Small Kitchen for Maximum Storage
Home Appliances
The Best Compact Appliances for a Tiny Kitchen (Video)
The Best Compact Washer Dryers for Small Apartments
How We Installed a Washer & Dryer... in the Kitchen!
Home Tech
The Best Vacuums Under $100
How to Build Your Own Sunrise Alarm Click Using Smart Bulbs
Are Standing Desks Worth the Hype? Testing the BDI Sit/Stand Desk
Robot Vacuum Review: The Roborock S5 (an affordable roomba alternative)
Roborock vs. Roomba: Which Smart Vacuum is Best?
Home Security Systems: How to Protect Your Home on Vacation
Furniture
All the Best Furniture Stores in New York City
Article Modern Furniture Review
Gardening
The Best Raised Garden Beds on Wheels
Aerogarden Harvest Review: Does This Really Work?
How to Clean & Sanitize the Aerogarden for a New Planting
How to Setup the Aerogarden Farm XL (grow bigger plants!)
Follow me @Sher She Goes on