Clear Purse
Nowadays it seems like everyone you know shares everything about themselves online.
Engagements, skincare selfies… why not what's in your handbag?
The clear purse accessory trend is one that took us a while to get on board with (our totes tend to resemble bottemless pits in all honesty) but we're fully on board with the PVC trend now!
Pare down your things to just the essentials, grab a cute clear bag and you're all set.
Here are the best clear purses so you can find your stuff and look stylish on the street.
ADVERTISEMENT
Keep reading or save this article for later ⇟
ADVERTISEMENT
---
---
Best Clear Purses
Another reason to pick up a clear purse?
Concerts and stadiums are increasingly tightening their security measures. Most football games now require that your bag be completely clear.
Clear Tote Bags up to 12″ x 6″ x 12″
Clear Purse up to 4.5″ x 6.5″
Clear Ziploc Bag up to 1 Gallon
But don't ruin your outfit with a gallon freezer bag. Instead, pick up one of these chic stadium bags to carry your essentials.
Below are our favorite clear bags that are all cute and affordable!
ADVERTISEMENT
---
---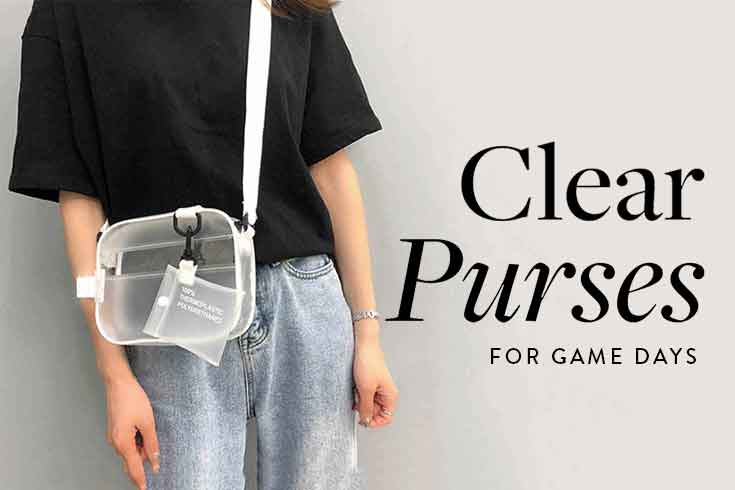 Small Clear Shoulder Bag
ADVERTISEMENT
---
---
Clear Fanny Pack
ADVERTISEMENT
---
---
Rainbow Clear Purse
ADVERTISEMENT
---
---
Clear Stadium Bag
ADVERTISEMENT
---
---
Clear Plastic Purse
ADVERTISEMENT
---
---
Clear Gameday Purse
ADVERTISEMENT
---
---
Clear Handbag for Work
ADVERTISEMENT
---
---
Clear Tote Bag
ADVERTISEMENT
---
---
Clear Makeup Bag
ADVERTISEMENT
---
---
Clear Cosmetic Bags
ADVERTISEMENT
---
---
Shop Clear Handbags
---
ADVERTISEMENT
---
---
Follow me @Sher She Goes on