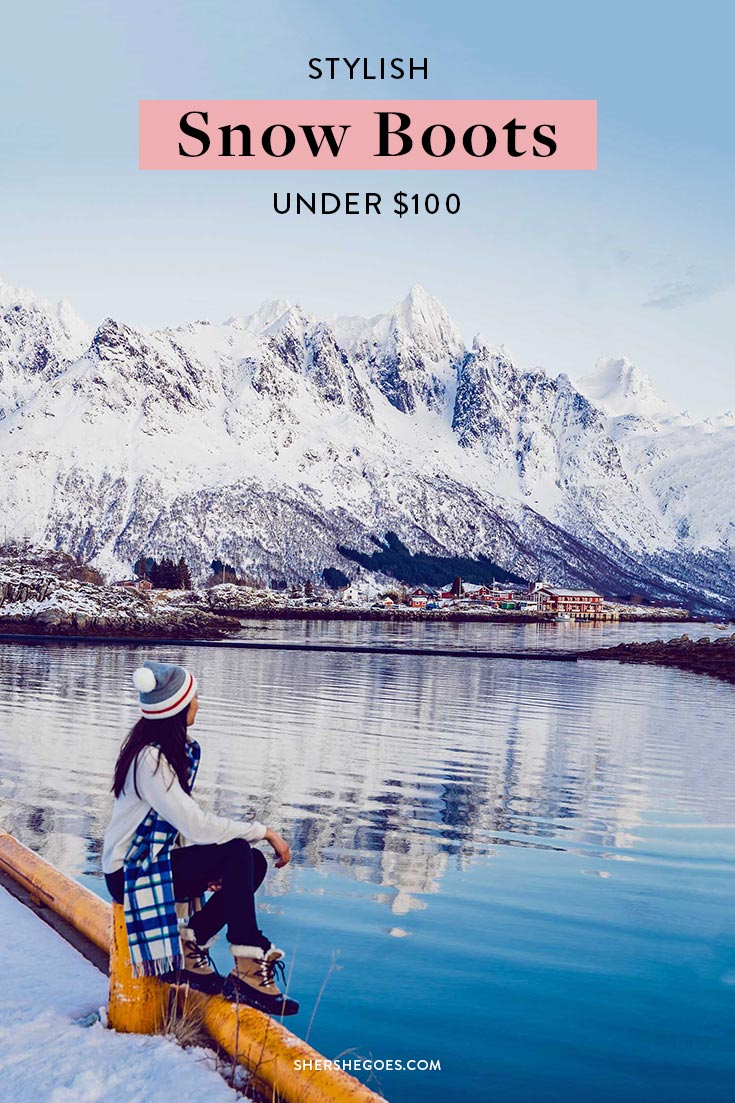 wearing plaid scarf, cashmere sweater, long sleeve bodysuit, black pants and snow boots
Best Snow Boots
Boys have it so easy.
Literally in every way, including the admittedly less significant way of deciding on the best snow boots.
While guys can lace up any meh pair of snow boots and walk around carefree, let's be honest: we care about more about fashion, having the right boot on, and making sure the entire winter ensemble is perfectly harmonious.
You know, dumb stuff like wanting to look good!
ADVERTISEMENT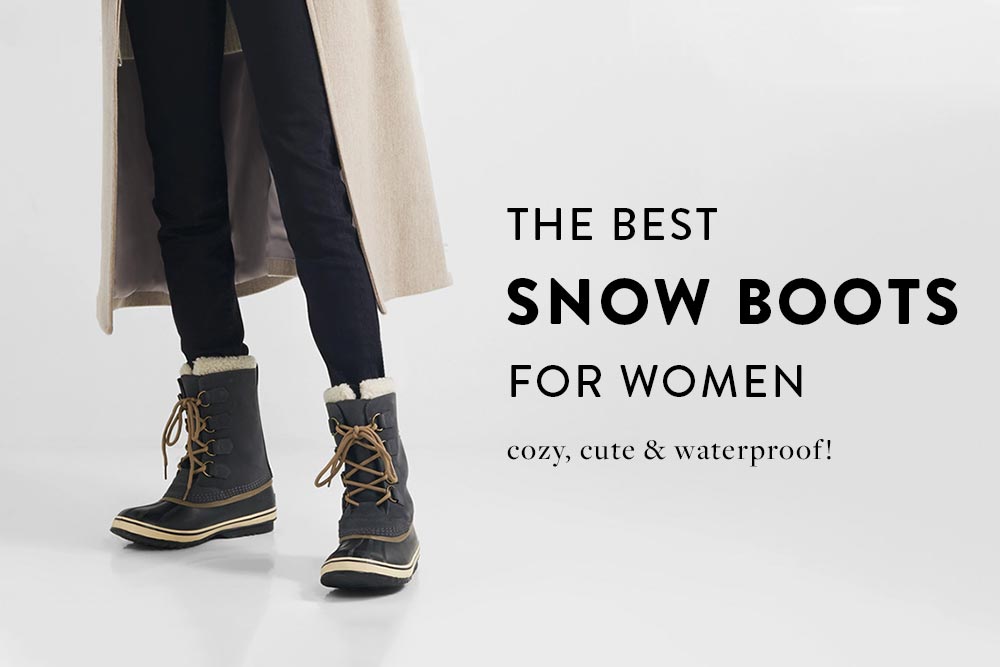 Best Snow Boots for Women
Don't get me wrong, function definitely comes first when discussing something you rely on to keep your feet warm, dry, and at minimal risk of crippling frostbite.
That doesn't mean you can't still look great, though, so keep reading for some of the best snow boots for women!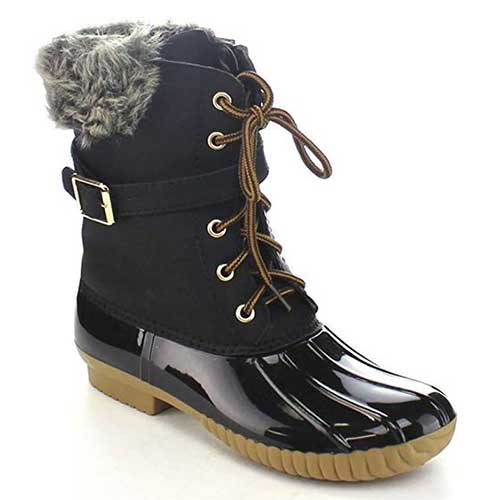 1. Duck Waterproof Snow Boots
Perfect for: those days when there"s tons of snow on the ground, but then it's like 40-45 degrees, and all the snow starts to melt, and there's giant puddles everywhere as you realize exactly how uneven your neighborhood roads and sidewalks are.
Yeah. You know those days.
The Nature Breeze snow boots for women keep all that slush outside (where it belongs) thanks to the rubber bottom, and the faux fur heel back and cute buckle offer some nice style as well!
Available on Amazon in 6 colors.
ADVERTISEMENT
---
---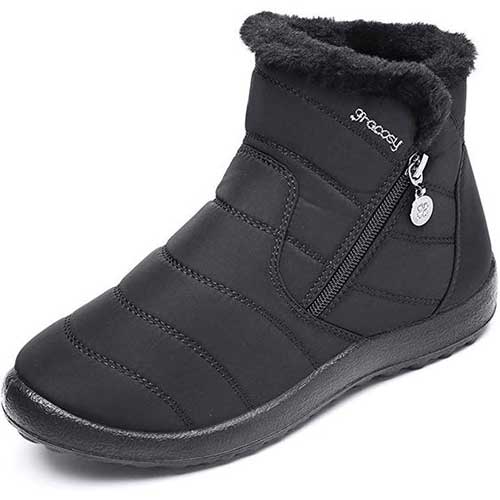 2. Stylish Winter Ankle Booties
Perfect for: looking super cute, but not necessarily in the worst conditions.
There are definitely more durable and hardcore options among the best winter snow boots for women, but the Gracosy ankle booties are simply adorable, and offer enough waterproof protection that quick trips in the snow should be a breeze!
Available on Amazon in 6 colors.
---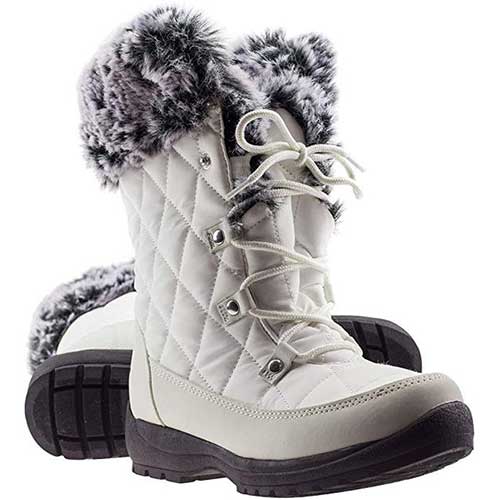 3. Wind and Waterproof Snow Boot
Perfect for: making a fashion statement when the only statement anyone else can make is OMG it's FREEZING!
The ArcticShield boot offers heavy insulation, complete waterproof and windproof protection, and a rugged terrain outsole. The fur collar can also fold inside, meaning you get 2 great looks for the price of 1!
Available on Amazon in 2 colors.
ADVERTISEMENT
---
---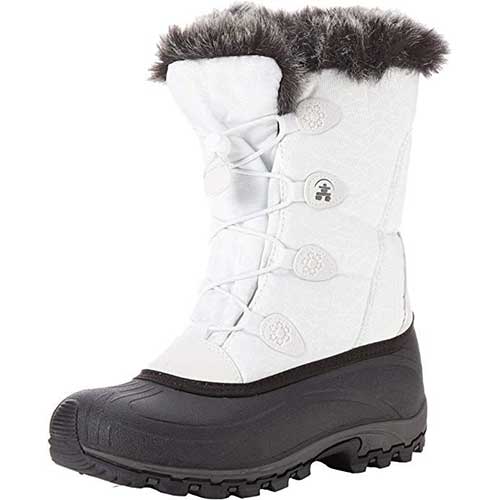 4. Heavy Duty Winter Snow Boot
Perfect for: ladies who need heavy duty boots but dread all the heavy duty maintenance the best snow boots for women require. In other words, all ladies.
The Kamik snow boots are nothing to be trifled with, measuring a solid 10 inches and featuring seam-sealed waterproofing and an ice traction sole.
The beauty of these snow boots for women lies in the quick bungee lacing, which means getting these puppies on and off is miraculously hassle-free!
Available on Amazon in 13 colors.
---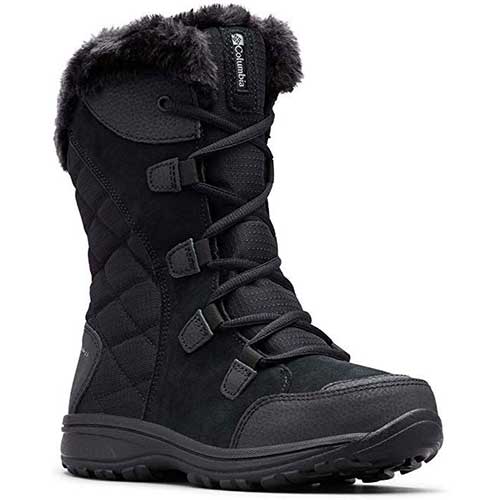 5. Insulated Women's Snow Boot
Perfect for: going the distance. On the inside, the Columbia Ice Maiden boots feature a durable, lightweight midsole that provides lasting comfort.
The outside features a rubber sole with incredible traction along with a classy waterproof leather fabric design. These snow boots are built to last!
Available on Amazon in 6 colors.
ADVERTISEMENT
---
---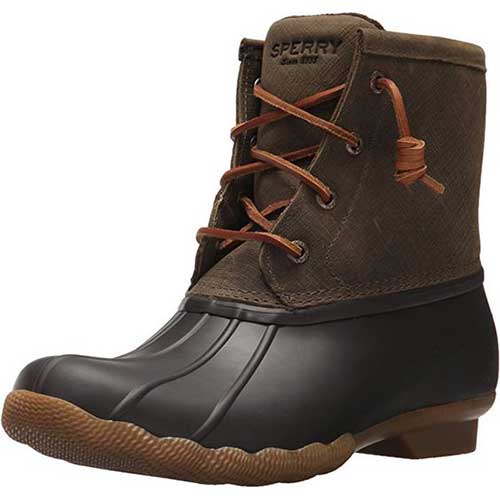 6. Sperry Waterproof Boot for Winter and Spring
Perfect for: pushing the envelope as these snow boots for women are, as we can see in plain English, actually rain boots.
However, while the non-waterproof leather upper is ill-suited for falling snow, the solid rubber bottom is perfect for trudging through clear days when there's still plenty of snow and sludge on the ground!
Available on Amazon in 13 colors.
---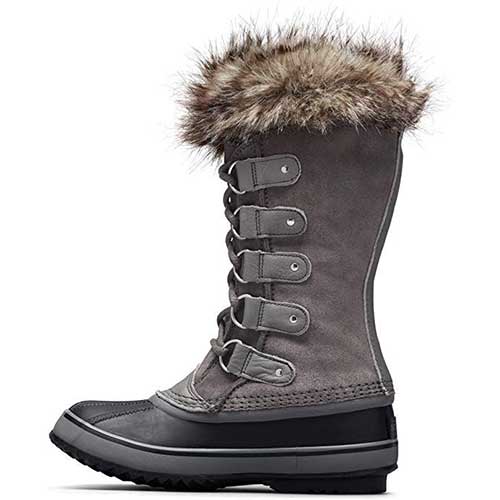 7. Sorel Joan of Arctic Snow Boot
Perfect for: before anything else acknowledging that Joan of Arctic is literally the greatest name ever among the best snow boots for women. This is truly the pinnacle, folks.
The boots themselves aren't too shabby either as the waterproof suede, faux fur cuff, and 11.5 inch height all combine for a rugged yet chic snow boot!
Available on Amazon in 32 colors.
ADVERTISEMENT
---
---
Shop Snow Boots
---

ADVERTISEMENT
---
---
Pin this post to read later ⇟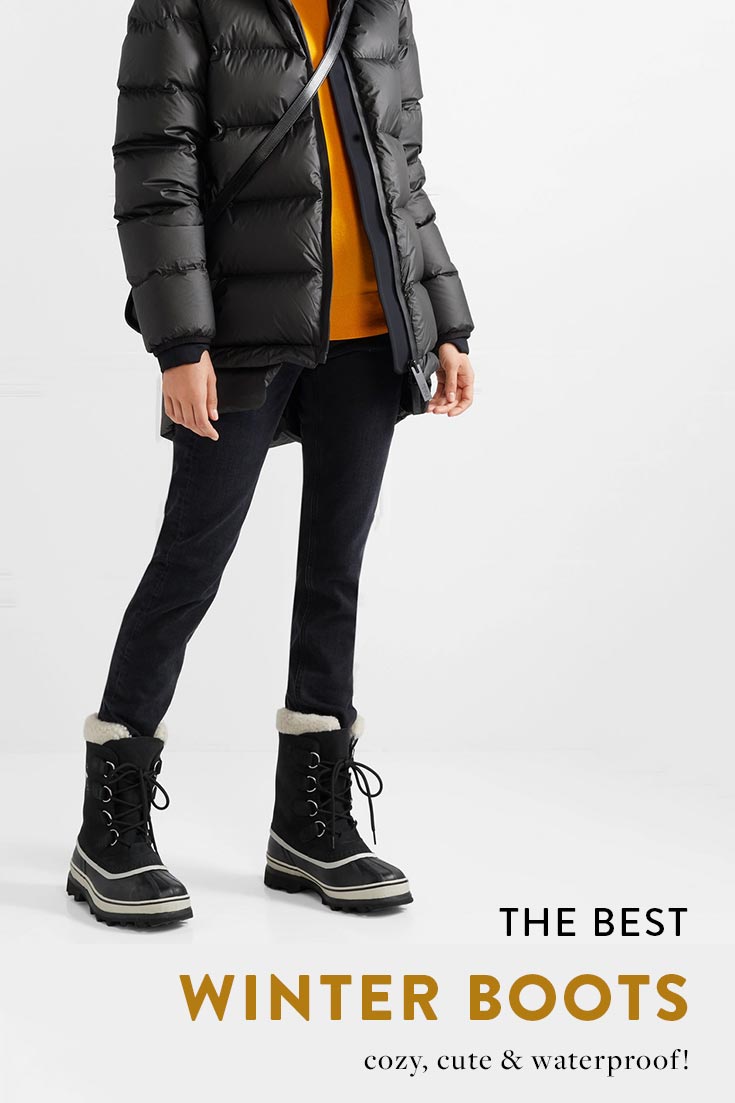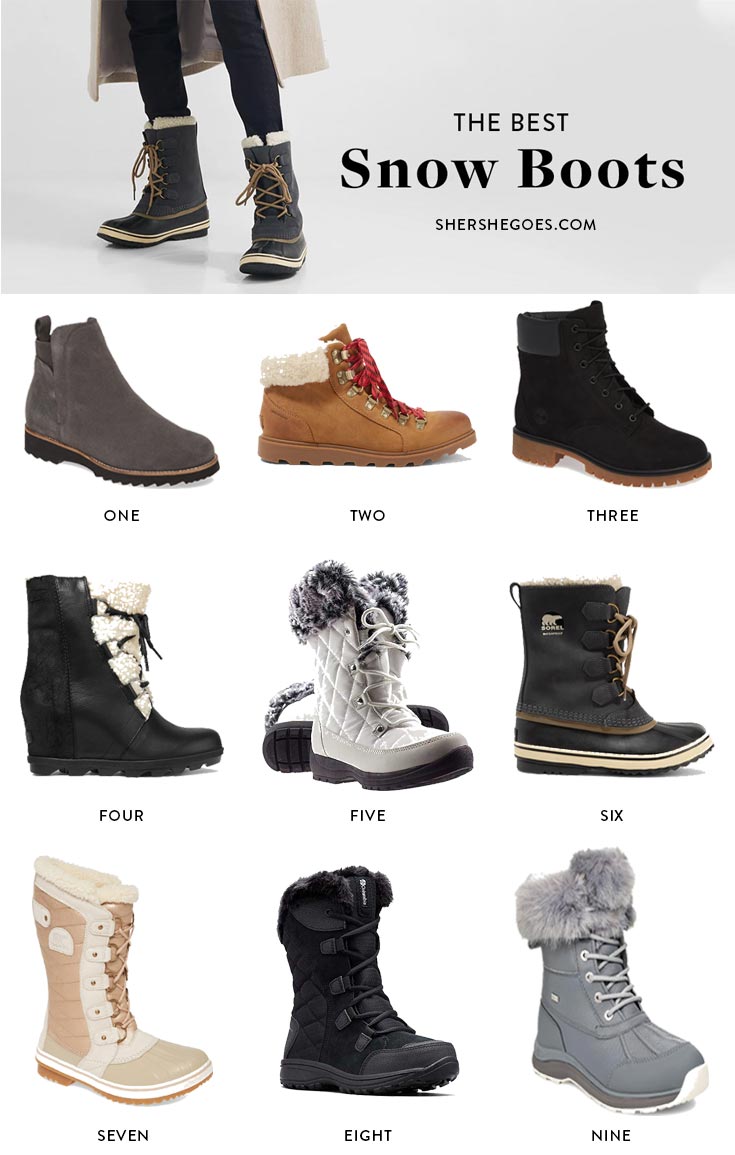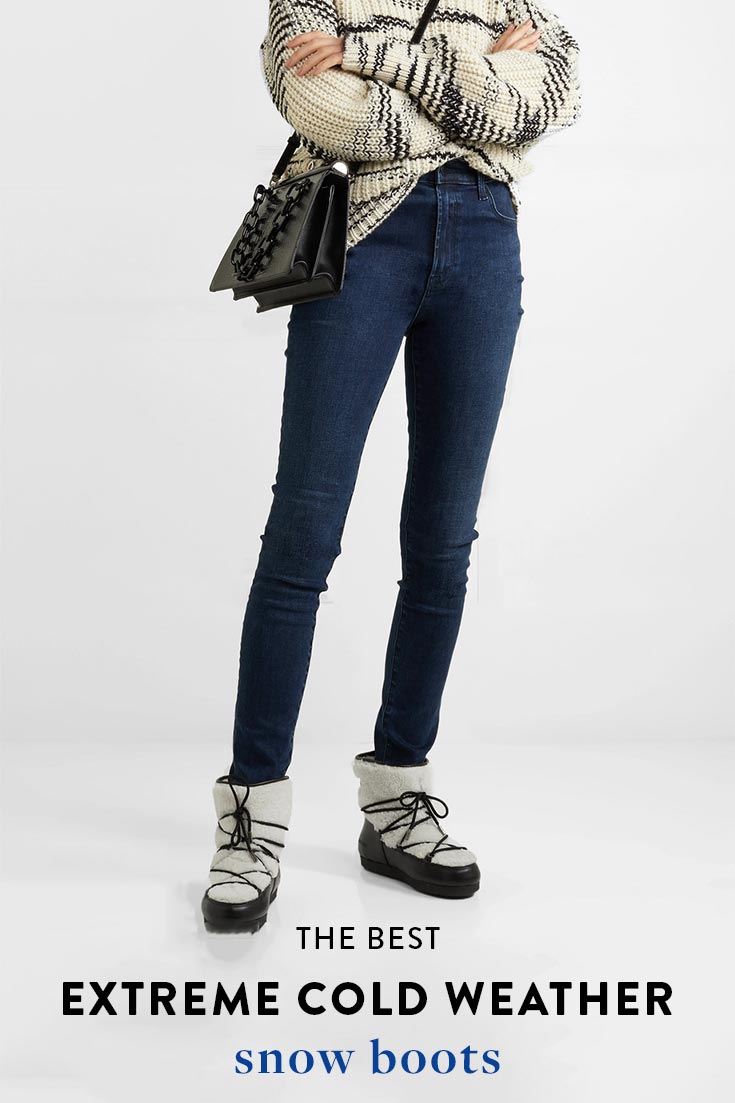 Follow Sher She Goes on
Youtube | Instagram | Facebook | Twitter | Pinterest | Bloglovin