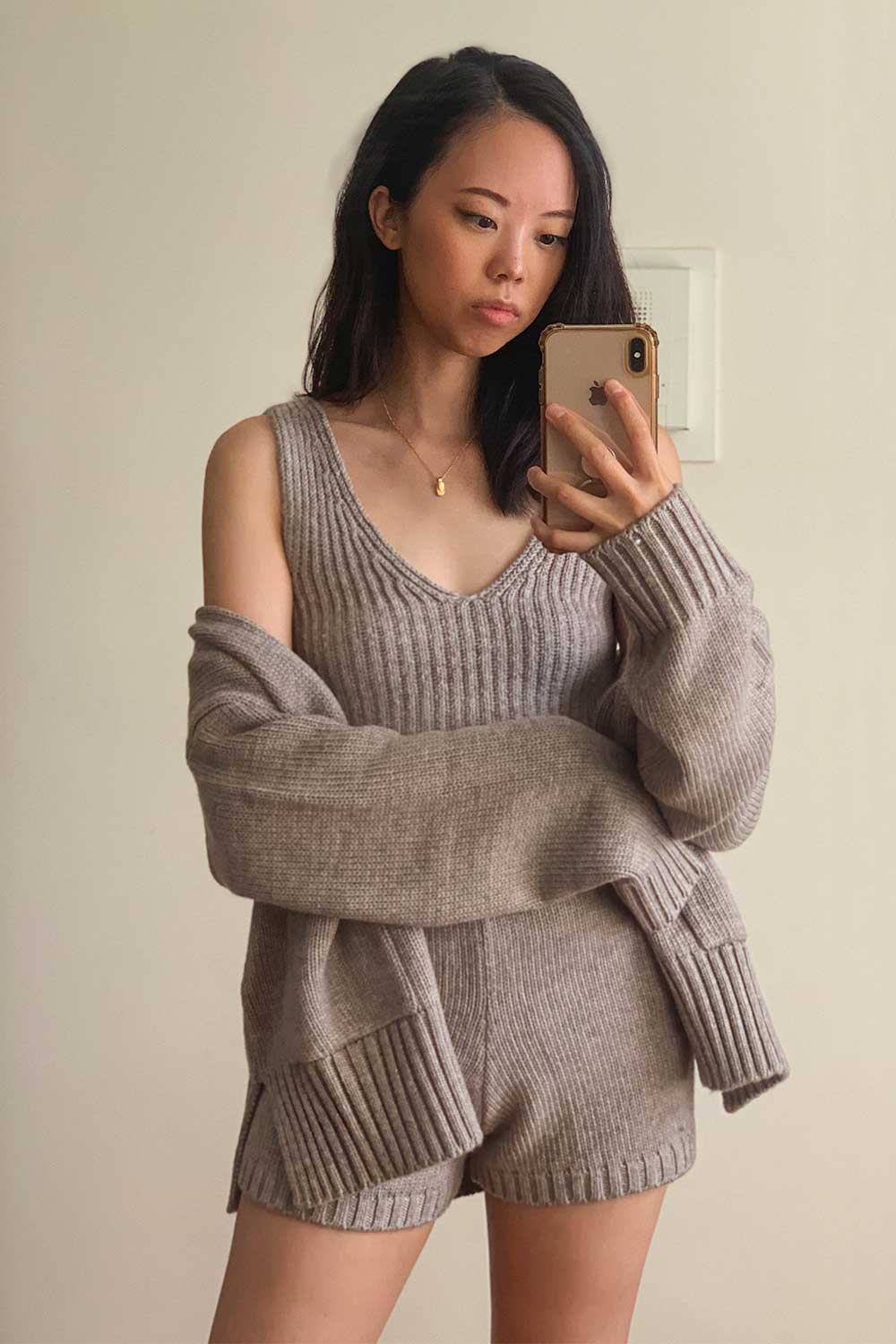 Amazon Comfy Clothes
Amazon has been killing it lately.
I found some great affordable lounge clothes and fall knits from the brand that I'm sharing in today's post!
Keep reading, or pin this post to read later ⇟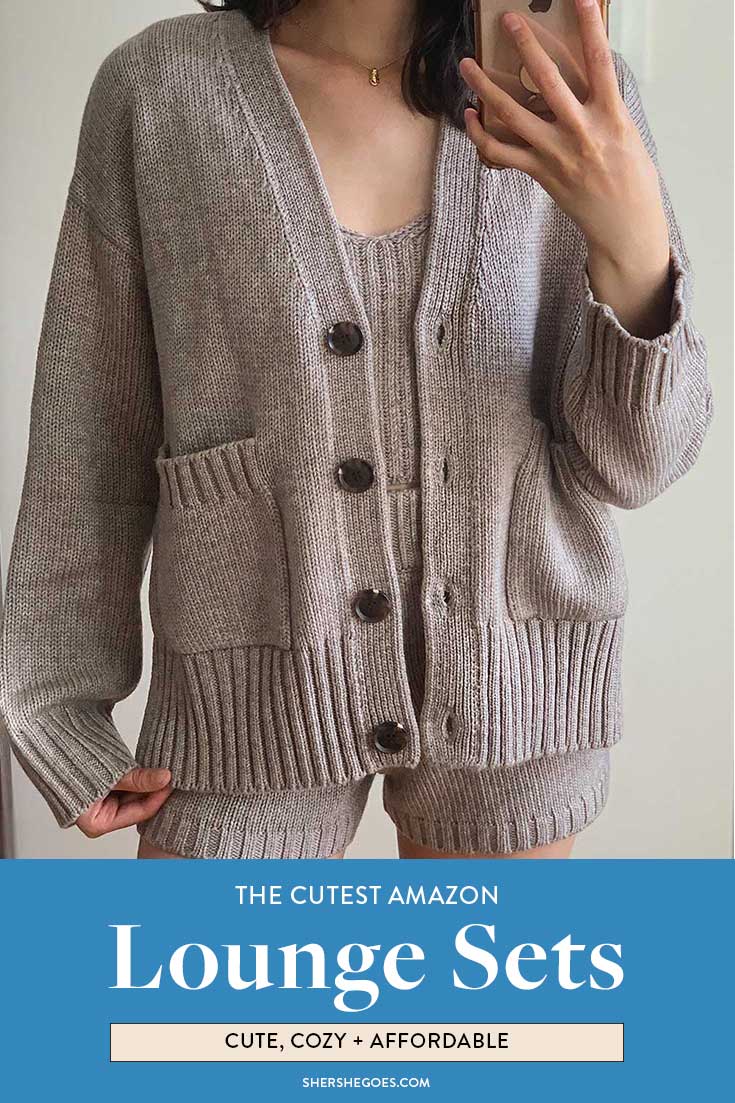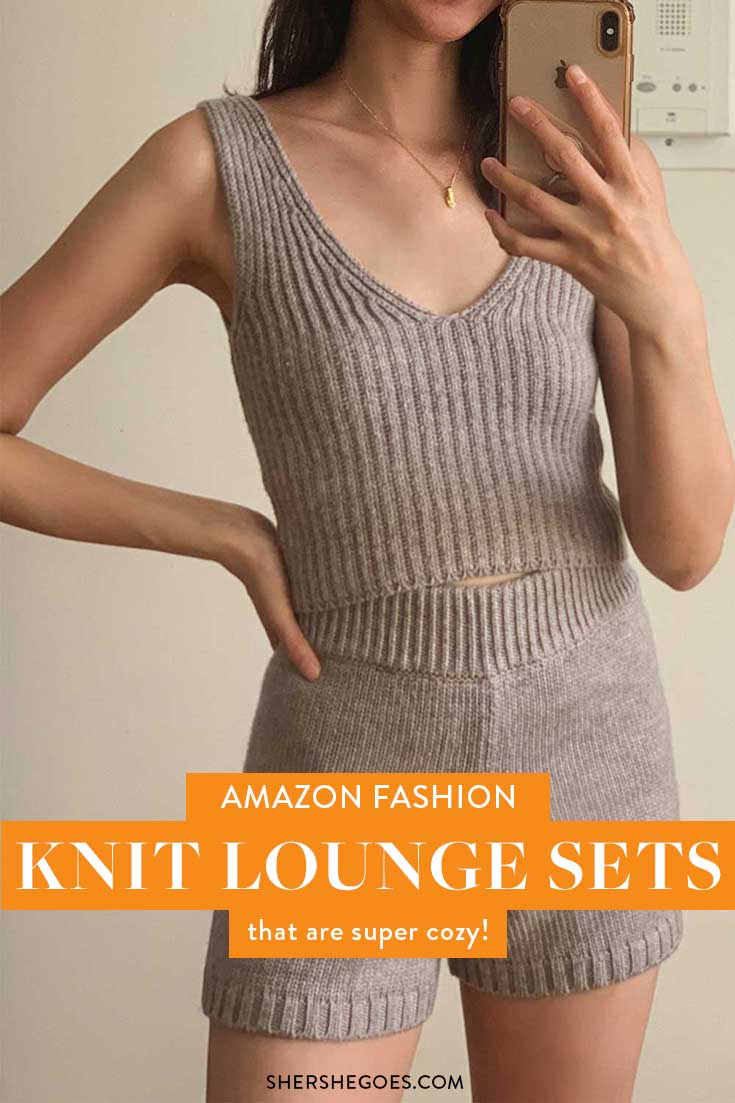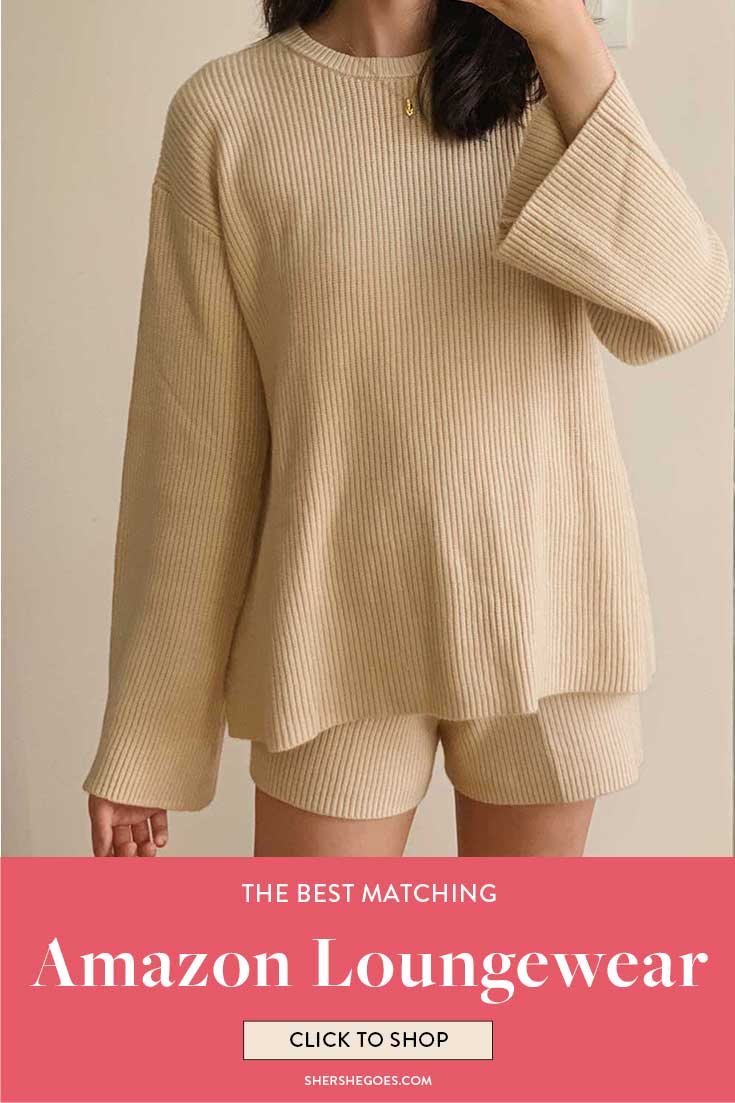 Amazon Loungewear Haul
I filmed a try on video of my favorite 3 Amazon lounge sets, which you can watch below or on Youtube here. Or, keep scrolling for photos of each matching lounge outfit!
BEST AMAZON LOUNGEWEAR SETS (Easy, Casual & Affordable Amazon Comfy Clothes) | Fall Try On Haul 2020
wearing chunky white jumper, gold necklace set, huggie earrings and black straight leg jeans
---
---
Best Amazon Loungewear Sets
Links for all the lounge clothes shown in the video are below!
1. Matching Long Sleeve Knit Top & Lounge Shorts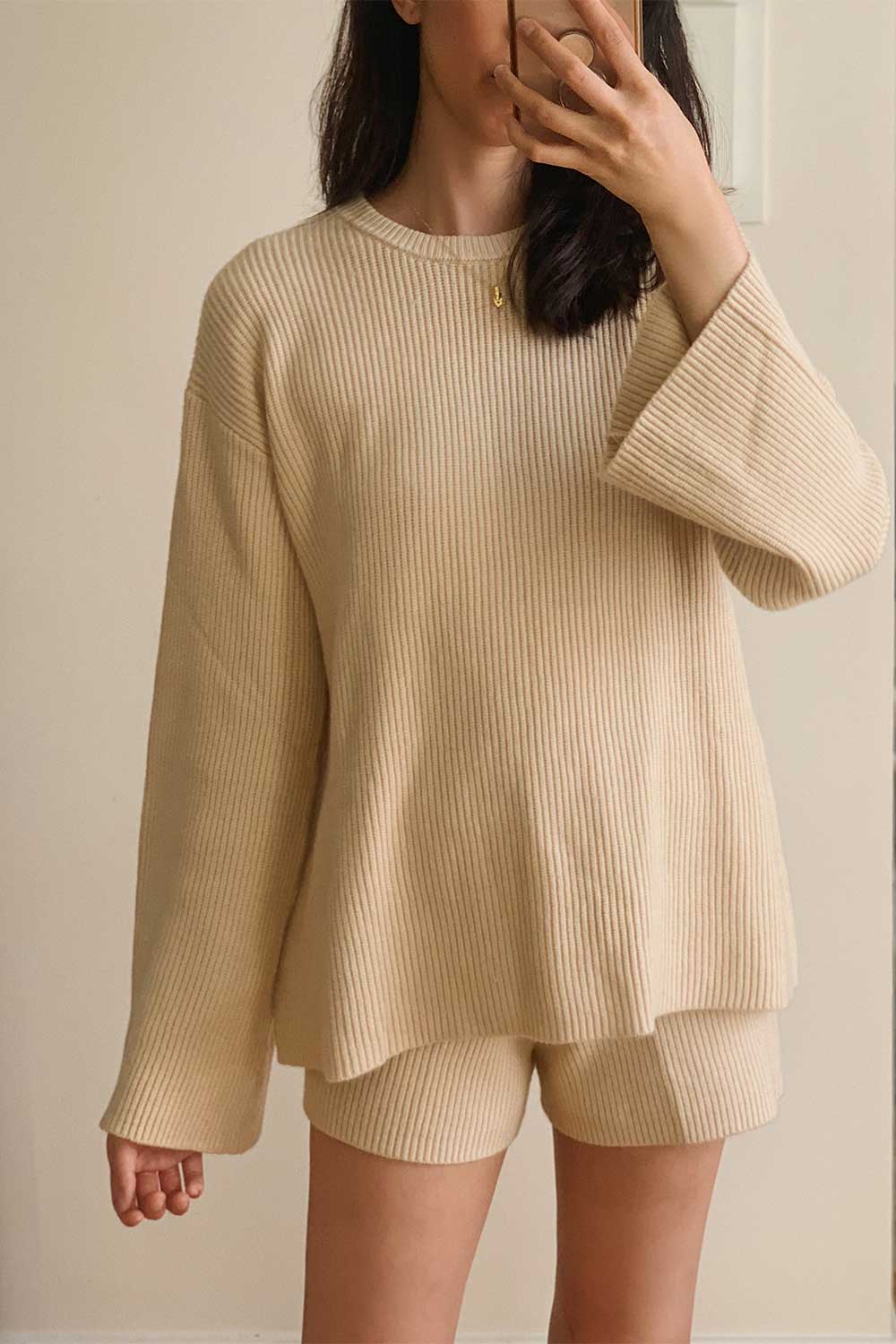 beige knit sweater top with bell sleeves, beige knit lounge shorts
also comes in lounge pants option
worn with leopard slipper and gold cameo necklace
---
---
2. Matching Knit Cardigan & Lounge Short Set
brown knit lounge tank top, brown knit lounge shorts, brown knit cardigan
worn with gold cameo necklace and shearling moccasins
---
---
3. Super Comfy Cardigan & Soft Ribbed Knit Tank

lavender sweater knit tank top, lavender soft fuzzy cardigan
worn with straight leg jeans, gold chain necklace and opal pendant
---
---
Shop Loungewear Clothes
---

---
---
Read More of the best Amazon Fashion Finds:
Amazon Summer Fashion
The Best White Dresses on Amazon
Breezy, Beautiful Linen Dresses to Stay Cool All Summer Long
The Best Sun Hats - Stylish, but with Sun Protection
10 Cute Basket Bags for Summer
8 Swimwear Trends to Try in 2020
The Best Modest Swimwear Finds from Amazon
Amazon Fall Fashion
The Best Faux Leather Leggings (Affordable Spanx Lookalikes)
The Best Fleece Jackets on Amazon
The Best Designer Inspired on Amazon: Shoes, Handbags & Accessories
The Best Clear Purses for Game Days & Concerts
Amazon Winter Fashion
The Best Snow Boots on Amazon
5 Stylish Warm Winter Coats on Amazon
The Best Winter Gloves on Amazon
The Most Comfortable Boots for Fall Winter
Amazon Holiday Fashion
The Best Holiday Party Dresses on Amazon that Look Amazing but are Under $50
The Best Ugly Christmas Sweaters on Amazon - Adorable, Funny & Cute!
Amazon Work Clothes
The Best Work Dresses on Amazon
I Tried Amazon's Personal Shopping Service: Here's My Review
Cozy Loungewear
The Best Comfy Bralettes on Amazon
The Most Comfortable Loungewear on Amazon
The Cutest Jumpsuits & Rompers on Amazon
The Best Workout Clothes on Amazon
12 Athleisure Outfit Ideas from Amazon
Cute Matching Pajama Sets from Amazon
The Best Womens Slippers on Amazon
The Best Mens Slippers on Amazon
Amazon Fashion Casual Clothes
The Best Denim Jackets on Amazon
The Best Casual Sneakers: 12 Comfy, Affordable Picks
10 Cute Slip on Sneakers on Amazon
The Best Matching Loungewear Sets to Look Cute + Cozy
Amazon Home Finds
The Best Floor Lamps on Amazon: Chic & Affordable
Amazon Furniture Finds: Stone & Beam
Roborock vs. Roomba: Which Robot Vacuum Is Best?
Are Standing Desks Worth It? A BDI Desk Review
Affordable Amazon Wall Art
The Best Affordable Faux Plants from Amazon
Cute Affordable Planters on Amazon
The Best Smelling Candles on Amazon
Follow Sher She Goes on
Youtube | Instagram | Facebook | Twitter | Pinterest | Bloglovin