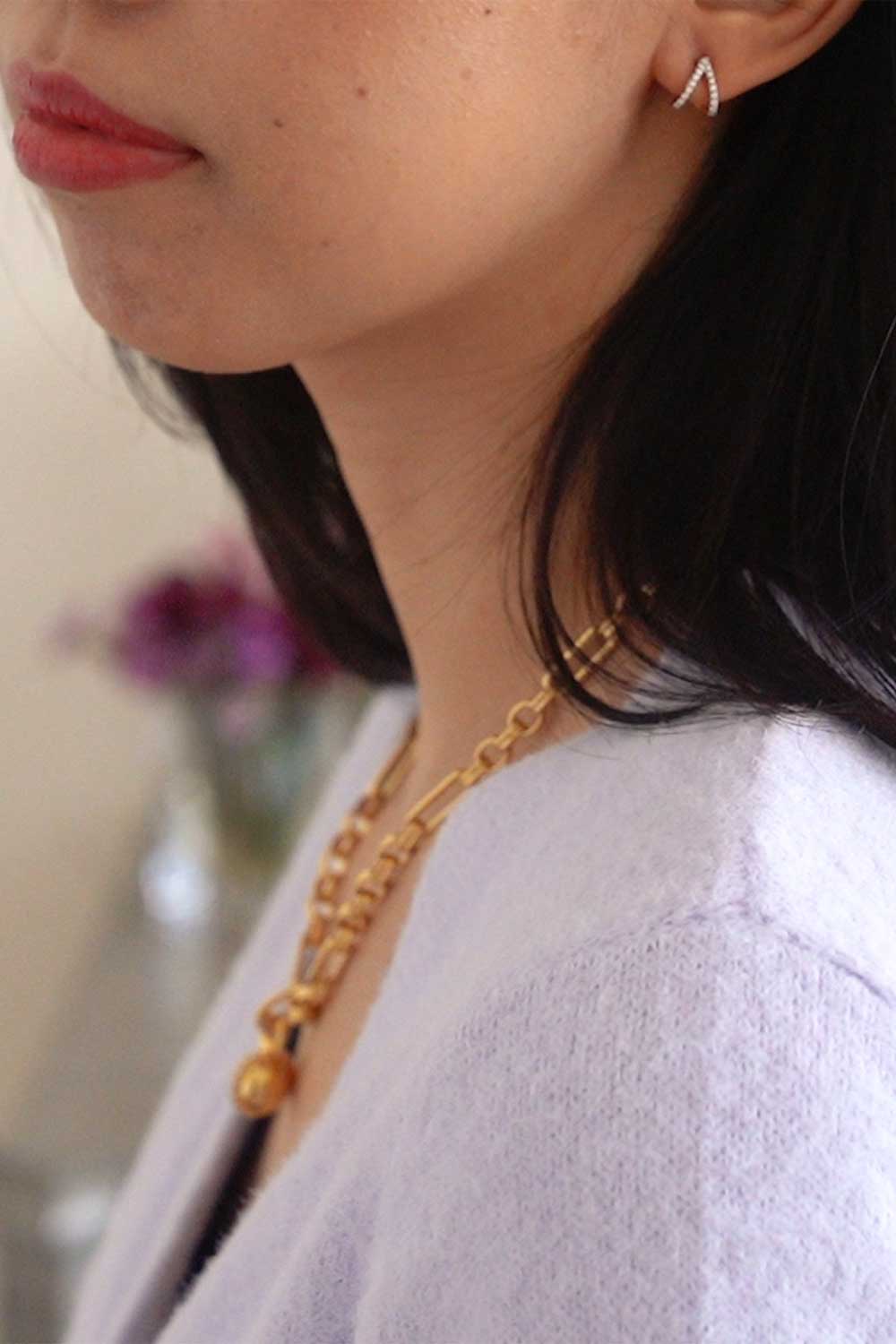 Missoma London
Missoma is a direct to consumer jewelry brand based in London.
I think I first saw them on Instagram – they've become very popular over the last couple years, and have been seen on everyone from the Royal Family to popular British bloggers.
Missoma specializes in really statement-like jewelry – all of their most famous designs are simple, but eye catching and very easy to wear.
I kept noticing them because each piece of jewelry really stood out individually in photos, but also looked nice layered and stacked. I think it's the kind of jewelry that would elevate even a very simple outfit, like a white tank top and jeans.
So I ordered a couple items from the brand to try out… and then I liked them so much I ordered a couple more when they did a Black Friday sale.
In total, I've had the jewelry for about 5 months now and wanted to give a quick review!
Quickly Jump to:
Keep reading, or pin this article to save it for later ⇟
ADVERTISEMENT
---
---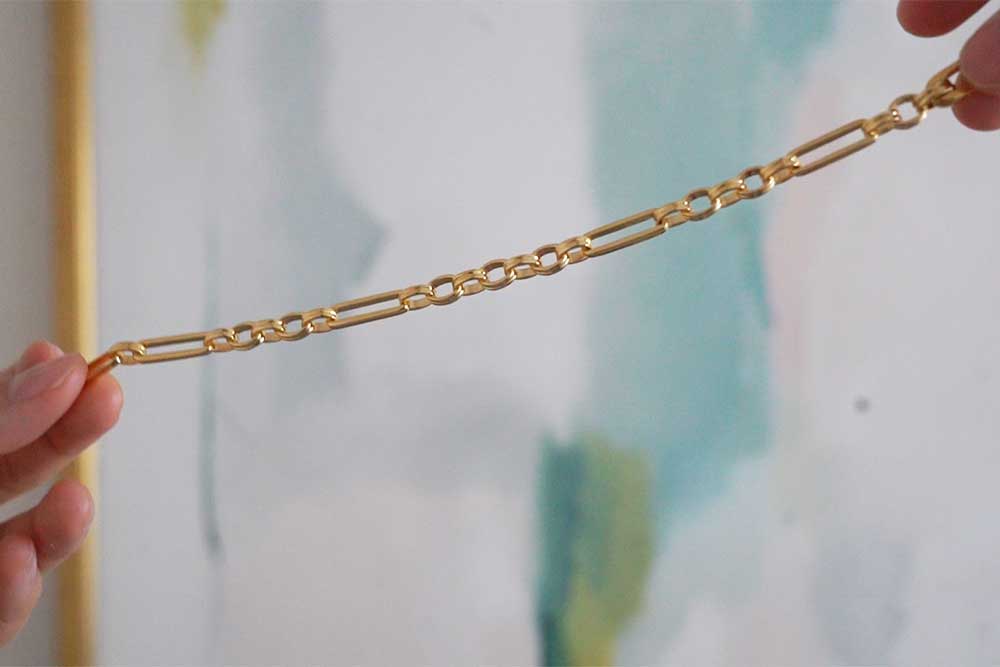 Demi Fine Jewelry
Missoma's jewelry is classified as Demi-Fine.
That means it's in-between Fine Jewelry (jewelry made from gold, platinum and silver) and Costume Jewelry (which can made from anything, even plastic).
Usually demi-fine jewelry is made from gold, but instead of being solid gold, it's a thin layer of gold plating over a base metal (typically brass or sterling silver).
So naturally, it won't be an heirloom jewelry piece you can pass down to your children's children, but the more affordable price point (compared to fine jewelry) reflects that.
ADVERTISEMENT
---
---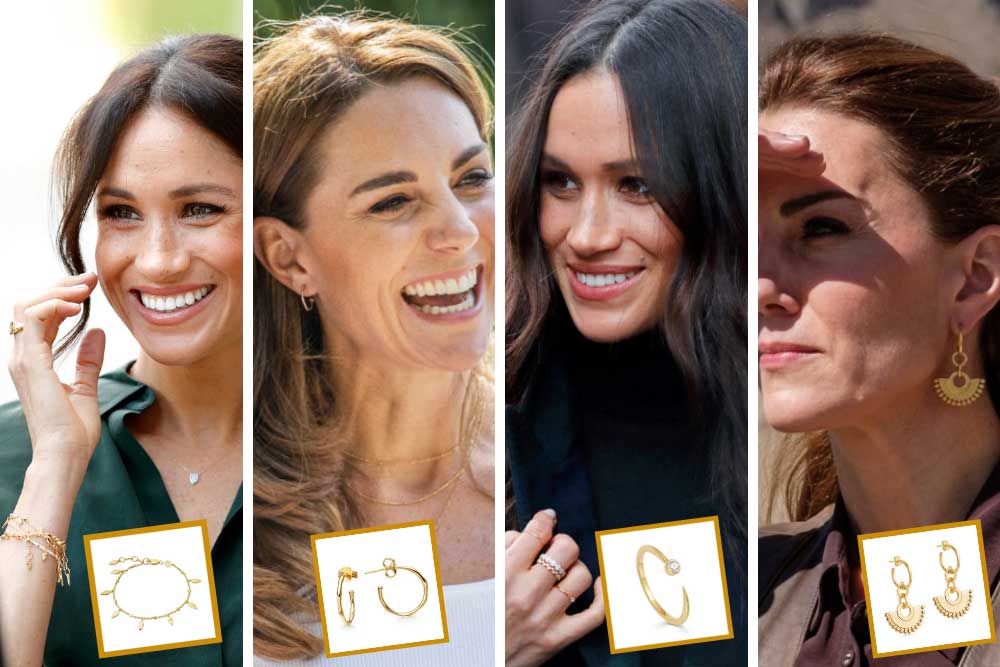 Meghan Markle wearing Missoma's bracelet and ring; Kate Middleton wearing Missoma hoops and chandelier earrings
Missoma Review
Over time, the gold plating on demi fine jewelry might rub off – especially if it's just a thin layer of gold. How long demi fine jewelry lasts depends on how it's made, how often you wear it and how well you take care of it.
I've bought tons of costume jewelry in my lifetime, and I have a couple nice fine jewelry items that were given to me from my parents and family.
But demi fine is something I never really looked into and it seems all the Instagram famous brands these days are selling demi-fine pieces.
So I was curious: just how well made is Missoma's jewelry and how long would it last?
ADVERTISEMENT
---
---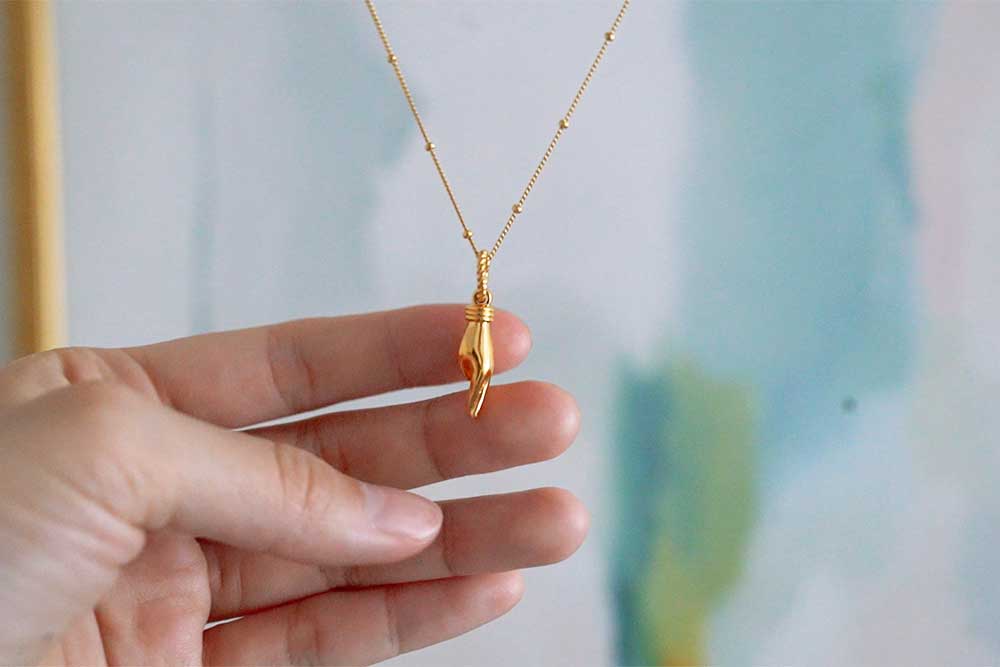 Missoma Jewelry
At first glance, all of Missoma's jewelry feels really nicely made.
The necklaces and bracelets have a solid heavy weight to them, and the designs, while simple, look nicely crafted. Even the delicate chains look fine and dainty but feel well made and sturdy.
I believe Missoma manufactures all it's jewelry in India under fair wage conditions.
ADVERTISEMENT
---
---
18k Gold Vermeil
In person, the color of the jewelry really stands out.
Missoma's pieces look very vibrantly gold toned and really stand out against your skin compared to my costume jewelry necklaces, which tend to be 8k to 14k carat.
It's only been a couple months, but so far the jewelry looks just as good as the day I received it. I do make sure to take care of all my jewelry though – I don't spray perfume on it directly, I don't wear it overnight and I take it off to shower.
I also store it in the felt jewelry pouch when I'm not wearing it, which helps keep out light, air, dust and prevents scratches.
Here's a look and mini review of each piece of Missoma jewelry that I purchased:
ADVERTISEMENT
---
---
Missoma Necklaces
Chain Necklace
ADVERTISEMENT
---
---
Good Luck Charm Necklace
ADVERTISEMENT
---
---
Snake Chain Necklace
ADVERTISEMENT
---
---
Cameo Necklace
ADVERTISEMENT
---
---
Missoma Earrings
Wishbone Earrings
ADVERTISEMENT
---
---
Missoma Bracelets
Chain Bracelet
ADVERTISEMENT
---
---
Missoma Pendants
Padlock Pendant
ADVERTISEMENT
---
---
Opalite Pendant
ADVERTISEMENT
---
---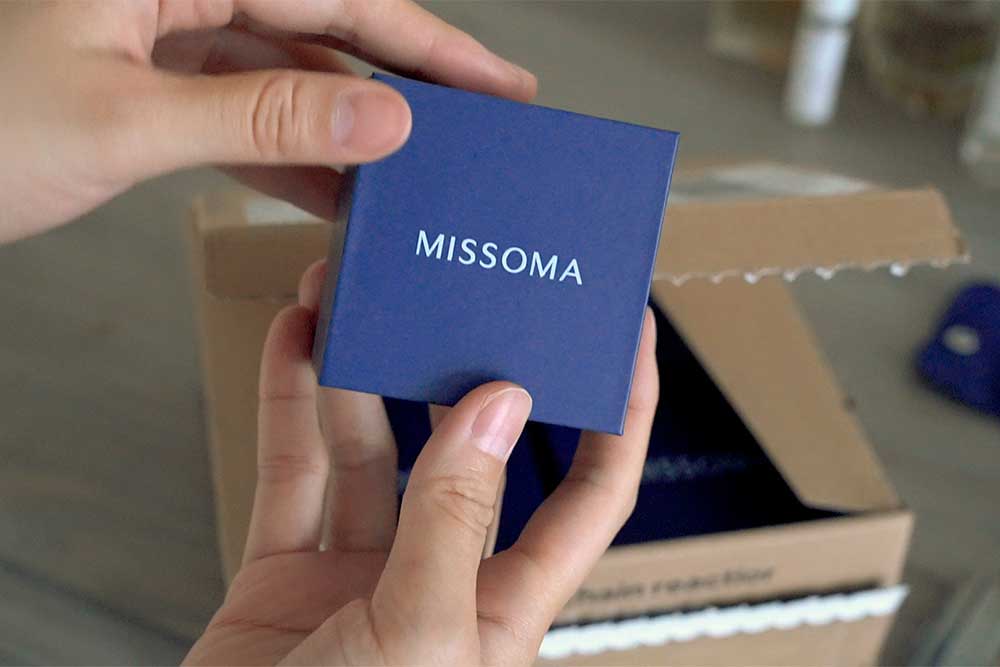 How Long Does It Take Missoma to Ship
Delivery to the US
Finally – shipping was pretty quick.
They offer free shipping from the UK (I'm in NYC) which I was pretty impressed by. The first order took place in late summer, and took maybe 7-10 days.
I placed another order on Black Friday, during the sale, and by then the shipping was significantly faster – maybe 5 days?
ADVERTISEMENT
---
---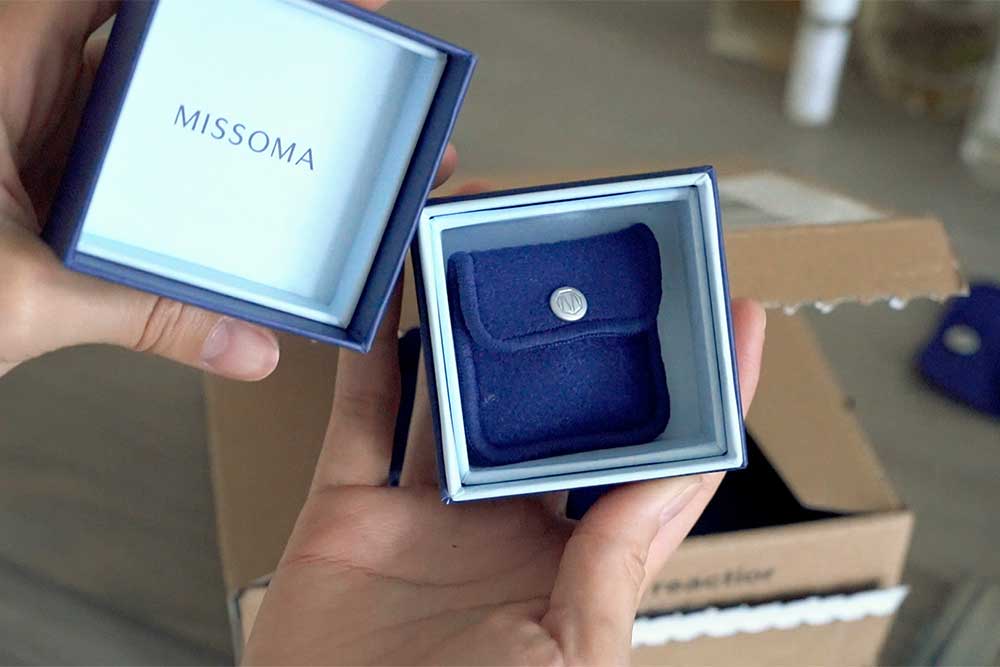 Missoma at Nordstorm
I recently realized Nordstrom carries Missoma!
They have a selection of the brand's most popular styles on their website here. It's not the full Missoma jewelery line up, but it is nice to be able to order through a US retailer for a faster and easier checkout process.
Missoma Packaging
Each piece of jewelry comes with its own blue box and blue felt dust bag, to store the items when you're not wearing them. Missoma also includes a small polishing cloth if you need one.
ADVERTISEMENT
---
---
Missoma Collection
P.S. I filmed a complete Missoma review video on Youtube here, which includes an unboxing of how everything came packaged.
ADVERTISEMENT
---
---
My Only Critique…
The only thing to note is if you order one of the jewelry bundles.
Missoma offers a couple sets, where they bundle together some of the most popular necklaces and necklace / bracelet sets. You get a discount if you order one of these stacks, which is really nice!
But, both items will come in one felt bag and one box, not two.
ADVERTISEMENT
---
---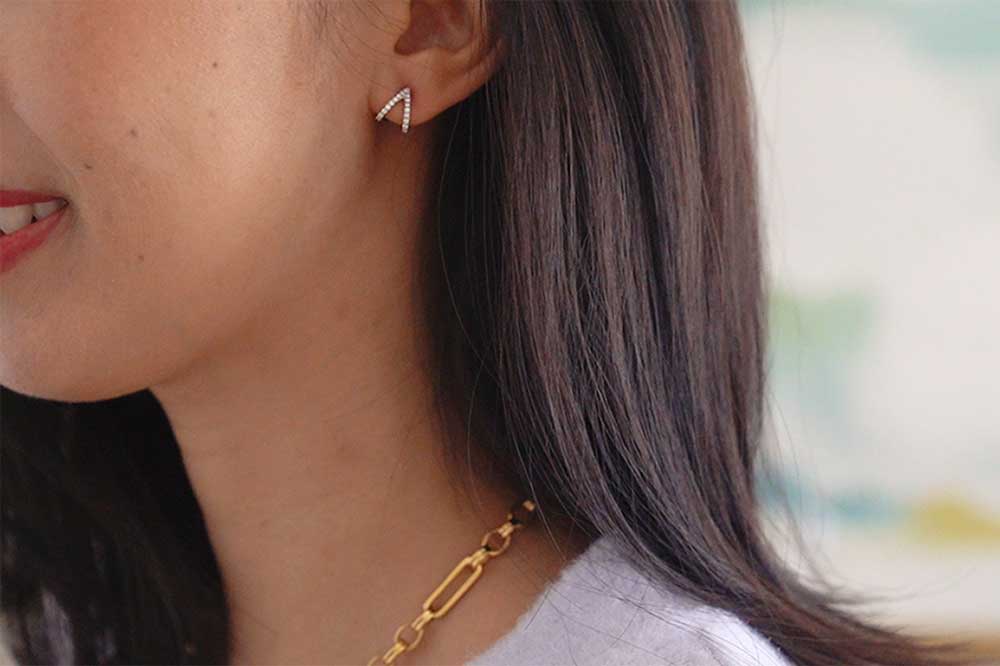 For example, I ordered the Axiom necklace and bracelet set as well as the snake and cameo necklace set.
Since the Axioms are both the same type of chain, it's not a big deal to store them together.
But, I kind of wanted to store the snake necklace and cameo separately, as they're different chain types and get a bit tangled when thrown together.
Overall, it's not a big deal, especially since you get a discount for ordering the bundle versus ordering each item separately. I think I saved roughly $40-50 by ordering both items together.
ADVERTISEMENT
---
---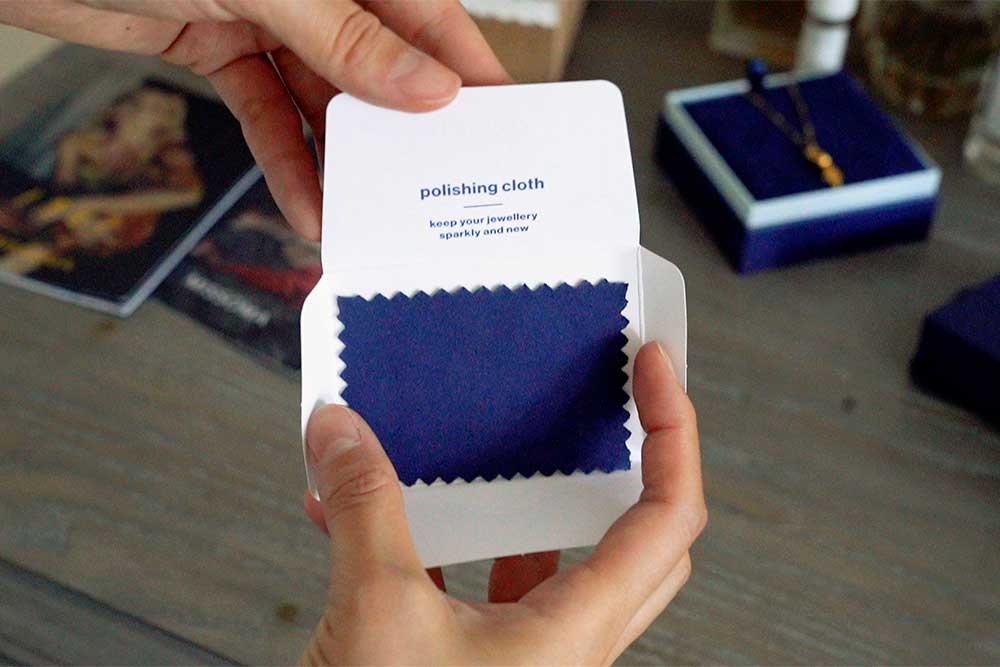 Returns
Finally, Missoma has a great return policy.
They offer free 30 day return shipping, even for returns from the US back to the United Kingdom. I wasn't expecting that considering it's an international return!
Make sure to read the website's return policy and terms & conditions before you place your own order, just in case anything has changed with Brexit.
ADVERTISEMENT
---
---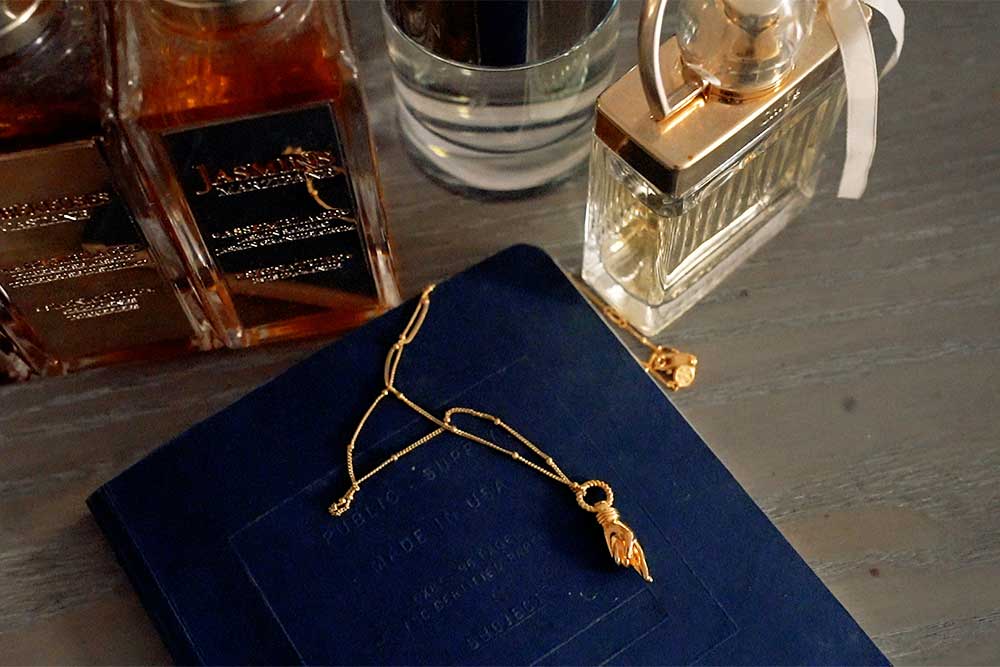 How Often Does Missoma Have Sales?
Missoma seems to offer one mega sale a year around Black Friday, when they offer 25% off on the entire website.
Occasionally, you can snag a discount on Missoma via a blogger promo code. The discount is usually 20%, which is pretty good, but only on the blogger's curated list of items.
Finally, it seems like at the end of the year, around January, Missoma will discount some of their older jewelry styles.
The 2021 sale is currently going on – you can check it out here.
ADVERTISEMENT
---
---
Missoma Promo Code
Overall, I'm really happy with the quality and design of Missoma's jewelry! You can browse their website here.
Shop Missoma Favorites
---
ADVERTISEMENT
---
---
Follow me @Sher She Goes on