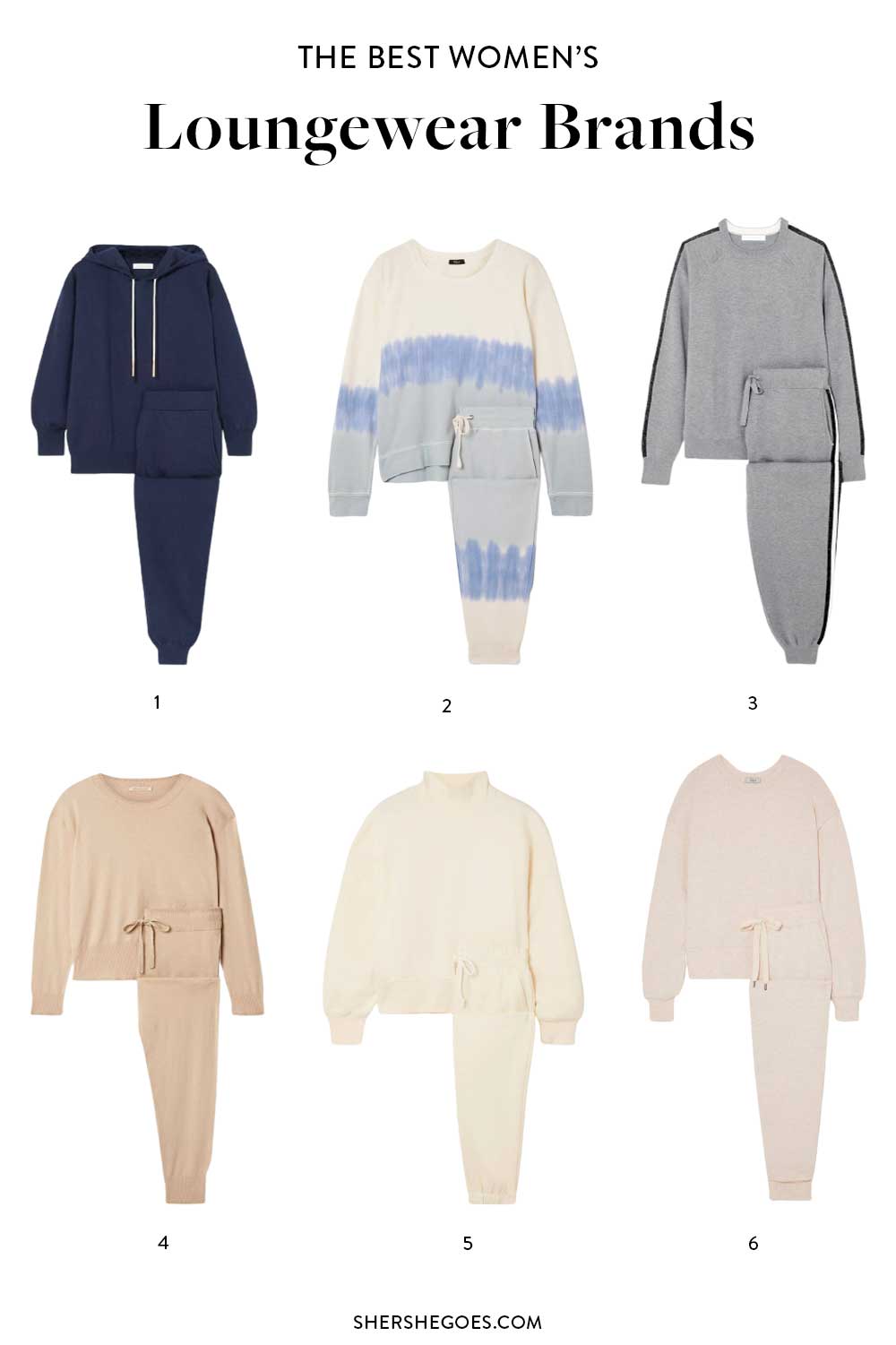 Comfortable Loungewear
Want to feel comfortable but stylish on a weekend at home?
Boyfriend out of town and feeling like wearing whatever you want?
Global pandemic keeping your subway card and work clothes stale and unused?
Whether it's separation anxiety or global health that's making you stir crazy, at least be a comfortable prisoner in your own home – keep reading for the 15 most comfortable loungewear pieces!
Keep reading or save this article for later ⇟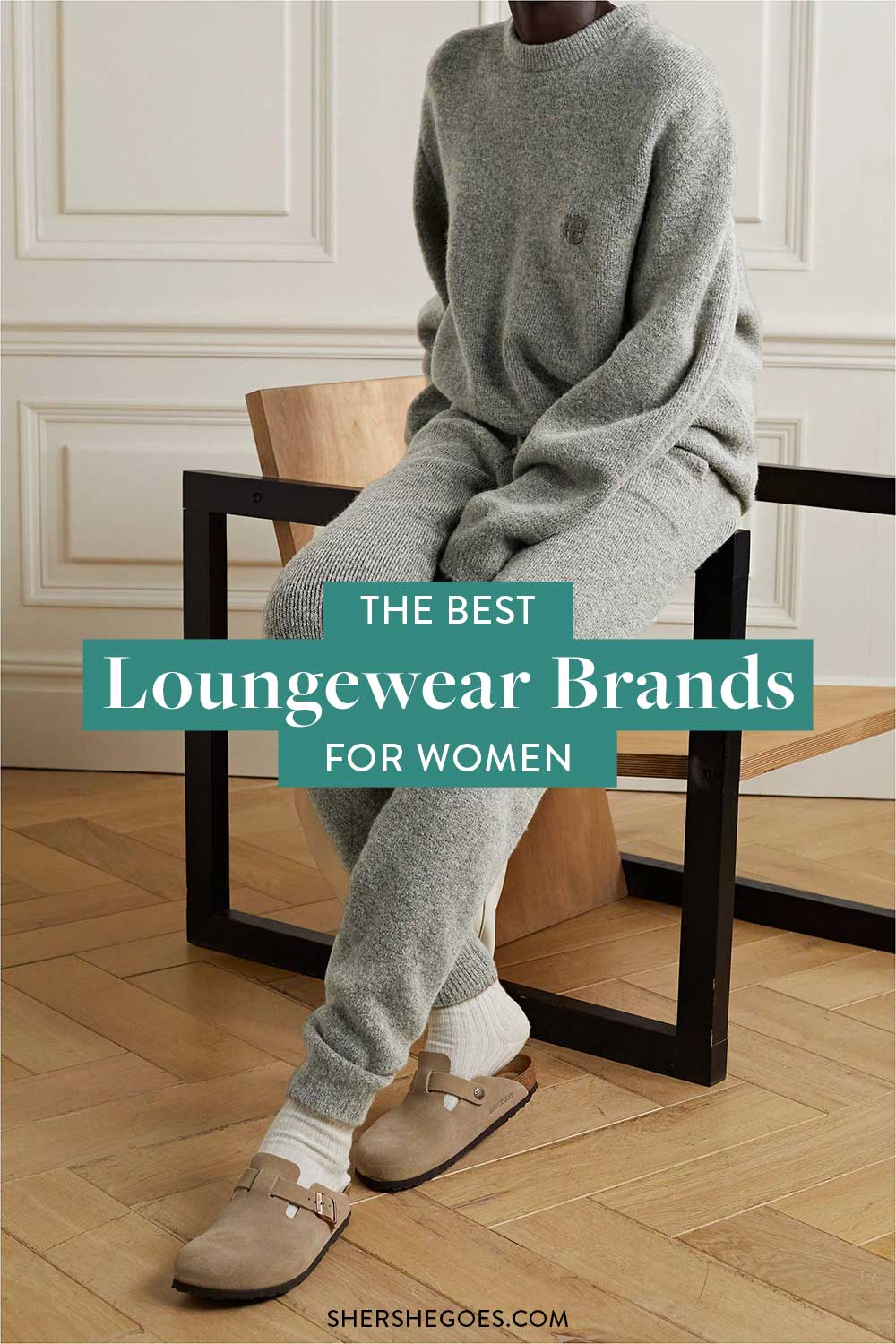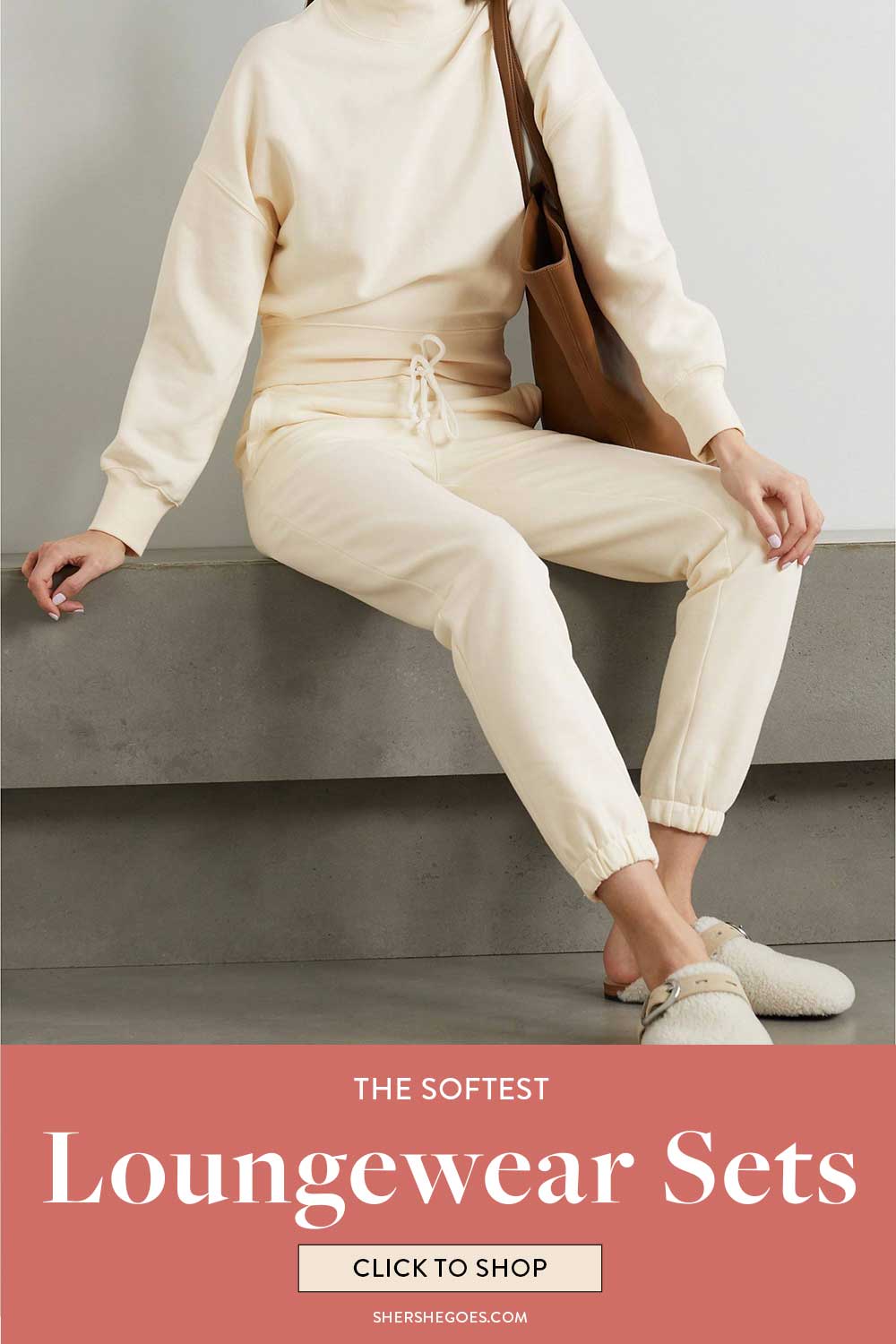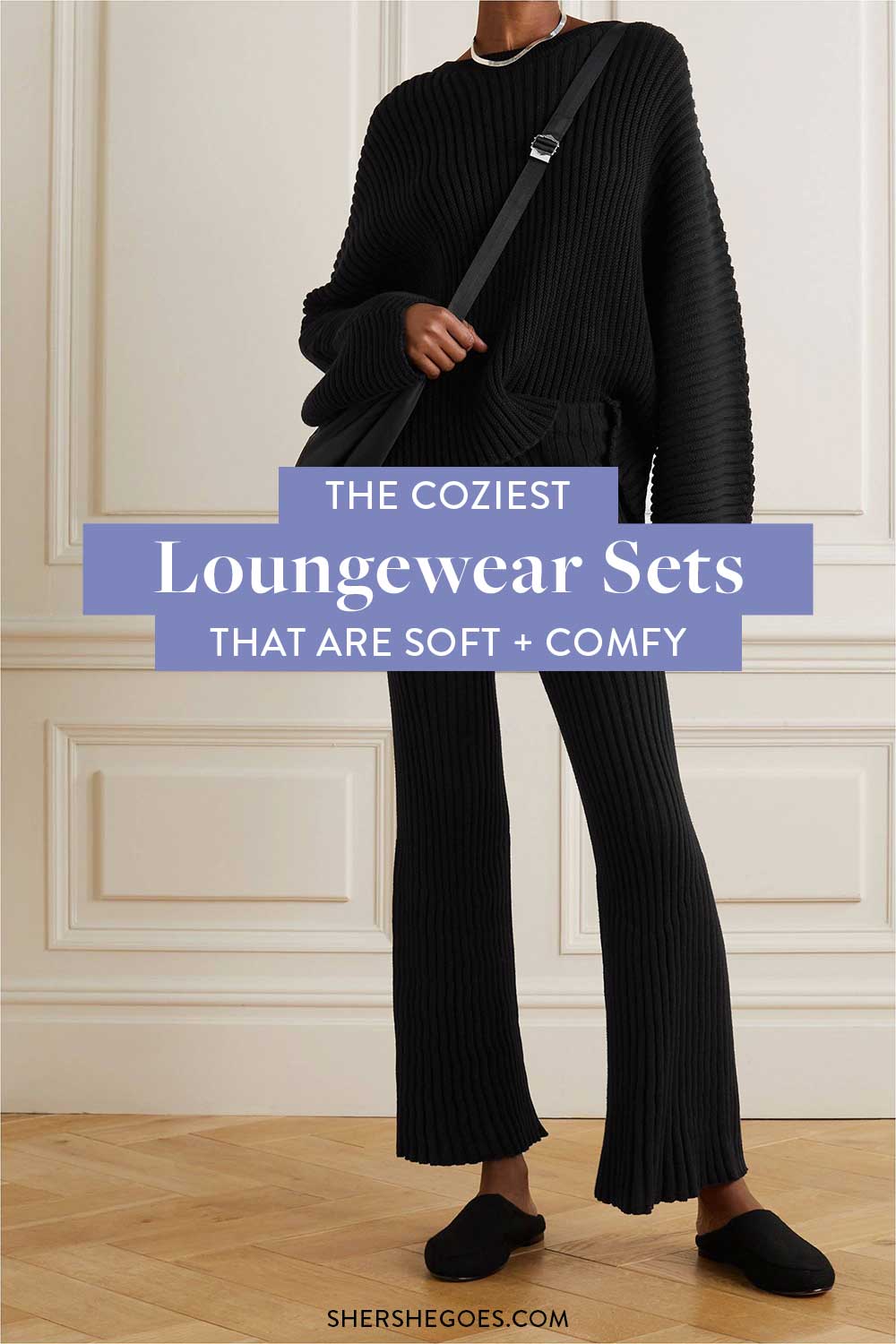 ---
---
The Most Comfortable Loungewear Sets (2021)
From lounge pants to women's sleepwear to sweatshirt dresses and everything in between, keep reading for this year's most comfortable loungewear for women!
Best Loungewear Brands for Women
---
---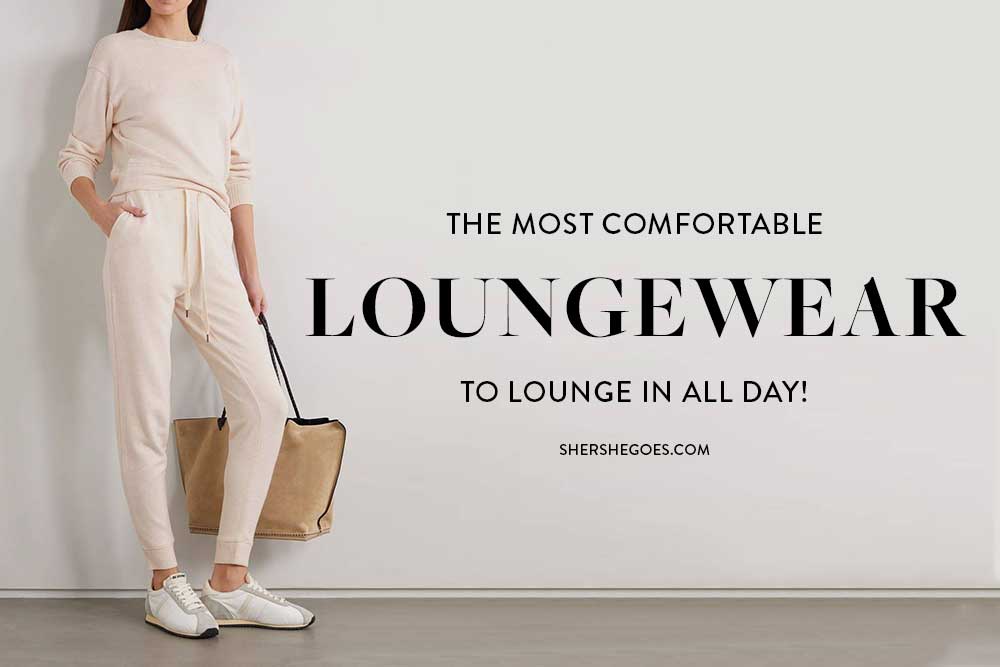 The Best Loungewear for Women
Best Wide Leg Lounge Pants: M.M. LaFleur
I absolutely adore wide lounge pants.
They're roomy, more comfortable, and are evocative of a super cute 1980s atmosphere.
These wide lounge pants from M.M. LaFleur are especially awesome and feature a super comfortable fabric to go along with an exaggerated flair!
---
---
Best Mid-Rise Lounge Pants: N by Natori
While these women's lounge pants from Natori are not the warmest we've come across, they are definitely among the softest and most comfortable.
The secret is the pant's mid-rise construction, elasic waist, and super comfortable rayon-polyester fabric blend!
---
---
Best Straight Leg Lounge Pants: UGG
We know UGG makes super comfortable shoes, so should we really be that surprised they make super comfortable lounge wear?
I'm not, at least, and I absolutely love these Shannon sleep bottoms – which feature comfortable cotton, a pull-on waistband, and a flattering straight leg fit – as my preferred PJs!
---
---
Most Affordable Lounge Pants: Amazon Essentials
These lightweight women's lounge pants from Amazon Essentials, Amazon's latest foray into the private label fashion market, are super affordable.
These lounge pants for women are also fairly stylish for the price point and made with an ultra-comfortable fabric blend of rayon, cotton, and spandex!
Amazon Essentials Lightweight Lounge Terry Jogger Pant
Sold on Amazon
---
---
Best Fold Over Yoga Pants: HDE
Every loungewear wardrobe needs a solid pair of yoga pants, and the fold-look is super hot right now.
These yoga pants from HDE also feature a lightweight, stretch cotton fabric to go along with a very affordable price!
HDE Fold Over Yoga Pants
Sold on Amazon
---
---
Best Patterned Lounge Pants: Banjamath
If you've ever traveled to Thailand or anywhere in southeast Asia, pants like these from Banjamath will likely look quite familiar.
The cute "harem" print is certainly evocative of a more relaxed or vacation-like atmosphere, and any outfit you have will certainly pair with at least 1 of the 23 colors Banjamath offers here!
Banjamath Smocked Harem Casual Pants
Sold on Amazon
---
---
Most Comfortable Lounge Pants: Polo
Although Polo may be more commonly known as a preppy person's clothier, boy do they make good loungewear, too!
The relaxed fit and cotton-polyester blend of these lounge pants makes them simultaneously comfortable, breathable, and low-maintenance!
U.S. Polo Assn. French Terry Jogger Pants
---
---
Softest Women's Nightgown: Ekouaer
Does anything sound more perfect than lounge pants by day and nightgown by night?
That's always how I try to execute my comfortable loungewear game, at least.
This flowing nightgown from Ekouaer is a perfect starter option, featuring roomy pockets, a long, flowing cut, and a very comfortable cotton-polyester fabric blend.
Ekouaer Long Nightgown
Sold on Amazon
---
---
Best Short Women's Nightgown: Ekouaer
Designed to mimic the look and feel of when you throw your boyfriend's T-shirt on before sleeping, this nightgown from Ekouaer is a great short option.
Falling at about mid-thigh, this women's nightgown also features a cute button-down front and a super comfortable rayon fabric throughout the entire gown!
Ekouaer Boyfriend Nightshirt
Sold on Amazon
---
---
Best Sweater Dress: Nutexrol
The sweatshirt dress is easily one of the hottest trends going right now, striking the perfect balance between formal and casual.
I love this ultra-long version from Nutexrol, which features a super comfortable cotton fabric to go along with a flattering, form-fitting cut!
Nutexrol Long Sleeve Sweatshirt Dress
Sold on Amazon
---
---
Best Zip-Up Nightgown: Ekouaer
If you are looking for a more stylish (and dare I say sexy) nightgown approach, check out this beauty from Ekouaer.
Made with a full-length zipper front, this nightgown also features a long, flowing cut, roomy pockets, and several cute colors and patterns!
Ekouaer Zipper Front Short Sleeve Housecoat
Sold on Amazon
---
---
Best Shapewear Yoga Pants: HOFI
If you're looking to mix your shapewear and athleisure, check out these awesome yoga pants from HOFI.
Offering flared legs, an ultra-soft moisture-wicking fabric, and a super-stretchy waistband, these yoga pants will have you feeling – and looking – trim all day long!
HOFI Bootcut Yoga Pants
Sold on Amazon
---
---
Best Jogger Pants: Amazon Essentials
Whether you're slouching, sleeping, or out doing a cold winter run, few women's lounge pants are more comfortable than this pair from Amazon Essentials.
The secret is that these lounge pants are made almost entirely with modal, a semi-synthetic fabric that's made from beech pulp and is up to 3 times softer than traditonal cotton!
Amazon Essentials Women's Knit Jogger Sleep Pant
Sold on Amazon
---
---
Silkiest Lounge Pants: Urban CoCo
The loose fit, elastic cuffs, and smooth-fitting waistline in these Urban CoCo pants are good enough.
But the best part of these lounge pants for women is that they are made with 100% rayon, a semi-synthetic fabric designed to mimic the look and touch of organic luxury fabrics like silk!
Urban CoCo Floral Print Yoga Pants
Sold on Amazon
---
---
Best Floral Lounge Pants: Amiery
Hey, just because most athleisure outfits have neutral, monochromatic coloring doesn't mean we can't think outside the box, right?
I love these colorful and bright floral lounge pants from Amiery because they are the perfect bright spot on otherwise boring and dreary winter days!
Amiery Casual Pajama Pants
Sold on Amazon
---
---
Best Loungewear for Women
---

---
---
Read More in my cozy at home series:
Loungewear
Amazon Fashion Finds: Comfortable Loungewear
The Cutest Matching Loungewear Sets
Comfortable Jumpsuits & Rompers to Work from Home In
The Best Pajamas to Netflix & Chill
Matching Pajama Sets that Still Look Stylish
Cozy & Comfortable Bralettes
Fun Tie Dye Lounge Wear Outfits
10 Work from Home Outfit Ideas
Everlane Bralette Review
Athleisure
The Best Athleisure Outfits You Can Grab on Amazon
6 of the Best At Home Workouts - Currently Free!
Comfy Faux Leather Leggings that Work with Any Outfit
Everlane Legging Review
Comfortable Shoes
The Best Minimalist White Sneakers
Cute Casual Sneakers to Wear Anywhere
Slip on Sneakers for Casual Days
The Best Comfy Slippers for Women
The Best Comfy Mens Slippers
The Most Comfortable Boots to Wear All Winter Long
Cozy Home
How to Program Smart Lights to Act as a Sunrise Clock
The Coziest Home Decor to Create a Sense of Hygge
How to Dress a Bed as Luxuriously as a 5 Star Hotel
Follow Sher She Goes on
Youtube | Instagram | Facebook | Twitter | Pinterest | Bloglovin