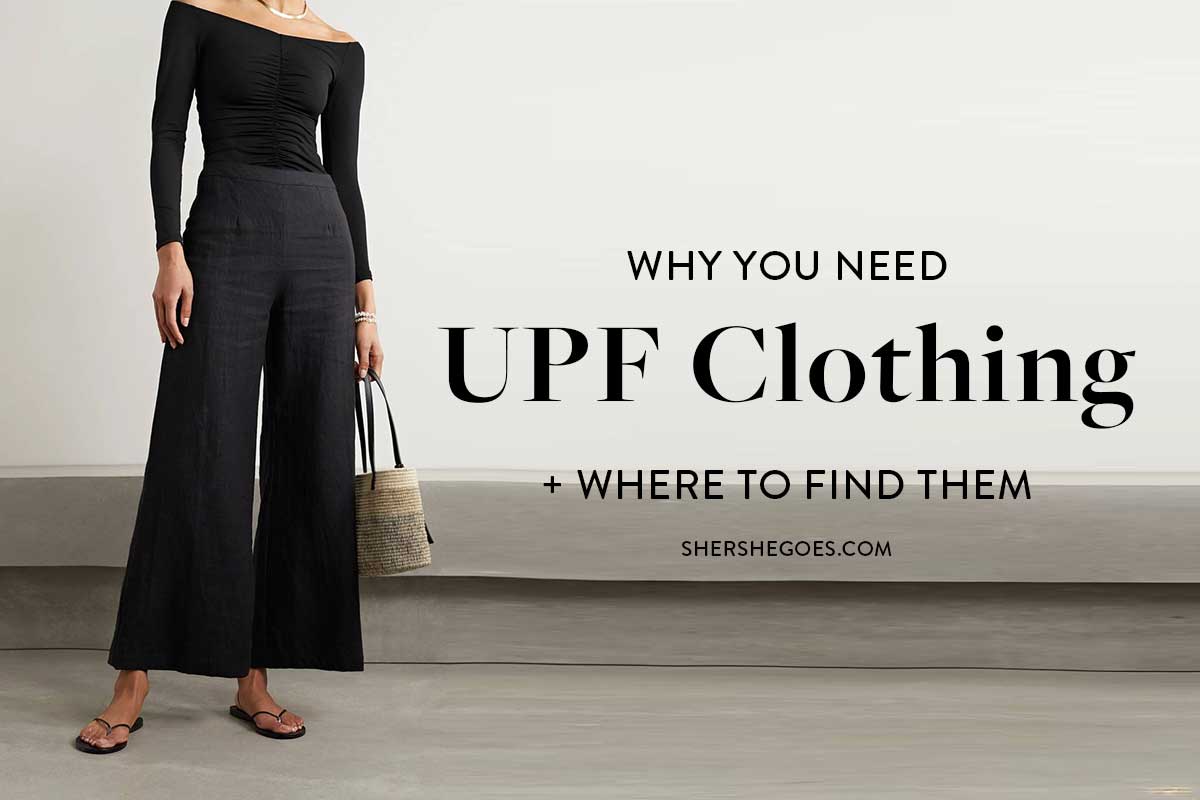 UPF Clothing Brands
ADVERTISEMENT
Sun Protective Clothing
Have you heard of UPF clothes?
They're sun protective clothes when the fabric has built in ultraviolet protection. The specific amount of rays that the clothing blocks, is the UP factor.
If you're cautious about sun exposure, hoping to protect your skin, or simply want an anti-aging product that's way more effective than beauty treatments… grab yourself some UPF clothing!
Plus, unlike sunscreen you don't need to reapply!
Pop on a sun protective piece of clothing and you're covered all day long.
ADVERTISEMENT
---
---
What UPF Factor Should You Look For
In the US, The Skin Cancer Foundation has a 'seal of recommendation' for UPF clothing. In order to qualify, a garment needs to have at least a UPF of 30.
A UPF of 30 to 49 offers very good protection, while UPF 50+ rates as excellent.
What UPF Ratings Mean
UPF is the rating system for apparel.
For example:
a UPF rating of 30 indicates the fabric allows about 1/30th (~3%) of UV radiation to pass through it.
a UPF rating of 50 allows about 1/50th (~2%) of UV transmission.
any fabric that allows less than 2% UV transmission is labeled UPF 50+
As a general rule, the higher the rating, the more sun protection!
ADVERTISEMENT
---
---
UPF Ratings
| | | |
| --- | --- | --- |
| UPF Rating | Protection Category | Effective UV Transmissions |
| 15 | Minimum | 6.7% |
| 30 | Good | 3.3% |
| 50+ | Excellent | 2% |
UPF Clothing vs. Regular Clothing
Wearing something is better than nothing. I usually find that my shoulder tan (or burns) super easily, with visible strips from a tank top where the regular non-UPF fabric covered my skin.
So, you might be wondering how regular clothes compare to specially treated UPF clothes.
A basic cotton t-shirt offers a UPF rating of 5, so about 1/5th (or 20%) of UV radiation will pass through it. Anything below UPF 15 isn't considered UV protective.
But if you want to be really careful, wear UPF 50+ swimsuits (I like these long sleeve options) or at least a UPF 50+ rashguard!
ADVERTISEMENT
---
---
UPF vs. SPF: What's the Difference?
They're very similar, with some slight differences.
UPF measures the amount of UV radiation that can penetrate fabric and reach your skin. It measures effectiveness at both ultraviolet A ("UVA") and ultraviolet B ("UVB") rays.
SPF, meanwhile, measures the time it takes for your skin to redden from just UVB rays. In the United States, sunscreen isn't regulated as seriously as in Europe or Asia and UVB rays are considered 'more' harmful.
I'm not sure why they don't update the SPF metric to factor UVA exposure, because they should!
But some sunscreen labels do consider UVA exposure, with the words 'broad spectrum'. It's still not great though! I typically prefer to buy Asian or European sunscreen brands… or to wear UPF clothing!
Keep reading, or pin this article to save it for later ⇟
ADVERTISEMENT
---
---
Best UPF Clothing (2021)
Best UPF Rash Guards: Helen Jon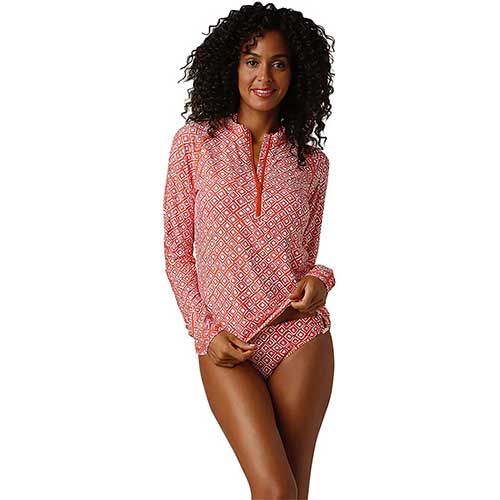 Helen Jon makes super fun summer clothing that's also UPF friendly!
Their sun shirts are loose and comfy to wear, either as a top or over a bikini as a coverup. They also come in a variety of colors and prints so you'll be sure to stand out on the boardwalk!
ADVERTISEMENT
---
---
Most Colorful UPF Clothes: Lilly Pulitzer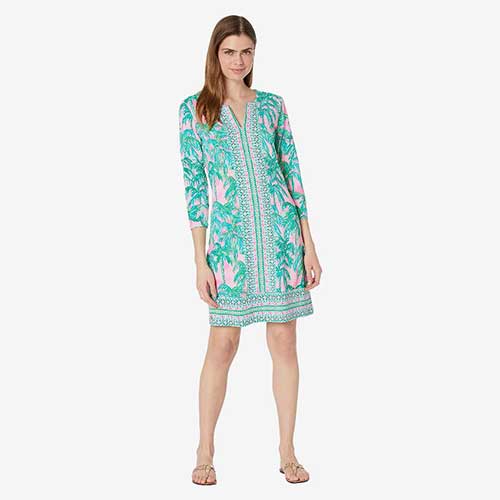 Looking for cute, colorful everyday summer clothes that also offer sun protection?
Then check out Lilly Pulitzer.
The designer makes her signature Lilly looks with a unique ChillyLilly fabric. Not only does it wick moisture away from the skin to quick dry on the fabric surface for a nice cooling effect… it's also UPF 50+!
ADVERTISEMENT
---
---
Best UPF Hiking Pants: The North Face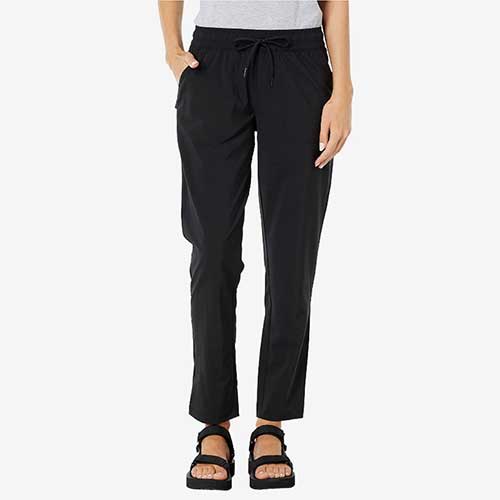 The North Face makes these stylish cargo pants.
They have a comfy elastic waist and tons of pockets – plus they're even water resistant!
If you're looking for a light pant for the summer or fall, these are both casual and highly comfortable. Plus they're simple enough to wear to run errands, go for a hike or even to dinner!
ADVERTISEMENT
---
---
Best Casual UPF Pants: Prana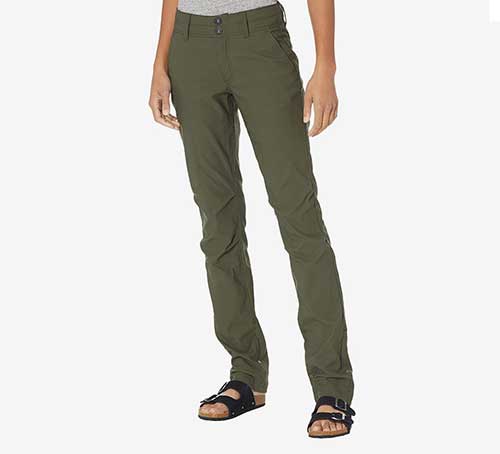 Looking for an outdoor adventure pant?
Grab these prAna UPF pants. They're highly durable, comfortable to wear thanks to some stretch and even wrinkle resistant. The pants are also UPF 50+ so they offer great sun protection for your entire lower half.
ADVERTISEMENT
---
---
Best UPF Shorts: Royal Robbins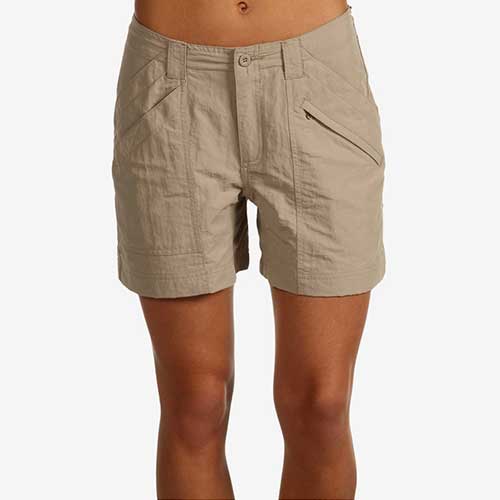 For sun protective shorts, check out these Royal Robbins.
They feature a modern cut that's flattering on the body and they're made from a laundered fabric that's super soft and comfortable to wear. The fabric has UPF 50+ protection too!
Wear these shorts to garden or hike!
ADVERTISEMENT
---
---
Best UPF Maxi Dress: Columbia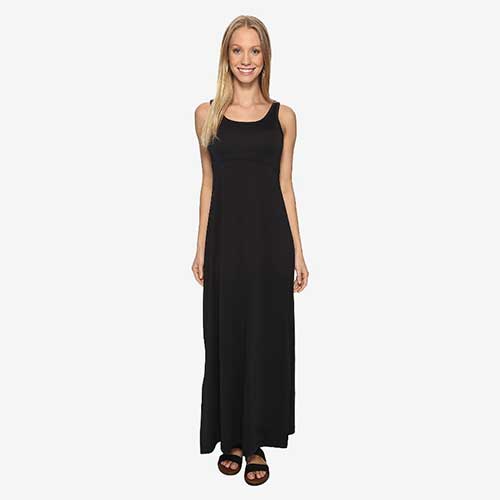 I love how simple and comfortable this maxi is – and it gets bonus points for being UPF protective!
It's made from a smoothing fabric that hides lumps and bumps and is so flattering. The dress doesn't wrinkle and even has moisture wicking properties!
Meanwhile the empire waist gives it some shape and the full length keeps it versatile – wear this casually with flip flops or dress it up with a jacket and some jewelry!
ADVERTISEMENT
---
---
Shop UPF Clothes
---

ADVERTISEMENT
---
---
Read More: in our summer style series:
Summer Essentials
Everything You Need for a Classic Summer Wardrobe
The Best White T Shirts in Every Style
The Best Classic White Button Down Shirts
Summer Dresses
7 Easy, Comfortable T Shirt Dresses for Summer
The Most Chic Slip Dresses to Dress Up or Down
The Best Fit and Flare Dresses
The Best White Dresses on Amazon
25 Cute & Affordable Amazon Dresses
Summer Shoes
The Most Comfortable Summer Sandals
The Best Minimalist Strappy Sandals
The Best Classic White Sneakers
Review: Olukai Sandals
Review: Everlane Flats
The Best Chanel Espadrille Lookalikes
Summer Accessories
The Best Sun Hats that Offer Full Sun Protection
7 of the Cutest Straw Basket Bags
Summer Linen
The Cutest Linen Dresses for Hot Summer Nights
The Best Men's Linen Pants - Summer Casual
The Best Women's Linen Pants for Coastal Chic Style
The Best Women's White Linen Pants - Simple, Clean & Breathable!
Summer Swim
The Best Online Sites to Shop for Swimwear
The Best Swimwear Brands at Every Price Point
The Best Swimsuits for Small Busts
Amazon Fashion Finds: Modest Swimsuits
The Best High Waisted Bikini Bottoms to Keep Everything Tucked In
Follow me @Sher She Goes on