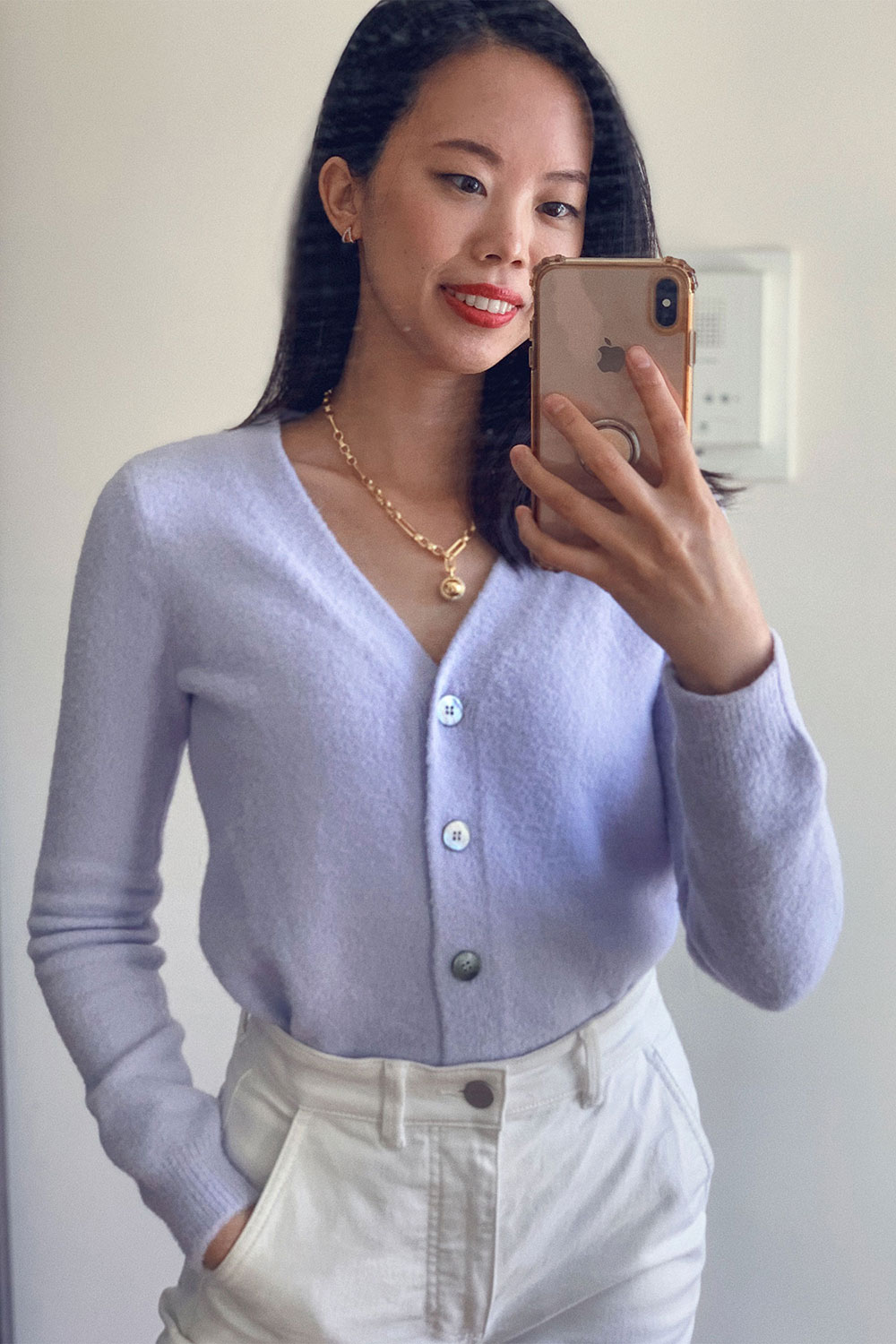 wearing fuzzy cardigan, chunky necklace, globe pendant, huggie earrings and white jeans
Thank you to Amazon for sponsoring this post
Amazon The Drop
If you're on Instagram, chances are you've seen a number of Influencer collections, designed and released in partnership with Amazon.
The Amazon Influencer collaborations are part of Amazon's latest fashion venture called The Drop and I'm sure you have questions.
Today's post covers everything you need to now about Amazon The Drop!
Quickly jump to each section:
Keep reading, or pin this post to read later ⇟
What is The Drop?
Amazon launched The Drop in summer 2019.
This in house clothing line is a little different from what you might have seen before. The Drop is a more 'fashion forward' line with two components:
made-to-demand Influencer collections that last for just 30 hours
a Staples line of trendy fashion pieces that you shop permanently
You gotta hand it to Amazon – when they focus on a vertical, they go all out!
ADVERTISEMENT
---
---
The Drop Influencer Collaborations
Amazon works with influencers to design capsule collections inspired by the influencer's audience and personal style.
It's a limited edition shopping experience modeled on Supreme's best selling 'drop' model: release new collaborations with little notice and limited time to shop.
Each Amazon Drop collection is only available for 30 hours.
Once the time is over, you can no longer order the influencer's collection (unless items are returned). The initial 30 hour 'drop' is to allow Amazon to collect sales orders.
Then, each item actually goes into production. One thing to note is the time between ordering a piece of clothing and receiving it will take 2-3 weeks, unlike the usual '2-day Amazon Prime order and receive' experience.
While the Drop capsules are fast fashion events, they're also 'sustainable' in that each item of clothing is made to order based on actual sales demand. Limited quantities of fabric are ordered upfront to help reduce waste and maintain an aura of limited exclusivity.
ADVERTISEMENT
---
---
The Drop Staples
The second aspect of The Drop is the Staples line.
Alongside the influencer collaborations, Amazon has a selection of fashionable wardrobe basics – think jeans, simple shoes and classic tops.
Items in The Drop Staples are available all the time and meant to function as fashionable 'staples' that will compliment the influencer drops (and of course your existing wardrobe).
I found that The Drop Staples were originally just a limited collection, but as of Fall 2020, Amazon has released lots of really cute new styles every month or so – especially in the knitwear department.
You'll find my favorites below!
Read more:
My Favorite Amazon Workwear Dresses (Affordable!)
ADVERTISEMENT
---
---
Best of Amazon The Drop – Review
Buying clothes on Amazon isn't the easiest – you never quite know the quality to expect.
Since The Drop is an in-house Amazon brand, the styles, quality and sizing run pretty consistent. After personally trying a couple of items from The Drop, I've found lots to like.
Plus the brand is continually releasing new 'on trend' styles every couple weeks. I always put the best finds on my Amazon shop page here ,
Here are the best items from Amazon The Drop!
Amazon The Drop Cozy Cardigan
in Dusty Purple, size xs
ADVERTISEMENT
---
---
Amazon The Drop Sweater Tank
in Dusty Purple, size xxs
ADVERTISEMENT
---
---
Amazon The Drop Relaxed Linen Blazer
in Natural, size s
ADVERTISEMENT
---
---
Amazon The Drop Paperbag Shorts
in Natural, size s
ADVERTISEMENT
---
---
Amazon The Drop Long Sleeve Turtleneck
in Black, size s
ADVERTISEMENT
---
---
Amazon the Drop Try On Haul (Video)
ADVERTISEMENT
---
---
How Does The Drop Staples Work?
The Drop Staples are available on Amazon and can be shopped at any time here. Every season or so, the Staples releases on-trend items.
For example this summer they had a number of breezy comfortable house dresses and this fall they have a ton of cute matching knit loungewear sets.
But if you see something you like, I would get it sooner rather than later.
I don't think The Drop produces large quantities because I've noticed popular things sell out very quickly. Then a couple months later when Amazon sees the demand, they'll bring the styles back and produce more.
For example, here are some of the most popular accessories:
ADVERTISEMENT
---
---
How Do The Drop Influencer Collections Work?
The Drop Influencer Collections, on the other hand, are dropped throughout the year and for just 30 hours. Launches are always a surprise and happen every couple weeks or so.
The best way to stay up to date is to sign up for text alerts.
I know – you're probably thinking "give out my phone number to be spammed?!"
It's up to you but you only get one text message, right in the first few minutes when a Drop collection is released. Thankfully, Amazon doesn't abuse your phone number with any promotional texts leading up to launches!
When a Drop is live, the website has a countdown timer here to let you know how much time is left before the collection expires.
All the drops are sold world wide (wherever Amazon has locations) and Amazon has worked with influencers around the world so it's not a US-centric collection. I think it's fascinating to see what a wide distribution network the company has.
ADVERTISEMENT
---
---
Is the Drop on Amazon Prime?
Yes, if you have Amazon Prime, you get free shipping on any order.
If you're not currently a prime member you can sign up for a free 30 day trial here, which includes free two day shipping.
But don't worry – anyone can shop The Drop. You don't need Prime to access the Drop Staples or the Drop influencer collaborations.
ADVERTISEMENT
---
---
The Drop Staples vs. The Drop Influencer Collaborations
Personally, I've only shopped the Drop Staples.
One reason is because I don't like sales pressure tactics. I find that I often make impulse purchases that way that I later regret.
Also when Drop collections are really popular, Amazon will eventually re-make some of the items as Staples pieces if demand is high. I noticed that for the linen blazer, paperbag shorts and v neck sweater tank – all of which I have and like.
I'm willing to wait a couple months and I like seeing the reviews and try-on photos from other people before buying.
But if you want to support a particular influencer or see an item that you have to have, the Drop collections are for you.
ADVERTISEMENT
---
---
How Long does Shipping Take?
For The Drop Staples, shipping is straightforward – it's the same shipping time as most items ordered on Amazon. So if you have Prime, you'd receive the item in 2 days.
For The Drop Influencer Collections, shipping is a little different.
While Amazon buys the fabric in advance, items are only cut and produced based on sales demand. So it takes a couple weeks for Amazon to actually produce all the orders and then ship them out to you.
Expect about a 2 to 3 week wait from the day you place your order. You're only charged once the order ships, so if you see an Amazon credit card charge weeks later, that's what it refers to (you haven't been hacked!)
ADVERTISEMENT
---
---
How is The Drop Sizing?
The Drop collection is available from XX Small to 3X.
Personally, I find that clothes on The Drop run slightly large, so you may want to size down especially if you are petite. Or if you prefer a looser fit, get your normal size.
---
Have you tried anything from The Drop? I'd love to know which influencer collaborations you were most drawn to!
Read More of the best Amazon Fashion Finds:
Amazon Spring Fashion
The Best Affordable Spring Clothes on Amazon
Trendy Spring Items You Can Find on Amazon
Amazon Summer Fashion
The Best White Dresses on Amazon
Breezy, Beautiful Linen Dresses to Stay Cool All Summer Long
The Best Sun Hats - Stylish, but with Sun Protection
10 Cute Basket Bags for Summer
8 Swimwear Trends to Try in 2020
The Best Modest Swimwear Finds from Amazon
Amazon Fall Fashion
The Best Faux Leather Leggings (Affordable Spanx Lookalikes)
The Best Fleece Jackets on Amazon
The Best Designer Inspired on Amazon: Shoes, Handbags & Accessories
The Best Clear Purses for Game Days & Concerts
Amazon Winter Fashion
The Best Snow Boots on Amazon
5 Stylish Warm Winter Coats on Amazon
The Best Winter Gloves on Amazon
The Most Comfortable Boots for Fall Winter
Amazon Holiday Fashion
The Best Holiday Party Dresses on Amazon that Look Amazing but are Under $50
The Best Ugly Christmas Sweaters on Amazon - Adorable, Funny & Cute!
Amazon Work Clothes
The Best Work Dresses on Amazon
I Tried Amazon's Personal Shopping Service: Here's My Review
Cozy Loungewear
The Best Comfy Bralettes on Amazon
The Most Comfortable Loungewear on Amazon
The Cutest Jumpsuits & Rompers on Amazon
The Best Workout Clothes on Amazon
12 Athleisure Outfit Ideas from Amazon
Cute Matching Pajama Sets from Amazon
The Best Womens Slippers on Amazon
The Best Mens Slippers on Amazon
Amazon Fashion Casual Clothes
The Best Denim Jackets on Amazon
The Best Casual Sneakers: 12 Comfy, Affordable Picks
10 Cute Slip on Sneakers on Amazon
The Best Matching Loungewear Sets to Look Cute + Cozy
Amazon Home Finds
The Best Floor Lamps on Amazon: Chic & Affordable
Amazon Furniture Finds: Stone & Beam
Roborock vs. Roomba: Which Robot Vacuum Is Best?
Are Standing Desks Worth It? A BDI Desk Review
Affordable Amazon Wall Art
The Best Affordable Faux Plants from Amazon
Cute Affordable Planters on Amazon
The Best Smelling Candles on Amazon
ADVERTISEMENT
---
---
Follow me @Sher She Goes on