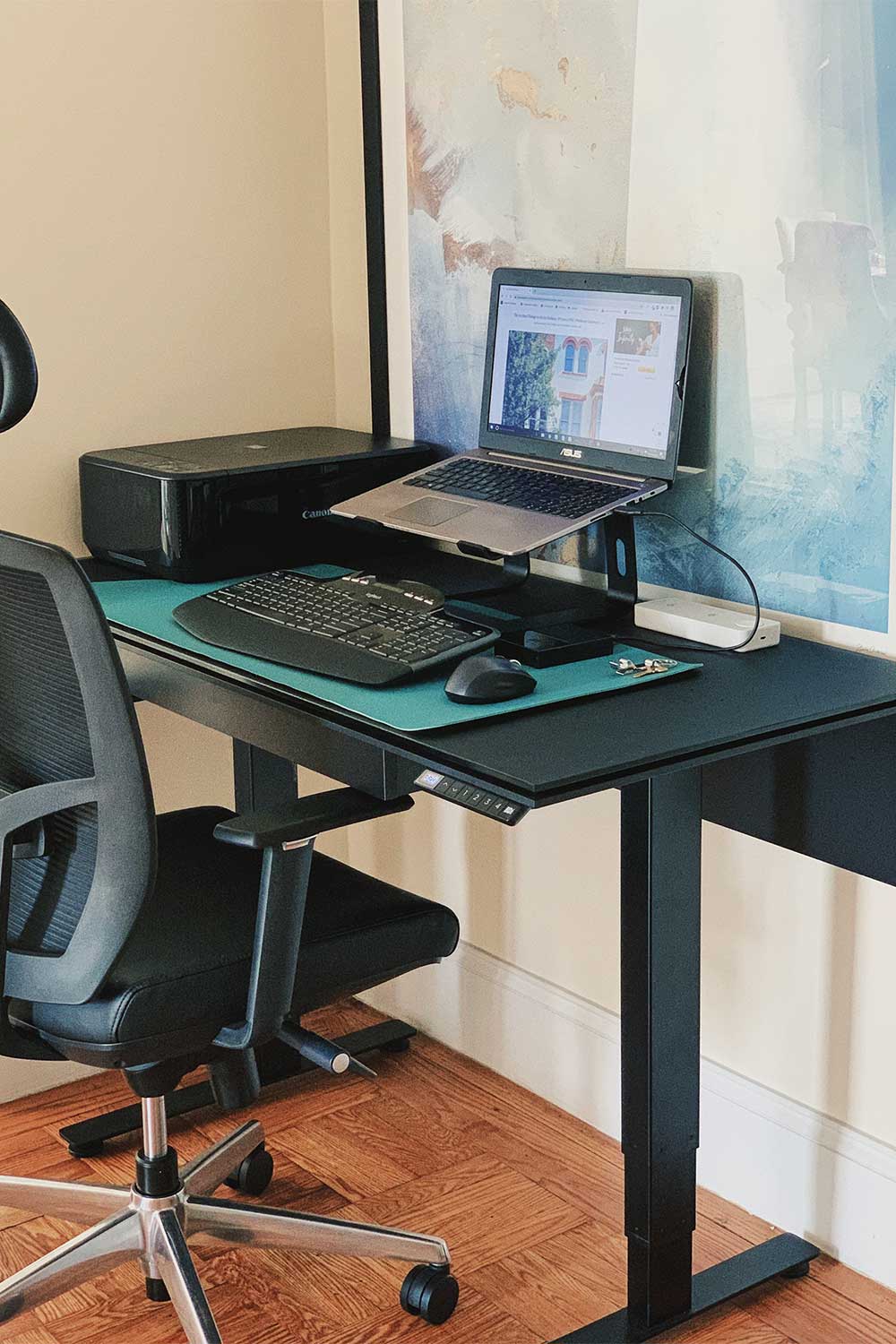 my office setup! BDI desk, BDI chair, canon printer, laptop stand, desk mat, eggtronic power bar and logitech keyboard/mouse
A Modern Standing Desk for the Home Office
I've finally set up my home office!
A month or two in quarantine, I knew something had to change. After days on end in the same tiny shoebox eating, sleeping and working, I found myself going stir crazy.
It was so hard to stay productive and using the dining table as a office desk just wasn't cutting it.
I had seen tons of fancy 'home office reveals' on social media with high tech sit/stand desks and it got me thinking – are standing desks really worth the money?
ADVERTISEMENT
I sent out a quick poll on Instagram stories and the responses were mixed, which didn't help ha. It seemed split exactly 50/50 – half of you swore by them, and half of you used them as a regular office desk.
Sit/stand desks are an investment, but I figured anything that could add a bit of movement to my day would be worth it.
I ultimately chose the BDI Stance 6650, a modern looking standing desk with a contemporary finish. It's been a couple months of using the desk non stop, so I figured it was time to share how it's held up!
Here's my review of the BDI standing desk – from set up to daily usage.
ADVERTISEMENT
---
---
Keep reading, or pin this article to save it for later ⇟
BDI Office Furniture
BDI is a luxury furniture supplier for offices, but they also have a line of Stance and Sequel sit/stand desks that are great for small home offices.
Their desks are available in a range of sizes and since I have a small apartment, I went with the smallest option: the 48″ x 24″ Stance 6650, and the Task office chair, an ergonomic leather chair with a headrest.
ADVERTISEMENT
---
---
Shipping
At the time of my order, New York City had temporarily halted in-home deliveries, so the desk was shipped to me unassembled.
I think white glove furniture delivery is traditionally an option though, if you prefer to have help with assembly and placement.
The desk arrived in two large, heavy boxes and the chair in a third. Assembling the standing desk took me just under 2 hours. (I filmed the set up process, so that probably took up extra time than it would have normally.)
Assembly
The instructions were relatively straightforward and easy enough to follow that I could do everything myself, except for the last step.
At one point you have to lift and flip the desk upright and even though it's a small desk, it weighs a ton! So I recommend having a second strong person around just to help lift and move the desk.
Assembling the chair on the other hand, was slightly more difficult.
For the life of me, I couldn't figure out how to put the chair wheels on. Thankfully BDI's customer service phone line was very helpful.
We traded emails back and forth and after sensing my frustration, they even recorded a video to illustrate the last step.
ADVERTISEMENT
---
---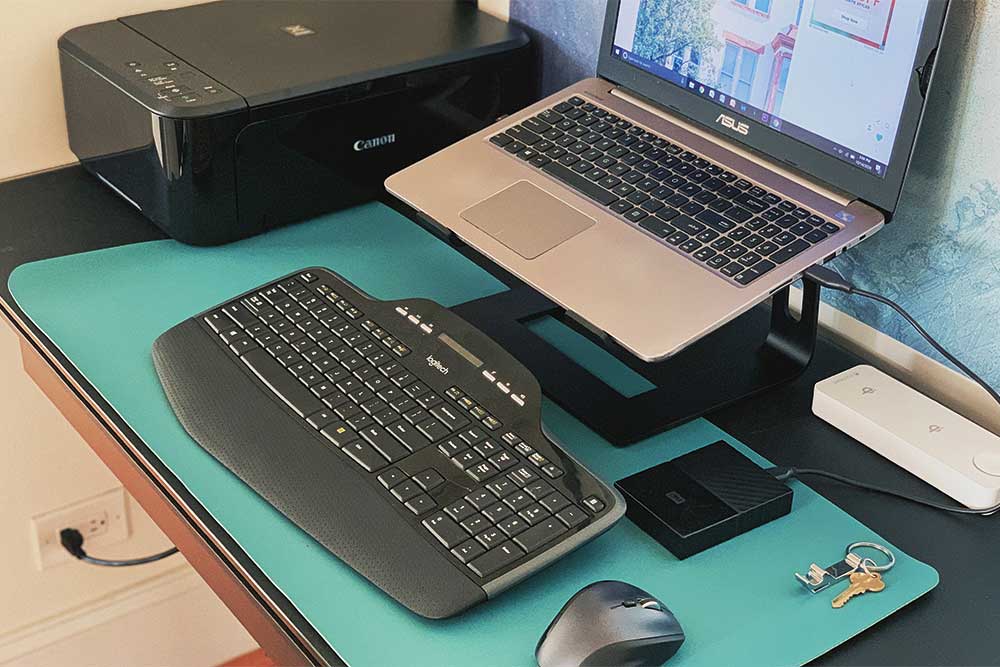 BDI Stance 6650
Height adjustable desks might seem like a fad, but to us, there seems to be an obvious health benefit to switching between sitting and standing.
We opted for the BDI Stance 6650, a sleek and modern black standing desk.
The Stance desk is available in 3 sizes, to suit any size of office space. Since we're working with a small apartment, we opted for the smallest 48″ x 24″ option, which fits perfectly.
ADVERTISEMENT
---
---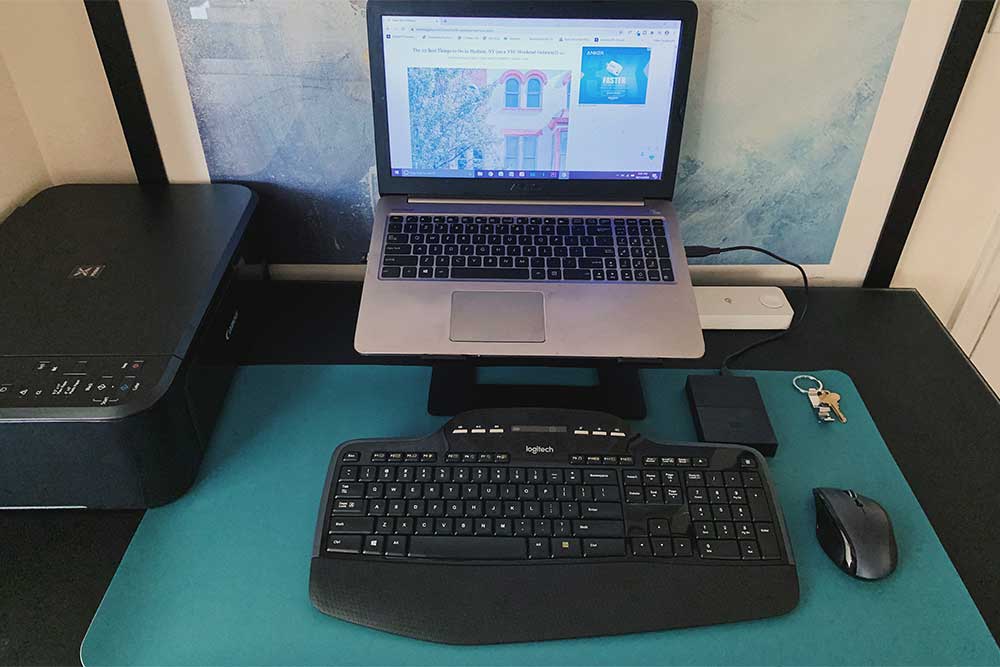 Build and Materials
The first thing we noticed about the Stance desk is that it's incredibly heavy duty.
The black surface is a satin etched, tempered glass. While it might temporarily smudge from fingerprints or coffee mugs, a quick brush across the glass finish and any marks disappear!
Overall, we love the clean, streamlined look and after a couple months of use, there's been virtually no wear and tear.
If you like modern, minimalist furniture, the BDI standing desks fit the bill.
ADVERTISEMENT
---
---
Features
Obviously, this is one instance where function matters just as much as looks. Here's a look at some of the features with BDI's electric desks.
Height Adjustable
ADVERTISEMENT
---
---
Programmable Keypad
ADVERTISEMENT
---
---
ADVERTISEMENT
---
---
Modesty Panel
ADVERTISEMENT
---
---
Storage Drawer
ADVERTISEMENT
---
---
BDI Standing Desk Review
Overall, I love the BDI standing desk!
It's sleek, modern looking and the perfect size for any home office. The most important feature, the height adjustability, is smooth and well made, and the desk has improved not only my productivity but my posture!
If you haven't jumped on the sit/stand office trend, what are you waiting for?
You can check out BDI's full range of office furniture here.
To order, you can find BDI furniture on Amazon and Wayfair.
ADVERTISEMENT
---
---
Work from Home Office Setup
And finally, I found a couple desk accessories that help me make the most of my small home office.
---
ADVERTISEMENT
---
---
---
ADVERTISEMENT
---
---
Shop Home Office Essentials
---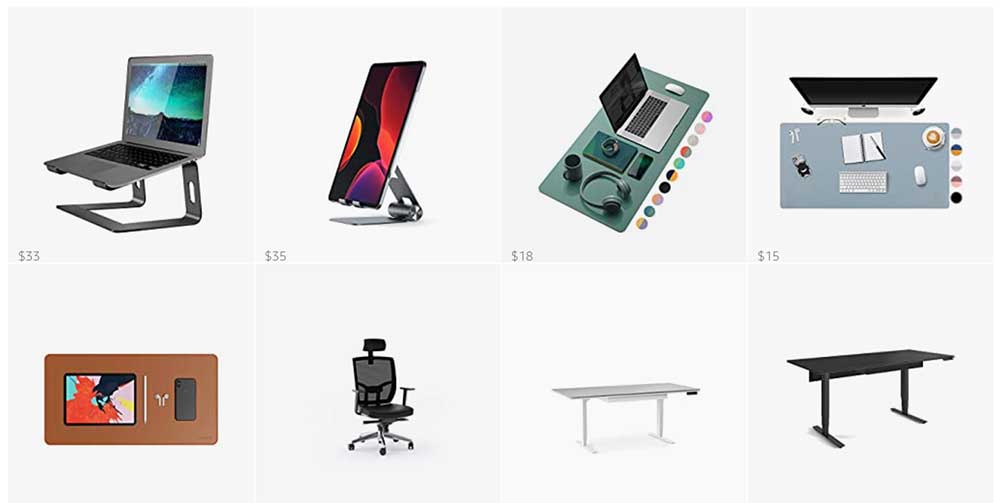 ADVERTISEMENT
---
---
You Might Also Enjoy:
Small Space Living
25+ Small Apartment Hacks to Transform Your Space
The Best Makeup Storage Ideas When Space is Tight
Aerogarden Harvest Review: Growing Plants Indoors is Now Doable!
How to Dress a Bed as Luxuriously as a 5 Star Hotel
Small Apartment Entryways: 4 Decorating Ideas
Storage Hack: Saving Space When You Don't Have a Pantry
Home Decor
The Best Affordable Wall Art - from Amazon!
Crazy Real Faux Plants (for Black Thumbs)
The Best Smelling Candles to Create a Sense of Hygge
Amazon Home Finds: Stone & Beam
Our NYC Renovation
Renovating a Kitchen in NYC: Tips, Tricks & Cost
Everything We Learned About Renovating Our NYC Kitchen (Video)
How to Remodel a Small Kitchen for Maximum Storage
Home Appliances
The Best Compact Appliances for a Tiny Kitchen (Video)
The Best Compact Washer Dryers for Small Apartments
How We Installed a Washer & Dryer... in the Kitchen!
Home Tech
The Best Vacuums Under $100
How to Build Your Own Sunrise Alarm Click Using Smart Bulbs
Are Standing Desks Worth the Hype? Testing the BDI Sit/Stand Desk
Robot Vacuum Review: The Roborock S5 (an affordable roomba alternative)
Roborock vs. Roomba: Which Smart Vacuum is Best?
Home Security Systems: How to Protect Your Home on Vacation
Furniture
All the Best Furniture Stores in New York City
Article Modern Furniture Review
Gardening
The Best Raised Garden Beds on Wheels
Aerogarden Harvest Review: Does This Really Work?
How to Clean & Sanitize the Aerogarden for a New Planting
How to Setup the Aerogarden Farm XL (grow bigger plants!)
Follow me @Sher She Goes on