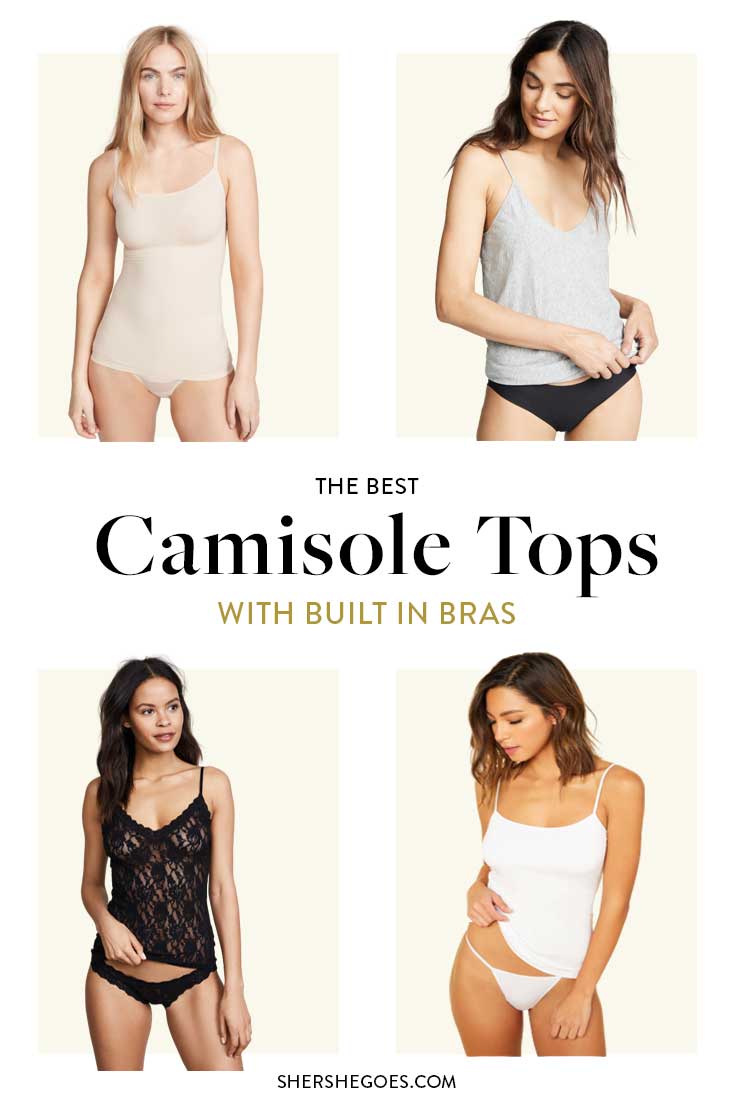 Thank you to Zappos for sponsoring this post.
Best Camisole Bras
You know how they say every fashion trend is just a cycle, reviving something that was already popular years ago?
Well this notion could definitely apply to the camisole bra.
Originally used centuries ago to cover Victorian ladies' corsets, camisoles have definitely been around the fashion block!
While I don't know how many women walk around today with corsets, I do know why I love camisoles so much, and it comes down to one word: versatility.
Camisoles can work as an extra layer against the cold during winter just as great as they can provide a sleek and sexy look as a summer outer layer. Keep reading for our picks for the 6 best camisole bra brands!
Pin this article to save it for later ⇟
The Best Camisoles with Built In Bras
There are a couple brands in particular that focus on the right blend of subtle and sexy. Below, we've chosen our favorite styles that will form a flattering layer underneath any top!
Most Comfortable Camisole Bra Brands
Keep reading for reviews of each camisole!
---
---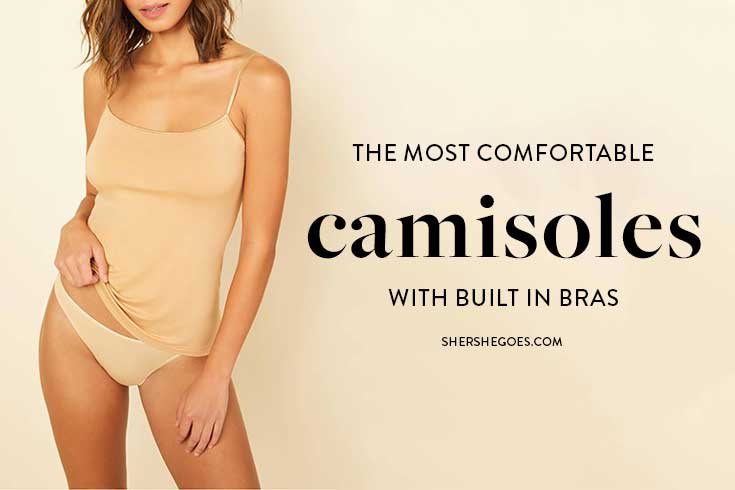 Camisole Bras
Best Camisole with Built In Underwire Bra: Hanro
Forget a camisole or bralette, the Hanro Bra Camisole is basically a sexy tank top and built-in bra all in one!
Featuring a cut that goes down to your waistline, adjustable straps, and an irritation-free tagless label, the Hanro camis are so comfortable you'll reach for them again and again!
---
Best Comfortable Camisole: Cosabella
What I love most about the Cosabella Long Camisole is that it's 92% made from rayon.
A naturally regenerated fiber designed to mimic the look and feel of much softer fibers like silk or linen, rayon provides long-lasting comfort, which is super important for an undergarment like a camisole!
The Cosabella cami also features a built-in shelf bra and a long length which makes it versatile enough to wear as either lingerie or a sleek layering piece!
---
---
Best Seamless Camisole: Yummie
The Yummie Candie Seamless Shaping Camisole is perhaps the most multi-faceted of all the camisoles we found, as this piece is basically a a camisole, bra, and shapewear piece all at once!
With a level 2 compression shaping panel at the tummy, seamless mesh flairs at the neckline, and a supportive yet comfortable built in bra, the Yummie is the perfect introduction piece to the wonders of the camisole!
---
---
Read More in my cozy at home series:
Loungewear
Amazon Fashion Finds: Loungewear Sets
Comfortable Jumpsuits & Rompers to Work from Home In
The Best Pajamas to Netflix & Chill
Matching Pajama Sets that Still Look Stylish
Cozy & Comfortable Bralettes
Fun Tie Dye Lounge Wear Outfits
10 Work from Home Outfit Ideas
Everlane Bralette Review
Athleisure
The Best Athleisure Outfits You Can Grab on Amazon
6 of the Best At Home Workouts - Currently Free!
Comfy Faux Leather Leggings that Work with Any Outfit
Everlane Legging Review
Comfortable Shoes
The Best Minimalist White Sneakers
Cute Casual Sneakers to Wear Anywhere
Slip on Sneakers for Casual Days
The Best Comfy Slippers for Women
The Best Comfy Mens Slippers
Cozy Home
How to Program Smart Lights to Act as a Sunrise Clock
The Coziest Home Decor to Create a Sense of Hygge
How to Dress a Bed as Luxuriously as a 5 Star Hotel
Follow Sher She Goes on
Youtube | Instagram | Facebook | Twitter | Pinterest | Bloglovin