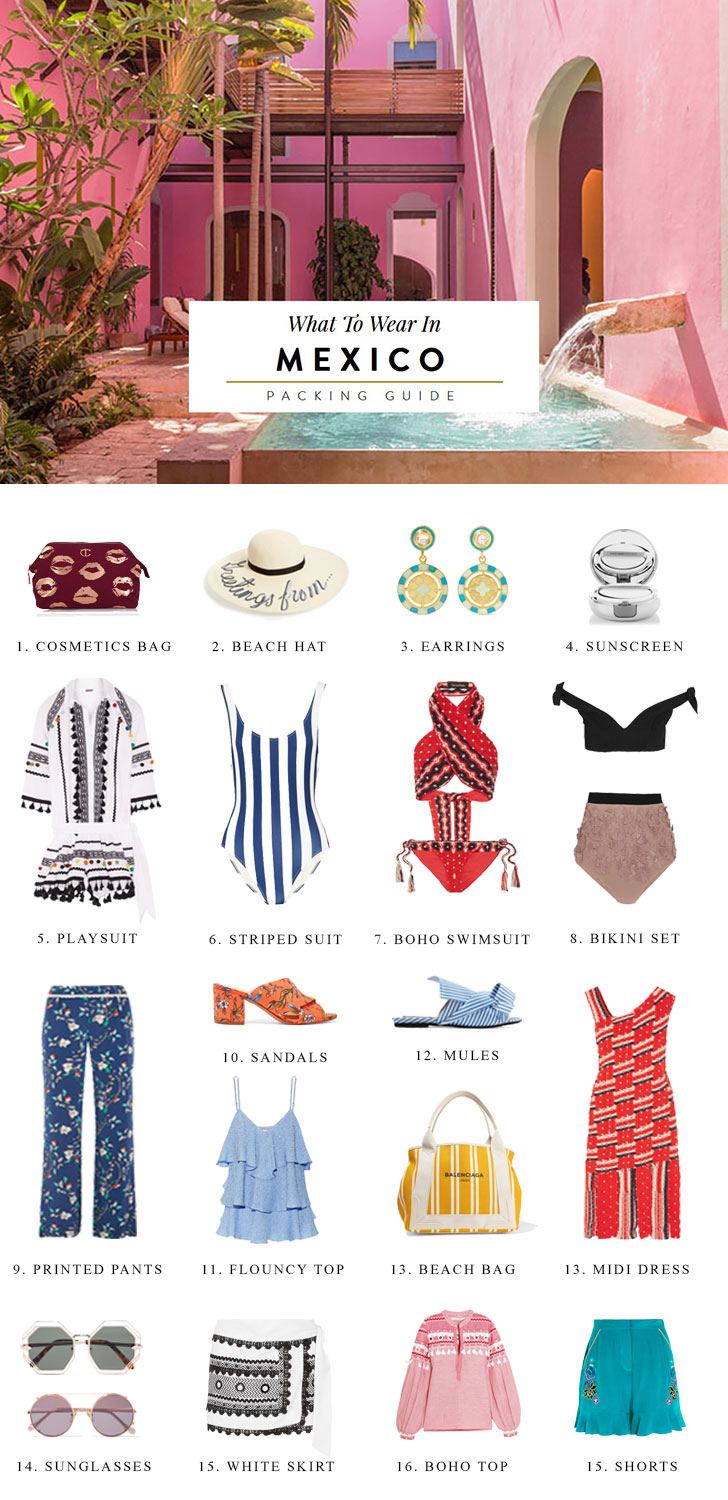 What to Pack for Mexico
After visiting Mexico three times this year alone, I feel like I've nailed down the art of packing for what to wear in Cancun, Tulum and the Yucatan!
My essentials? Fun prints, breathable cotton and lots and lots of color. So far I've had the opportunity to head westward to check out funky boho Sayulita in the Riviera Nayarit, resort luxury in Cancun and laid back relaxation in Tulum. This Mexico packing list features colorful boho outfits and beauty must haves from some of my favorite brands. Keep reading for what to bring to Mexico!
Read more: Everything You Need to Know About Visiting Tulum
ADVERTISEMENT
---
---
Mexico Packing List
1. Swimsuits
My idea of the perfect stay in Mexico involves lots of trips to the beach, so I make sure to take at least 2, preferably 3 swimsuits so that they have time to fully dry in between wears. My picks? A comfy conservative one piece, a glam bikini set and an easy transitional type suit that works for both the pool and the poolside restaurant/bar.
My go-to stores for bathing suits (both one pieces and bikinis) are Revolve, Nordstrom and Shopbop. They always carry the best range of colors and styles in every price range. I like to pack a mix of one piece swimsuits and bikinis that cover up but still have cut outs and color.

2. Sundress & Summer Clothes
I love a good sundress for Mexico – anything lightweight, colorful and printed preferably. These are my go to brands for vacation outfits: Revolve, Free People, Anthropologie.
ADVERTISEMENT
---
---
3. Sunscreen
A must have wherever you go, I like to bring both a facial sunscreen and all over body sunscreen. For the face, this Japanese brand is my hands down favorite – it's non greasy, affordable and non-tacky without any scent. For the body, I love this broad spectrum sunscreen which smells like coconuts and leaves your legs nice and glowy.
Aloe Vera | Sunburns inevitably happen and aloe very gel is the key to relieve any pain. Currently I'm using this organic version made from cold pressed aloe.
Lip Balm with SPF | An absolute must have to avoid chapped lips! My favorite day balm is Lanolips, my night version is from Vaseline and my heavy duty must have is by French brand Aquaphor.
Bug Spray | There are definitely mosquitoes and bugs around so protect yourself from any potential viruses by bringing along some buy spray in advance. Look for a high level of deet in order to be effective and just make sure to wash your hands with soap and water after applying.
I use this spray if I'm in the woods or a forested area but for regular day time use, I've been loving these wrist bands. The bracelets contain a blend of insect repelling oil so you don't have to apply bug spray directly on your skin. I usually get 2 – one for my wrist and one for the ankle otherwise the range of coverage doesn't seem to extend across the full body.
4. Beach Accessories
Snorkel Gear | If you love water sports and are thinking of snorkeling, pack your own. It's much cheaper to buy an inexpensive set off Amazon than to rent… not to mention more sanitary. I got this inexpensive snorkel set off Amazon, which comes with its own waterproof bag for easy transport.
If you're in Cancun, popular day trip options include visiting a Mexican cenote or underwater sink hole and swimming with turtles at Akumal. I did both and really enjoyed both of them but I would recommend bringing your own snorkel set if this is an activity you'd like to try. I forgot and bought a set on the street and it was marked up quite high so Amazon is a better bet.
Lightweight Beach Towel | Typically hotels will provide towels but I like to bring a small, light weight towel of my own just in case. This is my favorite as it's made of microfiber and dries quickly – perfect for those times when you only stay overnight in a hotel.
ADVERTISEMENT
---
---
5. Lightweight Luggage
Carry On Suitcase | I usually try to travel with just a carry on suitcase. Raden makes the lightest suitcase I've tried while Calpak is an affordable, durable brand.
Packing Cubes | I swear by packing cubes! Once you try them, you'll wonder how you ever did without. If you're visiting multiple places, these cubes will keep your clothes organized and your suitcase tidy. I keep one pouch for undies, one for dirty clothes and then group outfits in the other cubes.
This inexpensive 4 piece packing cube set has nearly 6,500 glowing reviews while several travel blogger friends swear by this set from eBags. Personally I use a set from CalPak which I love. They're machine washable for easy cleaning and if you have CalPak luggage – they're perfectly sized for their carry on luggage pieces!
Travel Bottles | I use these bottles for shampoo and conditioner – you can use them to story anything, even skincare products. I also love this inexpensive yet stylish jewelry case to organize earrings, necklaces and any small items like bobby pins + hair ties!
6. Camera, Chargers & Travel Gear
Camera & Lenses | I bring a professional DSLR camera and a couple lenses to shoot all the photos you see on this blog. I also bring my spare battery, battery charger and extra SD cards. To keep everything organized, I use a memory card case and a travel accessories case so the wires, chargers and small things don't get lost.
For underwater photos, I use a GoPro, backdoor floatie and dome. For video, I use a stabilizer and my iphone, along with an external battery. You can find all my gear here.
ADVERTISEMENT
---
---
Mexican Souvenirs
Sayulita had some of the coolest boutique shops – if you love color, neon and skulls you'll enjoy shopping in the Riviera Nayarit. There were also lots of vendors selling really gorgeous beach towels directly on the beach. I kicked myself for not bringing more pesos! If you want to try authentic local Tequila and Agave, I really liked the selection of spirits at Sayulita Wine Shop – they also have free mezcal tastings.
In Cancun, you can't avoid the vendors if you tried! This is especially true about Chichen Itza which was overrun by hoots. It wasn't necessarily a bad thing, just entertaining. On one particular street a guy started yelling out "cheaper than free! cheaper than free!"
Things to buy in Cancun and Tulum include beautiful woven hammocks, tie dye t shirts, small knick knacks, lots of cotton dresses, gemstone jewelry and stone board game sets.
Read more: The 8 Best Restaurants in Tulum Mexico
Fun Day Trips in Mexico
ADVERTISEMENT
---
---
Shop for Mexico Outfits

Visiting Mexico – Travel Checklist
From New York City, you can easily grab inexpensive direct flights to Cancun. From Cancun International Airport, either rent a car or take the local bus to Tulum, Playa del Carmen and other popular cities. If you're visiting Puerto Vallarta or Mexico's West Coast, you may need to transfer in Georgia or Texas if traveling during low season. Check here for flight deals.
For hotel bookings, we relied on Booking.com. For more help with planning your vacation to Mexico, we love Lonely Planet's Mexico guidebook. The local advice for admissions, times, maps and pricing was pretty invaluable.
If you plan to scuba dive, kayak or swim – I recommend bringing along a GoPro to take some fun photos!
Finally, make sure to visit Mexico with travel insurance. Whether you get injured and need to be hospitalized, your phone gets stolen, or a flight delay leaves you with nothing but the clothes on your back, travel insurance will help when you need it most. Get a quote for your trip here.
You Might Also Enjoy:
Mexico Vacation Planning Articles
The Essential Mexico Packing Guide
Quintana Roo, Mexico
Travel Guide: Everything to Know Before Visiting Tulum and Cancun
All the Best Food to Eat in Tulum
Where to Stay in Playa del Carmen for the Best Vacation
Cabo & Puerto Vallarta 
The Essential Puerto Vallarta Travel Guide
Everything You Should Do in Cabo San Lucas
Follow me @Sher She Goes on