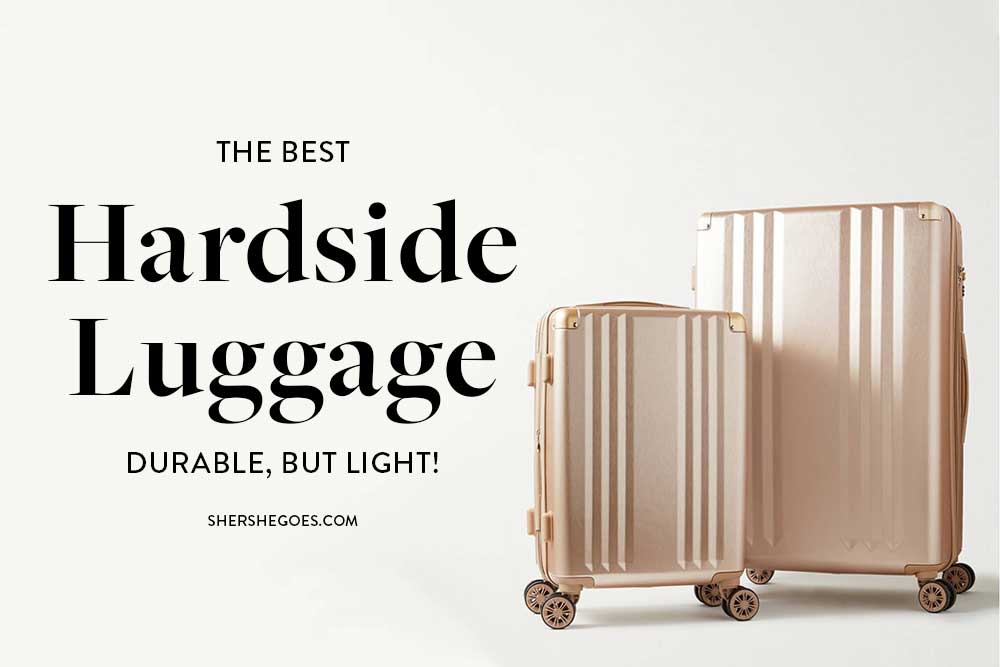 Best Hard Luggage Brands
Best Basic Hard Luggage: Amazon
Best Affordable Hard Side Carry On: eBags
Most Unique Hard Shell Checked Bag: Samsonite
Most Stylish Hard Luggage: Delsey
Best Hard Luggage for Overpackers: Travelpro
Best Hard Side Luggage for Business Travel: Briggs & Riley
Most Lightweight Hard Suitcase: Tumi
Most Sustainable Hard Suitcase: Paravel

ADVERTISEMENT
Hardside Luggage
There are three certainties in life: death, taxes, and your luggage taking an absolute beating.
From the sidewalk to the car trunk to the airplane and back again, traveling will show your suitcases no mercy! That's why I'm still incredulous that I exclusively used soft-sided luggage for so many years.
Don't get me wrong, soft-sided luggage has its perks.
Compared to its hard sided counterparts, soft luggage is always less bulky and, because it can be made from nicer materials, far more fashionable.
Alas, all jetsetter neophytes quickly realize the folly of soft-sided luggage. What was once your stylish soft-sided luggage quickly becomes a maddening combination of torn fabric, loose threads, and warped shape.
Traveling with hard shell luggage gives you confidence that your suitcase is protecting your belongings (and itself!) so it's excellent for durability and piece of mind.
If you want to start rolling hard, keep reading for our picks for the best hardside luggage!
ADVERTISEMENT
---
---
Quickly jump to brand:
Keep reading, or pin this article to save it for later ⇟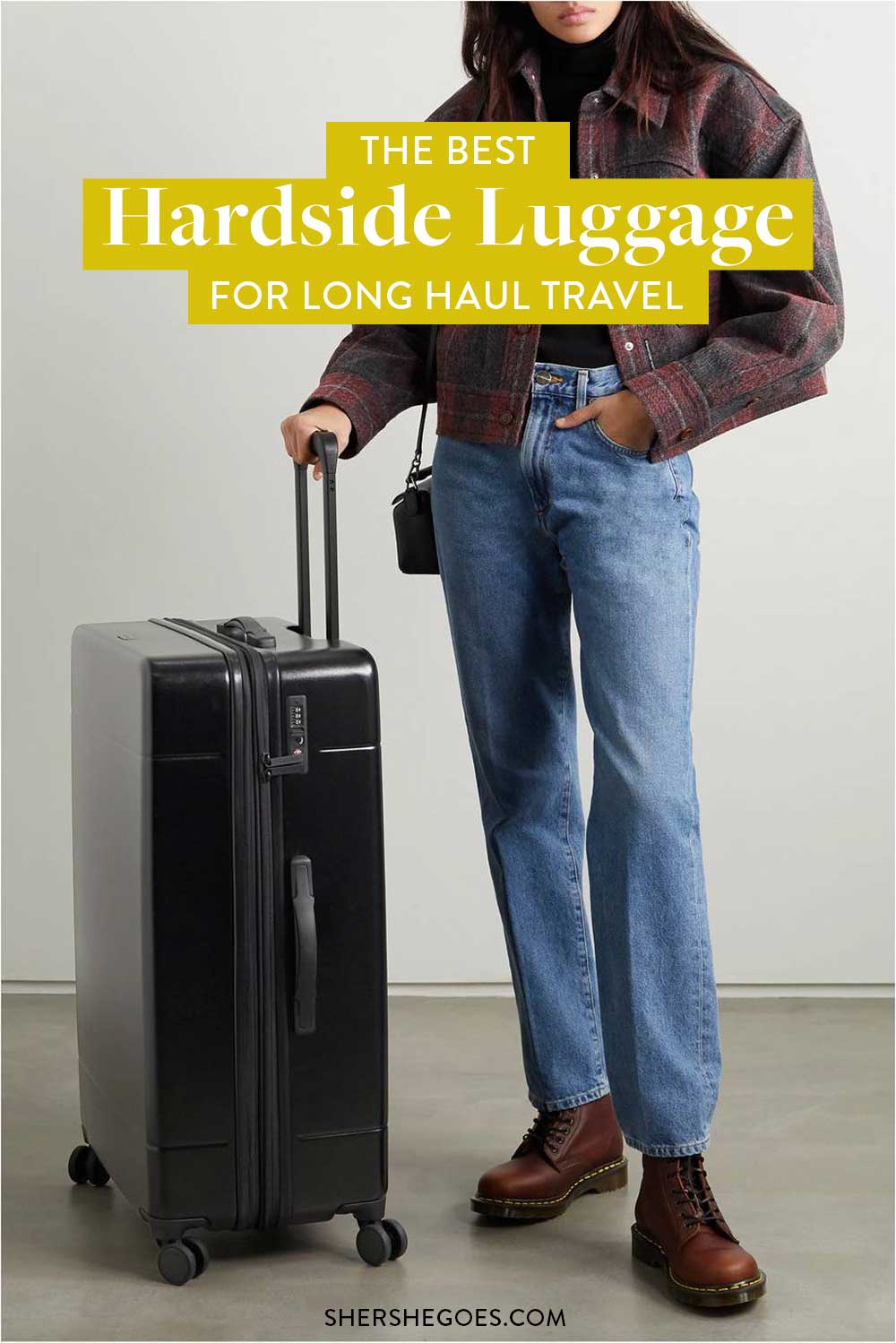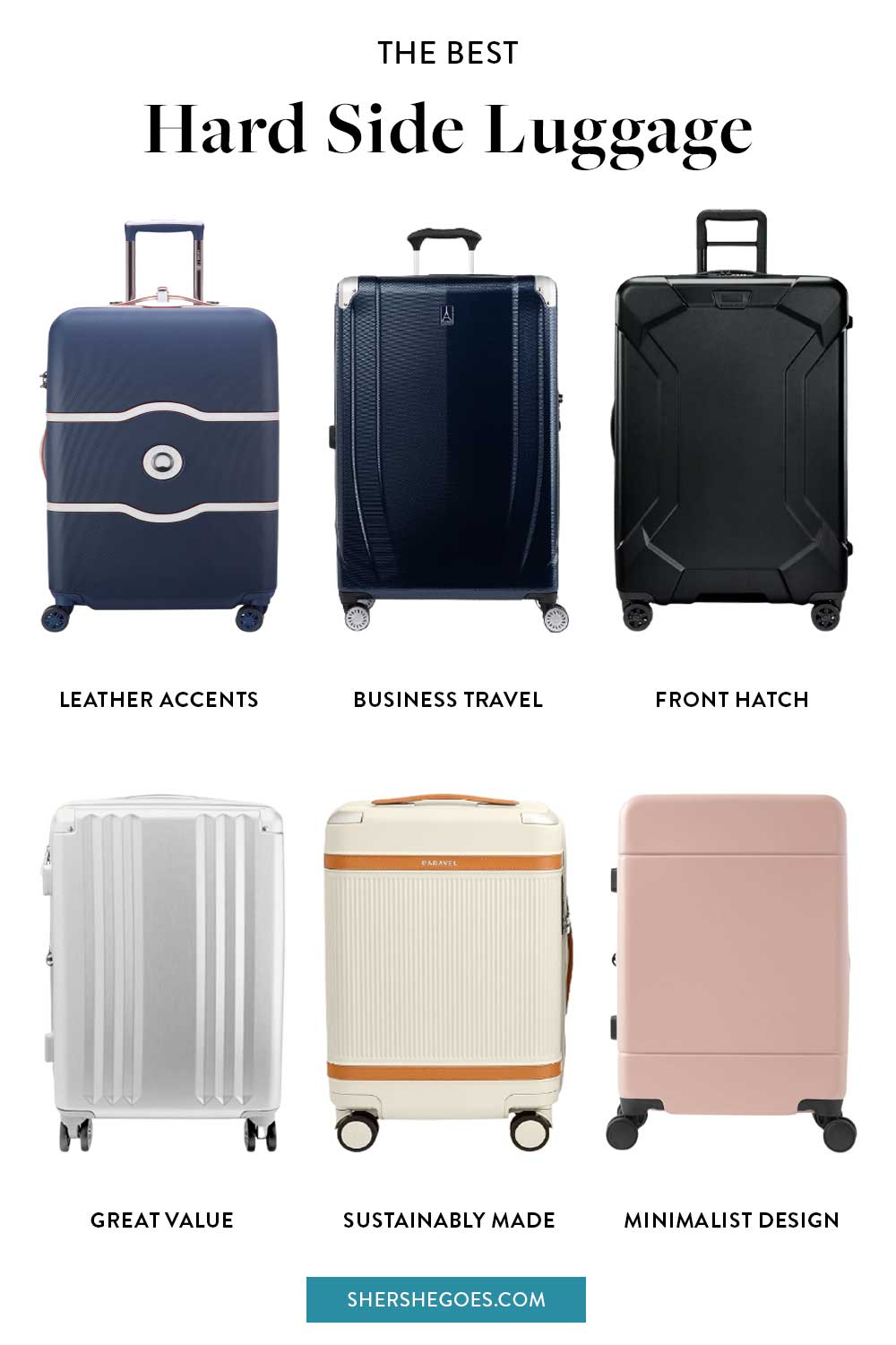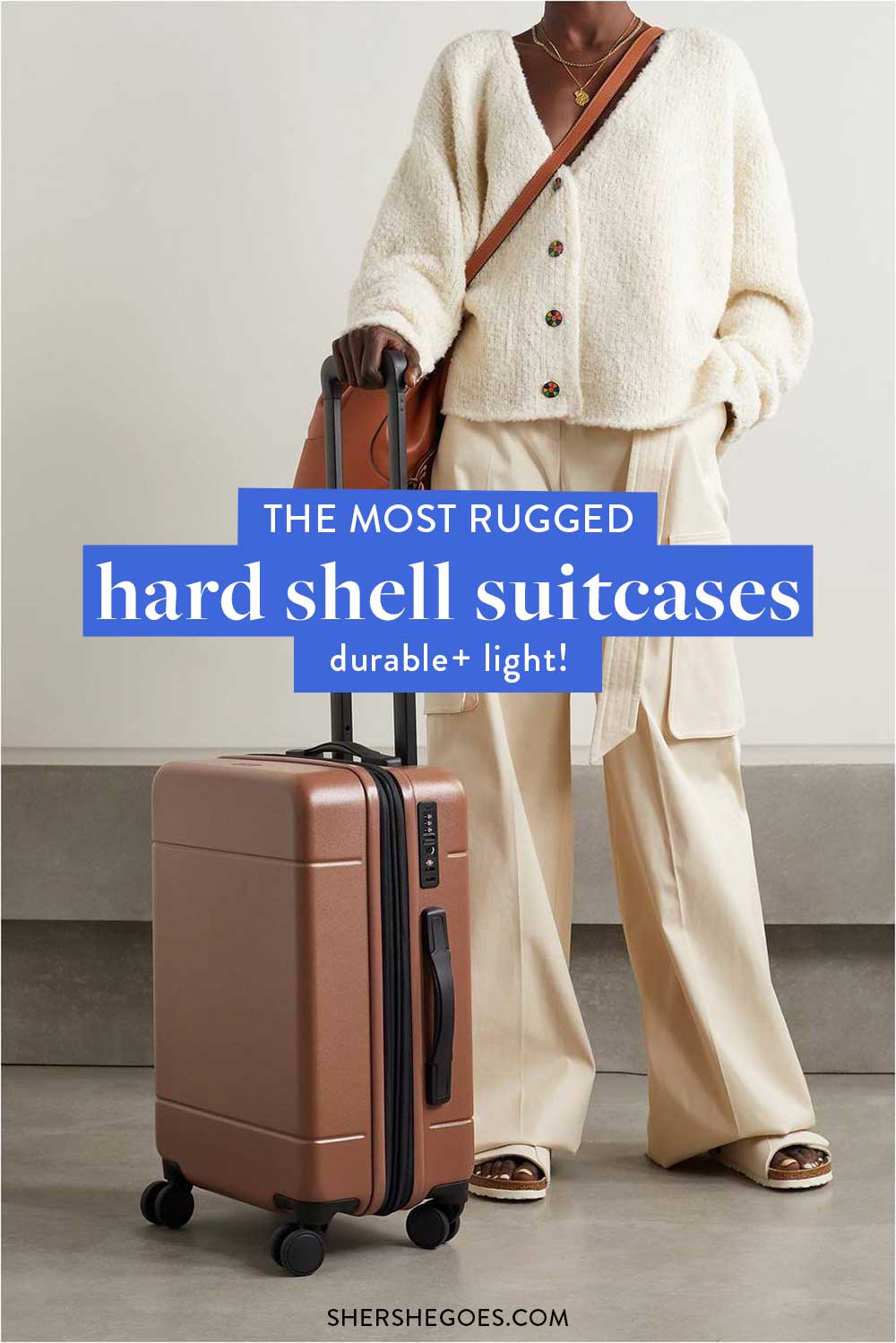 ADVERTISEMENT
---
---
Best Hardside Luggage (2023)
Amazon Basics Hard Shell Suitcase
Available in 21″, 26″ and 30″ sizes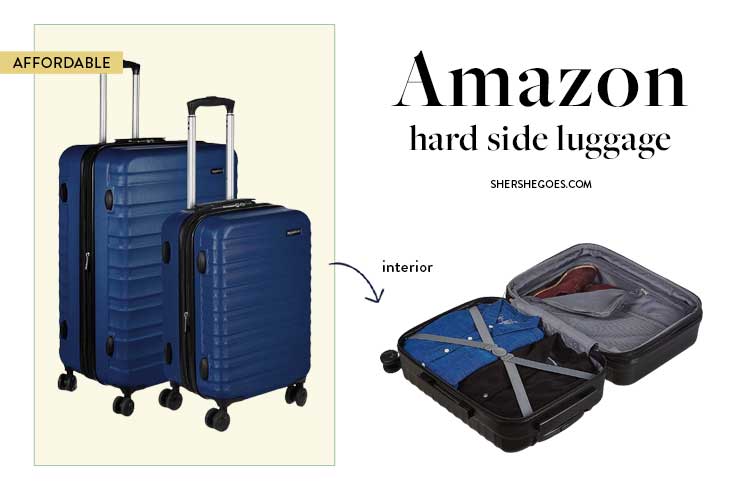 While the hardside luggage from Amazon won't blow you away with modern technology or fancy bells and whistles, it deliverers all the hard luggage essentials at an extremely tempting price point.
The Amazon Basics luggage is crafted with a polymer that's thicker – and therefore more durable – than that used in average hardside luggage pieces.
It includes functional interior zip pockets and dividers as well as 4 double spinner wheels for easy mobility. Plus, this hard suitcase features an expandable section that adds 15% more packing volume!
While there's no fancy bells and whistles here, Amazon offers the best hard shell luggage at an affordable price point.
Finally, it's available in 4 colors and 3 sizes (as well as luggage sets to save even more!)
ADVERTISEMENT
---
---
eBags Hardside Luggage
Available in 22″ carry on size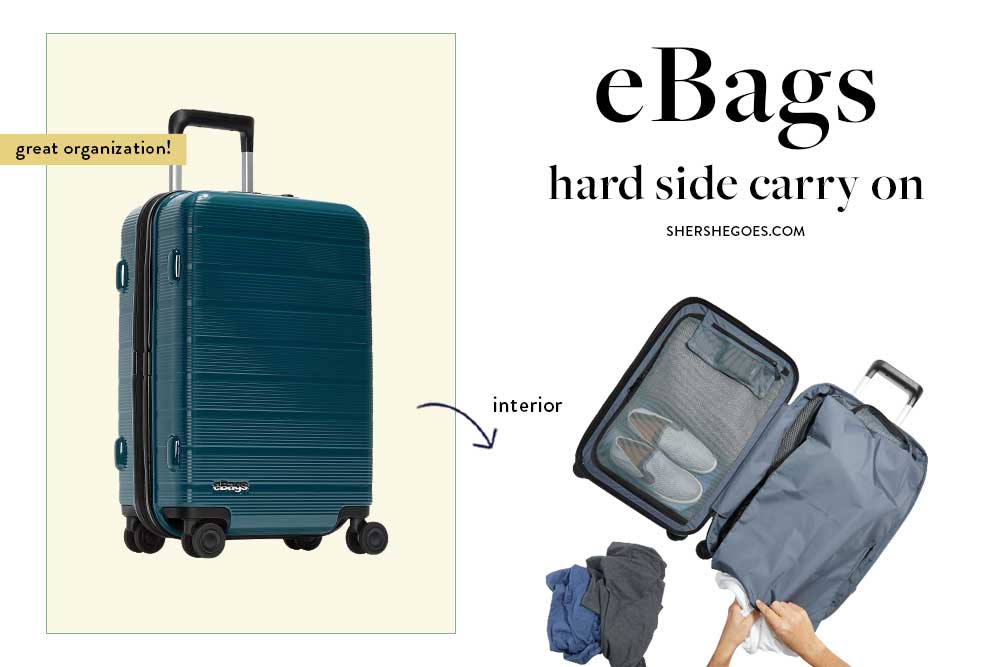 eBags is a great affordable luggage brand with a variety of functional travel gear. They make everything from packing cubes to backpacks, weekend duffels to suitcases.
Their hardside carry on is lightweight and very user friendly, with literally everything you need for the perfect trip.
The bag includes an integrated USB charging system, with a dedicated battery pocket on the inside of the bag so you can connect your own external charger and charge up your phone on the go!
The interior is highly organized, with built-in pockets to separate your wet and dry clothes while also compressing your things.
There's even an included laundry bag! Finally, the wheels are sleek, silent and sourced from Hinomoto – the best spinner wheels money can buy.
If you're looking for a great hard shell carry on, this eBags option is great and comes in 4 sleek colors.
ADVERTISEMENT
---
---
Samsonite Hard Spinner
Available in 31″ size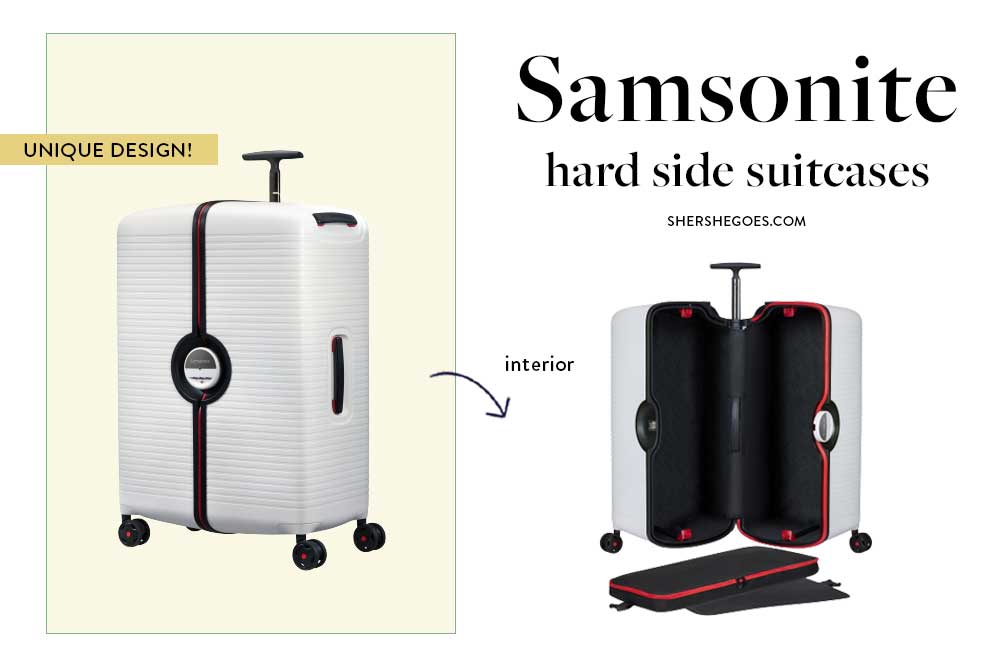 Samsonite has a great selection of hardside luggage options, which you can browse here.
I was particularly drawn to this bag though, because it's the most unique shape I've ever seen!
Typically suitcases are available in two options nowadays – a 'traditional' bag with one main compartment or a 'modern' suitcase with two equal sides that open like a sandwich (or clamshell).
Instead, Samsonite takes it to the next level!
This bag flips the script and opens up in the middle, spreading outwards vertically like an antique jewelry box.
Not only does this look cool, it also saves space because without the usual handle tubes in the back, there's more space in the interior.
The bag also has a glide-and-click compression system to maximize storage on both sides of the case.
Finally, the pull handle is integrated into the hinge so it creates even more packing capacity when the panel compresses down!
As with most bags on our list, Samsonite's hard shell also features secure zippers, an easy grasp handle and built in TSA lock.
ADVERTISEMENT
---
---
Delsey Hardside Suitcases
Available in 21″, 24″ and 28″ sizes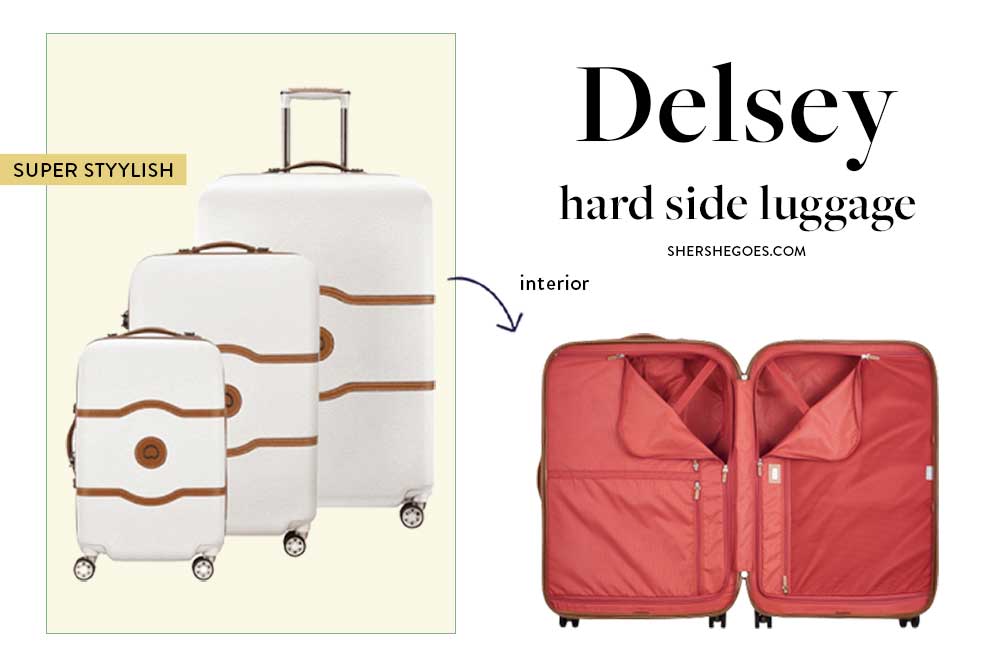 Delsey is a high quality French luggage brand.
They're one of our favorites as their suitcases are stylish, well made and really high quality! Delsey stands behind their products and offers a 10 year worldwide warranty on most of their luggage.
If you're looking for hard shell suitcases, check out these distinctive Chatelet suitcases.
These bags are really well crafted, with double spinner wheels that glide silently and smoothly. The zippers are ultra secure and feature a TSA combination lock as well as the brand's patented closing system.
Not only does it resist intrusion better than traditional zippers, it also includes a tracking plate in case your bag is ever lost. Just make sure to sign up for the free bag registration when you get it!
On the outside, the hard cases are beautifully designed, with elegant curved lines reminiscent of Paris' architecture. I especially love the leather trims and accents on the handles – it makes them look so luxurious!
And Delsey didn't skimp on the interior!
These hard suitcases feature tie down straps and two equal packing compartments with tons of mesh pockets and dividers.
I especially like that Delsey includes a shoe packing bag and laundry bag, which is rare to find from a luggage brand.
I've been a huge fan of Delsey for so long that the brand generously gave me a discount code to share with you all! Enter SHERSHEGOES at checkout for an extra 30% off here.
ADVERTISEMENT
---
---
Travelpro Hard Shell Luggage
Available in 22″, 23″, 27″ and 30″ sizes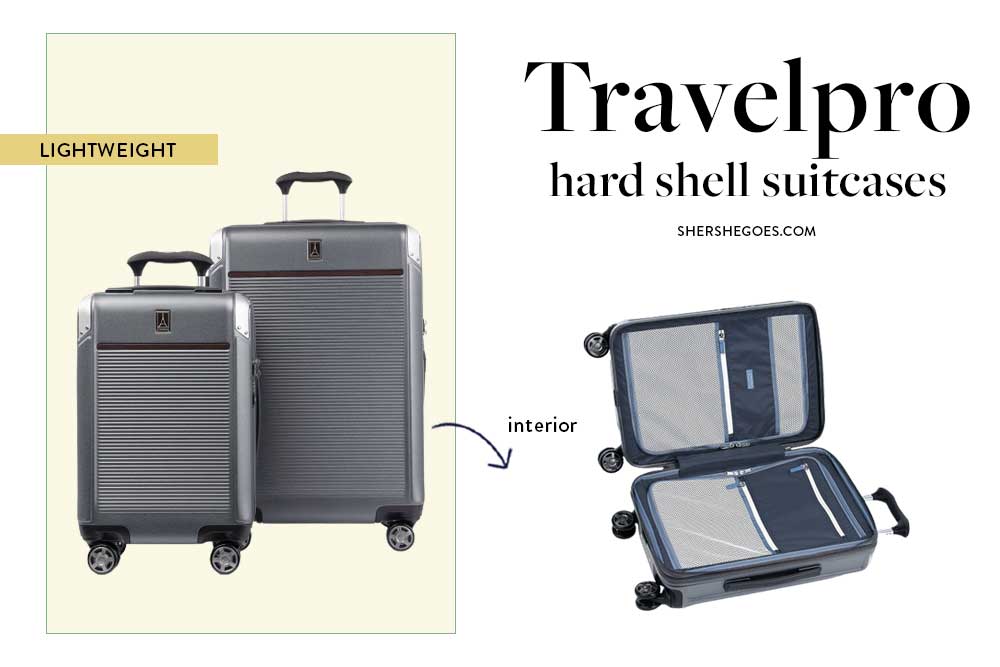 Travelpro is a fantastic luggage brand. They're one of my favorites because not only are the bags really durable suitcases, they're also highly functional!
In fact, the brand was originally created by an airplane pilot and is widely used by flight attendants because they need compact, light suitcases that can hold up flight after flight.
I have one of their soft shell bags and I love how Travelpro makes packing cube inserts that can clip in and out of the bags. But their hard shell options are equally impressive.
The Platinum Elite series is fantastic, because it blends the benefits of a soft shell with the ruggedness of a hardshell.
It has an exterior pocket that's designed to hold a laptop securely, so you can breeze through security. It's even padded for extra shock protection!
The bag handle has a nicely contoured grip and self-aligning magnetic spinner wheels for easy movement on the go.
Best of all, the polycarbonate hard shell has an ultra strong finish with aluminum corner guards to protect your stuff.
There's external USB ports to fast charge your electronics and you can even hide an external power bank in the expansion pocket.
Meanwhile, the interior opens to 2 equal compartments, both with plenty of dividers, mesh pockets and zippers for easy organization.
ADVERTISEMENT
---
---
Curious about Travelpro and want to try it out?
The brand stands behind their products with a quality assurance guarantee so you don't have to worry about damage caused by common airline carriers.
All orders on their website ship free over $99 and they even offer a 100 day free trial – no questions asked.
Having used their carry ons myself, I don't think there's anything you'll be disappointed by, but if you need to return the luggage, they'll take it back and even cover the return shipping fee.
ADVERTISEMENT
---
---
Briggs & Riley Hard Sided Luggage
Available in 21″, 22″, 27.5″, 28.5″, 30.5″ and 32.5″ sizes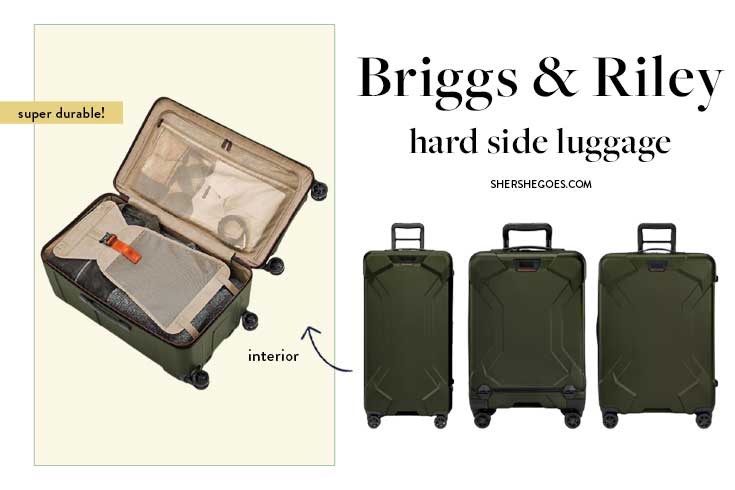 Briggs & Riley makes sleek, durable luggage and their hard side options are impressive.
The Torq hard sided collection features a rugged and sleek exterior that's tough enough to withstand the stresses of travel. I mean look at it – it's built like a tank!
The bags are built like traditional suitcases, with one deep main compartment, so that they can easily be placed on a luggage rack. Inside, there's a built in suit hook so you can keep long dresses or blazers wrinkle free.
All of the bags include the company's lifetime performance guarantee and have a convenient USB port on the side, so you can charge your phone while you wait at the airport.
I especially like how the carry on version has a hinged front pocket, so you can easily access your laptop or chargers. Most hard shell carry on bags don't have this crucial laptop pocket!
And for a stylish touch, the bag's leather name plate can be embossed with your initials for free!
ADVERTISEMENT
---
---
Tumi Luggage
Available in 22″, 27″, 30″ and 32″ sizes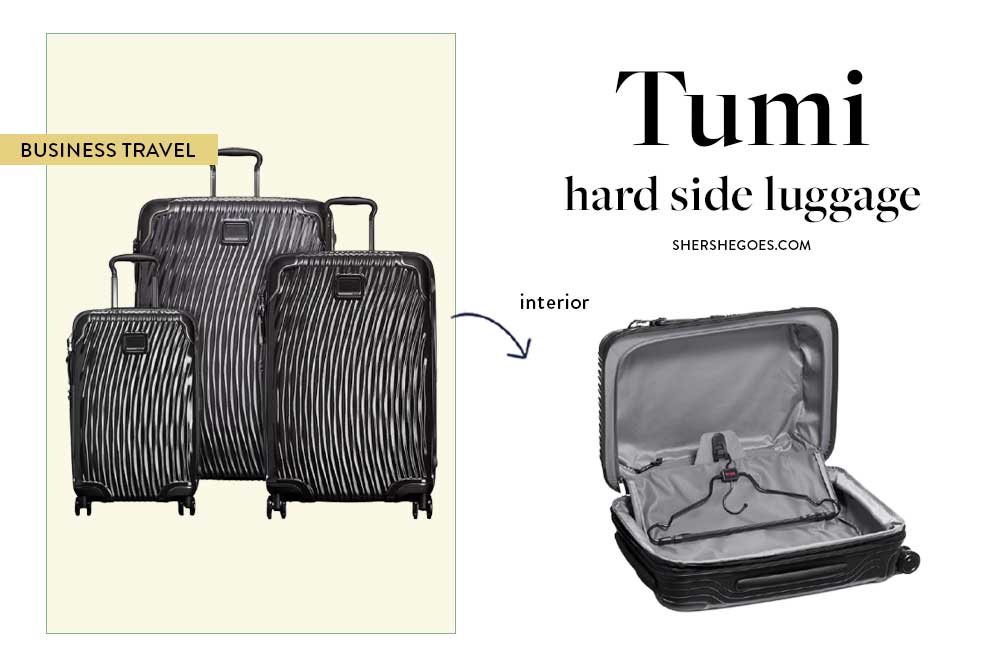 Tumi is one of the most popular luxury luggage companies, and for good reason!
The brand is known for its sleek, shiny hard case suitcases and we particularly love their Latitude line.
It's one of the brand's best sellers as it has the streamlined design and stylish aesthetic of a hard shell, but it's also expandable and light.
The carry on version can easily hold a week's worth of clothes so go ahead! Stuff it to the brim.
The hardshell bags are some of the lightest bags on the market too! Crafted from layers of aircraft-grade aluminum, the outer hard shell is tough but also flexible.
It's designed to withstand cracks, damage and all sorts of climates.
ADVERTISEMENT
---
---
Paravel Aviator Luggage
Available in 22″, 23″ and 28″ size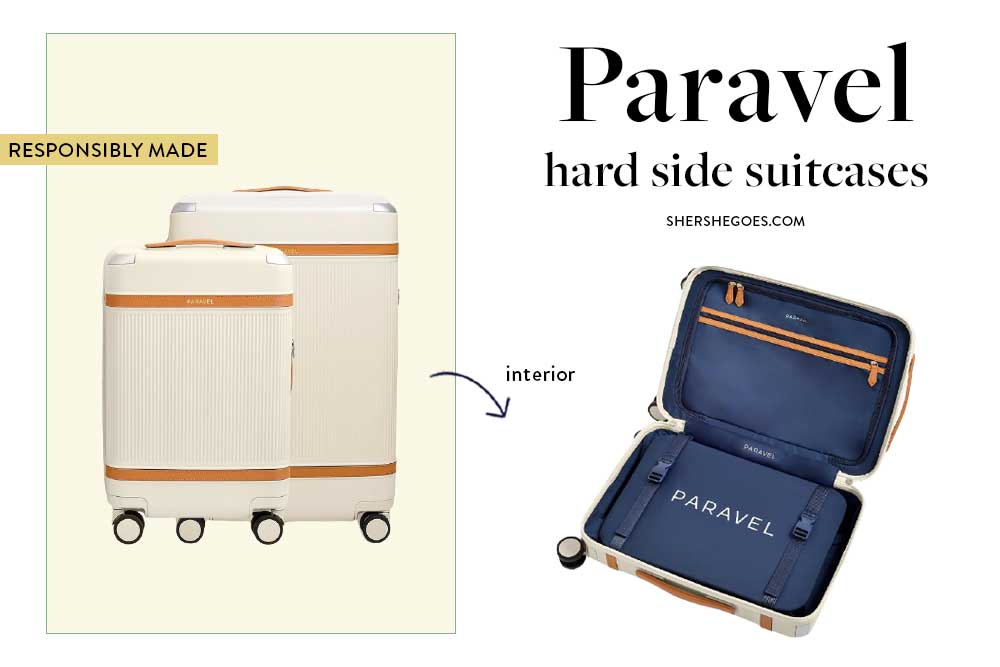 Paravel is a sustainable luggage brand.
Their timeless hard shell suitcases feature a durable recycled polycarbonate exterior and recycled zippers. The lining is made from 21 upcycled plastic water bottles and all the leather is vegan.
If you're looking for a sustainably made luggage set, check out Paravel!
Inside, there's smart pockets, compression boards and a removable accessories pouch to keep things tidy.
The company also offsets all of the carbon emissions generated from shipping and production for its large checked hard side suitcases.
ADVERTISEMENT
---
---
Shop Hard Side Suitcases
---

ADVERTISEMENT
---
---
Which is your favorite hardside luggage? Let us know in the comments!