Not sure what to bring to Japan? Read this packing checklist for useful advice, style tips and outfit suggestions for what to wear on your Japan vacation.
[ad name="728×90 First Ad"]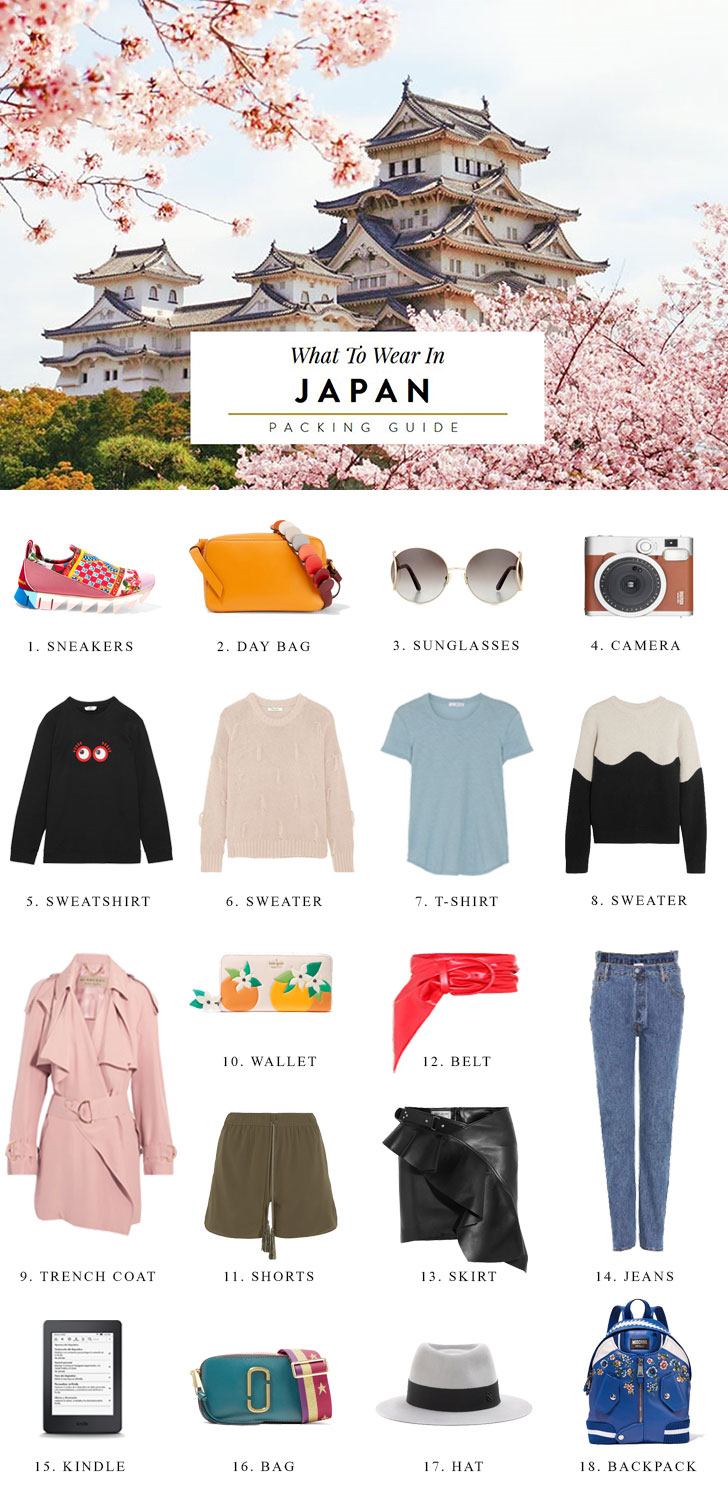 What to Wear in Japan
---
Click the icon next to each image to shop directly on the retailer page or browse via the links below. I've also linked more affordable options throughout the post. Cuban attire is casual, comfortable and classic.
1. Sneakers | 2. Anya Hindmarch Crossbody Bag | 3. Chloe Sunglasses | 4. Vintage Polaroid Camera | 5. Sweatshirt | 6. Tassle Sweater (more options here) | 7. James Perse T-Shirt | 8. Cashmere sweater | 9. Pink Silk Wrap Trench Coat | 10. Kate Spade Wallet | 11. Silk Crepe Shorts | 12. Scarf leather belt (cheap options here) | 13. Asymmetric Leather Skirt (cheaper options here) | 14. Levi's Jeans | 15. Kindle | 16. Camera Bag | 17. Felt Grey Hat (affordable options here) | 18. Embroidered Leather Backpack
Japan Packing List
Planning a Japan vacation? Here are some things you should pack for your trip!
---
---
What to Pack for Japan: Clothes
tbd
tbd
Fun day trips in Japan
---
3. Suitcase & Accessories
If you're visiting Japan for two weeks or less, I recommend bringing a rolling suitcase, just because I find it more comfortable to push luggage rather than carry on my back. I've reviewed all my favorite carry on luggage brands in this previous post here and am currently using my Delsey large suitcase.
Packing Cubes | I like to group clothing by color or function and pack each group of items snugly in their own packing cube. These are a lifesaver for keeping your suitcase organized in your hotel room and are my number 1 secret to maximizing space in just a carry on suitcase. I typically reserve one packing cube for all my worn clothes to separate the dirty stuff from my fresh clothes!
Amazon has their own inexpensive 4 piece packing cube set and several travel blogger friends swear by this set from eBags.
Toiletry Bottles | Optional, but I currently like these for shampoo and conditioner. If I know I'm staying in nice hotels, I don't always bring shampoo but I always want my conditioner. I also pack extra ziplock bags to keep toiletries and wet clothes safely contained.
Sunscreen | Japan makes some really amazing beauty products and their sunscreen is the best in the world. Don't feel like you need to bring any toiletries – you can shop till you drop in Japan! Look out for Biore in drugstores – they make my favorite sunscreen.
4. Camera & Electronics
I brought my DSLR and gear to Japan, but if you find yourself missing anything chances are Akihabara (the electronics district) in Tokyo will have it. After all, most camera manufacturers are Japanese!
Camera | I bring a professional DSLR camera and a couple lenses to shoot all the photos you see on this blog. I also bring my spare battery, battery charger and extra SD cards. To keep everything organized, I use a memory card case and a travel accessories case so the wires, chargers and small things don't get lost.
For underwater photos, I use a GoPro, backdoor floatie and dome. For video, I use a stabilizer and my iphone, along with an external battery. You can find all my gear here.
Portable Charger | Definitely a must! I currently use an iPhone 6S Plus and this Anker portable charger keeps my phone fully charged at all times. The charger is small and sleek enough to fully charge an iPhone twice. Anker has great customer service – I once bought a product off Amazon that ended up dying and they quickly sent me a replacement free of charge, so I highly recommend them!
Electric Converter | If you are abroad, you'll need a universal adapter and converter. Also pick up a travel sized power strip so you can charge your laptop, phone and everything in one go.
Read more: The Best Japan Itinerary
---
And that's it! Am I missing anything?
ADVERTISEMENT
---
---
Planning a Trip to Japan – Travel Checklist
Flights | From New York City, there are several airlines offering nonstop flights to Tokyo. Flights weren't cheap, but booking in advance helps. Browse fares for your dates here.
See | We spent two weeks traveling around Japan since it was our first time. We purchased the Japan Rail Pass since our itinerary visited multiple cities.
Purchasing the Japan Rail Pass ended up saving us quite a bit! The pass is expensive and has to be ordered in advance, so I go more depth into the pros and cons in my Japan itinerary post. 
Accommodation | Japan has tons of options – from inexpensive hostels to capsule pods to luxury 5 star hotels. We even stayed in a Buddhist temple, which was the highlight of our trip. Japan is very expensive, so book all your accommodation in advance to save. Check here for current hotel deals.
If you have a group of people or want more affordable housing browse Airbnb. It's especially great if you want the flexibility to cook! 
Insurance | Lastly, be sure to visit Japan with travel insurance. Whether your flight is delayed, you get injured and need to be hospitalized, or your phone gets stolen, travel insurance will help when you need it most! Get a quote for your trip here.
You Might Also Enjoy:
Japan Travel Guides
The Best Japan Itineraries for First Time Visitors
A 2 Week Japan Itinerary (Make the Most of a JR Pass)
How to Get Around Japan with the Shinkansen & Japan Rail Pass
What to Pack for Japan: The Ultimate Checklist
Eating in Japan
Where to Eat in Tokyo: 12 Restaurant Recommendations from a Local
Sushi for Breakfast, Really? Sushi Daiwa at Tsukiji
Delicious Bakery Treats Mont Thabor & The Park Hyatt
Is Japan Vegetarian Friendly? Here's What You Can Expect & Eat More Greens
Dessert Among Diamonds Mikimoto Lounge
How Good is Japanese Tonkatsu
Tokyo Travel Guides
Hotel Review Mornings at the Park Hyatt Tokyo
Tokyo Sights: Visiting the Imperial East Gardens
Tokyo's Most Famous Temple: Asakusa and Senso-Ji
That Time I Got Naked with Strangers... My Japanese Bathhouse Experience
Tsukiji Fish Market Pt 1 Is the Tuna Auction Worth Visiting?
Tsukiji Fish Market Pt 2 (You Woke Up Late) The Other Stalls
Kyoto Travel Guides
A Visit to Fushimi Inari Shrine in Kyoto (Memoirs of a Geisha!)
What Does It Mean to Donate a Torii Gate
Sanjusangendo Temple and the 1,000 Statues of Kannon
Follow me @Sher She Goes on