Where to Stay in Lake Como, Italy
Lake Como is one of the most beautiful places in Italy.
It's inverted 'Y' shape lake, stunning waterfront villas, and open air restaurants make it the perfect relaxing place to spend the summer. The best way to properly enjoy Lake Como is to pick an area as your home base and then take advantage of the ferries which traverse the Como villages every day.
For a complete guide to Lake Como's prettiest towns and suggestions for what to see and do, check out this article.
If you're looking to narrow down the tough decision for where to stay, keep reading!
Quickly jump to each section:
ADVERTISEMENT
Or save this article to read later by pinning it ⇟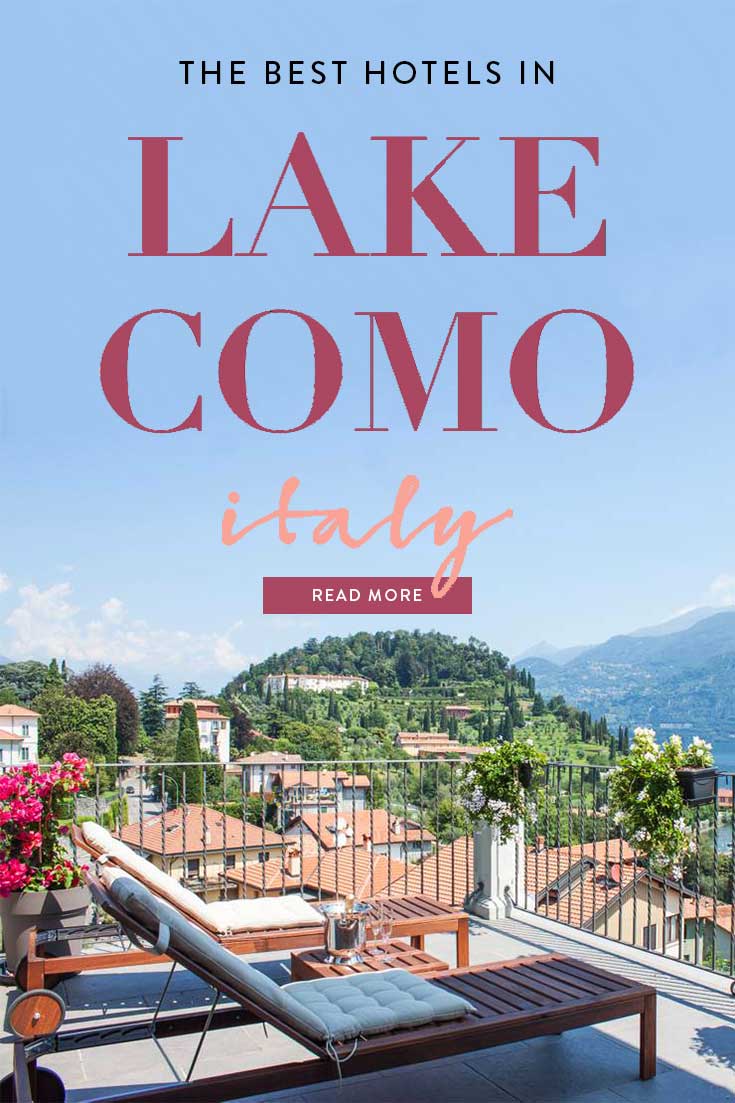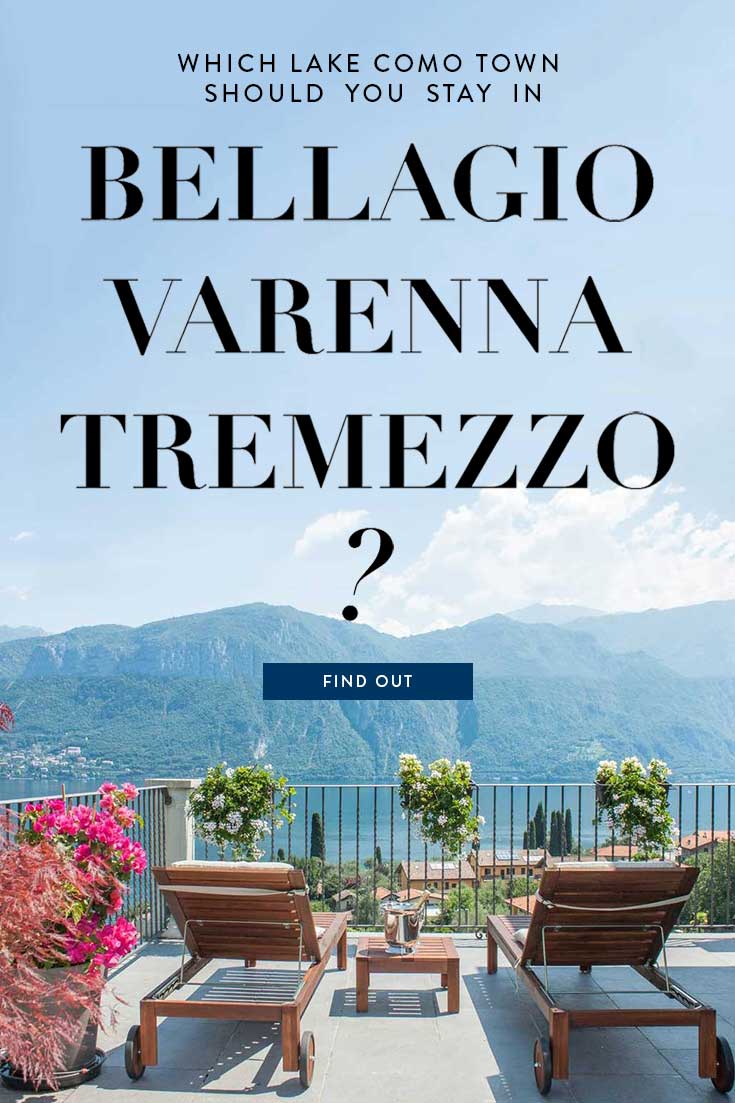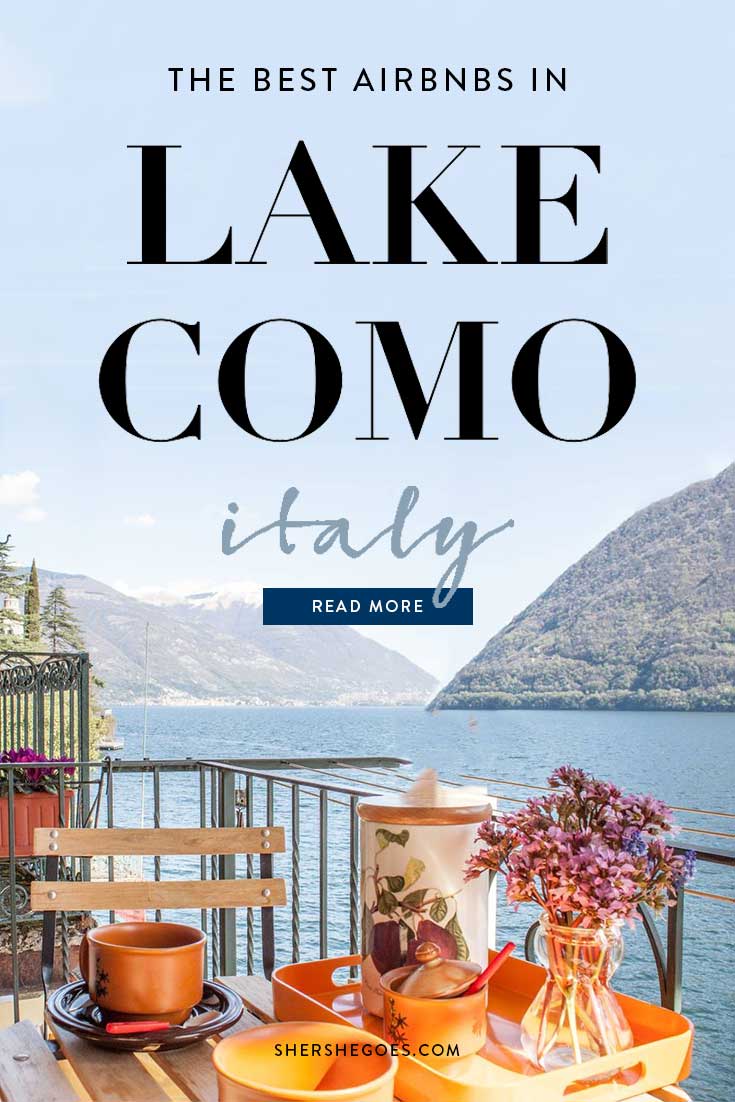 ADVERTISEMENT
---
---
What's the Best Place to Stay in Lake Como?
The best place to stay on Lake Como is subjective, but I would recommend basing yourself in Varenna, Bellagio or Tremezzo. Before you decide where to sleep, determine what you want to do: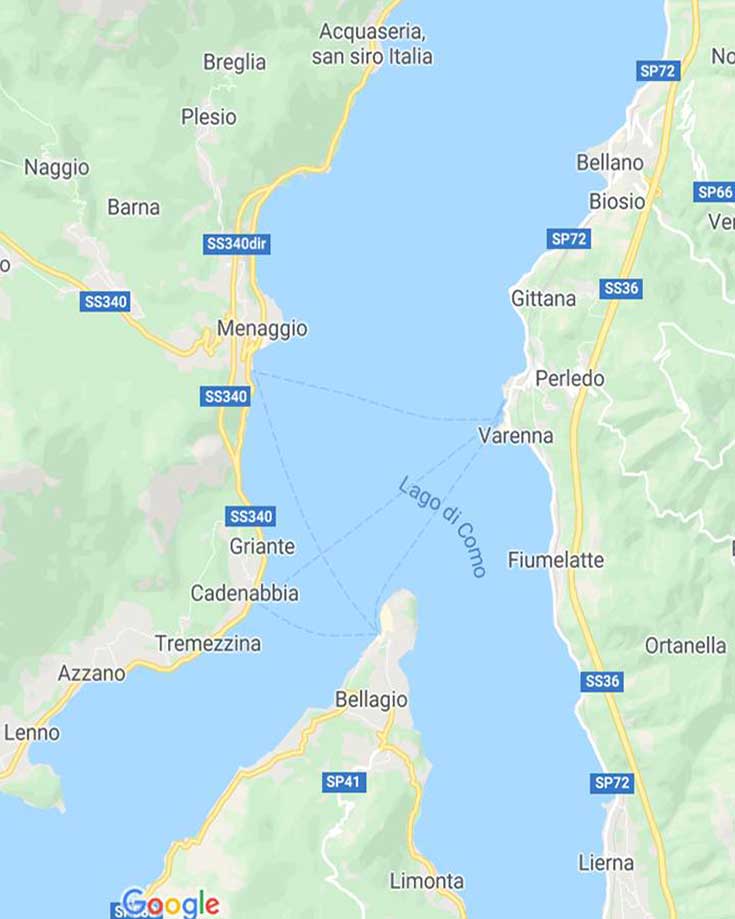 Do you want to just relax and enjoy the charm?
Opt for heavenly luxury at Tremezzo's famous Grand Hotel.
Do you want to sight see?
For example, you can explore the fabulous villa where Casino Royal and Star Wars were filmed, check out Como's medieval churches, maybe ride the funicular for aerial views…
In that case, you'll want to use the Lake Como ferry system and either Bellagio or Varenna would make more sense.
ADVERTISEMENT
---
---
Bellagio or Varenna?
These two towns are the most popular choice for travelers visiting Northern Italy.
Varenna is better connected to greater Italy, as it's the only town with a train station.
If you do decide to take the train into the Lakes, buy your tickets as early as possible to get the cheapest fare. You can find the train schedules online here.
Varenna also has a beautiful shoreline with restaurants right over the water. In the evenings, it's really beautiful to watch the sun set by the lakeside cafes and I left feeling Varenna had a gentle, lovely vibe.
Read more:
Quick Guide: Varenna
Bellagio is better connected to Lake Como's towns as ferries stop here, criss crossing the lake.
It's much more hilly, so be prepared for lots of steps, up and down. There are more restaurants and more shops here so it's bustling in the daytime and I got the vibe that old money Europeans would go wild here.
Bellagio is by far the most famous town of all the villages on Lake Como.
Read more:
Quick Guide: Bellagio
ADVERTISEMENT
---
---
How much luggage do you have?
First, make sure to bring sturdy luggage with strong wheels.
If you have lots of bags, I would recommend basing yourself in Varenna. First you have to schlep your bags from Milan to Varenna and hurry to get off the train platform (trains stop for only 1-2 minutes).
If you head onward, you then have to carry your bags through town to the ferry station and onto the crowded boats. Better yet, just leave your luggage at Milano Centrale's train lockers and bring weekend duffles or carry on backpacks!
Read more:
A Guide to Italy's Lake Region
ADVERTISEMENT
---
---
"This lake exceeds anything I ever beheld in beauty, with the exception of the arbutus islands of Killarney. It is long and narrow, and has the appearance of a mighty river winding among the mountains and the forests"
– Percy Bysshe Shelley, 1818
Where to Stay in Varenna, Italy
Varenna is the only town to have a train station with a direct route to Milan, so if you're short on time, stay in Varenna and then do day trips to the other towns along the lake. Milan is under an hour away or you could head north to Switzerland for a day trip.
Meanwhile, ferry services connect the entire region of Lake Como so if you stay in Varenna, you won't have to worry about dragging your luggage on multiple boats.
Here are the most popular hotels in Varenna that make for a great base:
1. Villa Cipressi
Villa Cipressi is located near the church, a bit higher than the waterfront so the rooms have excellent views of the lake. It's an older hotel but incredibly beautiful and the staff is great. If the restaurant is open, try it! It's known for its food.
The best part of Villa Cipressi is that guests have access to the private gardens which run along the lake. Really amazing gardens that are terraced into the village!
Book: Hotels.com, Booking.com
Check prices: TripAdvisor
2. Hotel Olivedo
This affordable hotel is right in front of the ferry terminal at Varenna, making it both convenient and fantastic for people watching! Hotel Olivedo has quieter views of the lake, a tasty restaurant, comfy lounge and decent sized rooms.
Book: Hotels.com, Booking.com
Check prices: TripAdvisor
Read more:
Follow This 7 Day Northern Italy Itinerary
ADVERTISEMENT
---
---
Where to Stay in Bellagio, Italy
Bellagio is paradise for shoppers. It's more bustling than Varenna, with lots of restaurants, ritzy luxury stores and boutiques. Stay here for more luxurious accommodation.
Here are the most popular hotels in Bellagio that make for a great base:
3. Hotel Belvedere Bellagio
Perched high on a hill, Hotel Belvedere is a landmark Bellagio hotel that's famous for its incredible pool, rooftop restaurant and stunning views of greater Lake Como. The rooms are large and airy and you're pretty much guaranteed to never want to leave!
Book: Hotels.com, Booking.com
Check prices: TripAdvisor
4. Hotel du Lac
On the flip side, Hotel du Lac is the perfect place to stay in Bellagio if you want to be in town near all the action. It's surrounded by great restaurants, boutique shops and close to the ferry so the location is truly fantastic.
Book: Hotels.com, Booking.com
Check prices: TripAdvisor
Read more:
The Prettiest Small Towns in Northern Italy
ADVERTISEMENT
---
---
Luxury Hotels on Lake Como
For a true escape to paradise or for a honeymoon or romantic escape, the spot to stay is Tremezzo.
The town of Tremezzio is dreamy, located right across the lake from Bellagio, with spectacular views and the famous Villa Carlotta. This is also where Lake Como's most famous luxury hotel is located!
5. Grand Hotel Tremezzo
Treat yourself to a room with a view over Lake Como and Bellagio. Or, splurge on one of eight rooftop suites that come with private terraces and outdoor jacuzzis!
Grand Hotel Tremezzo is a member of Luxury Hotels of the World and well worth the cost, especially if you're honeymooning in Italy or having a romantic couples getaway.
The property includes a lush garden, 3 heated swimming pools (one of which floats on the lake), and its own private beach exclusively for guests.
Book: Booking.com
Check prices: TripAdvisor
Read more:
Quick Guide: Lake Maggiore
ADVERTISEMENT
---
---
Airbnbs in Lake Como
If you're on a budget, skip the hotels and book an Airbnb.
Here, locals rent out rooms and villas on the smaller towns that surround Lake Como. Because they're off the tourist trail, rates are much cheaper, and many have still have great lakeside views!
If you have limited time in Como, say 2 days or less, I would stick with centrally located hotels in the major towns. But, if you have a week or more to spend, these are great options!
6. Brienno Apartment
This clean and comfortable apartment is located in Brienno, and has a pretty balcony that overlooks the lake. Even in peak season, it's under $200 a night! Brienno is a cute town with a tiny waterfront, lots of churches and a more local vibe.
Check availability here.
7. Como Airbnb
This quaint villa has a adorable roof terrace and is located in the old town of Carate Urio, right on the lake. The historic home is over 250 years old, but completely renovated with a large living room, open kitchen and terrace. Fits up to 4 guests and is under $150 a night in summer.
Check availability here.
8. Bellagio Airbnb
Want a million dollar view? Pick this 1930s villa that has views of Lake Como from every room, plus a private terrace. The apartment has been completely renovated with large windows to soak in the great views! This airbnb is located in Bellagio and therefore slightly pricier, at ~$250/night in peak season.
Check availability here.
ADVERTISEMENT
---
---
Where will you stay in Lake Como? Don't forget to check out the rest of our Italy travel guides below.
Visiting Italy – Trip Planning Checklist
There's so much to see and do in Italy that you can visit again and again and still discover new sights. I recommend concentrating on the big 4 cities (Rome, Venice, Milan & Florence) if it's your first time and then coming back to explore either Northern Italy or Southern Italy in more depth.
Go | Flight prices from the US to Italy are highly seasonal. You can set a fare alert here to be notified of discounts. Every fall & winter, I've seen great deals to Milan. One word of caution: avoid Alitalia at all costs!
Getting Around | A convenient way to explore Italy is via high speed train. You can search train schedules and book online here. Buy your tickets in advance to save on fares. Make sure to validate your ticket on the platform!
It also helps to speak a little Italian. Brush up on your Italian language skills with Rosetta Stone. You can take 10% off with promo code CJBT10.
Stay | Book hotels in advance to save, or check here for last minute deals. Many hotels in Italy are older so don't be surprised if even 5 star accommodation feels slightly dated. Opt for a room with a view instead of breakfast, as Italians don't eat breakfast in the same way Americans do and you'll probably be disappointed with their offering.
Alternatively, groups or budget travelers can check out Airbnb. 
Protect | Lastly, be sure to visit Italy with travel insurance. Whether you get injured and need to be hospitalized, your phone gets stolen, or a flight delay leaves you with nothing but the clothes on your back, travel insurance will help when you need it most.
A rail strike occurred during our trip, unexpectedly shutting down transportation for an entire day. Get a quote for your Italy trip here.
You Might Also Enjoy:
Italy Vacation Planning Articles
The First Timer's Guide to Italy: A Classic Itinerary
THIS is the Best Time to Visit Italy
What to Wear in Italy: A Packing Checklist
Northern Italy
The Most Beautiful Places in Northern Italy (that are still a secret!)
Headed to Northern Italy? Here's the Perfect 7 Day Itinerary
Exploring Bologna: Travel Guide
Quick Guides to: Bologna Day Trips & The Best Bologna Restaurants
Visiting Parma: The Center of Parma Ham & Cheese
7 Reasons to Explore Medieval Bergamo
Visiting Ravenna's Mosaics
Test Driving Fast Cars & Touring Car Museums in Italy's Motor Valley
Cinque Terre
Plan Your Trip: Travel Guide
How to Choose Which Village to Stay
A Blissful 3 Day Cinque Terre Itinerary
The Best Cinque Terre Airbnbs for Large Groups
Quick Guides: The Best Restaurants & Popular Hiking Trails
Inspiration: Photo Diary of the 5 Villages
The Italian Lakes
Exploring Lake Como: Travel Guide & Where to Stay
Quick Guides to: Varenna, Bellagio & Villa del Babianello
Visiting Lake Maggiore
Quick Guides to: Isola Bella & Villa Taranto
Discovering Hidden Lake Orta
Follow me @Sher She Goes on