Best Luggage for Frequent Travelers
Keep reading below for reviews on each suitcase!
ADVERTISEMENT
Business Luggage
So you're in the market for some new business travel luggage.
Maybe you're a seasoned business professional looking to upgrade an outdated piece, or maybe you're a recent college graduate finally starting to realize slinging your L.L. Bean backpack around the conference room isn't really doing you any favors with the ole CEO.
Either way, picking a new business travel piece can be difficult. Functionality is paramount, but it always helps to have a sleek and modern look too.
We've found some of the best luggage for business travel, so keep reading to learn more!
ADVERTISEMENT
---
---
Quickly jump to brand:
Keep reading, or pin this article to save it for later ⇟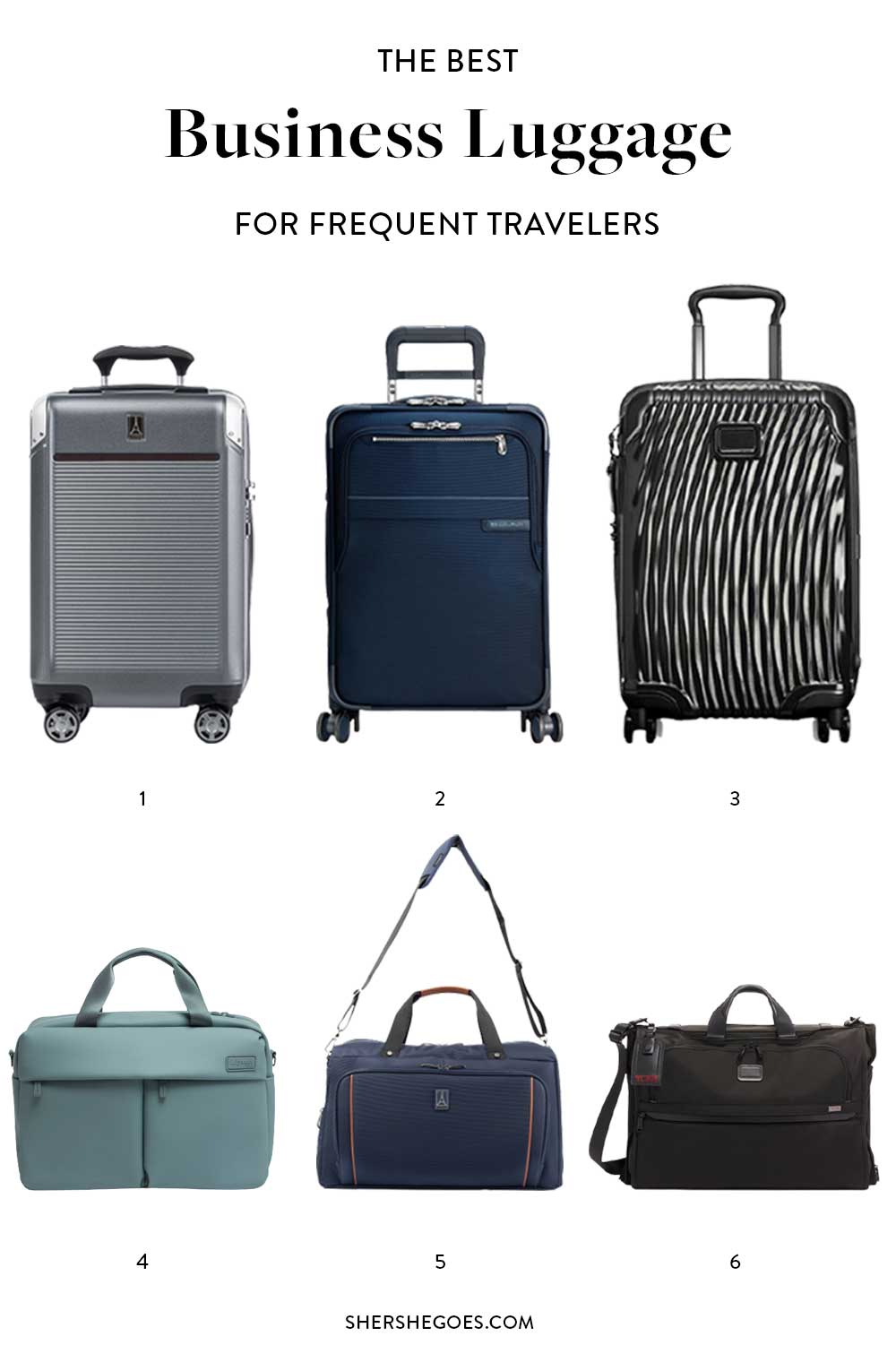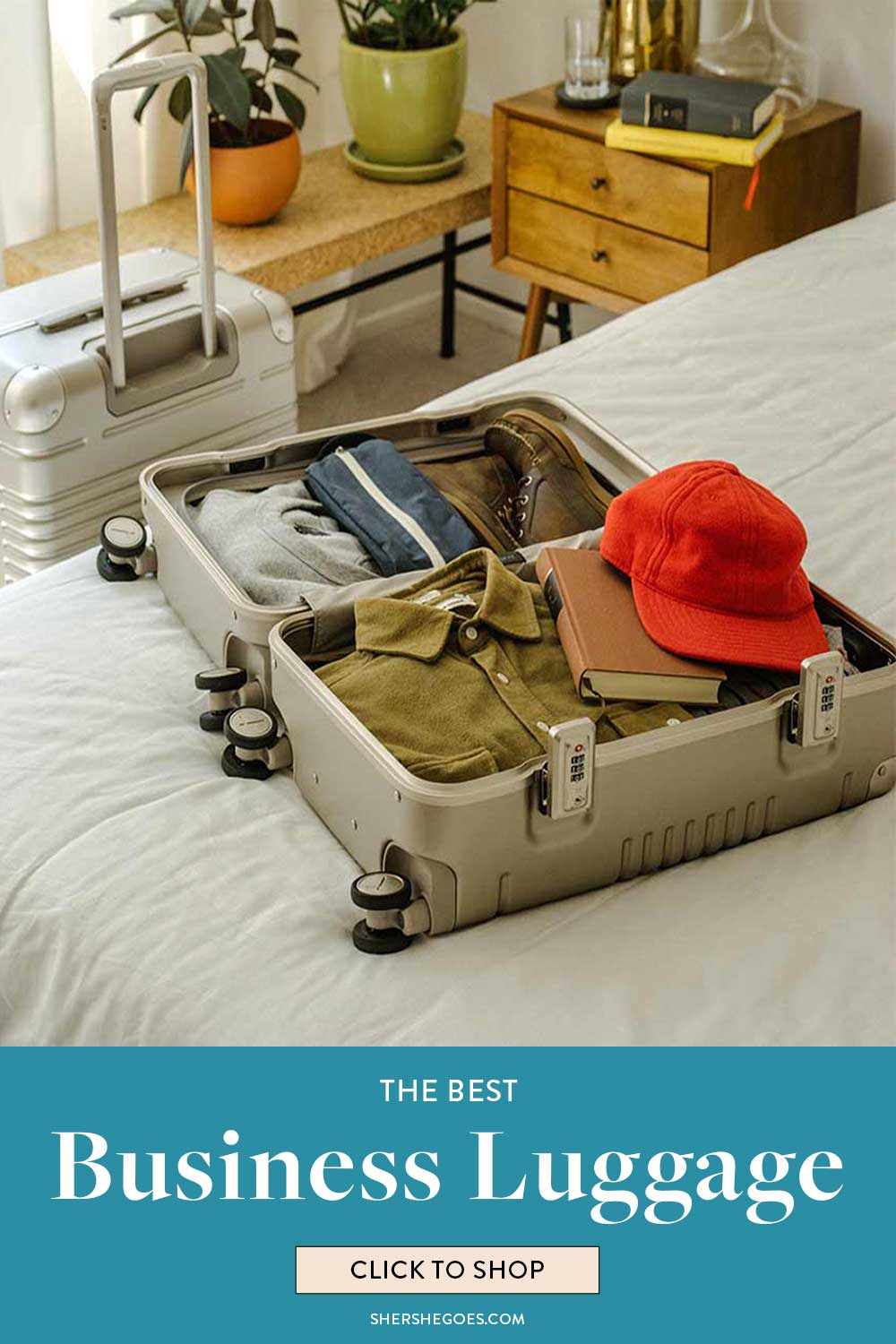 ADVERTISEMENT
---
---
Best Business Carry On Luggage
Best Softside Carry On for Business Travel: Travelpro
Dimensions: 23″ x 15.5″ x 10″
Weight: 7.9 lbs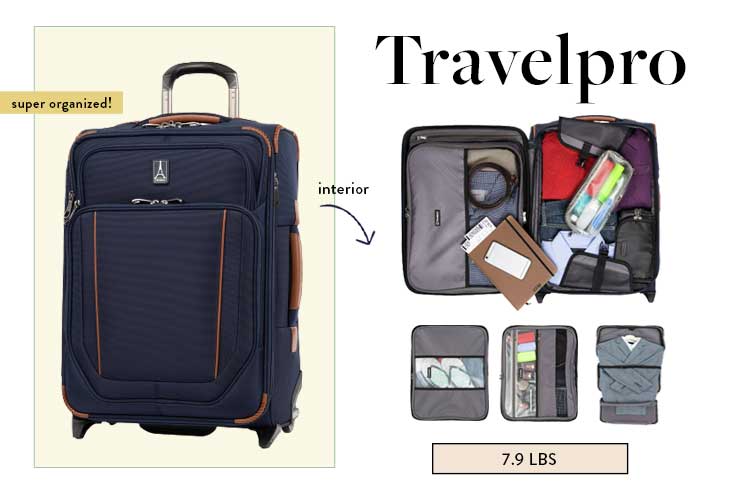 Travelpro is one of the best rated luggage brands because they make high quality, durable carry on suitcases – so well made in fact, that airline crews use it!
Their Travelpro Crew is basically the civilian version of the luggage that flight crews use and in person, you can easily see why.
The bags are made from heavy duty nylon and have extra robust corner armor with skid guards and heavy duty wheel housings. The wheels are really sturdy and easily spin in a full 360 degrees!
Inside is probably my favorite feature.
These bags are made for total packing versatility. They include a zip-in garment organizer which is perfect for storing folded shirts, so that you can arrive to your business meeting fresh off the plane, wrinkle free.
BUT you can also customize the interior, as Travelpro designed the bags to interchange with various additional organizers (sold separately). I have the suit organizer which keeps blazers, work dresses and jackets wrinkle free.
There's also a packing cube organizer to keep smaller items and accessories neat and tidy, and a laundry organizer which is great for storing damp items – say, dirty workout clothes or a wet bathing suit..
I love the dark navy color – it's sleek and discreet enough to take on business flights with the team but has stylish leather trims that keep it unique and still feminine.
Other excellent features for frequent travelers include: a removable TSA compliant toiletries bag, a built-in USB port, a dedicated exterior power bank pocket and a quick-access padded laptop pocket.
Best of all, Travelpro offers a lifetime guarantee on all their luggage and if for any reason you change your mind (which once you see the bags, you won't..) there's a 100 day free trial!
ADVERTISEMENT
---
---
Best Underseat Carry On for Business Travel: Samsonite
Dimensions: 16.5″ x 13.75″ x 9.0″
Weight: 7.0 lbs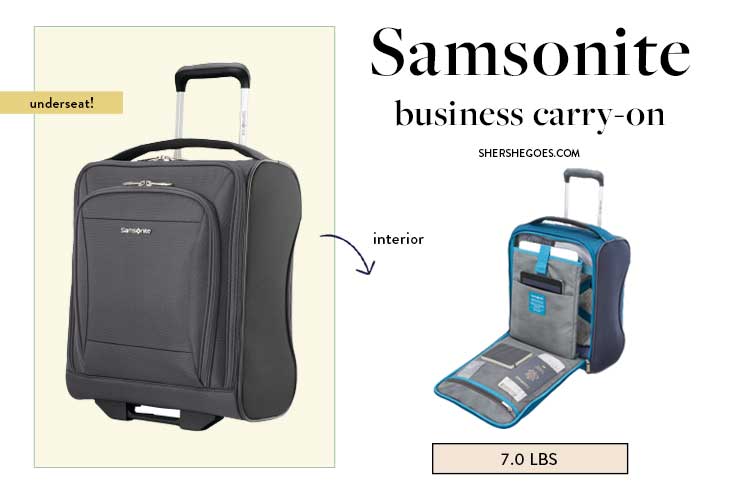 When it comes to the best carry on luggage for business travel, there are few luggage brands more storied or trusted than Samsonite.
Their underseat carry on spinner proves that Samsonite is an old dog that can be taught new tricks when it comes to modern luggage for business travel!
It's super compact and easily fits under airplane seats, so you don't have to hope and pray there's enough overhead bin space.
The main compartment is spacious, but still has a padded laptop compartment. Then there's a quick-stash exterior pocket for any items you need on hand.
Like any essential carry on suitcase, the Samsonite features multi-directional spinner wheels that roll upright, making it easier to navigate tight spaces in the airport without straining your arm or back.
Add textured wear-and-tear protective guards and a water-resistant coating, and you've got a hardy suitcase that can withstand any business trip from New York to California!
ADVERTISEMENT
---
---
Most Lightweight Business Carry On Luggage: Tumi
Dimensions: 22″ x 14″ x 9″
Weight: 6.3 lbs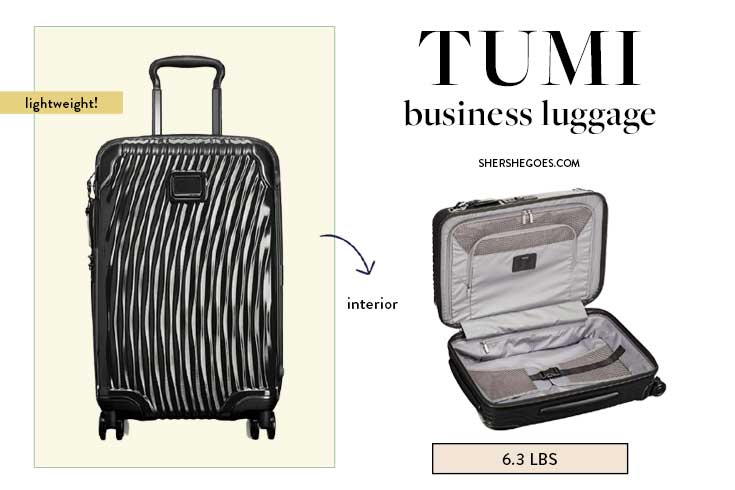 Tumi makes an incredibly lightweight hardcase that's perfect for frequent fliers.
Their hardshell carry-on is super tough and durable, thanks to layers of specially woven ballistic polycarbonate. But at the same time, the outer shell can bend and flex, so it won't crack or break!
Inside there are two packing compartments with a hanger bracket to neatly fold up your suits. The bag has 4 lightweight spinner wheels that glide super smoothly and an integrated TSA lock.
This is one bag that's perfect for domestic or international business trips!
ADVERTISEMENT
---
---
Best Expandable Business Carry On Suitcase: Briggs & Riley
Dimensions: 22″ x 14″ x 9″
Weight: 9.3 lbs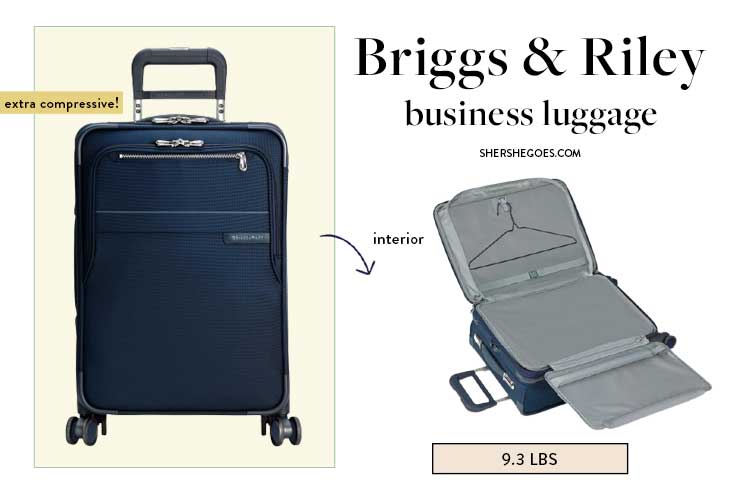 Briggs & Riley makes some of the best business luggage.
Their rolling carry on has 4 spinner wheels that glide effortless in 360 degrees. The bag is made from durable ballistic nylon, so it can withstand rain, sun, dirt and being thrown about!
The best part of the bag is its interior.
Briggs & Riley designed this carry-on spinner with a compression expansion system that squeezes down all your stuff to increase packing capacity.
There's also mesh garment panels inside to minimize wrinkles, which is important for suits and business clothes!
For well made, high-quality luggage, get Briggs & Riley! It's like the Bentley of suitcases.
ADVERTISEMENT
---
---
Best Aluminum Carry On for Business Travel: Arlo Skye
Dimensions: 23″ x 15″ x 9.6″
Weight: 10.5 lbs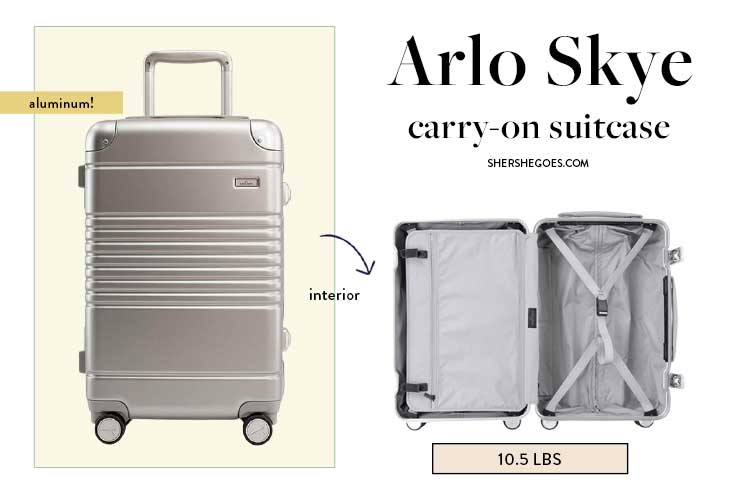 Looking for an aluminum frame carry on?
You'll love this sleek and sexy option from Arlo Skye.
It's a roomy carry on with full grain leather handles, whisper quiet wheels and an anti-microbial interior lining.
There's a removable charger to re-charge your phone quickly, and a theft-proof zipperless frame with TSA clasps.
Aluminum does show some nicks and dings over time, but it's easier to keep pristine as a carry-on suitcase!
ADVERTISEMENT
---
---
Best Tote Bag for Women: Lipault
Dimensions: 11.5″ x 17.3″ x 9.8″
Weight: 2.8 lbs
ADVERTISEMENT
---
---
Best Rolling Garment Bag: Travel Select
Dimensions: 23″ x 22″ x 7″
Weight: 9.3 lbs
ADVERTISEMENT
---
---
Best Rolling Briefcase: Ciao
Dimensions: 15″ x 14″ x 9″
Weight: 4.0 lbs
ADVERTISEMENT
---
---
Best Wheeled Business Backpack Carry On: Amazon
Dimensions: 19.3″ x 13.4″ x 9.5″
Weight: 5.1 lbs
ADVERTISEMENT
---
---
Best Carry On Garment Bag: Zegur
Dimensions: 23"x 22"x 4"
Weight: 3 lbs
ADVERTISEMENT
---
---
Shop Luggage for Business Travel
---
ADVERTISEMENT
---
---

Must Have Accessories for Carry On Luggage
Laptop Case
I always bring my laptop on work trips so I can stay productive on flights. I've found a laptop sleeve is crucial to protect the outside of my laptop from scratches.
This one holds up to 15″ laptops so I think it's pretty useful! If you prefer a laptop sleeve with a handle strap, this laptop case is essentially the same thing but more portable. It comes in 4 colors so you can jazz it up.
For mac book users, my friends swear by this laptop case, which is multi-functional enough to work for iPad pros and chrome books as well as spill proof. It comes in a wide range of sizes and colors to suit whatever device you're trying to protect!
Packing Cubes
Once you get a packing cube set, you'll never go back to free range luggage.
Packing cubes help maximize space inside your luggage by neatly organizing clothing and separating your dirty worn clothes from freshly laundered ones.
Amazon carries a wide range of packing cube sets and brands
ADVERTISEMENT
---
---
Read More   in my travel packing checklist series:
Best Travel Luggage
The Best Carry on Luggage for 2021
The Best Packing Cubes for a Perfectly Organized Bag
The Best Lightweight Luggage for Overpackers
The Best Hard Luggage Sets for Stylish Travelers
The Best Underseat Luggage for Minimalists
The Best Carry On Bags for Men - Rugged + Durable!
Business Travel
The Essential Business Packing List
The Best Business Travel Luggage
The Best Laptop Cases for Working Women
The Best Laptop Bags for Men
Packing Hacks
The Best Travel Wallets for All Your Vacation Essentials
The Best Jewelry Cases Never Untangle a Necklace Again!
The Best Toiletry Bags to Clean Up Quick
Travel Packing Lists
The Best Travel Jackets for All Types of Weather
The Best Duffel Bags for Your Next Weekend Trip
The Best Travel Backpacks to Hold Everything You Need
Follow me @Sher She Goes on