Thank you to Zappos for sponsoring this post.
Best Luggage for Frequent Travelers
Best Softside Carry On for Business Travel: Travelpro
Most Lightweight Business Carry On Luggage: Tumi
Best Expandable Business Carry On Suitcase: Briggs & Riley
Best Business Tote Bag for Women: Lipault
Keep reading below for reviews on each suitcase!
ADVERTISEMENT
Business Luggage
So you're in the market for some new business travel luggage.
Maybe you're a seasoned business professional looking to upgrade an outdated piece, or maybe you're a recent college graduate finally starting to realize slinging your L.L. Bean backpack around the conference room isn't really doing you any favors with the ole CEO.
Either way, picking a new business travel piece can be difficult. Functionality is paramount, but it always helps to have a sleek and modern look too.
We've found some of the best luggage for business travel, so keep reading to learn more!
ADVERTISEMENT
---
---
Keep reading, or pin this article to save it for later ⇟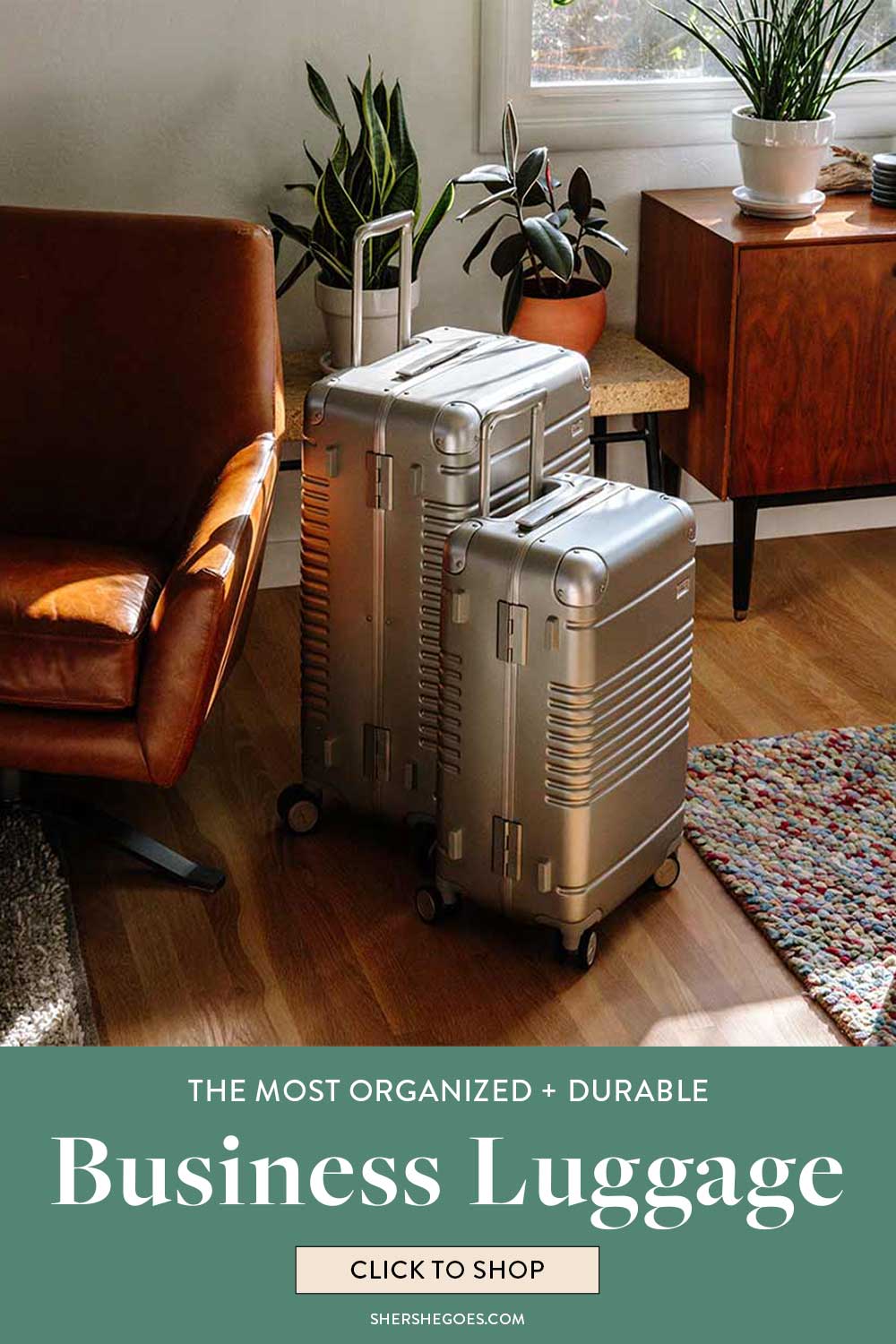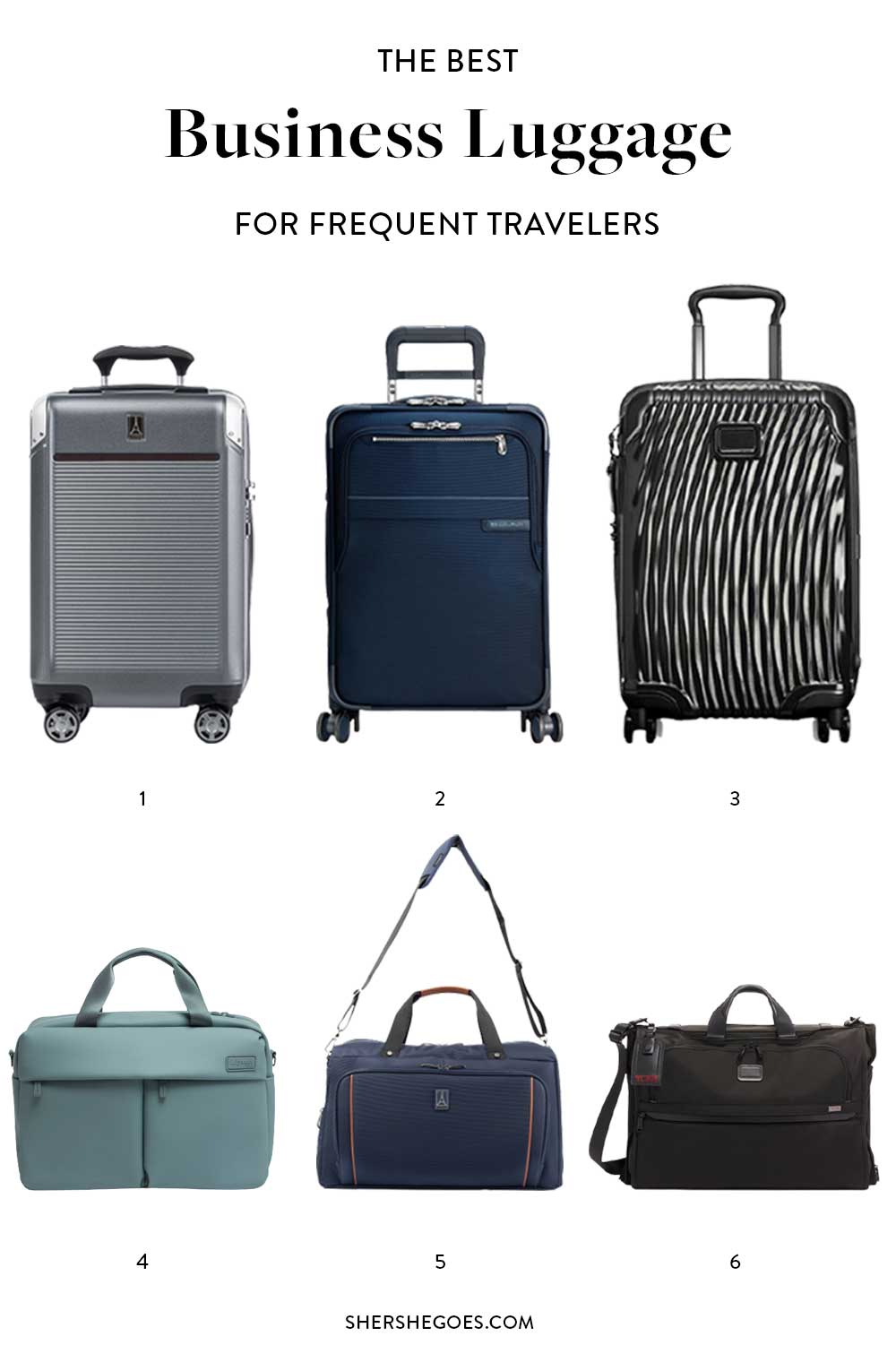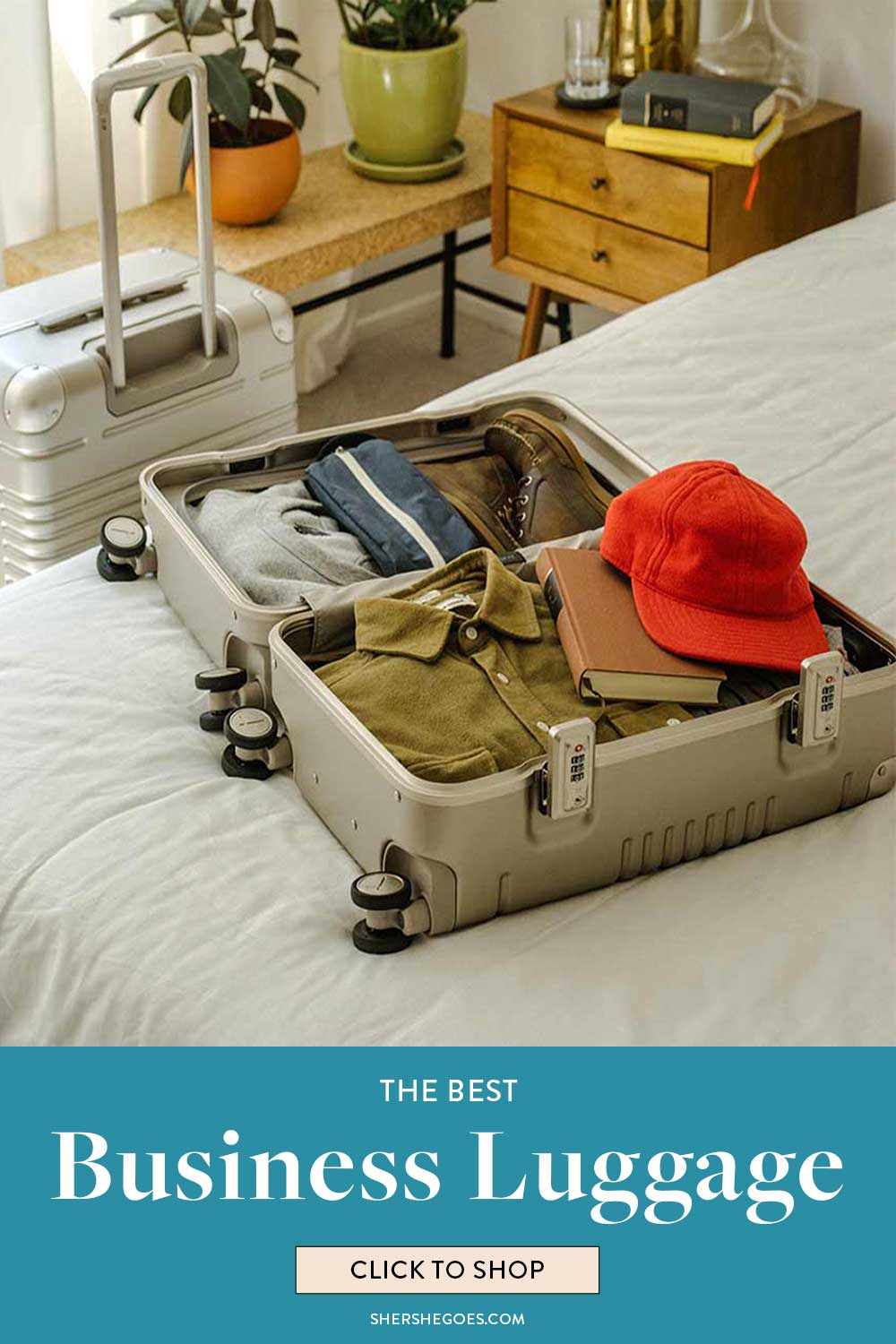 Flying in 2021
Before you hop on a plane, make sure to bring along a face mask!
Face masks are still required on all flights in the US, regardless of vaccination status. These Atoms everyday masks are a really comfortable option, especially on long haul flights, as they're made from a lightweight and breathable polyester.
Best of all, they sit high up enough on the nose to tuck under glasses so you can breathe easier without fogging up your vision!
ADVERTISEMENT
---
---
Best Business Carry On Luggage
Best Softside Carry On for Business Travel: Travelpro
Dimensions: 23″ x 15.5″ x 10″
Weight: 7.9 lbs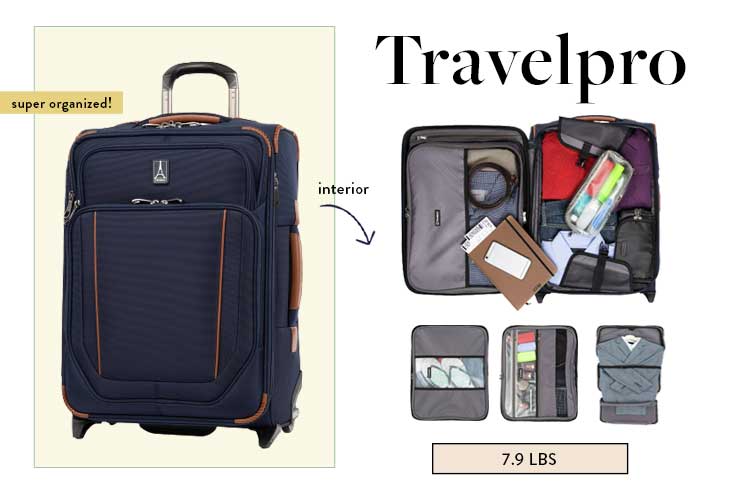 Travelpro is one of the best rated luggage brands because they make high quality, durable carry on suitcases – so well made in fact, that airline crews use it!
Their Travelpro Crew is basically the civilian version of the luggage that flight crews use and in person, you can easily see why.
The bags are made from heavy duty nylon and have extra robust corner armor with skid guards and heavy duty wheel housings. The wheels are really sturdy and easily spin in a full 360 degrees!
Inside is probably my favorite feature.
These bags are made for total packing versatility. They include a zip-in garment organizer which is perfect for storing folded shirts, so that you can arrive to your business meeting fresh off the plane, wrinkle free.
BUT you can also customize the interior, as Travelpro designed the bags to interchange with various additional organizers (sold separately). I have the suit organizer which keeps blazers, work dresses and jackets wrinkle free.
There's also a packing cube organizer to keep smaller items and accessories neat and tidy, and a laundry organizer which is great for storing damp items – say, dirty workout clothes or a wet bathing suit..
I love the dark navy color – it's sleek and discreet enough to take on business flights with the team but has stylish leather trims that keep it unique and still feminine.
Other excellent features for frequent travelers include: a removable TSA compliant toiletries bag, a built-in USB port, a dedicated exterior power bank pocket and a quick-access padded laptop pocket.
ADVERTISEMENT
---
---
Most Lightweight Business Carry On Luggage: Tumi
Dimensions: 22″ x 14″ x 9″
Weight: 6.3 lbs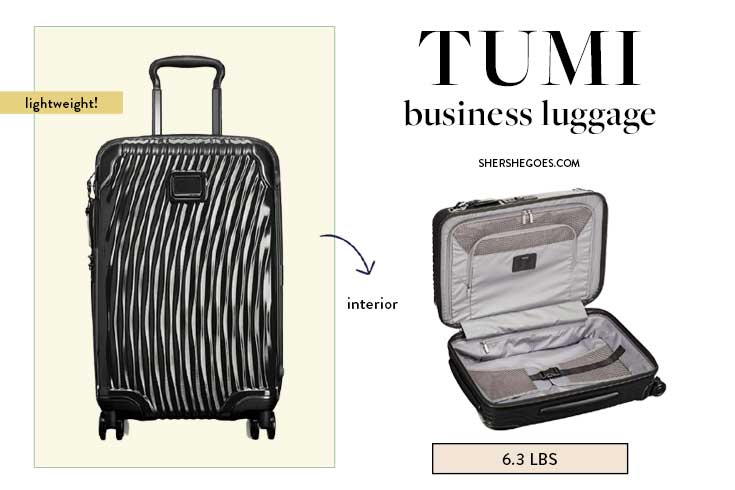 Tumi makes an incredibly lightweight hardcase that's perfect for frequent fliers.
Their hardshell carry-on is super tough and durable, thanks to layers of specially woven ballistic polycarbonate. But a the same time, the outer shell can bend and flex, so it won't crack or break!
Inside there are two packing compartments with a hanger bracket to neatly fold up your suits. The bag has 4 lightweight spinner wheels that glide super smoothly and an integrated TSA lock.
This is one bag that's perfect for domestic or international business trips!
Tumi International Carry On Suitcase
Available on Zappos
ADVERTISEMENT
---
---
Best Expandable Business Carry On Suitcase: Briggs & Riley
Dimensions: 22″ x 14″ x 9″
Weight: 9.3 lbs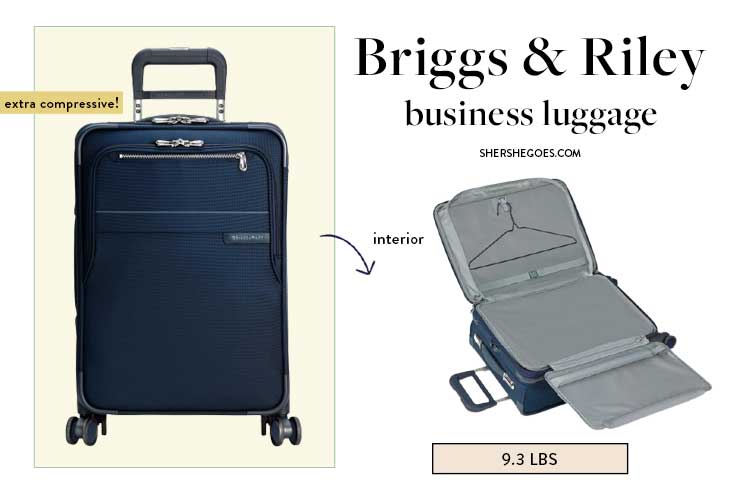 Briggs & Riley makes some of the best business luggage.
Their rolling carry on has 4 spinner wheels that glide effortless in 360 degrees. The bag is made from durable ballistic nylon, so it can withstand rain, sun, dirt and being thrown about!
The best part of the bag is it's interior.
Briggs & Riley designed this carry-on spinner with a compression expansion system that squeezes down all your stuff to increase packing capacity.
There's also mesh garment panels inside to minimize wrinkles, which is important for suits and business clothes!
For well made, high-quality luggage, get Briggs & Riley! It's like the Bentley of suitcases.
ADVERTISEMENT
---
---
Best Tote Bag for Women: Lipault
Dimensions: 11.5″ x 17.3″ x 9.8″
Weight: 2.8 lbs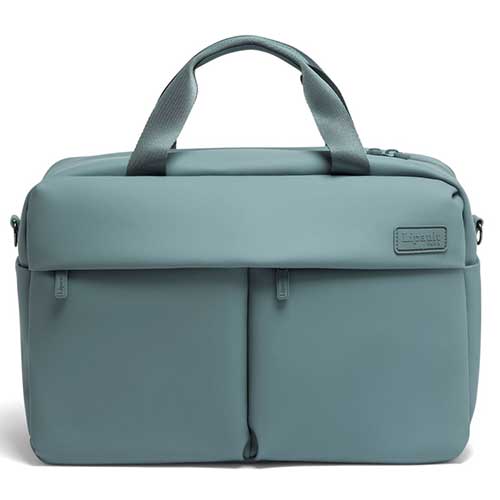 Lipault makes a fantastic personal bag for business women.
Their 24 hour bag is lightweight, simple and functional. It has a long removable shoulder strap and roomy main compartment that can easily fit a couple day's worth of clothes and a pair of shoes or two.
There's a smart sleeve in the back to slip it over your carry on suitcase and two exterior zipped pockets for quickly accessing your must-haves.
Finally there's a laptop compartment so you can smoothly get through TSA!
And when not in use, the soft plush-y bag folds flat for easy storage. Best of all, the nylon is extremely hard wearing and durable, and will resist dust, dirt and scratches.
ADVERTISEMENT
---
---
Read More   in my travel packing checklist series:
Best Travel Luggage
The Best Carry on Luggage for 2021
The Best Packing Cubes for a Perfectly Organized Bag
The Best Lightweight Luggage for Overpackers
The Best Hard Luggage Sets for Stylish Travelers
The Best Underseat Luggage for Minimalists
The Best Carry On Bags for Men - Rugged + Durable!
Business Travel
The Essential Business Packing List
The Best Business Travel Luggage
The Best Laptop Cases for Working Women
The Best Laptop Bags for Men
Packing Hacks
The Best Travel Wallets for All Your Vacation Essentials
The Best Jewelry Cases Never Untangle a Necklace Again!
The Best Toiletry Bags to Clean Up Quick
Travel Packing Lists
The Best Travel Jackets for All Types of Weather
The Best Duffel Bags for Your Next Weekend Trip
The Best Travel Backpacks to Hold Everything You Need
Follow Sher She Goes on
Youtube | Instagram | Facebook | Twitter | Pinterest | Bloglovin