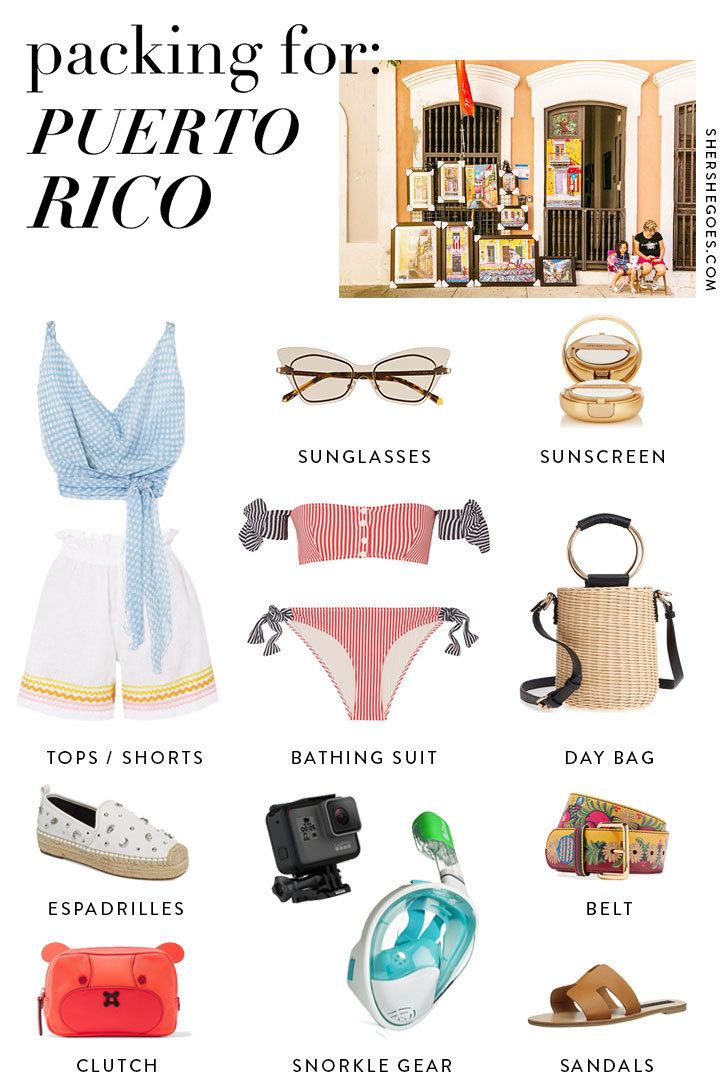 What to Pack for Puerto Rico
We visited Puerto Rico last winter and had a fantastic time. The island is rapidly recovering and looking for tourism dollars to help the economy so we would highly recommend visiting! You can read all our Puerto Rico travel guides here.
We stayed in Old San Juan for a week, with a couple day trips to the nearby islands. Here's a look at what to wear in Puerto Rico with some outfit suggestions and packing ideas.
ADVERTISEMENT
---
---
Puerto Rico Packing List
1. Colorful Summer Clothes
I packed a mix of dresses, long shirts and breathable tops. My favorite places to shop for summer clothes are Nordstrom, Shopbop, Revolve, H&M, Uniqlo and Mango.
If you're spending most of your time at your resort or on the beach, opt for sundresses and bikins. We really liked the vibe of Old Town San Juan so we spent most of our time sightseeing.
2. Swimsuits
Pack a couple suits for lounging around on the beach and water activities. Puerto Rico is blessed with beautiful waterfalls and soft, sandy beaches and our day trip to Culebra in particular was stunning!
My go-to stores for bathing suits (both one pieces and bikinis) are Revolve, Nordstrom, Everything But Water, Abercrombie and Shopbop. They always carry the best range of colors and styles in every price range. I like to pack a mix of one piece swimsuits and bikinis that cover up but still have cut outs and color.
The sun is strong in the Caribbean and I like to bring both a facial sunscreen and all over body sunscreen. For the face, this Japanese brand is my hands down favorite – it's non greasy, affordable and non-tacky without any scent. For the body, I love this broad spectrum sunscreen which smells like coconuts and leaves your legs nice and glowey.
ADVERTISEMENT
---
---
3. Comfortable Walking Shoes
Pack a couple sandals, flip flips and maybe a comfy sneaker for heavy walking days. Old San Juan has cobblestone streets and some slight hills. The beaches in Puerto Rico had very soft sand so you could go barefoot or wear water shoes.
For loafers & moccasins, you can't beat the quality of M.Gemi flats. I also love this pair from Jack Rogers. For a fashionable sneaker I love Golden Goose and Adidas while for slip on sneakers I like these Uggs and Dr. Scholl's. You can check out my top picks for travel shoes here.
4. Accessories
Hat | Bring a wide brimmed hat to protect yourself from the sun!
Aloe Vera | Sunburns inevitably happen and aloe vera gel is the key to relieve any pain. Currently I'm using this organic version made from cold pressed aloe.
Lip Balm with SPF | An absolute must have to avoid chapped lips! I have extremely dry lips so I swear by French brand Aquaphor.
Bug Spray | There are definitely mosquitoes and bugs around so protect yourself from any potential viruses by bringing along some bug spray in advance. Look for a high level of deet in order to be effective and just make sure to wash your hands with soap and water after applying.
I use this spray if I'm in the woods or a forested area but for regular day time use, I've been loving these wrist bands. The bracelets contain a blend of insect repelling oil so you don't have to apply bug spray directly on your skin. I usually get 2 – one for my wrist and one for the ankle otherwise the range of coverage doesn't seem to extend across the full body.
Snorkel Gear | If you love water sports and are thinking of snorkeling, pack your own. It's much cheaper to buy an inexpensive set off Amazon than to rent… not to mention more sanitary. I got this inexpensive snorkel set off Amazon, which comes with its own waterproof bag for easy transport.
Lightweight Beach Towel | Typically hotels will provide towels but I like to bring a small, light weight towel of my own just in case. This is my favorite as it's made of microfiber and dries quickly – perfect for those times when you only stay overnight in a hotel.
ADVERTISEMENT
---
---
5. Lightweight Luggage
Carry On Suitcase | Casco Viejo has old, cobblestone streets so I recommend a durable yet lightweight suitcase, preferably carry on only.
Packing Cubes | I swear by packing cubes! Once you try them, you'll wonder how you ever did without. These cubes will keep your clothes organized and your suitcase tidy. I keep one pouch for undies, one for dirty clothes and then group outfits in the other cubes.
This inexpensive 4 piece packing cube set has nearly 6,500 glowing reviews while several travel blogger friends swear by this set from eBags. Personally I use a set from CalPak which I love. They're machine washable for easy cleaning and if you have CalPak luggage – they're perfectly sized for their carry on luggage pieces!
Travel Bottles | I use these bottles for shampoo and conditioner – you can use them to store anything, even skincare products. I also love this inexpensive yet stylish jewelry case to organize earrings, necklaces and any small items like bobby pins + hair ties!
6. Camera, Chargers & Travel Gear
Camera & Lenses | I bring a professional DSLR camera and a couple lenses to shoot all the photos you see on this blog. I also bring my spare battery, battery charger and extra SD cards. To keep everything organized, I use a memory card case and a travel accessories case so the wires, chargers and small things don't get lost.
For underwater photos, I use a GoPro, backdoor floatie and dome. For video, I use a stabilizer and my iphone, along with an external battery. You can find all my gear here.
ADVERTISEMENT
---
---
Shop Puerto Rico Outfits

ADVERTISEMENT
---
---
Visiting Puerto Rico – Travel Checklist
Many U.S. airlines offer daily, direct flights from select US cities. We flew Jet Blue from New York City's JFK airport. Puerto Rico is offering cheap flights to encourage visitors to the island – you can set an alert flight deals here.
Traveling to Puerto Rico as an American citizen is incredibly convenient. All you need is your license, no passport required, as the island is a U.S. territory. Likewise, no need to bring a travel adapter, exchange currency or purchase a SIM card. American phones, dollars and plugs work just fine throughout the island.
As a result of Hurricane Maria, life in Puerto Rico has changed. We visited in mid January 2018 and found that electricity was up and running throughout the capital of San Juan. Select hotels and restaurants are open; we've listed the hotels we visited and used here. Check here for great deals on accommodation.
Lastly, be sure to visit Puerto Rico with travel insurance. Whether you get injured and need to be hospitalized, your phone gets stolen, or a flight delay leaves you with nothing but the clothes on your back, travel insurance will help when you need it most. Get a quote for your trip here.
You Might Also Enjoy:
Puerto Rico Vacation Planning Articles
Planning a Trip to San Juan: 1 Week Puerto Rico Itinerary
A Neighborhood Guide to Where to Stay in Puerto Rico
THIS is the Best Time to Visit Puerto Rico
Packing Checklist: What to Wear in Puerto Rico
Puerto Rican Sights, Activities & Tours We Especially Enjoyed:
9 Incredible Sights in San Juan You Simply Can't Miss
Puerto Rico Day Trips You Need to Take!
Where to Eat in Puerto Rico: 6 Restaurants to Try!
Follow me @Sher She Goes on