Amazon Prime Day
Amazon Prime Day kicks off today.
Like almost everything else this year, even the sales are out of flux. I'm not complaining, it's actually better that the sale day is taking place during the holiday season.
I've found a couple stand out deals from Prime Day on things I already own and love, as well as some new gadgets I've had my eye on.
Here's everything work checking out on Prime Day 2020!
ADVERTISEMENT
What to Expect from Prime Day
Amazon Prime Day is a bit of a mixed bag – you have deals on electronics.. and deals on toilet paper. While it's not a sale to go gaga over, I actually I like the mix of splurge and everyday items – no buyer's remorse that way and it feels like wasteful to stock up on household things you'll actually use.
Amazon typically offers the best deals on their own products, so it's a great time to pick up a Fire TV, Kindle and Alexa if you've been wanting one.
Here's 5 things to know about this year's Prime Day:
Prime Day starts at 12 a.m. PST on Tuesday, July 13.
Like last year, it will run for 48 hours
But, individual deals will run in and out of sale, depending on quantity + time
To participate, you'll need to have Prime. Grab a 30-day free trial at amazon.com/primeday
My favorite category (and the most popular, hands down) is Home & Garden
Here are the best Prime Day deals so far.
ADVERTISEMENT
---
---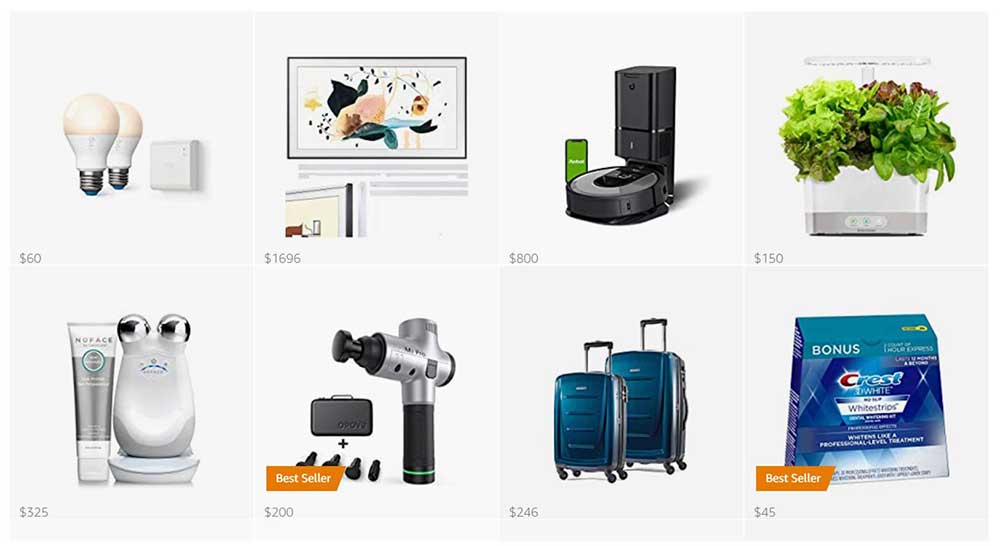 I'll be updating my Amazon storefront here with deals as they come and go!
40% off for Prime Day
The Aerogarden Harvest model is 40% off! I feel like I've raved about this thing for a year now (ha) but it's because I really love it. It's a hydroponic gardening system that allows you to grow herbs, salad greeds, tomatoes or anything really, indoors.
Because it has strong LED lights and self waters, you really don't have to do anything and your plants will shoot up practically overnight.
I have a more in-depth review post here and even made a Youtube video about it here, that's how much I recommend the Aerogarden!
10% off for Prime Day
Samsung came out with probably the coolest TV ever – it looks like a picture frame of art when not in use.
The Frame TV is usually never on sale, so if it's something you've had your eye on, Prime Day is a good time to pull the trigger.
30% off for Prime Day
It feels like everything in our homes can be "made smart" these days. At first, I'll admit I thought smart bulbs were a gimmick.
Smart Lights can be remotely programmed to let you turn your lights on and off from your phone – which is perfect if you have kids or a forgetful roommate/significant other that's always neglecting to shut the lights.
They also carry a full color spectrum of light, so you can create a disco in your room. More practically, you can program them to create cool blue light (to help you focus during work hours) or warm yellow light (to help you wind down and get ready to sleep).
I've installed smart bulbs in my bedroom ceiling light and programmed them to gradually brighten in the mornings as a sunrise clock (more on how to do that in this post)!
50-60% off for Prime Day
Two of my favorite carry on luggage brands are part of the Prime Day sale: Samsonsite and Travelpro. Samsonite makes affordable, sleek suitcases and their luggage sets are always good value.
Travelpro makes high quality, super functional bags and I recommend their carry on bags if you travel frequently for business.
Lots of travel accessories also are on sale, like Eagle Creek's best selling packing cubes.
20% off for Prime Day
I've had my Roborock robot vacuum for 4 years now and love it as much as the first day I got it.
It cleans my entire apartment at the touch of a button on my phone, and is surprisingly powerful at getting out dust, hair and crumbs from both hardwood and carpet. I have an in-depth review here all about it.
The Roomba is also included in the sale if that's a brand you're more familiar with! Personally I opted for the Roborock because it's more functional (it can both vacuum and mop), has a smaller docking station and it's more affordable.
But, now that I'm looking at the latest Roomba model it looks pretty neat. It uses vacuum bags to trap dust and can "empty" itself. Hmm I might have to get this!
30% off for Prime Day
I remember the first time I heard about muscle gun massagers. My workout fanatic friend was raving out them, but to me they looked like a drill with a tennis ball on top. I just didn't understand the hype – that is, until I tried one!
Muscle guns are high powered massagers that relax and soothe your muscles after an intense workout. They come with interchangeable heads, so you can moderate the type of pressure. Highly recommend!
30% off for Prime Day
I've been intrigued by the NuFace for a while. It's a beauty gadget that uses micro current to stimulate your face and gradually contour your cheekbones and jawline.
I haven't personally tried it, because it's something you need to use daily to see results, and because it's expensive. But now that it's on sale for Prime Day I'm tempted..
50% off for Prime Day
I bought this last year and while it was a pricey purchase, I love the Dyson airwrap. It gives the perfect blowout for bouncy, shiny and just voluminous hair.
I think it works best on medium length hair (roughly shoulder length or a little longer) and the curlers are really handy if you aren't so great at doing your own hair with a traditional curling iron.
ADVERTISEMENT
---
---
Home
31% off for Prime Day
I use my Nespresso daily – there's no mess, no tinkering with pulling the water for the perfect shot – a Nespresso machine gives you a perfect cup of espresso or coffee every time.
There are two types of Nespresso machines: Vertuos (which produce a larger American style cup of coffee) and the Originals, which produce one shot of espresso).
I've had mind for over 5 years now and it's still in perfect condition!
Instant Pot Duo – all models
The InstantPot is the best selling kitchen gadget on Amazon, period.
I have the 6 qt option and it came in handy when my apartment had a building wide gas issue. Use it for soups, stews and boiling eggs – it works the best for recipes that take a long time and are stew-y in nature, so think fall and winter recipes.
Other Home Deals
ADVERTISEMENT
---
---
Amazon Shop @shershegoes
Amazon doesn't announce their Prime Day deals ahead of time, so it's more a "check back and scroll" shopping event. Fun if you have the time, but annoying if you miss out on something you wanted.
I'll be updating my Shop page (amazon.com/shop/shershegoes) throughout Prime Day with the deals I see, as well as Amazon Fashion finds. You can check it out for a curated list of deals!
It's also where I keep my book list, photography gear and general Amazon favorites, if you've ever wanted to know what camera gear I shoot with or what's on my reading list :)
Follow me @Sher She Goes on